Learn how to make an inexpensive DIY tumbler turner in two different ways — the low tech super cheap method of a cardboard box and PVC pipes, or the still inexpensive rotisserie turner method! Both are easy ways to make cup turners for your glitter tumblers!
I just made a batch of super pretty glitter tumblers (check out the post to see the full process!). I'm already getting questions about the exact methods we used to create our two tumbler turners (also known as cup turners), so this tutorial shows you exactly how we made them. The low-tech cardboard tumbler turner was less than $10 and the rotisserie tumbler turner was about $35.
See the tumbler turners in action in this step-by-step video below: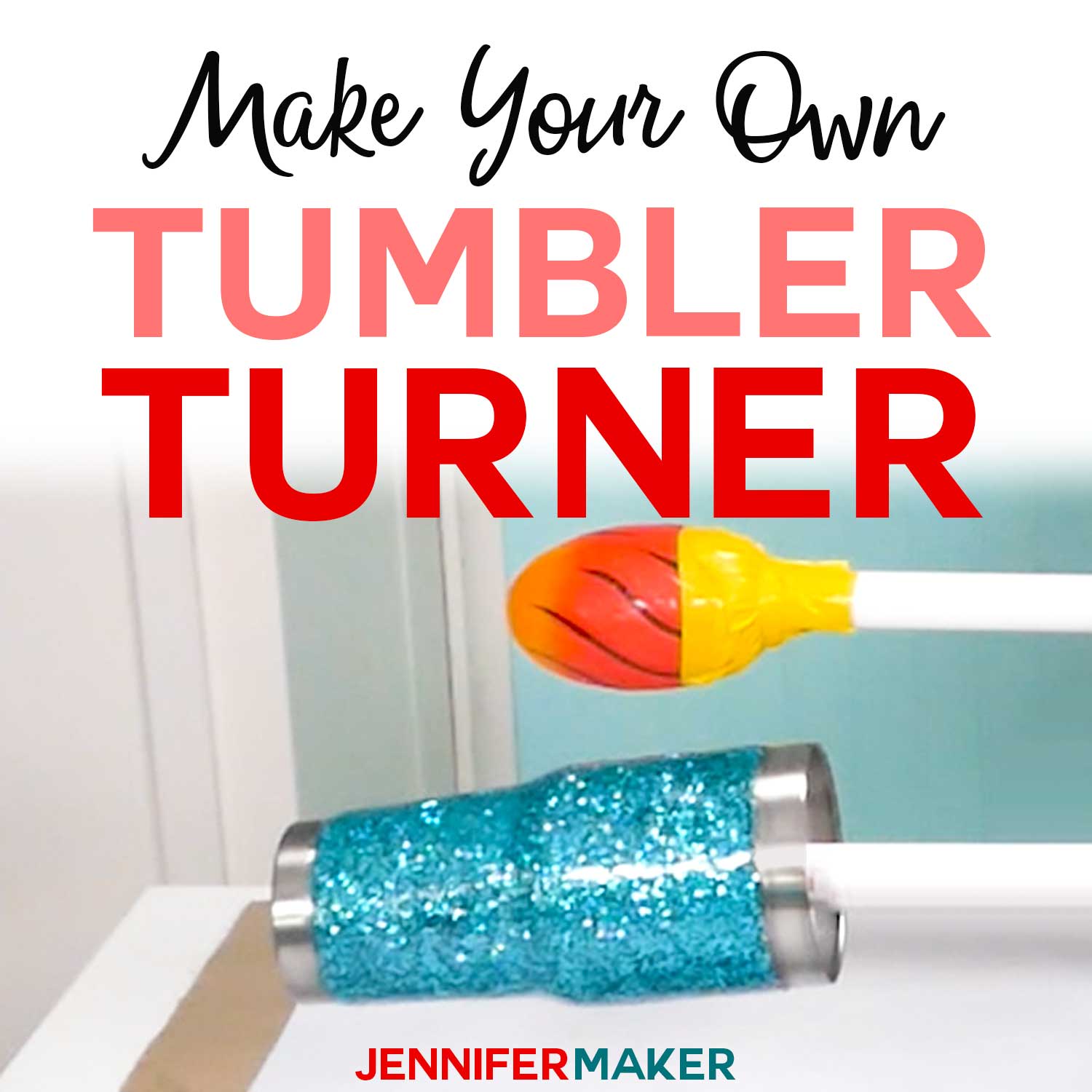 So let me show you how to make these tumbler turners! This post contains some affiliate links for your convenience (which means if you make a purchase after clicking a link I will earn a small commission but it won't cost you a penny more)! Read my full disclosure policy.

Materials for DIY Glitter Tumbler Turners
Cardboard (Unpowered) Tumbler Turner Method:
Rotisserie Turner (Powered) Tumbler Turner Method:
How to Make the DIY Tumbler Turner Wands
Your first step is to make the "wands" for your tumblers or cups. You'll use these for either DIY tumbler turner. Here's how we did it:
Buy some foam football rockets from the dollar store. The kinds with these tails (the "rockets") work best. If you can't find those, get the normal kind and cut out a hole.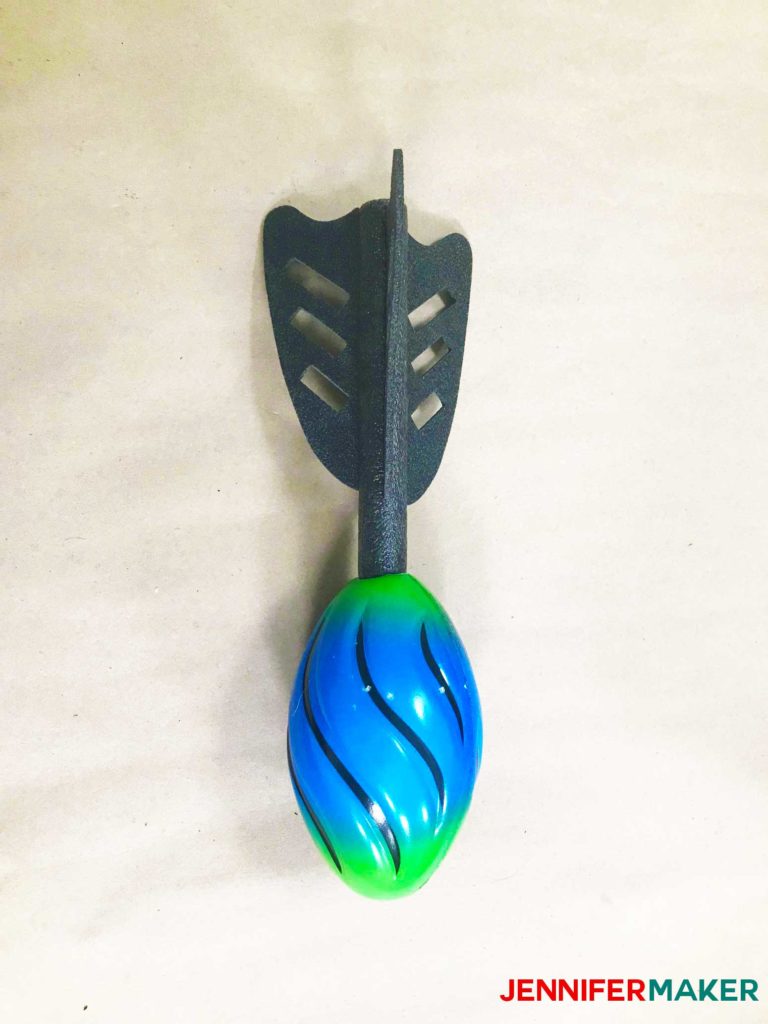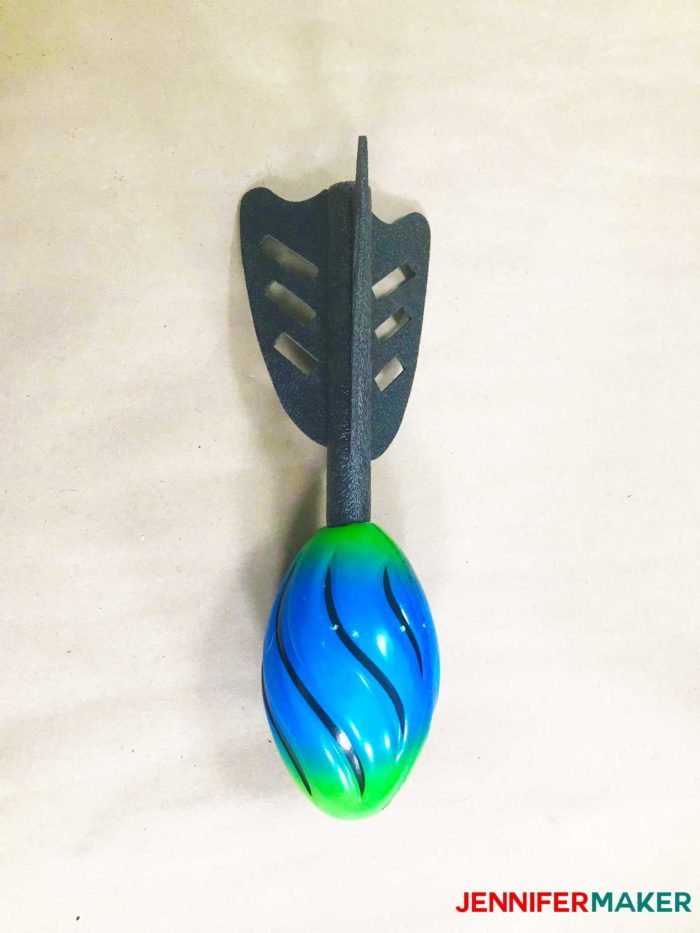 Remove the fins from the tail of the foam football rocket. They will tear right off.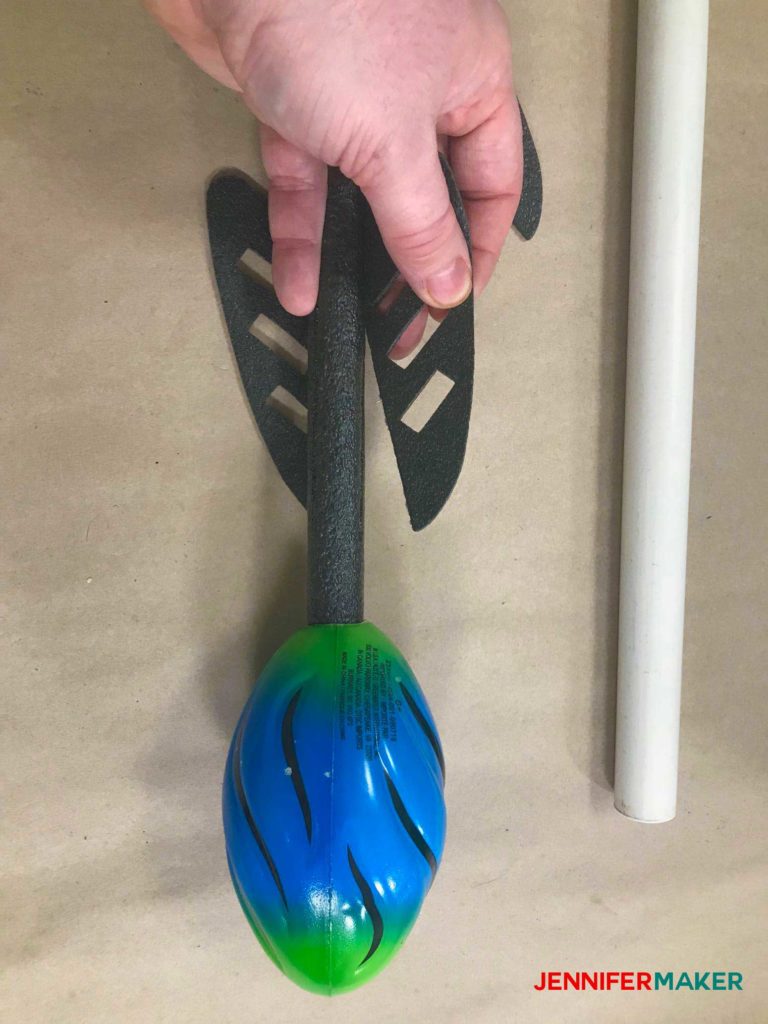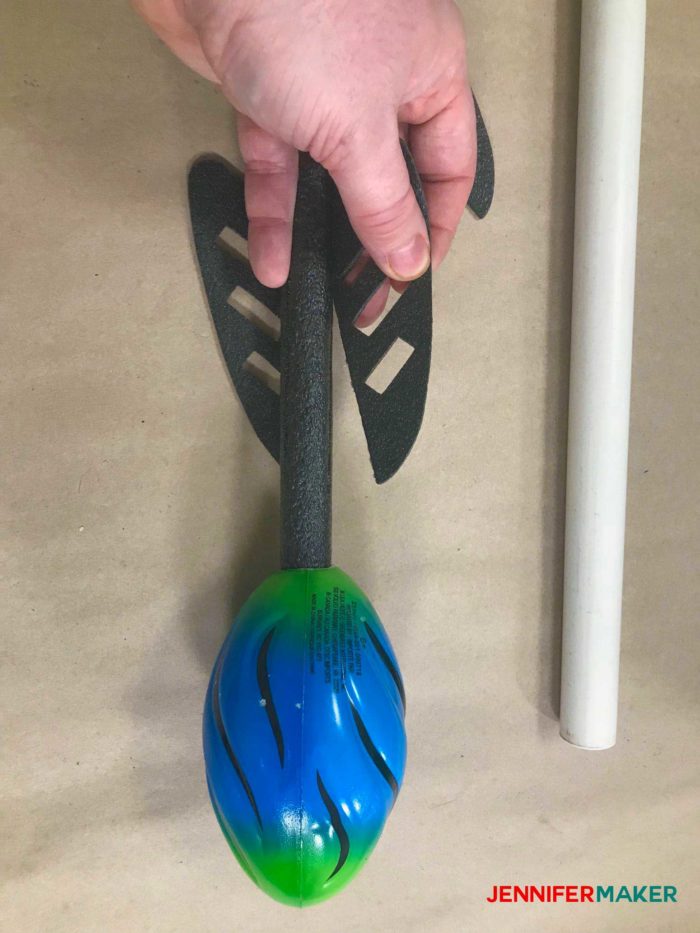 Now cut some PVC pipe to at least 18″ long, or longer if you want to make them double-ended (more like 30″). I recommend having them be double-ended so they are balanced. But if you want each wand to be separate, you can cut them shorter and use PVC couplings to join them as we have.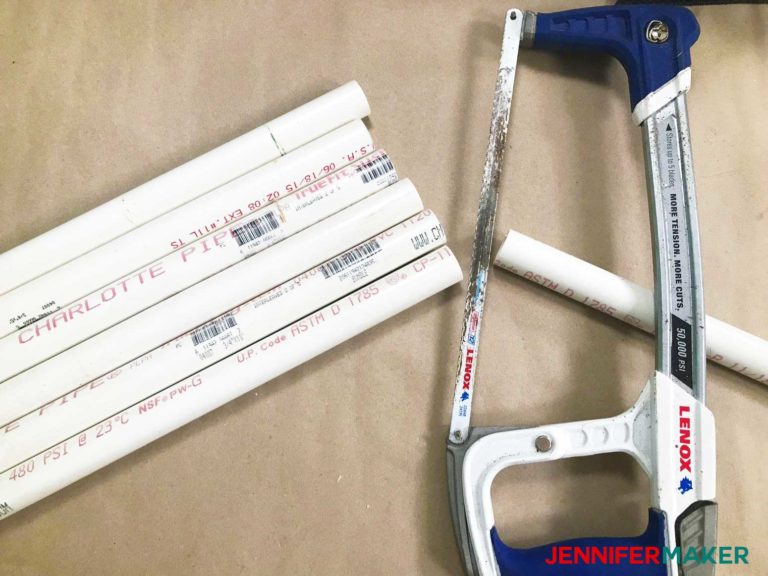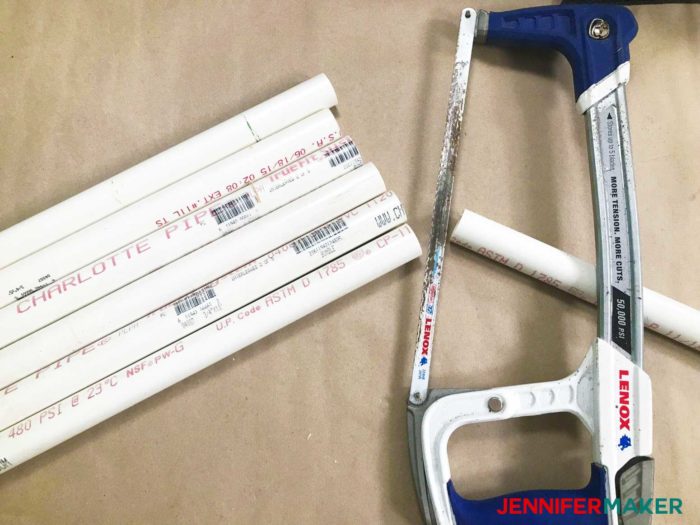 Insert the tail of the foam football into the PVC pipe.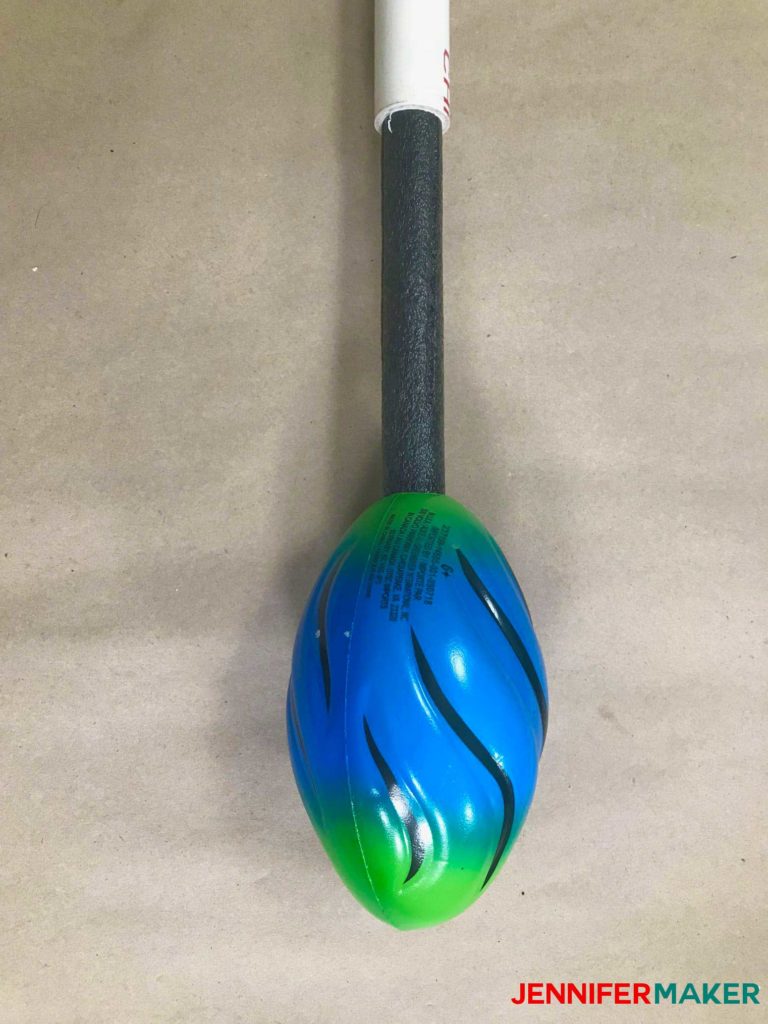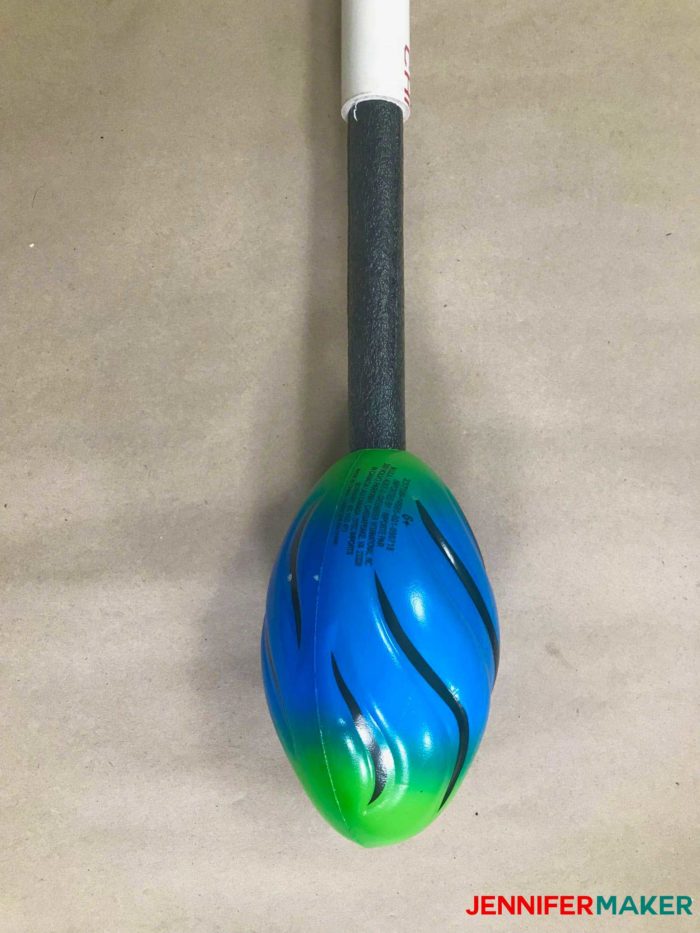 Now just duct tape the pipe to the football to keep it in place.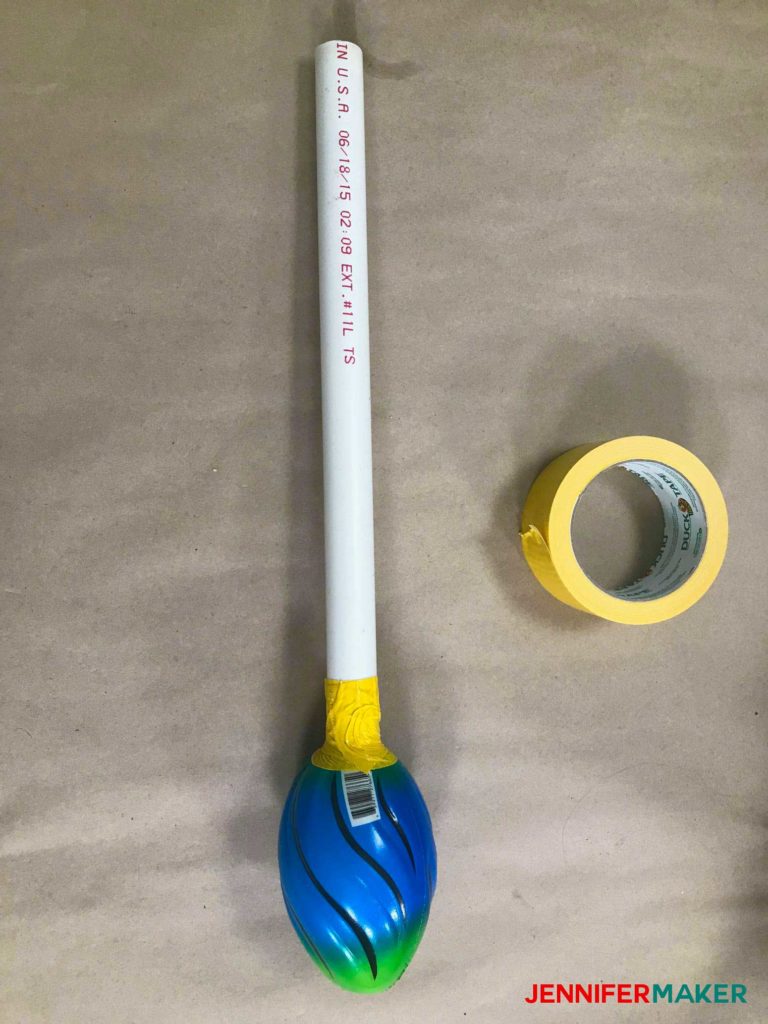 We made six of these for our cardboard tumbler turner!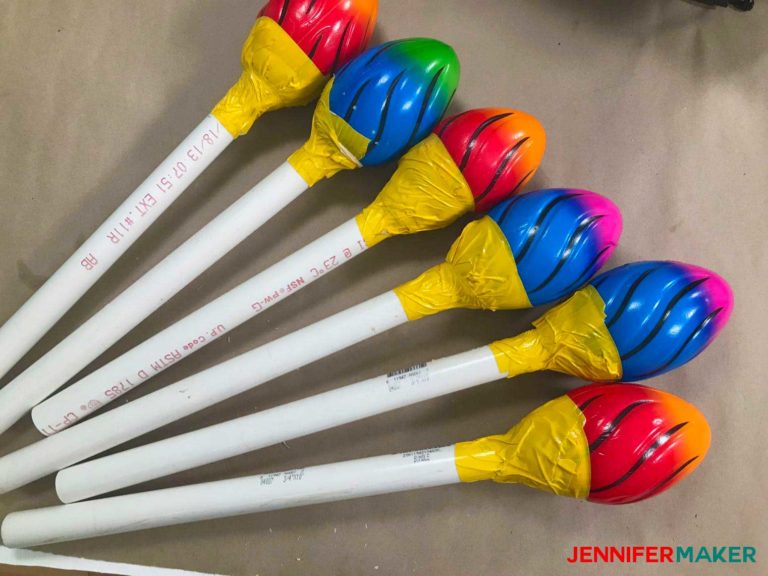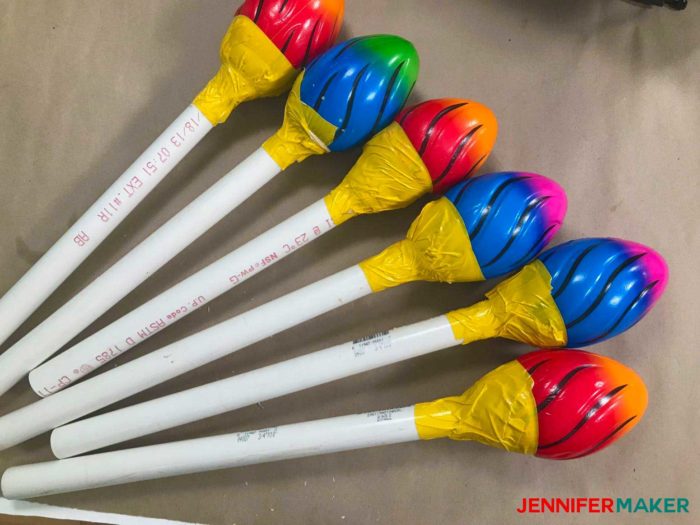 How to Make a Cardboard (Unpowered) DIY Tumbler Turner
Find yourself a cardboard box that is short and wide, then cut off the top. Ours is about 3 feet long by 1 foot wide by 1 foot high. A 1′ x 1′ x 1′ box (or thereabouts) would be fine if you plan to have just two wands.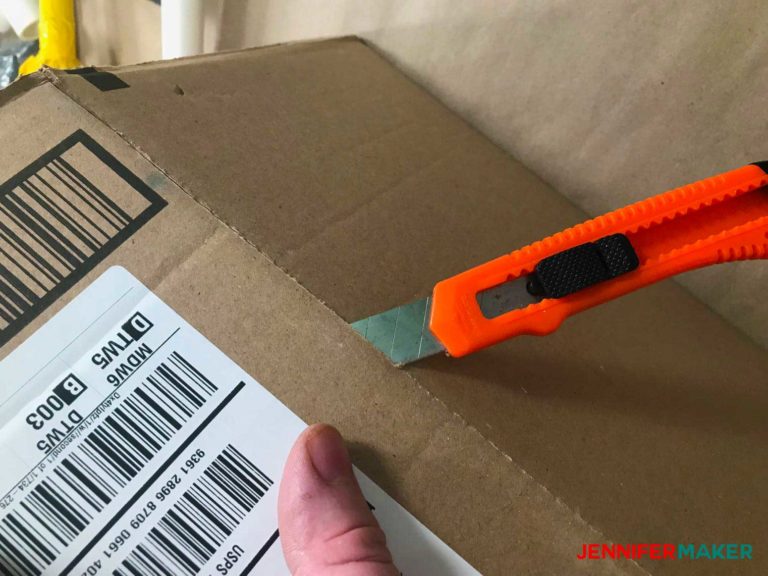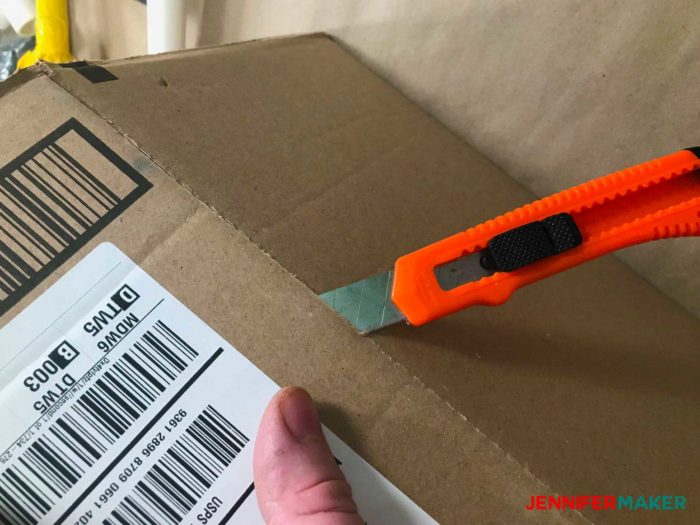 This is what our box looked like with the top cut off.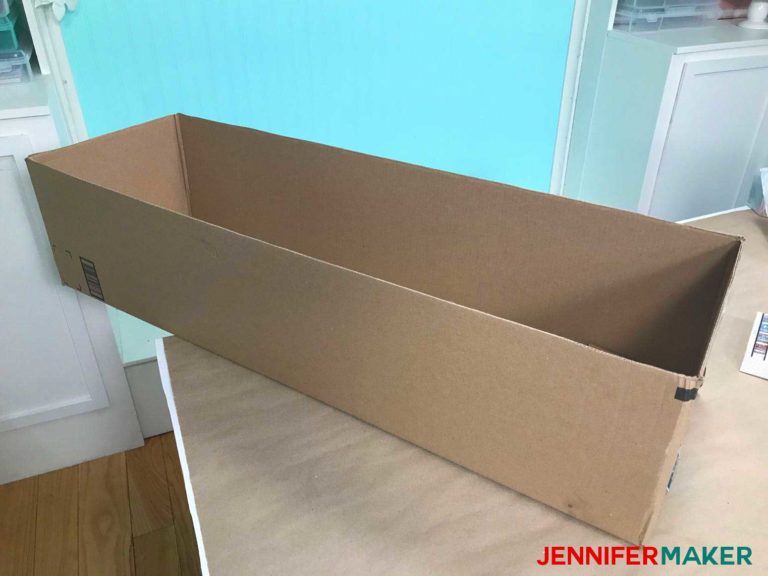 Mark the spot you'd like your wands to go into the box. You'll probably want them in the middle so they aren't too low or too high.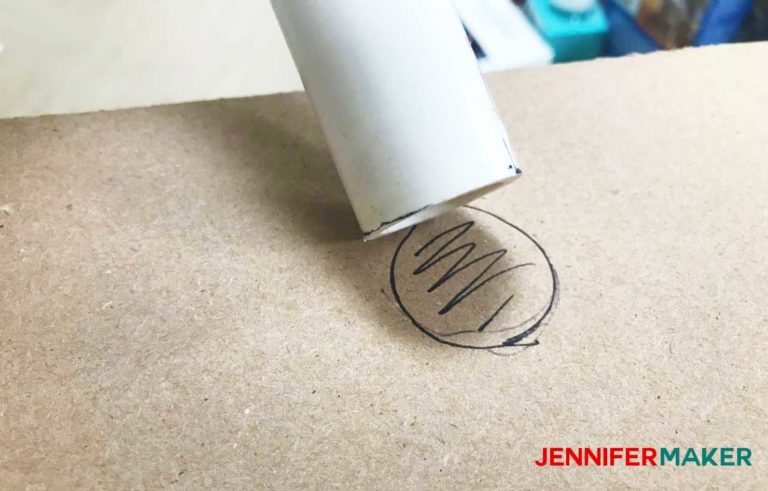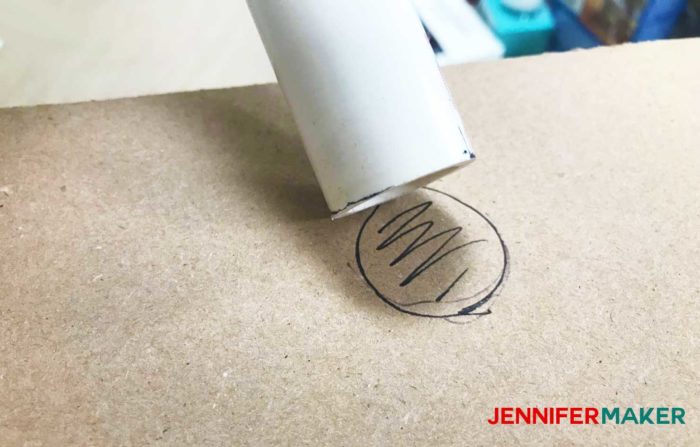 Now cut out the hole with a knife.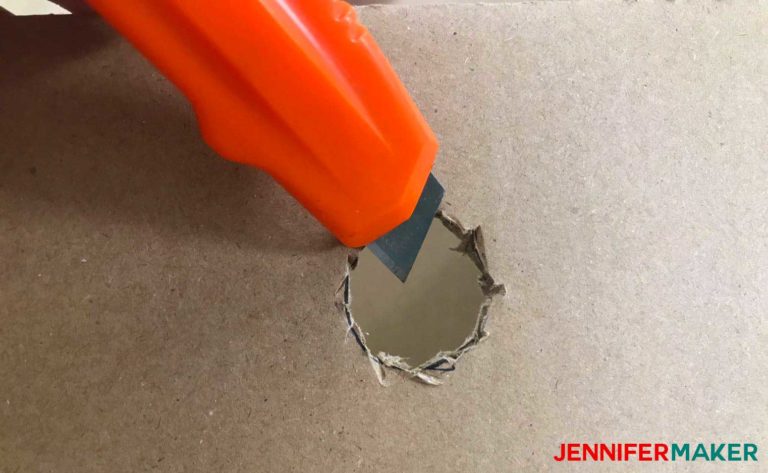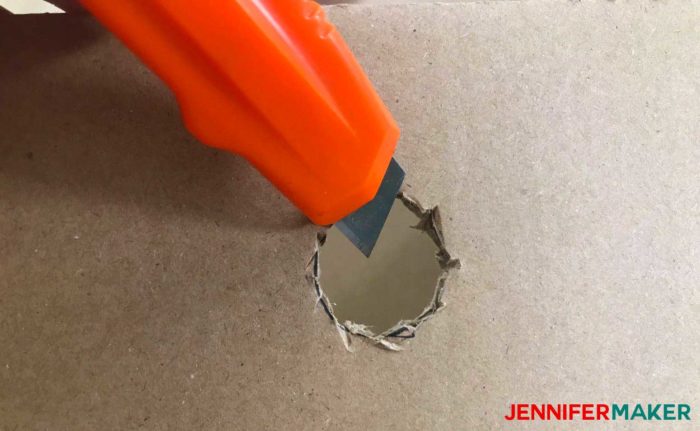 Insert your tumbler turner wand you already made into the hole, push it through to the other side of the box, and mark the spot again. Take special care to keep your pipe level.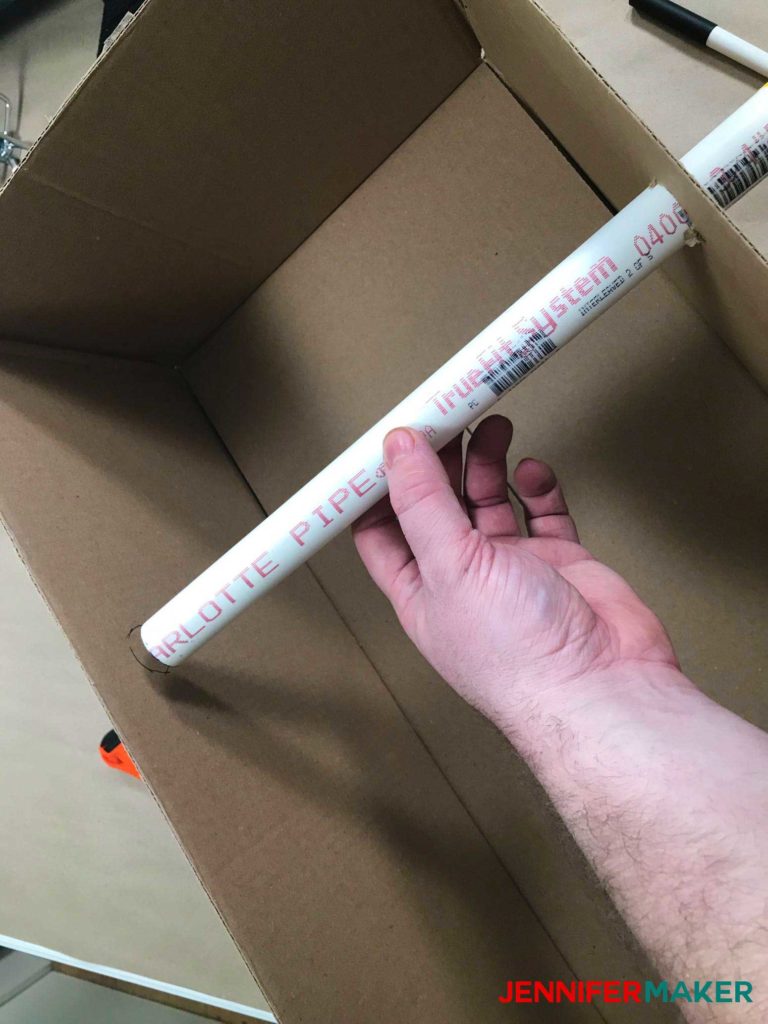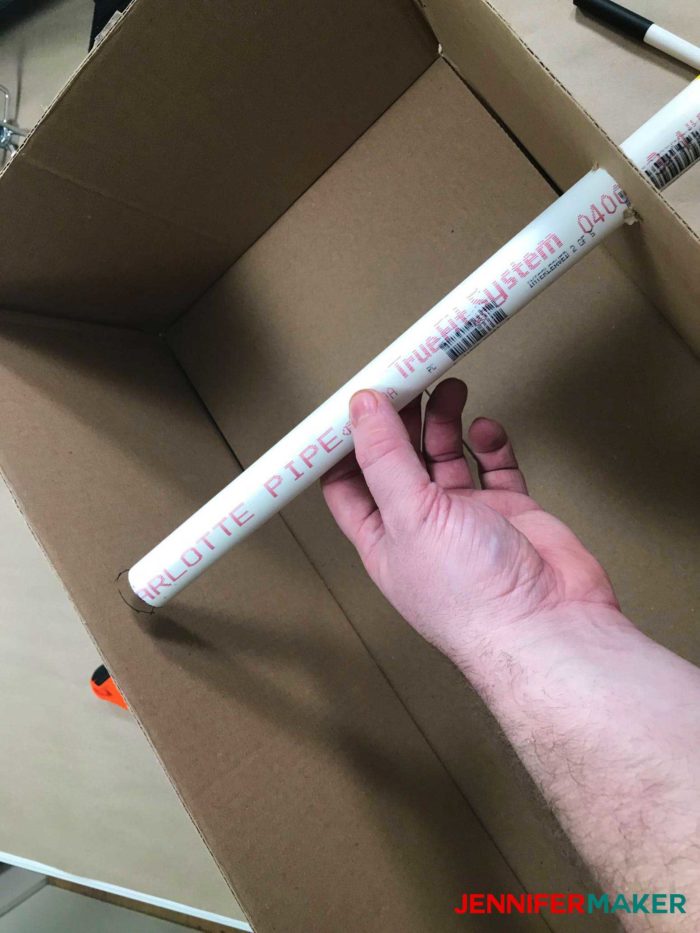 We decided we wanted our wands to be removable, so we joined two with a coupler.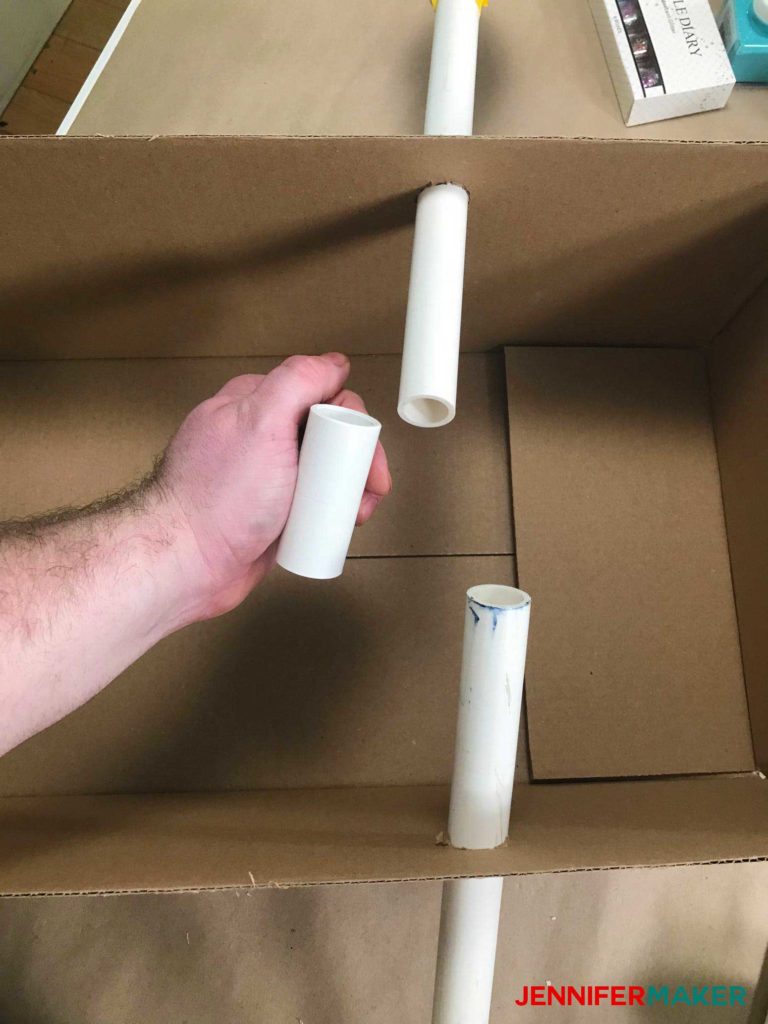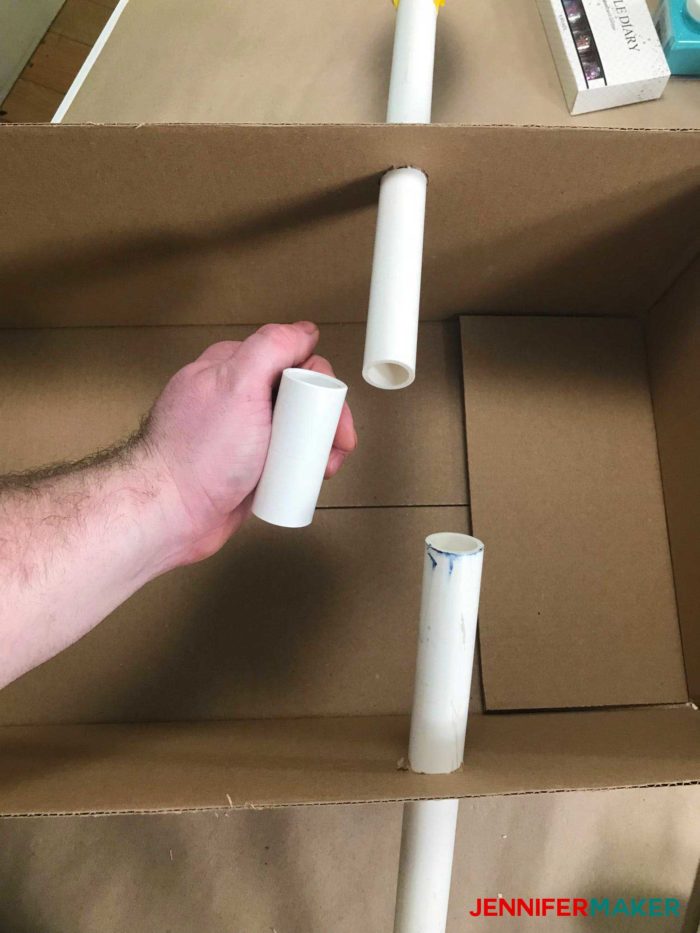 So here's what that looks like in our DIY tumbler turner: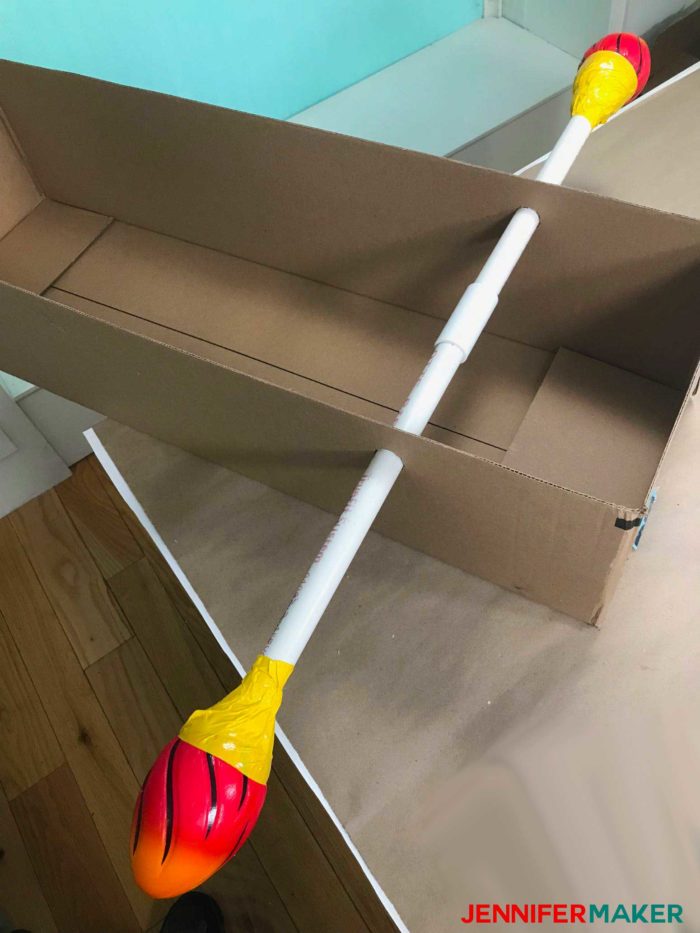 And here's me using the DIY tumbler turner with six tumblers at once!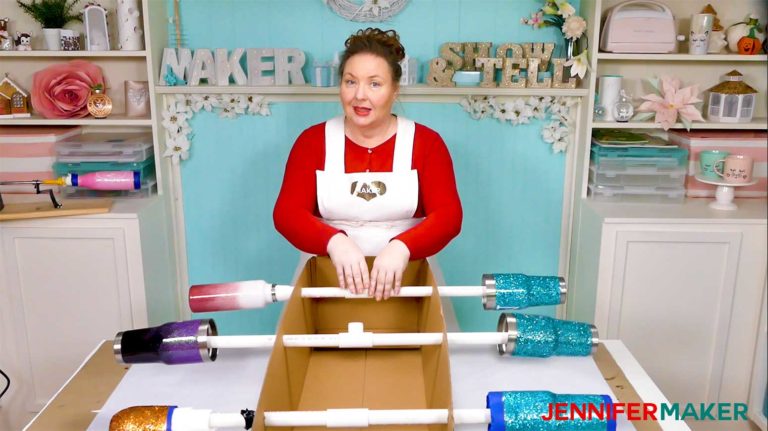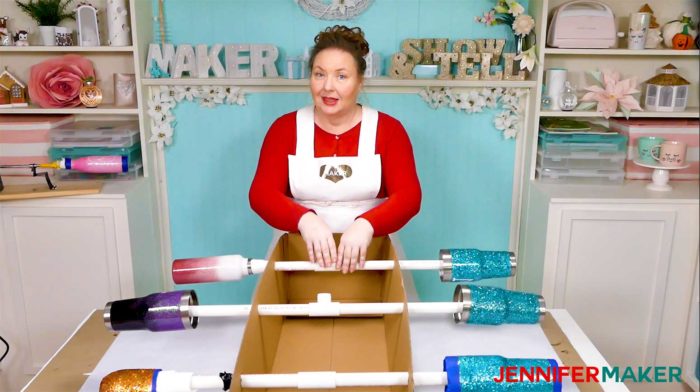 In retrospect, it would have been better if the box had been a bit shorter — 30″ would have been fine for six tumblers. But we used what we had!
How to Make a Rotisserie Turner (Powered) Tumbler Turner
If you'd like to make a wand that attaches right to the rotisserie, here's how to do that: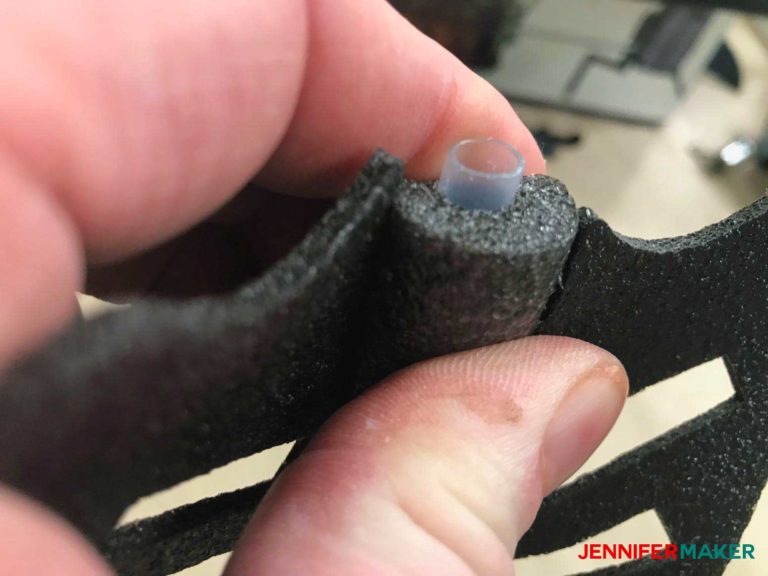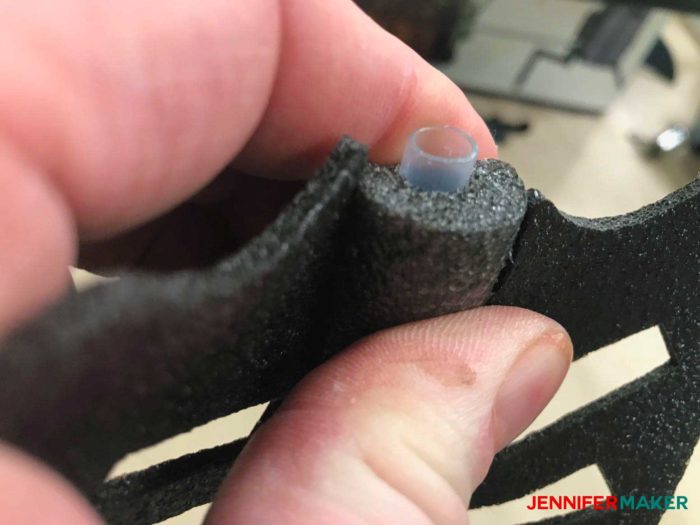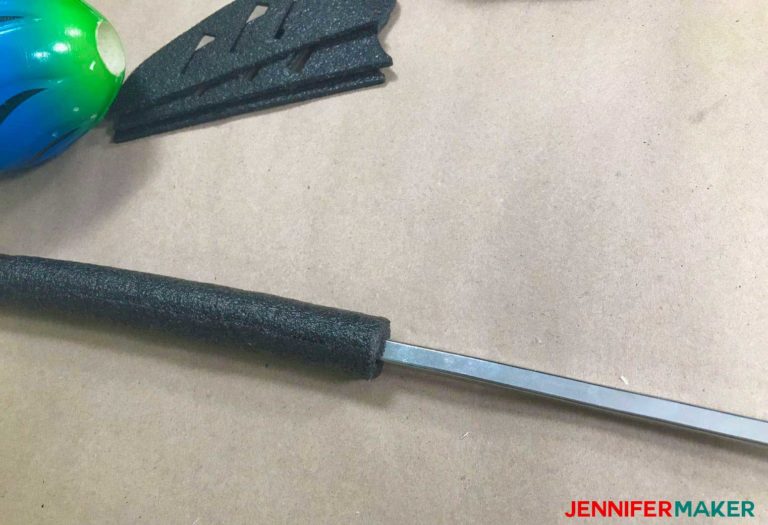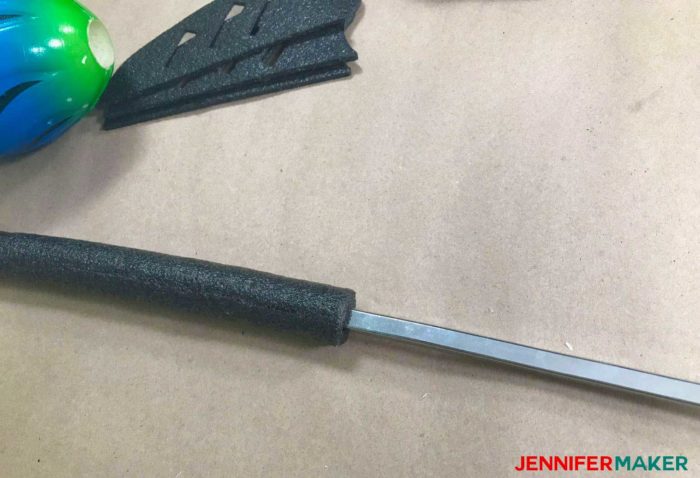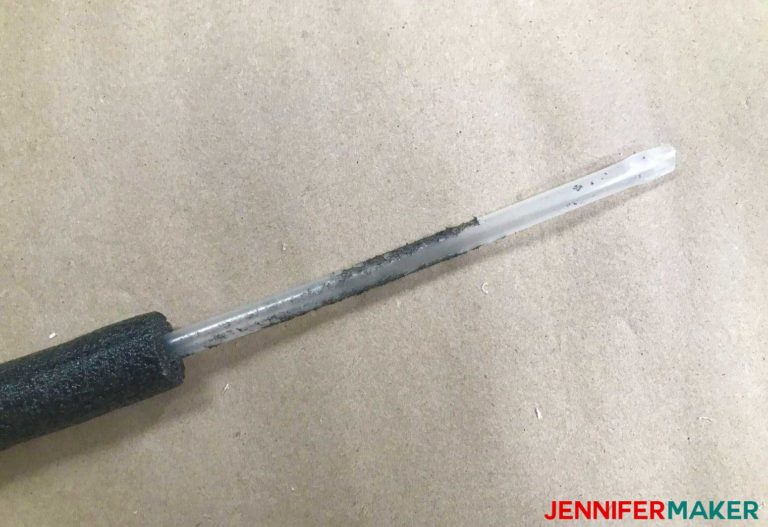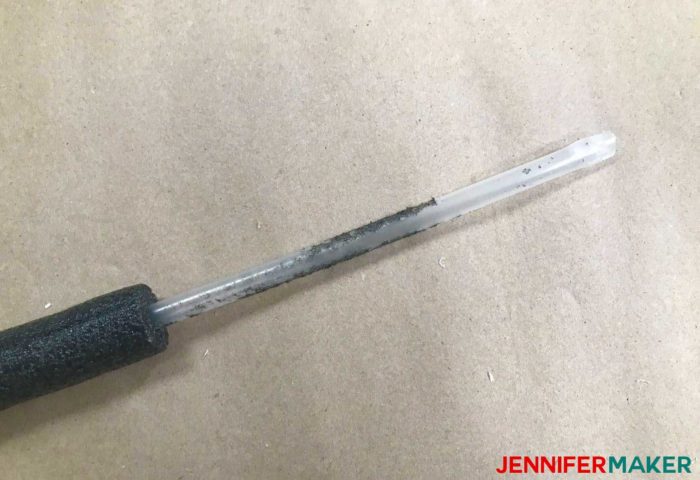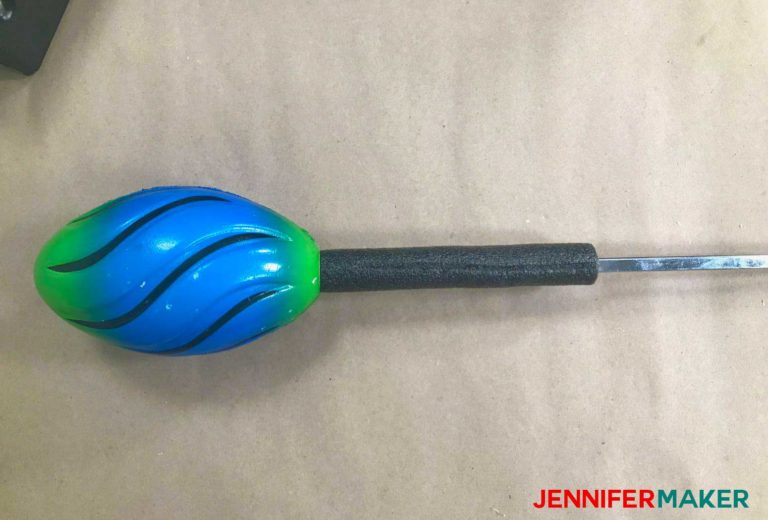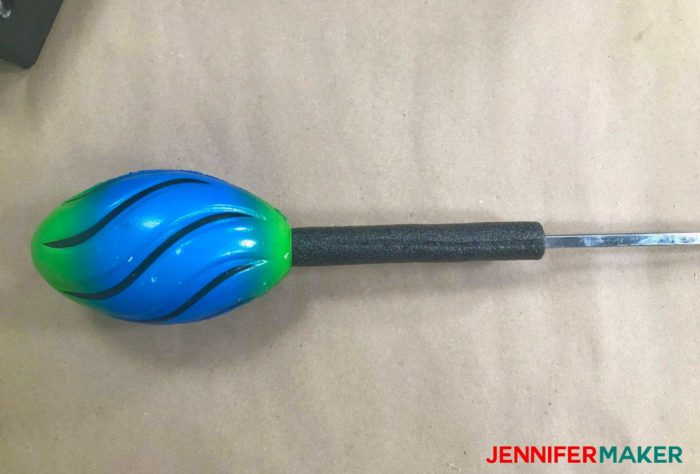 Here's what you'll need to make your DIY tumbler turner with power!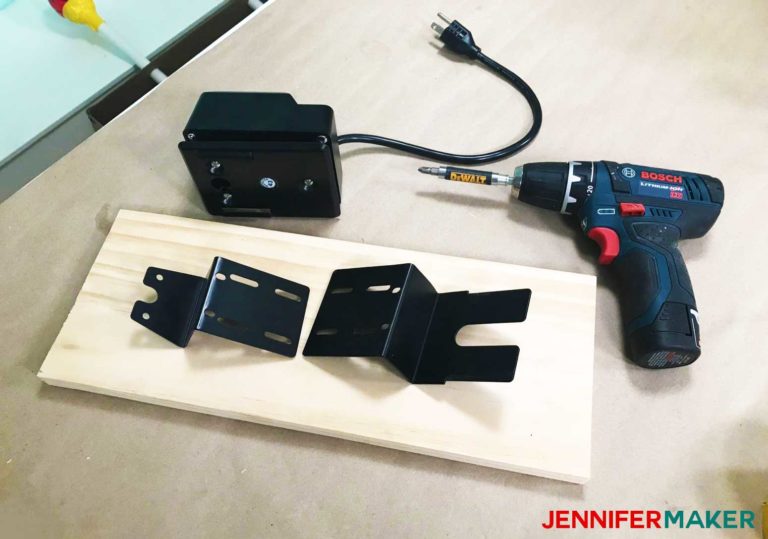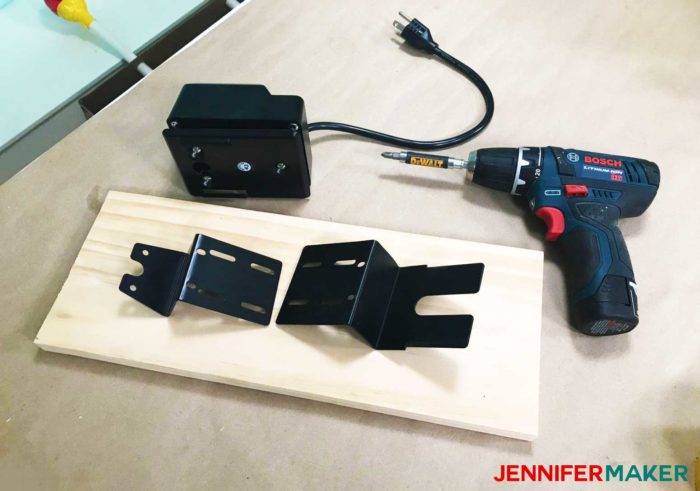 Separate the electric rotisserie motor and base plate (motor bracket). Ours simply slid apart.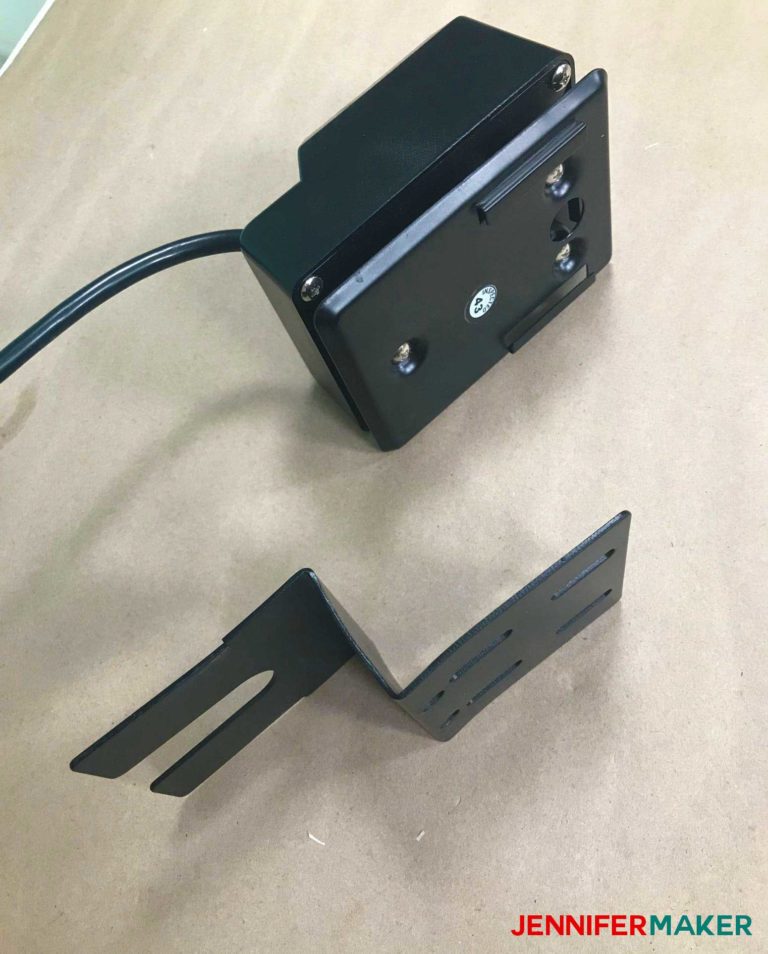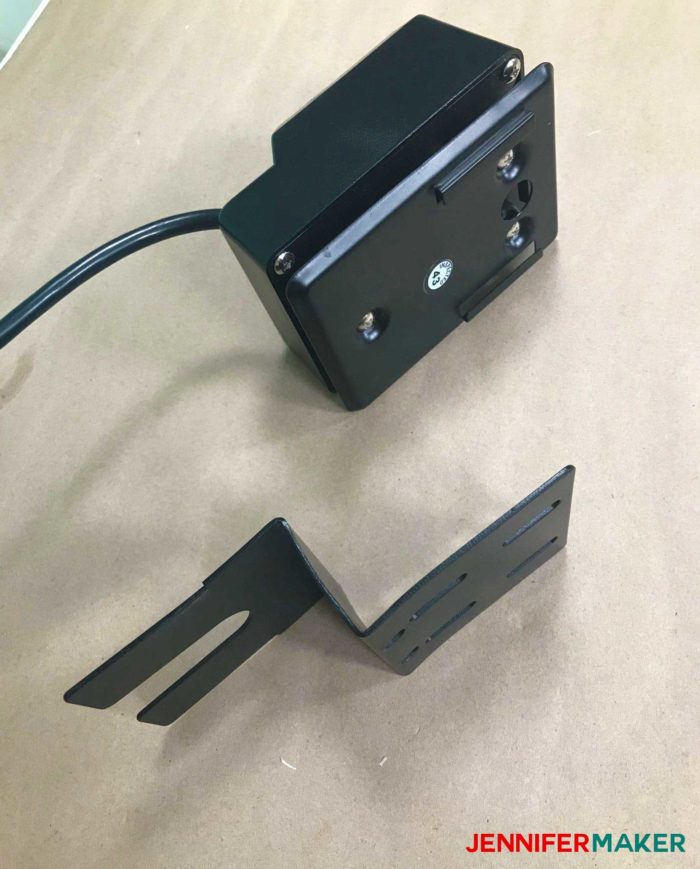 Please the base plate (motor bracket) onto the end of a piece of board.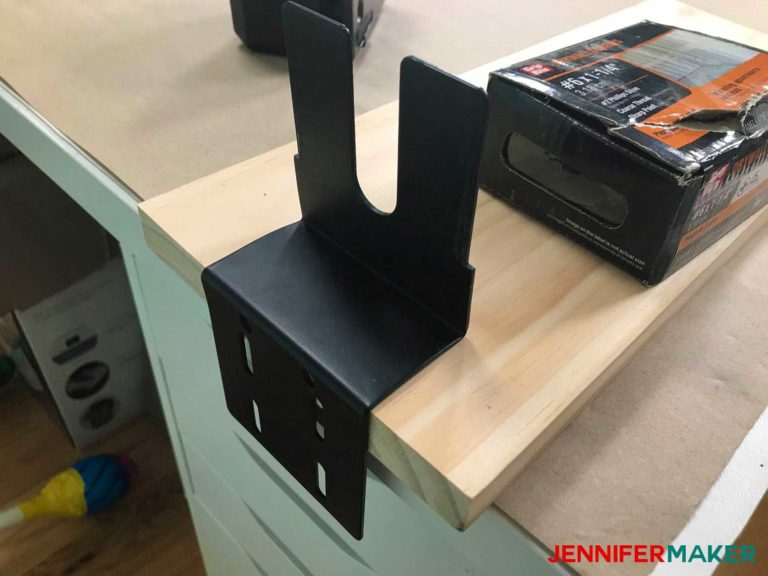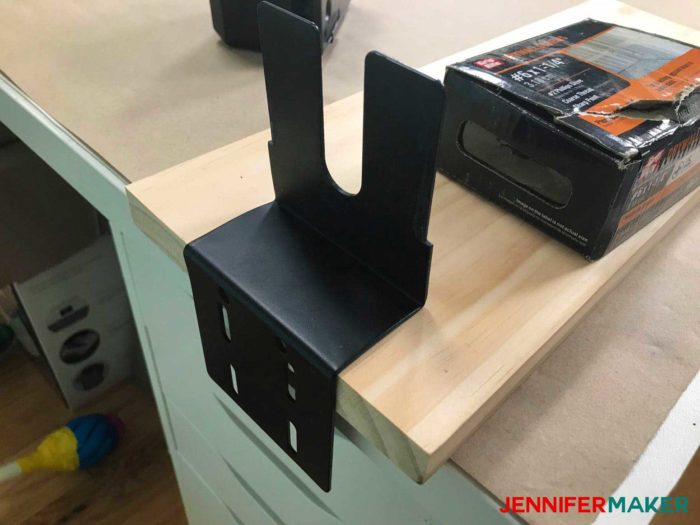 Screw the base plate (motor bracket) of the rotisserie turner onto the board.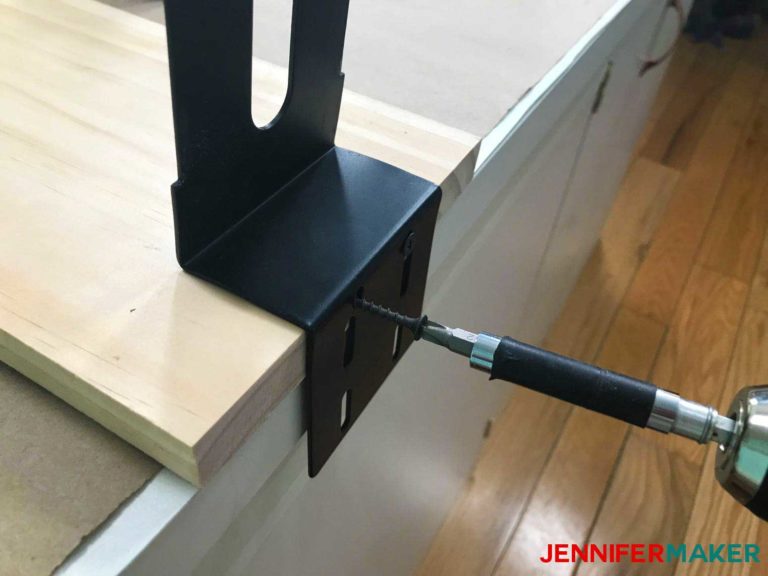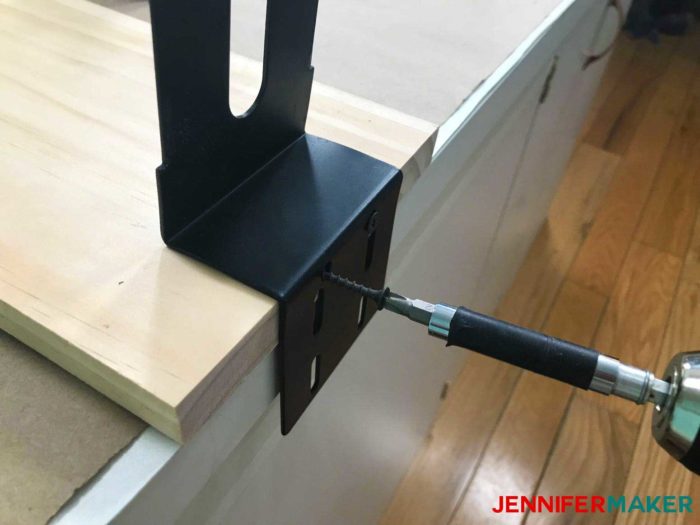 Here's the base plate (motor bracket) screwed onto the board.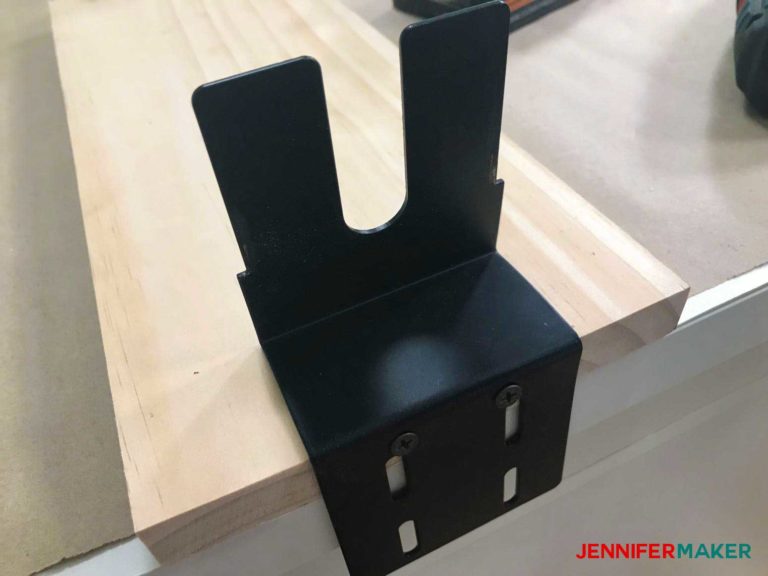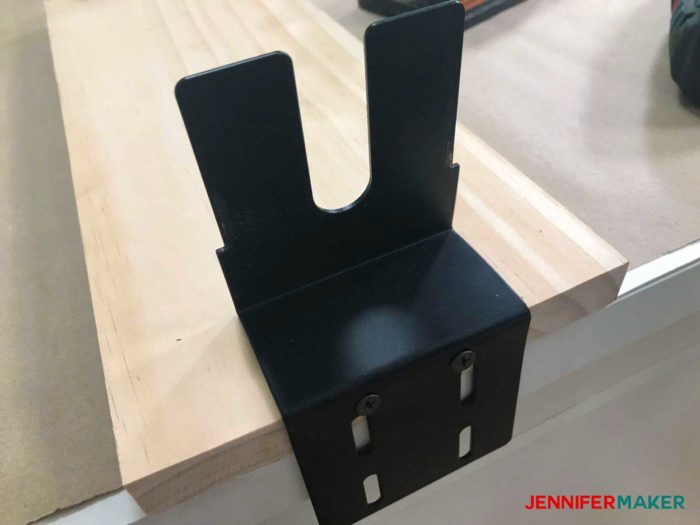 Slide the electric rotisserie unit into the base plate (motor bracket).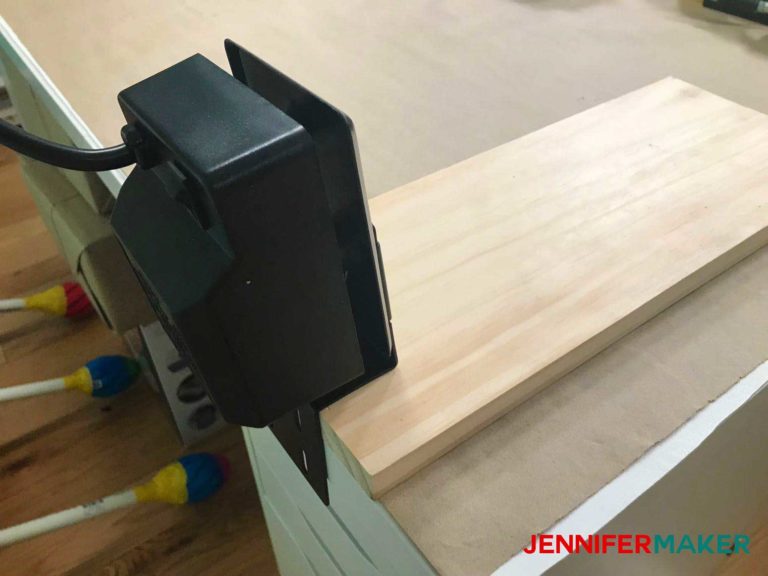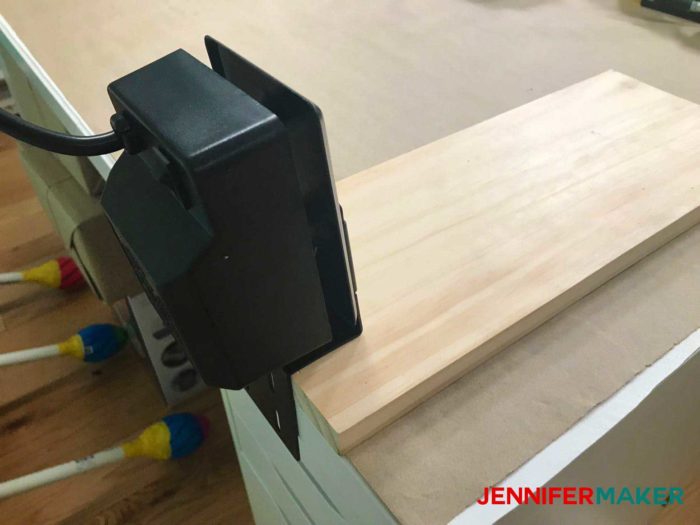 Now just put the tumbler wand you made right into the rotisserie unit, plug it in, and power it on! Easy peasy!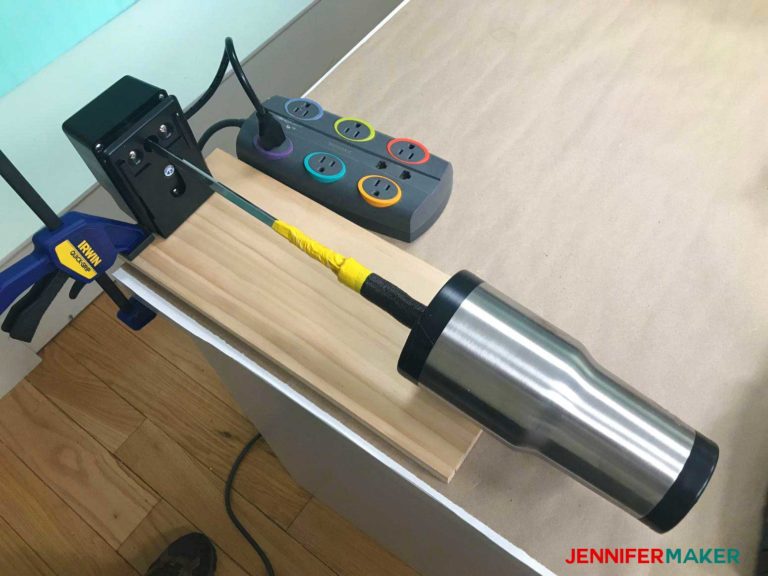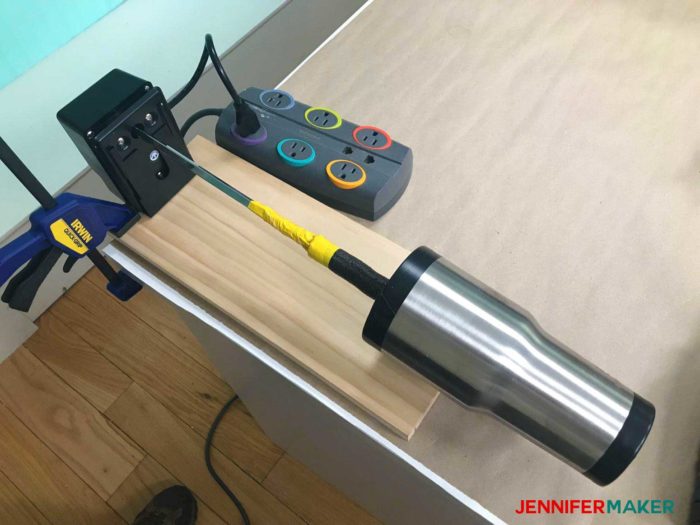 Now take the rotisserie support bracket (aka spit rod bracket) and bend it like this: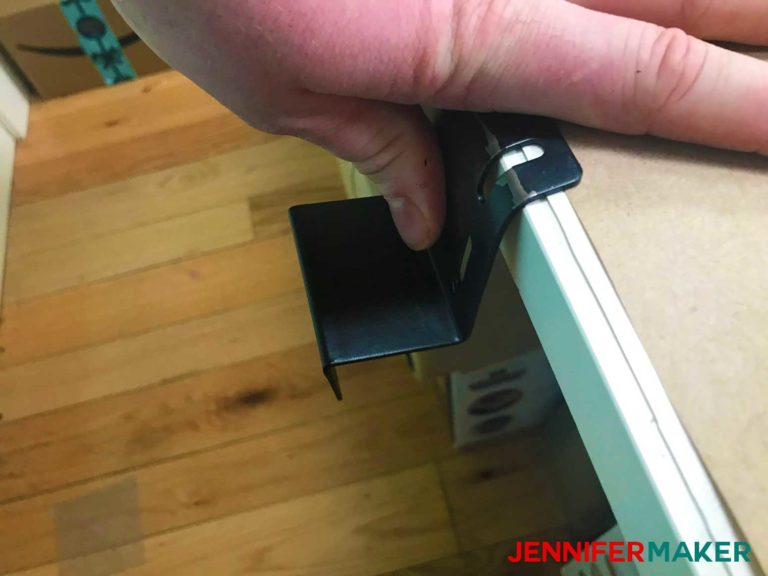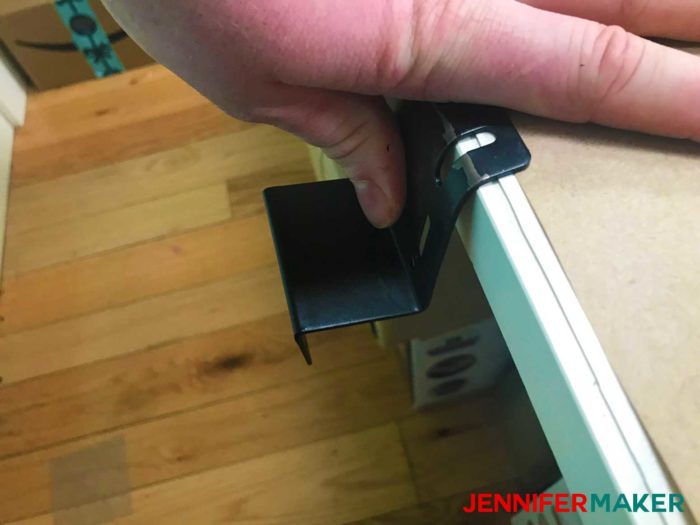 It should look about like this, with a 90 degree bend.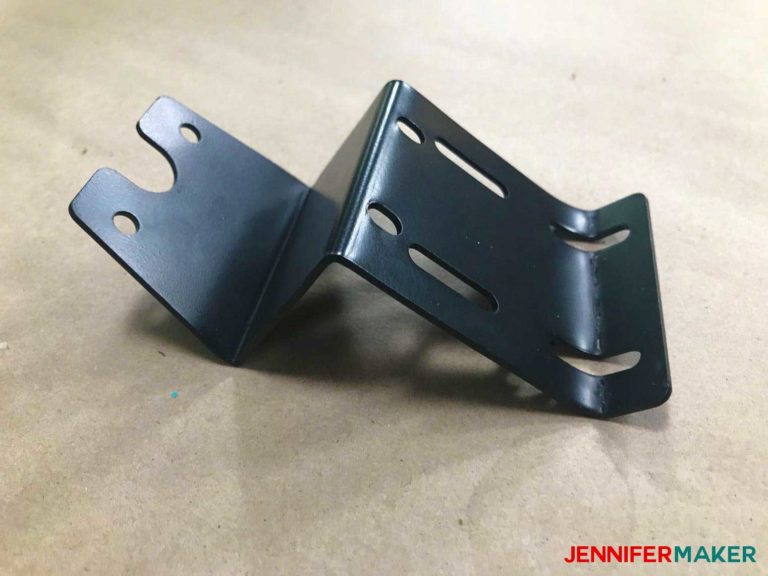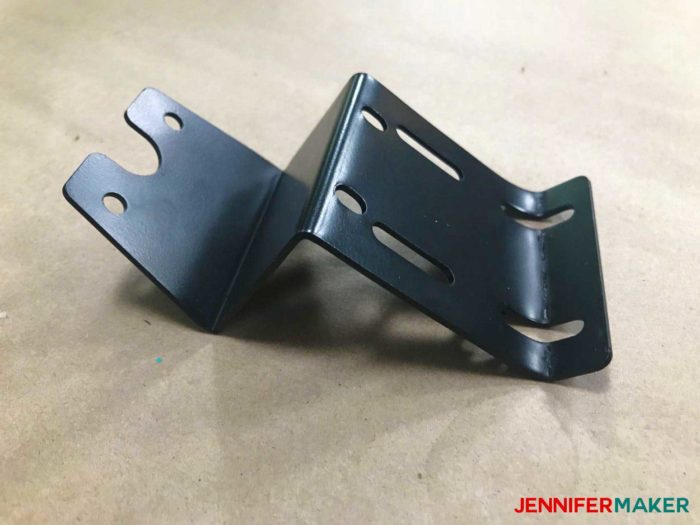 Now screw that support bracket to the center of your board, making sure it is in line with your turning wand.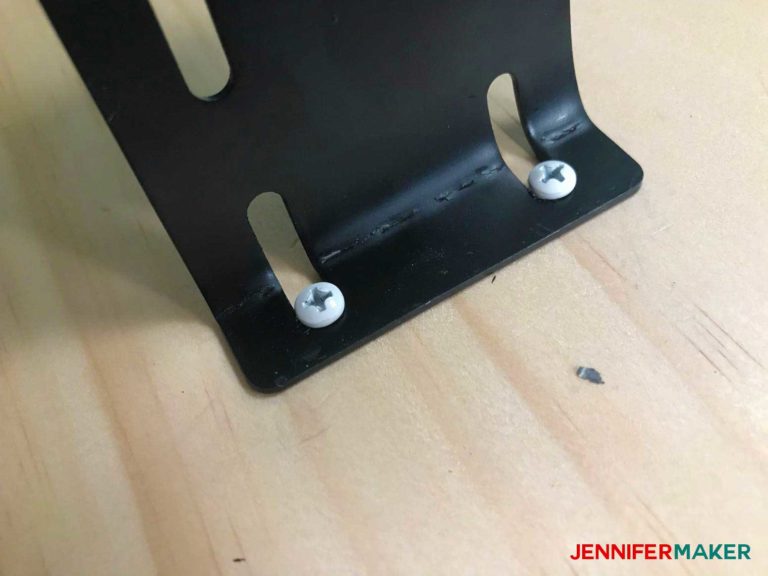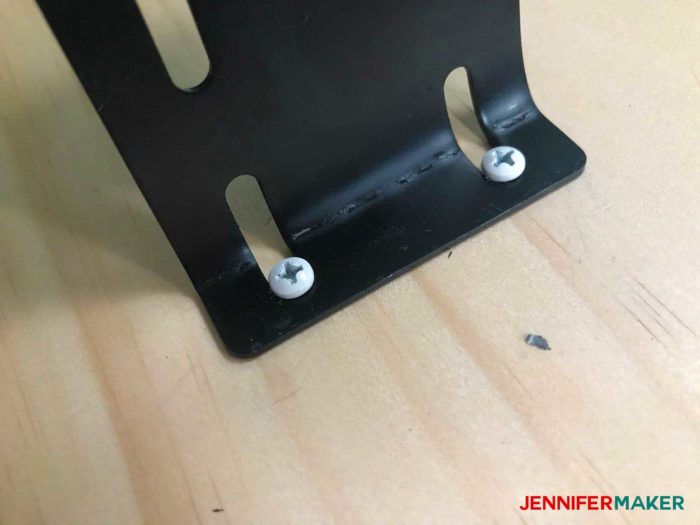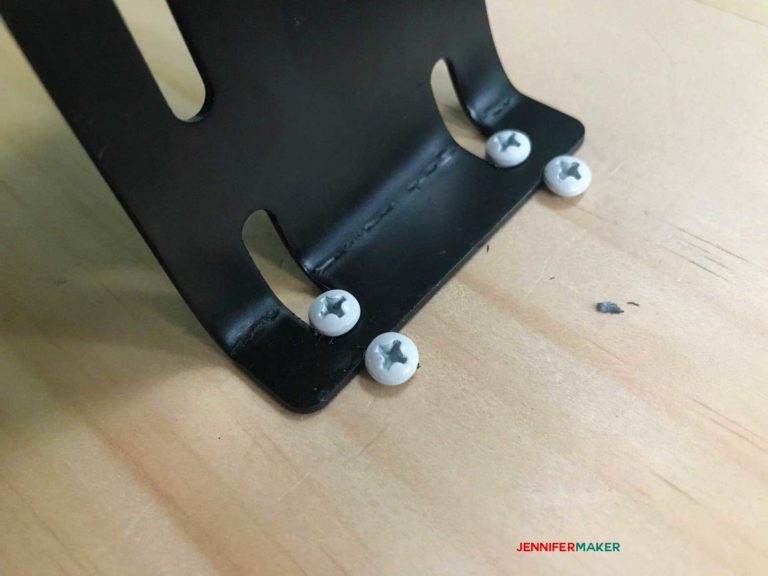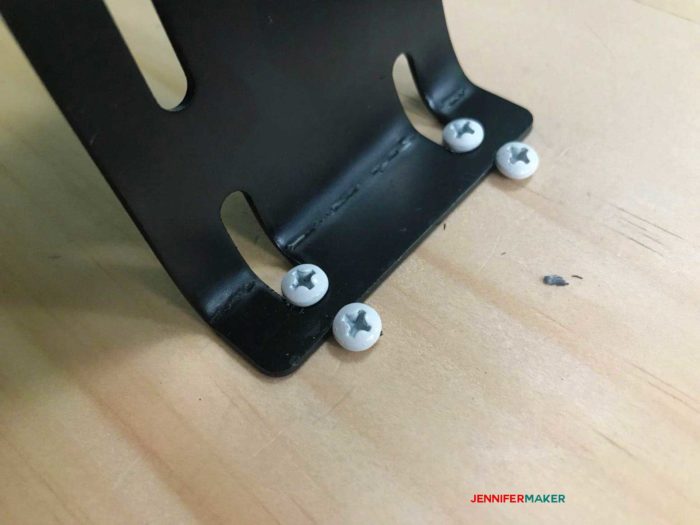 Now just put the collar and thumb screw on the turning wand so it lines up with the support bracket.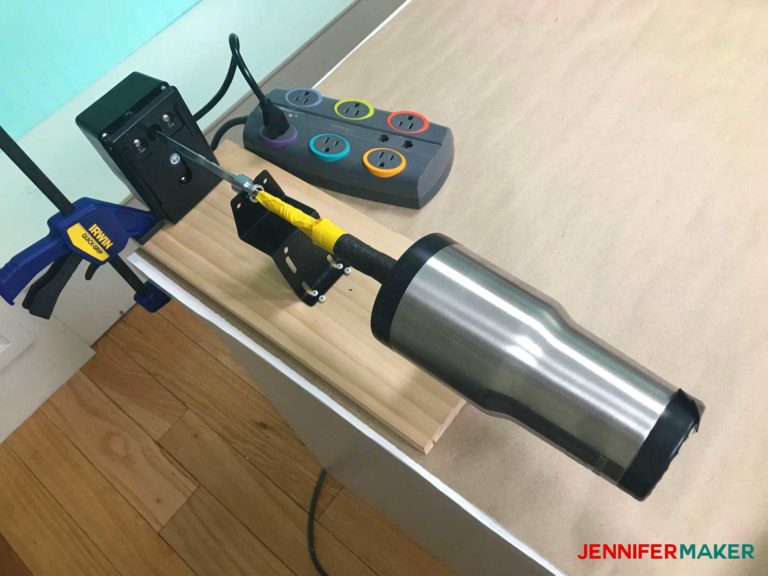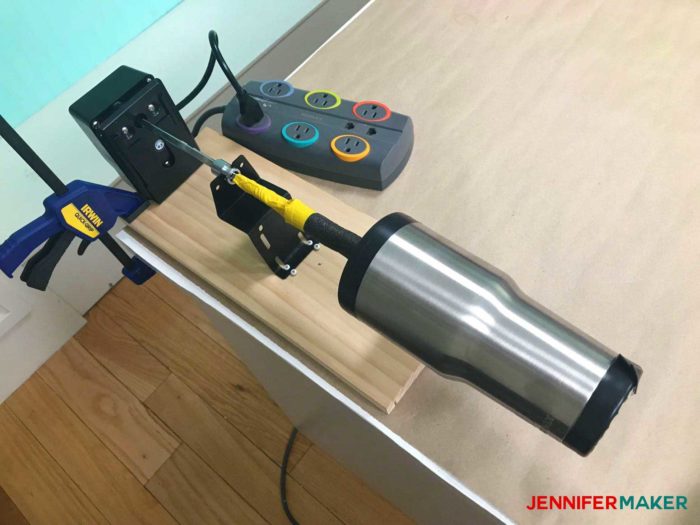 And that's it! Your DIY tumbler turner is finished! In the photo below we are supporting it with a clamp, but it turns out that is not necessary. It will sit on the end of a desk or table without the clamp.
Yes, you could get fancier with creating a DIY tumbler turner, but we felt this was the simplest way to do it that required the fewest tools. We want as many people to be able to make one of these as possible, not just the people with the fancy power tools!
If you make your own tumbler turner, please share a photo in our Amazing Cricut Facebook group, email it to me at [email protected], or tag me on social media with #makershowandtell.
Love,