You can paint your own concrete stepping stone with a stencil for beautiful results. These personalized cement pavers make wonderful memorials, too.
It's amazing what you can do with stencils! I've been painting with stencils lately with fun results. I recently bought some Cricut stencil vinyl to try out. Not being one to do something the easy way, I decided to see if I could use this stencil material to paint clear and crisp words on a rough concrete stepping stone. I'm happy to say that YES, you can paint concrete stepping stones if you do it the right way and with the right materials.
Today I designed and painted a beautiful memorial stone for my father, who passed away several years ago. I did it all using a stencil, some spray paint, and a $5 concrete stepping stone. Here's how my DIY stepping stone turned out: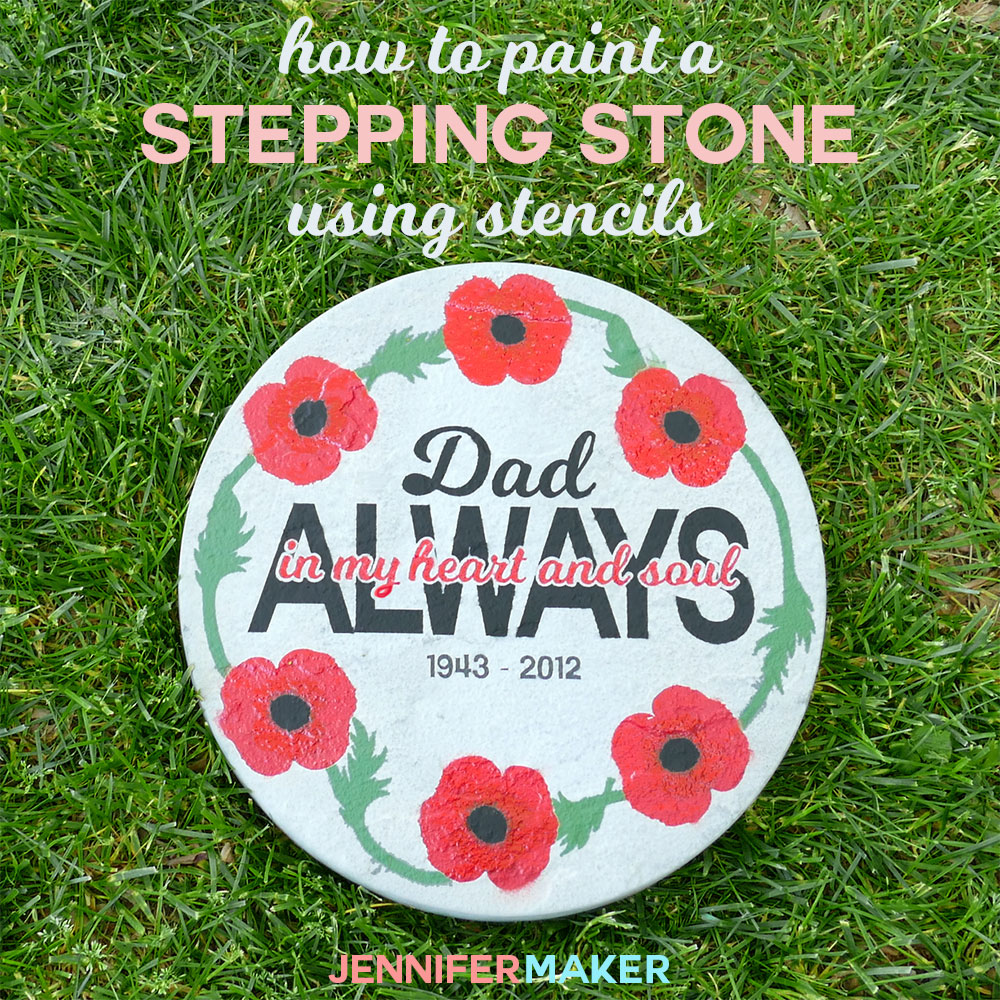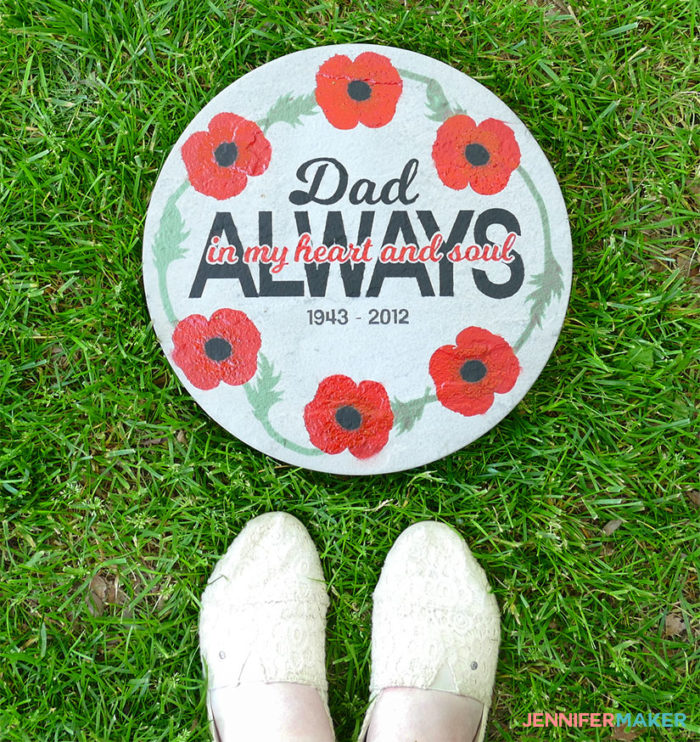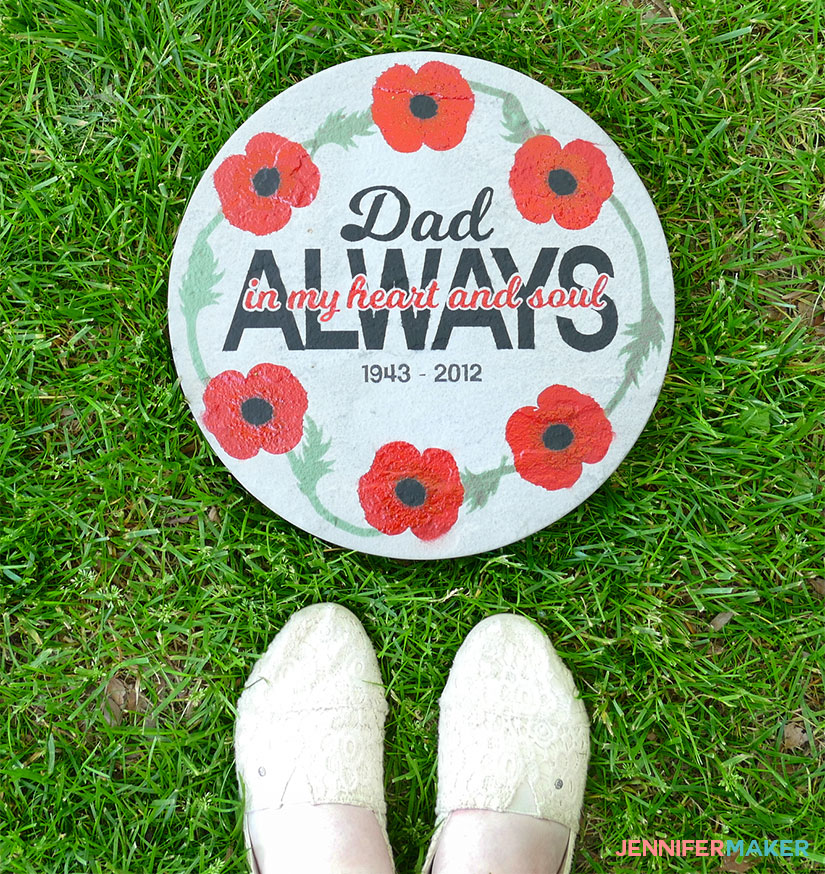 This is what is known as a "knock-out" text design, which I think is very pretty. (Please take a look at my Knockout Design tutorial if you want to create your own design.) I surrounded the text with poppies because my father liked them and because poppies are also associated with Memorial Day, which is coming up in two days here. Remembrance poppies are displayed to commemorate servicemen and women killed in all conflicts. You can even create your own paper poppies.
I've already placed the cement stepping stone under my arbor, and I'm so pleased with how it turned out!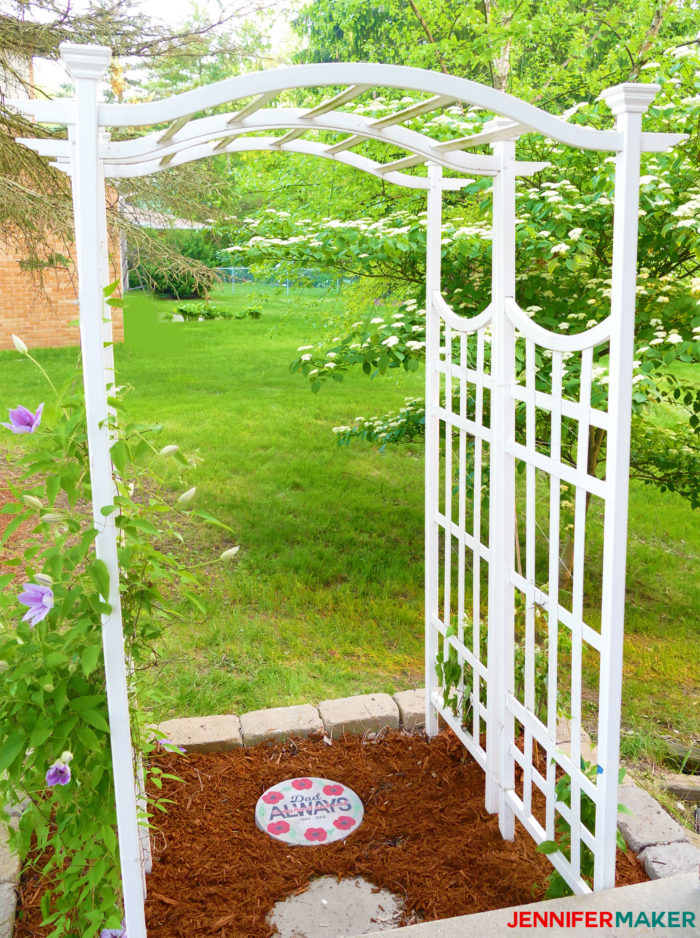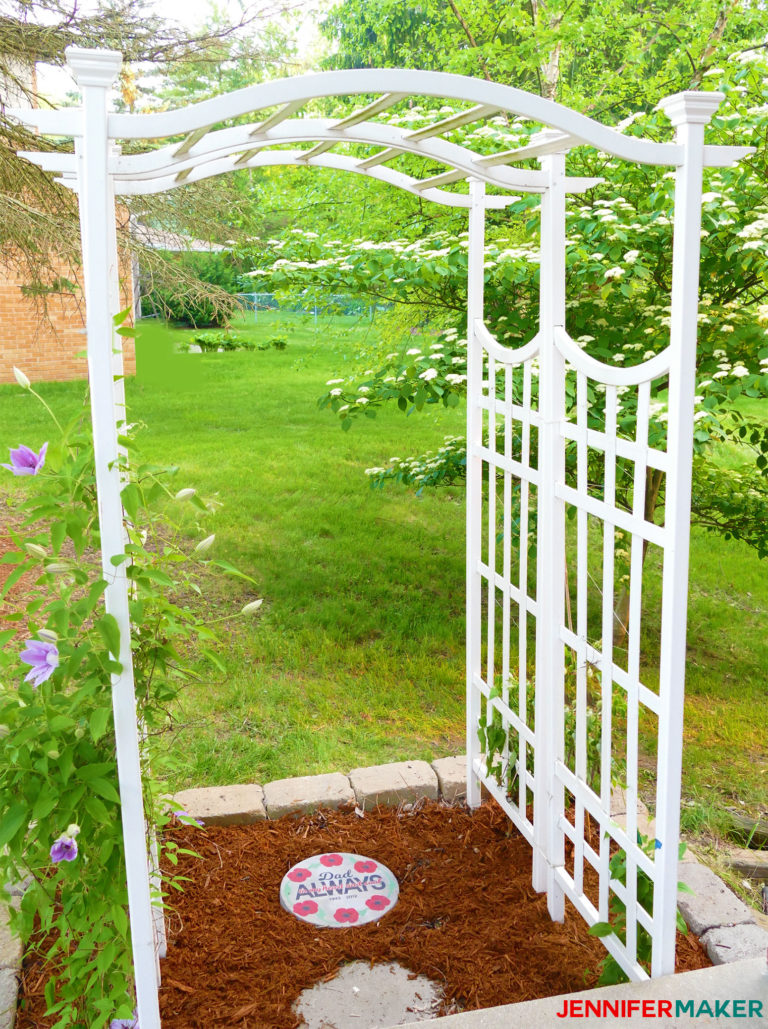 Yes, you can paint your own stepping stone with great results!
Want to make one, too? Let me show you how to paint a concrete stepping stone! This post contains some affiliate links for your convenience (which means if you make a purchase after clicking a link I will earn a small commission but it won't cost you a penny more)! Read my full disclosure policy.
Materials to Paint Concrete Stepping Stones Using Stencils
How to Paint Concrete Stepping Stones Using Stencils
Step 1: Get My Free Stepping Stone SVG File
My free stencil vinyl design (Design #102) is available in SVG, DXF, or PDF files so you can cut by hand or with a cutting machine. You can easily replace the word "Dad" and the dates with your own words in Cricut Design Space to personalize this as you wish.
Get the free stencil vinyl designs from my free resource library (get the password to the library in the form at the bottom of this post).
Step 2: Prepare Your Stencil Vinyl Design File for Cutting
Here is what the Stepping Stone Stencil Vinyl SVG cut file will look like when you upload it to Cricut Design Space: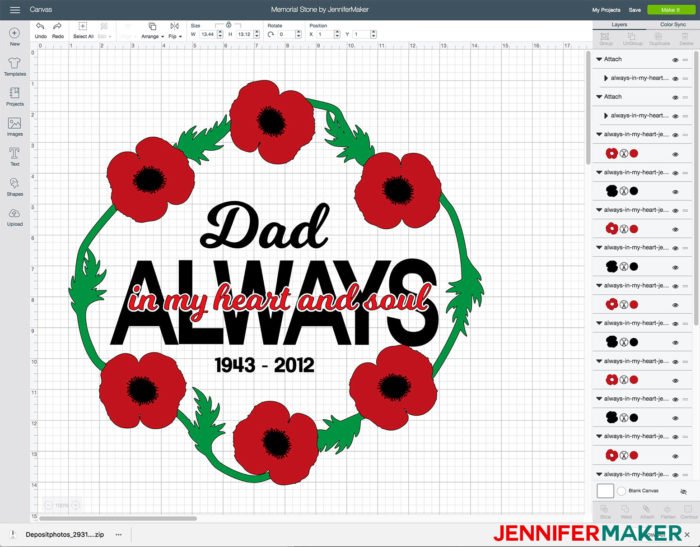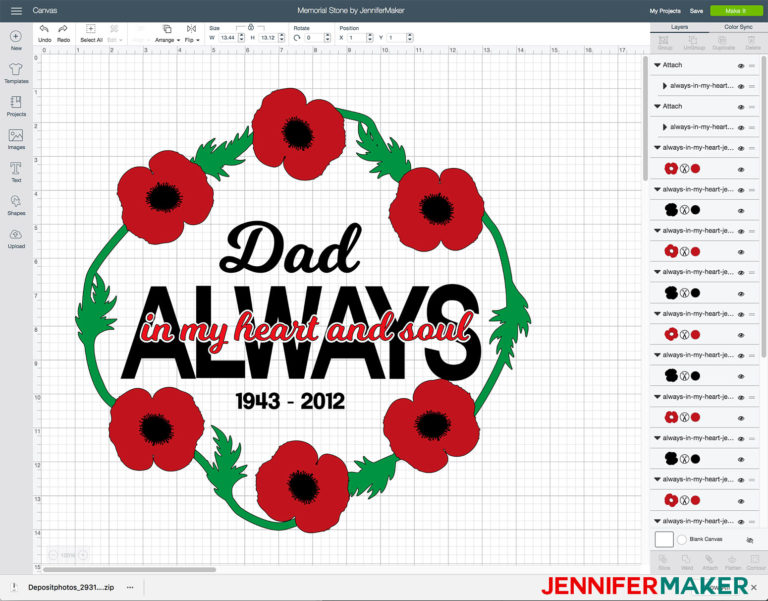 Tip: If you're not sure how to upload an SVG cut file to Cricut Design Space, watch this helpful video training series I made. If you're on an iPhone or iPad, here's how to download and upload SVG files to the Cricut Design Space app.
When you cut stencil vinyl on a Cricut, you place the vinyl on your mat paper side down. Do NOT mirror the design. Just select "Stencil Vinyl" as your material and cut it normally.
Next, clean off your concrete stepping stone. Make sure it is free of as much dirt and dust as possible. Also be careful of the surface under which you put it, as my stepping stone was very rough on the underside and tended to scratch things up when moved.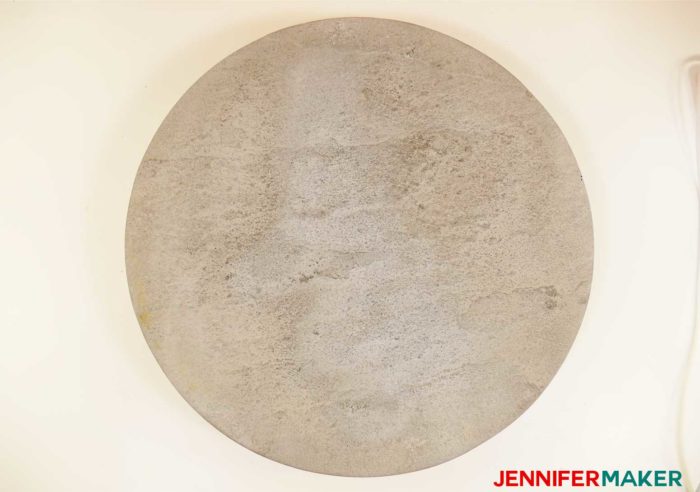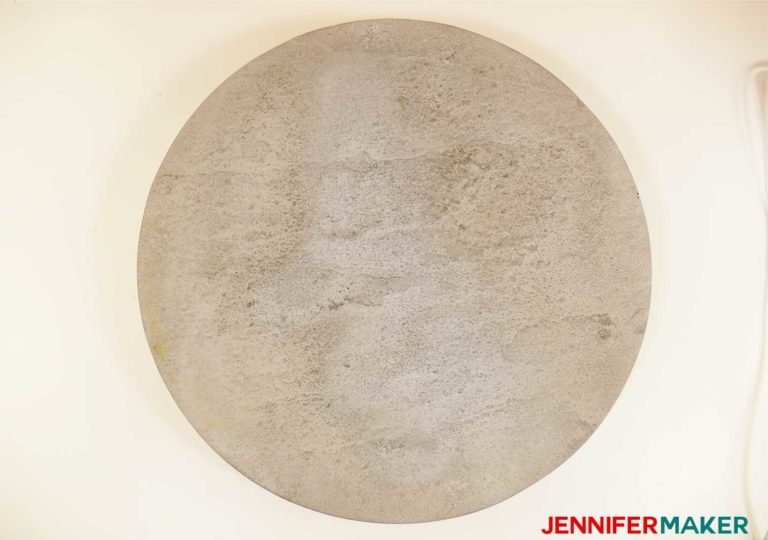 Carefully remove the excess vinyl from your stencil design. I used a BrightPad to work on so I could see the edges a little better.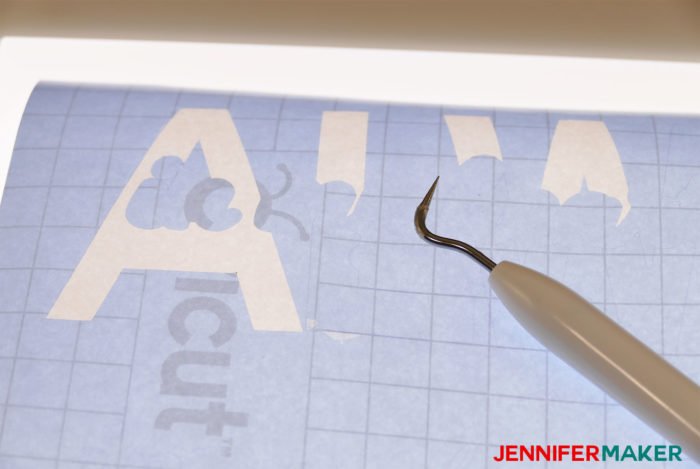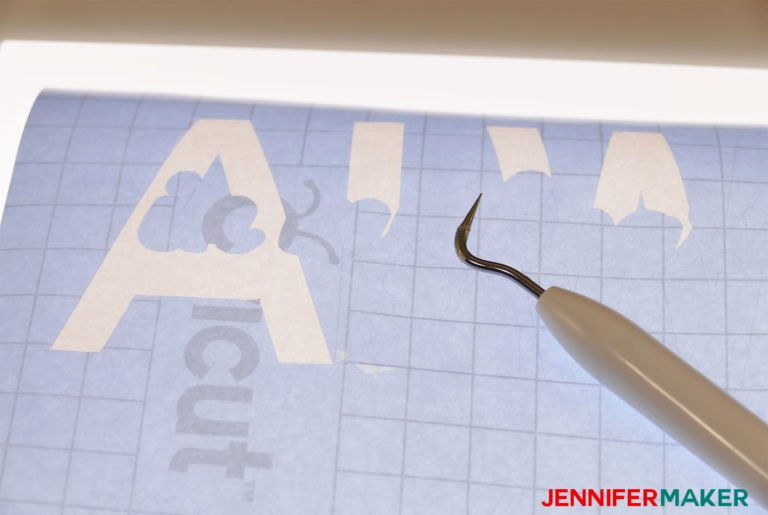 Here is my stencil for the letters with all the extra bits (the letters themselves) removed.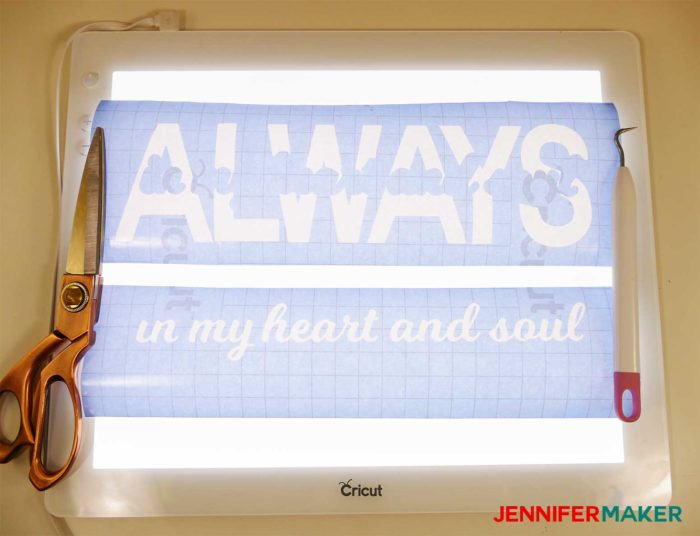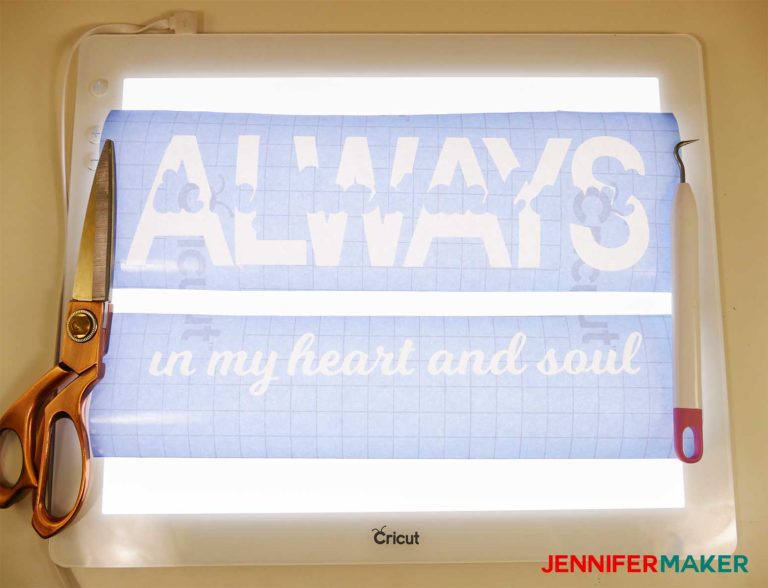 Cut pieces of transfer tape, remove the backing, and apply the sticky side of the transfer tape to the top of the your stencil. Using transfer tape helps keep your design intact and smooth.
Carefully remove the backing off your stencil vinyl.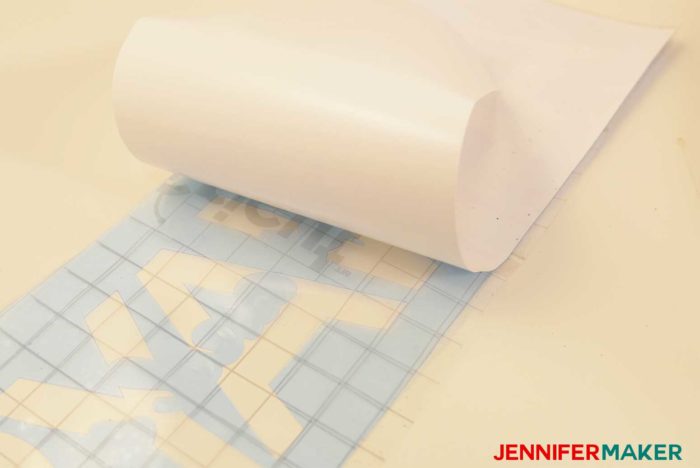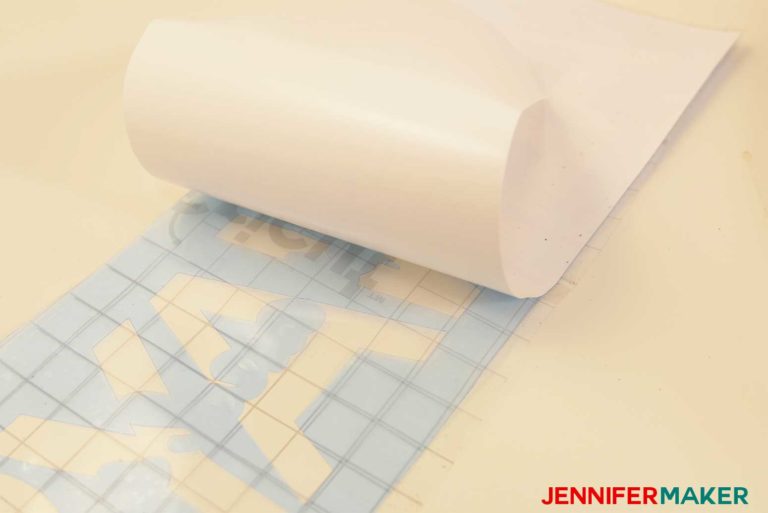 Here's the stencil with the transfer tape, all ready to go onto my concrete stepping stone.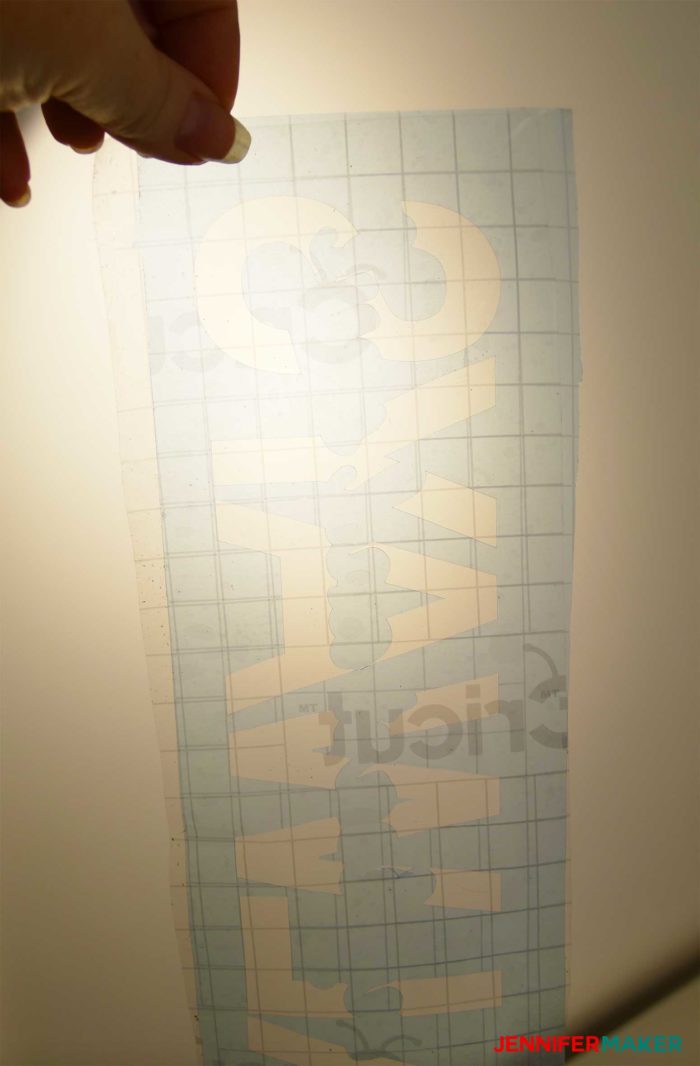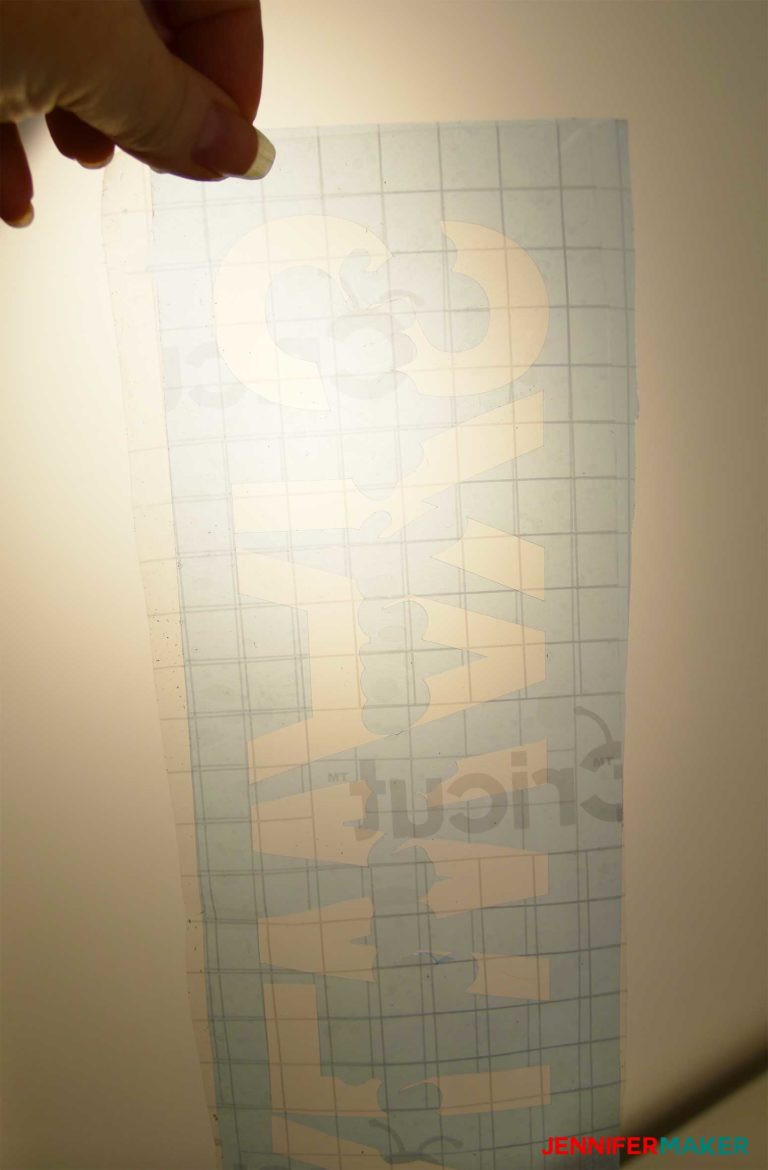 Carefully place the stencil onto your concrete stepping stone, positioning it in the right place. For my design, the word "ALWAYS" needs to be centered both horizontally and vertically on the stone.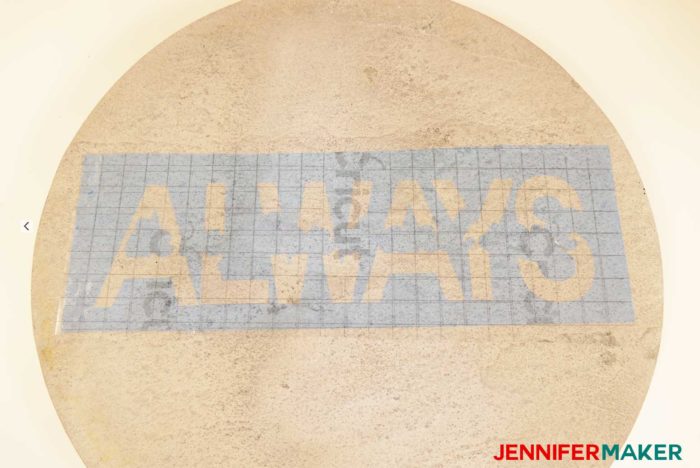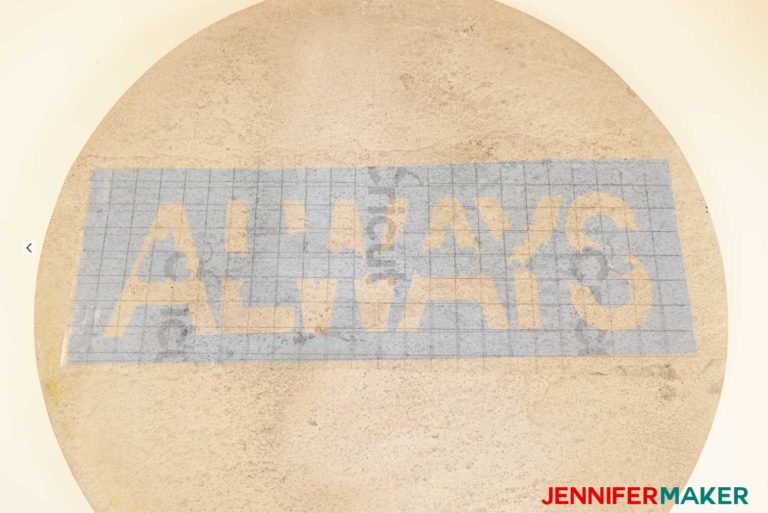 Apply pressure with your fingers or a brayer to make sure the stencil is really stuck on the stone.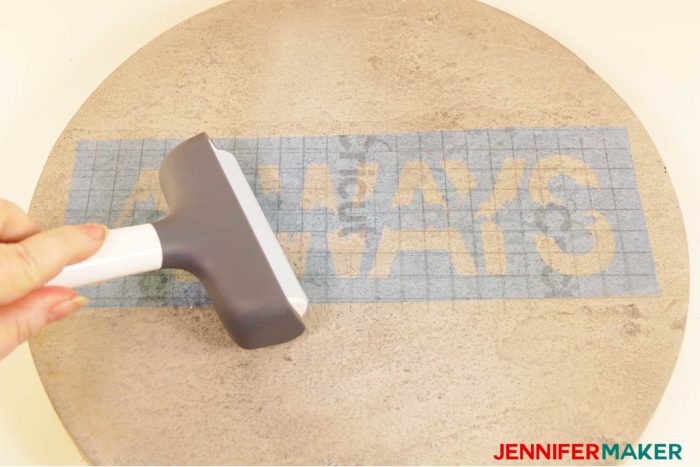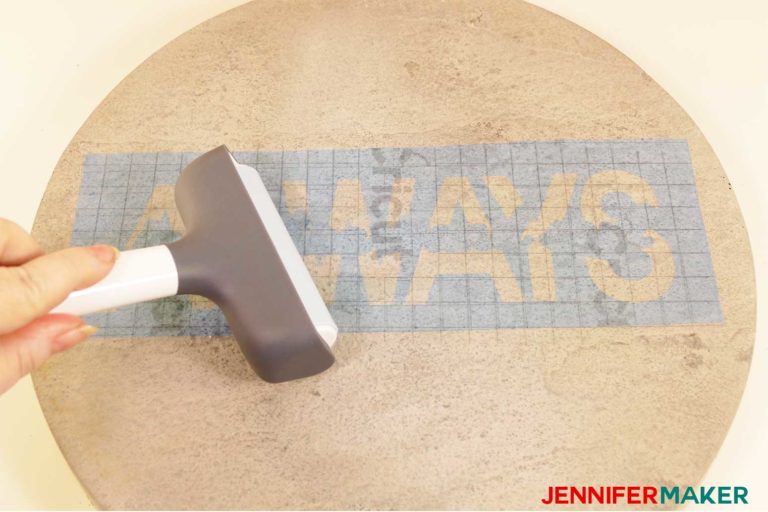 Peel off the transfer tape slowly and carefully, making sure all parts of your stencil stay on the stepping stone. I like to pull the transfer tape off at an angle nearly parallel to the surface for the best results.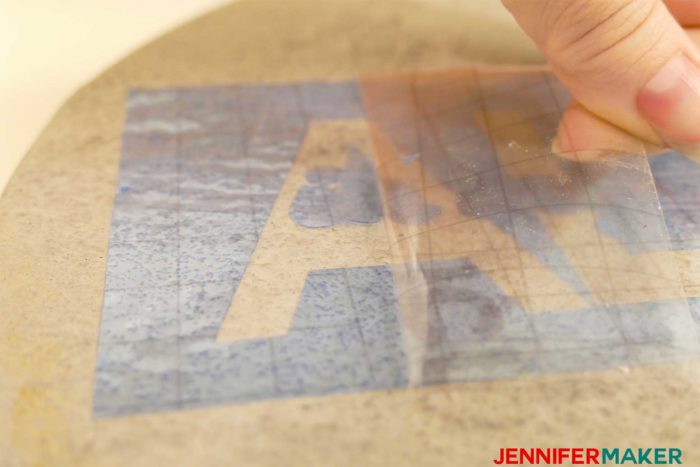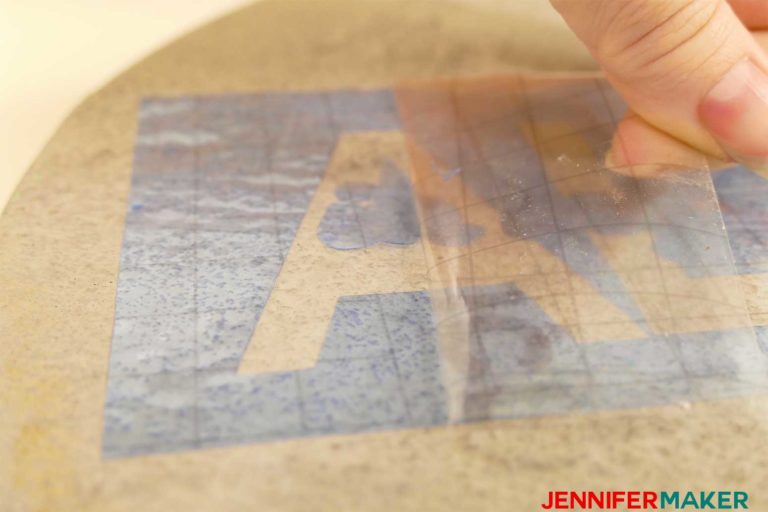 Cover the rest of the stepping stone, around the stencil, with painter's tape and paper. Your goal is to cover all parts of the stone except the stone you can see through the stencil design.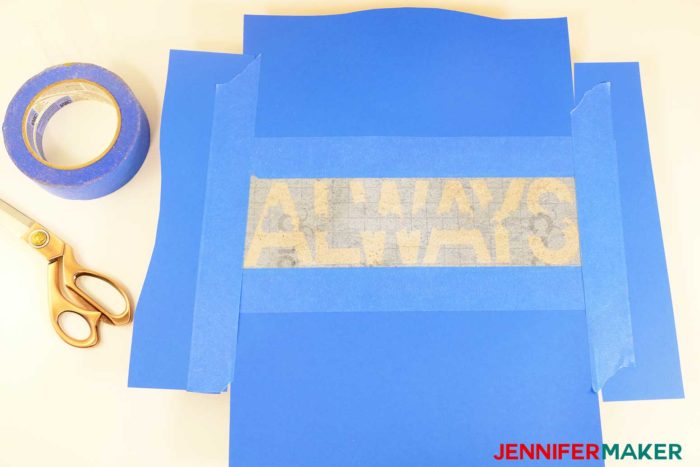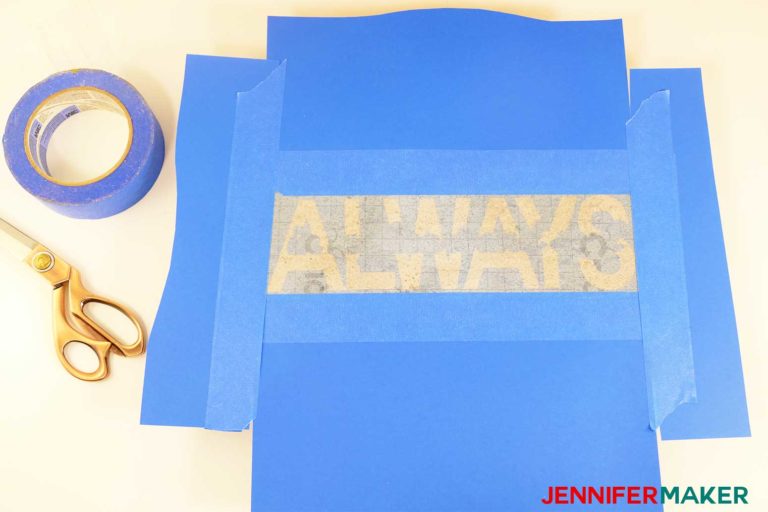 Take your concrete stepping stone and stencil outside (or to a well ventilated area). Spray paint over the stencil. For best results, hold the spray paint can directly above each area as you lightly spray.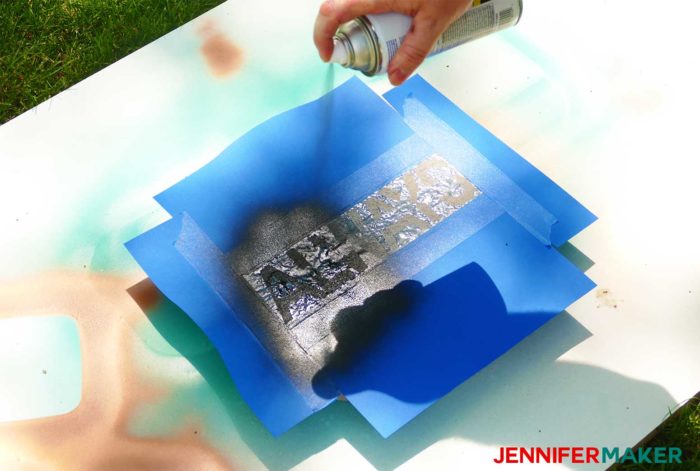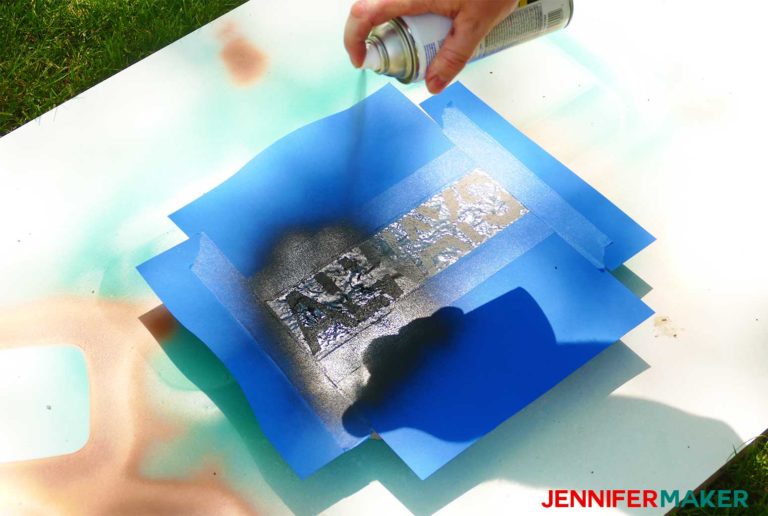 Wait a few minutes (no more, no less) and carefully remove the tape, paper, and stencil.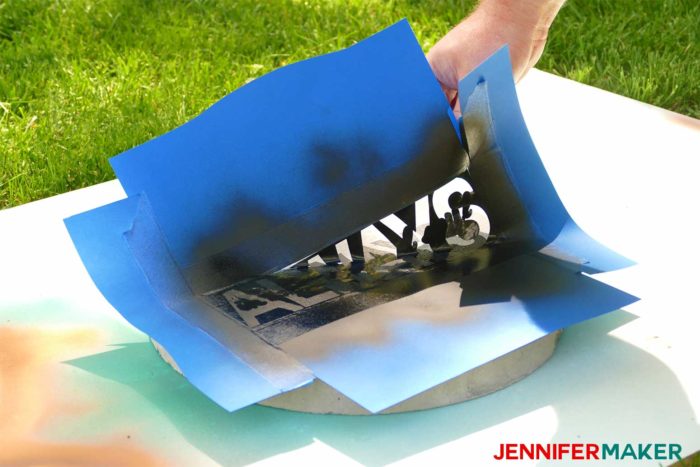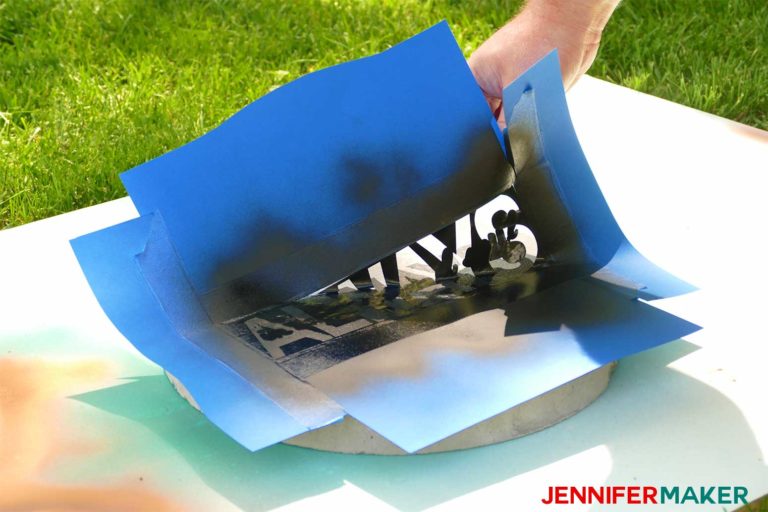 Allow the paint to completely dry (check your spray paint bottle for length of time). We used Army Painter matte black primer for this layer, which is an exceptionally good paint. Look at how sharp the paint turned out on this rough concrete stone!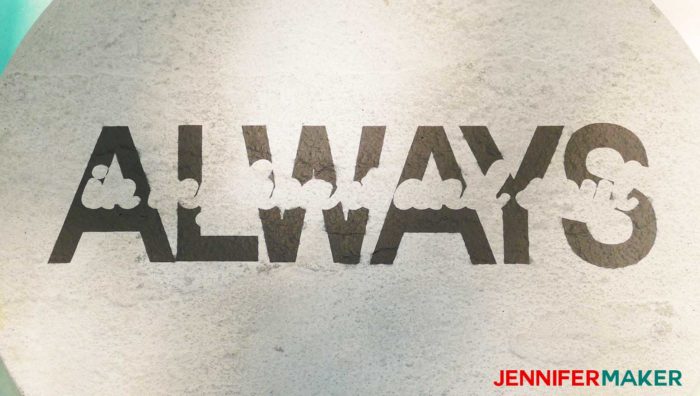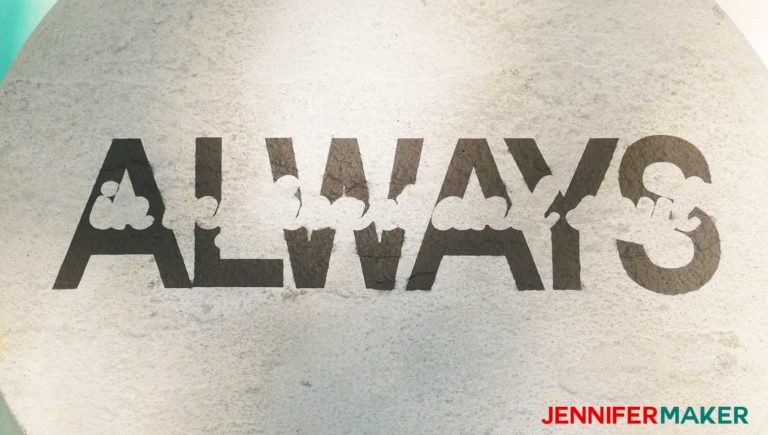 Now, just continue placing your stencils on your stepping stone, being careful to cover up the parts you do not want painted. Here is my green layer: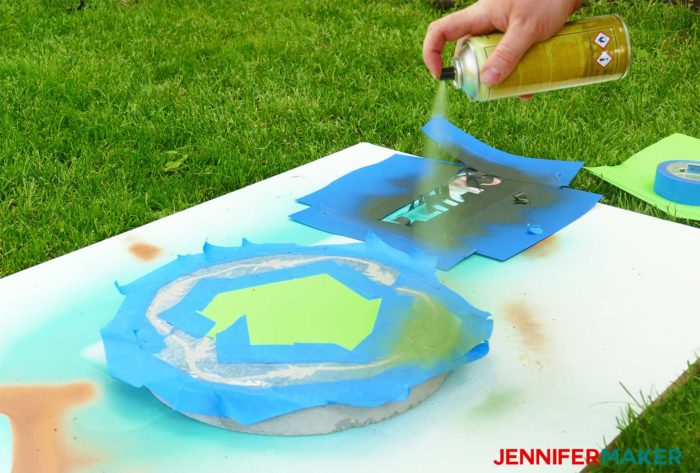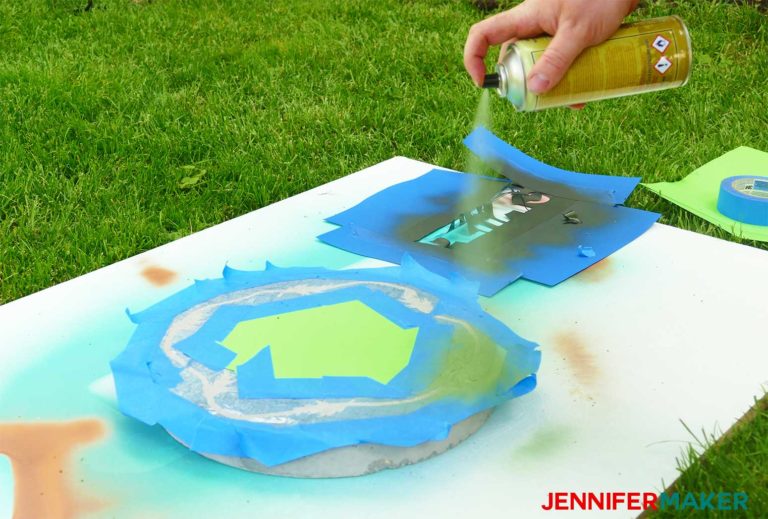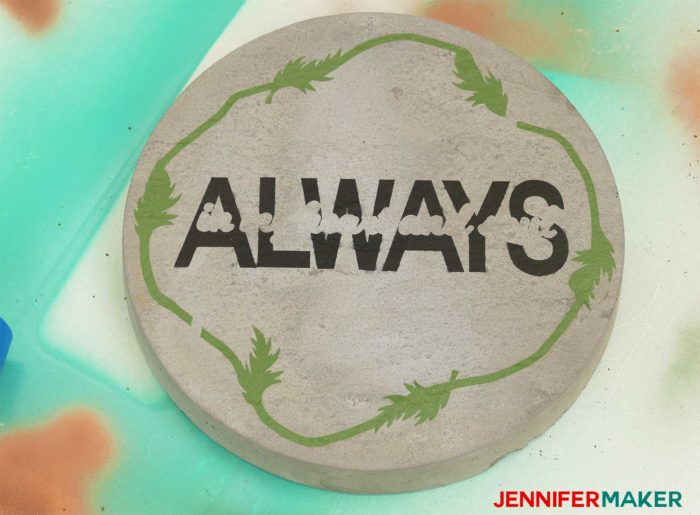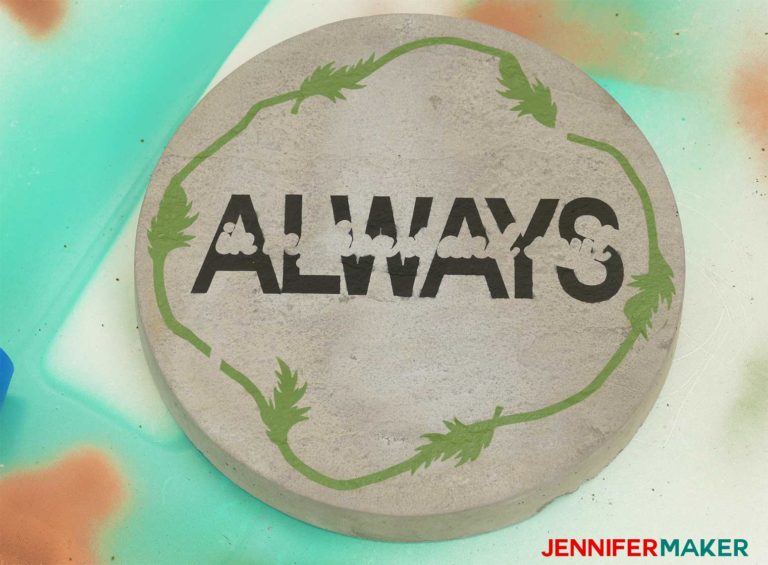 And another black layer. They were done separately because I thought at first I'd use a different color of paint, but then decided against it.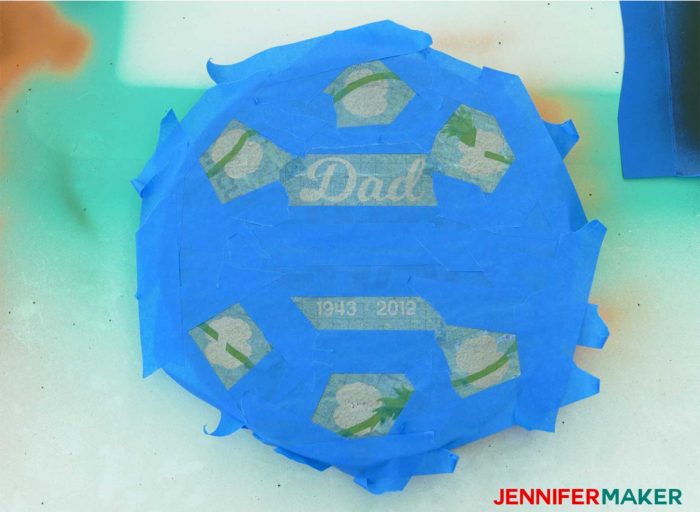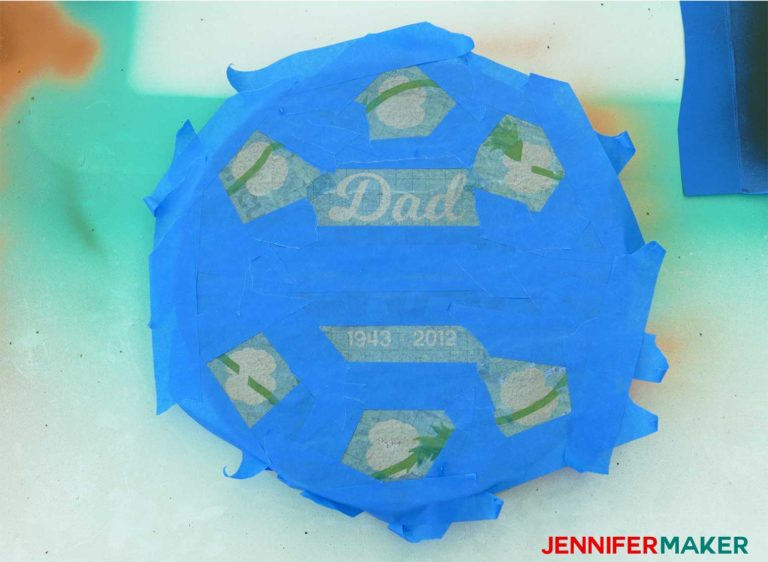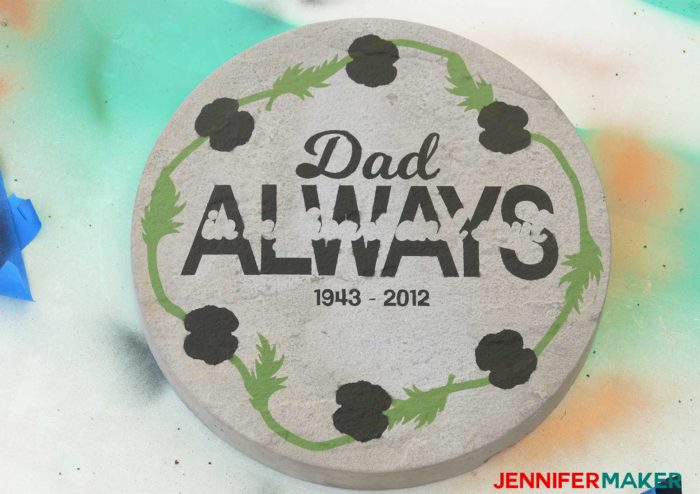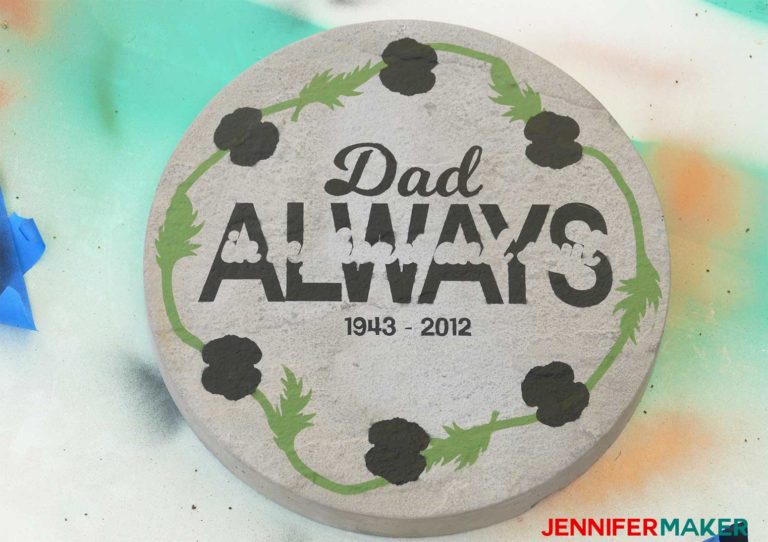 And finally the red layer.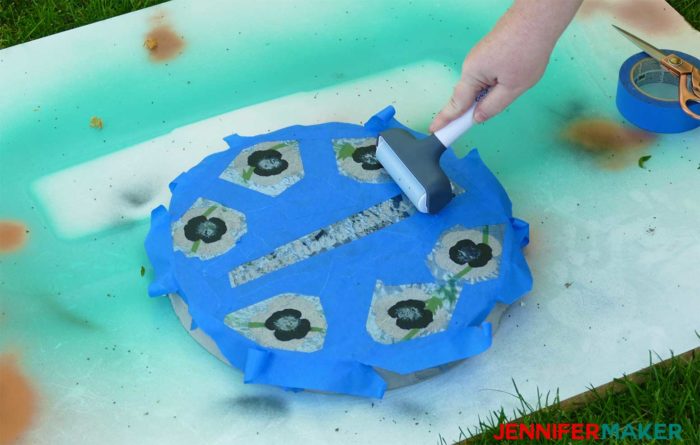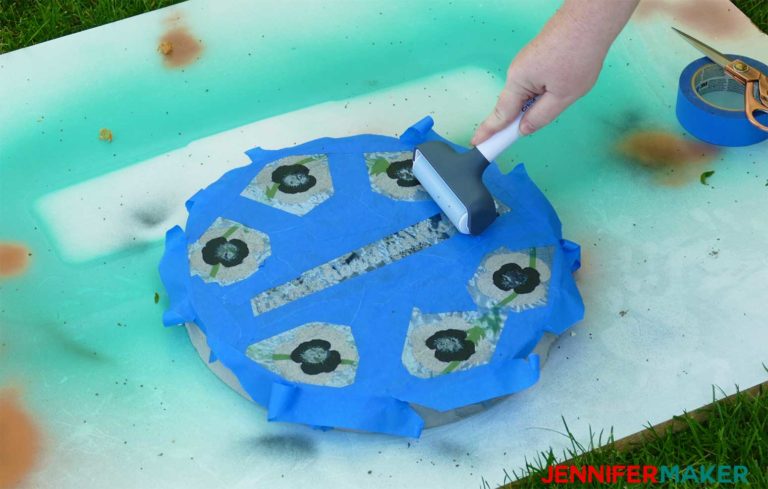 Finally, spray concrete sealer on top of your finished and painted concrete stepping stone to protect it!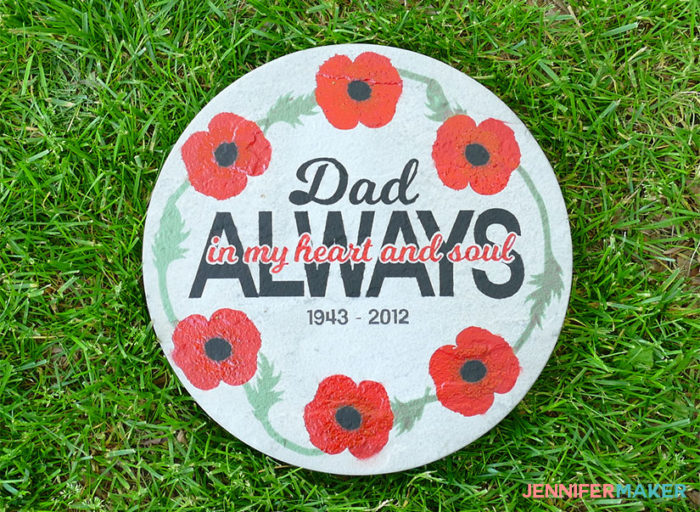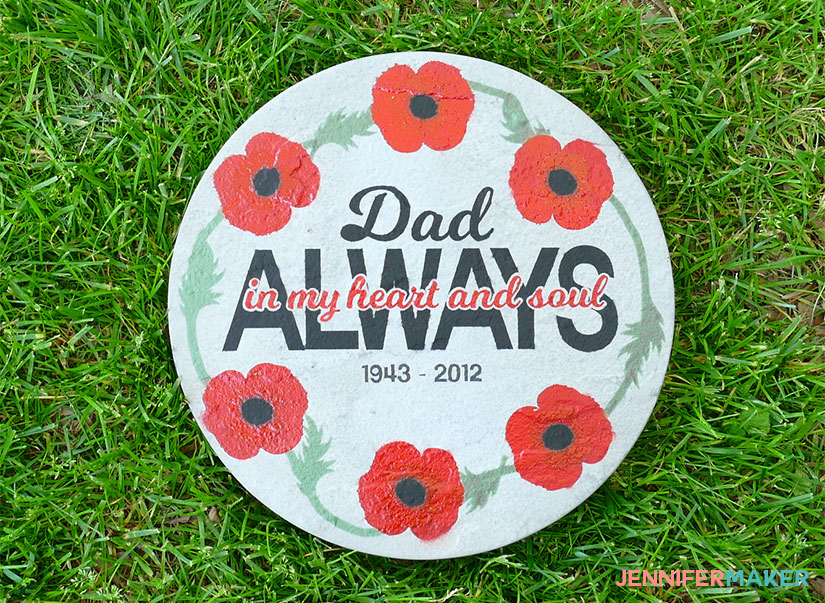 Didn't it turn out great? I am super happy with this. And you could make so many different designs using stencils and spray paint. Just make sure you're using good quality outdoor spray paint for the best results. If you want super sharp painting, I highly recommend the Army Painter primer spray paints. This is such a fun way to make garden stepping stones!
If you are interested in learning more about stenciling, check out my friend Tracy's tutorial on how to stencil a wooden box. This is an excellent step-by-step photo tutorial that goes into great depth on stenciling. AND she includes this beautiful English rose SVG design free on her site!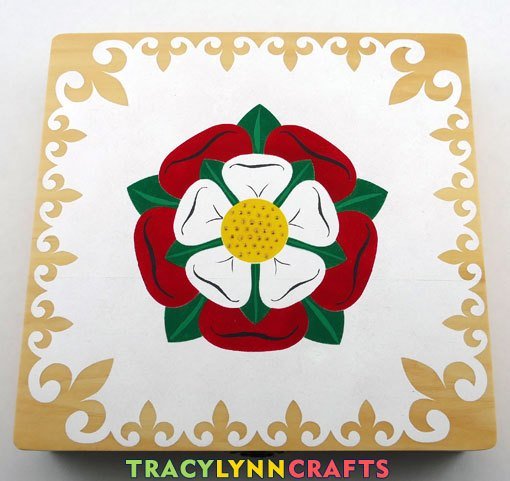 Free Patterns to Make My Always In My Heart and Soul Memorial
You can get the password to my resource library that has ALL of my free cut files in it by filling out this form:
If you paint a concrete stepping stone using a stencil, I'd really LOVE to see it! Please share a photo in our Facebook group or tag me on social media with #jennifermaker.
Love,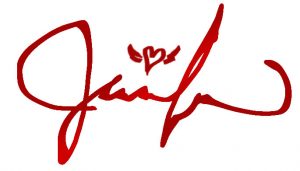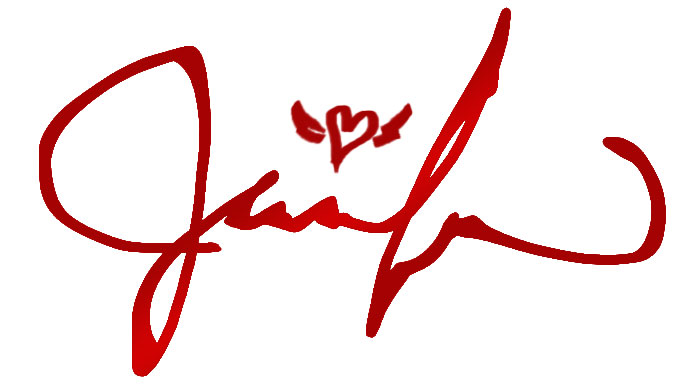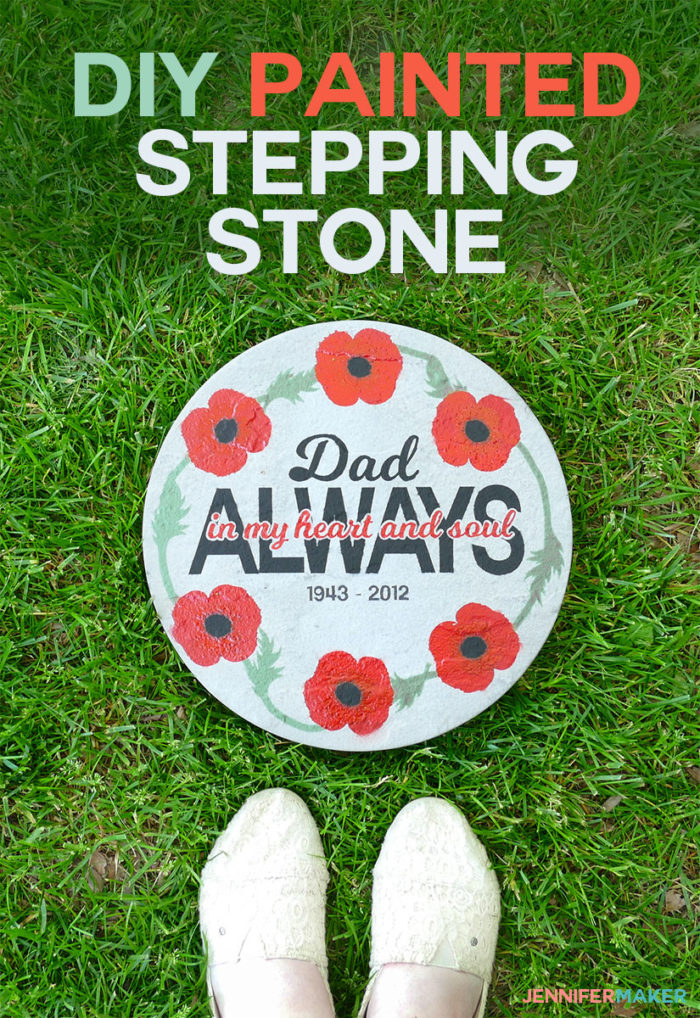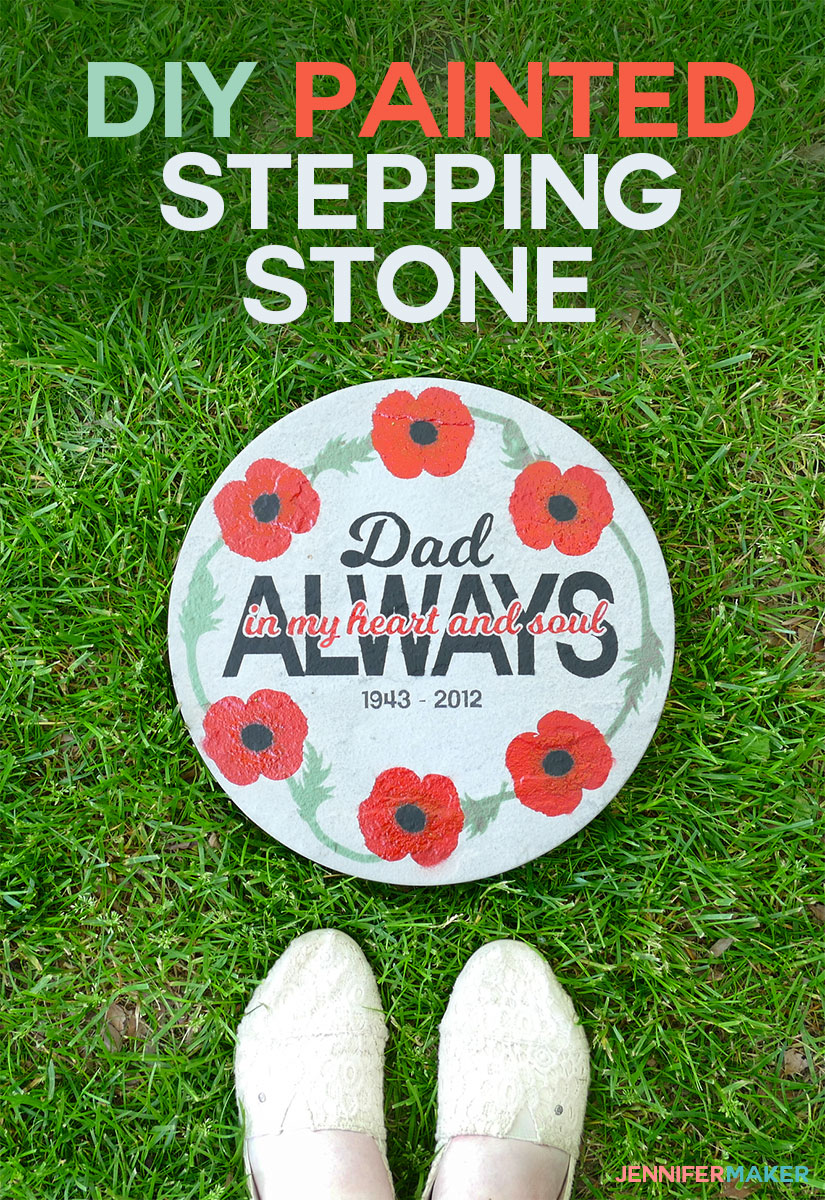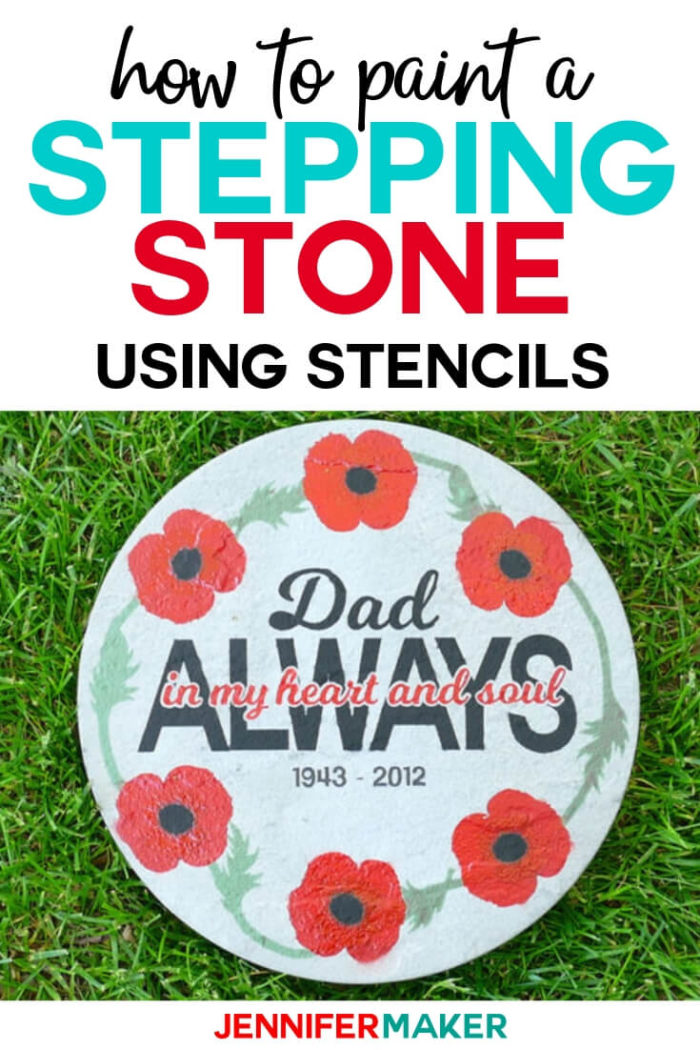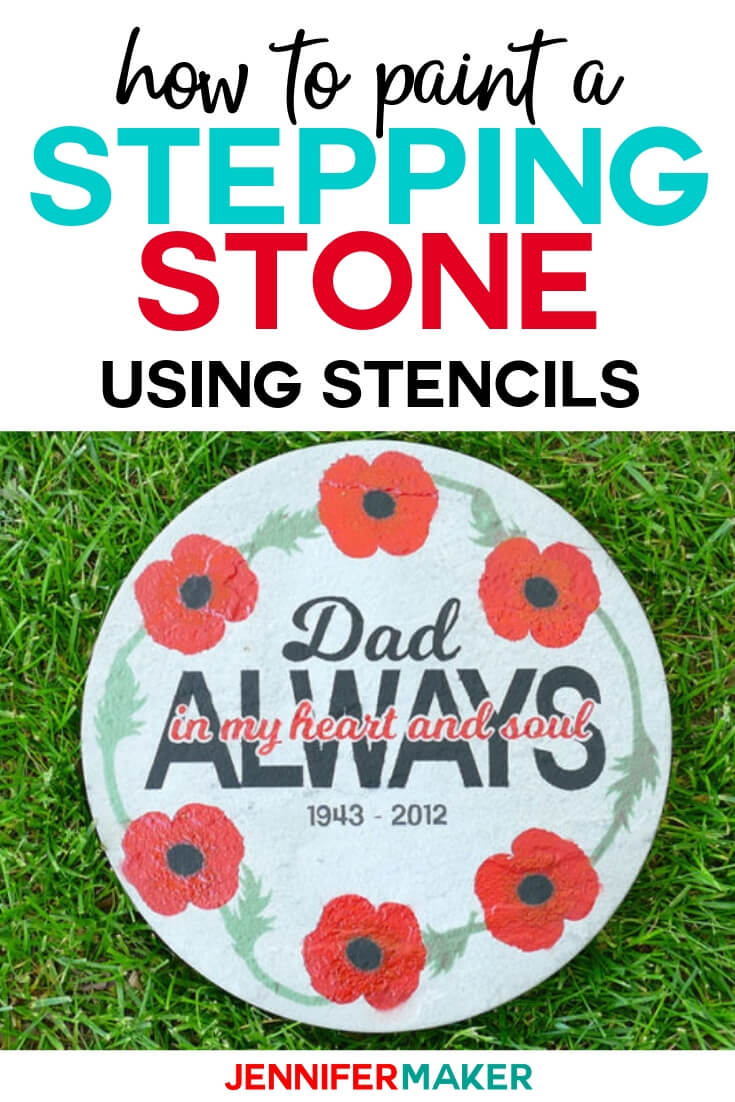 Paint a pretty concrete stepping stone using stencils to create a beautiful memorial today!