Learn how to use this beautiful and easy tree with hearts SVG as canvas art to show your love year around! This pretty wall art makes lovely home decor or a special gift.
This paper heart tree canvas is a perfect addition to the two other canvas art pieces I have made: the butterfly and flower girl. My paper butterfly heart canvas is absolutely adorable! I keep it out in my craft room year-round and it always makes me smile. Since this project was so popular, I created my stunning paper flower girl canvas wall art. It's really fun to play around with different shapes and designs and this time I wanted to embrace love, kindness, and family. This vinyl tree with hearts SVG is lovely and it is surprisingly easy to make and decorate with paper hearts, too!
Watch the full video tutorial on how to make this pretty paper heart tree!

I love projects that look very complicated to make, but are actually quite simple. This is one of those projects. It is so much easier than it looks. I am frequently asked if a project is good for beginners, and without a doubt, this tree with hearts SVG is a wonderful place to start for any level of crafter. If you haven't used vinyl, this is a great project to begin with because you don't need a lot of supplies! What makes it even better is that you can customize it to fit your decor or your mood.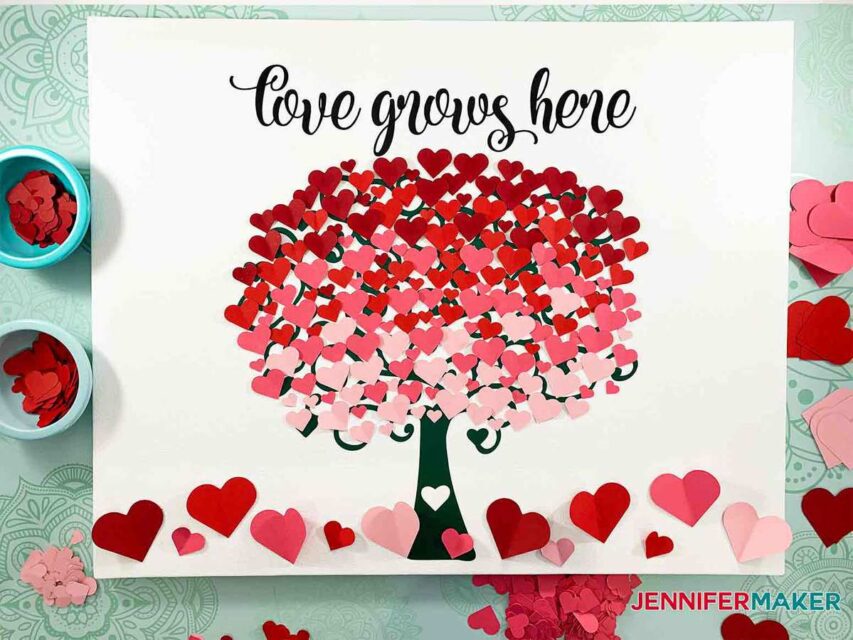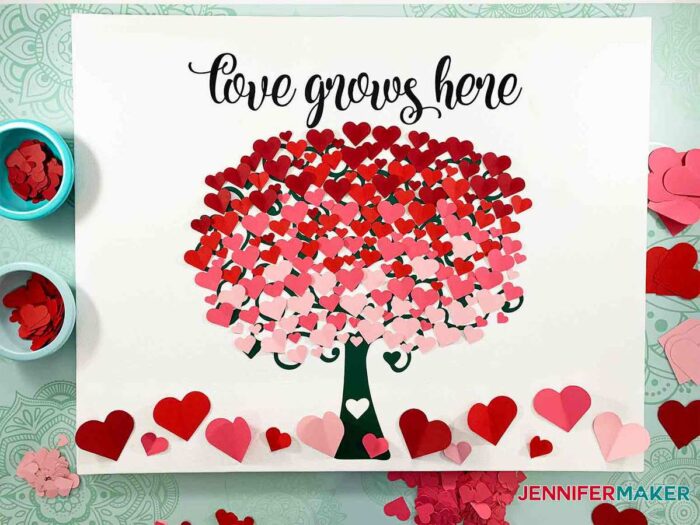 All you need is one or two sheets of permanent vinyl for the tree with hearts SVG design, along with a way to transfer it (like a sheet of transfer tape). I designed the tree with hearts SVG so it can be cut on a cutting machine like a Cricut Maker or Explore … I even made a special version that is sized to be cut on the Cricut Joy!
In addition to that, you'll want about four sheets of cardstock in various shades of red and pink — I'm using several sheets of paper from a solid core pack I had on hand. Solid core cardstock means the paper is the same color throughout the paper — front, back, and inside — and is not white on the edges. Cricut, Michaels, and Amazon all have packs of solid core cardstock that you can use for this project, or even better, you can use what you already own! This is a great way to use some of your supplies. I cut out the paper hearts using my Cricut cutting machine, but you could also use scissors of course (though it might take a while).
You'll also need a canvas, board, or sign to which to attach your tree and paper hearts. I'm using a 16″ x 20″ stretched canvas. If you go a lot smaller than this, the difficulty level will increase because the vinyl will get harder to weed.
You'll also want to seal the canvas with something before you attach your tree with hearts vinyl, as it will make it much easier to transfer your vinyl to it. You can use paint, Mod Podge, or spray adhesive. Just be sure to let your sealed canvas dry before you apply your vinyl.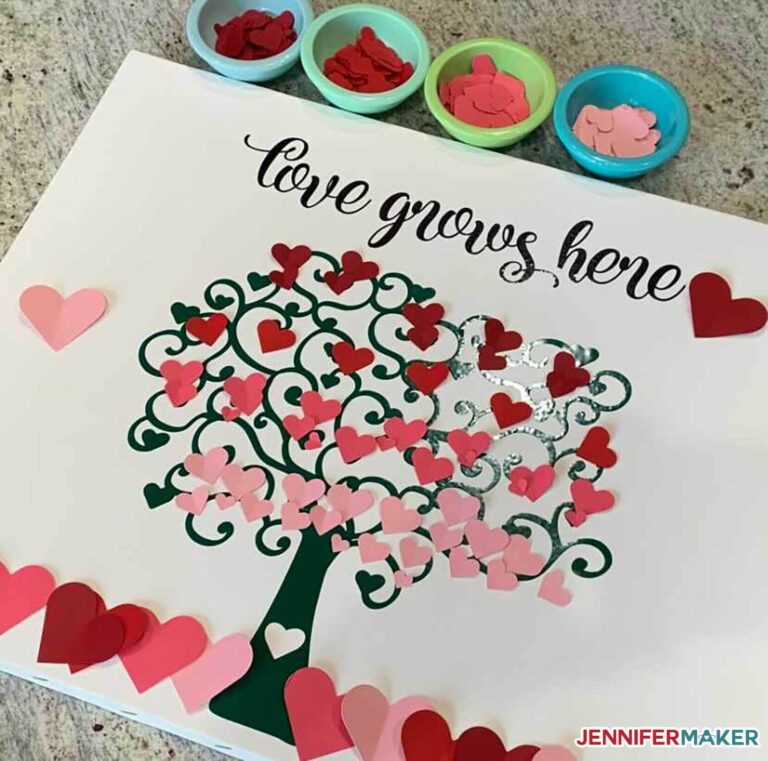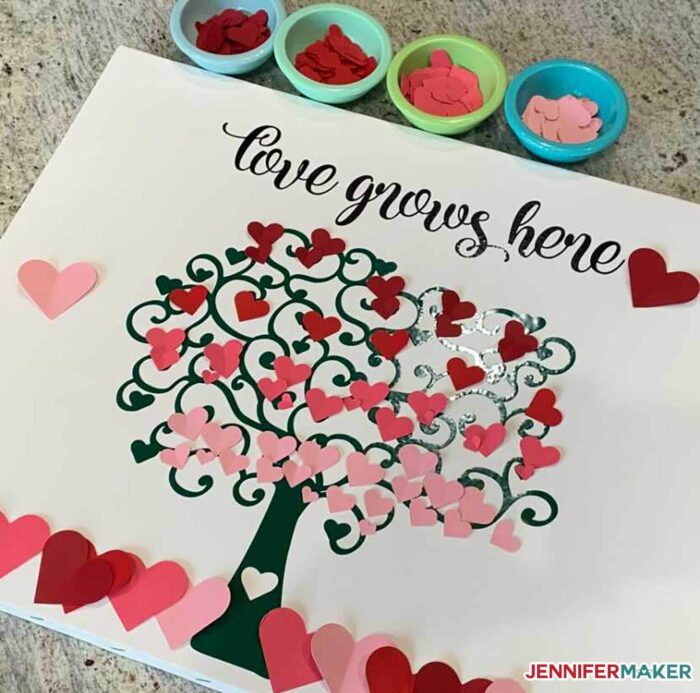 And finally, you'll need a way to attach your paper hearts to your canvas. I found it easiest and fastest to use tacky glue, but you can also use hot glue or glue dots. If you fold your hearts in half before you apply them to your canvas, you can add great dimension without having to use a 3d adhesive!
So let me show you where to find my tree with hearts SVG design, and then I'll show you how to cut and assemble your paper heart tree canvas! This post contains some affiliate links for your convenience (which means if you make a purchase after clicking a link I will earn a small commission but it won't cost you a penny more)! Read my full disclosure policy.
Materials to Make a Valentine Heart Tree Canvas

See my Amazon shopping list for this project here!
How to Make A Tree with Hearts SVG Canvas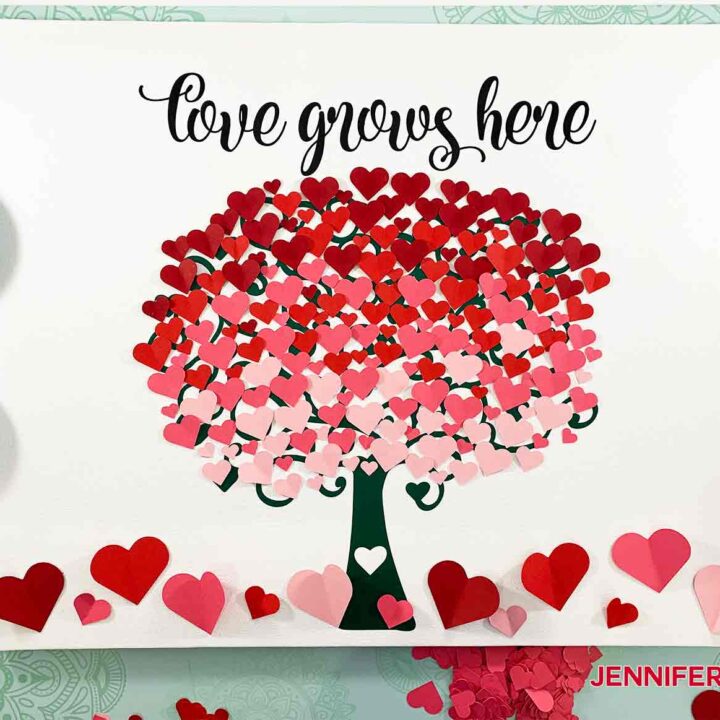 Easy Tree with Hearts Canvas
Total Time:
1 hour
30 minutes
Here are my step-by-step directions to make the easy Paper Heart Tree canvas wall art using my tree with hearts SVG.
Answers to Your Questions About Making a Paper Heart Tree Canvas
Q: Can you resize this project?
Yes, you can. Please keep in mind that if you resize down to an 8″ x 10″ canvas, that will work too, BUT the files (tree, hearts and words) will be half the size and more difficult to weed/handle. If you need help resizing, please read my guide to resizing SVGs.
Q: What kind of paper should I use?
You can use any cardstock. I used 80 lb. cardstock, but 65 lb. cardstock will work just as well. You can even use 110 lb. cardstock, but it may be harder to cut and fold.
Q: Do I have to seal the canvas?
It will be easier to get the tree with hearts vinyl to stick if you seal the canvas before starting this project, but it can be done without sealing. If you don't seal the canvas first, just realize that the vinyl will be a little more stubborn about sticking to the canvas and will take more time and patience to complete.
Q: How do you glue the hearts to the canvas?
You can use any glue you have on hand. I used tacky glue, but glue dots, a hot glue gun, or any other adhesive will work.
Get my free SVG files to Tree with Hearts Canvas
I love this paper heart tree canvas and it looks so pretty hung on a wall. The tree with hearts SVG can be a fun decoration for Valentines Day or used to hang on a wall any time of year! Please do share a photo of your paper heart tree canvas in our Facebook group or tag me on social media with #jennifermaker.
Love,