During my first year of blogging, I built a mailing list of more than 20,000 subscribers! Woohoo! But with great subscriber growth also comes more reader emails in my mailbox. After all, I encourage them to email me. And I actually like to answer my emails because I like getting answers to mine. Sadly answering all those messages could take a lot of time, and time is not something I have in abundance. For a while I kept prepared answers to common questions in a text file to copy and paste in. It was tedious. But I've now found a faster and better way to respond to blog emails: canned responses in Gmail!
So this particular trick requires that you use the Gmail.com platform for your email, and you need to be using the web browser based Gmail client (https://mail.google.com), not the app on your phone. If you don't use Gmail currently for your blog email, I recommend it. It's so much better than using Outlook in Windows or Mail on the Mac, in my personal opinion. With Gmail, my mail is always available "in the cloud" so I can check it regardless of where I am. You don't have to be using a gmail.com email address either — I use it with my [email protected] account. You can get your POP server information from your web host (here's how to do it with Siteground), then in Gmail just go to Settings > Accounts and import, and set your "Send mail as" option and your "Check mail from other accounts" option to your blog's email address.

Once you're sending and receiving emails on Gmail, here's how you set it up for faster and better responses to your blog emails:
How to Setup Canned Response to do Blog Emails Better
First, go to Settings > Advanced > Click to Enable Templates
Next, click on the Compose button in Gmail and write a good, detailed response to a common question. For example, I often get emails from readers who claim the password to my resource library does not work. So I wrote this response:
---
So sorry to hear you're having issues, but I can help! The best thing to do is copy the password -- 
************ -- and paste it in at this EXACT link: https://jennifermaker.com/resource-library


This helps 99.9% of people who have password issues.


Let me know if this worked or not. I want you to have access to all the goodies!


Thanks,
Jennifer
---
Once your letter is composed, click the three vertical dots in the lower right corner of your Compose window. A pop-up menu will appear — choose Templates > Save Draft as Template > Save as New Template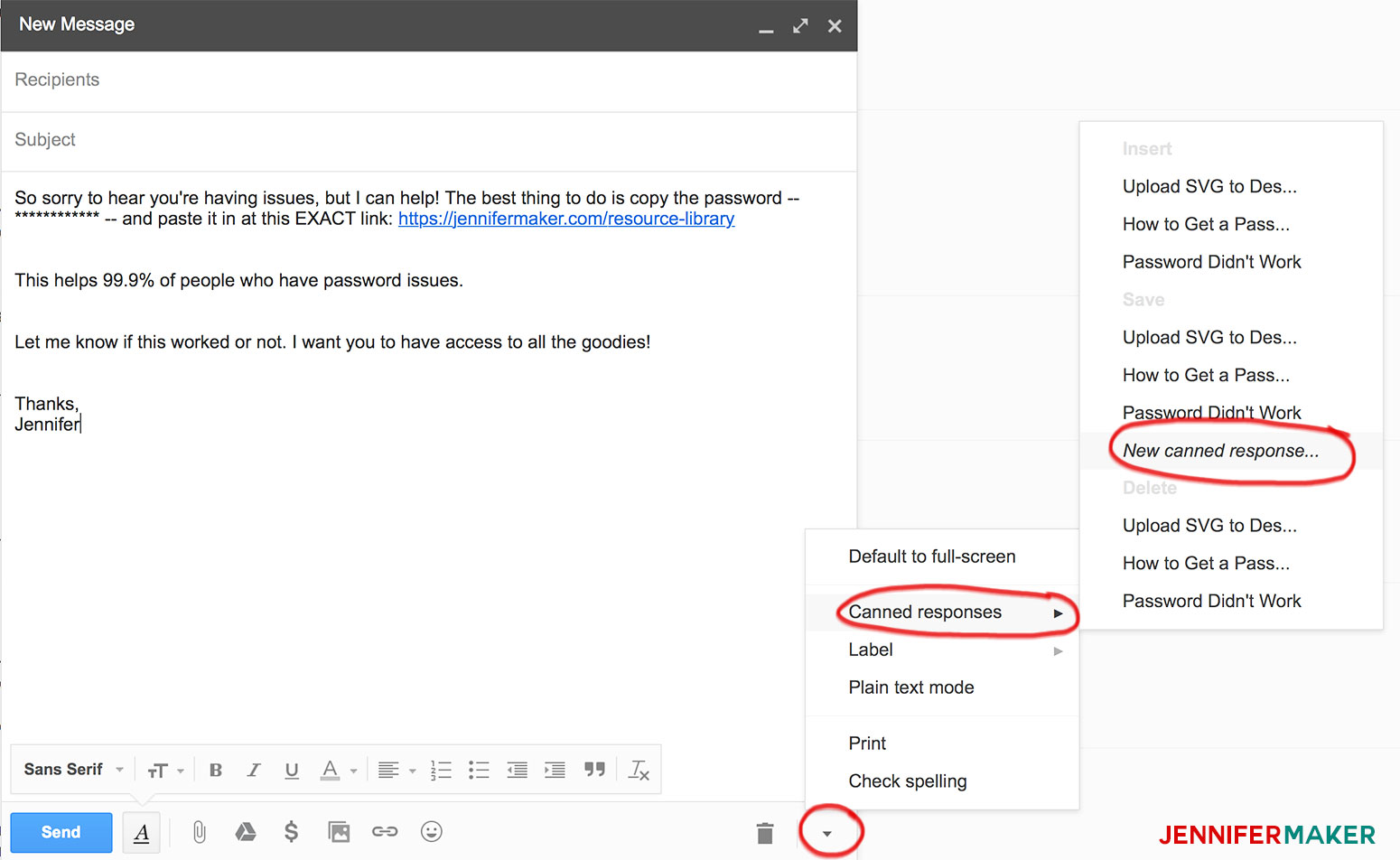 You will be prompted to give your template a name — I chose "Password Didn't Work."


And that's it! Now when you get an email that can be answered with a canned response, just click Reply, hit the three stacked dots in the lower right corner, choose the template you want, and it drops in automatically. It takes just seconds to give real answers to emails.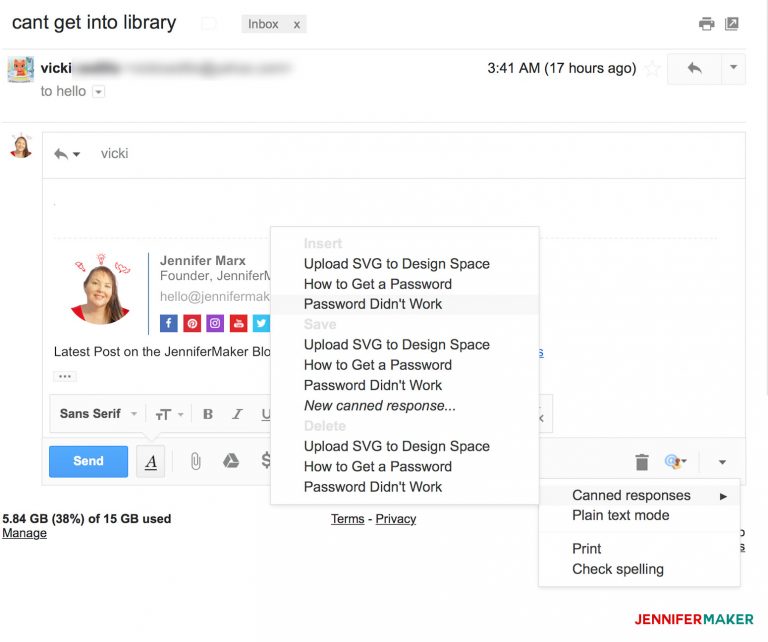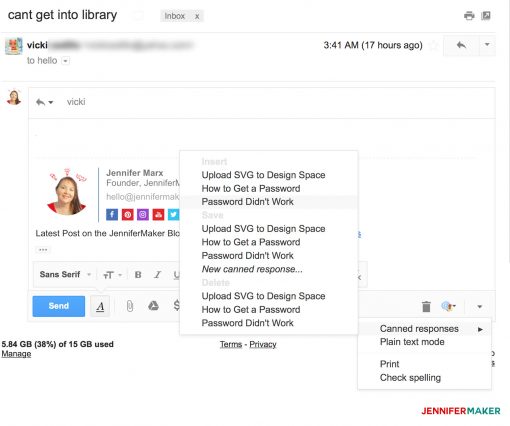 I have several canned responses now — in addition to "my password didn't work," I have "How to get a password" and "How to upload an SVG file to Cricut Design Space." I'm also planning on creating ones for my various email challenges, as I get questions about missing emails fairly often. And I will create more as I go along.
I think that if I answer the same question more than three times, that warrants a new template.
You can edit your Gmail templates by composing a new mail, dropping in the response you want to change, edit it to your liking, then go back to the vertical dots > Templates > Save Draft as Template and select that particular template under the "Overwrite Template" subheading. This will overwrite the old response with the new one.
Using these templates saves me a LOT of time and it helps strengthen my reader relations.
I hope this has been helpful! If you're building a blog or have blogging questions, please visit our Facebook Page and join other bloggers in our Facebook group.
Love,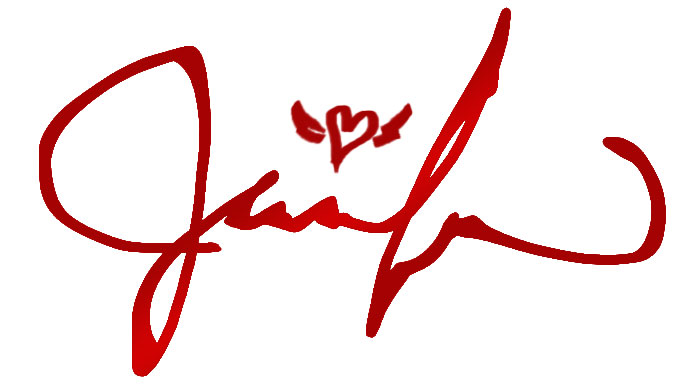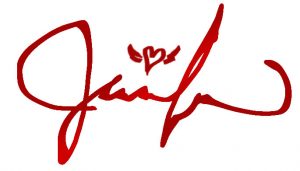 P.S. If you are interested in learning more about my blogging method and techniques, and my personal story of how I created a full-income blog within one year, please subscribe to my blogger mailing list below.