Learn how to decorate a glass vase with vinyl to make this beautiful cardinal remembrance vase.
When I said I was going to use these awesome Dollar Tree blanks for Cricut crafts, I wasn't kidding! Today's craft is honor of all those I'm missing this holiday season, especially my Dad. This vase is covered in birch trees and red cardinals, which some consider to be a symbol of loved ones who have passed away. I placed nine red cardinals on the branches, but you could have just one … or many more. This is a simple and inexpensive project that requires nothing more than a cylinder vase from Dollar Tree and some vinyl in whatever colors you want.
Here's a video showing how lovely this vase is from all angles:
Here's my pretty glass vase covered in cardinals. No one would ever guess this started with a vase from the Dollar Tree!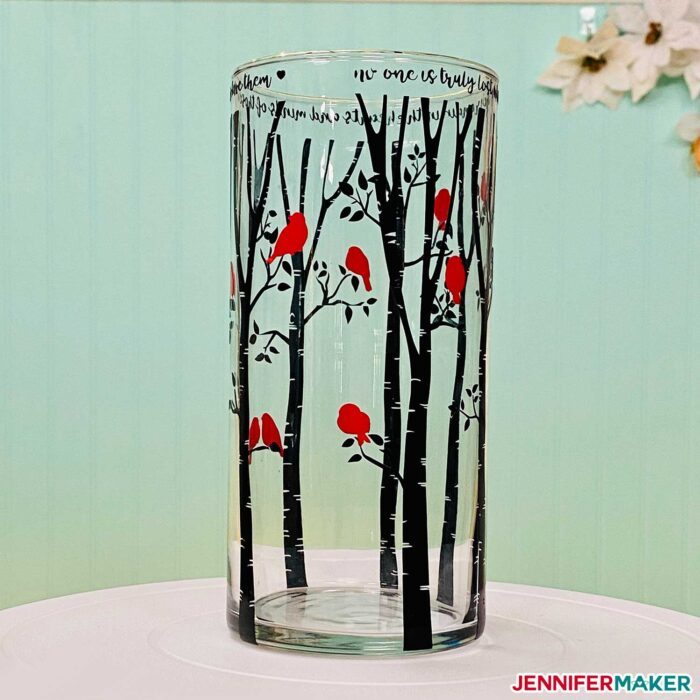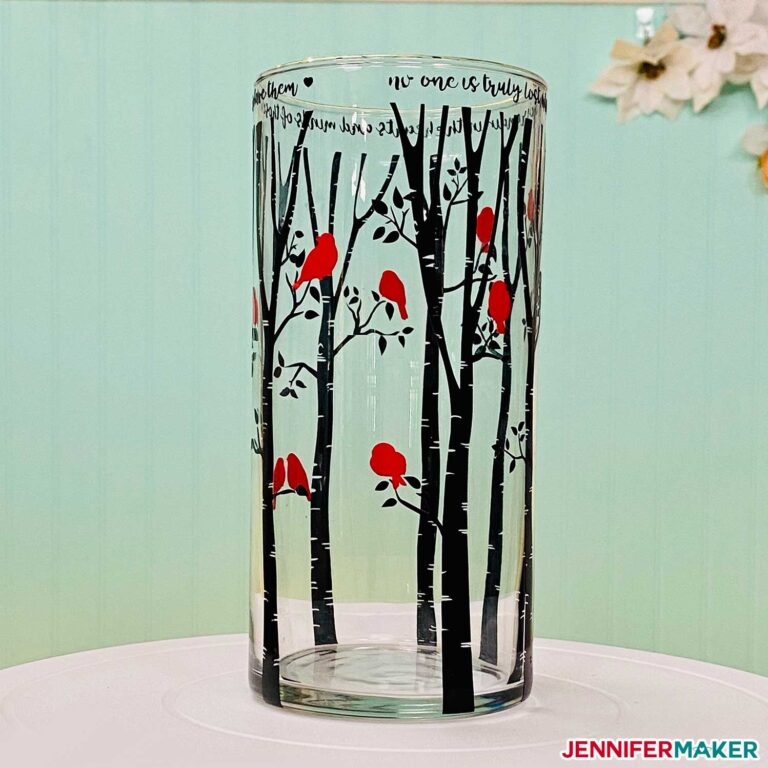 Let me show you how easy it is to transform a Dollar Tree glass vase into this work of art with my free designs! This post contains some affiliate links for your convenience (which means if you make a purchase after clicking a link I will earn a small commission but it won't cost you a penny more)! Read my full disclosure policy.
How to Make Your Own Cardinal Vase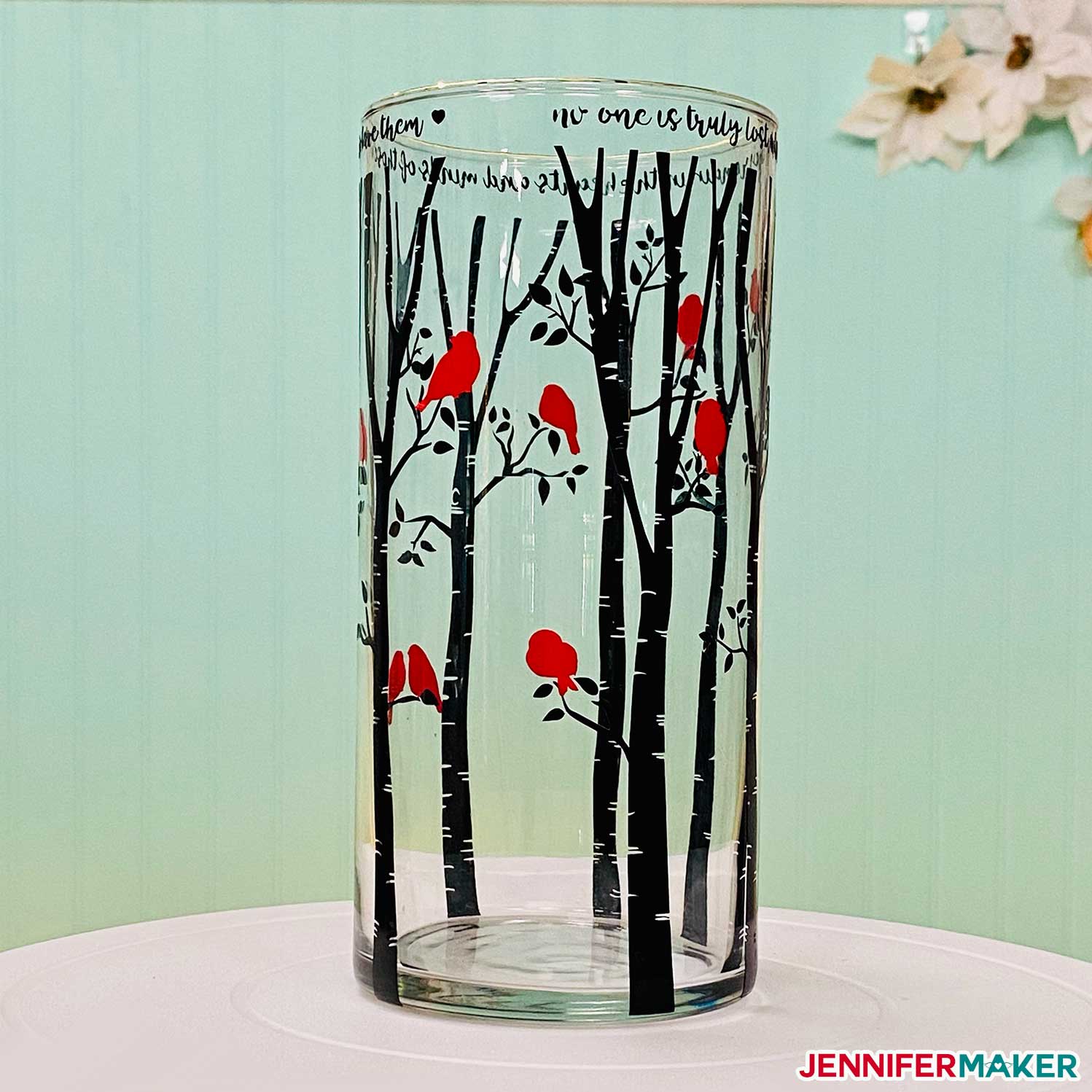 Cardinal Vase
Yield: 1 vase

Prep Time: 15 minutes

Active Time: 10 minutes

Total Time: 25 minutes

Difficulty: Easy

Decorate a glass vase with vinyl to make a gorgeous work of art that also memorializes loves ones.
Instructions
STEP 1: Get the Free Vase Design
Download my cardinal remembrance vase design from my resource library — it's design #359. Here is what my SVG cut file looks like once uploaded to Cricut Design Space: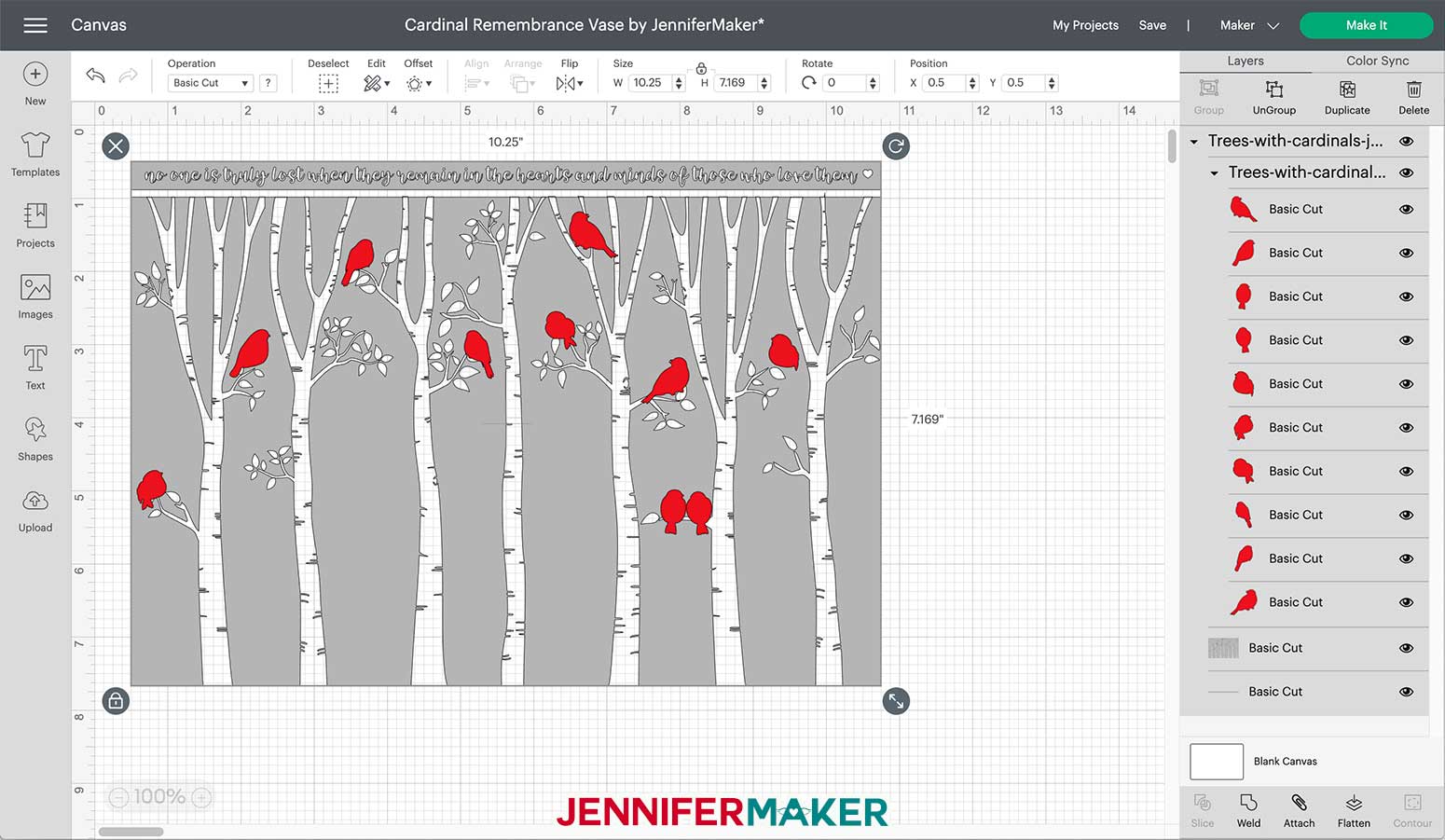 TIP: If you are not sure how to upload an SVG cut file to Cricut Design Space, watch this helpful video training series I made. If you are on an iPad or iPhone, here is how to download and upload SVG files to the Cricut Design Space app.

NOTE: You will see boxes around your words and your trees. These are "weeding boxes" I added to the design to make this easier to weed. If you'd like to include both the words . and trees in your finish design, I recommend you click Ungroup to first ungroup everything, then select both the words and the trees and click Attach. This will ensure they cut in the same alignment to one another. Here's what the design looks like with the text and trees attached: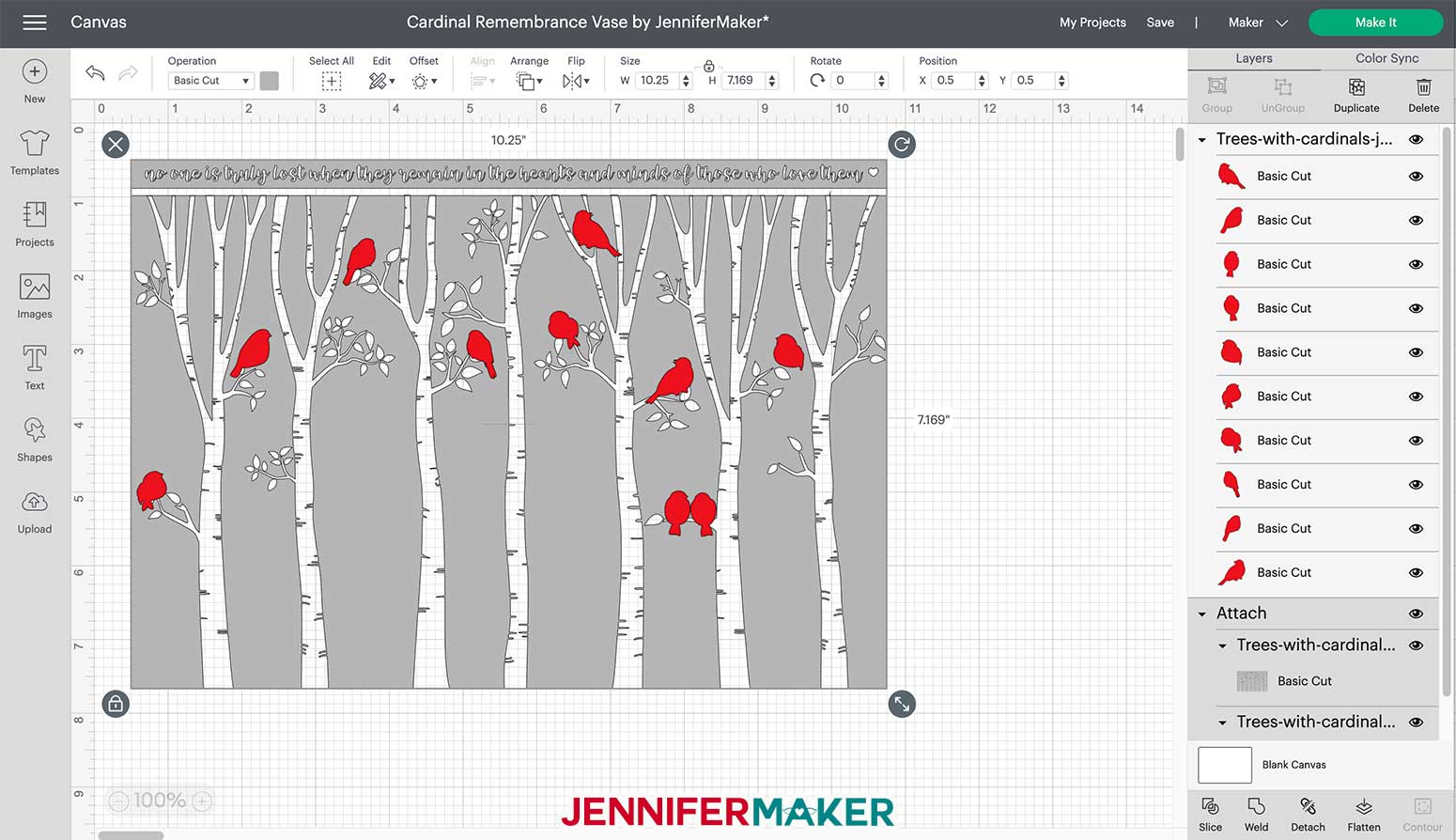 If you are using a different size vase, I recommend making a rectangle (as a template) and size it to the dimensions of your vase. In Design Space, click on Shapes and then Square. Unlock your squareand change the dimensions by either dragging the two arrows in the lower right or changing the dimensions at the top of the screen to match the size of your vase.

You can then place the design you want over the rectangle to see how much you need to resize. I recommend keeping your design images locked so the ratios remain the same as you use the resize handle to resize the designs.

TIP: If your rectangle is covering your design, select the rectangle, click "Arrange" and then select "Send to Back."

MAKE IT: Once you have you design sized correctly for your sign, you can hide or delete your circle and click "Make It."
STEP 2: Cut Your Vinyl
If you are using Smart Vinyl on a Cricut Maker 3 or Explore 3, select "Without Mat" and then measure and cut your Smart Vinyl according to the measurements on the screen.

If using Cricut Premium Permanent Vinyl, select "On Mat" and place your permanent vinyl on a Green StandardGrip 12" x 12" cutting mat.

Click "Continue" and select your material, either Smart Vinyl-Permanent or Premium Vinyl. I recommend changing the pressure setting to "More."

Load your material and click "Go!"
STEP 3: WEED YOUR VINYL
Once your design is finished cutting, unload your mat.

I like to keep my vinyl on the mat when I weed to keep it from moving around. Now use your weeding tool to peel away all of the excess vinyl. The weeding boxes I added should make it easier to weed.

Once your vinyl is weeded, cut a piece of transfer tape slightly larger than your design. Remove the backing from the transfer tape. Apply the transfer tape to your vinyl by holding the transfer tape in the shape of a taco, a "U" shape, then put the bottom of your "taco" onto the middle of your vinyl design.

Use your scraper tool to burnish the front of your design to your transfer tape. Then flip over your mat and remove everything by gently pulling the mat away from the design. Now use your scraper tool again to burnish your design from the back to make sure it adheres to the transfer tape.

Gently peel away the backing of your permanent vinyl. If any pieces of vinyl do not stick to the transfer tape, you can use your scraper to burnish that area again.

I also recommend you trim the bottom edge of your design so the trees are flush with the edge.
Step 4: Apply Your VINYL TREES AND WORDS
Remove any labels from your vase and wipe down the surface thoroughly with alcohol and a lint-free cloth.

Gently fold your transfer tape into the taco shape again and align your vinyl with your vase. I also recommend you align the bottom of the vinyl with your work surface to keep it straight. Press the center of the "taco" onto the front of the vase and gently spread the design from the center moving to the outer edge.

Use your scraper tool to burnish your vinyl to the vase. Gently peel away your transfer tape. Have your scraper handy to reburnish any areas that may lift as you remove the transfer tape.

Once you've removed your transfer tape, you may notice small air bubbles in your vinyl. No one will likely notice these but I understand if you want to get them out. I have two tips for you to try!

First, you can use your scraper and try to reburnish the area to smooth out the bubbles.

Second, you can use a straight pin to pop the bubble and then burnish the vinyl towards the hole you made to smooth it out.
STEP 5: ADD YOUR CARDINALS
Add one or more of the cardinals to any branch you wish. You can pick the placement!

And that's it! Enjoy your beautiful vase!
Answers to Your Questions About Decorating a Dollar Tree Vase
Q: What kind of vinyl do I need?
I used Cricut permanent vinyl in glossy. You can use whatever works for you!
Q: Do I have to use those same cylinder vases?
No, you can use anything you like so long as it has straight sides. If you use something else, be sure to measure it's circumference with a tape measure and resize your design to fit.
Q: Can I put a candle in this vase?
Sure thing! It's a great idea!
Q: How do you weed those tiny letters?
I used a reverse weeding technique — watch for our tutorial coming soon on this!
Get my free patterns to create a cardinal remembrance vase
I love seeing what you make with my designs and how you use them! Please share a photo of your cardinal vase in our Facebook group or tag me on social media with #jennifermaker.
Love,