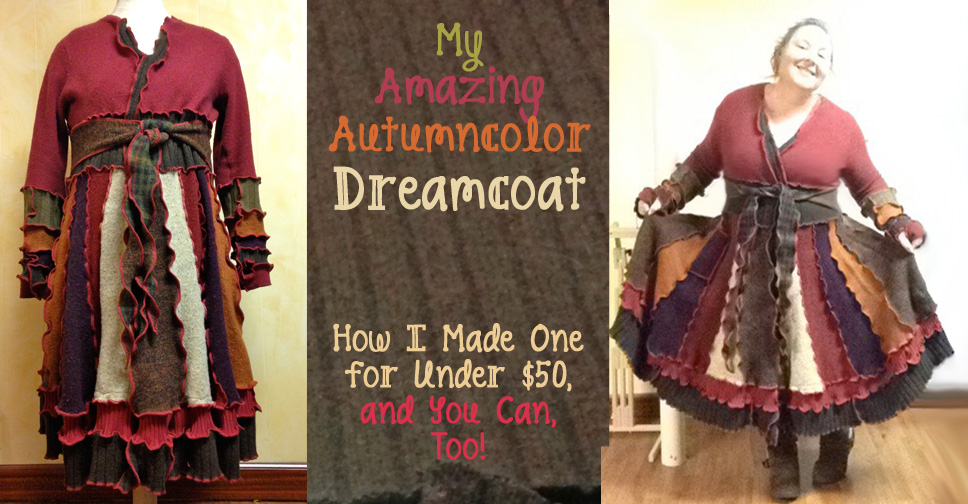 A week ago last Friday
I decided to make a cozy sweater coat for a little relief from stress and chilly days. Exactly seven days later, I had a wearable, Katwise-inspired sweater coat all my own. It's AMAZING! I estimate I spent under $50 on the recycled wool sweaters. And it didn't take gobs of time — a few hours on a few weeknights is all I spent. My sweater coat, had it been made by Katwise herself, would have cost $400-$500 (
for example
). Within the 15 minutes of wearing it out today for the first time, I had a woman spot me and exclaim happily, "You have a Katwise coat!" Why yes, yes I do, and I made it, and it is wonderful. I even named it: "Jennifer's Amazing Autumn-Color Dreamcoat" — it's palette is from the colors I see in the October trees here in Ann Arbor. Several friends have asked if I would make them a sweater coat. I'm way too busy to sew for folks outside my family (sorry!), but there is something I can do — I can write about my adventure in making a sweater coat and you can learn from it … and then
make your own!!
Yes, really, you can make one — it was way easier than I thought it would be. What have you got to lose in trying? A bunch of old sweaters that don't really cost that much? Give it a try! Some of the links below are affiliate links for your convenience. Read my full disclosure policy.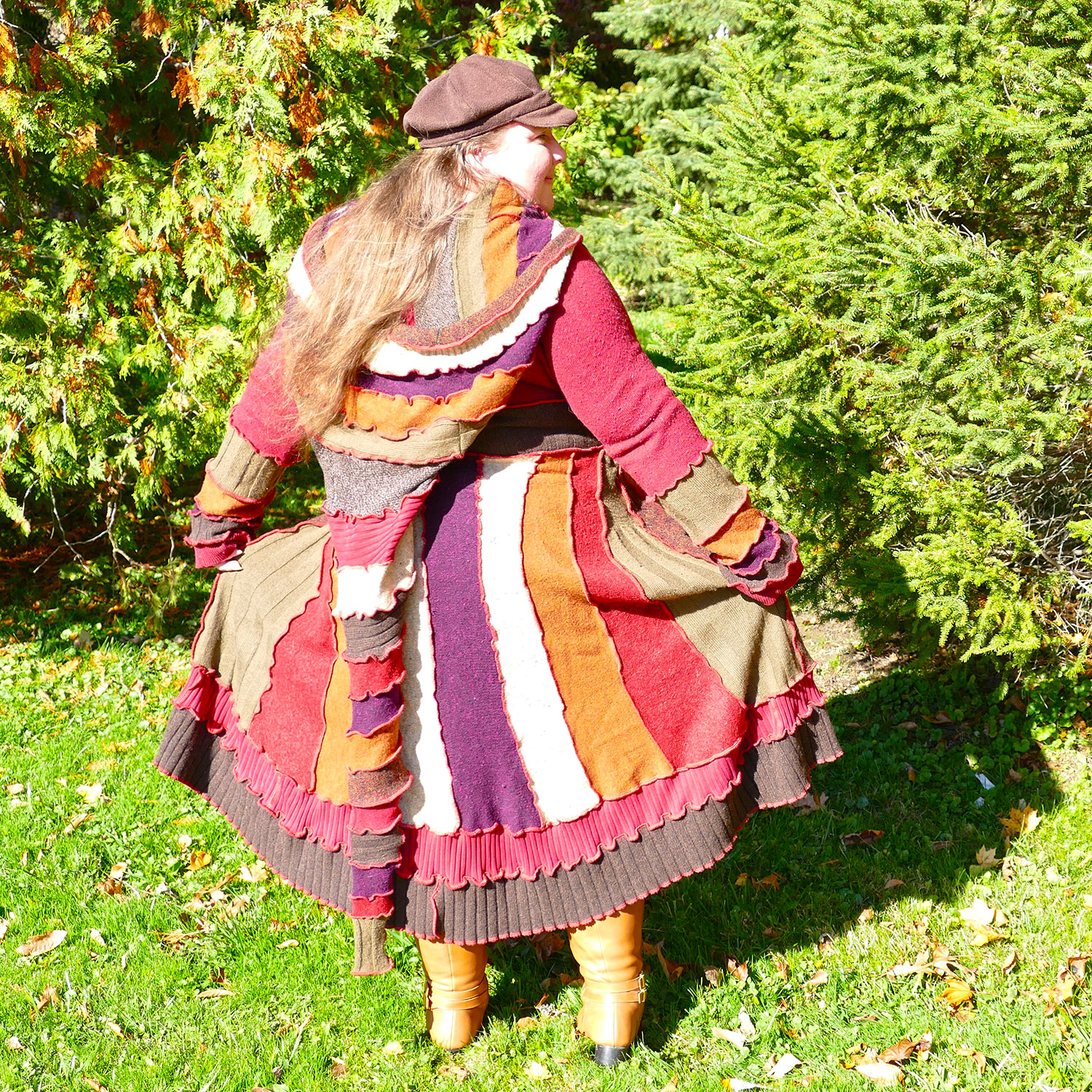 Materials for a Sweater Coat
Katwise tutorial (it's only $10 and it's fun to read — support the designer!)
About 10 wool sweaters (more on that)
A serger (here's the one Katwise and I use and recommend: JUKI MO644D Portable Serger)
Four spools of Guttermann serger thread
Scissors
Pins
Chalk (optional)
Rotary cutter (optional but helpful)
So, about those sweaters — look for 100% wool sweaters that are in decent condition and are medium weight (not too crazy thick, not too super thin). Get them as big as you can, though make sure a couple are your size or one size larger. I got all my sweaters at the Salvation Army in one visit, but it may take longer for you to find what you want. Avoid cotton if you can — it's heavier and won't felt up, which is important for this style. Do not get acrylics or spandex. Really, wool is amazingly awesome — it's lightweight, it breathes, it regulates your temperature in both hot and cold weather, it does not get dirty easily, it's water repellent and naturally flame retardant, it's very durable and flexible, it's strong, and it's a renewable resource. Worried about the wool irritating your skin? You're going to be washing them, and that will go a long way toward making them feel more comfy, and, remember, this is a coat — you'll be wearing a shirt under it anyway. Use wool. Trust me! And trust Katwise — it was her suggestion originally and she's been making these for 20 odd years. Everything I write about will be in reference to wool — I used only one cotton sweater and that's because it was an old sweater of mine in a favorite color and I thought it looked good at the hem (the only place I used it).
How I Made My Sweater Coat
Now here's what I did (and what you can do, too). Note: The instructions below are what I did based on my methods of fitting and sewing clothing for myself, and do differ a bit from her tutorial — just sayin' so this doesn't confuse you. I am not a skinny girl, but I was able to cut this coat to suit my body type using these techniques.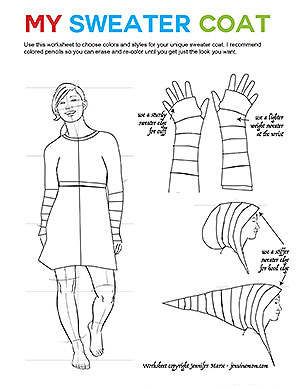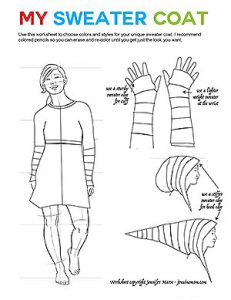 Step 1: Decide on your style of coat. I created a worksheet to help you pick the colors and style that you'd like best. It is Design #2 which you'll find in my resource library—just subscribe (free!) to get the password.
Step 2: When you've got at least 10 wool sweaters, separate like colors into groups and wash them in hot, soapy water in your washing machine. Twice. Then dry them for a long time on high heat. You're cleaning them, yes, but also shrinking and felting them. This makes the wool even stronger and cozier, and reduces the chance of shrinkage in the future.
Step 3: When the sweaters are all dry, put on a top you would typically wear under a coat and then try on each sweater to find one fits you like a glove — form-fitting yet comfortable. This is really key to a good-looking sweater coat. The temptation will be to pick a baggy one, I know, but it won't look right when you're done. I normally wear an XL sweater, but I picked a large J Crew sweater that had been shrunk to what might have been closer to a medium. It's not baggy but also not so tight that sweater is stretching.
Step 4: Take the sweater you found in step 3, your bodice sweater, and draw a straight line up the center with chalk. I recommend measuring to be sure it is straight. Cut it along the line, being careful to cut only the front layer.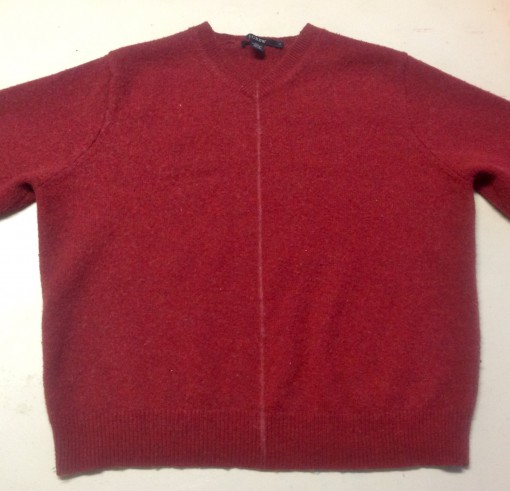 Step 5: Put it on yourself, pin it closed, look in a mirror, and draw a chalk line just under your bust, like shown in the photo below. Why did I do this? Droopy waists are not flattering — you want your waistband, which will be rather wide, right up under your bust to help define your body in the coat.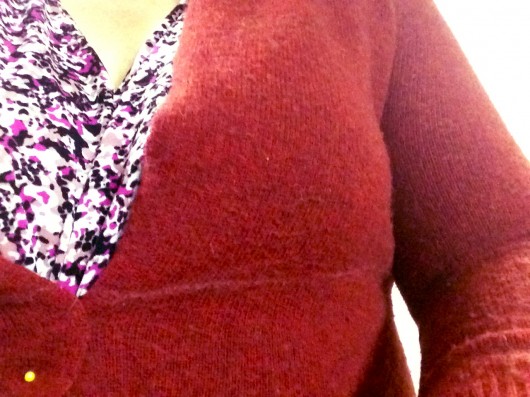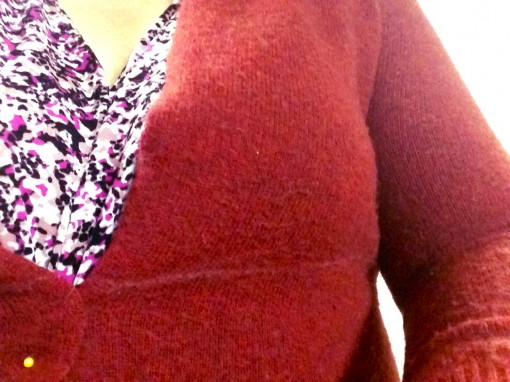 Step 6: Now find a good, medium-to-thick sweater that to serve as your waistband. It needs to be at least 6″ high and your waist measurement + 3″ long. This sweater should be sturdy and not too stretchy, as it will be under stress in several directions. I used a heavish brown ribbed sweater that I thought was flattering to my apple shape — it helped define the waist. When you find it, cut it out in a long rectangle (6″ x your waist + 3″).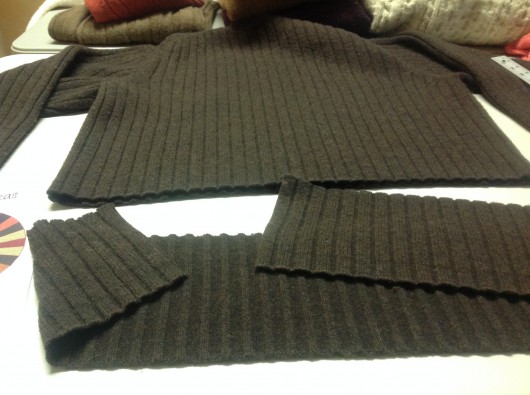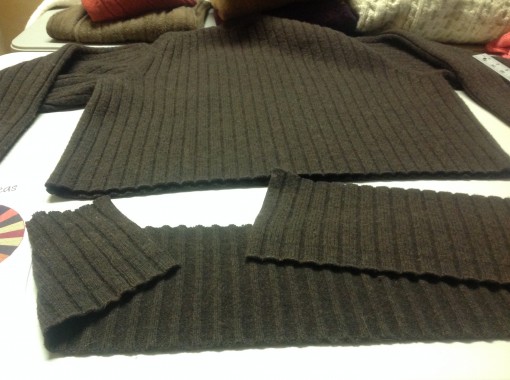 Step 7: Pin the waistband to your bodice, right along that chalk line you made in step 5, and try it on. If you need it high or lower, adjust it with the pins.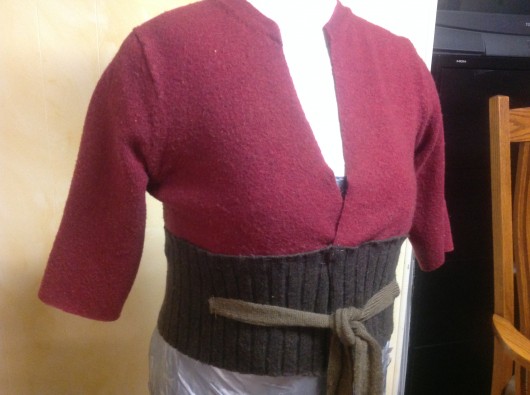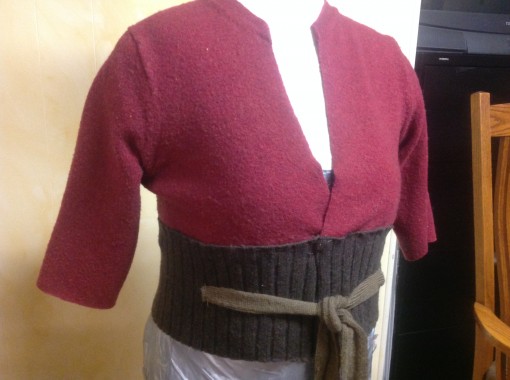 Step 8: Mark the sides of your waistband where you want your waist ties to attach — I recommend they fall under the arm for a smoother face-on look. Cut your waistband at these two spots, giving you three waistband pieces (one longer back piece and two shorter side pieces). Now take a rectangle of a strong, not-so-stretchy sweater about 27″ x 6″ and cut it in a diagonal to create two long triangles. Serge all sides of each long triangle you made. Now sandwich each triangle between the back piece and one side piece of your waistband and serge, securing the three layers together. Repeat with the other waist tie between the back and other side piece. I wish I could show you photos of this, but I did not do it — alas, I did not realize I had to do this BEFORE I attached my waistband to my bodice and skirt, so I couldn't do it — I ended up sewing the ties on with a sewing machine later. You can do this too, of course, but I'm trying to save you from having to pull out a machine or hand sewing. Here's what my waist ties look like after I attached them later for a visual reference: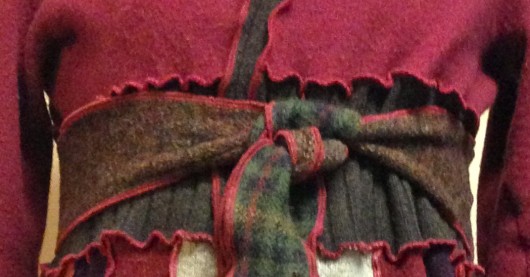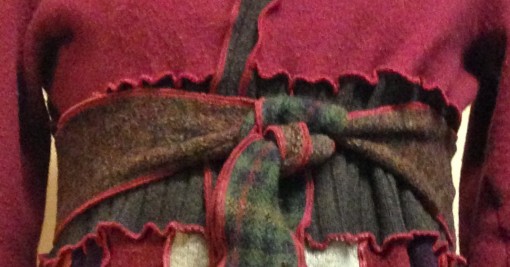 Step 9: Now it's time to cut the skirt panels out for your sweater coat. How do you figure out how many you need? There's a lot of variation possible in the skirt. I initially intended to do a full skirt skirt, but opted for a 3/4 skirt in the end, partly because the full circle was just gigantic (I ended up removing panels later). I have 21 panels in my skirt, which comes out to about 145″ at the hemline. That's pretty manageable, yet still twirly. To make these panels, I cut out 21 trapezoids which were 21″ long (at least) measuring 3″ at one end and 8″ at the other end. Why 21″ long? It was the max length I could get from my smallest sweater, so that measurement determined the length of the skirt. Most of the panels were cut from the sleeves of sweaters, like this: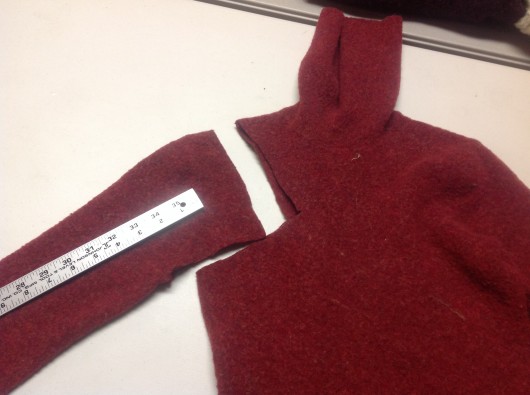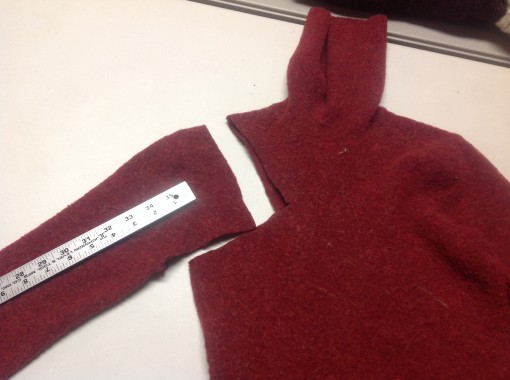 Technically they don't all have to be the same width, but they do need to be the same length. I chose to keep mine the same width because it appealed to me. I also was careful to make sure they started narrow and ended up wide to make sure I'd have a pleasingly flared skirt. Here's my skirt panels: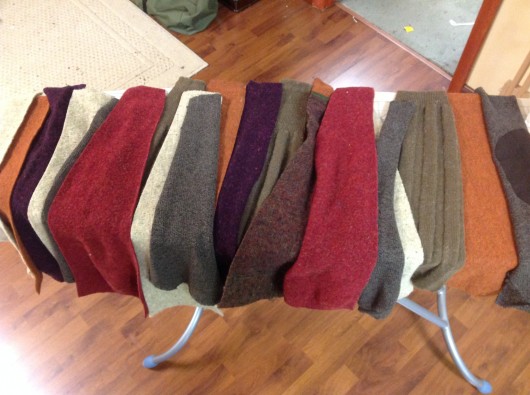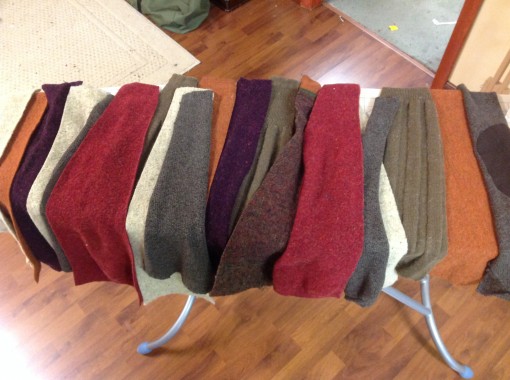 Step 10: Once your skirt panels are cut, lay them out in a pattern that is pleasing to you. My daughter helped me create this pattern, which was a mirror image of itself.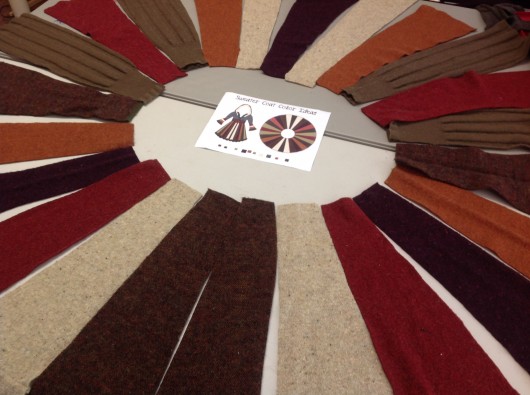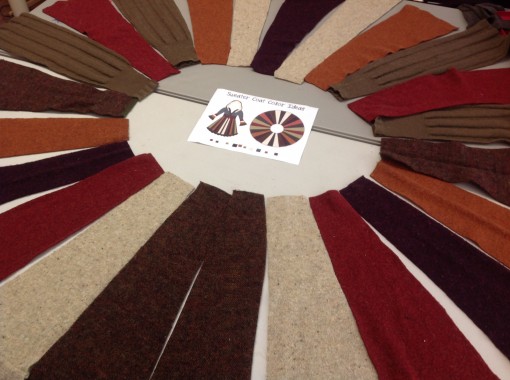 Note: You'll see more than 21 panels here because this is before I removed some.
Step 11: Now it's time to serge the panels together, which I thought was simple and fun. Put wrong side against wrong side (no need for pins unless you want them). Set your serger to a stitch length of about 1.5 or so and put the material at 1/2″ in from the edge. Go slowly for a smoother, more consistant look. Repeat until all of your skirt panels are sewn together.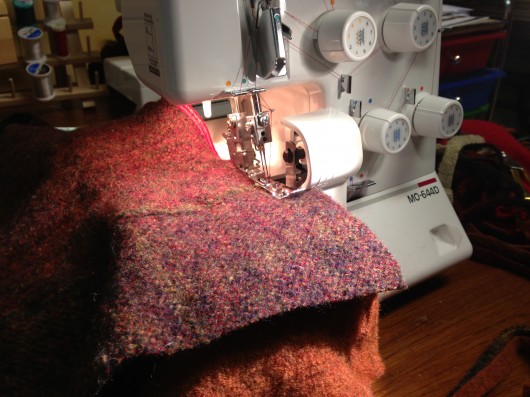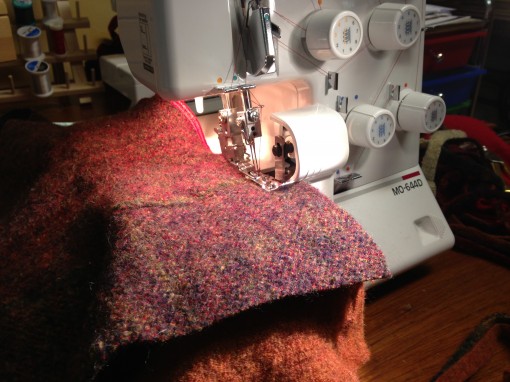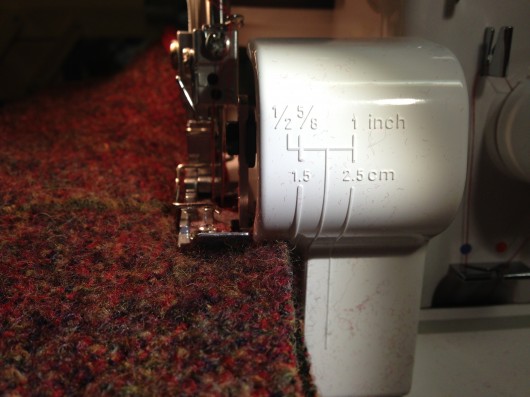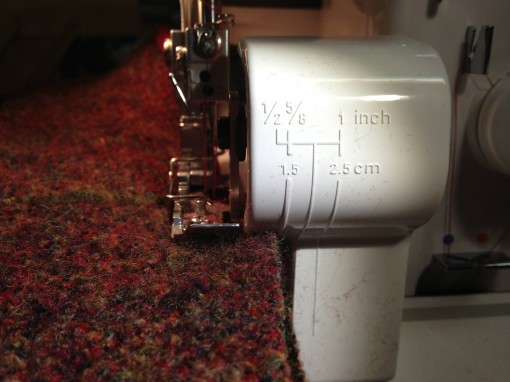 Step 12: Lay out your skirt on a flat surface and trim the bottom edges so they form a big smooth line. Now is also the time to trim off the serger threads on the ends of seams. Also measure the waist of your skirt to see if it matches your waistband — if not, adjust as necessary now (I removed two green panels and reserged).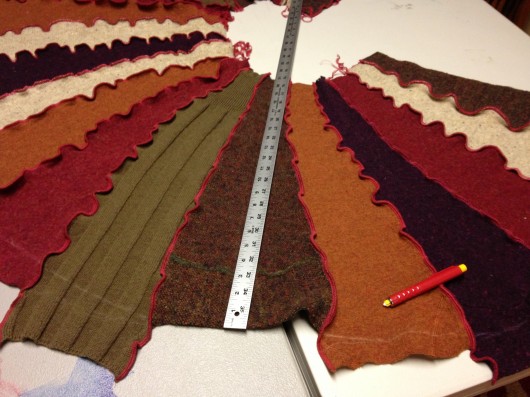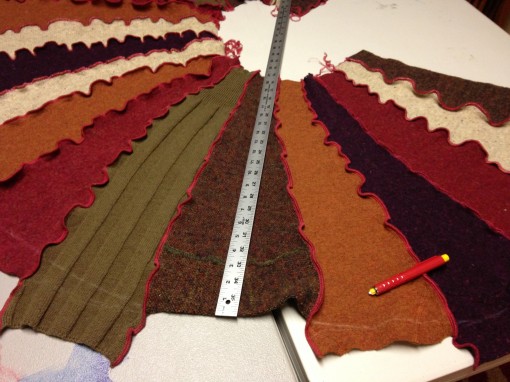 Step 13: Now pin your skirt to your waistband and try it on. Check to see if it is hanging at the right point — the small of your back is where the bottom of your waistband should lie. Also check to see if the weight of the skirt pulls the bodice/waistband down lower than intended and, if so, adjust as necessary.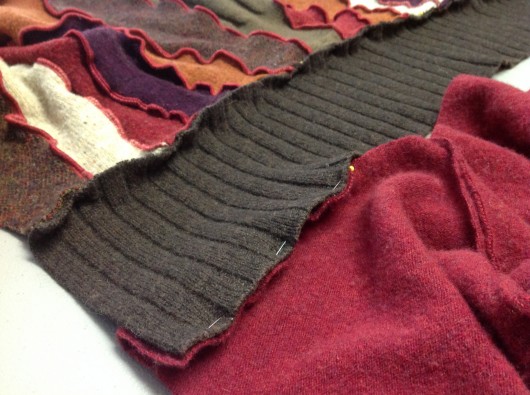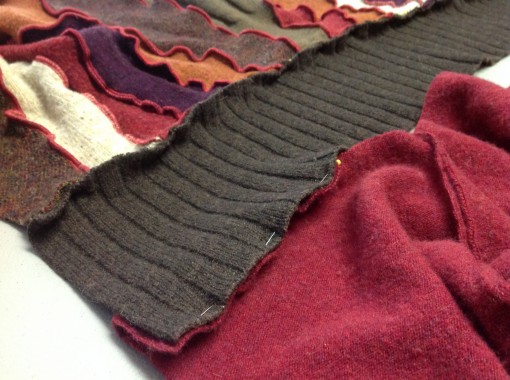 Step 14: Once all is the right position, serge the waistband to the bodice and serge the skirt to the waistband.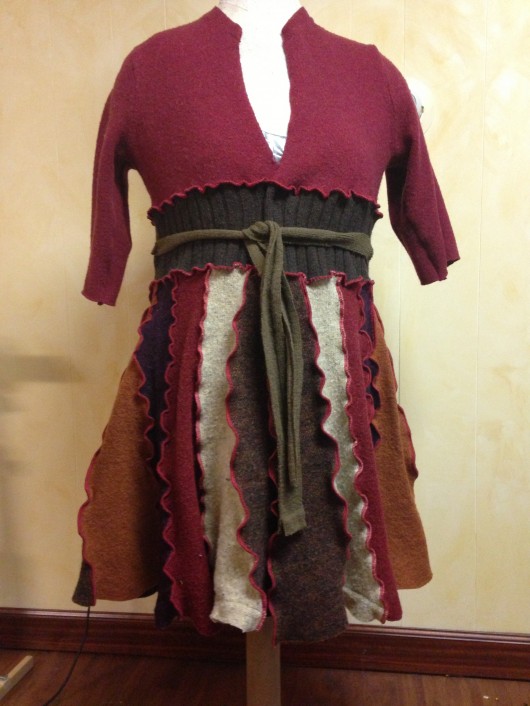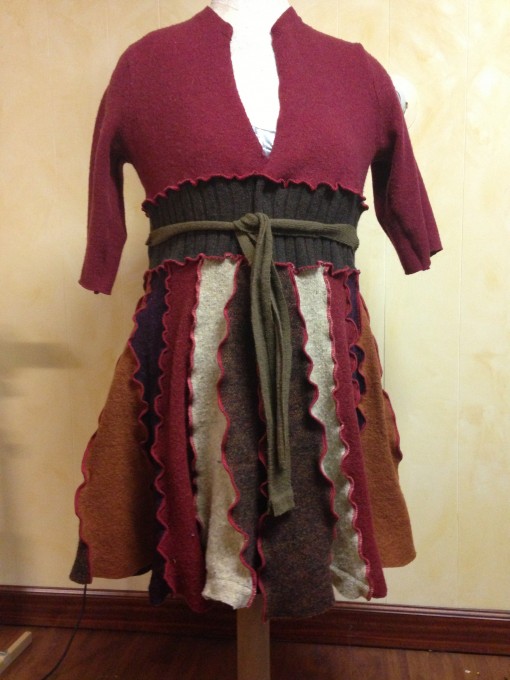 Step 15: Now you can add bands to the bottom of the skirt. I added two that I cut from rectangles I cut and pieces together. My bands were 4″ (red) and 5″ (brown) long. Anything narrower than that probably would not be too noticeable. The biggest thing to be careful of here is to make sure you're serging the seams on the right side — it can be tricky if you're used to sewing with hidden seams.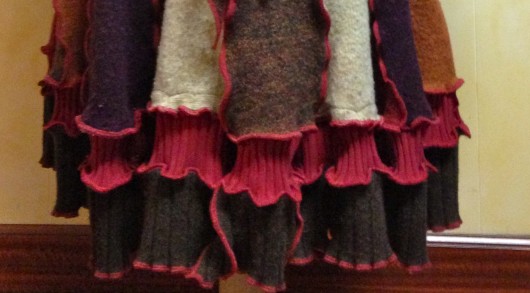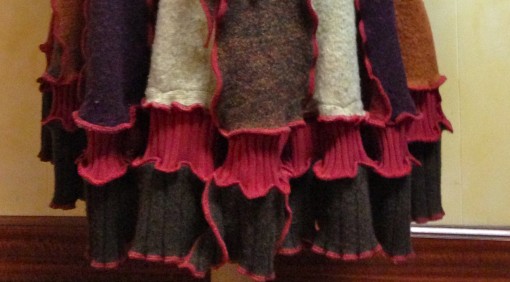 Step 16: The next step is to put two bands down the front of the sweater coat. I cut mine from a heavy wool sweater and I had to piece two rectangles to get a strip along enough. Make two of these strips, then serge down the length of each side.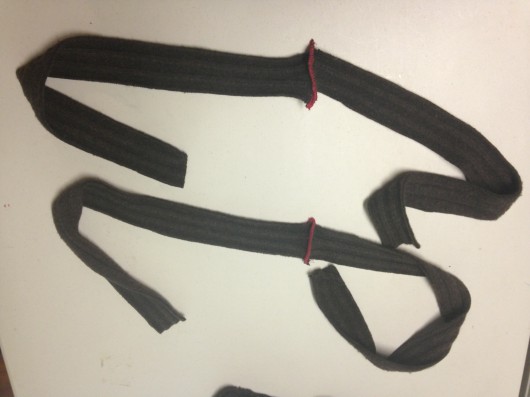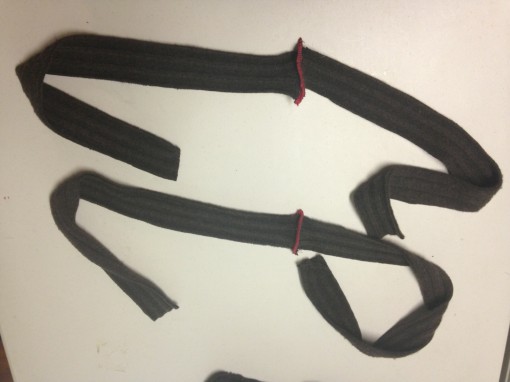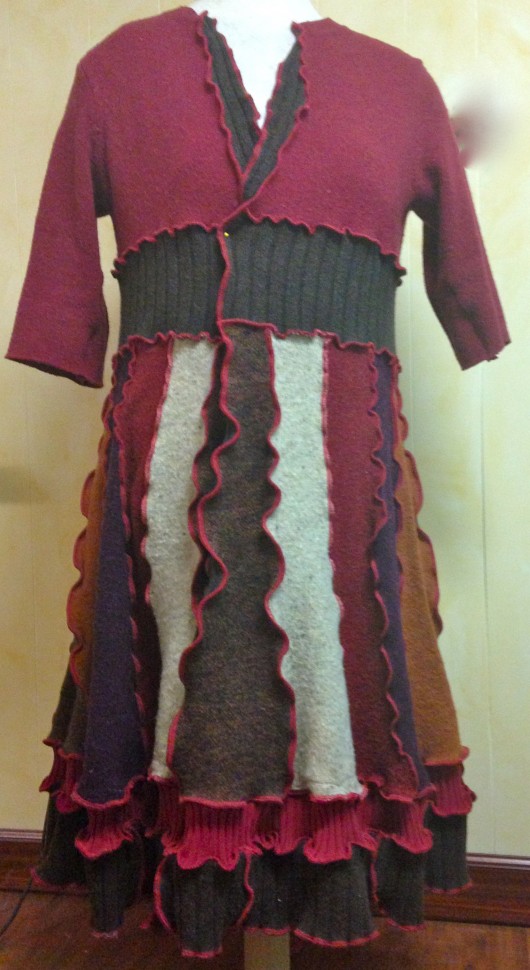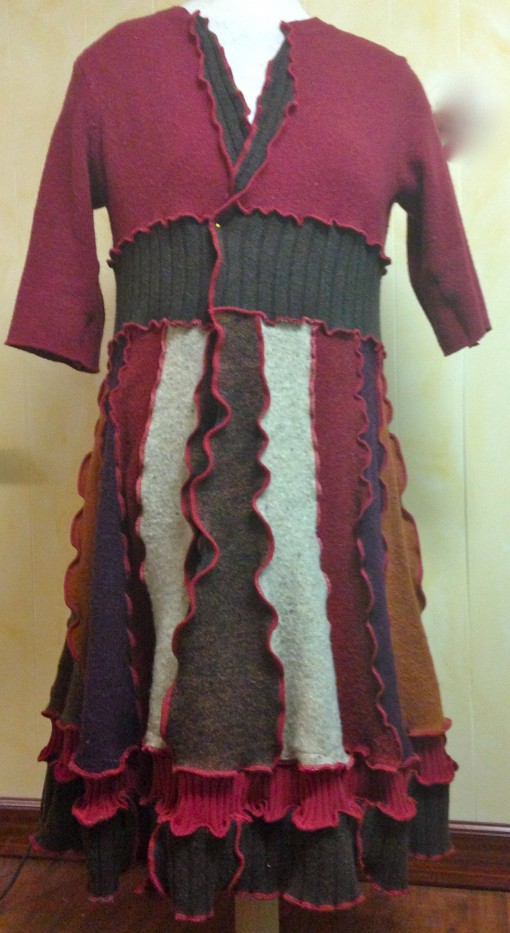 Note: In the photo above it looks like the front strips do not extend down the length of the sweater coat, but they do — they just tend to fold in a bit, which is totally fine.
Step 17:. So if you didn't sew your waist ties on in step 8, sew them on now. Now put on your sweater coat and admire yourself.
Here's the first photo I took — it was in my studio at night so the light level is terrible.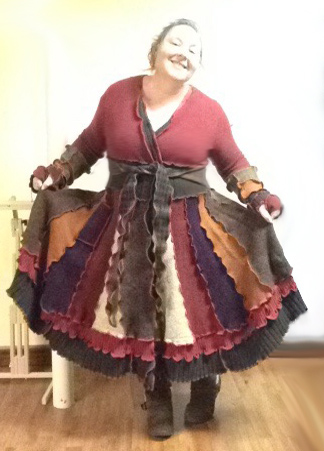 Next steps are to add sleeves, a pocket, and a hood. My sleeves have thumbholes and my pocket is sized perfectly for my iPhone (and fits within one of my skirt panes). My hood is long, stripey, and amazing. Do you want to see how I made those?
Here's a photo taken November 6, 2016 where you can see the back better: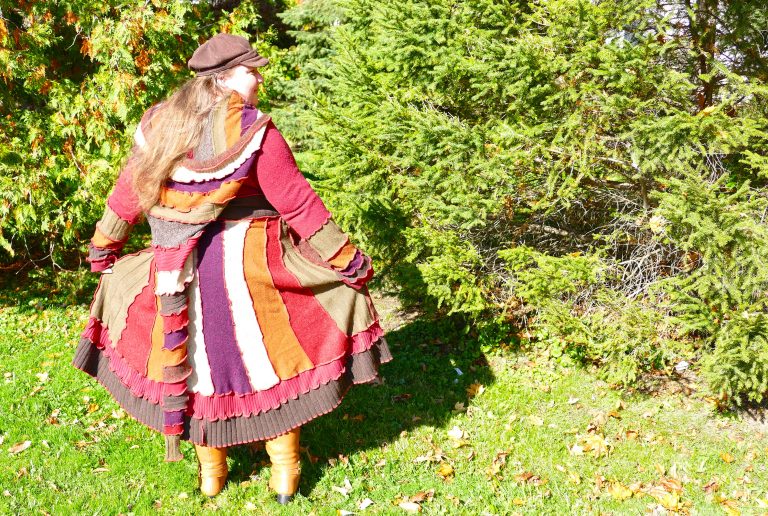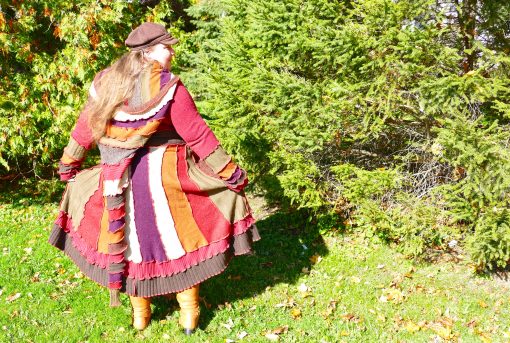 2017 Update: The photos I took of the sleeves and hood aren't detailed enough for a tutorial, so I think I need to make a brand new sweater coat. If I did that, I could turn the whole process into a VIDEO COURSE for others to follow along with me and create their own sweater coat at the same time. Would anyone like to do this? If you are interested in taking a sweater coat course with me, send me an e-mail at hello (at) jennifermaker [dot] com to let me know. Thanks!