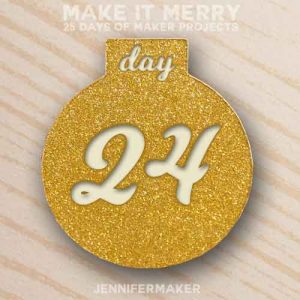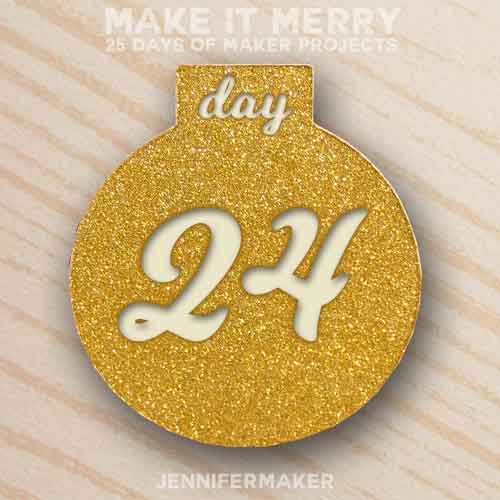 It's Christmas Eve and I feel so very fortunate today. My family came to visit and we had a wonderful time playing games, eating our Christmas ham, and giving gifts. I always wish I could preserve special moments like this for those days that seem darker. So for Day 24 of the MAKE IT MERRY: 25 Days of Maker Projects, I created a Happiness Jar to preserve and remember all of my happy memories … and I hope you'll join me in doing this in 2019, too!
So what is a Happiness Jar? I first heard about this last year, only it was called a Blessings Jar. The idea is that rather than make resolutions for the new year, you instead get a big empty jar and start putting in happy moments noted upon slips of paper. Your jar will fill up with happiness—a tangible reminder of all the good things in your life.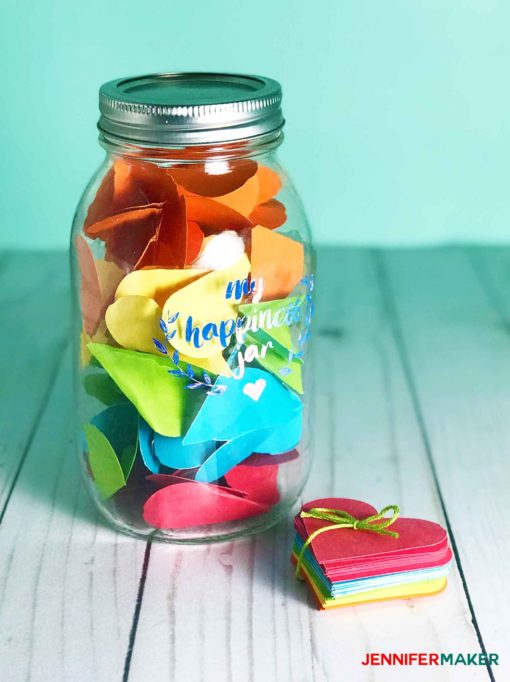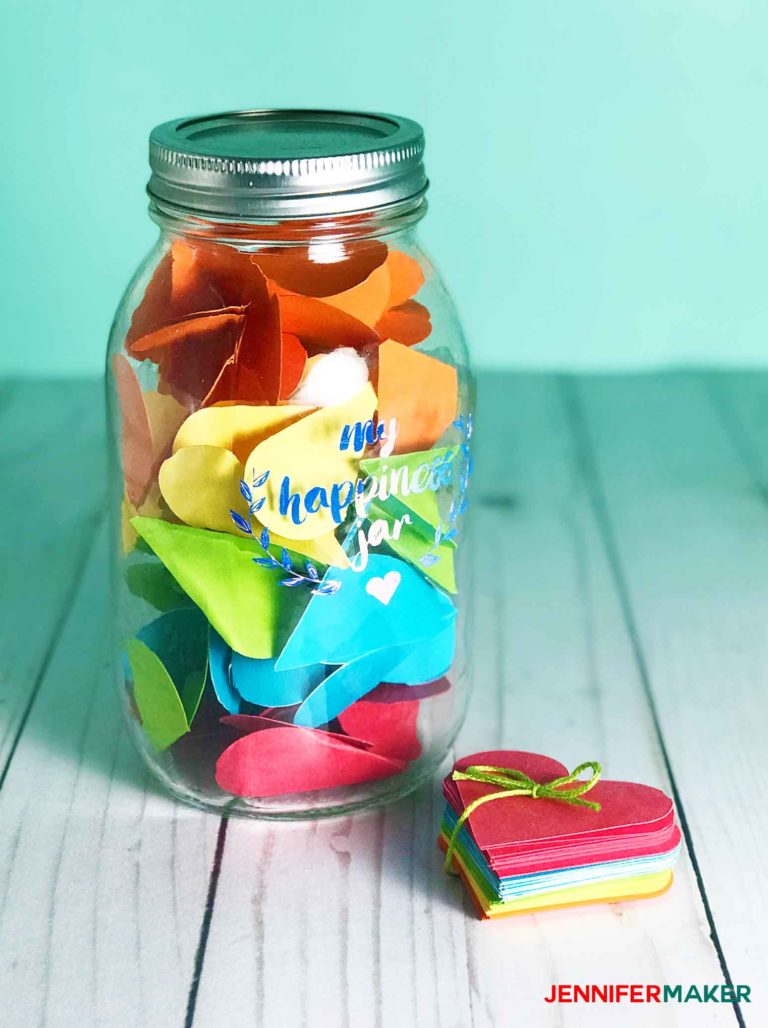 To help you make this Happiness Jar a reality, I've designed some cute decals you can put on your jar as well as a template to cut out little heart-shaped bits of paper to keep beside your jar. Use what you like. All I care is that you try it out. And when you're feeling low, get your happiness jar and remind yourself of all that's good and sweet in your life. Or wait until New Year's Eve and read all about the highlights of your year. No rules, just happiness.
Let me show you how to make this Happiness Jar! This post contains some affiliate links for your convenience (which means if you make a purchase after clicking a link I will earn a small commission but it won't cost you a penny more)! Read my full disclosure policy.

Materials for the Happiness Jar
A jar large enough to hold a year's worth of happy memories (I'm using a smooth sided Ball Mason Jar)
Self-adhesive vinyl in any color that pleases you (I'm using holographic blue)
65 lb. letter-size card stock (16 sheets to get 365+ hearts for your happy memories)
A way to cut your cardstock (I used a Cricut)
My free SVG cut files/patterns (available in my free resource library—get the password at the bottom of this post)
How to Make Your Happiness Jar
First, download the patterns for this project from my free resource library. If you're going to cut it out on your cutting machine, upload the file to your design software. If you're not sure how to upload an SVG cut file to Cricut Design Space, watch this helpful video training series I made.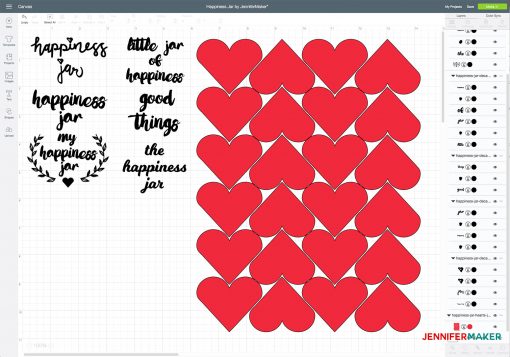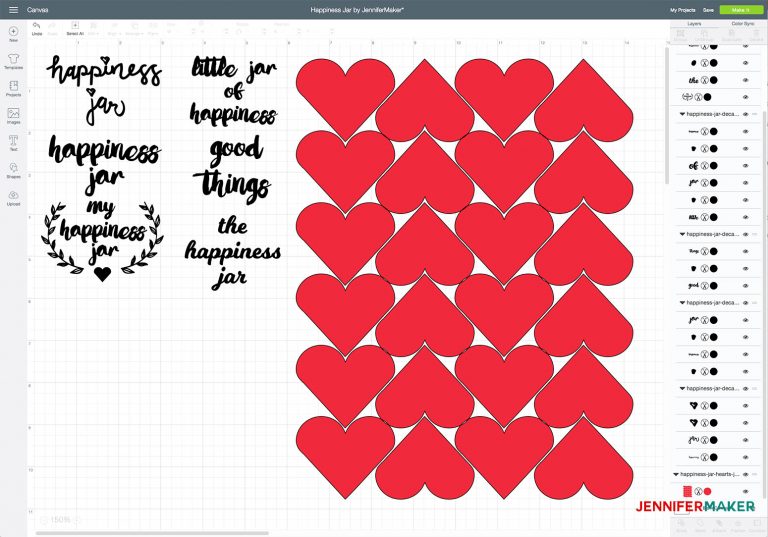 Cut out your vinyl and apply it to a clean jar.
Cut out your paper hearts. My design fits 25 to a sheet, so you'll want to cut 16 sheets to get enough for a full year.
Write down something that made you happy today on a heart-shaped paper. It can be anything—a memory, a lyric, a taste, a smell, an idea, a milestone. Anything at all! Fold it in and put it in the jar.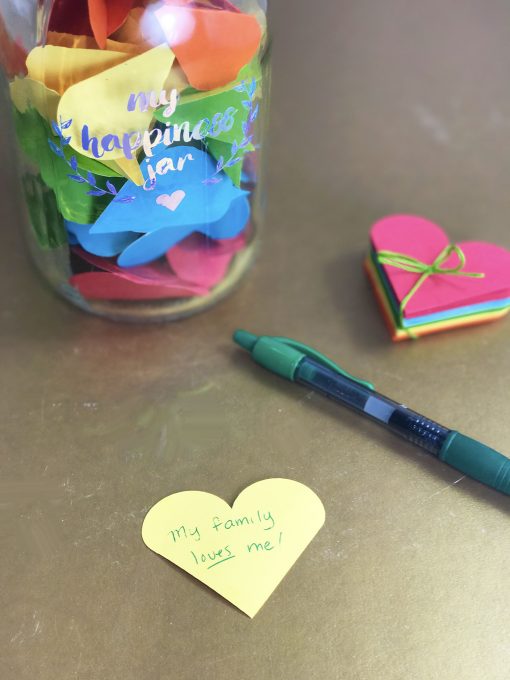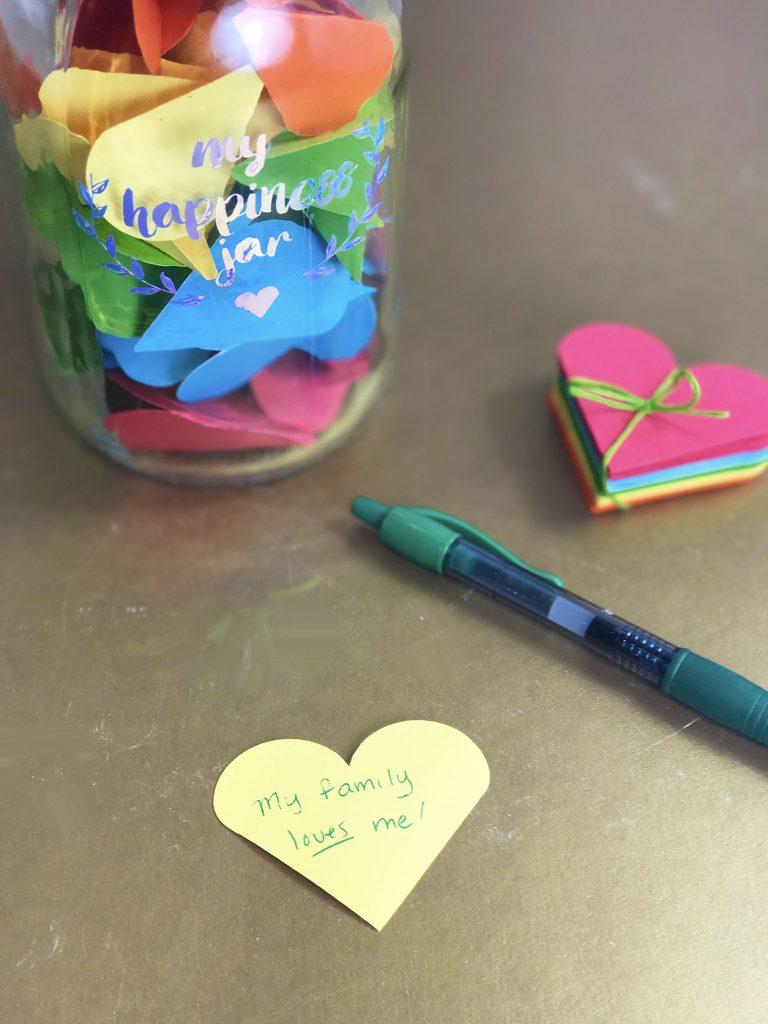 Now rinse and repeat the last step every day.
Get my free cut files for the Happiness Jar
If you make a happiness jar, I would LOVE to see it!! Please send a photo to me at [email protected] or tag me on social media with #jennifermaker.
See all of the tutorials and free designs in my MAKE IT MERRY: 25 Days of Maker Projects Christmas!
Love,