Learn how to use Puff Vinyl to create an adorable T-shirt for Spring!

Have you seen the puff vinyl trend that's making a comeback? I just loved this look back in the 80s, and it's so fun to see it popping up again! Unlike other types of iron-on vinyl, puff vinyl raises up after pressing for a neat 3D effect. My new tutorials will teach you all about how to use puff vinyl to create super cute T-shirts for Spring using a cutting machine (like my Cricut Maker 3) and a heat press (I'll use my awesome Cricut EasyPress). Don't worry if you're brand new to puff vinyl – so was I! I'll walk you through how to test your heat, pressure, and time settings, and share tips to help you learn how to use puff vinyl right on the first try.
Want to save this project? Enter your email below and we'll send the project straight to your inbox.
See the full step-by-step video tutorial on how to use puff vinyl: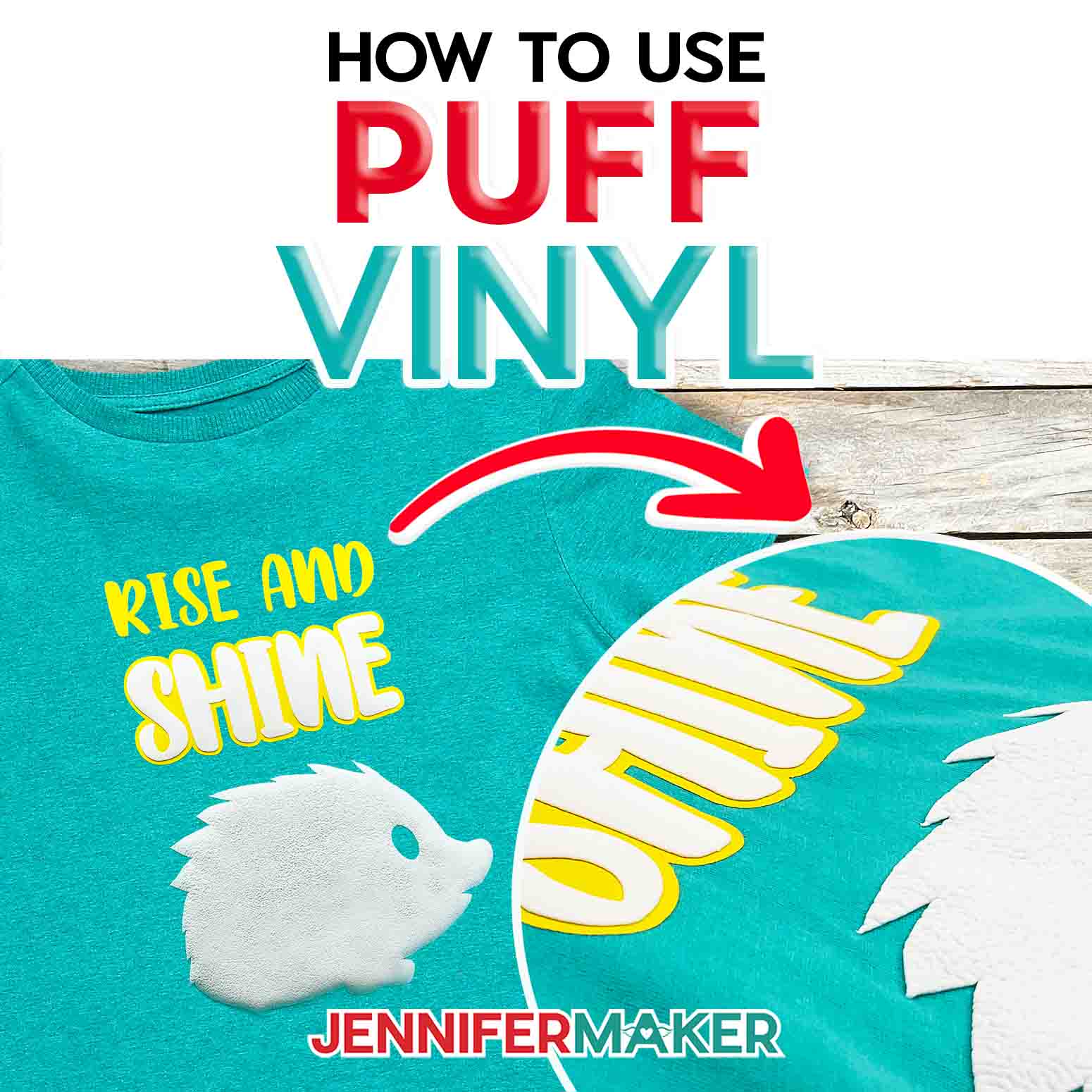 And if you have a Cricut, also watch the video tutorial on how to cut puff vinyl:

Ready to learn how to use puff vinyl? This post contains some affiliate links for your convenience (which means if you make a purchase after clicking a link I will earn a small commission but it won't cost you a penny more)! Read my full disclosure policy.
Isn't it funny how trends come back full circle? It's no secret that I love experimenting with different types of specialty vinyl for T-shirts, so when I saw some shirts at the store with puff vinyl designs, I was brought back to the 1980s and immediately wanted to make my own. Lo and behold, you can buy heat transfer puff vinyl for home crafting! Score!
So I got some puff vinyl, started playing with it, and put together my best puff vinyl tips and techniques so you can skip to the good part – crafting!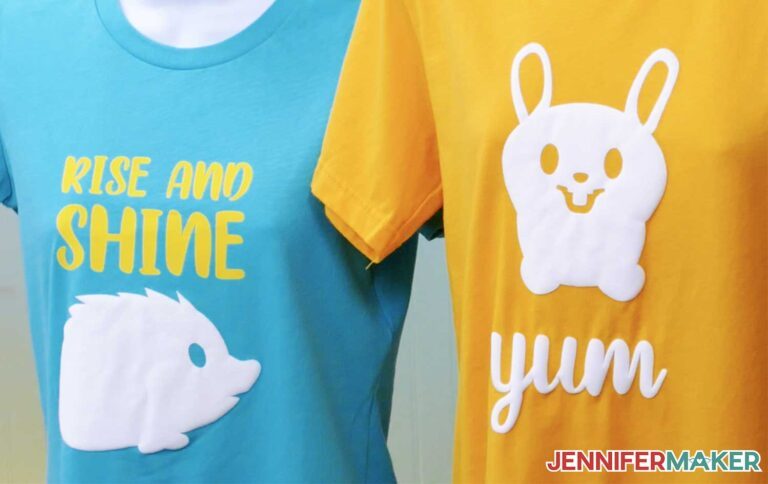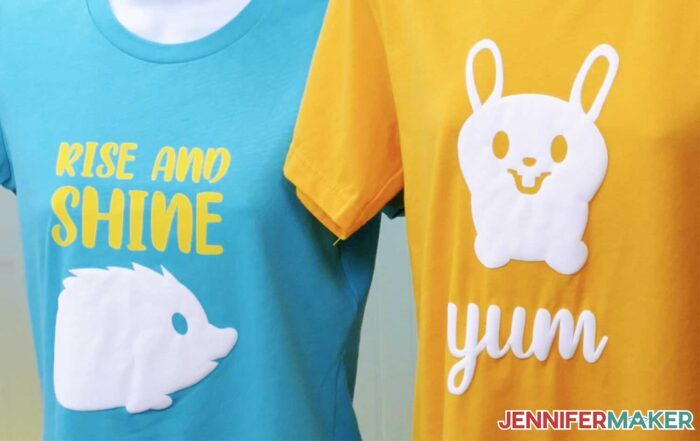 You might be thinking, why is puff vinyl different than any other kind of heat-transfer vinyl? There are a few big differences that I'll get into later, including getting the right amount of pressure.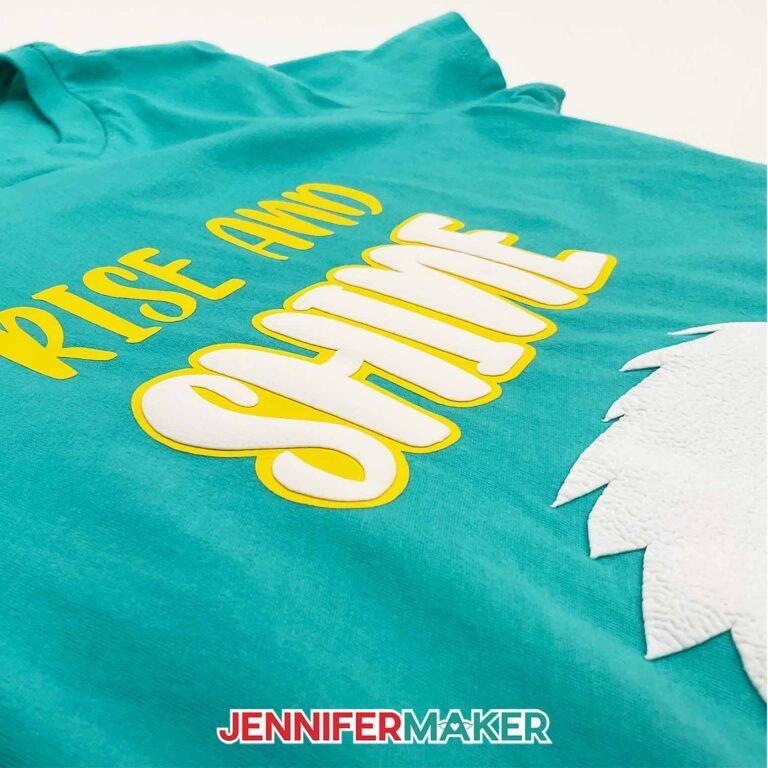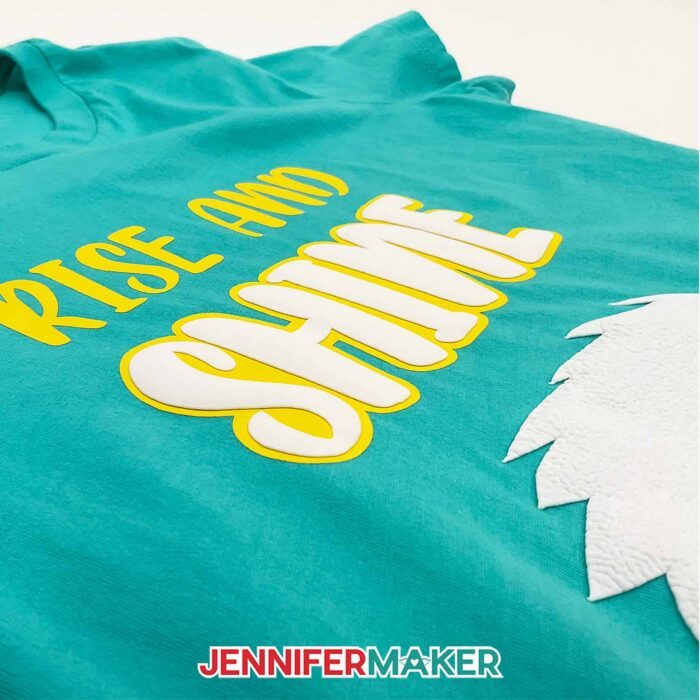 First, let me show you the super cute Springtime designs I made for you that are perfect for the season. Meet my sweet "Yum" bunny and adorable "Rise and Shine" porcupine: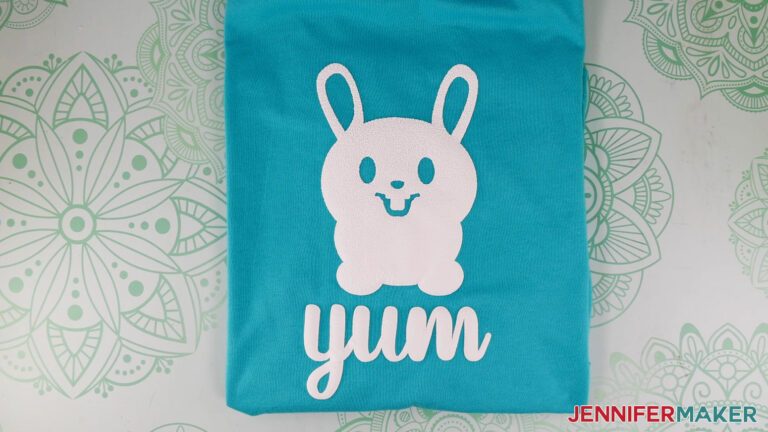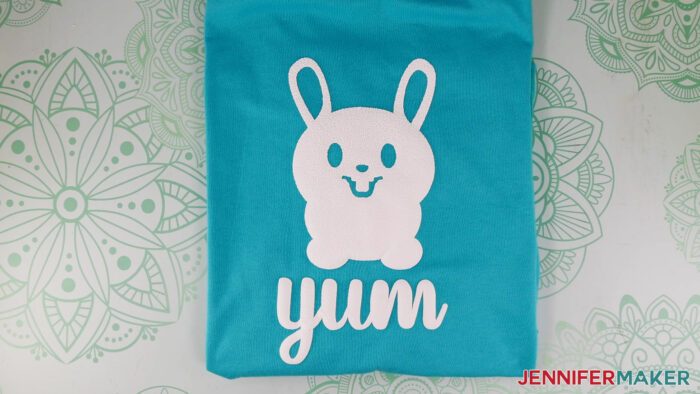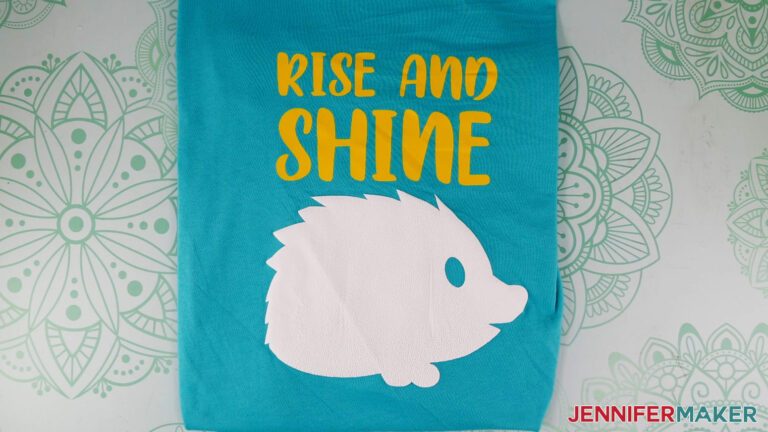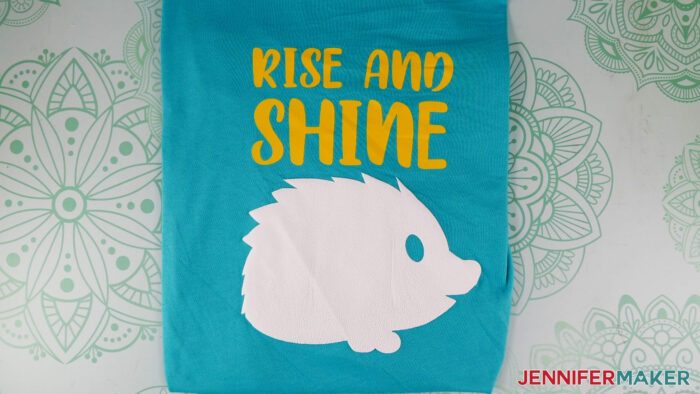 These little guys are ideal for puff vinyl because they are simple designs and don't have really fine details. When making a puff vinyl project, the vinyl does just that — it puffs! So be mindful that small designs with tiny elements like spaces within letters may be swallowed up by the expanding vinyl after the heat transfer process.
Getting your settings just right is crucial with puff vinyl. Each design comes with its own little test shape to help. Using the little shape during your test presses, you can determine the right time, temperature, and pressure for your vinyl and T-shirt combination.
To learn how to use puff vinyl, first you'll need… some puff vinyl! I tried several different kinds, and so can you — but my favorite is VTS 3D Super Puff. Comparing it to other brands, it produced the biggest, smoothest puffs. It also comes in a variety of puff colors.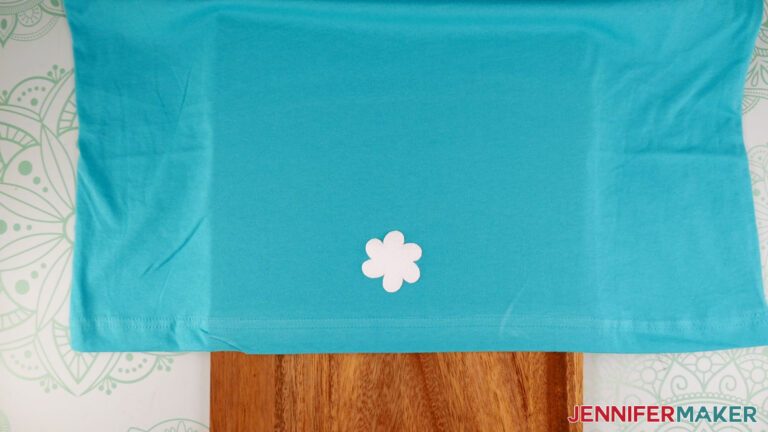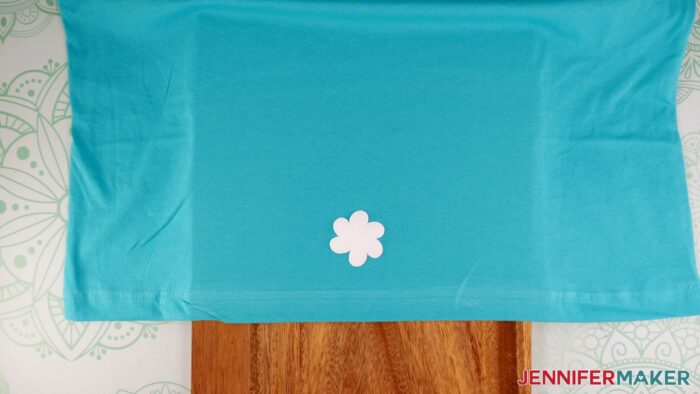 I also used Cricut EveryDay vinyl for this project, because I wanted to see how the puff would work when layered on top. Turns out, it works great and adds a fun border effect! And it's just another fun way to customize your shirt. There's so many different color combos you could try. You can layer puff vinyl onto other types too, but expect that your puffs will come out with a unique texture, rather than smooth. I recommend using the EveryDay when layering for smooth puffs.
To cut your vinyl, you'll need a cutting machine like the Cricut Maker 3, original Maker, or Explore series machines. You can also cut puff vinyl on a Cricut Joy, but be aware that you can only cut designs that are 4.5″ wide or less. Designs cut on the Joy would be perfect for kids' T-shirts, sweet little pocket designs, and more — just make sure your design isn't too detailed or it'll be swallowed up by puff!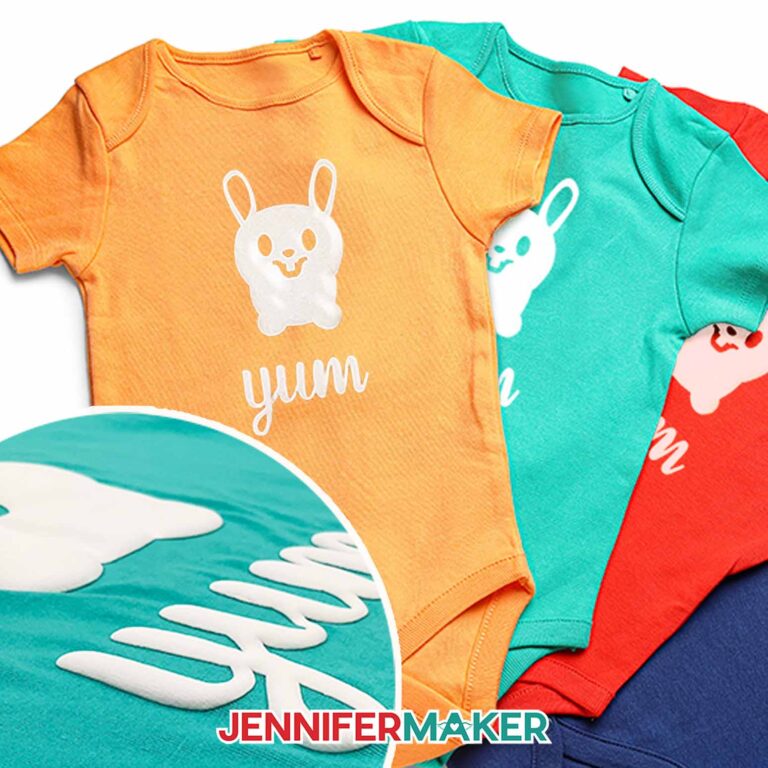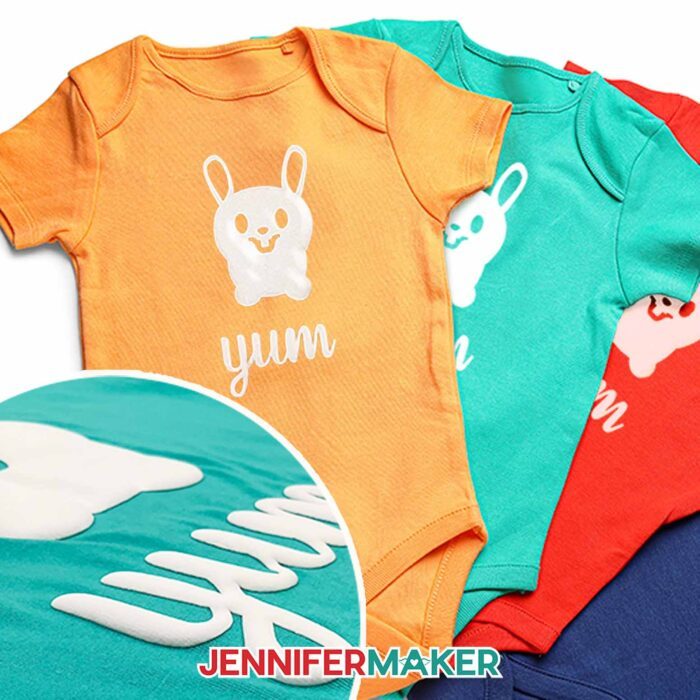 Next you'll need a heat press. I'll show you how to use puff vinyl with a Cricut EasyPress and a Cricut AutoPress, though a traditional standard heat press will work too. A home iron won't work well with this project, because puff vinyl needs to be heated all at once, not in sections (or you'll get unsightly lines and creasing in your final result).
Besides the puff factor, there's one big distinction: Puff vinyl requires a LOT of pressure for good results. And by a lot, I mean you'll need to press extremely HARD. Harder than you think. So hard, in fact, that I ended up using a wooden cutting board instead of a pressing mat, then leaned my entire weight onto the press for the best results. The plus side? Puff vinyl only needs to be pressed for 10 seconds. You can do anything for 10 seconds!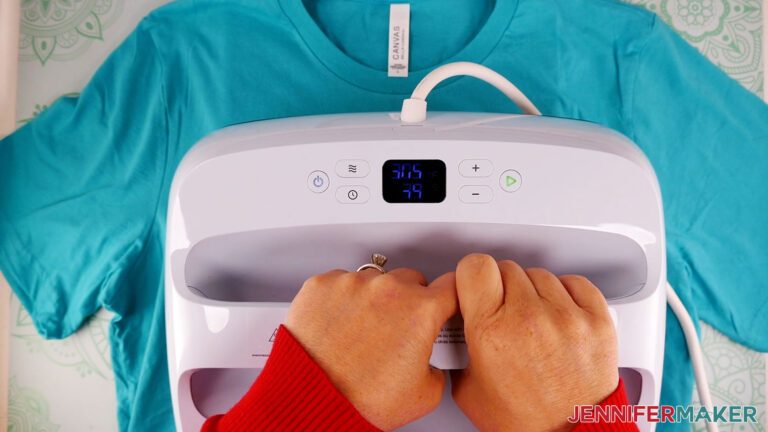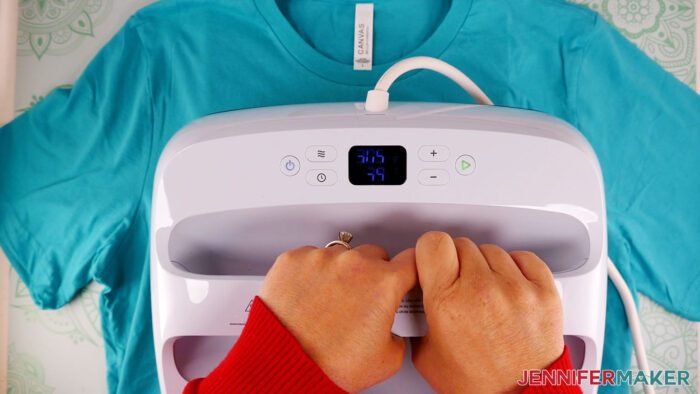 After that you just need a few extra tools like a green Cricut StandardGrip or blue LightGrip machine mat, a brayer, scissors, spatula, and weeding tool. And that's it! You're almost ready to learn how to use puff vinyl!
All in all, this project was super fun and I'm in love with the results. The puff vinyl is so delightfully nostalgic, and I've already got ideas brewing for more seasonal puff vinyl T-shirts. Puff vinyl clouds on a sunny sky? A puff vinyl snowman? There's so many possibilities, and I can't wait to see what you come up with for your own puff vinyl projects. I see a lot of these shirts in my future, that's for sure!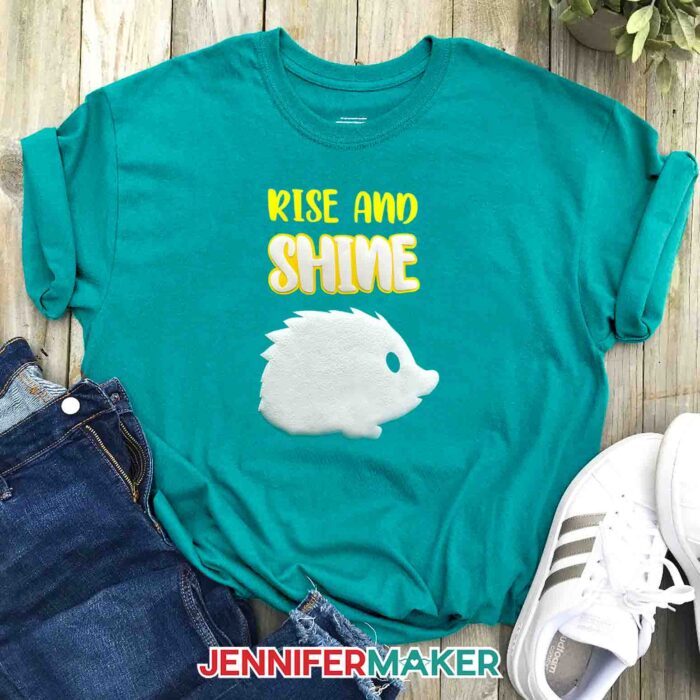 Materials & Tools to Make a 3D Puff Vinyl T-Shirt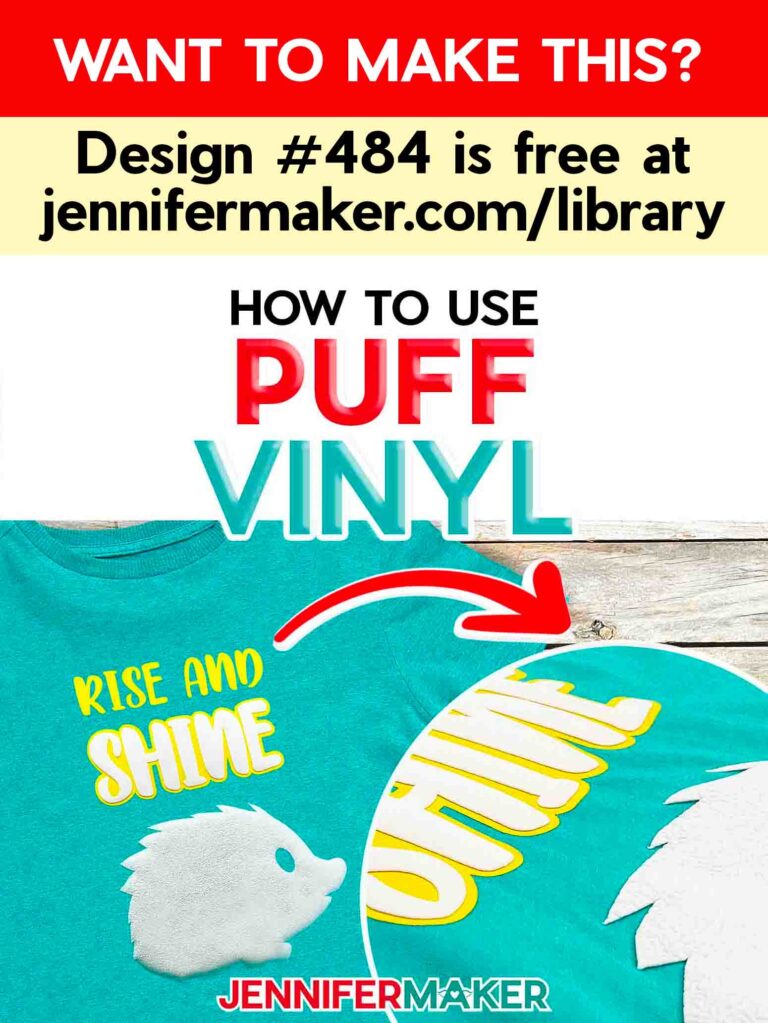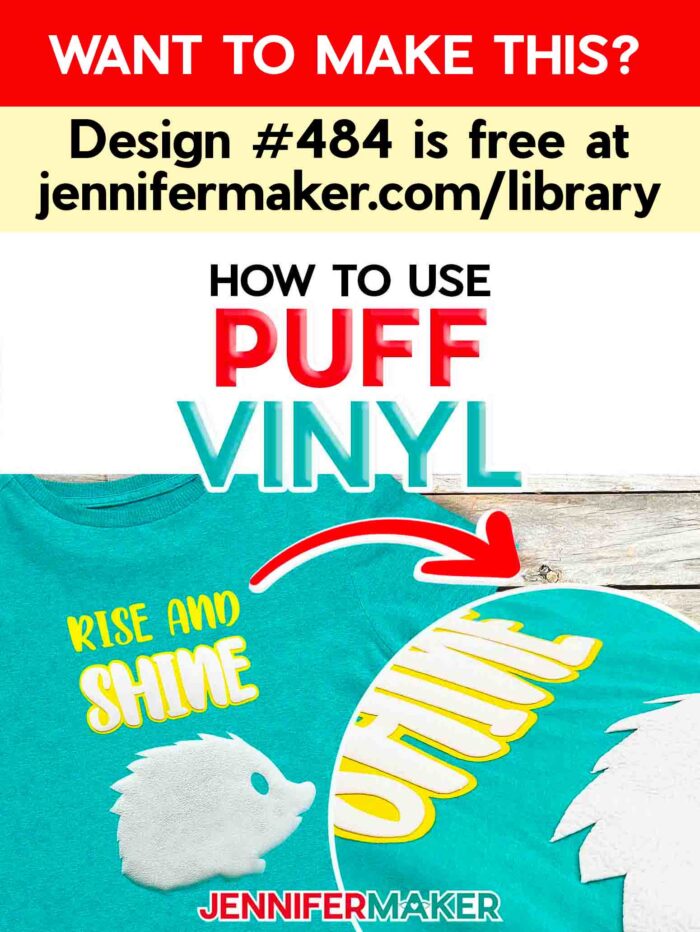 How to Use Puff Vinyl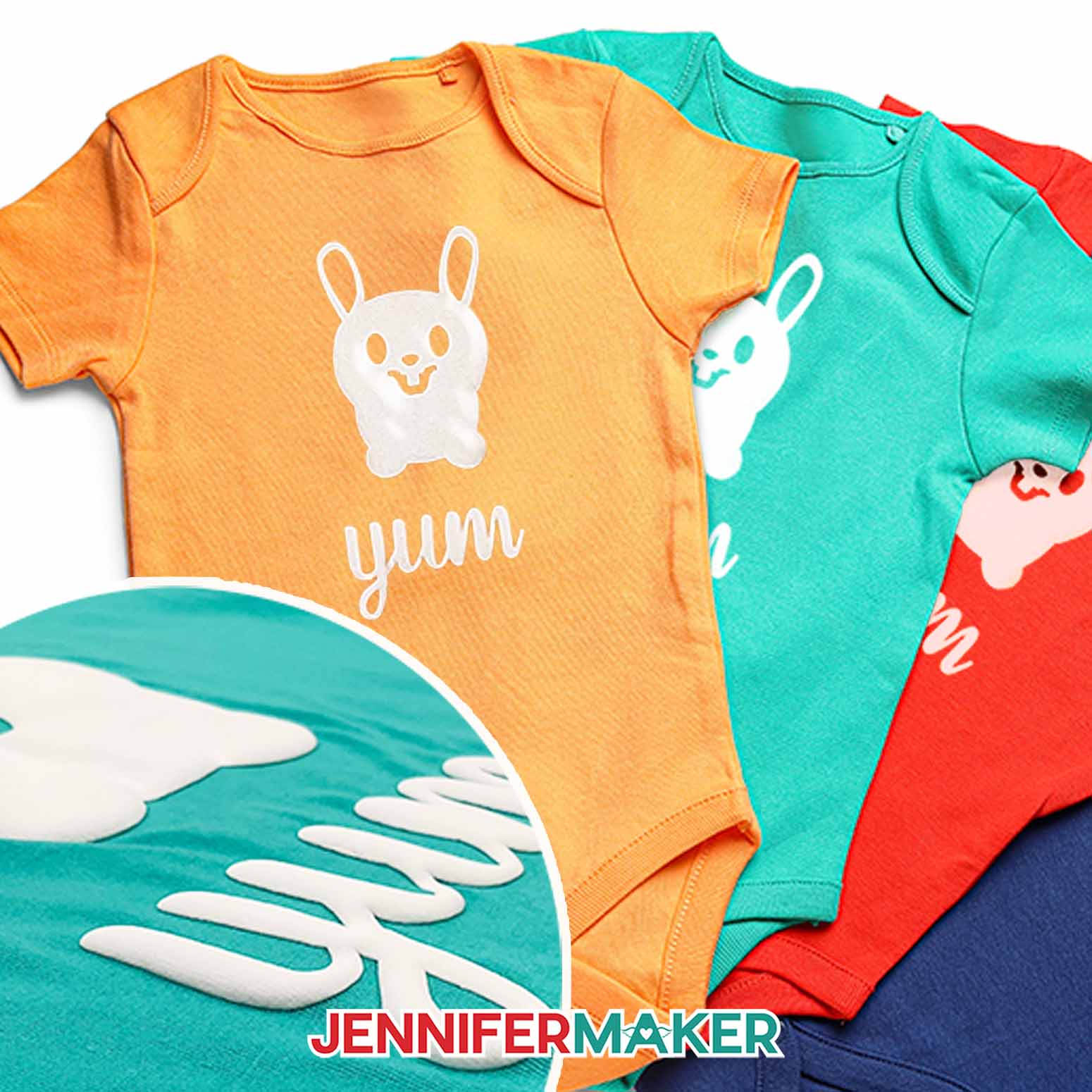 How to Use Puff Vinyl
Learn How to Use Puff Vinyl!
Answers to Your Questions About How to Use Puff Vinyl
Q: Which side of puff vinyl goes down?
A: Always adhere your puff vinyl to your Cricut StandardGrip or LightGrip machine mat shiny side UP. This is different than regular HTV, which typically goes shiny side down.
Q: What setting do I use on Cricut for puff vinyl?
A: I found that using the "EveryDay Iron-On" with "More" Pressure cut settings worked well for me when cutting my design on my Cricut Maker 3 with the standard Fine-Point Blade. When applying the design to my shirt, I set my EasyPress to 305° F (152° C) and AutoPress to 280° F (138° C), then pressed for 10 seconds with extremely hard pressure.
Q: Do you have to mirror puff vinyl?
A: Yes. Due to the nature of puff HTV vinyl, it's applied to your machine mat differently and your design will need to be mirrored before cutting on your Cricut machine.
Q: How long do you heat puff vinyl?
A: After preheating my shirt for 40-50 seconds, I pressed my puff vinyl for 10 seconds with great results.
Q: Do you peel puff vinyl hot or cold?
A: Puff vinyl is HOT peel, so the puffing can take effect right after transfer.
Q. Why is my puff vinyl not sticking?
A: If you find your puff vinyl isn't sticking well to your fabric, the likely culprit is not enough pressure. Increase your pressure (seriously, you need to press SO hard) for best results. Another issue can be too low of heat, or not pressing for long enough time.
Q. Can you repress puff vinyl?
A: No! Do not try to repress puff vinyl, as it will ruin the puff effect. Be sure that your puff vinyl design fits entirely under your heat press so you can transfer the entire thing in one press.
Q. Why is my puff vinyl bubbling?
A: If your puff vinyl is bubbling, you may have the temperature on your heat press up too high. Lower your temperature and try again with a fresh test.
Q. How do you care for puff vinyl?
A: Be sure to wait at least twenty-four hours after applying your vinyl before the first wash. Wash it inside out, with cold water and mild detergent, on your machine's gentle cycle, and don't use bleach. Hang dry your puff vinyl shirt for best results and longest life.
Q. Which fabrics and fabric blends work with puff vinyl?
A: Puff vinyl applies well to cotton, cotton/poly blends, uncoated polyester, polyester/acrylic, and similar fabrics. It does NOT work with nylon.
Get my free SVG files to make a 3D Puff Vinyl T-Shirt!

I'd love to see YOUR puff vinyl T-shirts and all the designs you make with this tutorial! Please share a photo in our Facebook group or tag me on social media with #jennifermaker.
Love,