Make paper lily flowers to welcome in spring and enjoy year after year!
Spring is here! I am a big fan of Easter Lillies and I think they herald in spring with their pretty white, trumpet-shaped petals and lush green leaves. But, inevitably, they don't last. So I like to make paper flowers, like my tulips and cherry blossoms. So lets make some long-lasting paper lily flowers that will decorate our homes or make lovely gifts for our friends and families.
I love realistic paper flowers, so it won't surprise you to learn that I traced the petals for the paper lily from real lily petals. The petals roll right up into either a tight bud or an opened flower—your choice. If you decide to make a lily bud, use the template without stamen (since you can't see them when closed).
Take a look at the close-ups of the paper lily flower: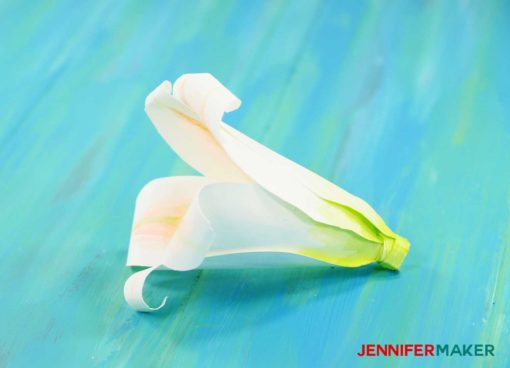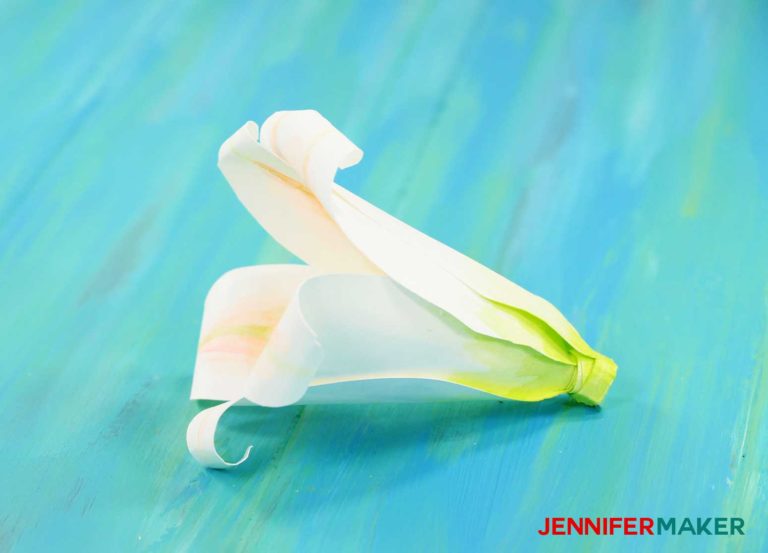 Make paper lily flowers to have some fun with watercolor, too!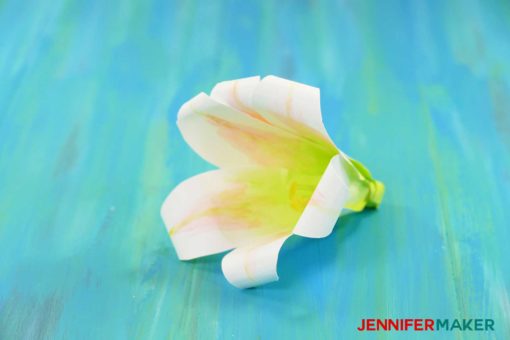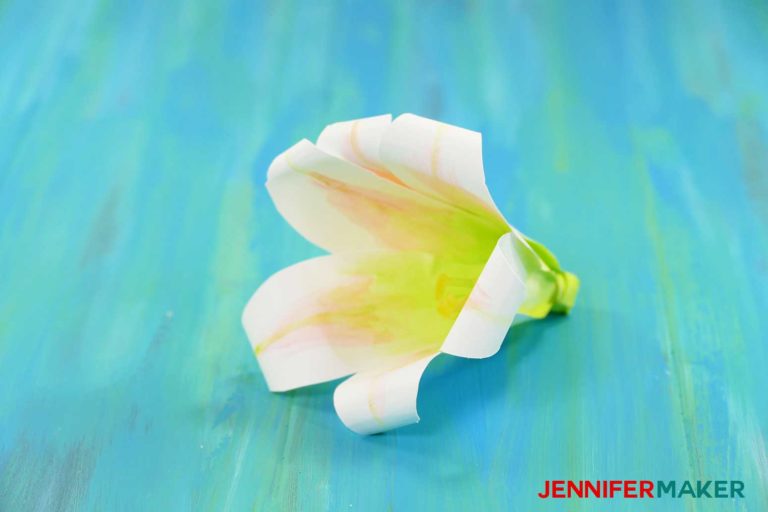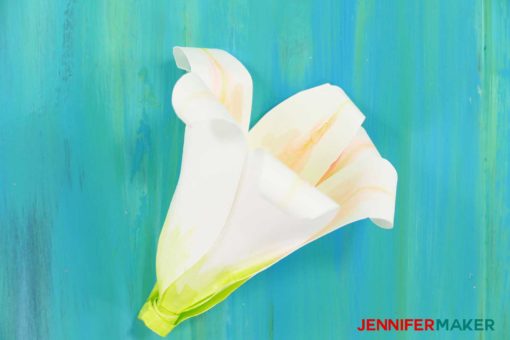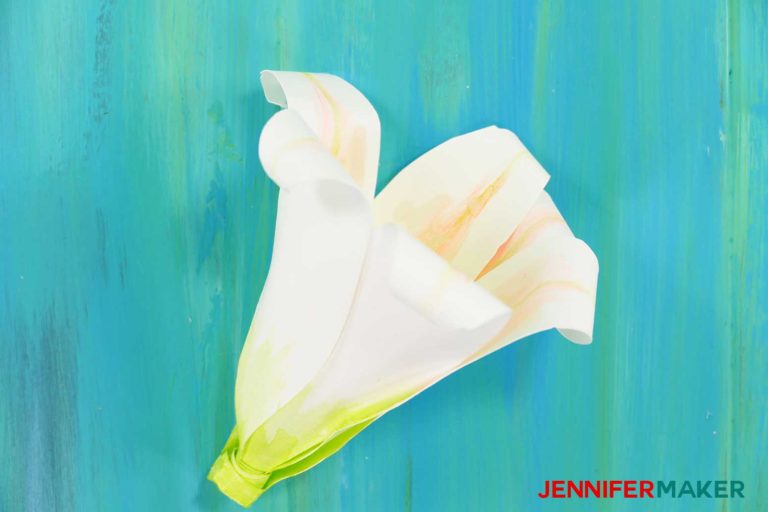 And here's what both the closed and open paper lily flowers look like: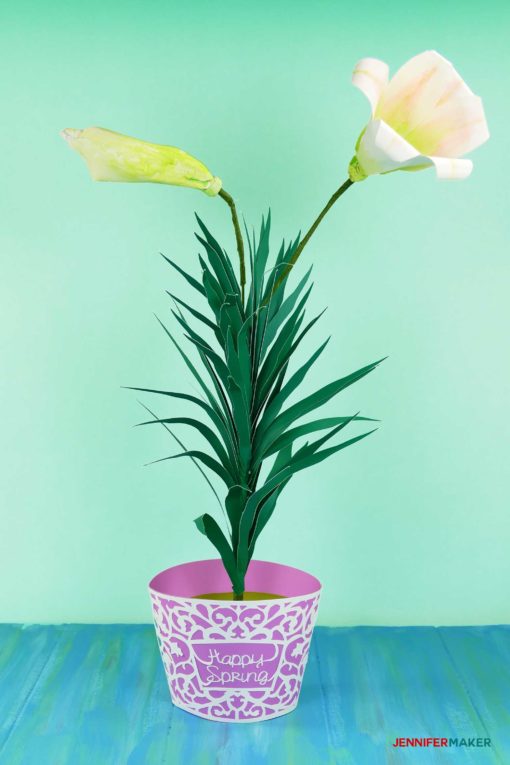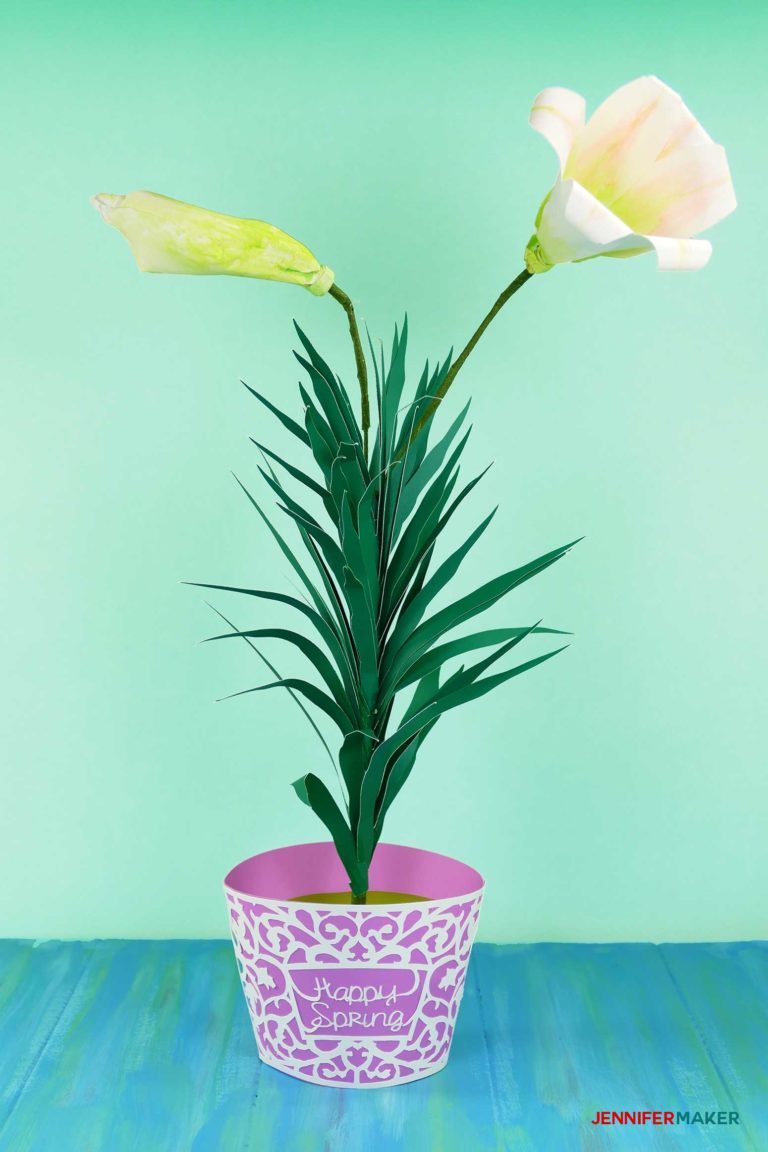 So let's make paper lily flowers that last a long time! This post contains some affiliate links for your convenience (which means if you make a purchase after clicking a link I will earn a small commission but it won't cost you a penny more)! Read my full disclosure policy.
Materials to Make Paper Lily Flowers
65 lb. 8.5″ x 11″ cardstock (I used two pieces of white cardstock and four sheets of green cardstock)
Watercolors (to give your petals some definition and color gradation)
Quilling tool (learn how to make one here)
Green floral wire
Green floral tape
Glue (tacky glue or a hot glue gun)
A way to cut out your paper (I used a Cricut Explore Air)
The free cut files/patterns (they are in my resource library — to get the password to it, fill out the form at the bottom of this post)
How to Make Paper Lily Flowers
First, cut out your cardstock using my free SVG, DXF, or PDF files found in my resource library. You'll be cutting petals from one piece of white cardstock (this will make one opened lily and one closed lily bud) and leaves from four pieces of green cardstock. No scoring or layer grouping/ungrouping is needed—this is a very easy project to cut!
IMPORTANT NOTE: If you're not sure how to upload an SVG file to Cricut Design Space, or you're having issues (such as getting a message that says "unsupported file"), please watch my free training series, The Joy of SVGs. It will help you SO much!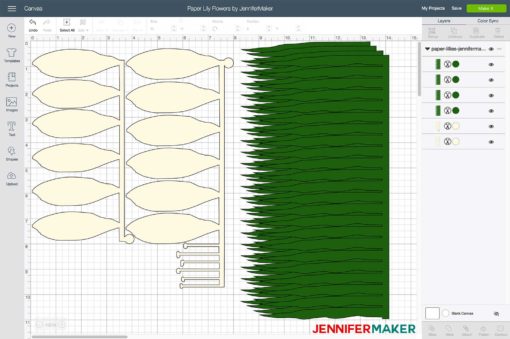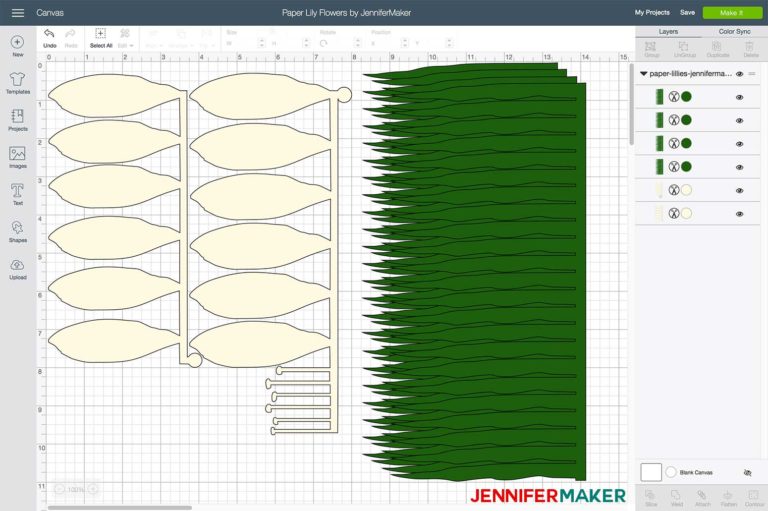 Using watercolors, lightly paint your petals and stamen. I painted my stamen yellow and my petals were light green at the bottom with stripes of light pink. I recommend you look at photos of real lillies to help you determine how to color your paper lily. Of course, you don't have to paint them at all—it's up to you!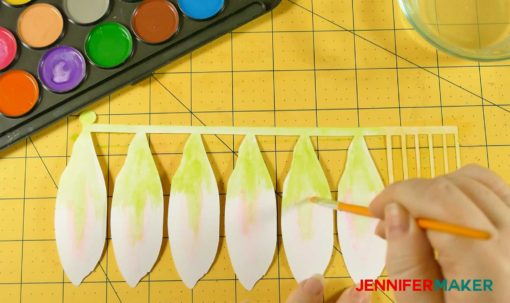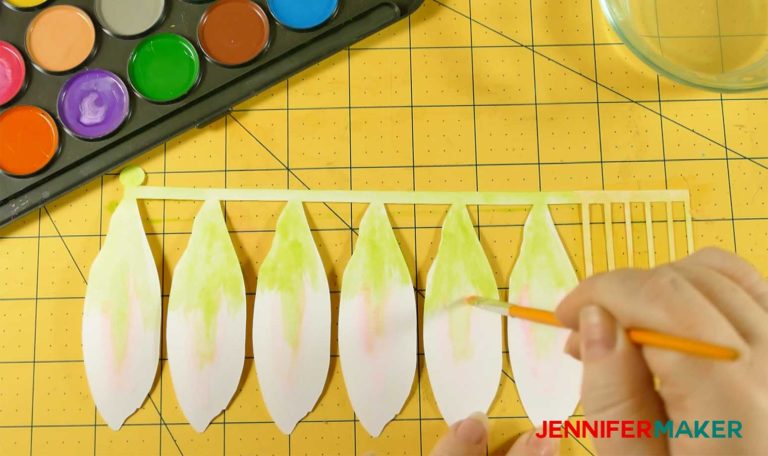 Once your paint is dry, roll up your paper into flowers or buds using a quilling tool.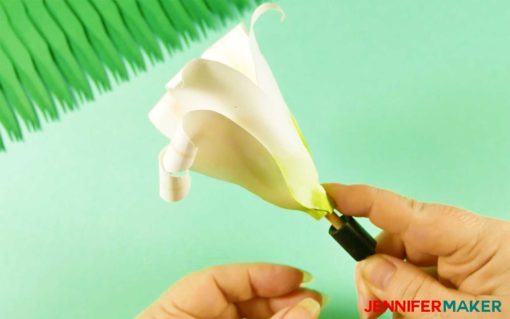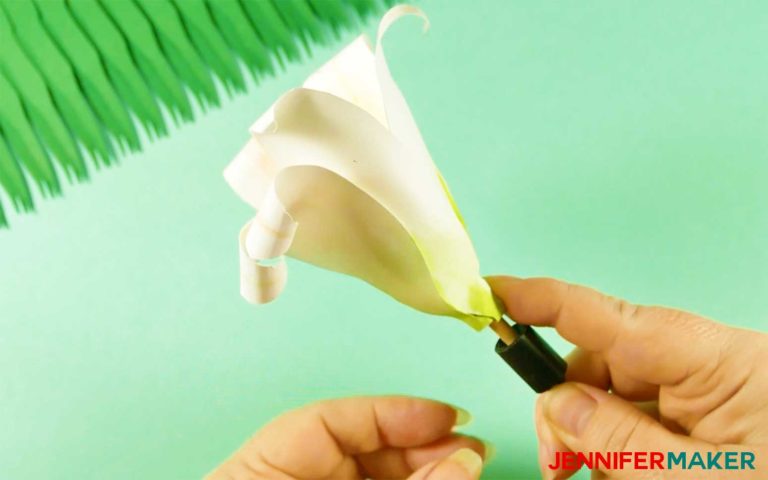 Arrange the petals as you wish, then glue the bottom of the rolled flower into place.
Curl the edges of your paper lily flower outward using the barrel of your quilling tool or something else of a similar size and shape.
If you want to add a stem, put some glue on the end of a floral wire and poke it into the bottom of your lily, then wrap the base of the flower and top of the wire well with floral tape.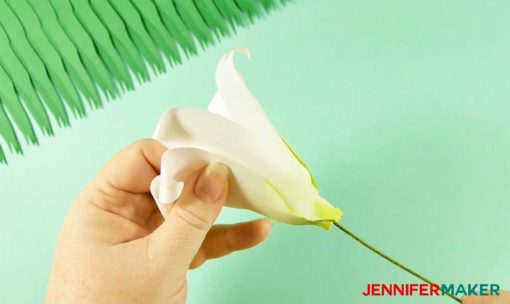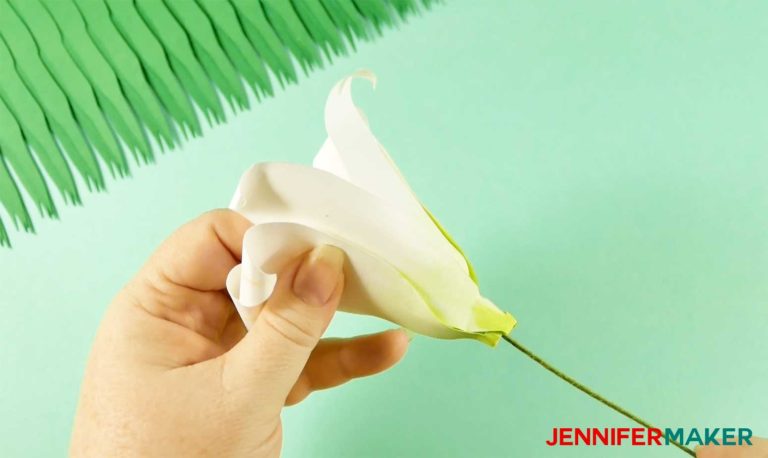 Wrap the leaves around the middle of the floral wire, working your way up as you go. I use two sets of leaves per stem. Glue into place when done. I think it looked more realistic to put the two stems together and then wrap the leaves around them both.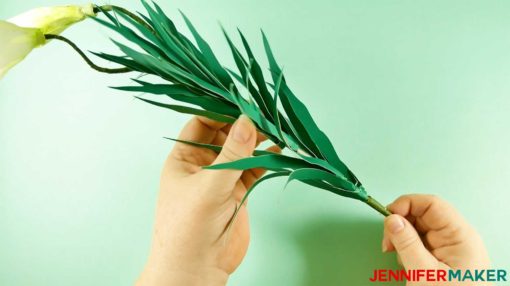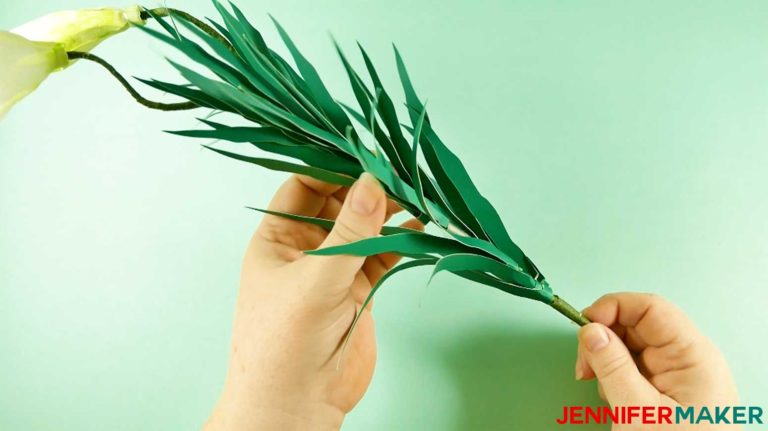 Put your paper lily flowers into a pot or vase and enjoy them year-round!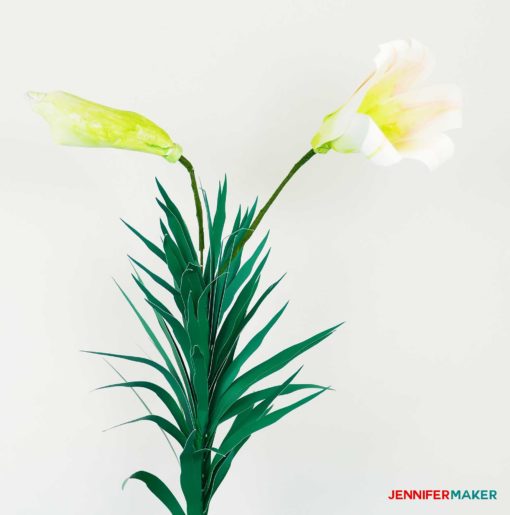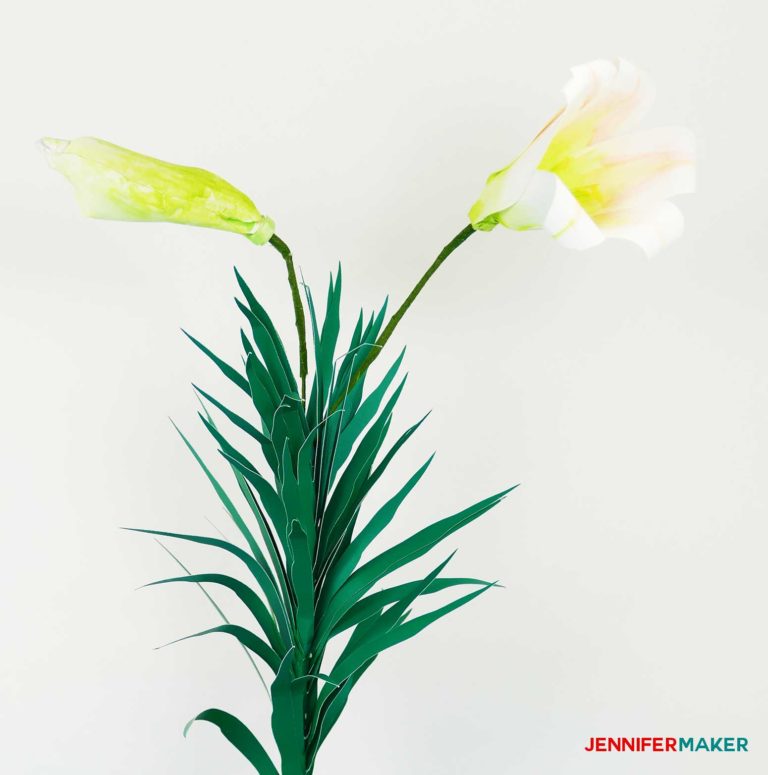 I love these bright and cherry blossoms! I think these would look beautiful at any spring event as well as weddings!
Free Cut Files to Make Paper Lily Flowers
You can get the password to my resource library that has ALL of my free cut files in it by filling out this form:
If you make paper lily flowers, I'd really love to see them! You can email your photos to [email protected] or post them in our Facebook group and I will include them on this page for the world to see!
Love,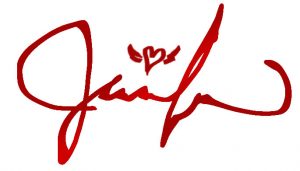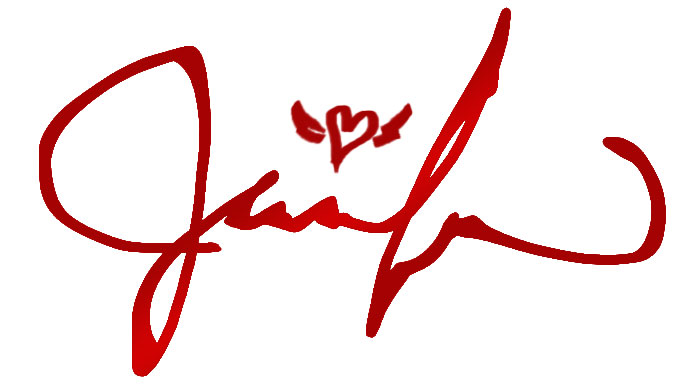 More Paper Flower Tutorials & SVG Cut Files
View all my paper flowers here.