One of my lovely blog visitors asked me to create a holiday DIY gift guide a while back. I haven't made one because, honestly, I don't like the whole shopping ordeal. You can probably tell that already, as I spend way more time making things than buying things. I certainly see things I admire and enjoy, but the act of shopping is overwhelming. It takes so much time! But if there is one thing I know, it's how to craft things. So I've put together a Crafty DIY Gift Guide for all the crafty people in our lives.
So the big question on your mind now may be: What do crafty people want? Can't they just make whatever they want? Well, as you may remember from my DIY bath bombs tutorial, my sister surprised me with a bath bomb making birthday party even though I'd been planning to make bath bombs myself. And I was overjoyed! As a crafty person, I love the making of the thing as much as the thing (if not more so). And prepared kits — where all the right things are picked out in all the right quantities — make crafting the much more fun. I love DIY craft kits, because they let me pick something up quickly and easily without the hassle.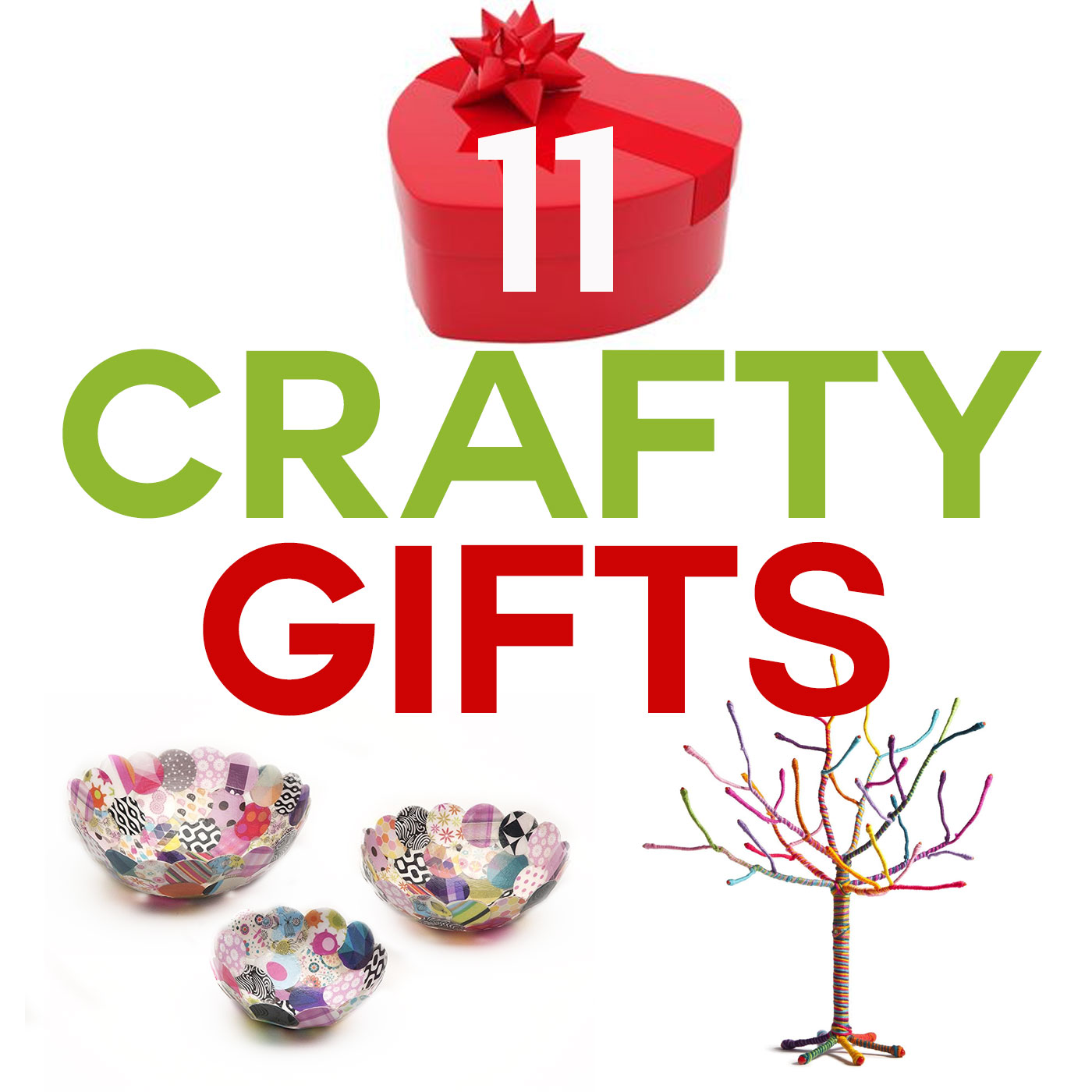 Thus, I'm SO excited to show you the 11 DIY craft kits I've picked out! There's something for every type of crafter and every budget here. And they're all on Amazon, all in stock right now, and all have Amazon Prime (I love Amazon Prime!). So this is easy peasy shopping (whew!). The Amazon links are my affiliate links to help support this blog!
This post contains some affiliate links for your convenience (which means if you make a purchase after clicking a link I will earn a small commission). Read my full disclosure policy.
Crafty DIY Gift Guide: 11 DIY Kits for Crafty People
Here are my top 11 DIY craft kits that I think crafty folks will love:
DIY String Art Kit – String art is cool again! This kit gives you designs, but also lets you make your own design. Everything you need to create three 8.5-inch works of art!
DIY Paper Bowl Kit – Create super-cute bowls using just paper and glue! This kit has what you need to create three bowls (4.75 in., 6 in., and 8 in. wide). Includes the bowl molds, too! I really like the wide variety of patterns on the paper.
DIY Yarn Tree Kit – This reminds me of those amazing yarn-bombed trees, only on a much smaller scale. This kit helps you make a 20″ bendable tree wrapped with fun yarn colors. It seems like it would make a great jewelry hanger… or maybe a place to put your charms!
DIY Felt Succulents Kit – I've been seeing gorgeous felt plants on Easy, and I want to make some! This kit comes with different sizes and colors felt "leaves" — all in complimentary colors — plus everything else you need to make beautiful plants that need no watering!
DIY Woodturning Kit – If someone you know has ever wanted to try woodburning (which I happen to love), this is a great kit! It comes with a pyrographic pen, four different tips, pencils patterns, and two wood plaques. It's not difficult to do, and has a great effect!
DIY Needle Felting Kit – Needle felting is easy and satisfying! And using a kit means you'll have a great looking end result. There are a lot of different things you can make — the panda in my picture above is already sold out, but I really like the dog, owl, and sheep.
DIY Glass Bead Making Kit – Lampworking is a time-honored tradition, and one I've had the pleasure of doing thanks to some friends. This kit gives you the tools you need, including the torch head, mandrels, canister holder, rod scrubber, glass rods — even a work surface — the only thing missing is the tank of torch gas (get it at your local hardware store).
DIY Soy Candles – I love to make candles, and what I like about this kit is that it comes with all the bits you need, including a pot and thermometer. There are even fragrances included. If you know someone crafty you likes candles, I'll bet they'll love this!
DIY Traditional Coiled Basket Kit – I had no idea I could make a basket until my friend Katherine showed me, and now I have two baskets to show for it! This kit lets you make a 4″-6″ basket with a cool pattern.
DIY Edible Fairy Garden Kit – I love fairy gardens! And what's so cool about this one is that you can eat them only 10 days you plant them. And you can choose the color of the fairy who lives in your garden, too!
DIY Flower Origami Kit – Origami is a fun craft, especially when there are easy step-by-step directions and the exact color/size of paper you need. This kit lets you make an entire bouquet of flowers, all with bendable stems.
Whew! That wasn't so bad — I love Amazon! Thank you for the nudge to make this guide, Heather.
I hope this crafty DIY gift guide was helpful. And just in case any family members see this, I love everything here (hint, hint)!
So what crafty person do you need to get a gift for this year? And what do you think they would like most from this list?
Love,