Learn how to sublimate mugs AND create designs for them!

When I started crafting, I had no idea I'd ever learn to make something so cool. Making mugs that look like something you'd buy in a store? Even better: custom mugs? How neat is that!? I've shared some of my basic mug tutorials with you already, but today I'll show you how to sublimate mugs from design, to print, to press in three different ways — mug press, convection oven, and air fryer! I'll walk you through creating three styles of mug wraps (including a FULL wrap), customizing them, and then using the slice tool in Cricut Design Space to make them the perfect size for your item. I'll share all my tips and tricks from start to finish, using free gorgeous floral designs I created just for you.
Want to save this project? Enter your email below and we'll send the project straight to your inbox.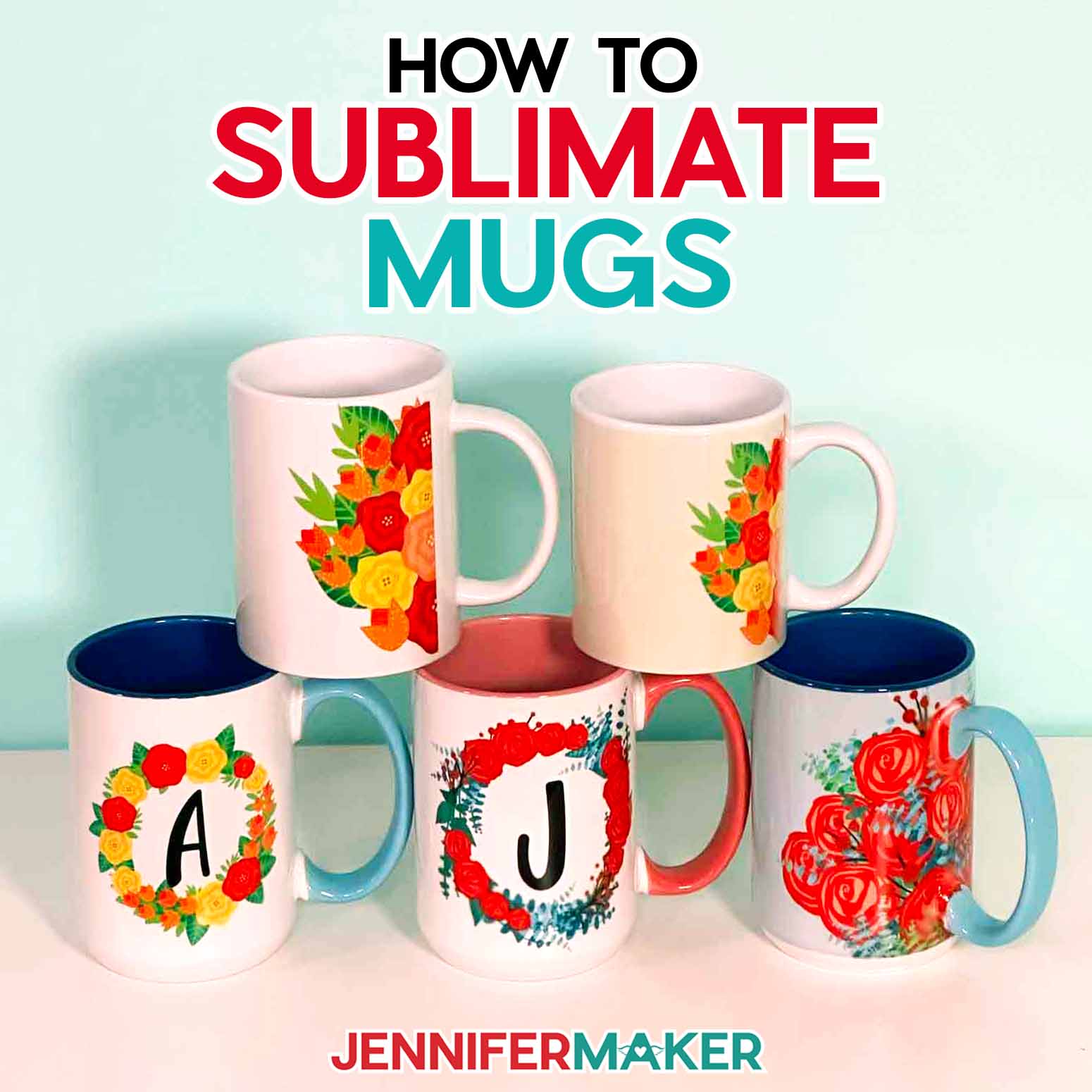 This is a Cricut Mystery Box project — it uses the same Cricut Mug Blank that you could have gotten in the "World of Enchantment" mystery box in April 2023. While this mystery box is no longer available, you can still purchase the mugs below in my material list. Learn more in my Cricut Mystery Box Guide.
Sublimation is more of an art than a science. Sure, there are a bunch of steps, temperatures, sizes, and times to adhere to for the best results. But when you break it down, it's still an art form — and a variable one at that.
Colors may sublimate different than you imagine, smudges or inconsistencies may appear in your final result, but you know what? In the end, you made that mug — and even if it's not quite "gift quality", it will still hold your water or coffee while you craft. So, are you ready to let go of perfection and start learning how to sublimate mugs?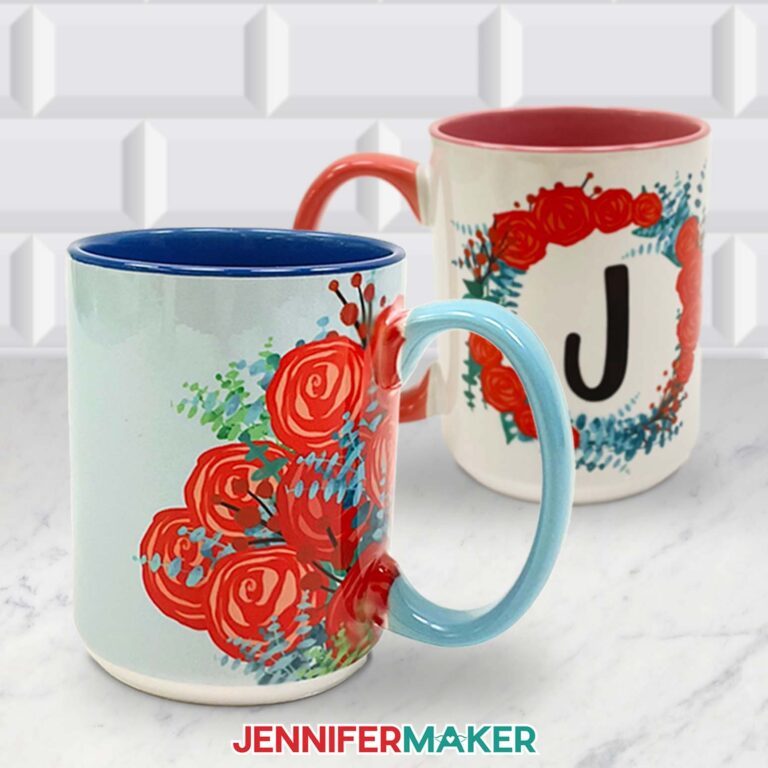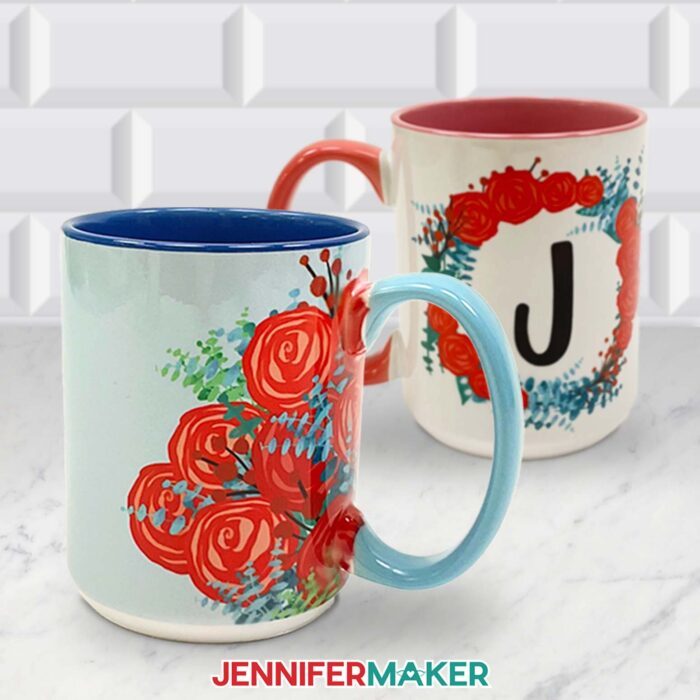 Our first step is to learn how to customize designs in Cricut Design Space. Then we'll use the Slice tool to fit them exactly to your size mug template. We'll cover how to create two designs that form a border around the handle of the mug, as well as one full wrap design that goes completely around your mug, even under the handle.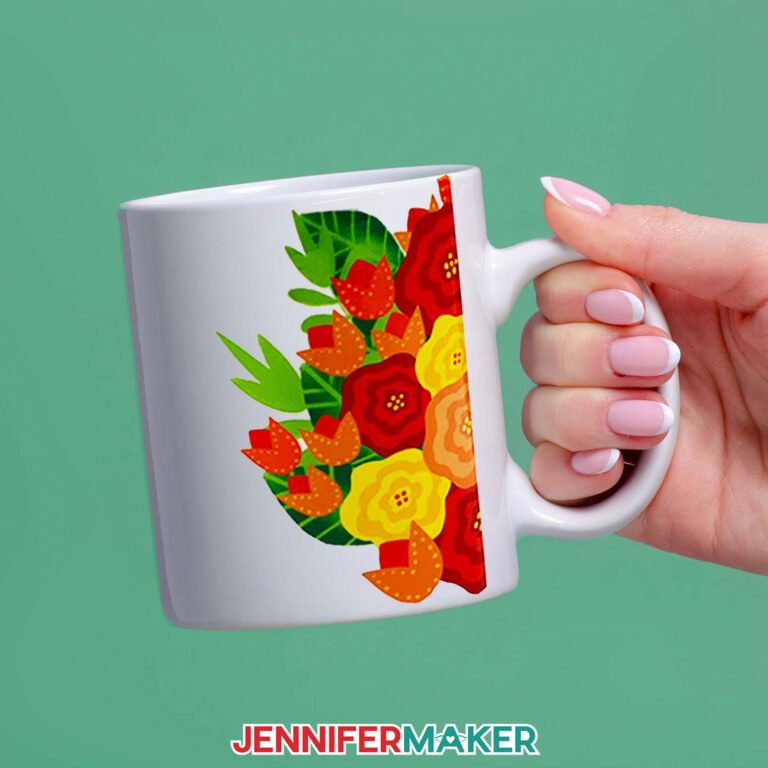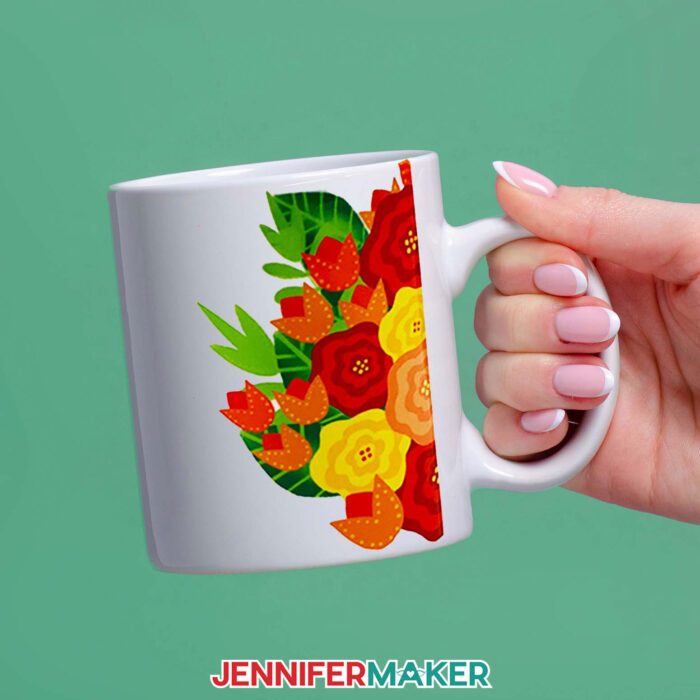 Next we'll use Cricut's Print then Cut feature to print mug wrap designs on sublimation paper using a sublimation printer. Since these wrap designs are large, you will need legal size 8.5″ x 14″ paper and a 12″ x 24″ green StandardGrip Machine Mat from Cricut. A regular inkjet printer will NOT work for this project! Then we'll cut our designs and sublimation liners from butcher paper using a Cricut cutting machine. This project can be cut with any Cricut Maker or Explore series machine, but not on the Joy a it does not have Print then Cut capabilities. If you don't have a cutting machine, you can just cut your mug wraps and liners out with scissors.
Sublimation involves using high heat to transform sublimation ink into a gaseous state, which is then infused into the mug's surface. Remember, not all mugs can be used for sublimation — you need to use mugs sold as "sublimation blanks" to get results!
Now comes the fun part! There are a few different ways to sublimate mugs, and we'll delve into two of my favorites: a Cricut Mug Press and a dedicated convection oven. Both methods require some preparation of your blank sublimation mug, and then the magic happens! Simply wait for it to sublimate, let your mug cool, then peel off the paper and liners (and shrink wrap if you used the oven method) to reveal your beautifully sublimated mug design!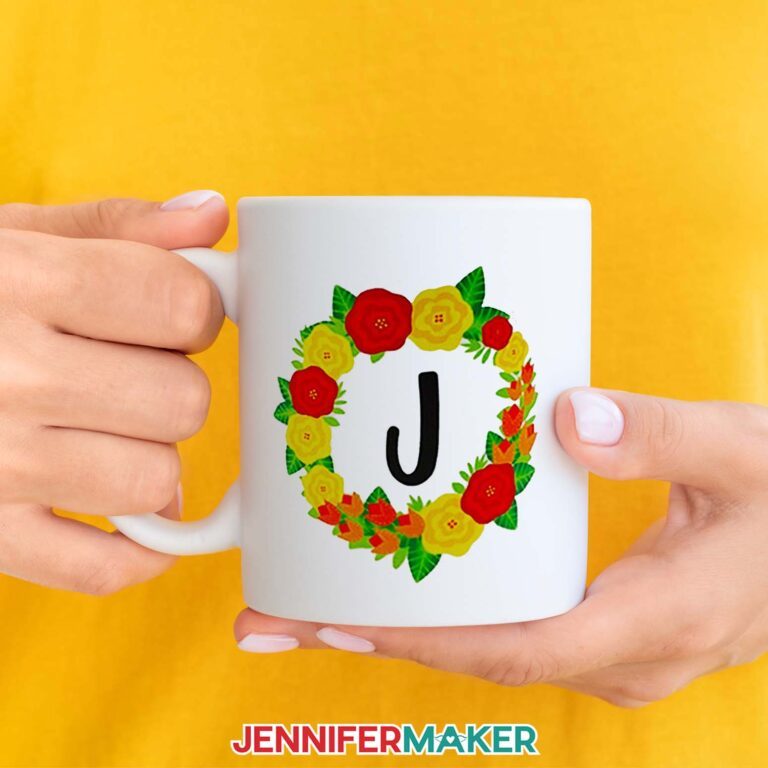 But remember how I just said there are a few different ways to sublimate mugs? Later on in the tutorial, I'll show you two more bonus methods you can try when sublimating coffee cups: The silicone wrap method, and the dedicated air fryer method. I honestly love how crafts like sublimation use so many methods to create similar results, so you can pick whichever one works for you! And I think that discovering your unique way of crafting is half the fun.
Sublimating mugs at home is a great way to create high-quality crafted gifts that are personalized and from the heart. After this tutorial, you'll know all about how to sublimate mugs and be ready to start gathering supplies and creating! Imagine how excited your friends and family will be when you gift sublimation coffee mugs made just for them!
Ready to learn how to sublimate mugs? This post contains some affiliate links for your convenience (which means if you make a purchase after clicking a link I will earn a small commission but it won't cost you a penny more)! Read my full disclosure policy.
Materials And Tools to Make a Sublimation Mug
Get my complete shopping list with the exact items I used to make these mugs on Amazon!
For all methods:
For Cricut Mug Press method:
For Convection Oven or Air Fryer method:
How to Sublimate Mugs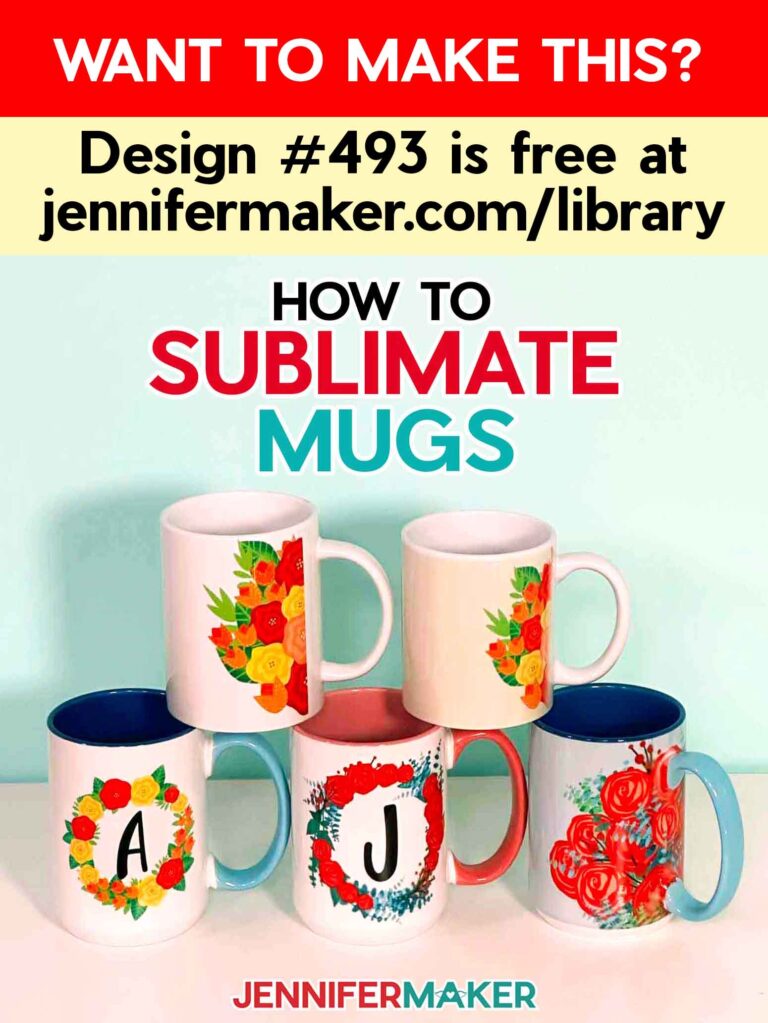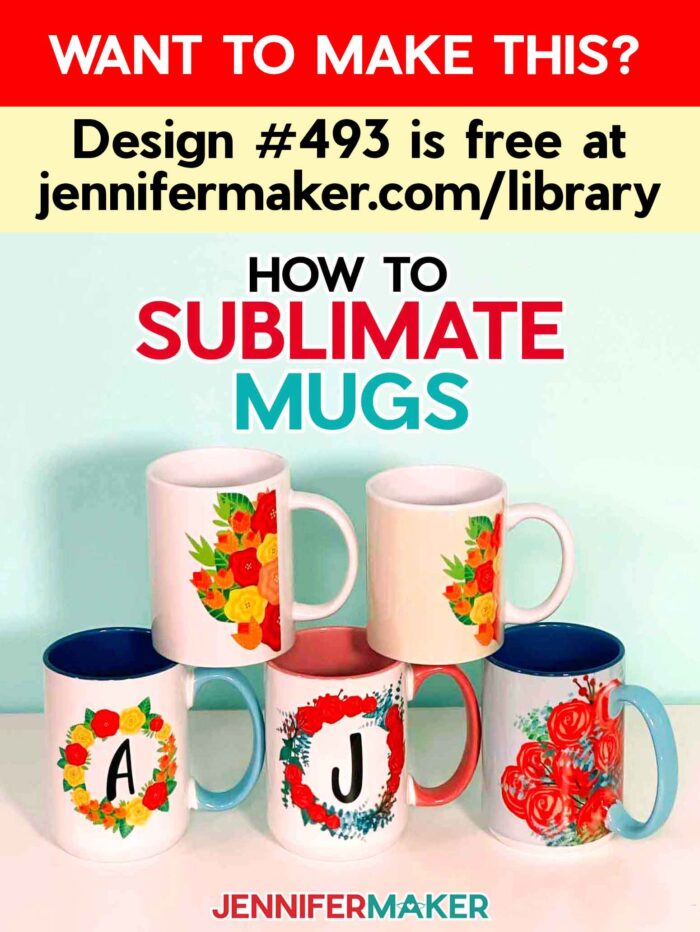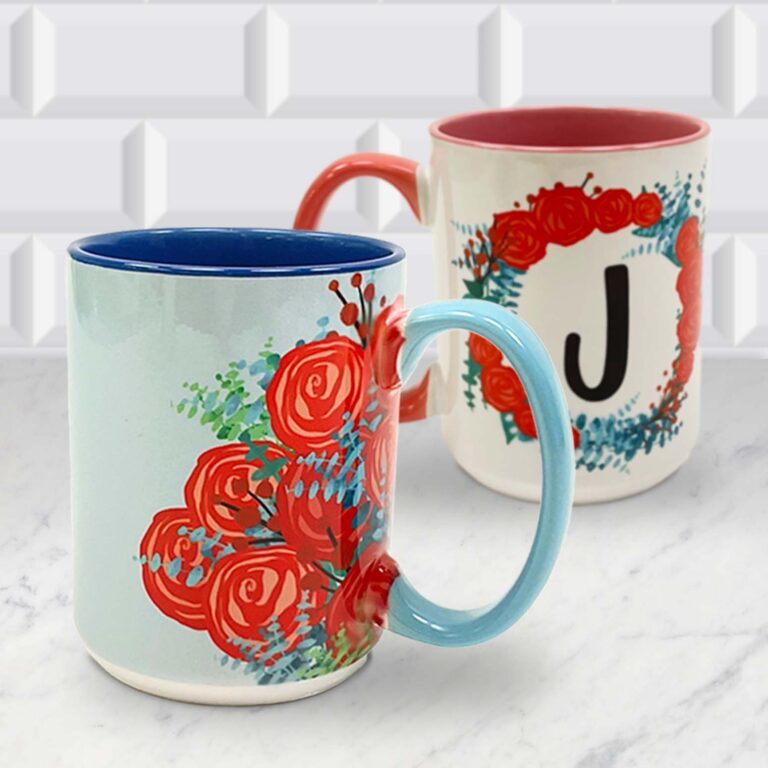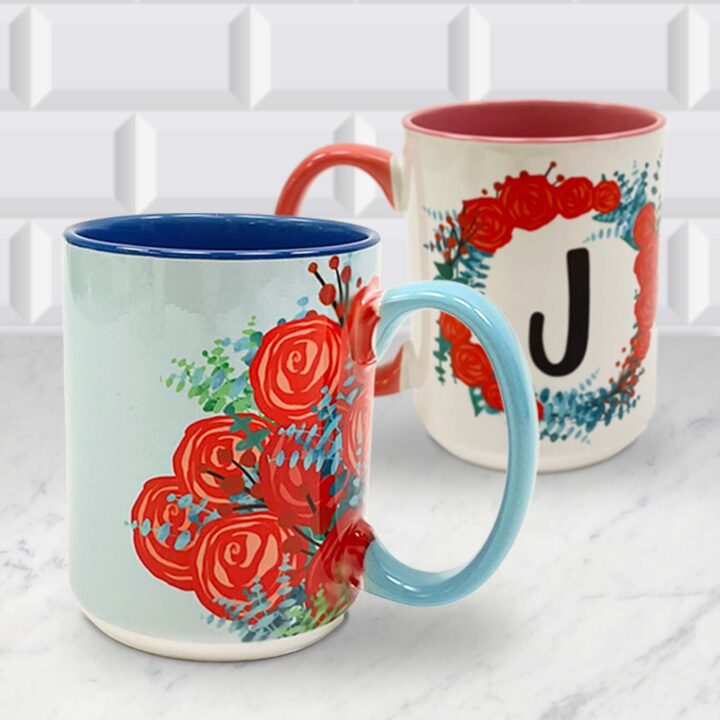 How to Sublimate Mugs
Total Time:
1 hour
20 minutes
Difficulty:
Easy to Medium
Estimated Cost:
$10 - $15
Learn how to design and sublimate mugs using Cricut Design Space and the Cricut Mug Press.
Answers to Your Questions About How to Sublimate Mugs
Q: What is needed to sublimate mugs?
A: To sublimate mugs, you'll need the following things: Blank mugs that are meant for sublimation, a sublimation printer, a cutting machine (optional), and a mug press -or- dedicated convection oven or air fryer. That's not all — other supplies you'll need which are method-specific can be found in my materials list below!
Q: Can all mugs be sublimated? Can you sublimate on a regular ceramic mug?
A: Not all plain white mugs can be sublimated. In fact, most cannot! Regular ceramic mugs do not have the special coating needed to accept sublimation ink. Look for mugs sold as "sublimation blanks", as they will be made out of the right material.
Q: Can I use Dollar Tree mugs for sublimation?
A: While there are plenty of items at Dollar Tree suitable for sublimation, the blank mugs sold there will not work for sublimation projects.
Q: How long do you press a mug for sublimation?
A: Using a Cricut Mug Press, sublimation usually takes around 6 minutes. Using the convection oven method, you'll want to sublimate your mug for 15 minutes.
Q: Do you peel sublimation hot or cold?
A: Sublimated mugs should ONLY be peeled after they've cooled down a bit, because sublimating continues even after the mug is removed from the heat source. Touching the design paper while the mug is still hot can cause smudging, ghosting, or shifting in your final sublimated design.
Q: Can I use parchment paper for sublimation?
A: Parchment paper is not recommended for sublimation because it is coated and holds in too much moisture. Don't use Teflon sheets for sublimating either. Butcher paper is different, and I find it works best.
Q: What temperature do you sublimate a mug?
A: The Cricut Mug Press senses the ambient temperature in the air and adjusts the press automatically to the exact time and correct temperature to achieve the best results. If using the convection oven method, sublimate your mugs at 375° F (or 191°C). I recommend using an oven thermometer for best accuracy! Be sure to place the thermometer near where the mug will sit in the oven for the most accurate temperature read.
Q: Can I sublimate mugs if I don't have a sublimation printer?
A: Not everyone has access to a sublimation printer, and that's okay! There are other options. You can create a super fun sublimated design on a mug using Cricut Infusible Ink pens, Infusible Ink Transfer Sheets, and pre-printed sublimation paper designs available through small businesses on Etsy! And just a note on the Cricut Infusible Ink pens: You can insert them into your cutting machine and have your Cricut draw designs for you. Isn't that the coolest thing ever?!
Get my free PNG/SVG files to make a Sublimation Mug!

I'd love to see YOUR gorgeous sublimation mug! Please share a photo in our Facebook group or tag me on social media with #jennifermaker.
Love,