Learn how to conquer your fear of the camera and go from camera shy to camera ready!
I am very shy. I hid away from the camera for the first 45+ years of my life. But when I began my blog, I began to question this behavior. I started to hear how important it was to allow myself to be seen and heard in photos and videos. It was a terrifying prospect at first. I was very camera shy and it held me back from doing things that were important. It all came down to FEAR. In my case, fear of what people would think of me and that I would not please them.
If you're at all like me and want to overcome this, you need to figure out WHAT your fear is based on. For example, I fear what other people think of me and my actions. This is what my mentor Ruth calls a People Pleaser. That's so totally me…. the people pleaser!
Once I knew I was a People Pleaser, I began really questioning my motives for doing things (or not doing them). I started to realize that things were just fine the way they were, and the only reason to hide from the camera was because I was worried about a few people who MIGHT think something about me. Once I realized my fear of these people were holding me back from realizing my dreams, I began to stare it in the face and push past it.
Of course, your fear might be totally different than mine. You may fear making mistakes (you will, so what?), you may fear rejection from others (the more you share, the more we really see you), you may fear that you even have the ability (oh, you CAN do it!).
Learning how to overcome your fear is just the MOST rewarding thing you can do for yourself. And one of the best ways you can do this is to find a guide to it. I found one, and it's how my blog JenniferMaker.com came to be. I learned how to break out of my fears and put myself out there through an amazing woman by the name of Ruth Soukup. She's my mentor and she taught me so very much. You might have heard of her, or maybe not, but she's my hero.
I wish everyone could have a mentor like this.
The great news is that she just wrote a book about how to overcome your fears! So now everyone can benefit from her wisdom!
Her book is called "Do It Scared" and it's just amazing — fun to read, full of insight and wisdom, and SO helpful. It's full of easy-to-implement tips along with motivation and inspiration to conquer your fears. (Oh, and Ruth is a great writer — she's already a New York Times and USA Today bestseller!)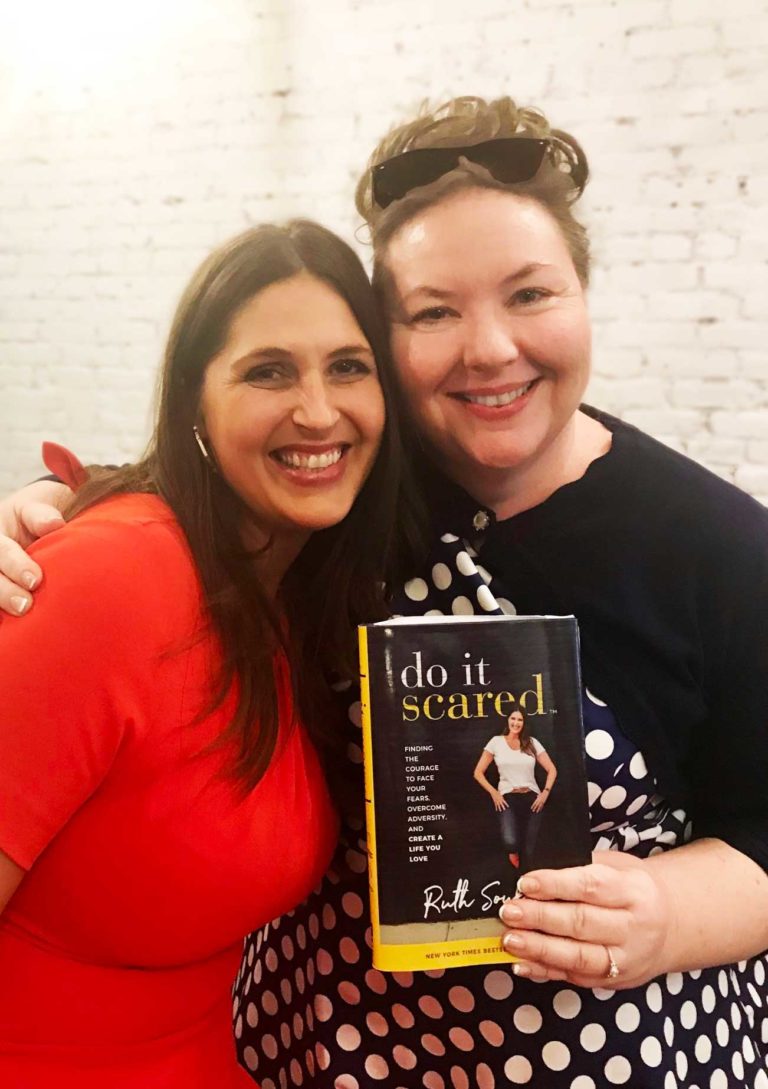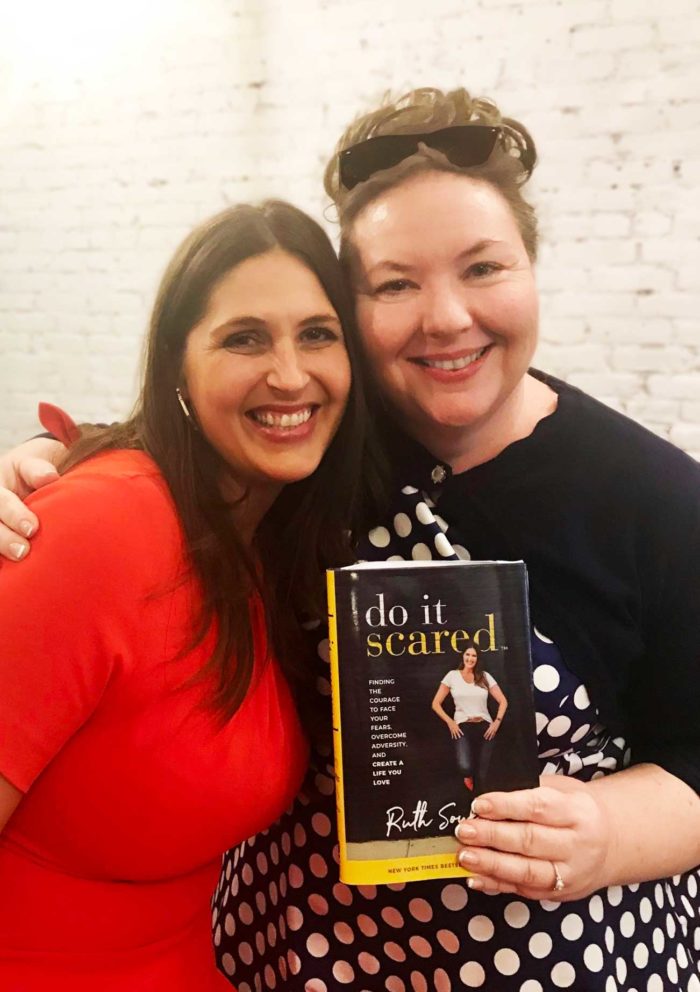 In addition to reading Ruth's amazing story of overcoming her own fears, you will discover that some of MY story is in the pages of this book as well. (I have the bestest mentor ever, and she lifts me up!!)
I highly recommend you get "Do It Scared" if you struggle with this as I do (and most of us do).
Her book has helped me recognize that while I am a People Pleaser, there are things I can do about it.
Once you know exactly what fear is behind your camera shyness, you can focus on pushing past it.
How I Overcame My Camera Fear
In 2017, I joined a course (Elite Blog Academy) that encouraged me to record a video at the start of my blogging journey. I didn't have to show it to anyone — I just had to record it. I wanted to do a good job in the course, so I recorded the video, vowing to never show it to anyone.
But then I had to do another one a few months later. And another. I still kept them to myself.
Then about four months after that first one, something significant happened in my niche — a major new product came out. I was SO excited about it, and I knew that other bloggers and influencers in my niche were going to do unboxing videos of it. So I worked up the nerve to do a Facebook live unboxing. It was a bit of a disaster — the video stopped recording three times — but I did it. And while it was embarrassing, it was also a start. I didn't die from the experience. No one said anything unkind. It happened, and I survived.
I began making more live videos like this, just dipping my toes in. I started in Facebook groups where there were people I knew and trusted — very very small groups to start, and gradually getting a little larger. I felt safe in those groups, and it was a really good place to learn how to talk in front of a camera. It was also really good for learning how to connect with an audience, because I had near-instant feedback through Facebook's chat and like system.
I kept at this for a long time, gradually increasing the length of my videos and talking about a wider variety of topics. I began to accept invitations to do live videos for others, too, even though it terrified me. Because I knew if I said I'd do something, I would do it — and that would push me out of my comfort zone.
And that's the key — getting out of your comfort zone in little baby steps.
I kept this up for about a year, gaining confidence with the camera and connecting with people. Then two significant things happened in November 2018. First, I went to a digital marketing conference at Eastern Michigan University and listened as Google rep said that by 2022, 82% of all Internet traffic would be video. This has a huge impact on me, because I knew if I didn't push myself further and get out of the Facebook groups, I would get left behind. Second, I saw Bohemian Rhapsody in the theaters toward the end of the month. I was struck by the relationship between Freddie Mercury and his fans in the audience. I watched footage of the real Freddie Mercury at his concert in the 1985 Live Aid concert and saw the connection. And I knew I wanted that connection with people, too.
So two days after watching Bohemian Rhapsody, I decided I had to break free of my fears and put myself out there. I chose to do it on YouTube by creating a video a day, no excuses, for 25 days. It was HARD, there were tears involved, I thought myself crazy every single stinking day. But I did it. And when I came out the other end, I had overcome a LOT of my fear. Not all of it — I'll probably alway be afraid — but enough that I could now get up in front of a camera where millions of people could see me and I could do it. I know I could.
The answer is essentially to take baby steps, but keep moving forward constantly, until you get to the point where you can break out into a run and just go for it.
My top 8 tips to overcoming your fear of the camera, especially VIDEO:
1. Remind yourself It's normal to feel afraid. Most people do and yet they do it anyway.
2. Do it alone whenever possible, especially in the beginning.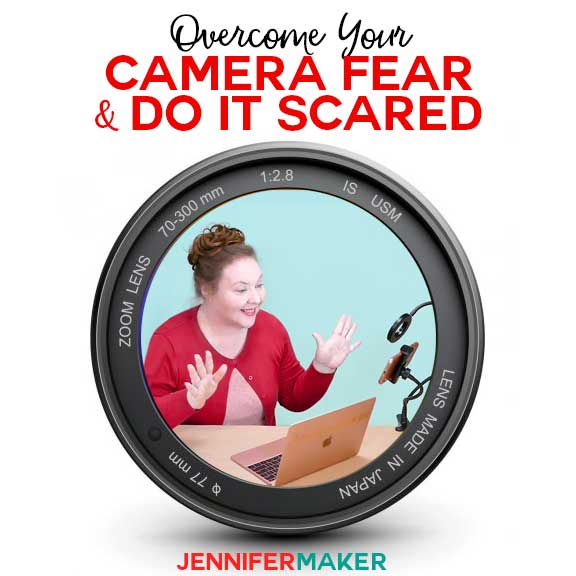 3. Remember you're talking to a screen or a lens, a bit of plastic and glass. Keep it in perspective to keep the fear at bay.
4. Own the frame — make yourself the focus, look at the camera, look into the lens — this is magic!
5. Enthusiasm!!!! You have to ramp it up! Smile and share your passion.
6. Pretend like you're talking to a friend.
7. Be comfortable. Sit in a comfortable chair and wear comfortable clothing. It makes a difference.
8. Write an outline, script or at least bullet points.
9. Prepare as much in advance as possible, as this will give you some structure and help your confidence.
10. Practice practice practice!
If you are interested in learning more about my blogging method and techniques, and my personal story of how I created a full-income blog within one year, please subscribe to my blogger mailing list below.
Love,