Learn how to make a crazy easy paper heart envelope card … it looks like an envelope, but opens up into a giant heart!
I have a fondness for hearts, as you may have noticed. I also love to make heart cards! So let's make another! Today we're making a super sweet and easy project filled with heart! It's an envelope, no, it's a card, no it's BOTH! So simple! This easy paper heart envelope is part of our MAKE IT EASY Craftalong Challenge, filled with fun and EASY daily themed projects!
Here's what the easy paper heart envelope looks like when closed: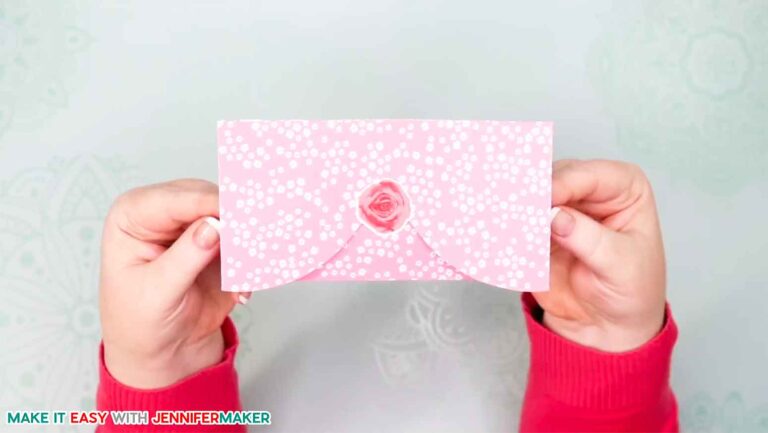 And here's what it looks like when it's opened up to show the big heart!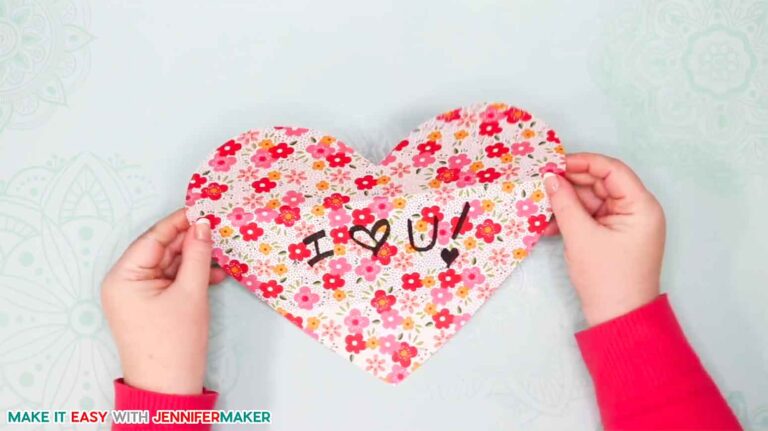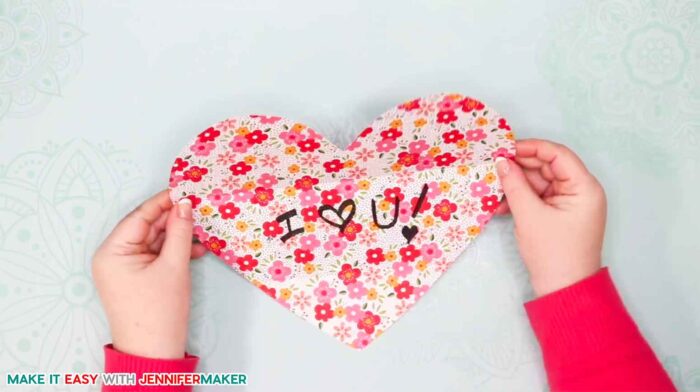 You can put a note inside the envelope — this is a great beginner project as well as something fun for the littles to make with you!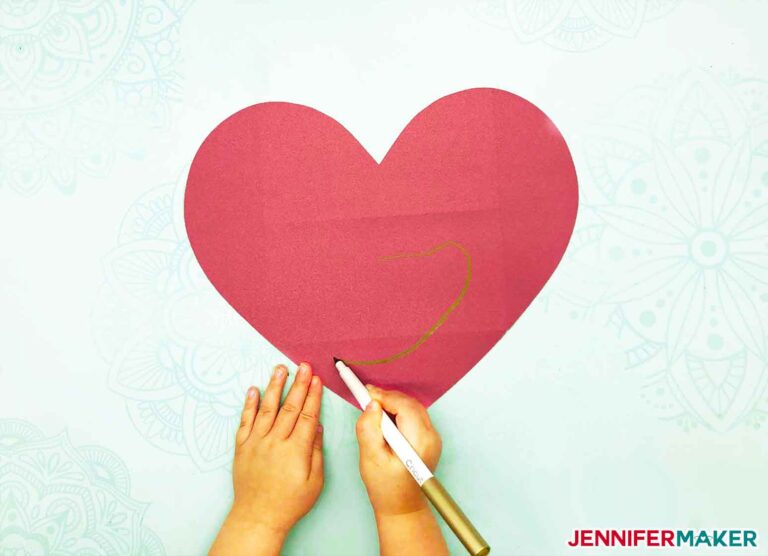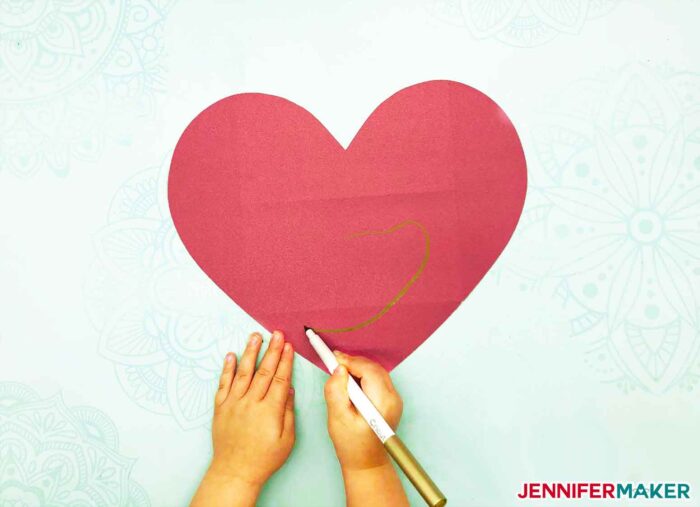 Isn't that fun? Let me show you how to make this! This post contains some affiliate links for your convenience (which means if you make a purchase after clicking a link I will earn a small commission but it won't cost you a penny more)! Read my full disclosure policy.
Materials to Make Easy Paper Heart Envelope Cards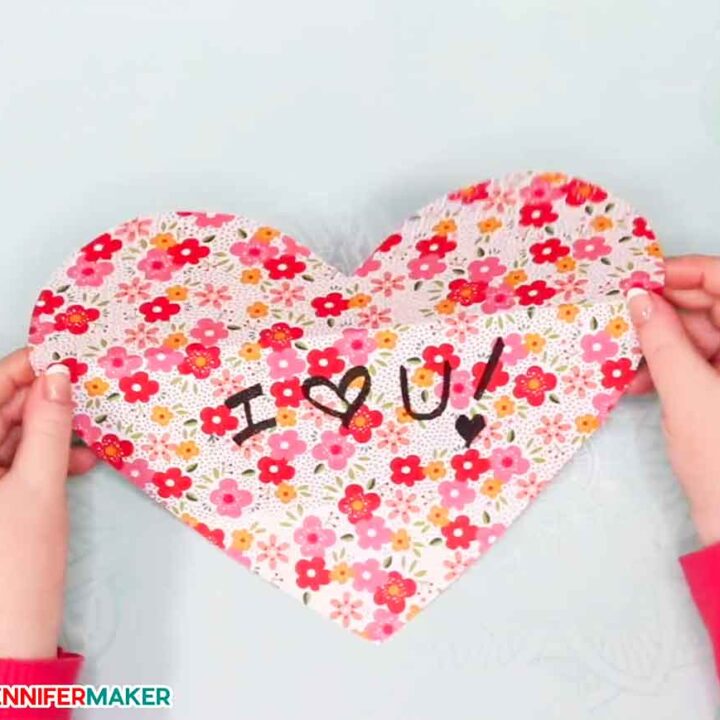 Easy Paper Heart Envelope Card
Yield: 1 envelope card

Prep Time: 5 minutes

Active Time: 5 minutes

Total Time: 10 minutes

Difficulty: Easy

Estimated Cost: $1 per sheet (or less!)

Create this easy paper heart envelope and spread the love!
Instructions
Step 1: Get my free Easy Paper Heart Design
My free Easy Paper Heart Design is available as either as a printable PDF that you can cut by hand or as an SVG cut file to use in a cutting machine like a Cricut. Download the Easy Paper Heart design (Design #202) from my free resource library (get the password to the library in the form at the bottom of this post).

Here's what the uploaded SVG cut file will look like once uploaded to Cricut Design Space: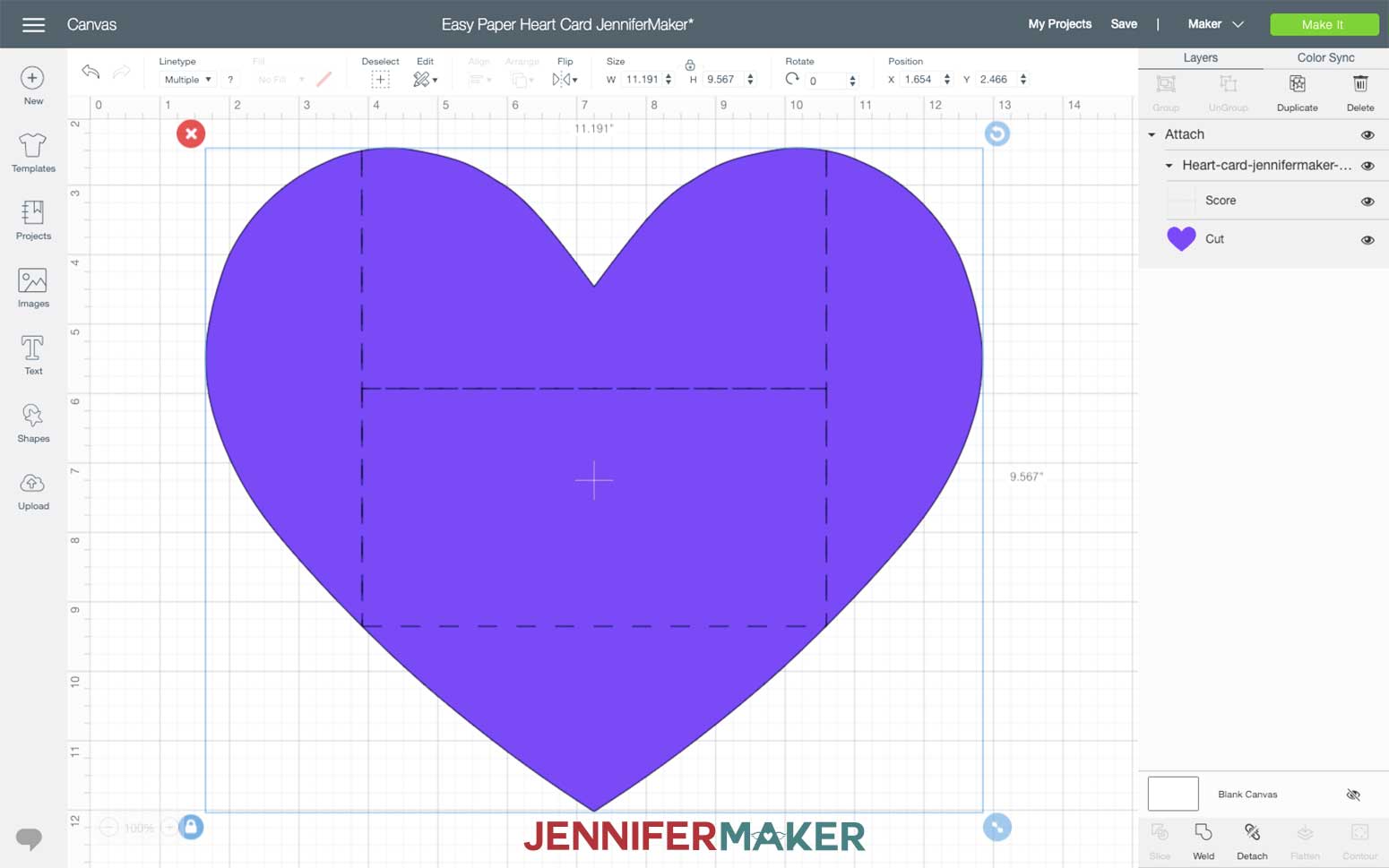 Tip: If you're not sure how to upload an SVG cut file to Cricut Design Space, watch this helpful video training series I made. If you're on an iPhone or iPad, here's how to download and upload SVG files to the Cricut Design Space app.

Important: Once the SVG cut file is uploaded to Cricut Design Space, make sure to change the fold lines going across the heart from "Cut" to "Score" in the Linetype menu, and then select both layers and click Attach.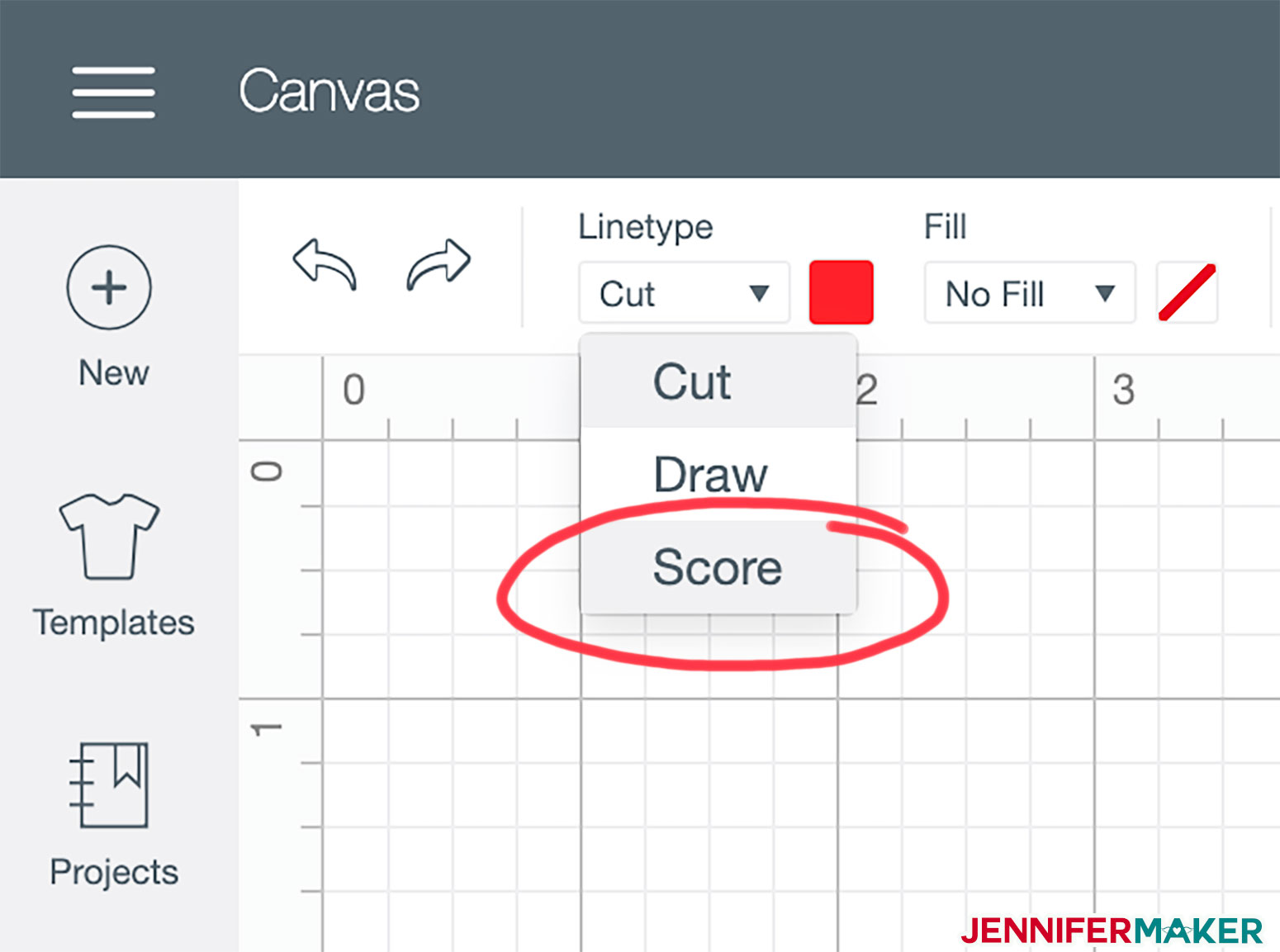 Need help with the scoring lines? Check out my tutorial on Cricut Scoring, Grouping, and Attaching!
Step 2: Cut out your heart design
I cut my easy heart envelope card from a piece of double-sided cardstock which I think makes this super simple design look even cooler! I used the "Medium Cardstock" setting on my Cricut for it.

Place your cardstock on a blue LightGrip or green StandardGrip cutting mat. I recommend you place it outer side down on your mat for easier folding after you score it (so whichever side of your cardstock you want to have on the outside of your heart envelope, put that side facing down on your mat.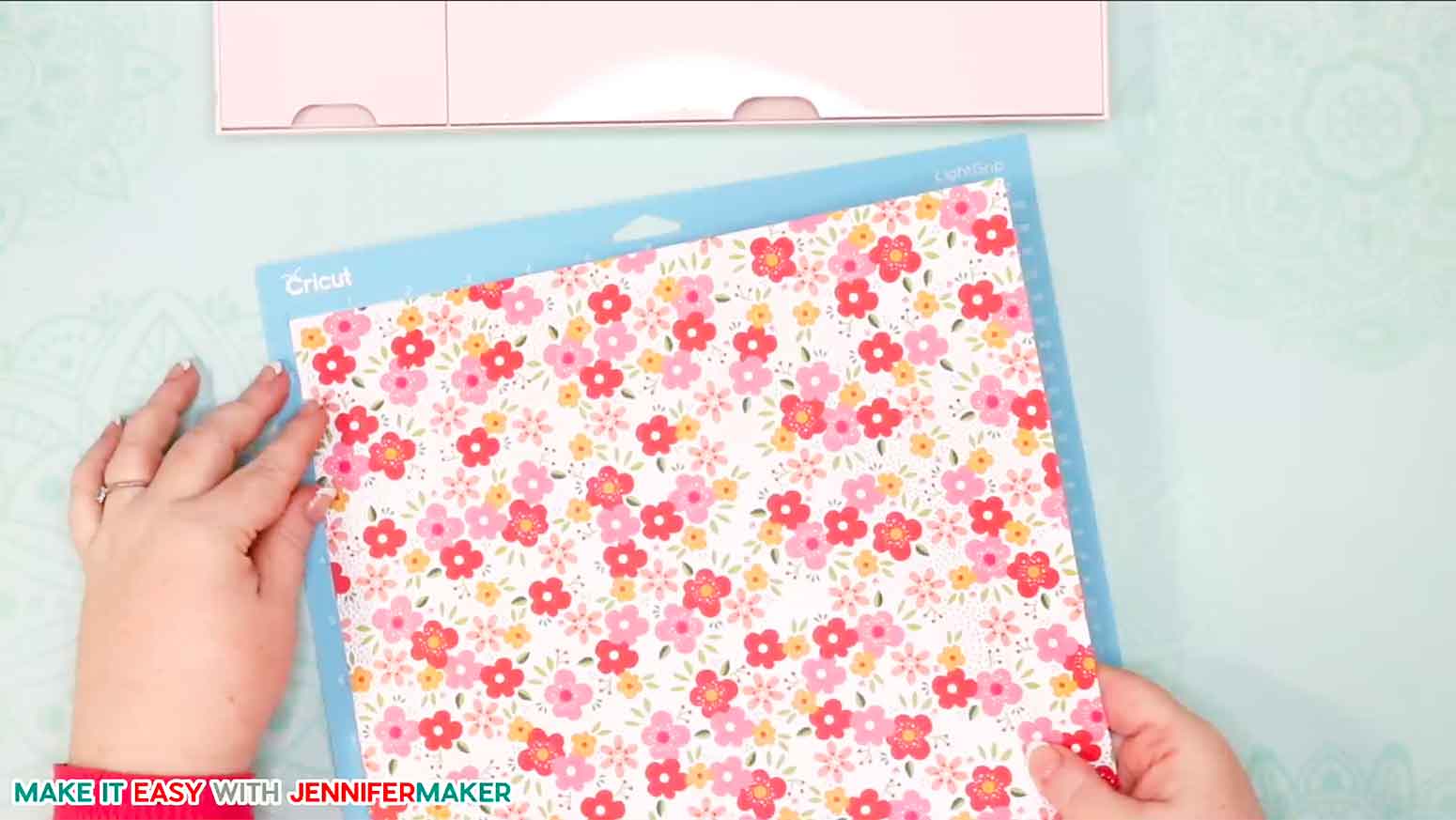 Load your mat into your Cricut, insert the fine-point blade and your scoring tool or scoring stylus into your Cricut machine, and press the flashing button to begin your cut.

When the cut is done, be sure to flip the mat over and peel the cut cardstock away from your mat to keep it from curling.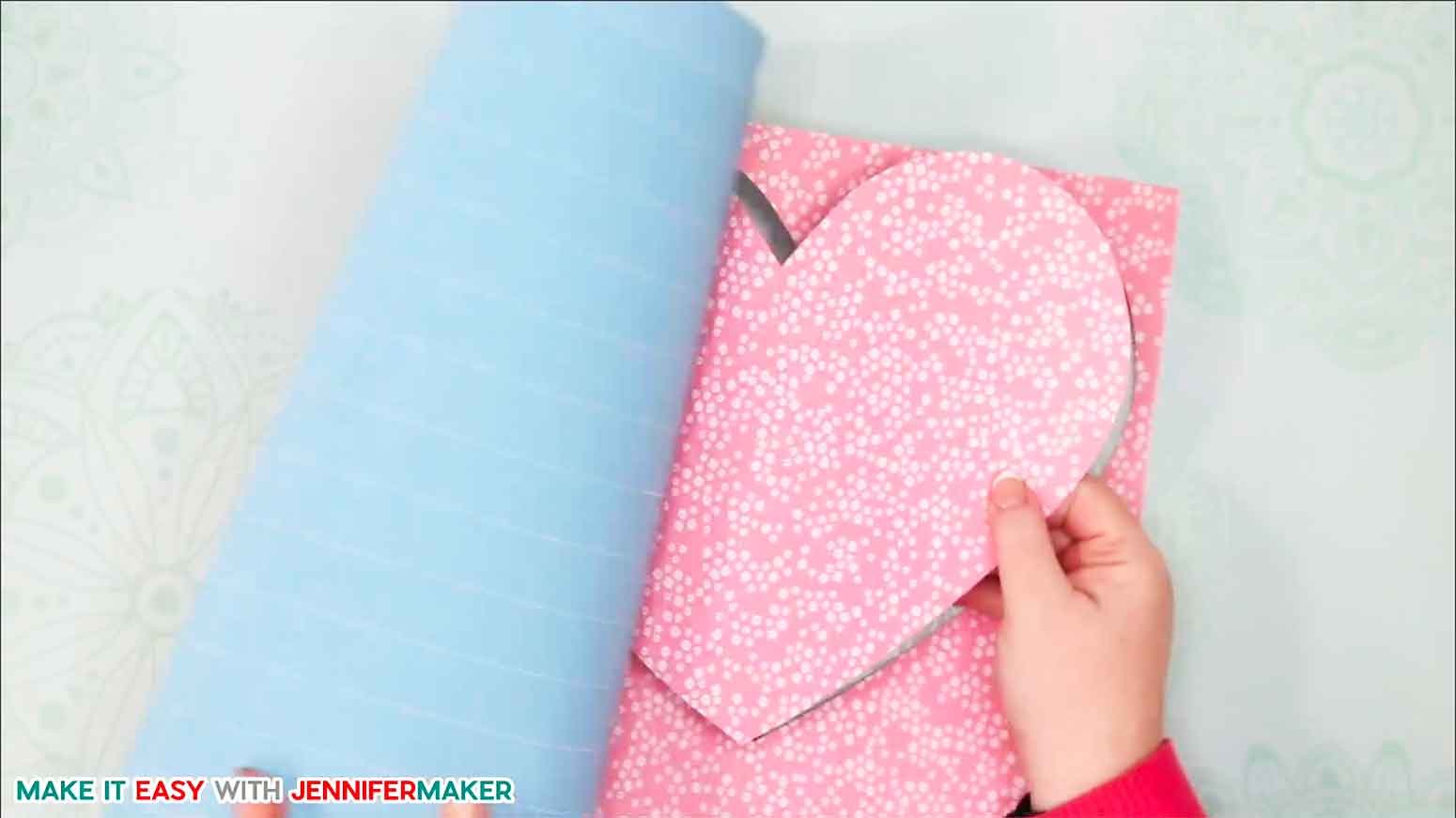 Step 3: Fold up your easy paper heart envelope
After you've finished cutting out your easy paper heart envelope card, fold all score lines inward. I found it easiest to first fold the sides, like this: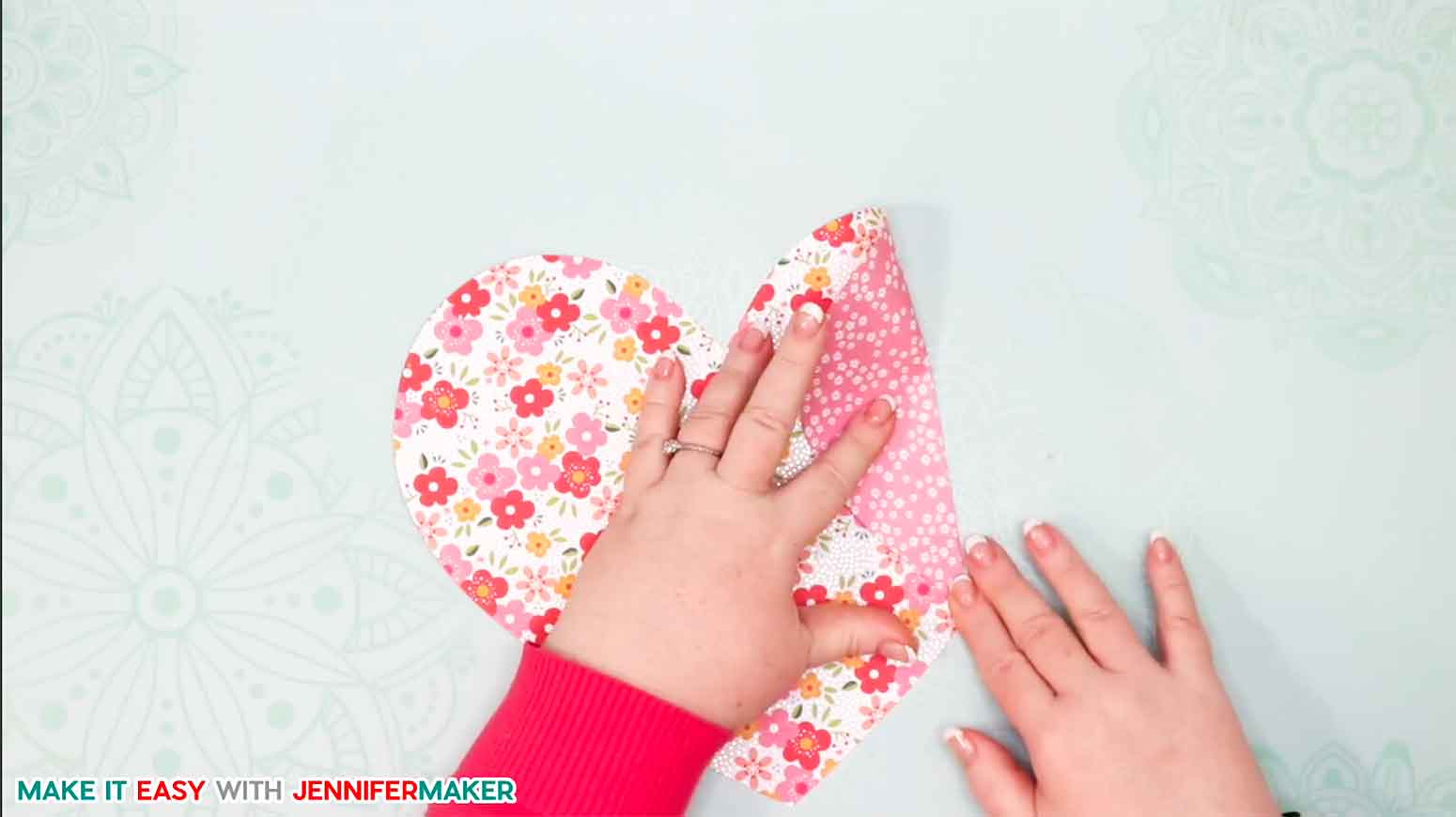 Tip: To get the fold lines crisper, use a Cricut scraper or bone folder along the crease line.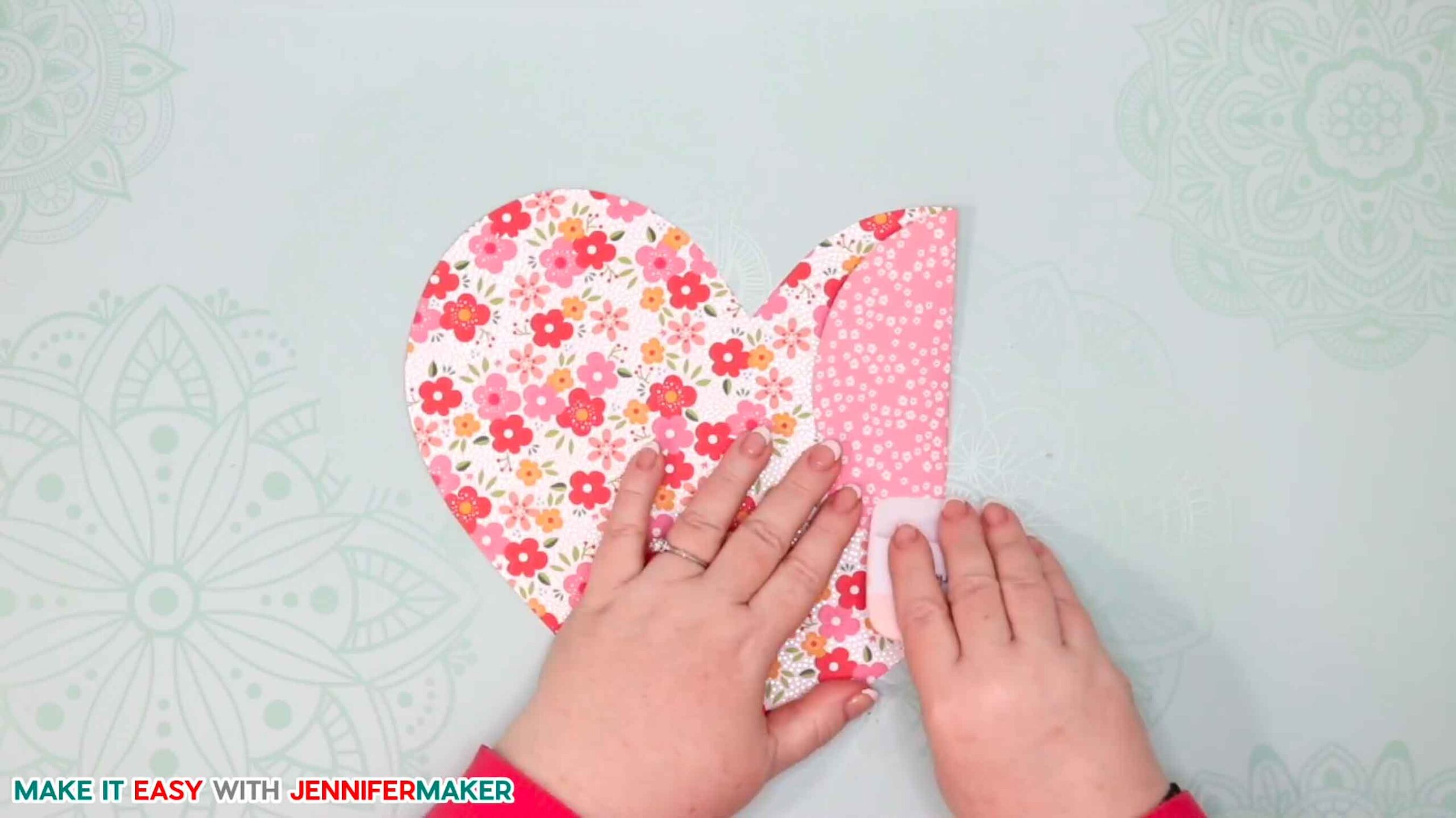 Fold over the other side of the paper heart, too: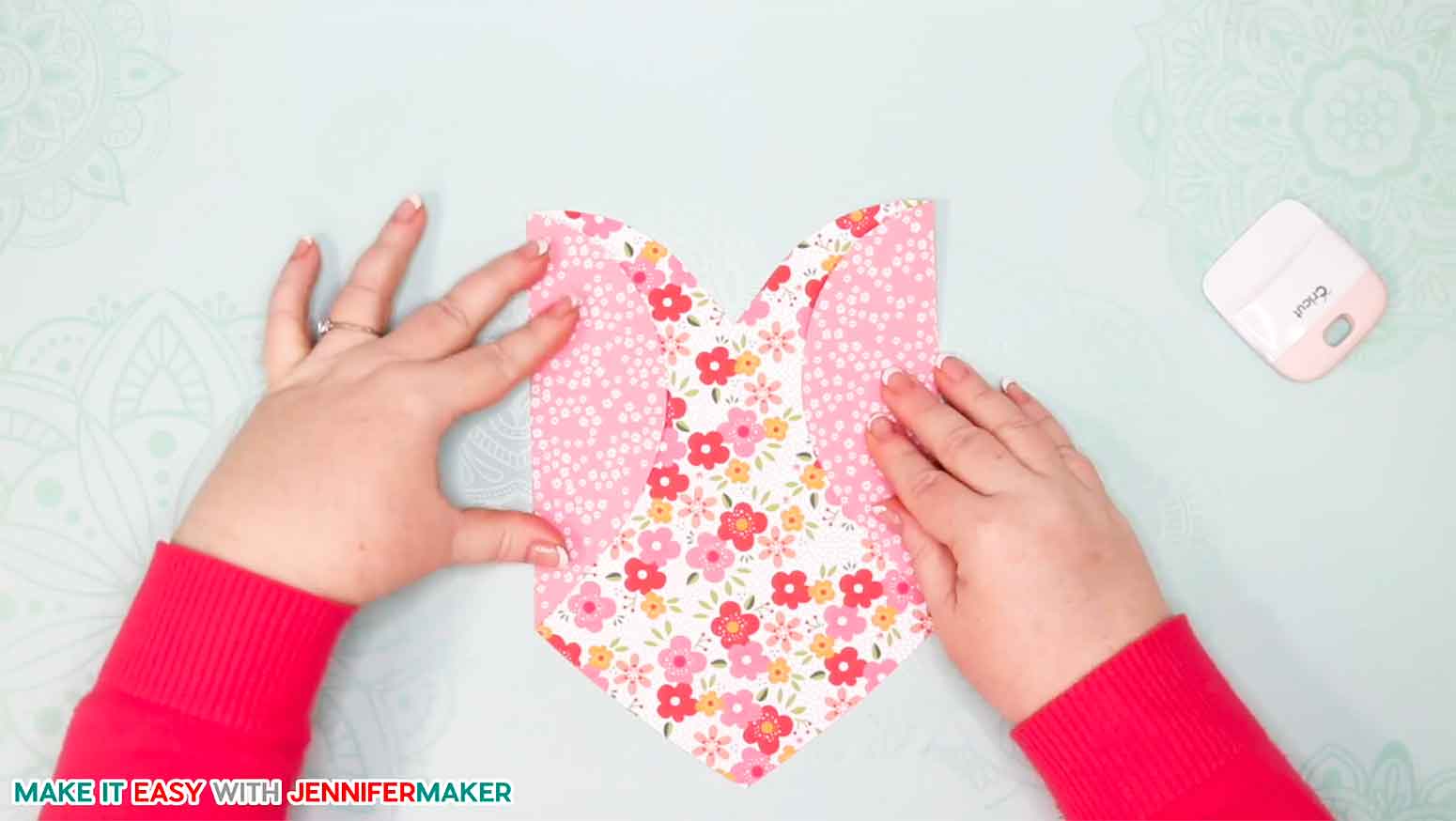 Now fold up the bottom of the cardstock: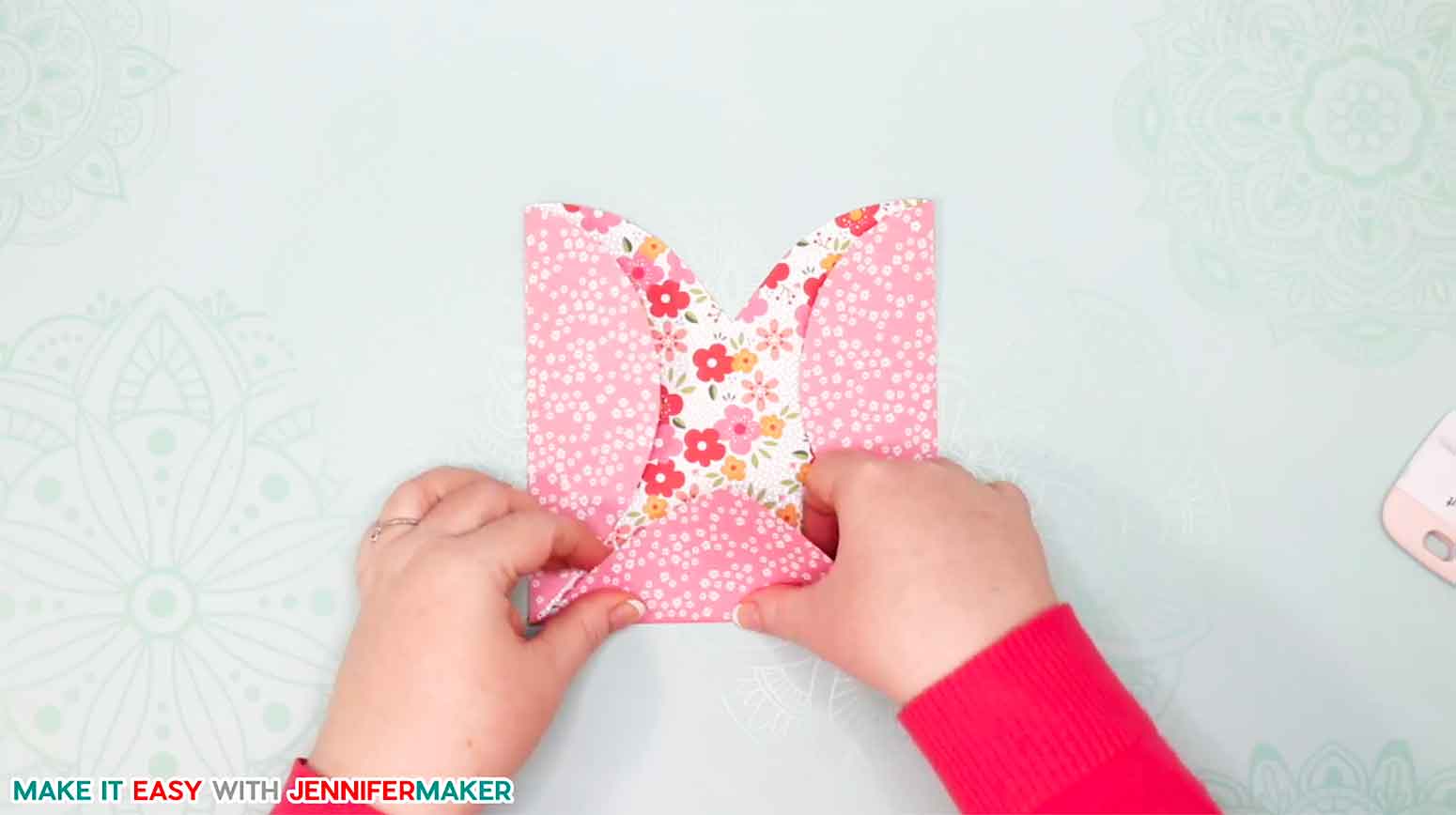 The last fold is the top, and you'll want to be sure to crease it really good since it has extra layers: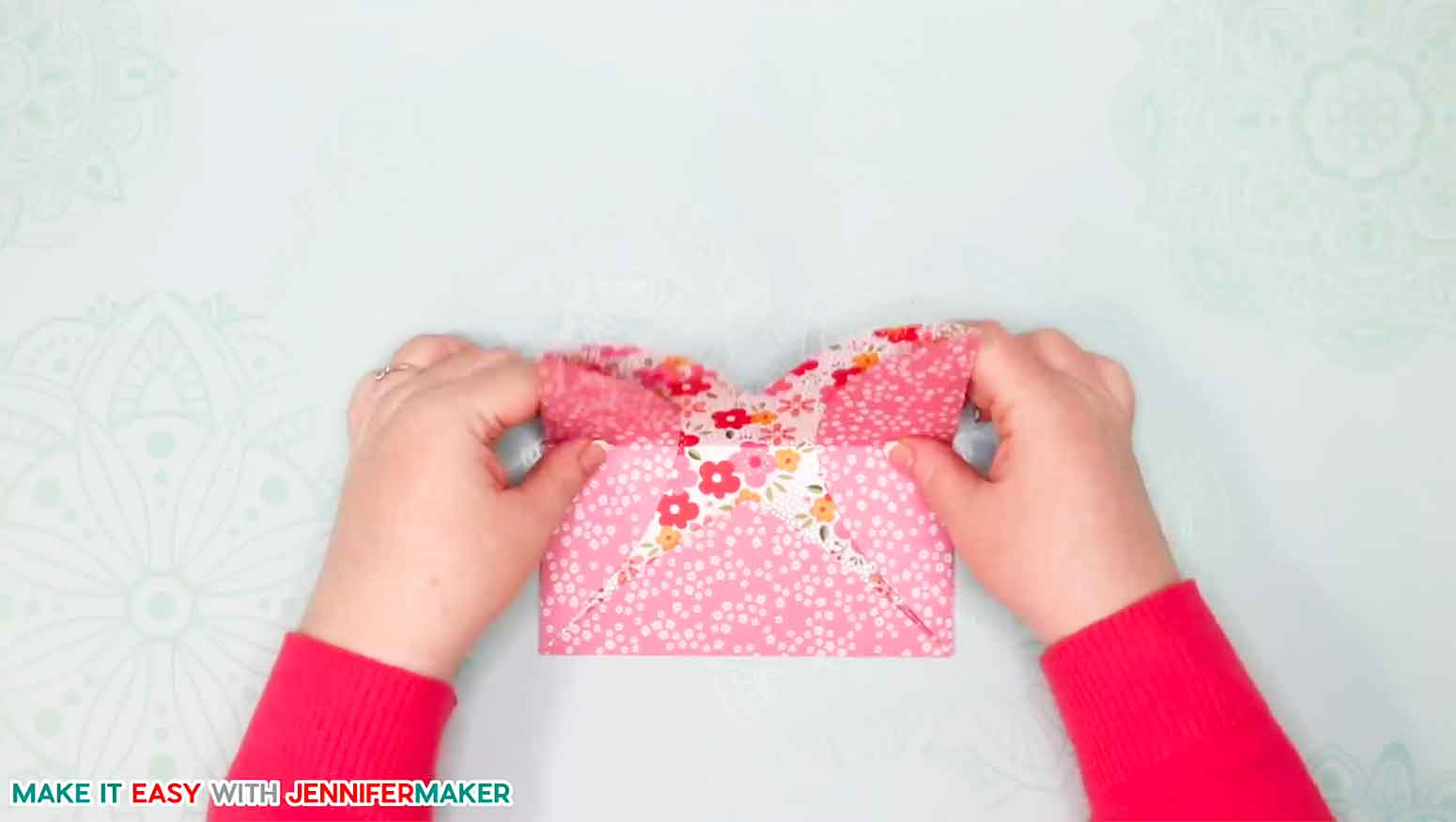 Once the heart envelope is folded and creased, open it again to write a message or place something flat inside, then fold it back up!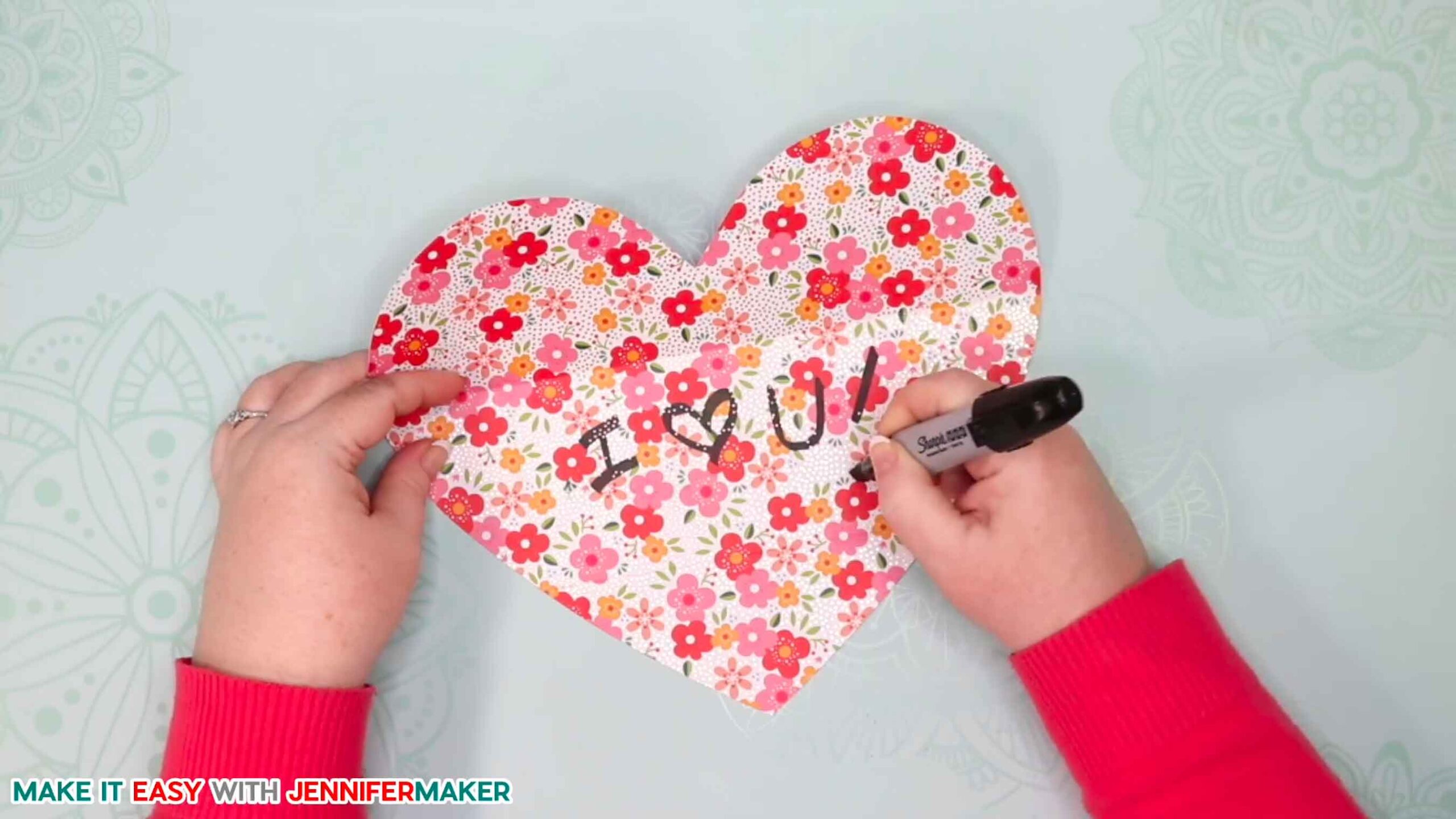 Step 4: Show it off!
Where the folds meet in the middle, place a cute sticker to keep it closed.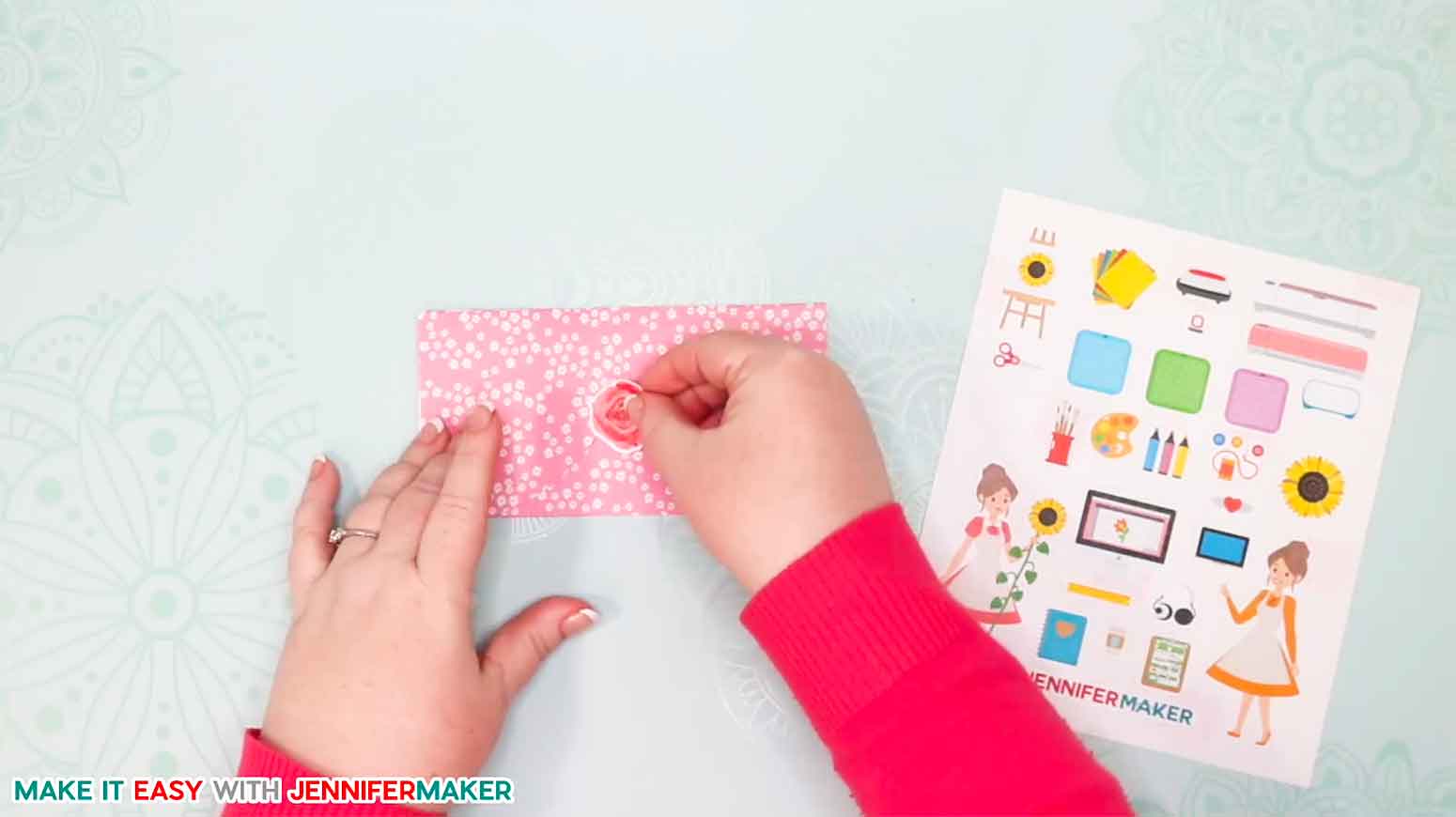 You're all done! Now give your heart envelope card to someone special!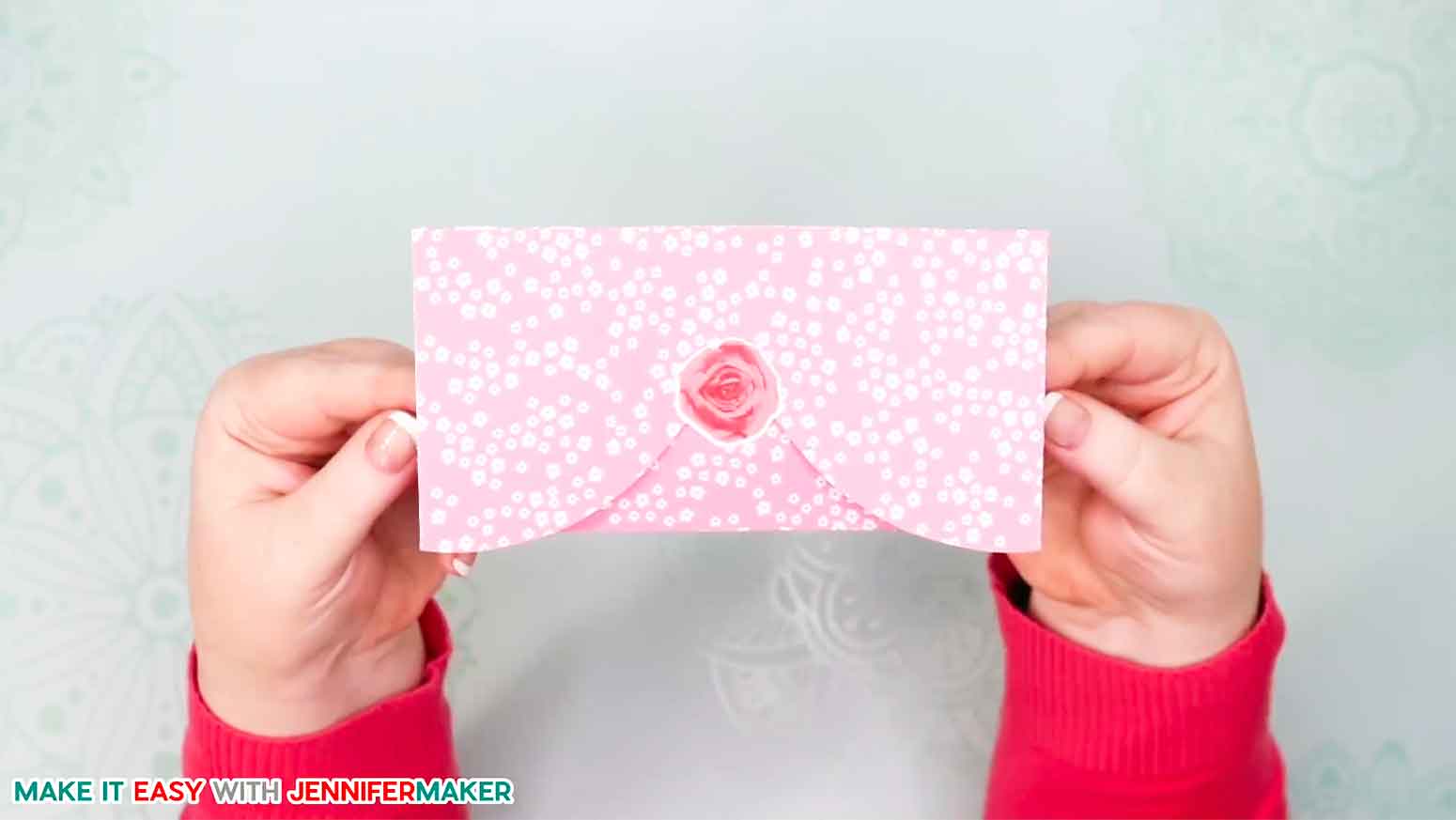 When they open it, they'll see your big heart and special message!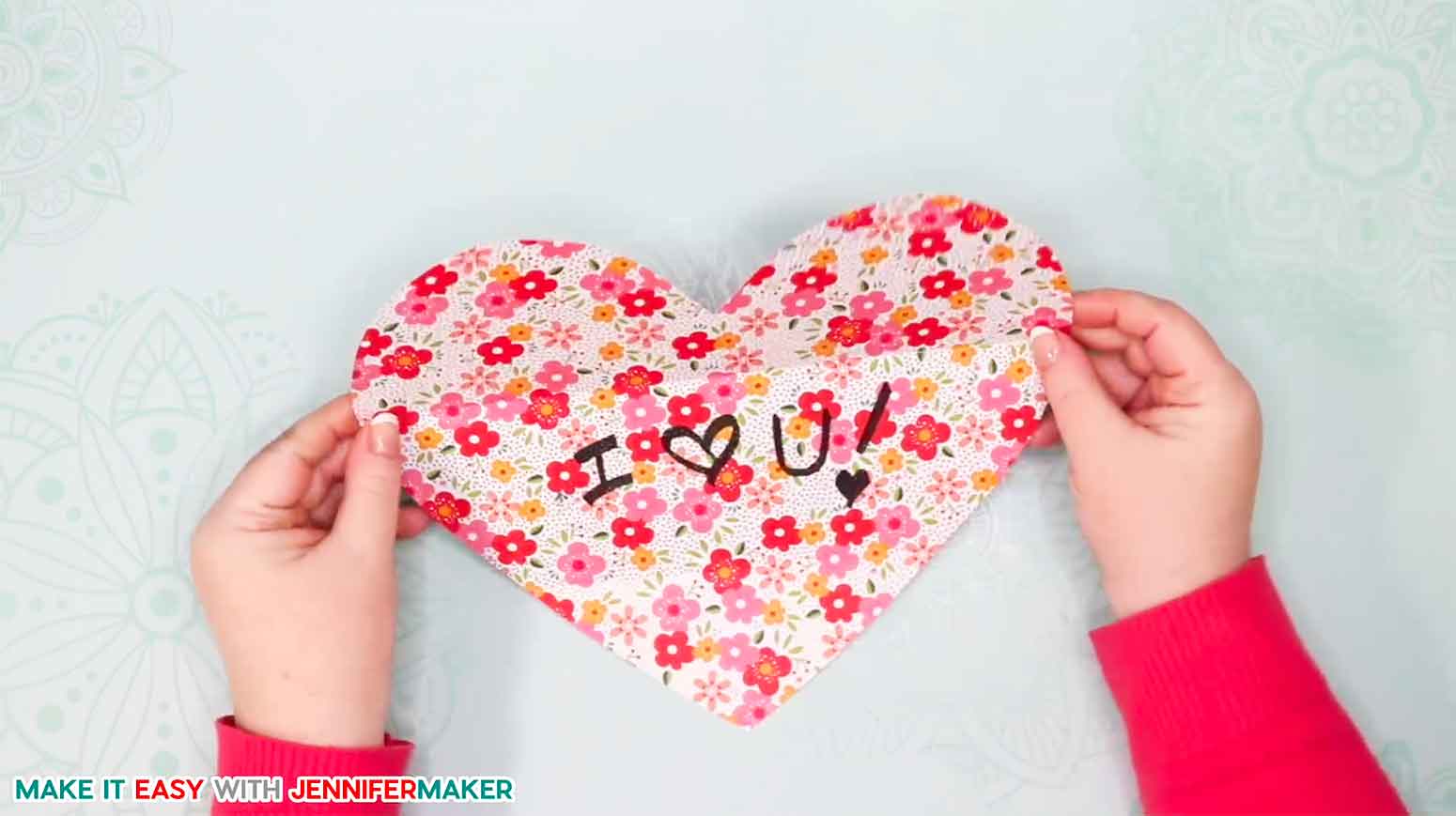 Notes
ACKNOWLEDGMENTS
Special thanks to the JenniferMaker Design Fairy team for helping me design and assemble this awesome Easy Paper Heart Card.
Need more projects for today's craft challenge theme?
Today's MAKE IT EASY Craftalong Challenge is to "Heart It" by making something with heart, a heart-shaped envelope, or something related to social media! If you are looking for other ideas, we have you covered!
We'd love to see YOUR paper heart envelopes! Please share a photo in our Facebook group or tag me on social media with #jennifermaker.
This project is a part of our MAKE IT EASY Craftalong Challenge with fun and EASY projects you can do to learn how to use your Cricut! You can share your photos in our daily challenge theme thread here!
Love,