Make this paper haunted house and turn it into a custom-designed haunted mansion or even an entire village! You can mix-and-match buildings to create your own Halloween creation!
It's time for autumn leaves, warm cider, and haunted houses! To celebrate the season, I've designed a set of paper haunted house lanterns that you can use to cozy up those chilly fall nights. This is a simple and quick project to make, and all you need is some paper, glue, and an LED tealight.
Tip: If you like little paper houses, especially spooky little paper houses, check out my friend Lucy's blog at PaperGlitterGlue.com — she's having a 13 Days of Halloween Challenge with 13 spooky little house patterns in October!
I put a couple of the paper haunted house lanterns in a craft pumpkin for fun… aren't they adorable? You could use these to make an entire pumpkin diorama!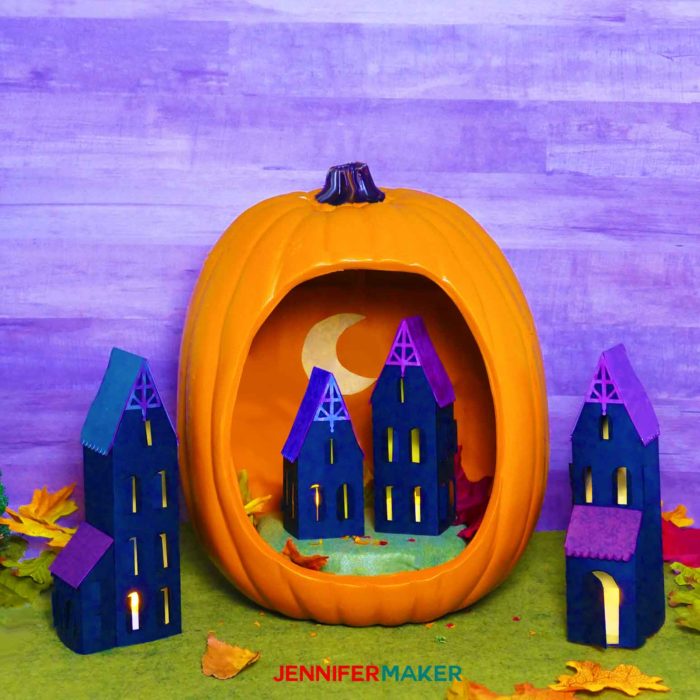 The basic version of this paper haunted house lantern is the medium size house (the one in the pumpkin on the right in the photo above). But there are four other variations — a tall house, a short house, a side room, and a portico. These are the extra variations — read on to learn how you can access these special versions of the lantern!
One of the fun things you can do is put all of the variations together into a unique combination to create a haunted mansion!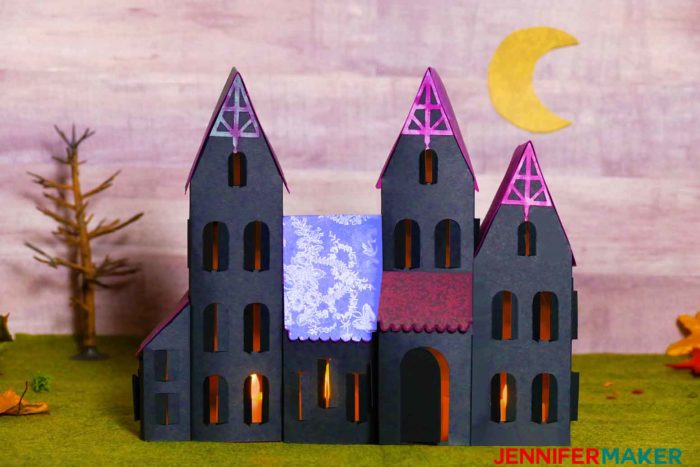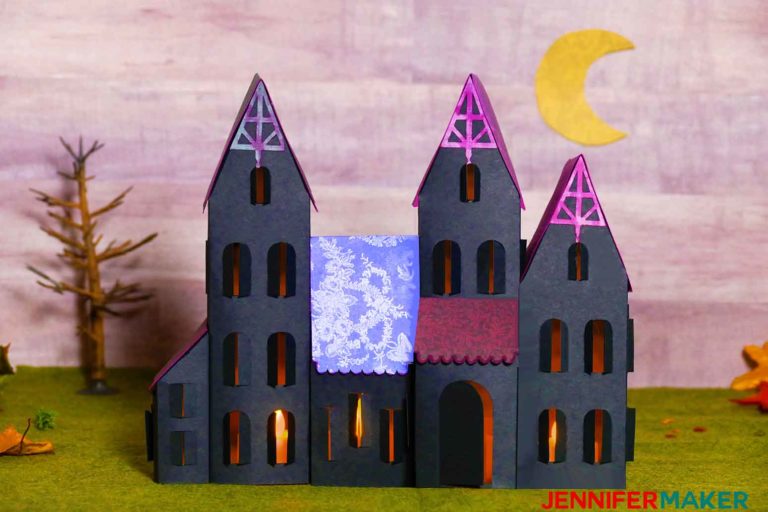 Like all of my luminaries and lanterns in my "Make the Light" project, this paper haunted house contains a puzzle. If you solve it successfully, you'll unlock the extra design variations so you can make the entire village and use the variations to created a custom haunted mansion. So to get this deluxe version, download the basic version from my resource library, upload it to your favorite design software (such as Cricut Design Space), and look carefully at the design. Count how many WINDOWS you see on the basic (medium) version. Type your answer as a number (not a word) at this page: Haunted Luminary Access
So let me show you how to make a paper haunted house lantern. This post contains some affiliate links for your convenience (which means if you make a purchase after clicking a link I will earn a small commission but it won't cost you a penny more)! Read my full disclosure policy.

Materials for the Paper Haunted House Lantern
One sheet of black 8.5″ x 11″ 65 lb. cardstock (for the house itself)
One sheet of any color 8.5″ x 11″ 65 lb. cardstock (for the roof)
(Optional) Pointy tool for hard-to-reach places (I just used scissors)
LED tealights to put inside your haunted house lantern
A way to cut your paper (I used a Cricut)
Design #109 – My free SVG/DXF cut file/pattern (available in my free resource library—get the password at the bottom of this post)
How to Make Your Paper Haunted House Lantern
First, download the paper haunted house pattern (Design #109) for this project from my free resource library. If you're going to cut it out on your cutting machine, upload the file to your design software. If you're not sure how to upload an SVG cut file to Cricut Design Space, watch this helpful video training series I made. If you're on an iPhone or iPad, here's how to upload SVG files to the Cricut Design Space app.
Note for cutting machine users: There is ONE layer of lines that need to be converted to score lines. So either convert that layer or remove the layer entirely. If you convert the layer to score lines, you also need to attach them to the house layer. Here's what it looks like when everything is attached properly. (Tip: Click on this image to see it at a larger size.)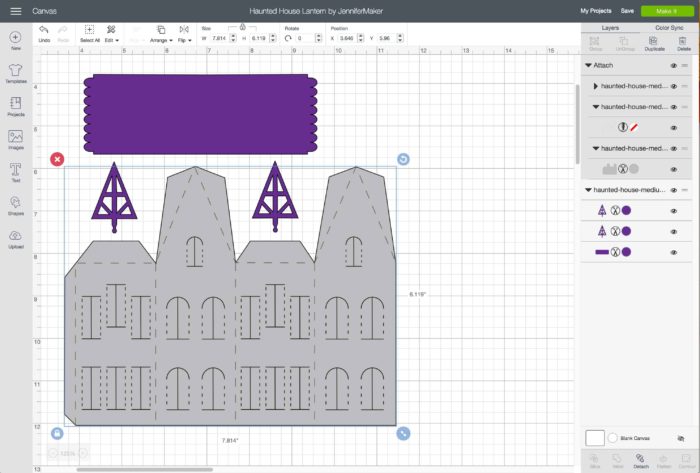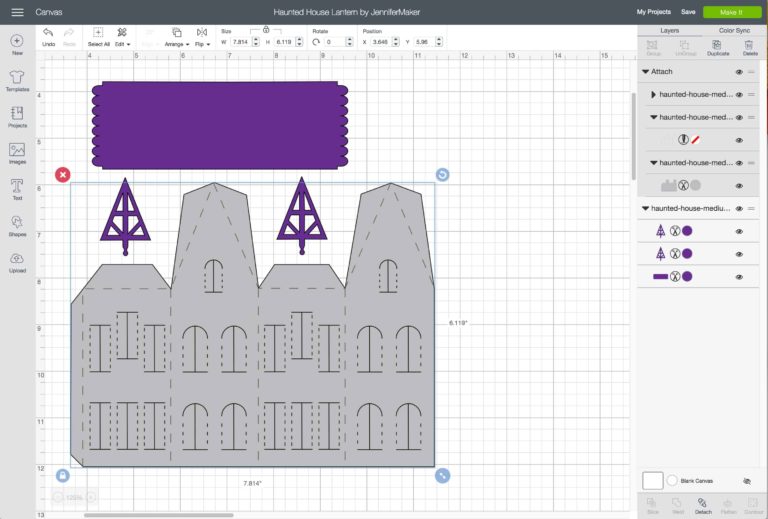 Here's what your paper haunted house lantern pieces will look like cut out: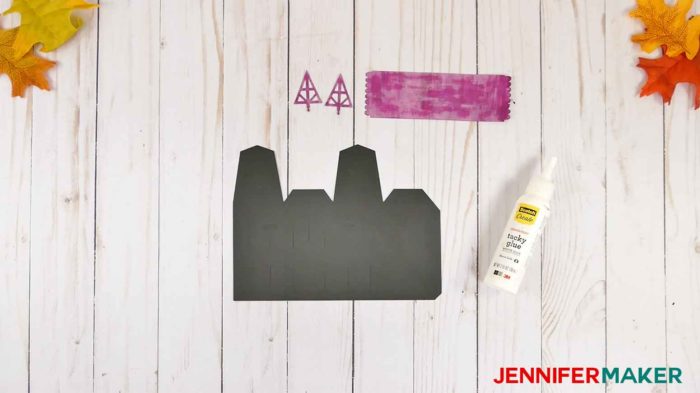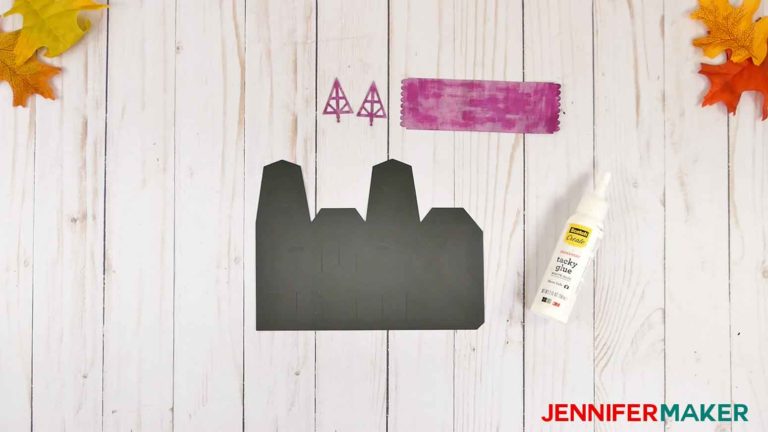 Start by folding the house itself. If you scored it with the scoring stylus or scoring tool on the Cricut, just follow the folds. If not, refer to the PDF pattern to see where the folds should go.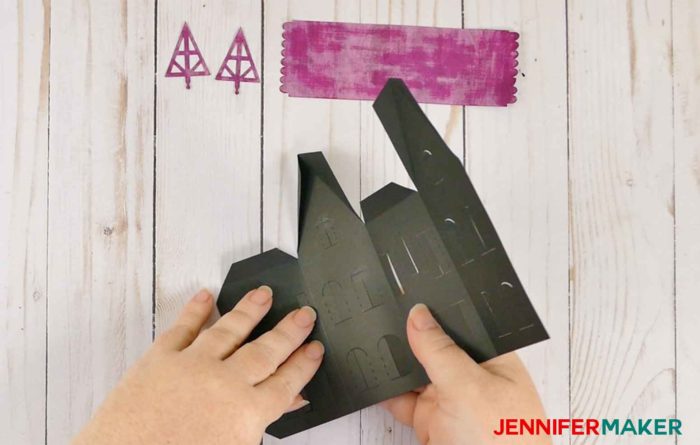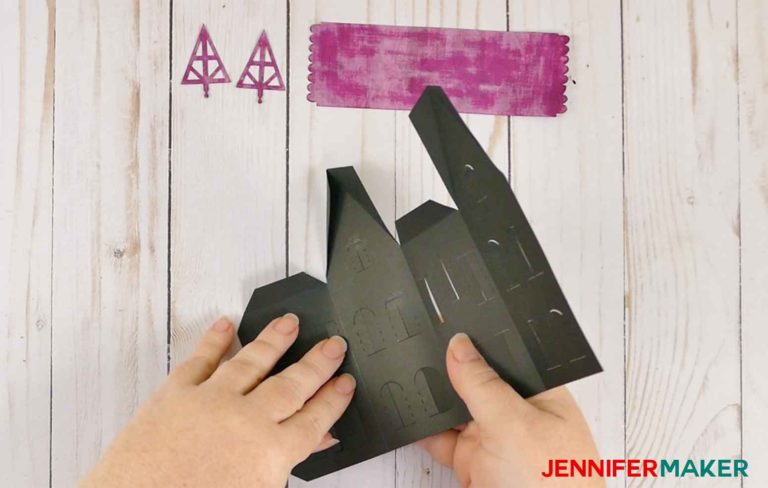 This is what the house looks like after it is folded: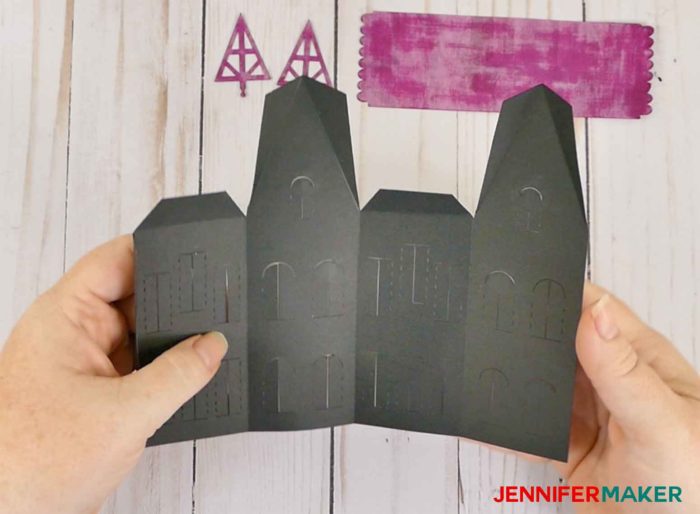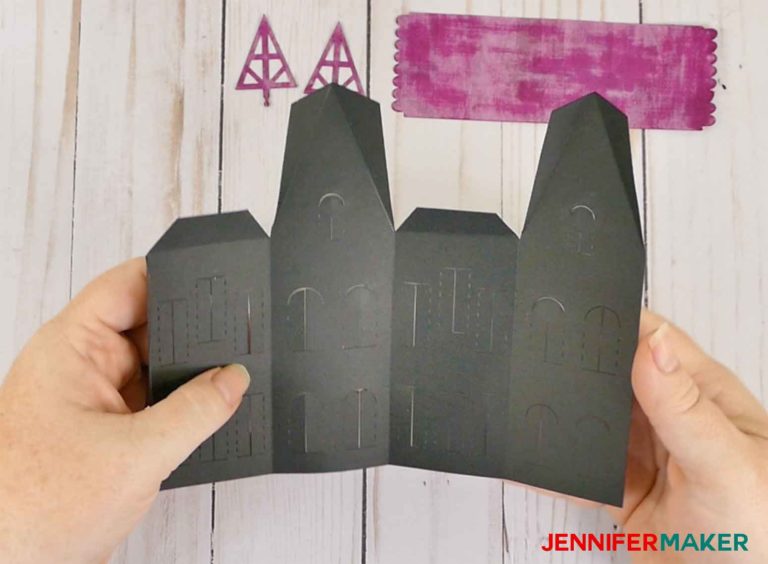 Next, you need to glue your paper haunted house lantern! Start by gluing one side onto the other.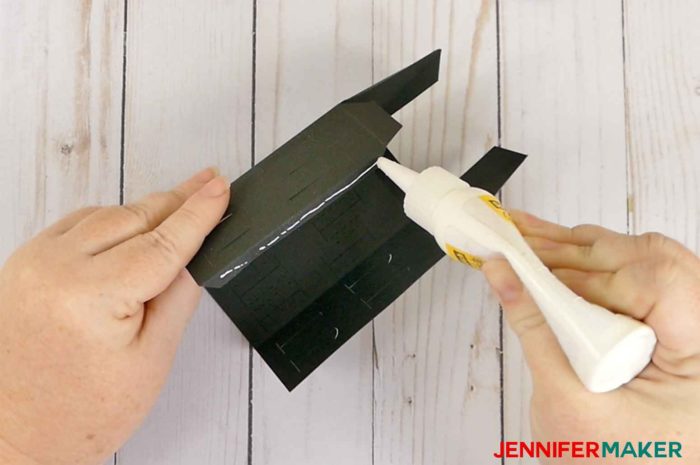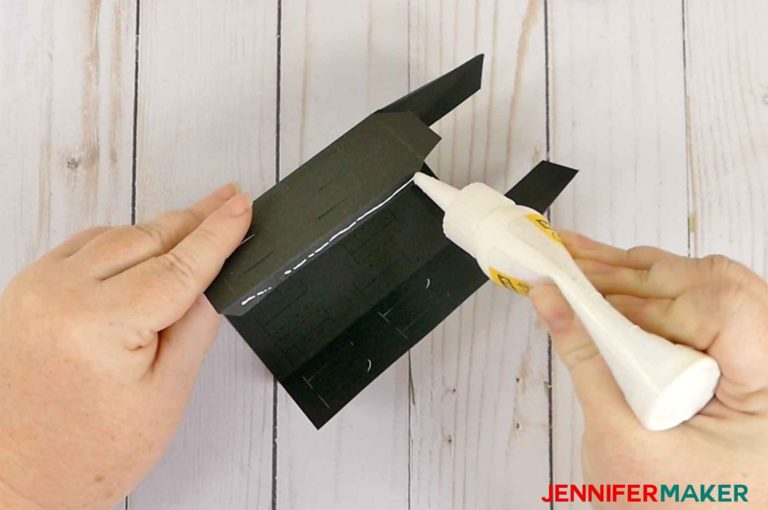 Once the house is glued, fold the paper haunted house's roof in half.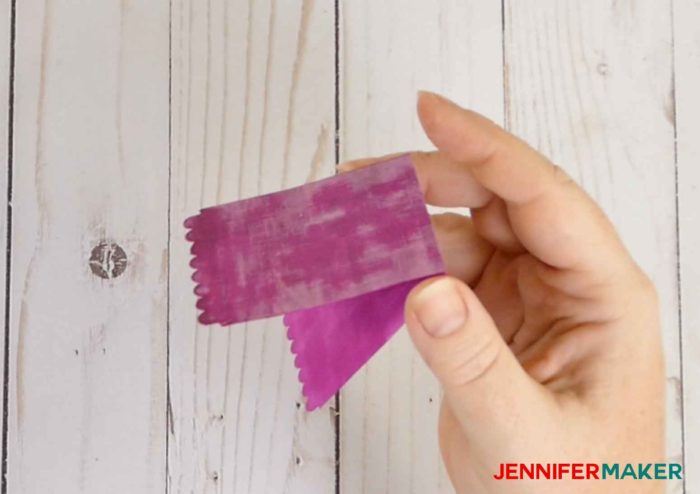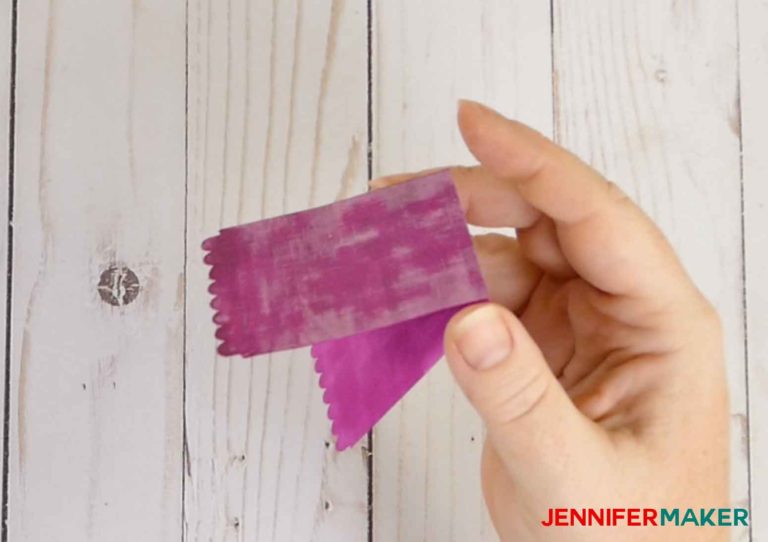 Now glue one side of the roof to one side of the paper haunted house. It's easier to glue this way!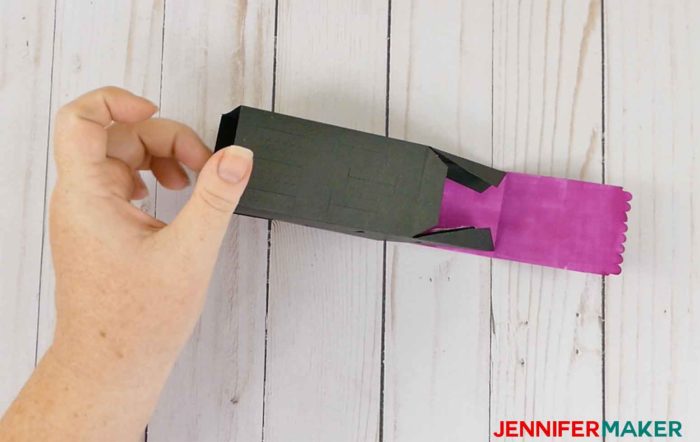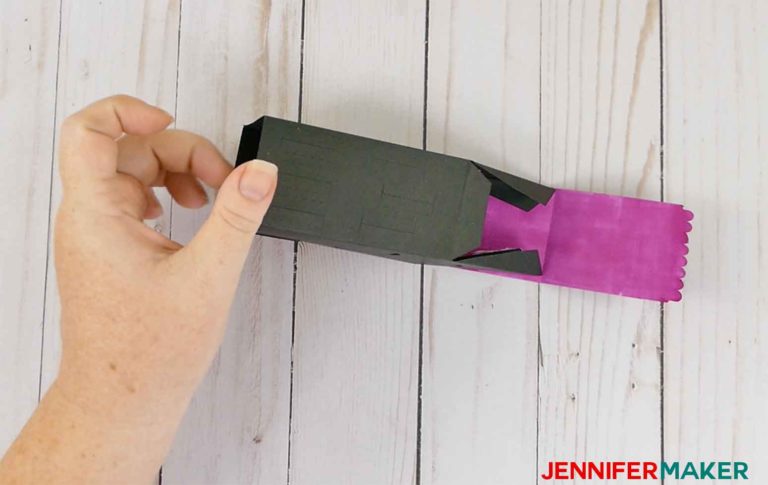 Once that side is glued, put glue on the other flaps and finish gluing the roof onto your paper haunted house.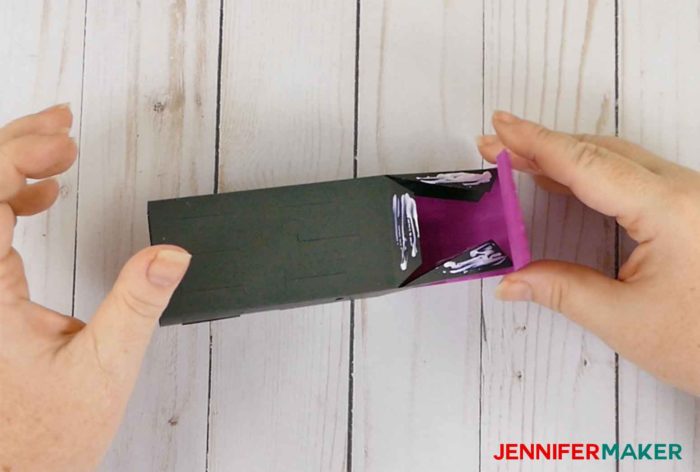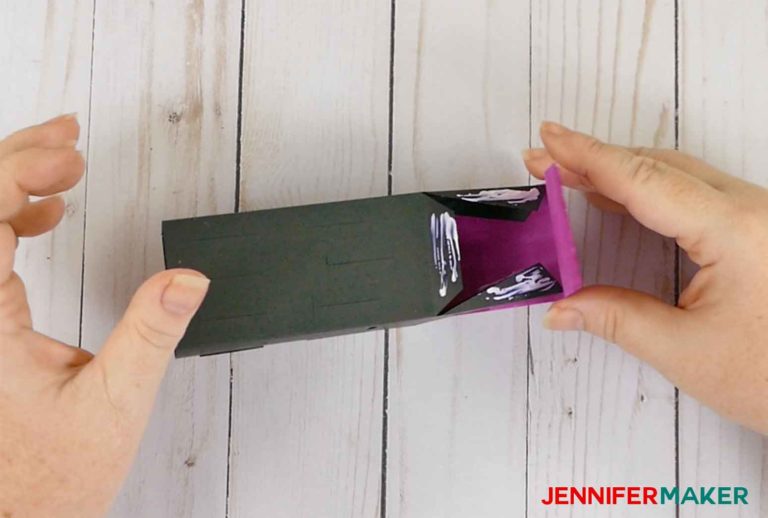 Press the roof down to make sure it is secured.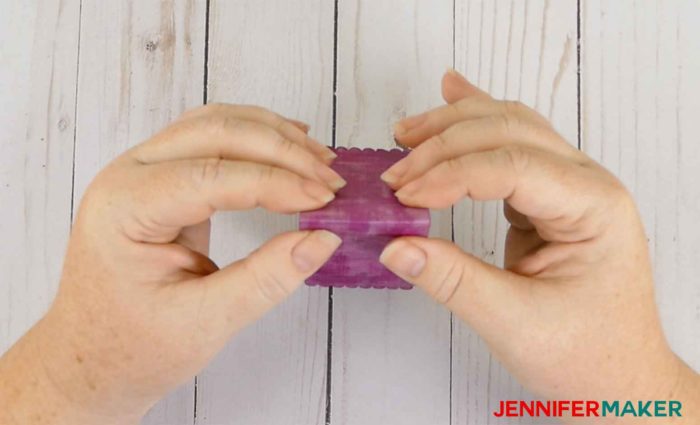 Now glue the roof decoration (if you want it).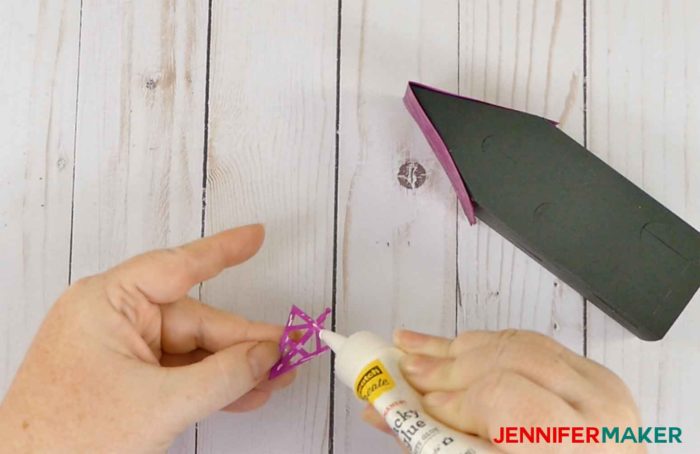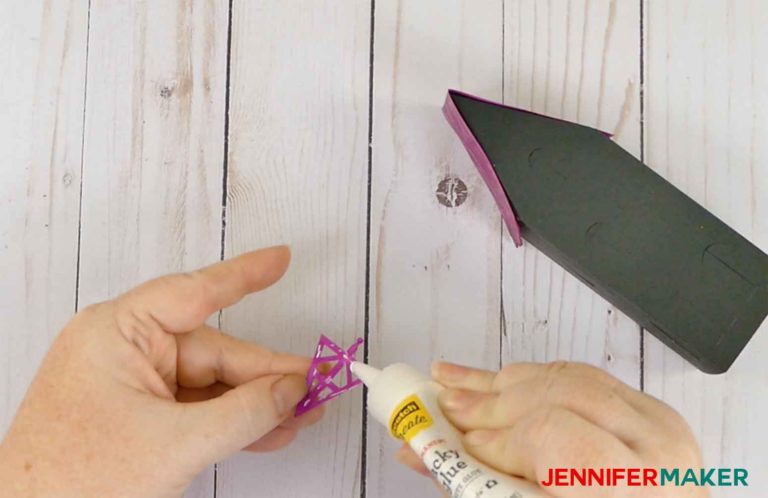 And place the roof decoration at the peak of the roof. Repeat for the other side as well.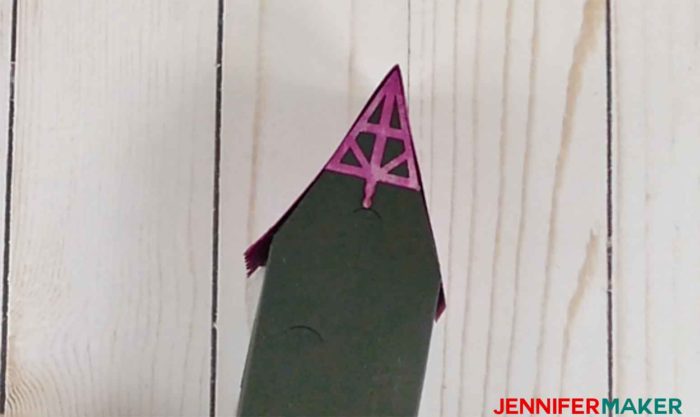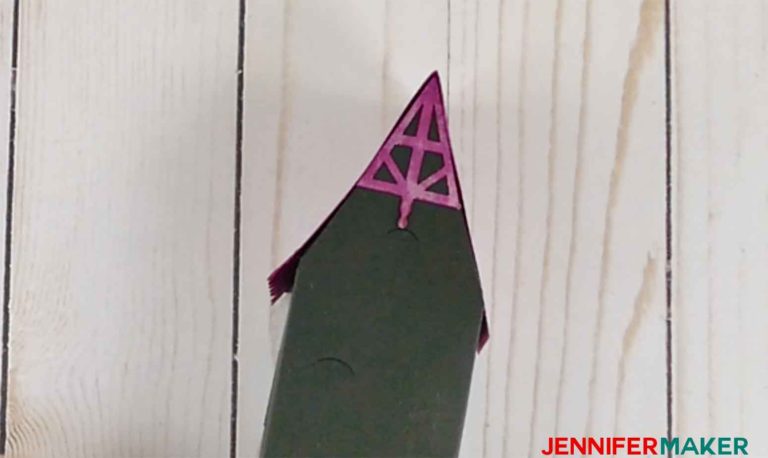 Now just open up all the windows so you can see your light shine from inside your paper haunted house!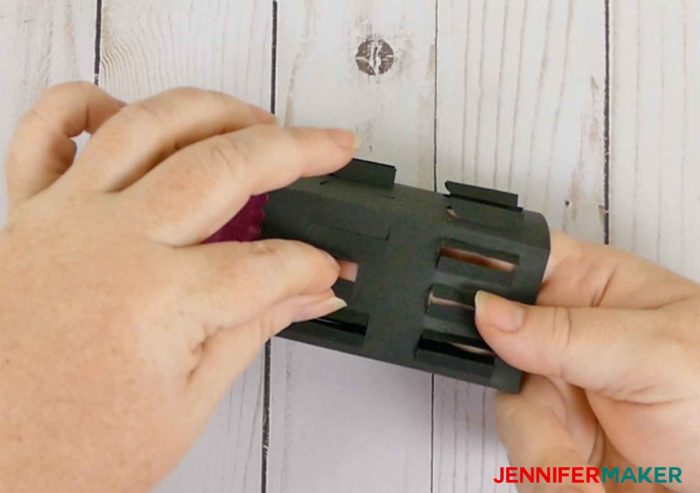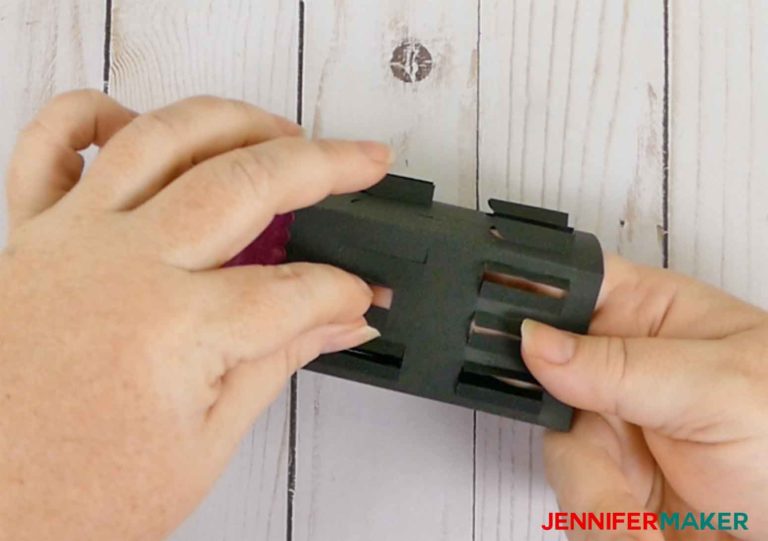 And here is the finished paper haunted house lantern, ready for an LED tealight.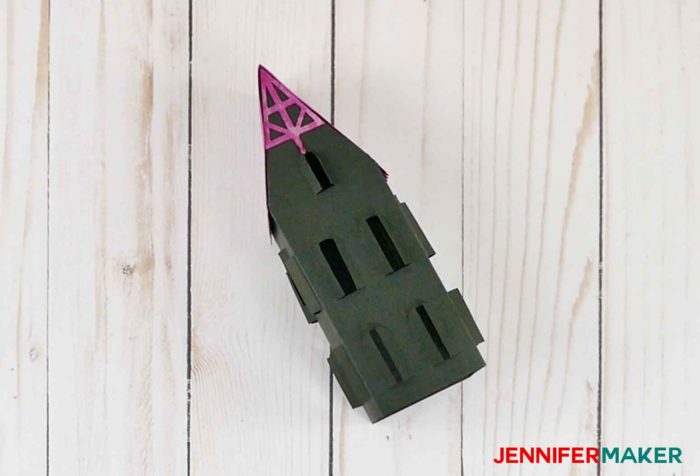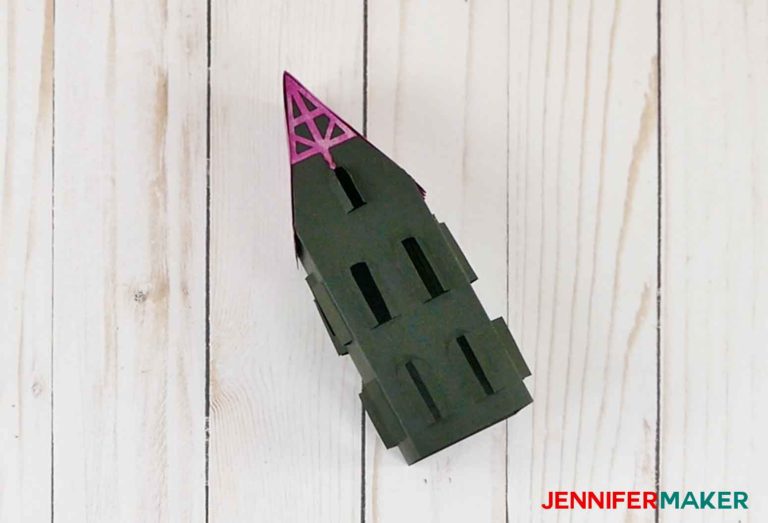 If you solve the puzzle, you can make ALL of these variations of the paper haunted house lantern: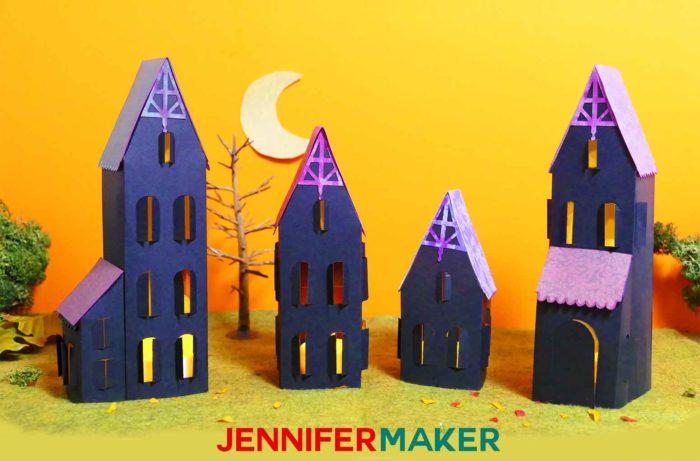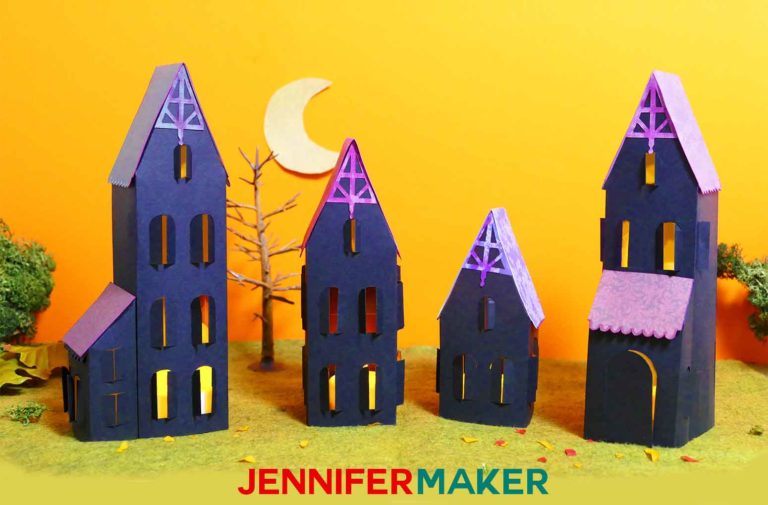 Get my free cut files for the Paper Haunted House Lantern

If you make a paper haunted house or haunted village, I'd love to see it! Please send me a photo at [email protected] or tagged me on social media with #jennifermaker. If you do, I'll add your name to my Master Lantern Makers list!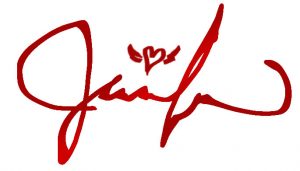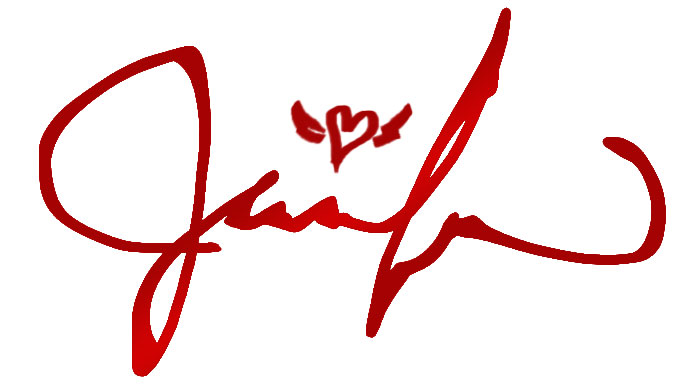 If you're eager to make more luminaries and lanterns today, check out these seven fun projects!