Make a beautiful paper poppy that will last and last with these free, easy templates! Paper poppies are a lovely way to celebrate Veterans Day, Remembrance Day, Memorial Day—it's a lasting memorial to those we have lost. Grab the free pattern to make your own!
I just LOVE paper flowers! And I'm honored to have a special guest on the blog this week — the well-known paper flower designer Abbi Kirsten! She's going to show you how to make paper poppies that will last for years to come. — JenniferMaker
Paper flowers are a bright, cheerful and affordable way to decorate your parties, weddings or even home with something truly unique. I've been making large and small paper flowers for eight years and have always enjoyed sharing them with others. That's why today I am excited to share this small poppy paper flower template and tutorial with you! While I do recommend a cutting machine for this design because of its detailed center, it is very beginner friendly and easy enough for anyone to create. So let's get started on this colorful project!
I'm excited to show you how to make paper poppies! This post contains some affiliate links for your convenience (which means if you make a purchase after clicking a link I will earn a small commission but it won't cost you a penny more)! Read my full disclosure policy.
Materials to Make Paper Poppies
How to Make Paper Poppies
Step 1: Cut Your Paper Poppy Petals
To begin, cut out your cardstock using the free paper poppy template available from Abbi (sign up free here) and as Design #110 in our free resource library. You can cut the paper poppy project with scissors, but you'll find it easier to use something like a Cricut. Here are the free SVG cut files uploaded to Cricut Design Space: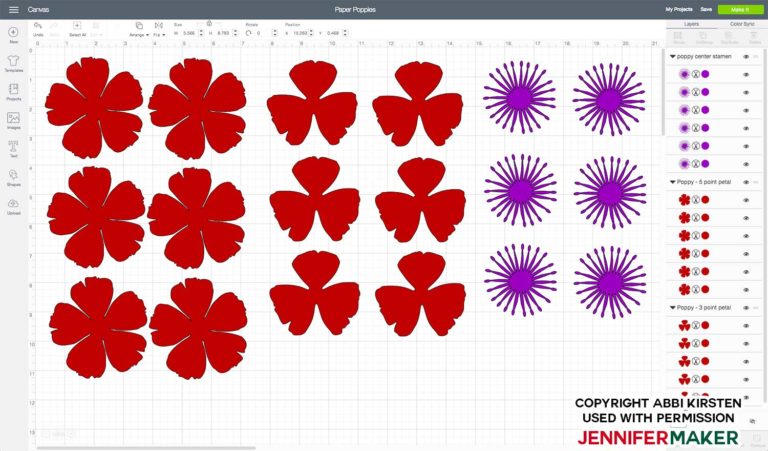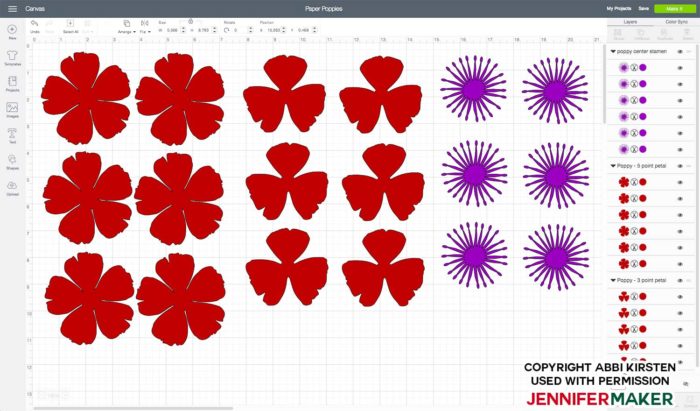 CUTTING MACHINE NOTE: Tip: If you're not sure how to upload an SVG cut file to Cricut Design Space, watch this helpful video training series I made. If you're on an iPhone or iPad, here's how to download and upload SVG files to the Cricut Design Space app.
You will cut out the following number of petals:
– 2 of the 3-point petals
– 2 of the 5-point petals
– 2 poppy center stamen
Cutting machine measurements are in the description of the full Youtube video here.]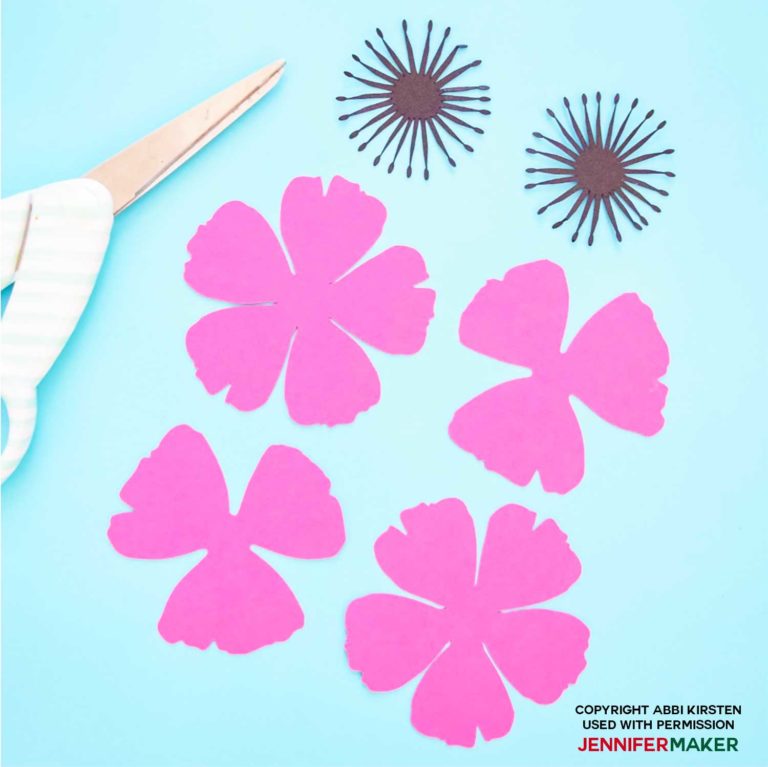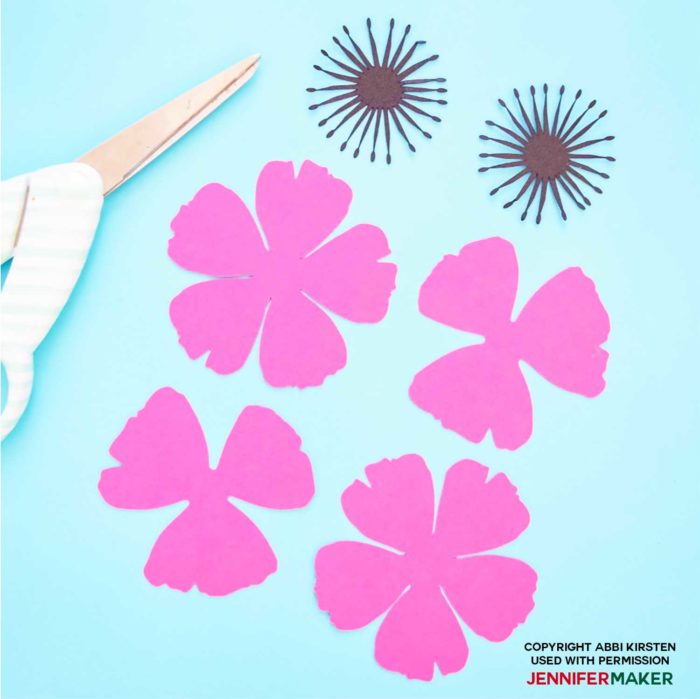 Step 2: Color Your Paper Poppy Petals
Now you can add some color! This first part is optional. I am using basic oil pastels or you can use stamping ink to create some color in the middle of the flower. This can help give the flower extra depth. I used a red in this tutorial example but white pastels are fun too for deeper contrast.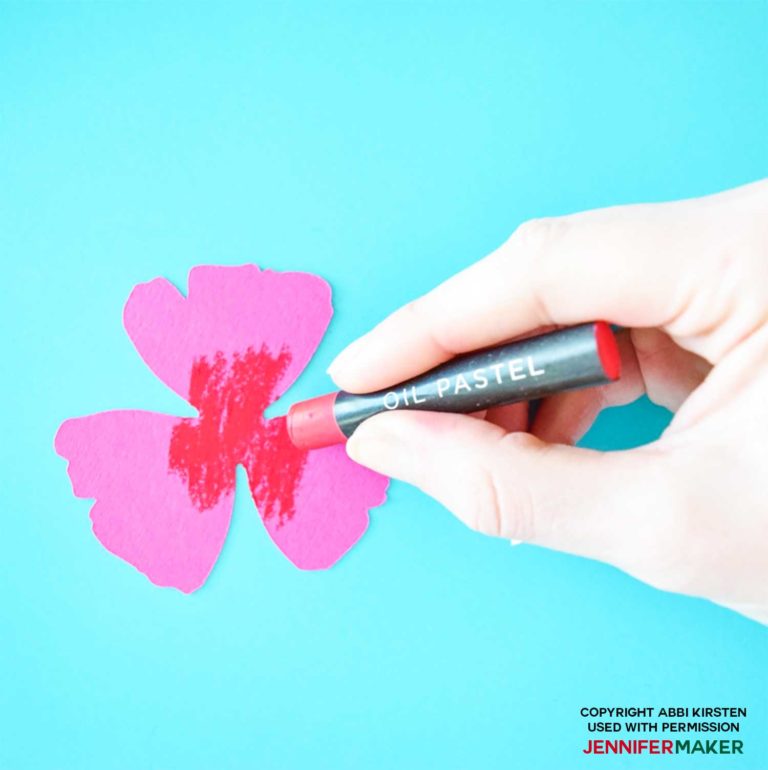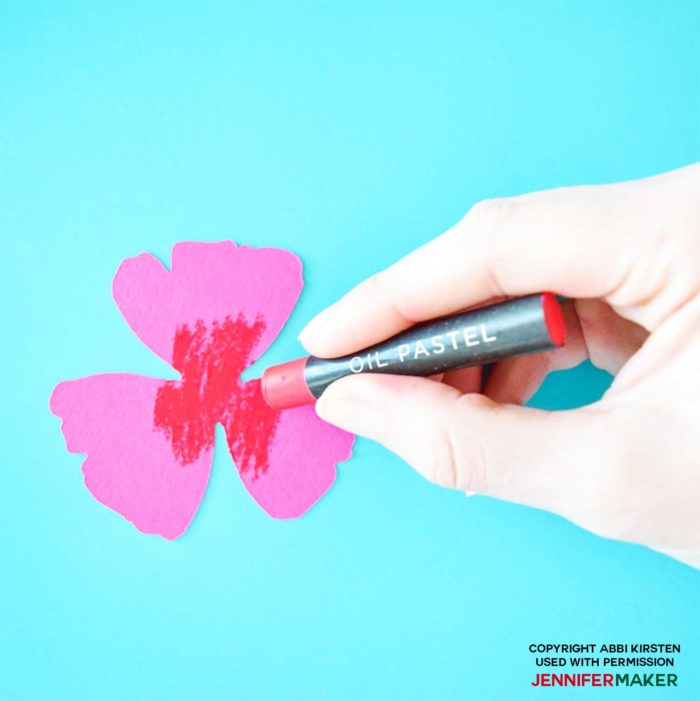 If you decide to do this step, start by coloring some of the oil pastel in the center of each flower cut out. Using your finger, smudge and blend the color from the center outwards.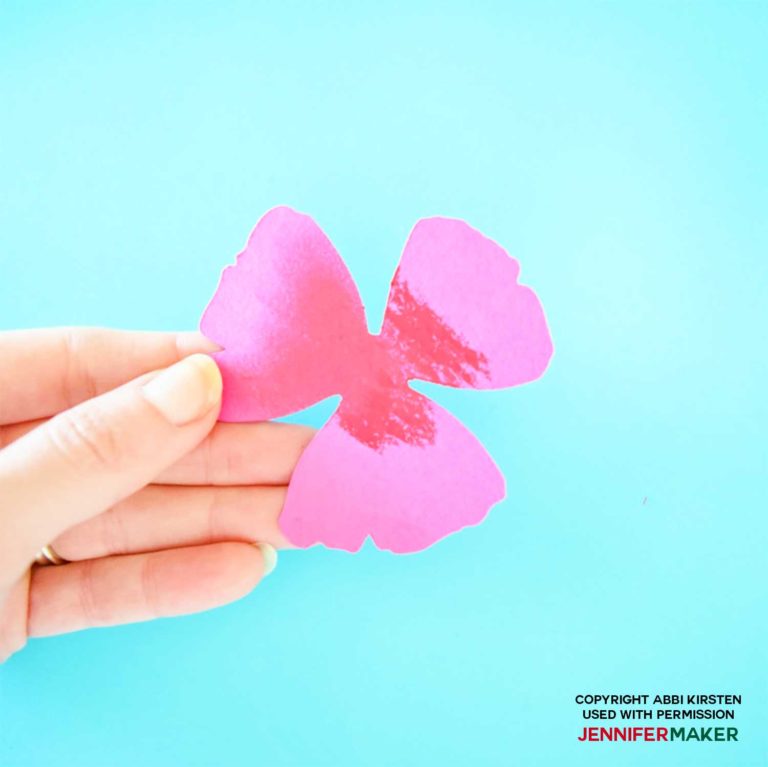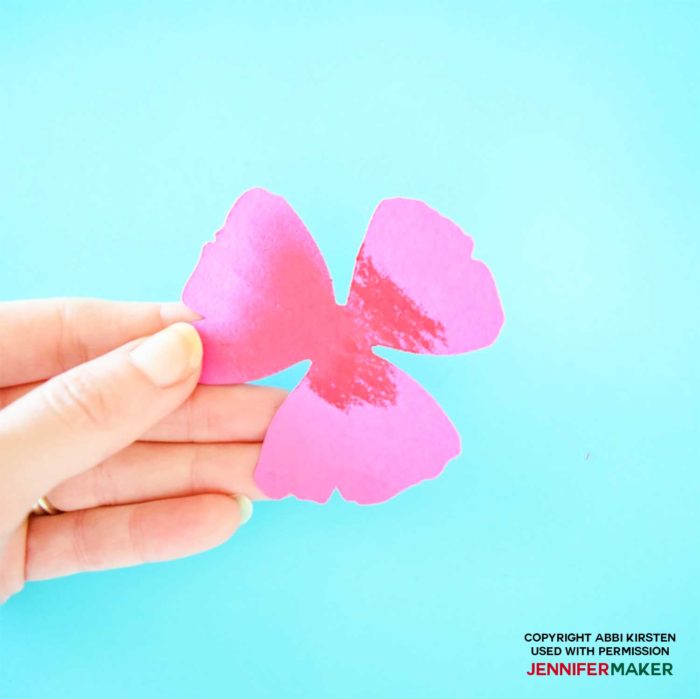 You will want to do this with the two 3-point pieces you cut out.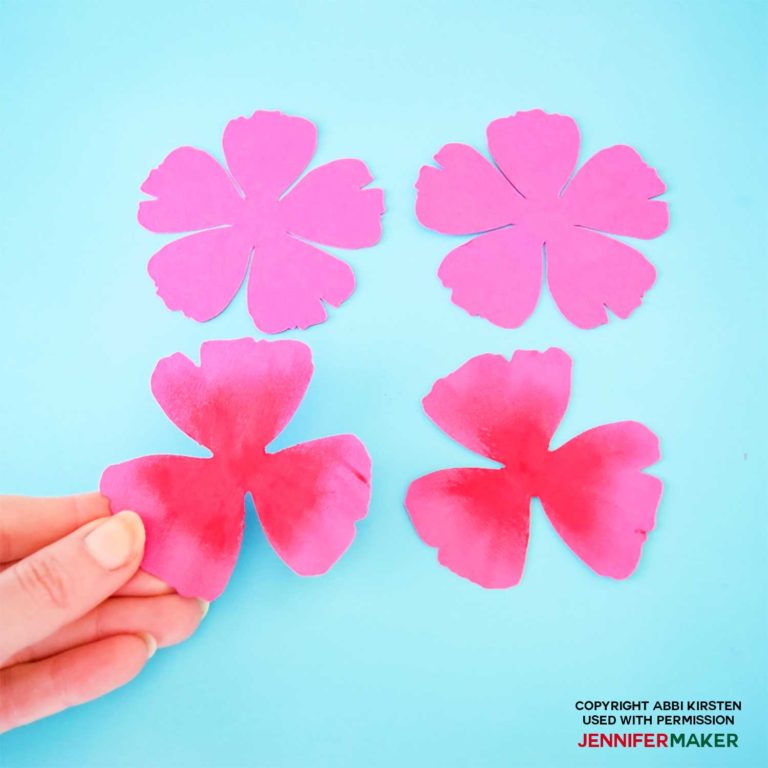 Step 3: Curl your paper poppy petals
To curl the petal points, you can use a thin wood dowel or a spare glue stick to press and shape the petals around.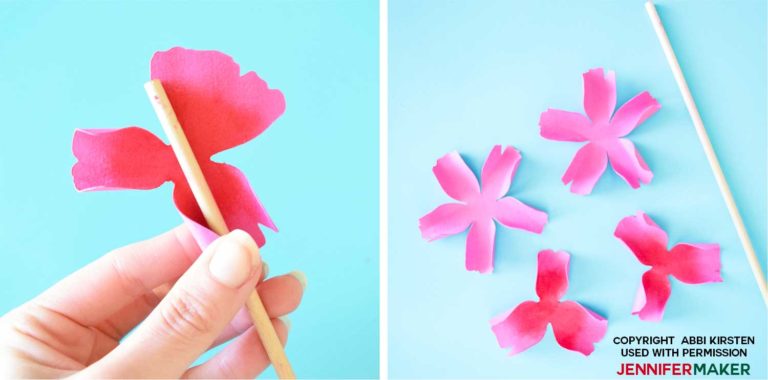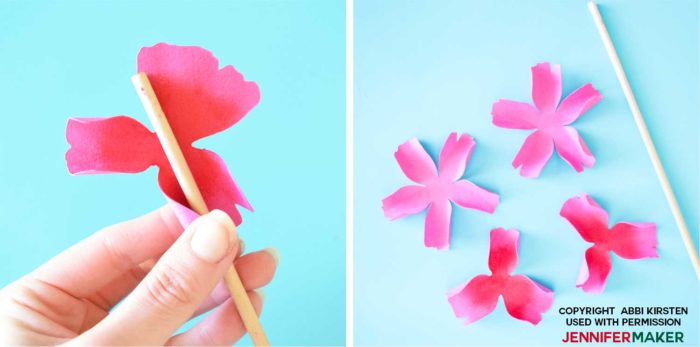 Step 4: Build your paper poppy flower
The next step is to layer the petal cut outs together. Slightly flatten the 5-point petal layers out before starting to build. Add a dot of glue to the center of one of the 5-point petal cuts. Place the other 5-point petal on top. Make sure to alternate the petals so they are not directly stacked.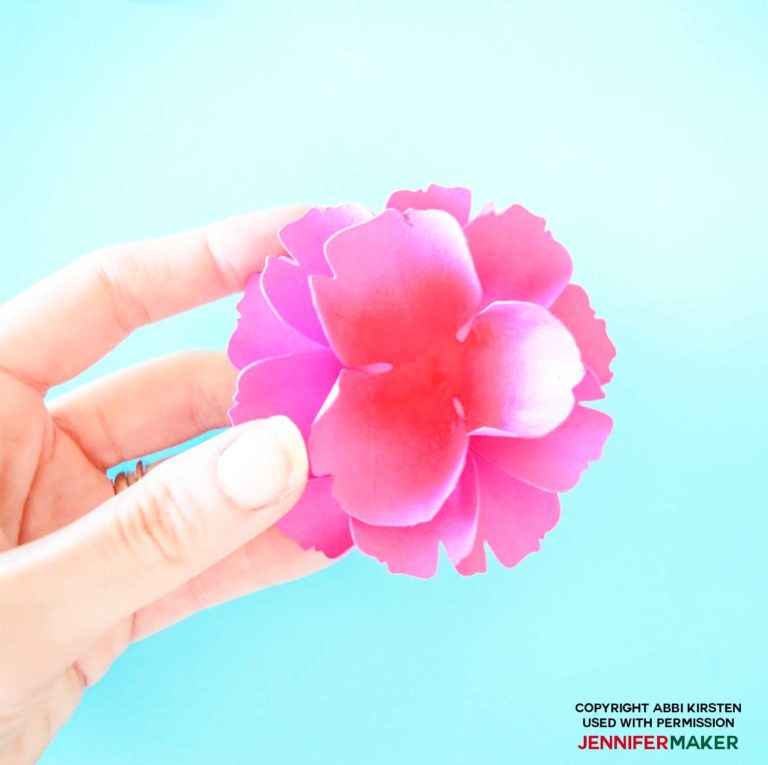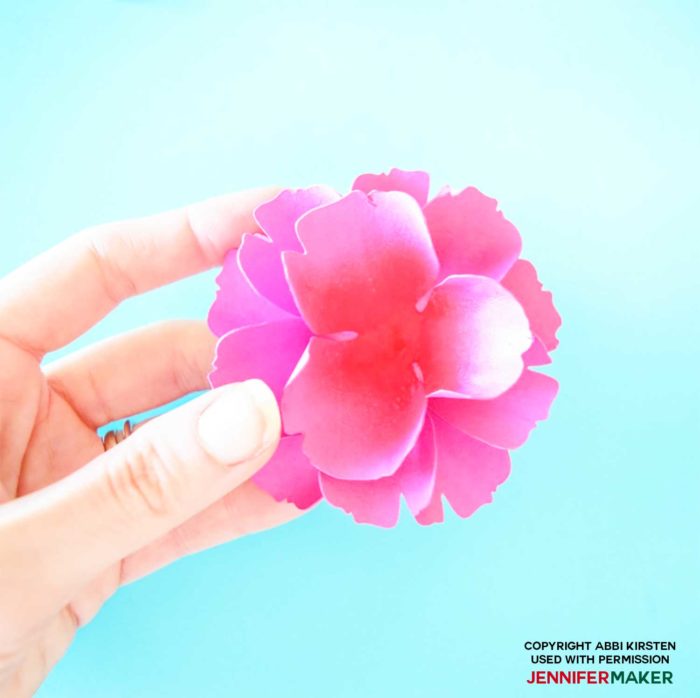 Move to the two remaining 3-point petals. Repeat the process with the 3-point petals until all four petals have been layered together.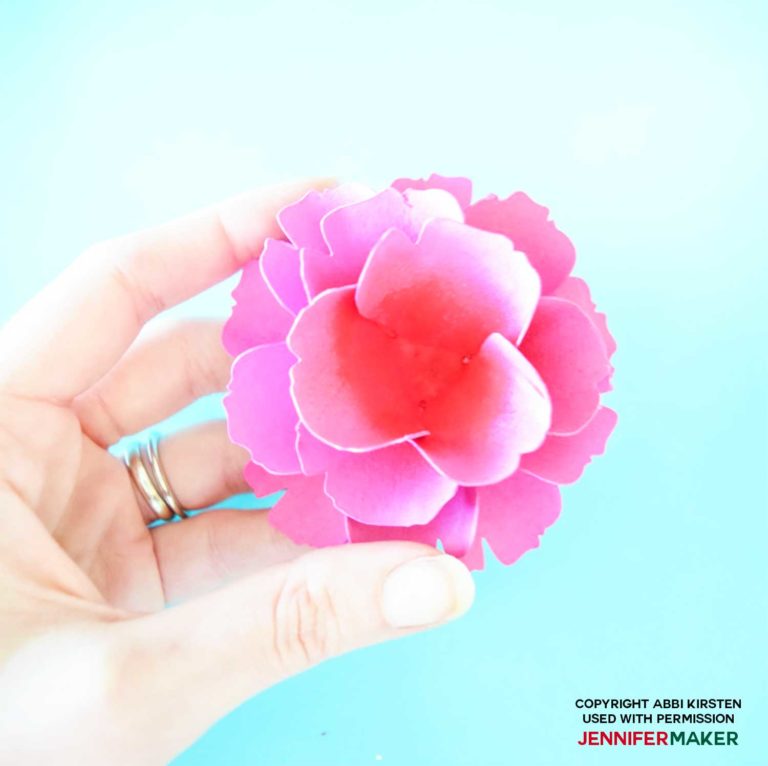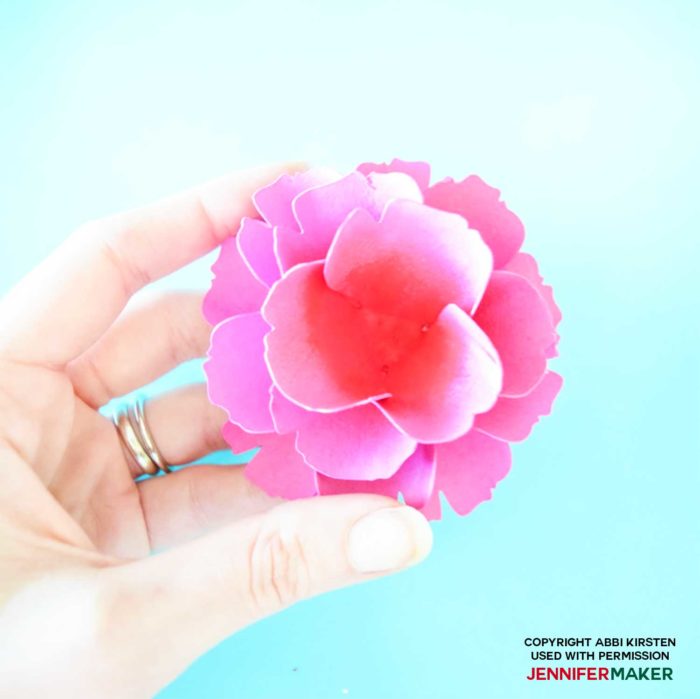 Step 5: Make the paper poppy center
Use your fingers or the shaping mat to slightly curl the edges of one poppy stamen pieces. For the other center piece fold all the stamen points inwards completely. Glue down the folded stamen piece into the center of the open one; flat bottom side up as shown in the images.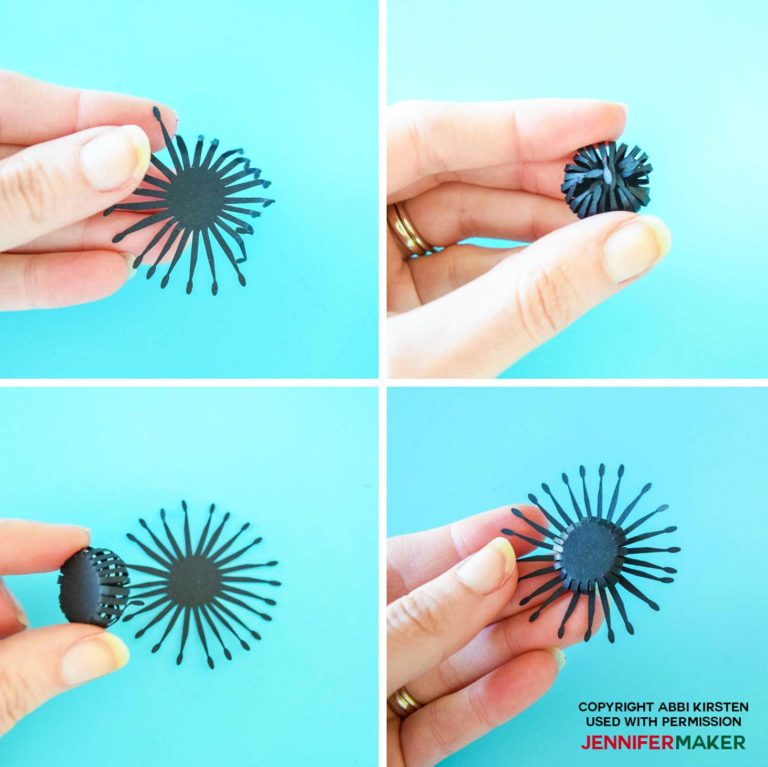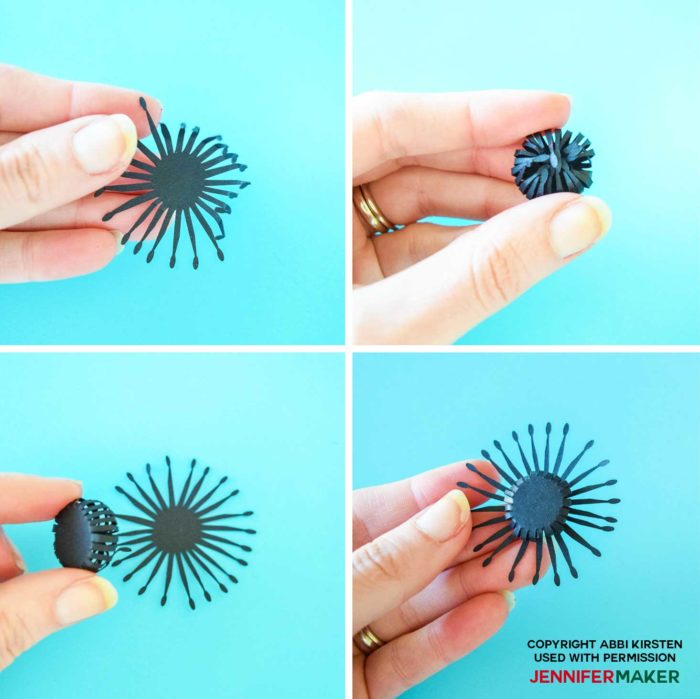 Step 6: Finish your paper poppy flower
Finish your flower by gluing in the whole poppy stamen to the center of the poppy bud. Your flower is now finished!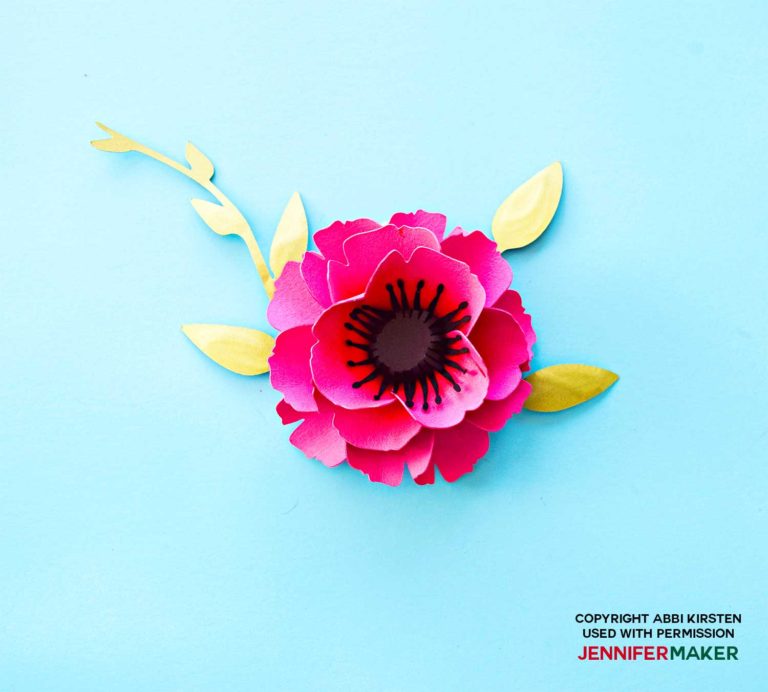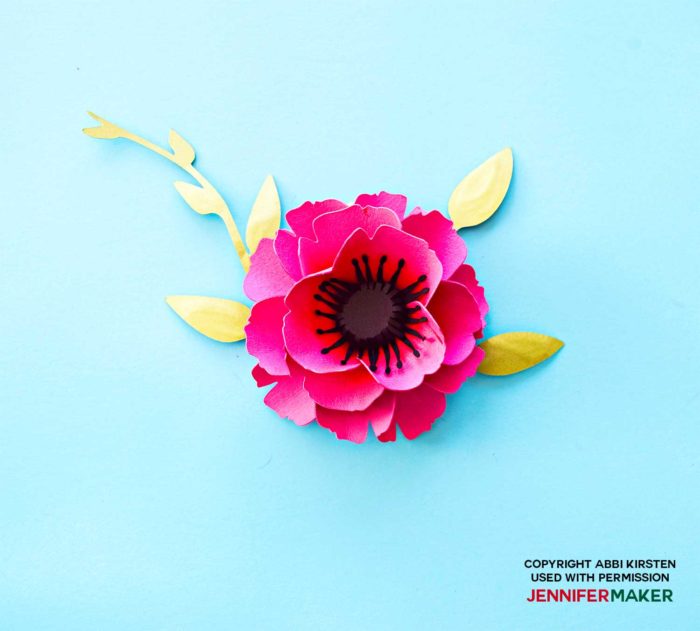 These little flowers are so dainty and fun to make! They have particularly good use for paper flower arrangements or bouquets. If you would like to see how I stem a paper flower you can watch this video here!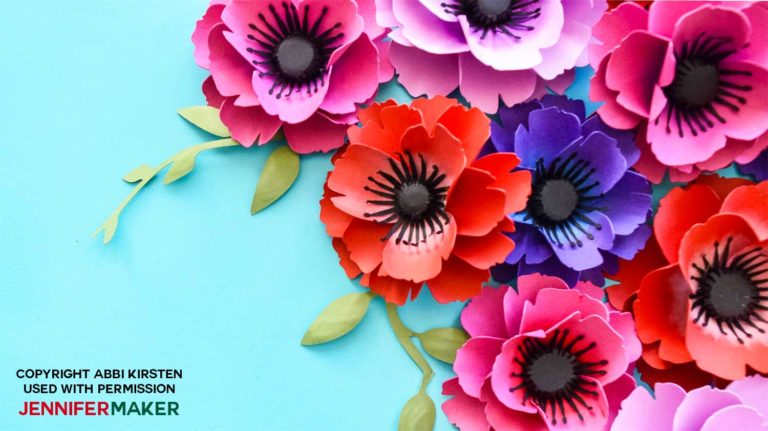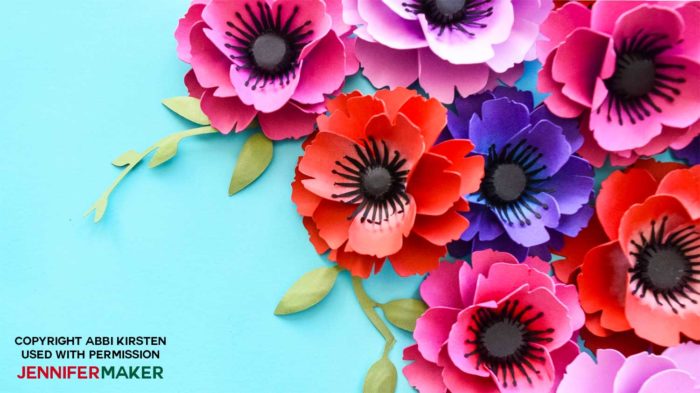 Watch the Full Paper Poppy Video Here
Get the Free SVG Cut Files and Pattern for the Paper Poppies
Discover More Paper Flowers
Hello! I'm Abbi from Abbi Kirsten Collections. My mission is to inspire you to nurture the creative magic inside your soul – by bringing you fun, easy to learn DIY projects, and quality template designs. I share a variety of projects but specifically love paper crafting and paper flowers. Interested in more flower tutorials?! I've created dozens of signature project designs for you to enjoy – starting with my best seller, The Art of Giant Paper Flowers, the Giant Flower Library and my shop of endless paper designs and flower templates.
Feeling overwhelmed? Don't worry! Start here with my tried and true Resource List!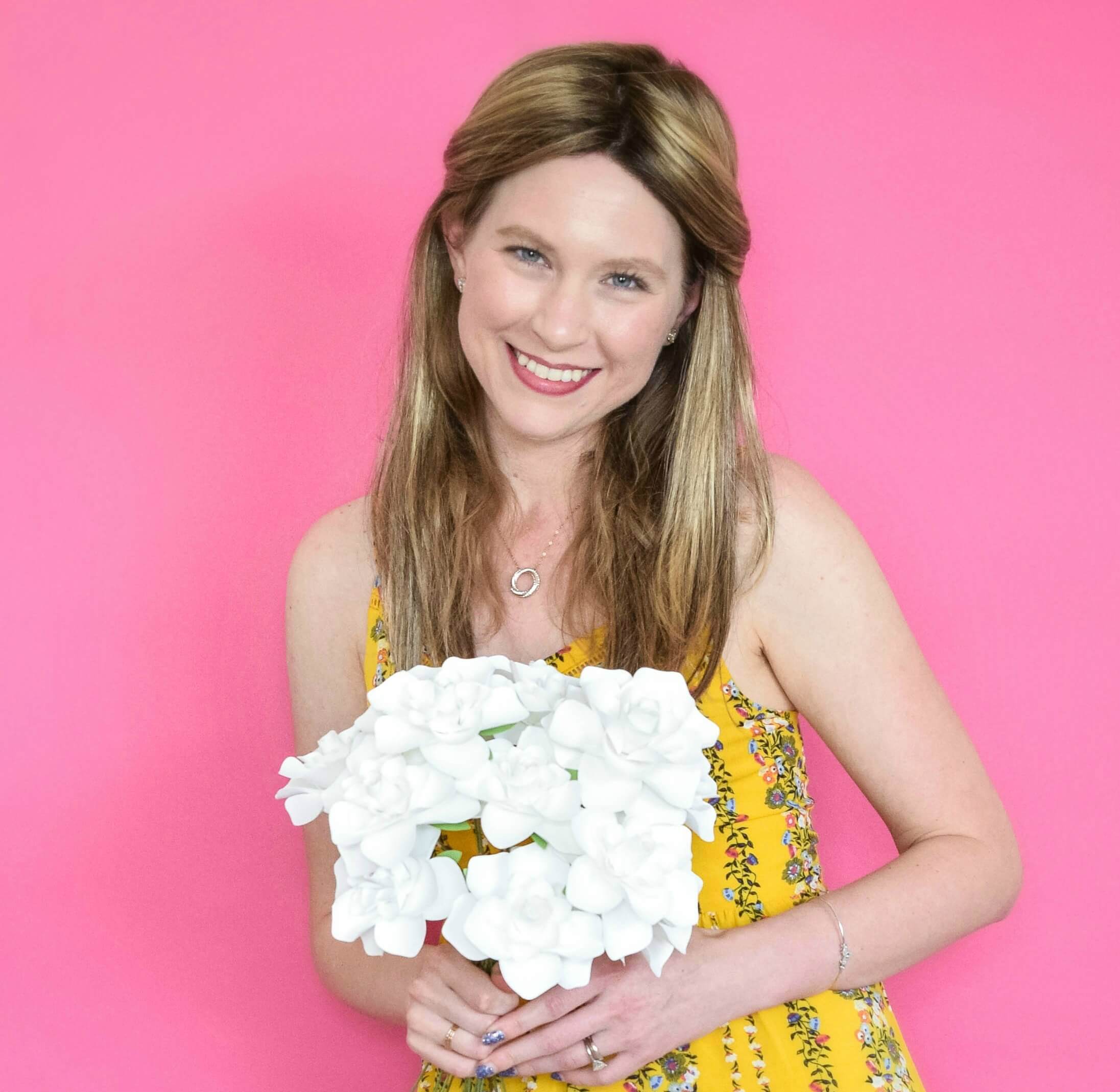 Thank you for letting me share with you today!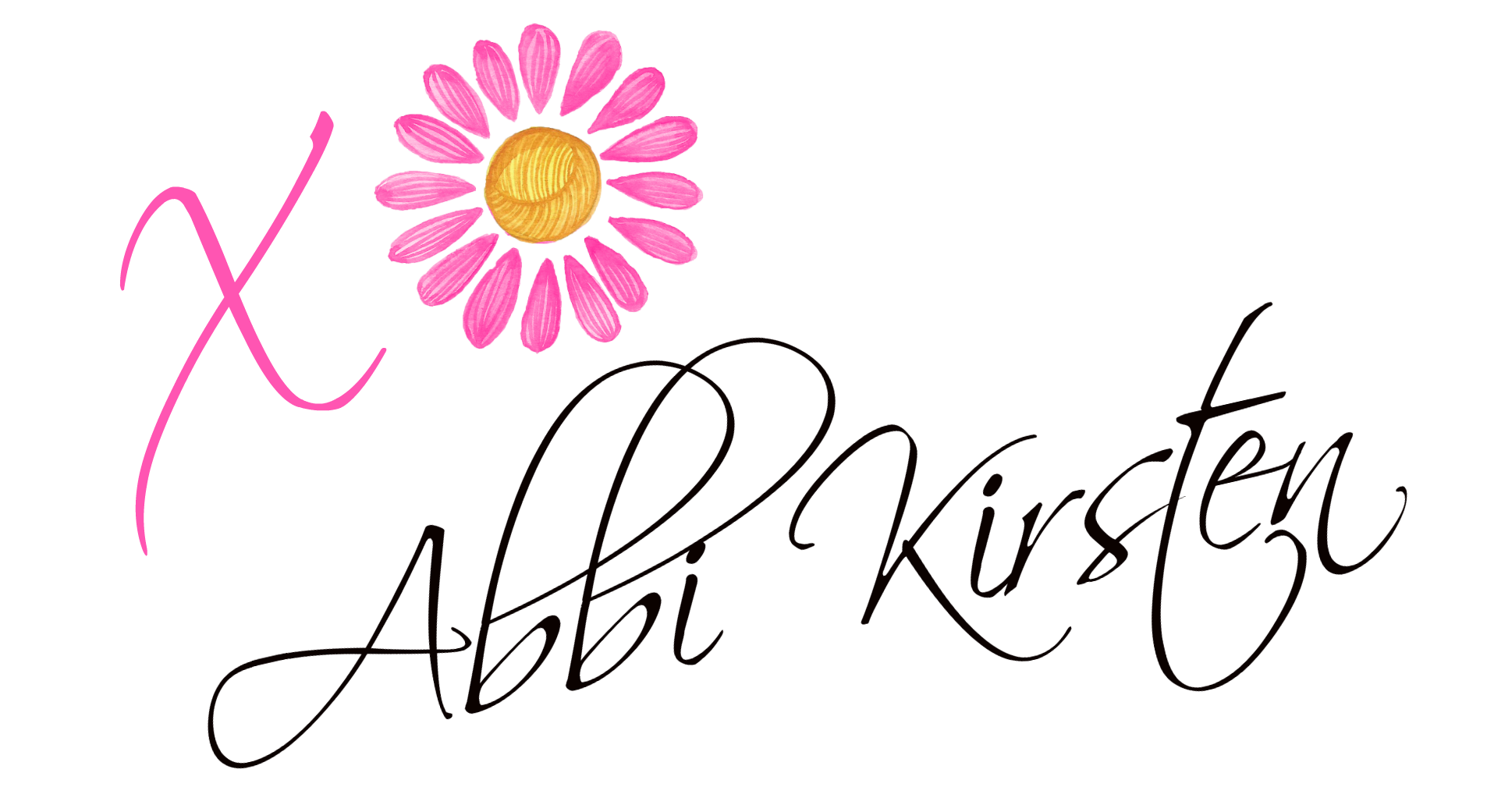 More Paper Flower Tutorials & SVG Cut Files
View all the JenniferMaker paper flowers here.