Get fun and popular Cricut mug ideas plus free designs you can use to make amazing mugs!

Yesterday I posted my "pre-coffee" face mug designs in my Facebook group and — wow! — 4000 thumbs-up in less than 24 hours! Yes, I hear you — you want to make more mugs. So I've gathered up all of my fun and free decal designs to put together this Cricut mug ideas list for you! You can make these with vinyl or Infusible Ink on the new Cricut Mug Press! I made dozens and dozens of designs perfect for mugs over the years, but I know it's not always easy to spot them. Every design you see here is available in my free resource library, and I tell you exactly where to find it! And best of all, they will all fit into my mug gift boxes!
Face Mug Ideas
These cute faces with hearts are my original mug decals! There are 11 faces in all — including a unicorn, dog, and cat — plus one of my favorite sayings, "progress over perfection." These decals are design #125 in my library. You can cut these mug designs layered, or attach everything for a simple one-color decal.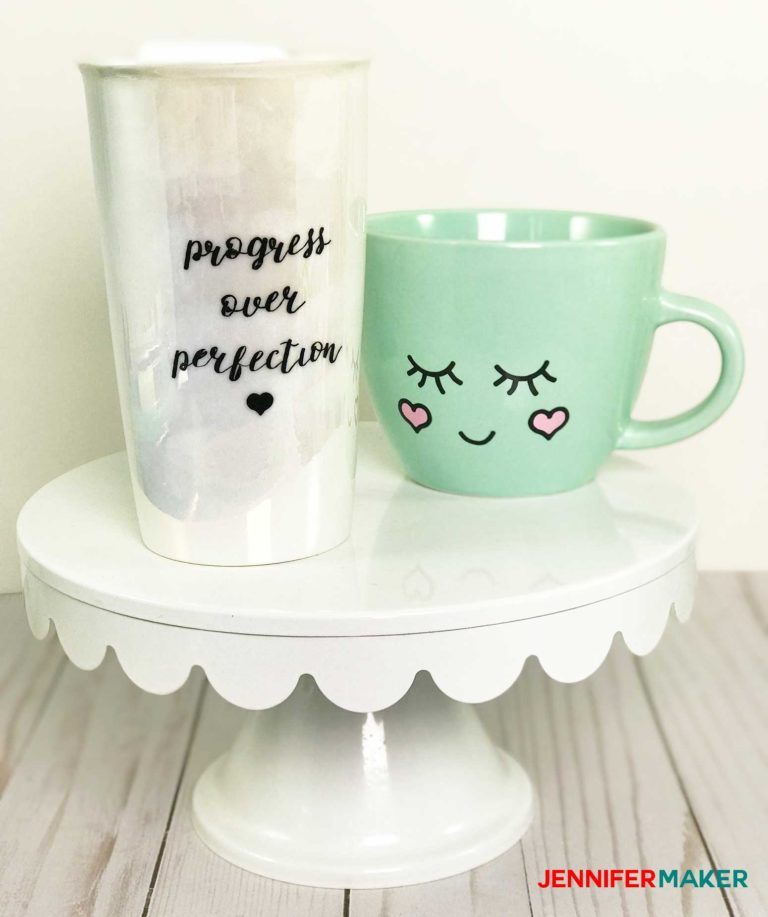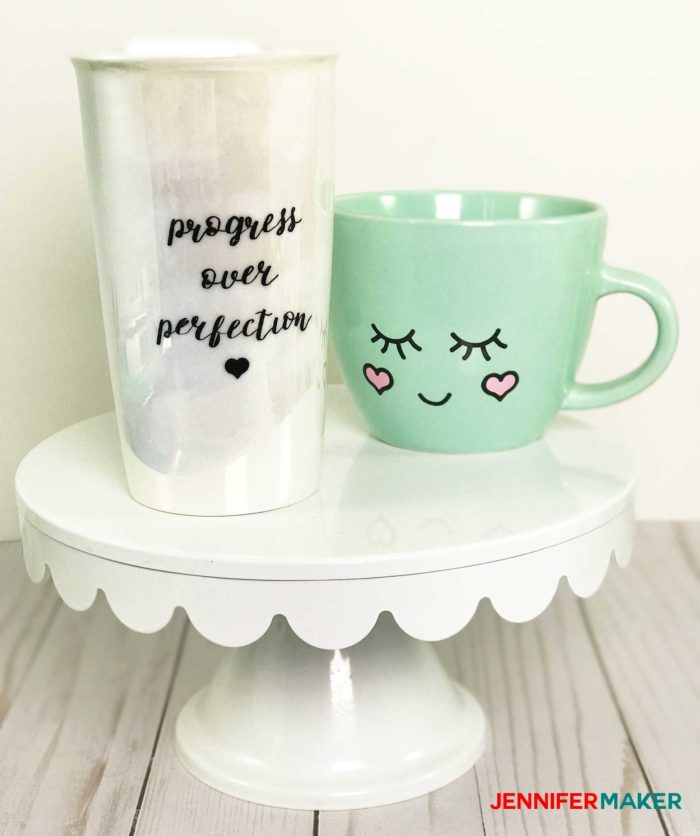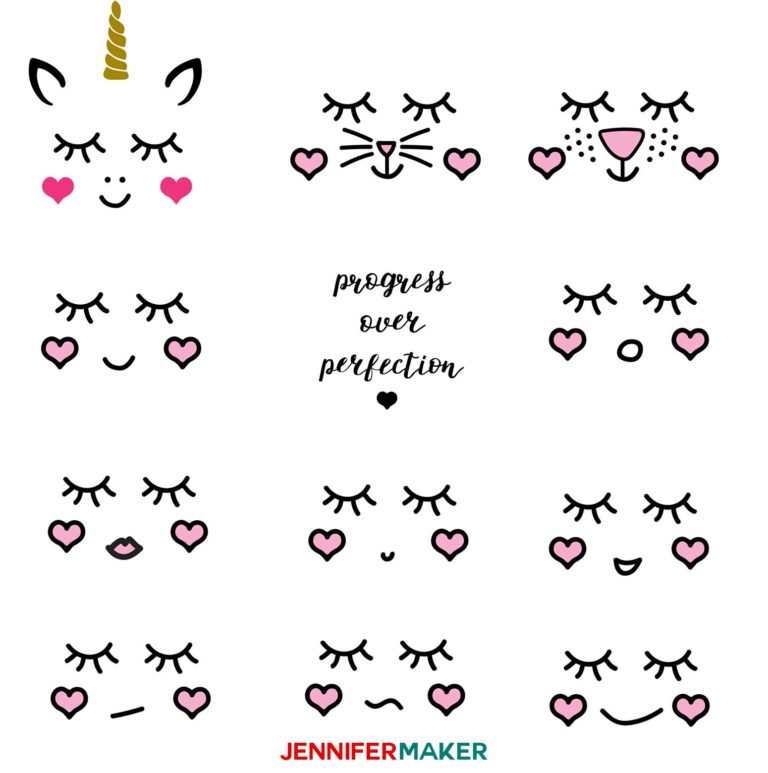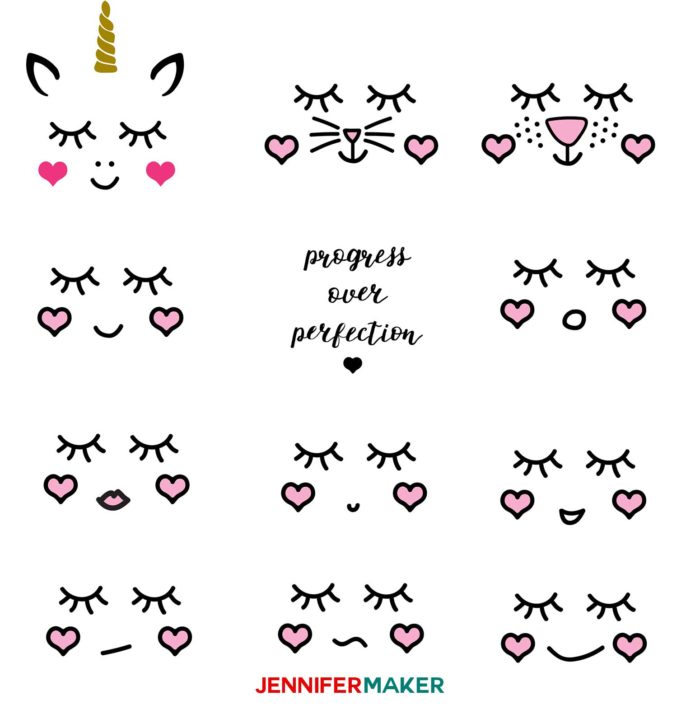 And then there's the "I Need Coffee" faces I just added — these are design #287 in my library!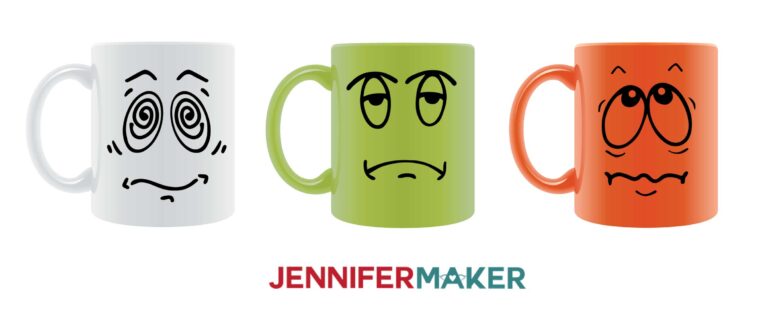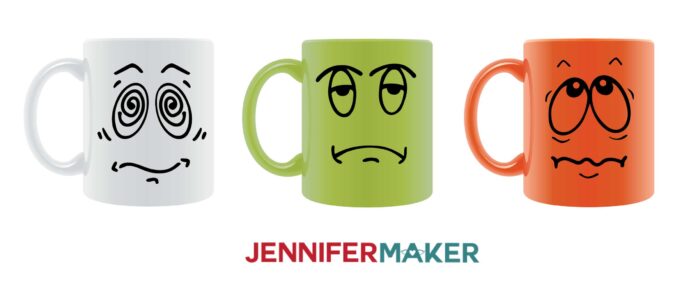 Fancy Wrap Mug Ideas
These fancy edge designs are perfect for Infusible Ink on a mug, as they cover the entire mug from top to bottom edge. I transferred the Infusible Ink using the Cricut Mug Press. These fancy wraps are design #288 in my library.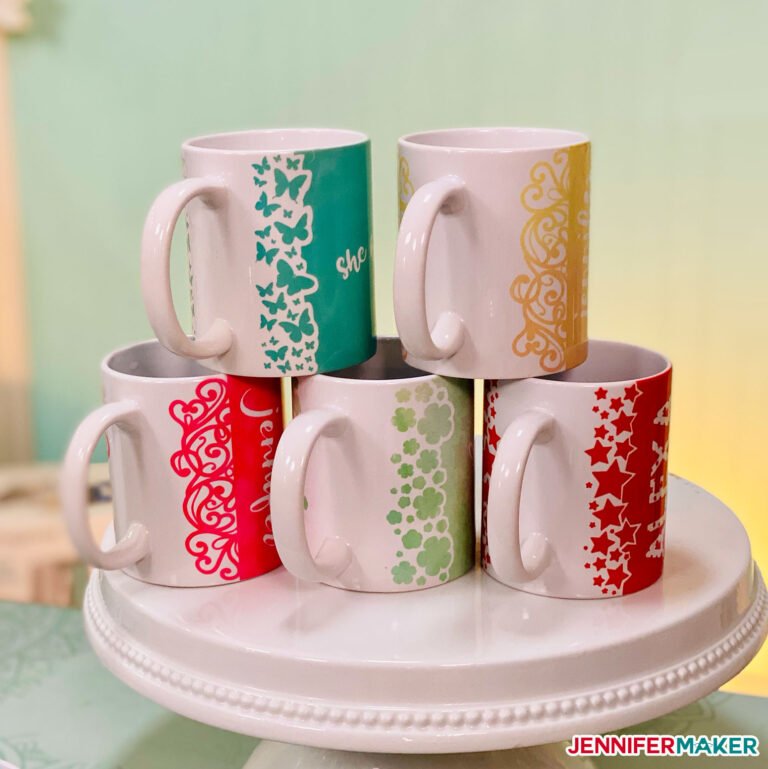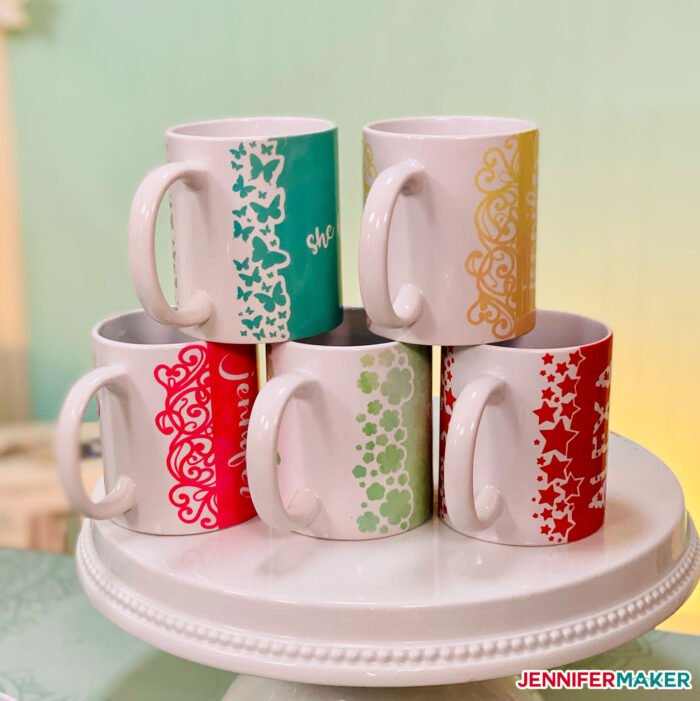 Coffee Cricut Mug Ideas
I love coffee, and I credit it with some of my best ideas! Here are two fun hand-lettered coffee-loving decals — you'll find these in design #288 in my library.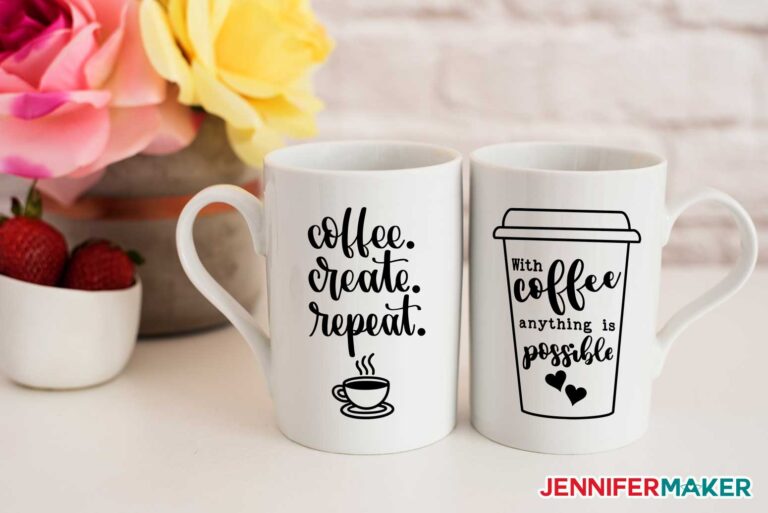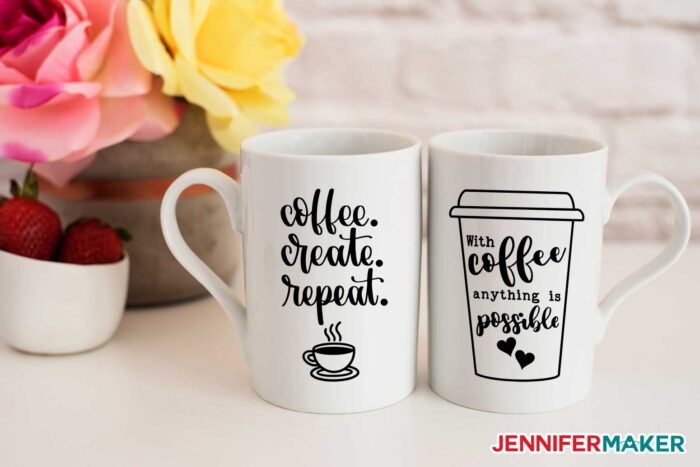 Crafty Mug Ideas
"Crafting is my therapy" could not be more true for me — can you relate? Whenever I feel down, I make something and I ALWAYS feel better, even if the results are not perfect. You'll find my crafting decal in design #233 in my library.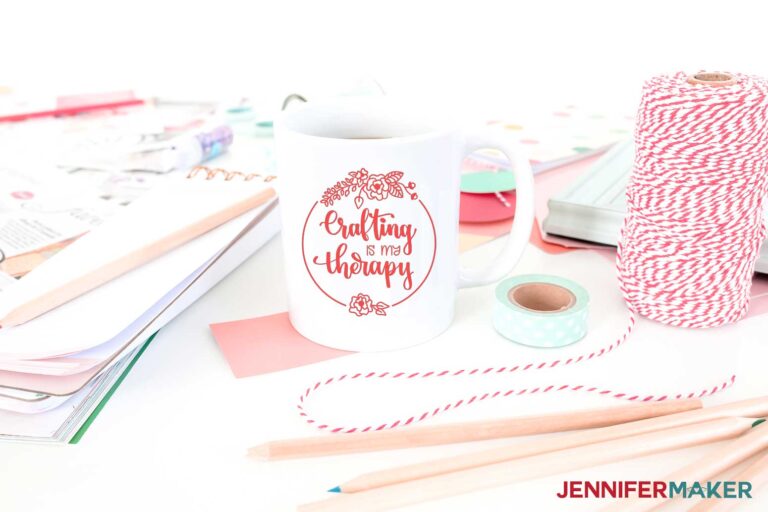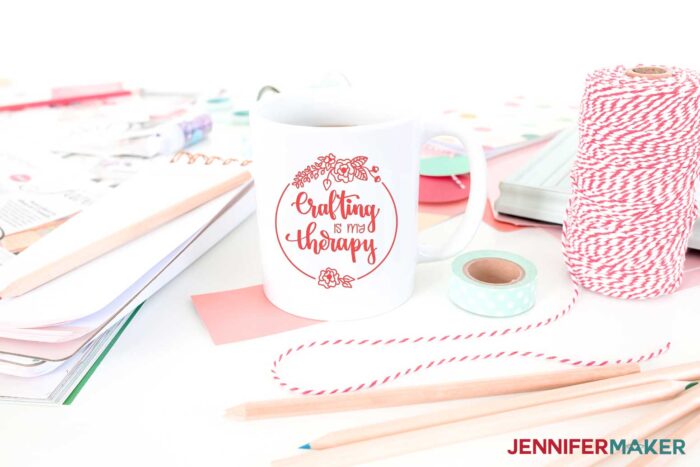 Mama Bear Mug
I love my daughter and will guide and protect her for as long as I live. I designed this decal to make a glitter tumbler, but it works just as well on a coffee mug! This is design #134 in my free library.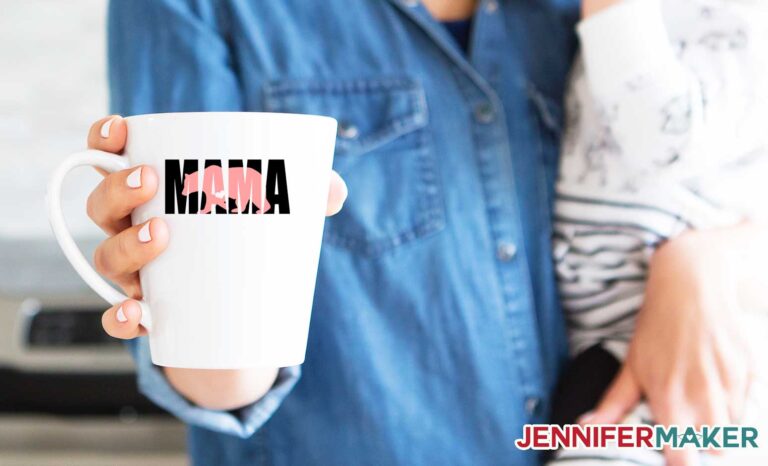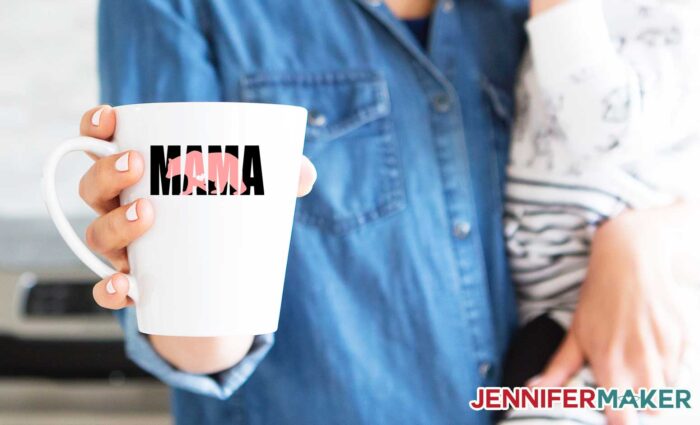 And there are many more! I'm working on five new designs right now that I'll share in this post later this week!
Kindness Mug Ideas
I've long believed that a little more kindness would make this world a whole lot better. My "Be Kind" sunflower is design #215, and my "Kind Words Are Free" is design #233 in my library.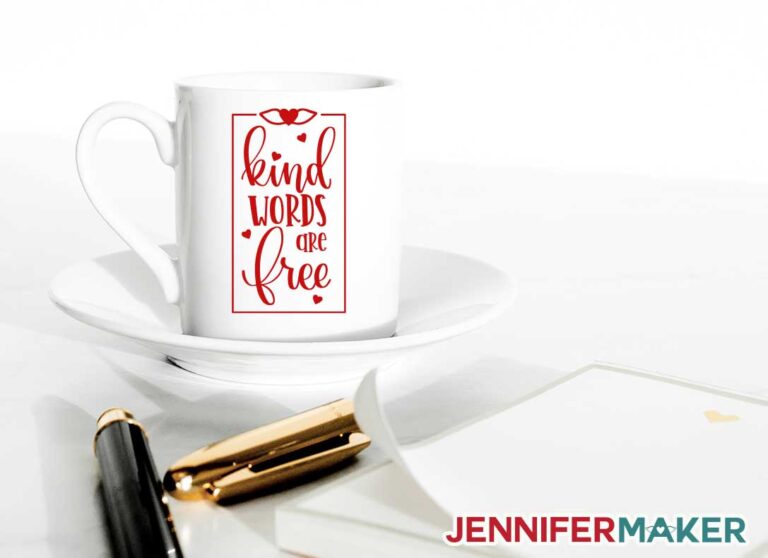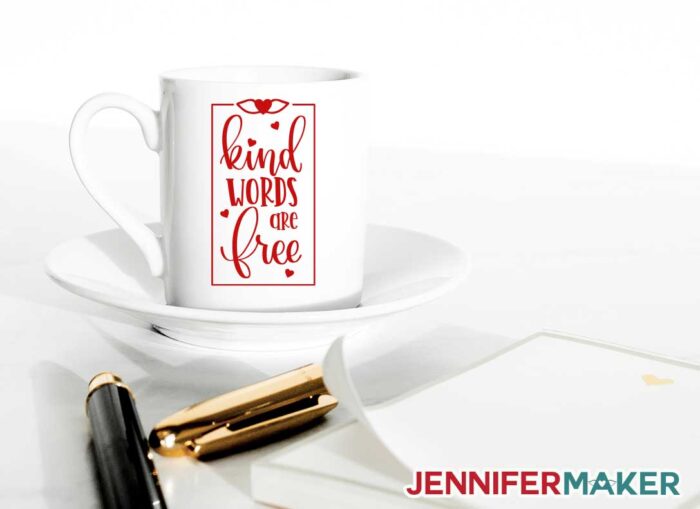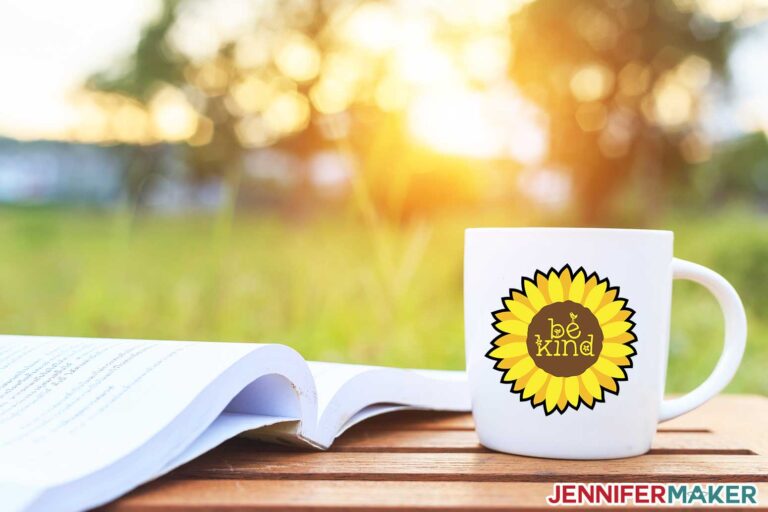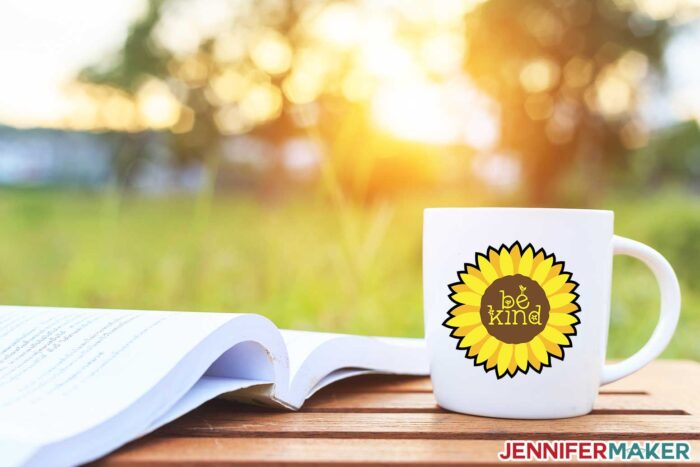 Homemade Mug Ideas
Love your home as much as me? Happiness is homemade! Here are more mug ideas centered on our love for home. Both of these files are in design #176 in my free library.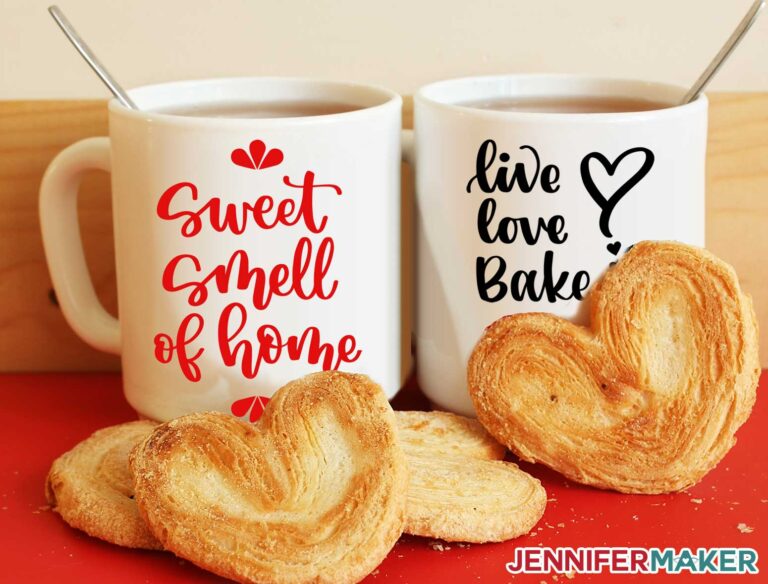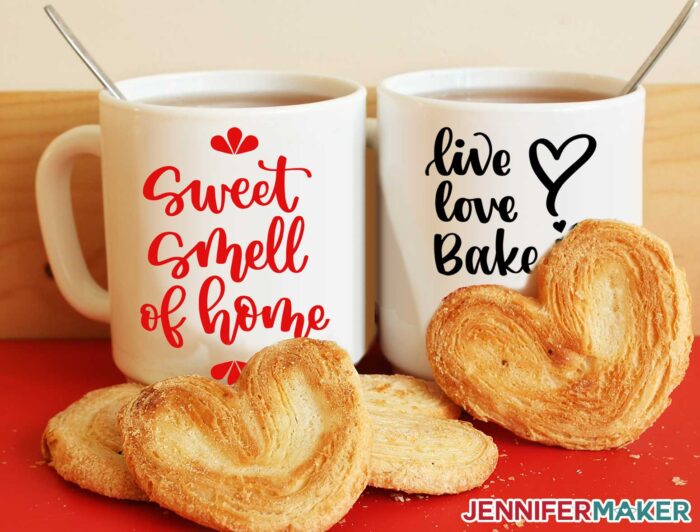 Cheers & Juice Mug ideas
Ever put anything else in that coffee cup? Me too! Here are some ideas for those of you who like alternate adult beverages in your coffee mugs. Both of these files are in design #274 in my library.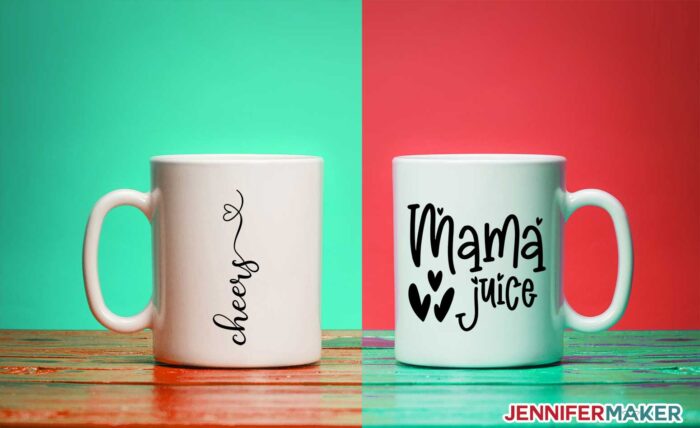 Split Monogram Mug ideas
Love to put your monogram on your mugs? I show you how to create a split monogram in Cricut Design Space — the laurel wreath is design #108 in my library.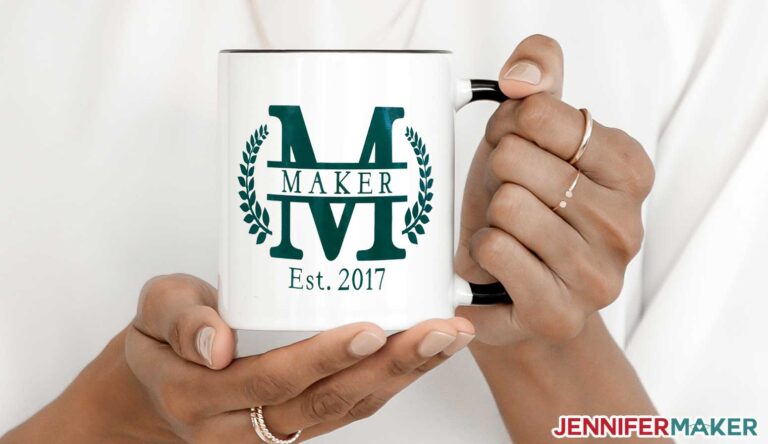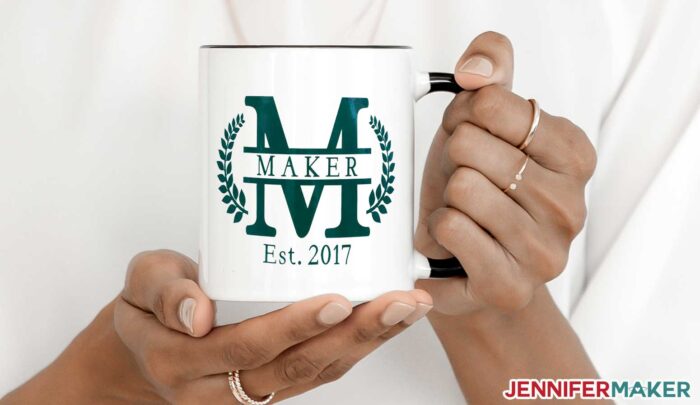 This post contains some affiliate links for your convenience (which means if you make a purchase after clicking a link I will earn a small commission but it won't cost you a penny more)! Read my full disclosure policy.
Materials to Make My Cricut Mug Ideas
How to Make a Cricut Mug with a Fancy Edge Wrap
This tutorial is coming soon … in the meantime, check out this tutorial on creating a vinyl mug with sealer: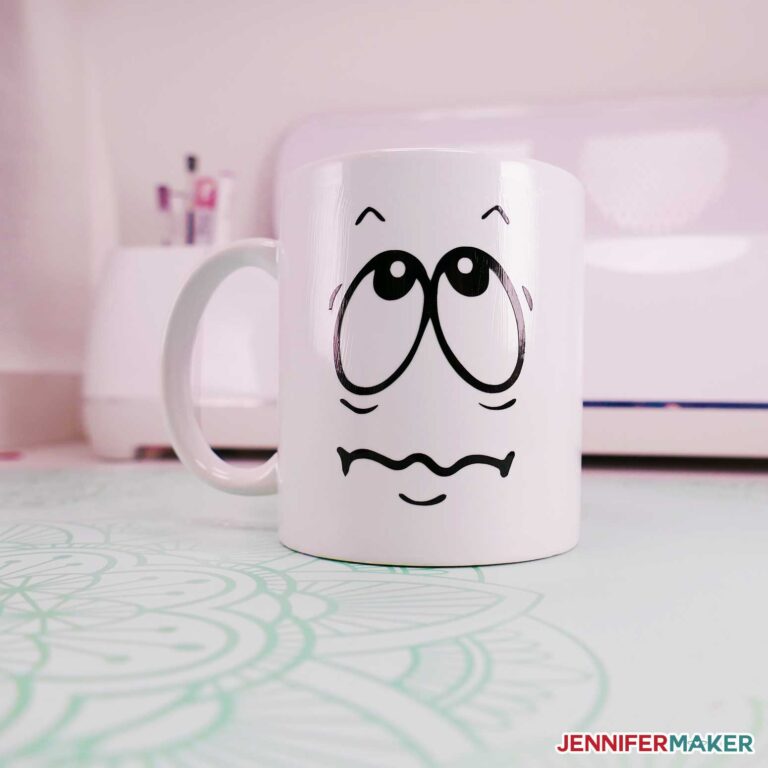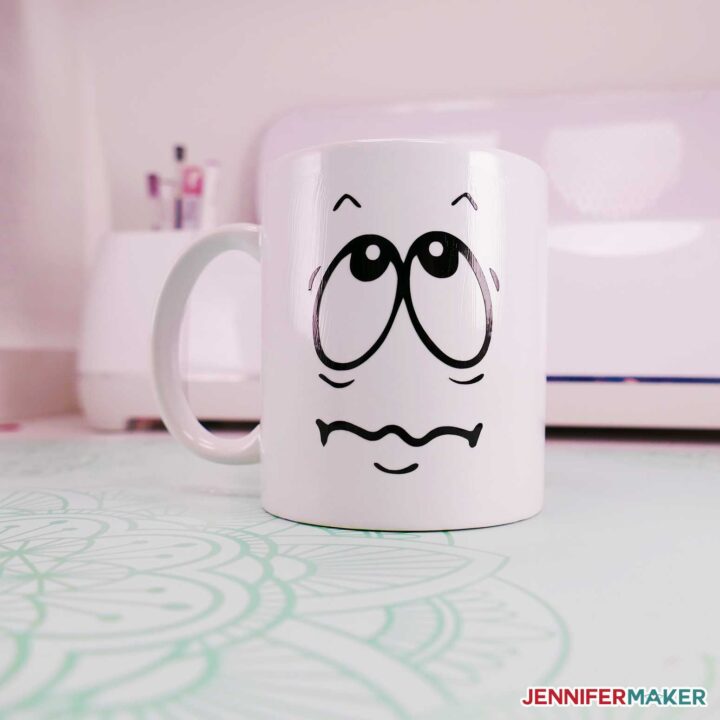 Cricut Mugs with Vinyl and Mod Podge Sealer
Yield: 3

Active Time: 30 minutes

Additional Time: 1 day

Total Time: 1 day 30 minutes

Difficulty: Easy

Estimated Cost: $12

Here are my step-by-step directions for applying vinyl to your Cricut mugs and sealing them so they are dishwasher safe.
Materials
Foam or Soft bristle brush
Instructions
Step 1: Find a Design For Your Cricut Mug
First, you need some cute designs for your mugs! I made some funny faces for you that you can download from my free resource library. The "I Need Coffee" faces I used in this project are design #287 or check out my cute animal faces in design #125. You can find the patterns by searching the page for the design number and then click it to download the SVG cut files.

If you're going to cut the vinyl decals out on your cutting machine, upload the file to your design software. I'm going to show you how to do this in Cricut Design Space. If you're not sure how to upload an SVG cut file to Cricut Design Space, watch this helpful video training series I made. If you're on an iPhone or iPad, here's how to download and upload SVG files to the Cricut Design Space app.

This is what the "I Need Coffee" funny faces SVG vinyl decal looks like in Cricut Design Space after uploading: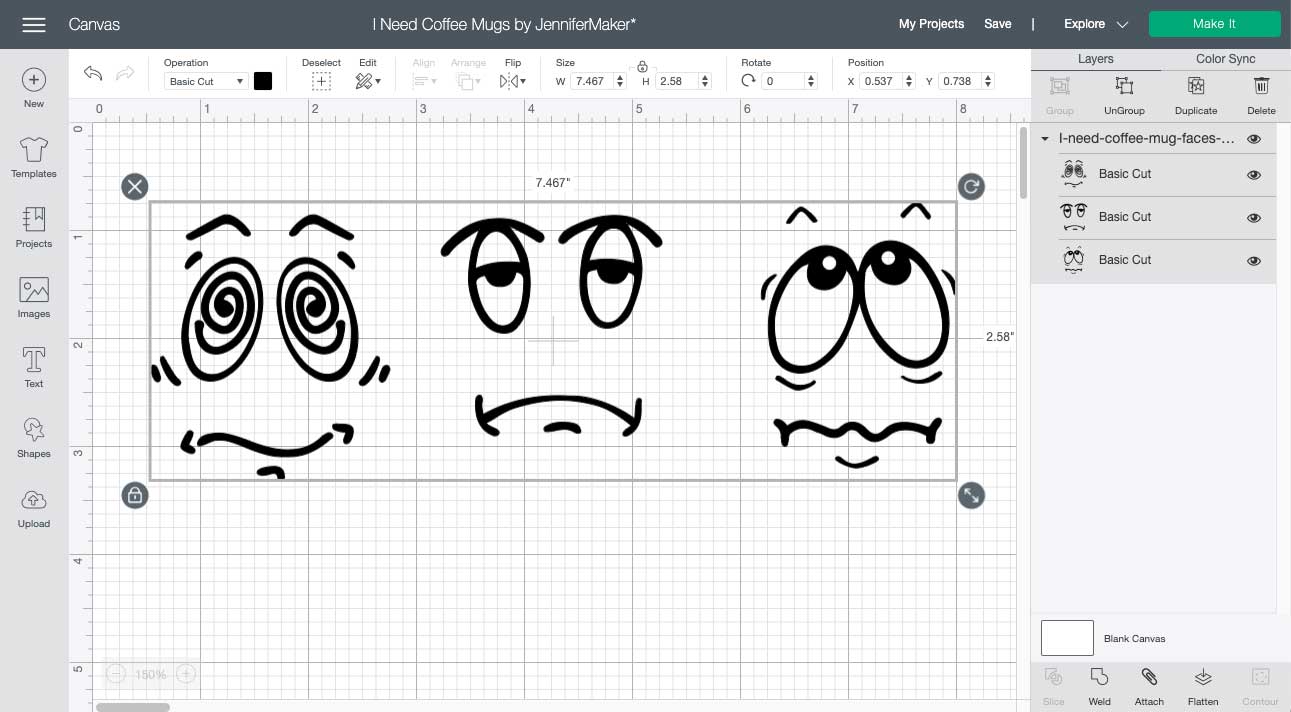 There are three faces to choose from. If you only want to cut one, hide the others by clicking on the eye icon on the layers you do not want to cut.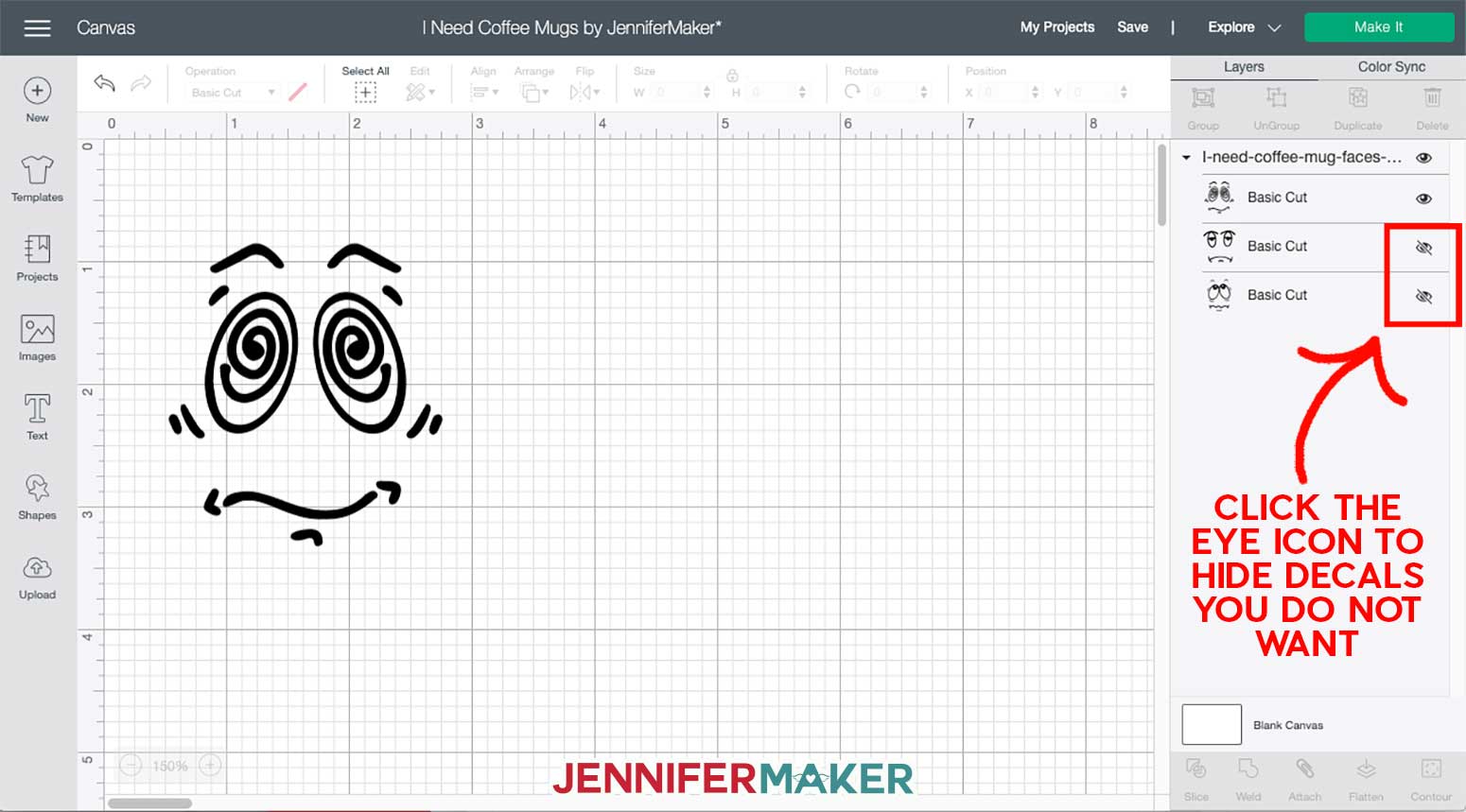 Now all we need to do is cut our vinyl! Click the green Make It button in the upper right corner.

NOTE: You should NOT mirror adhesive vinyl the way you would iron-on vinyl, so keep this Mirror toggle OFF. Click on the green CONTINUE button.
Step 2: Cut Out Your Vinyl
Now set your material. Click on Browse Material Settings and search for Permanent Vinyl.

Place your permanent adhesive vinyl shiny color side UP (right side up) on your cutting mat. Make sure the fine-point blade is loaded into your Cricut cutting machine, then load the mat in.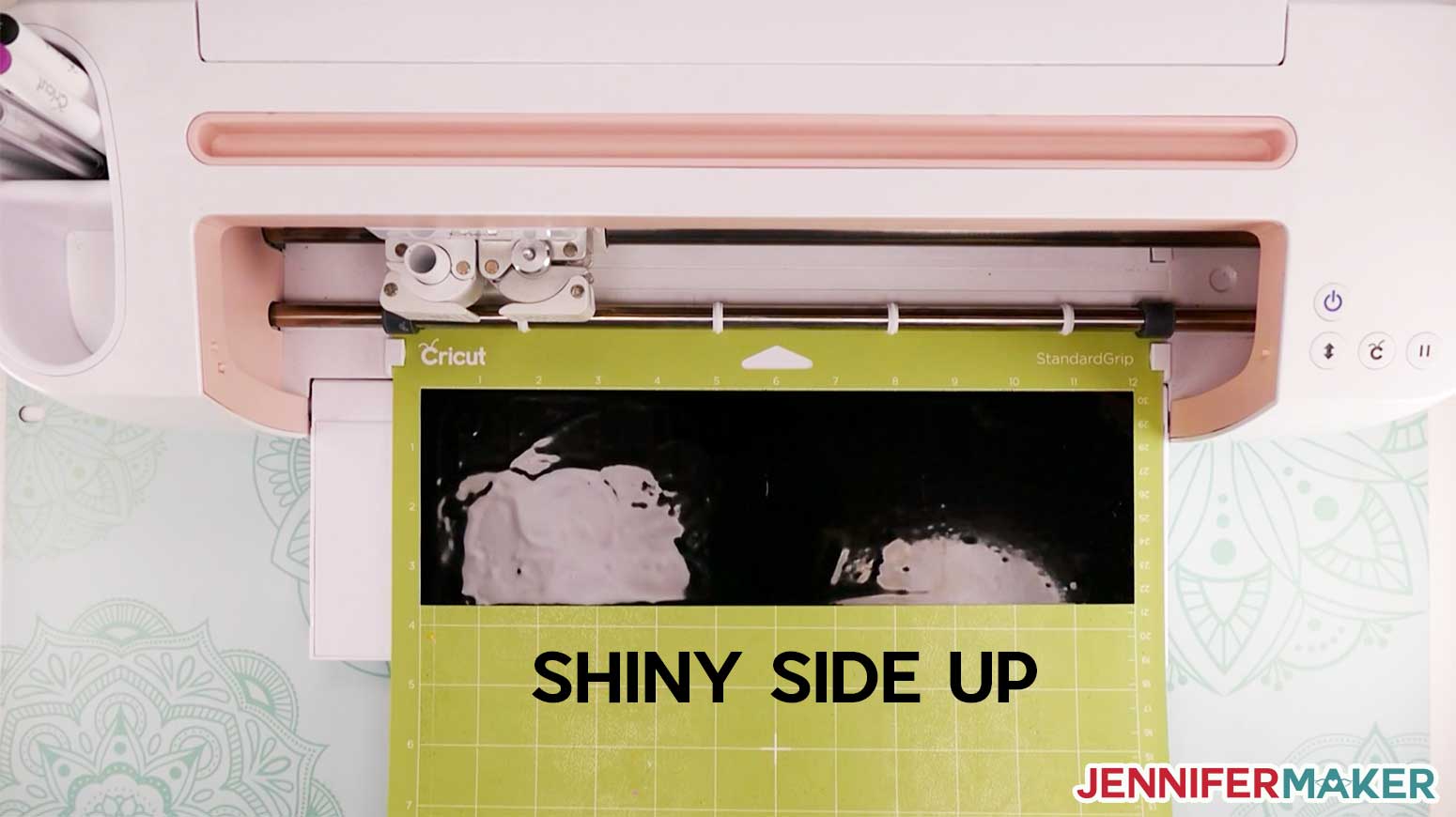 Press the flashing button to GO! It will only take a minute or so to cut the faces.

When you are done cutting, flip the mat over onto your work surface and peel it away from the vinyl carefully.
Step 3: Weed Your Vinyl
Once you cut out your vinyl, you want to weed it, which means to remove all the extra bits that you don't want to transfer to your mug. You might be able to do this with your fingernail, but you might want to use a weeding tool (I do).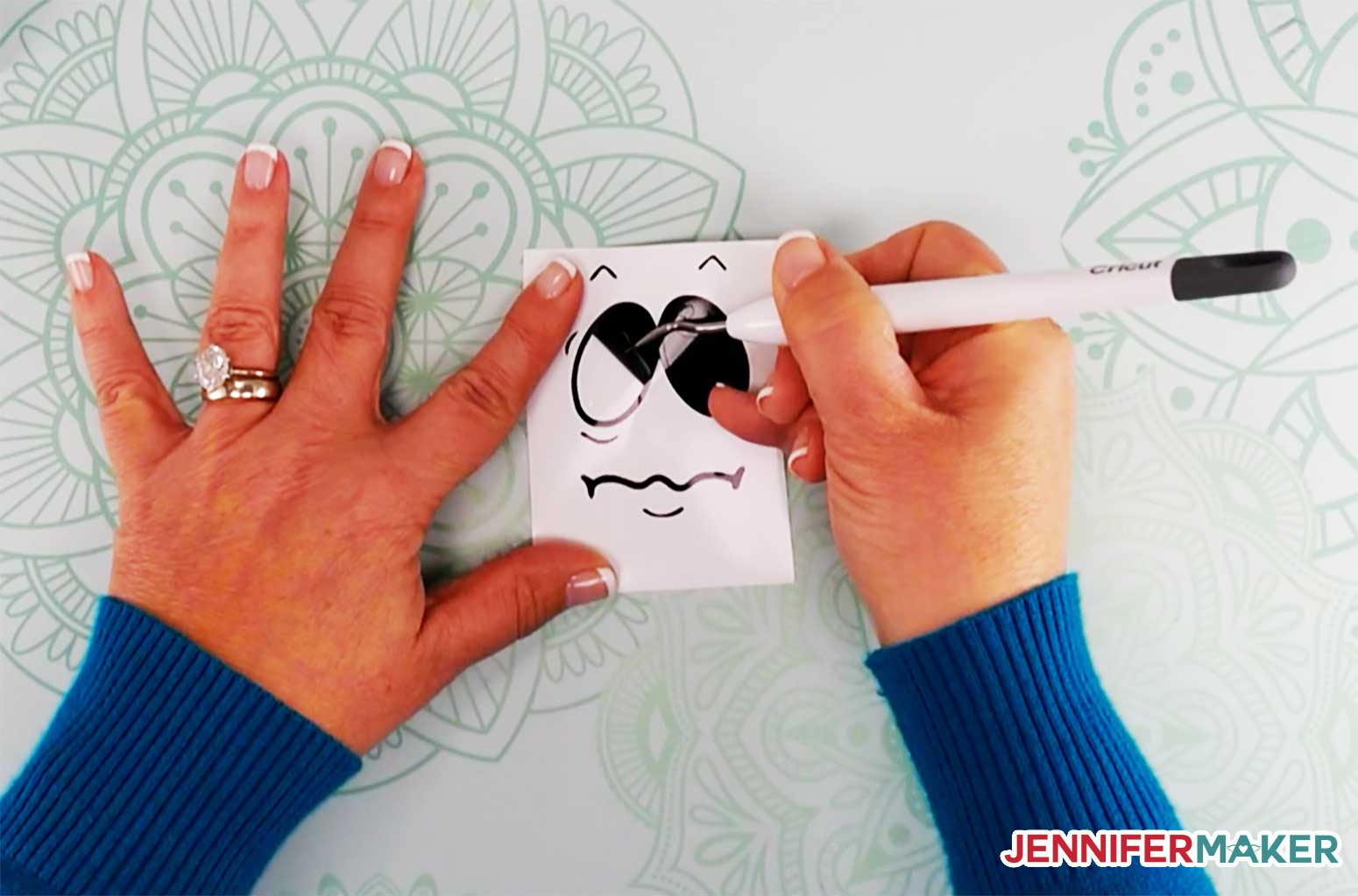 This is what your weeded vinyl will look like: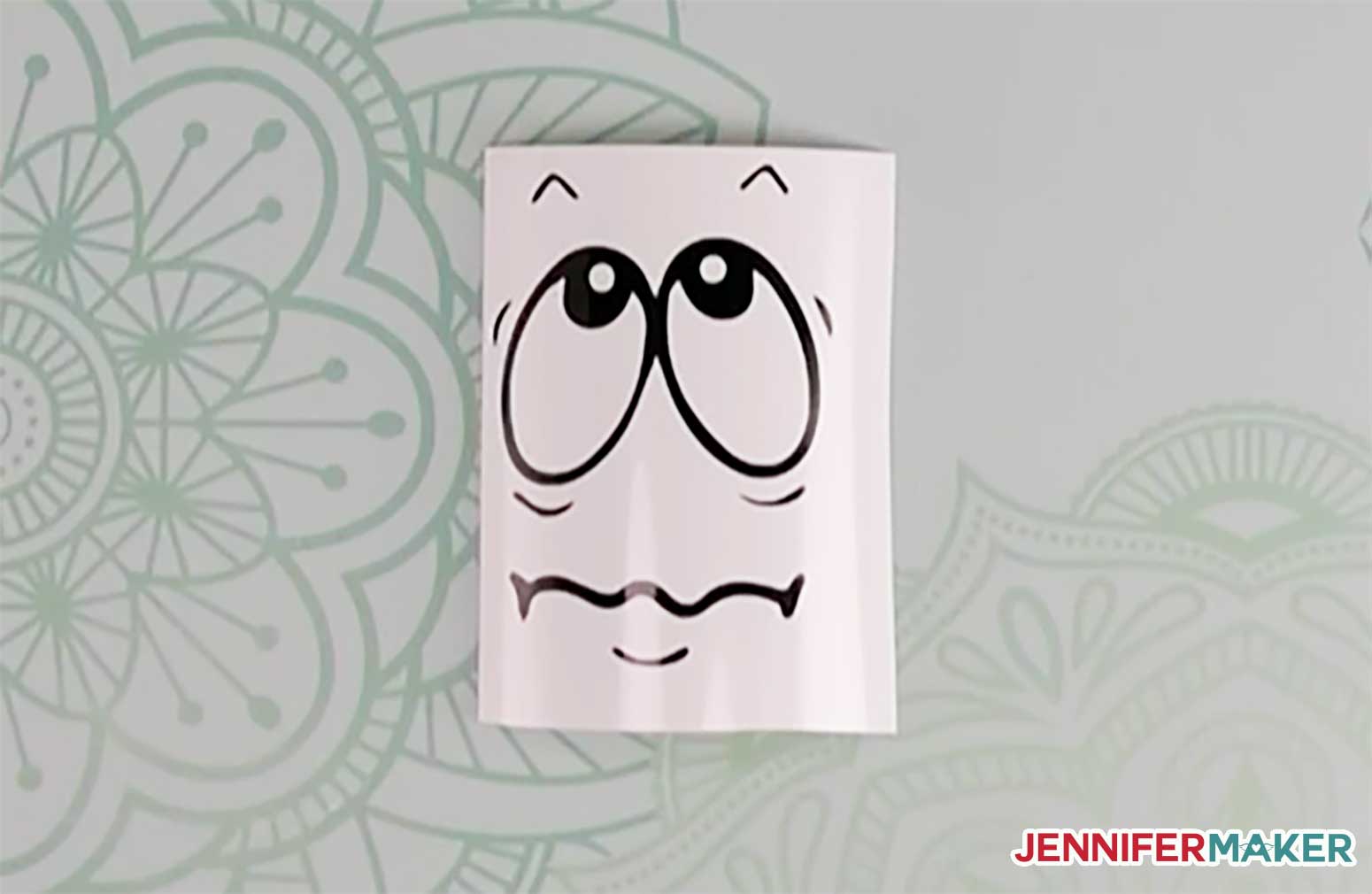 After the vinyl is weeded, you need a piece of transfer tape to transfer your design to your mug. So you just want to cut out a piece of transfer tape that is roughly the same size, or at least the same size as your design.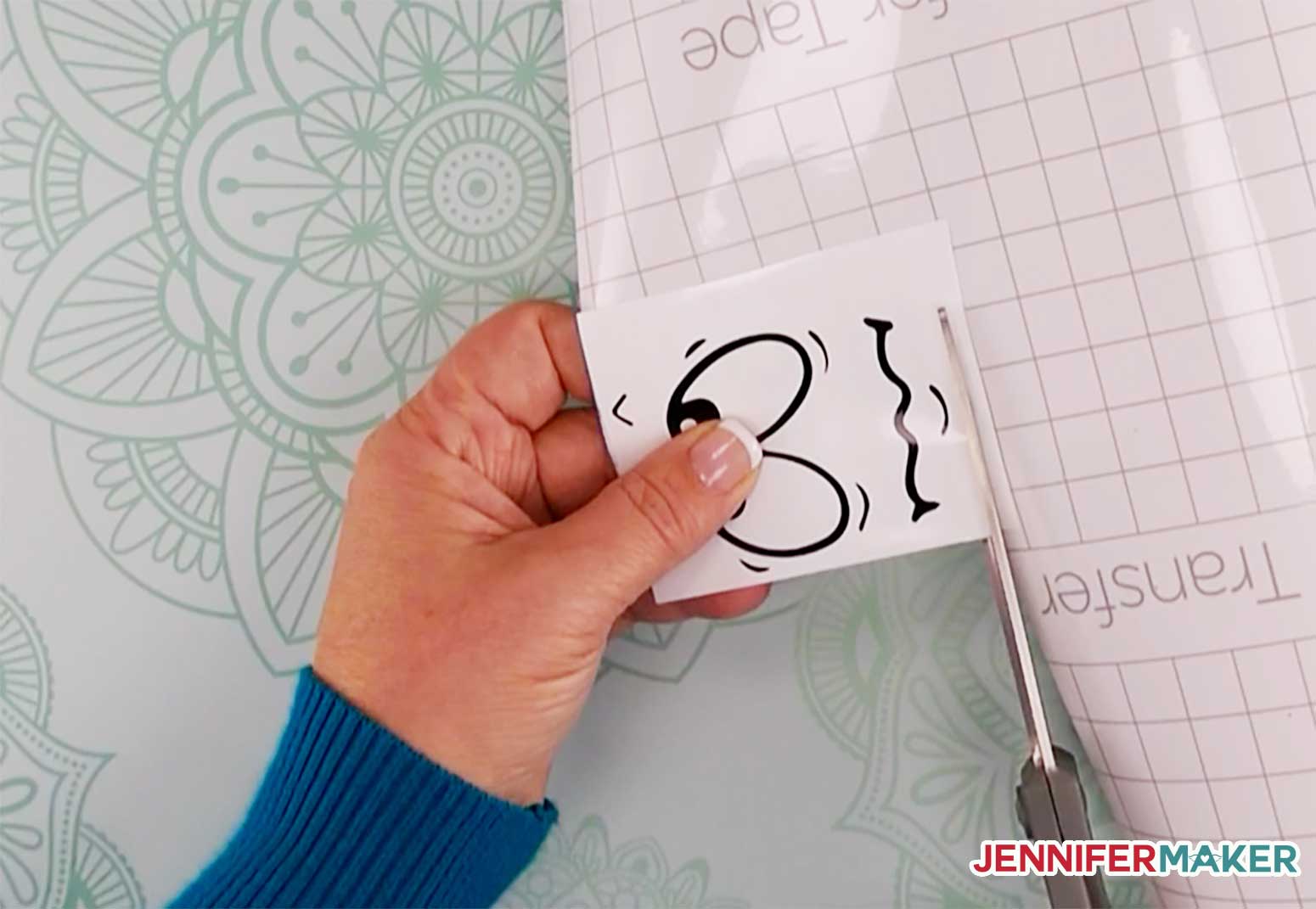 Take the backing off of the transfer tape and put it onto the front of your vinyl decal. Start at the corner and move outwards so that you don't get creases and bubbles in your transfer tape.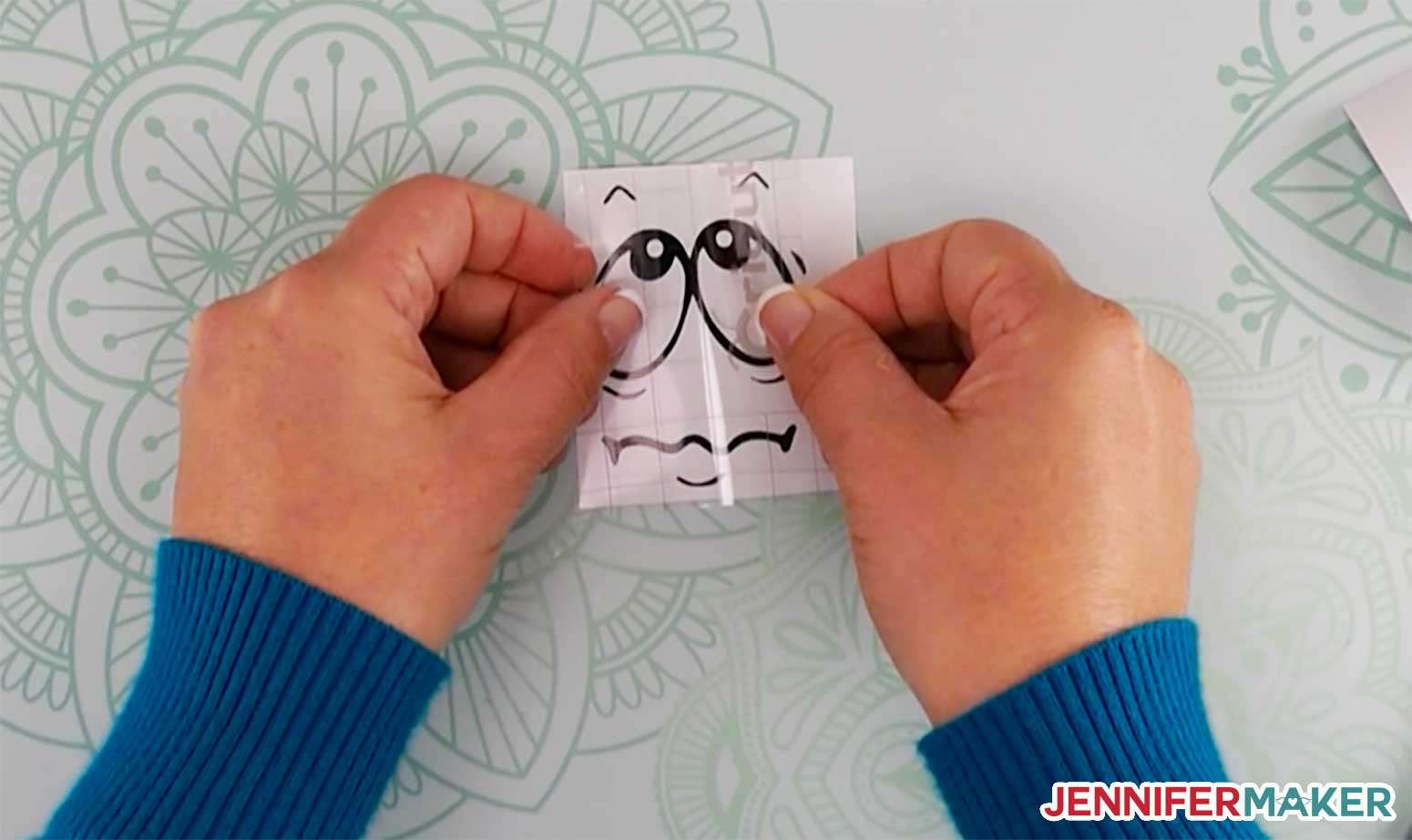 NOTE: Don't put the vinyl sticky side down on your work surface because that will just mess with your vinyl's ability to adhere to a mug.

Step 4: Apply the Vinyl to the Cricut Mug
Clean the surface of your mug with 91% isopropyl alcohol. This will remove any oil or dirt and get the surface as clean as possible. This will make sure the vinyl decal sticks and stays stuck permanently.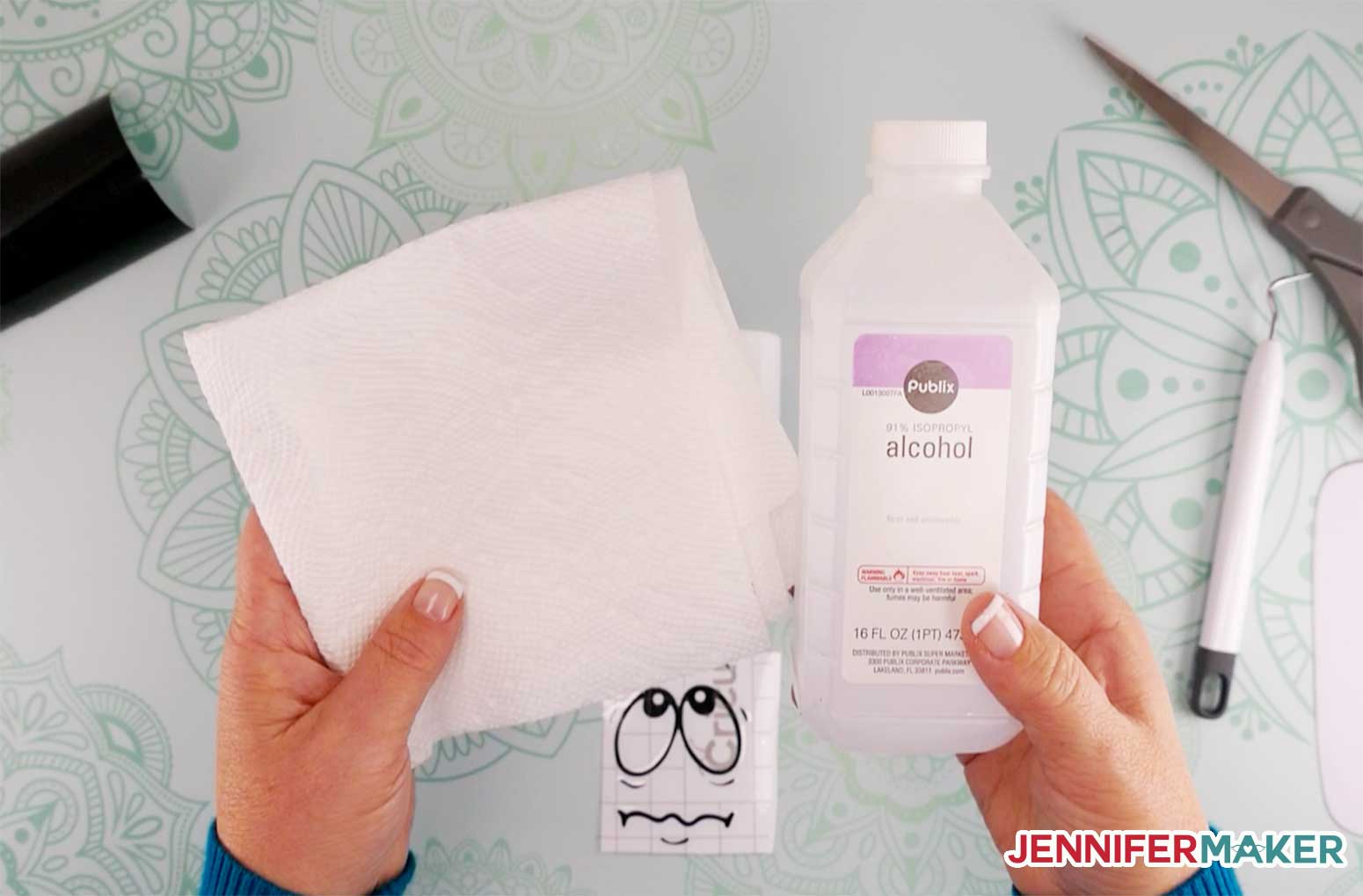 If your coffee mug surface is straight, you're good to continue on. If your coffee mug surface is curved, take small snips around the edges of the transfer tape on your vinyl decal. These snips allow your transfer tape to bend with the curve of the mug and allow you to apply it on that curve without any creases.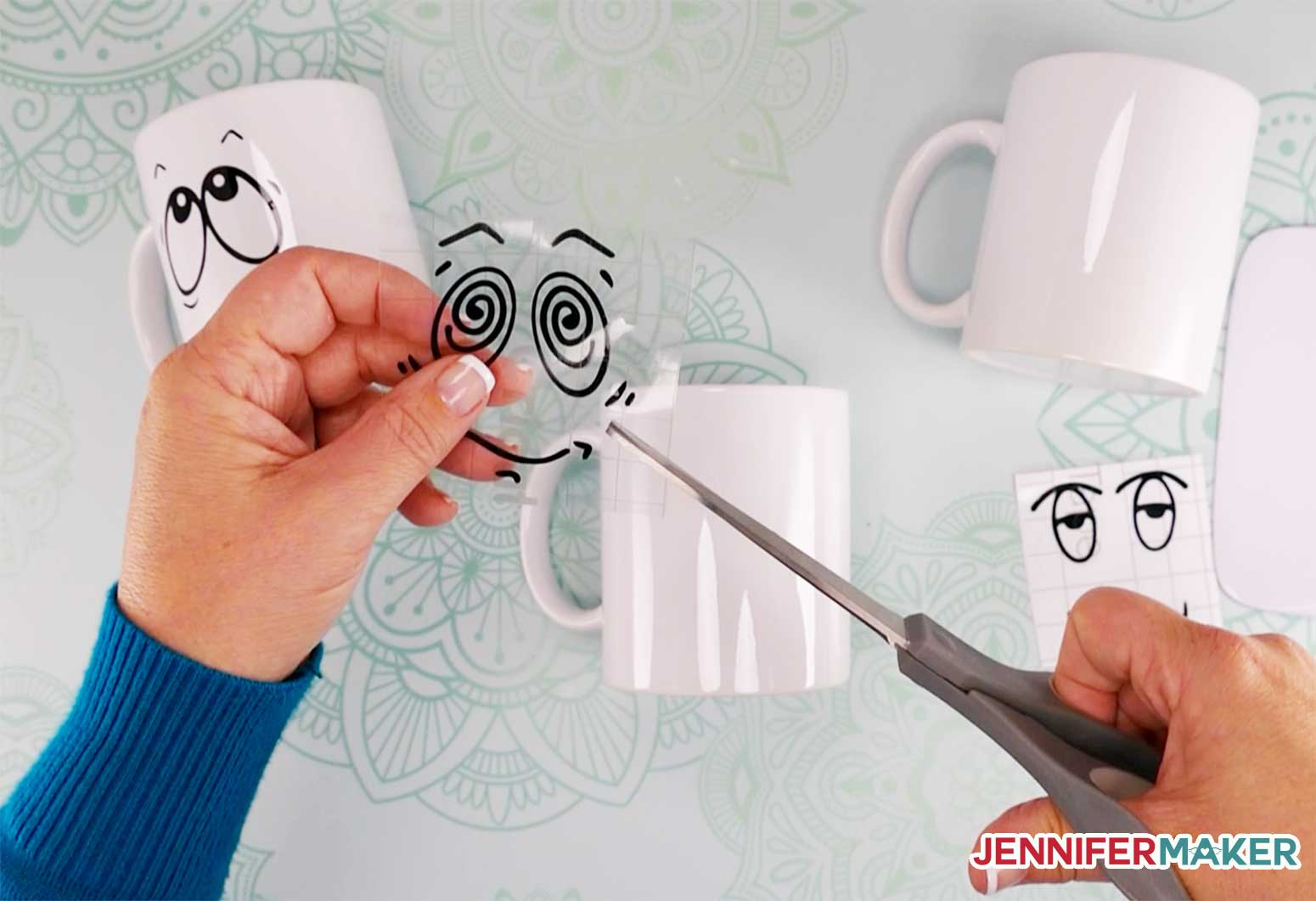 Apply the vinyl to the mug, and allow the vinyl to move where it wants to go naturally. Don't force it into a position. Just smooth it all down, and because you cut snips in the transfer tape, it will smooth and move into place.

So even though you may have creases in your transfer tape, you won't have creases in the vinyl. This is the secret to putting vinyl around a curved surface like this. And if you don't have a curved surface, this is even easier.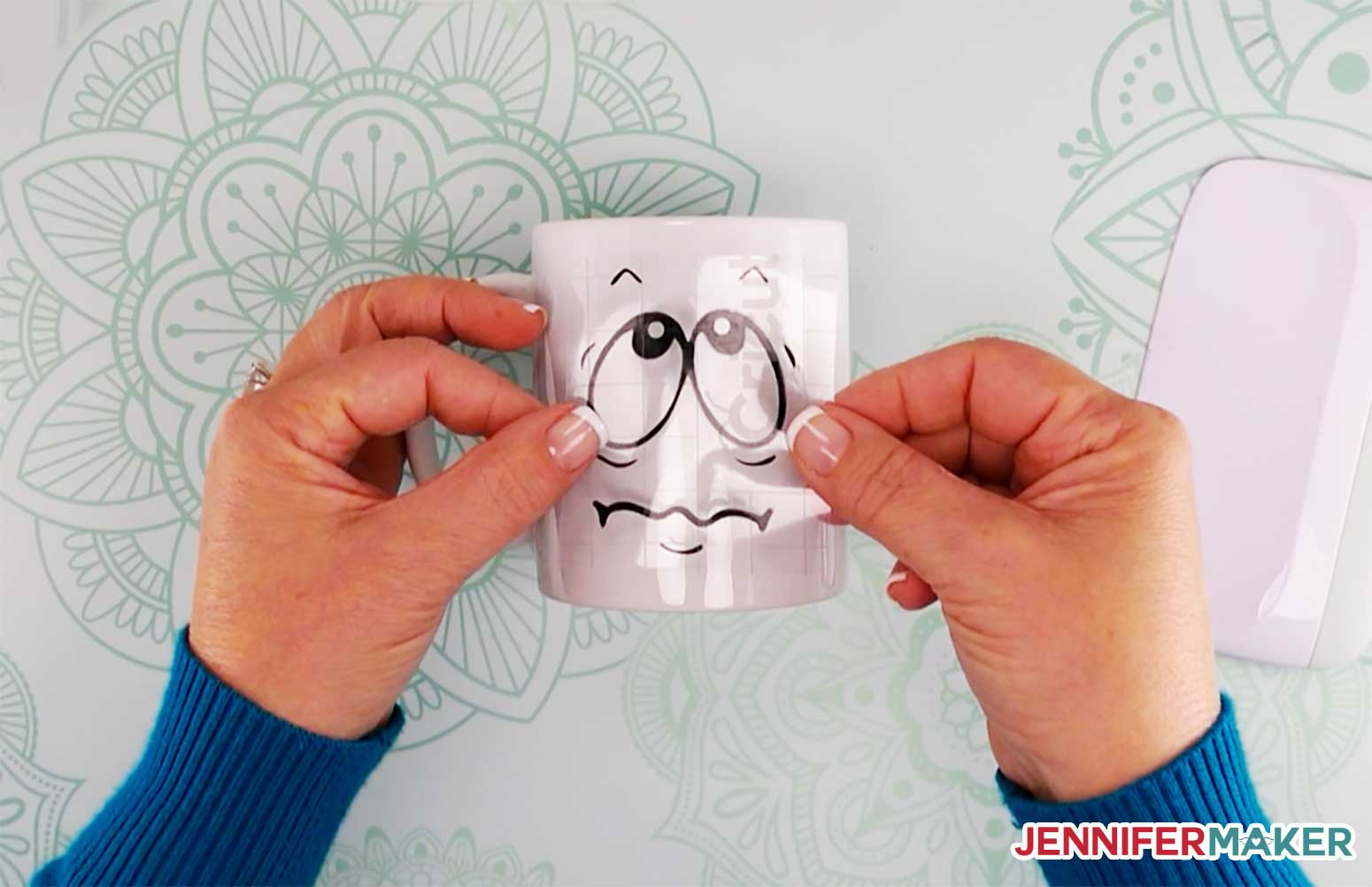 Take off all the transfer tape. Your goal is to see perfectly smooth vinyl on your mug with no creases.


Here's what your Cricut mug looks like with the vinyl on it: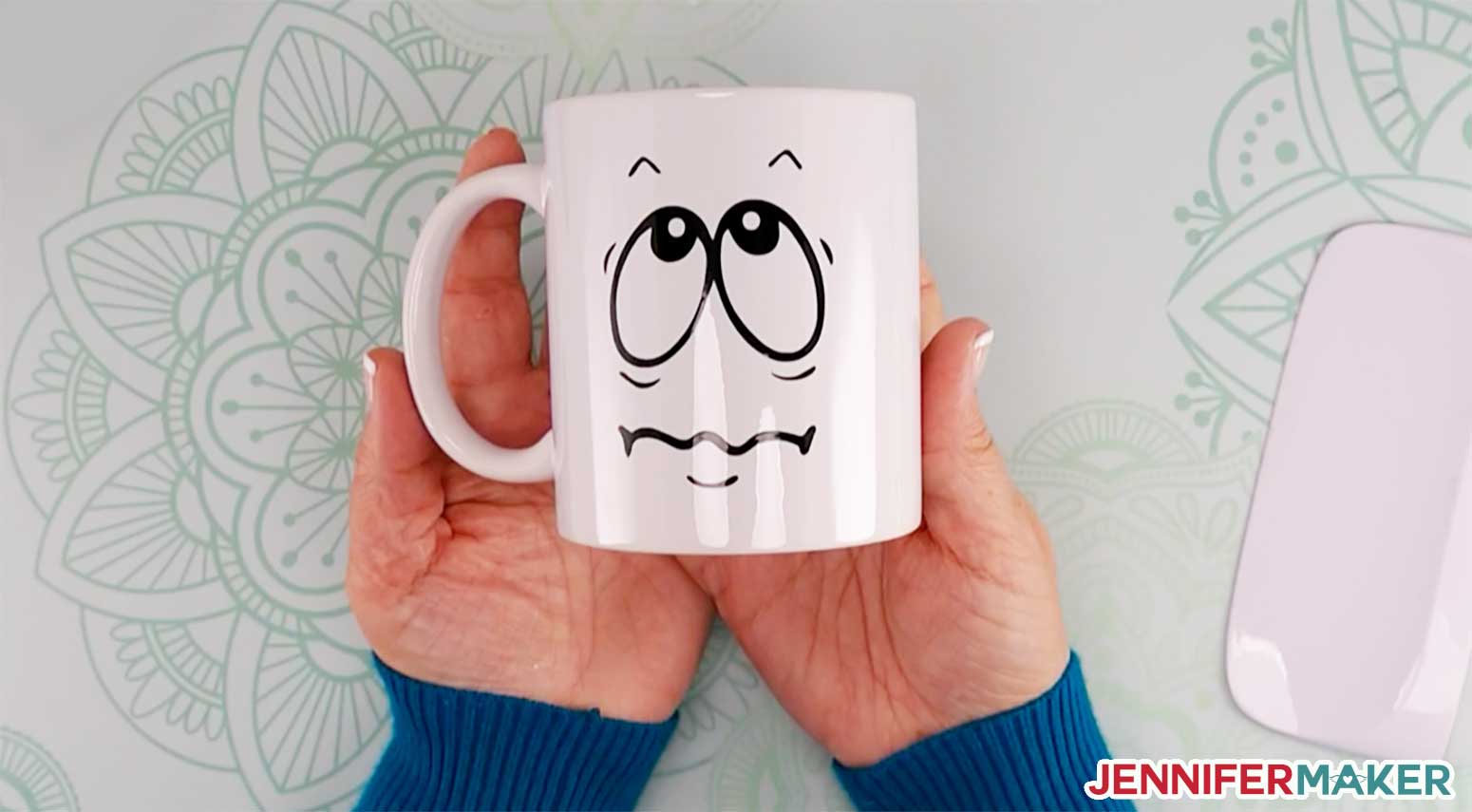 Step 5: Apply Sealer to the Cricut Mug
Permanent adhesive vinyl will hold up when hand-washed and can be run through the dishwasher... usually. It depends on your dishwasher and how rough it is with your dishes honestly. Even when you CAN dishwash your vinyl mugs, over time and after repeated washings, your vinyl may start to peel. So if you plan on cleaning your mugs regularly in a dishwasher, you can do that by sealing them with Mod Podge Dishwasher Safe Sealer.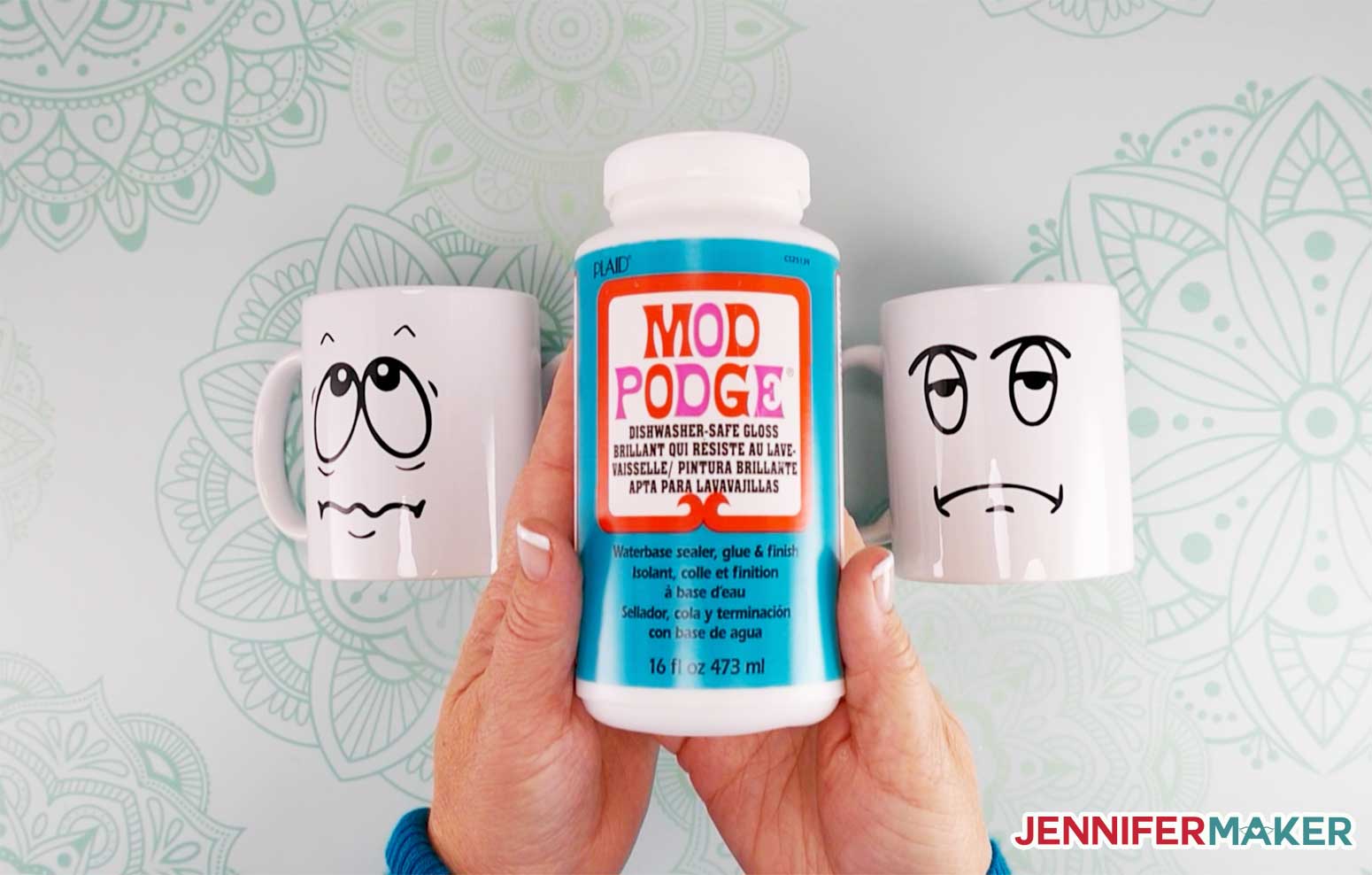 This sealer can hold up in heat and be run through a dishwasher. It is non-toxic, but since it is not FDA approved as food safe you may choose not to seal the area along the rim where your lips will touch the mug. I like to keep about a 1/2" area just under the rim unsealed.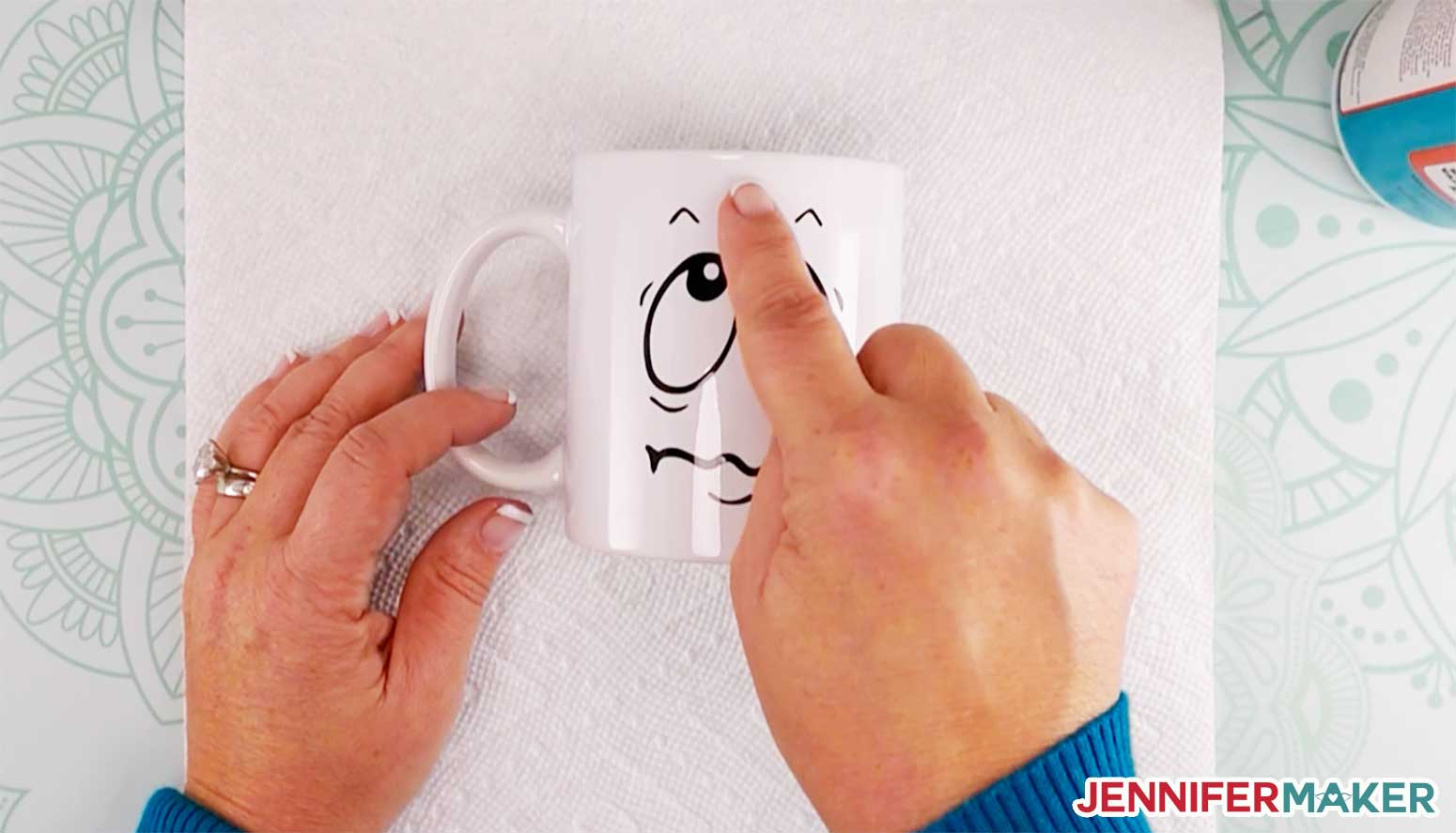 To seal your mug, first re-clean it all over since you've been handling it and don't want any lint or oils remaining. Follow the same process as before using 91% isopropyl alcohol.
Now, you will coat the entire mug (except the handle) because you'll want the mug to have the same texture all over. You may choose to seal only the vinyl, but just be aware that the texture may be noticeably different in the places you apply the sealer versus the areas where you don't.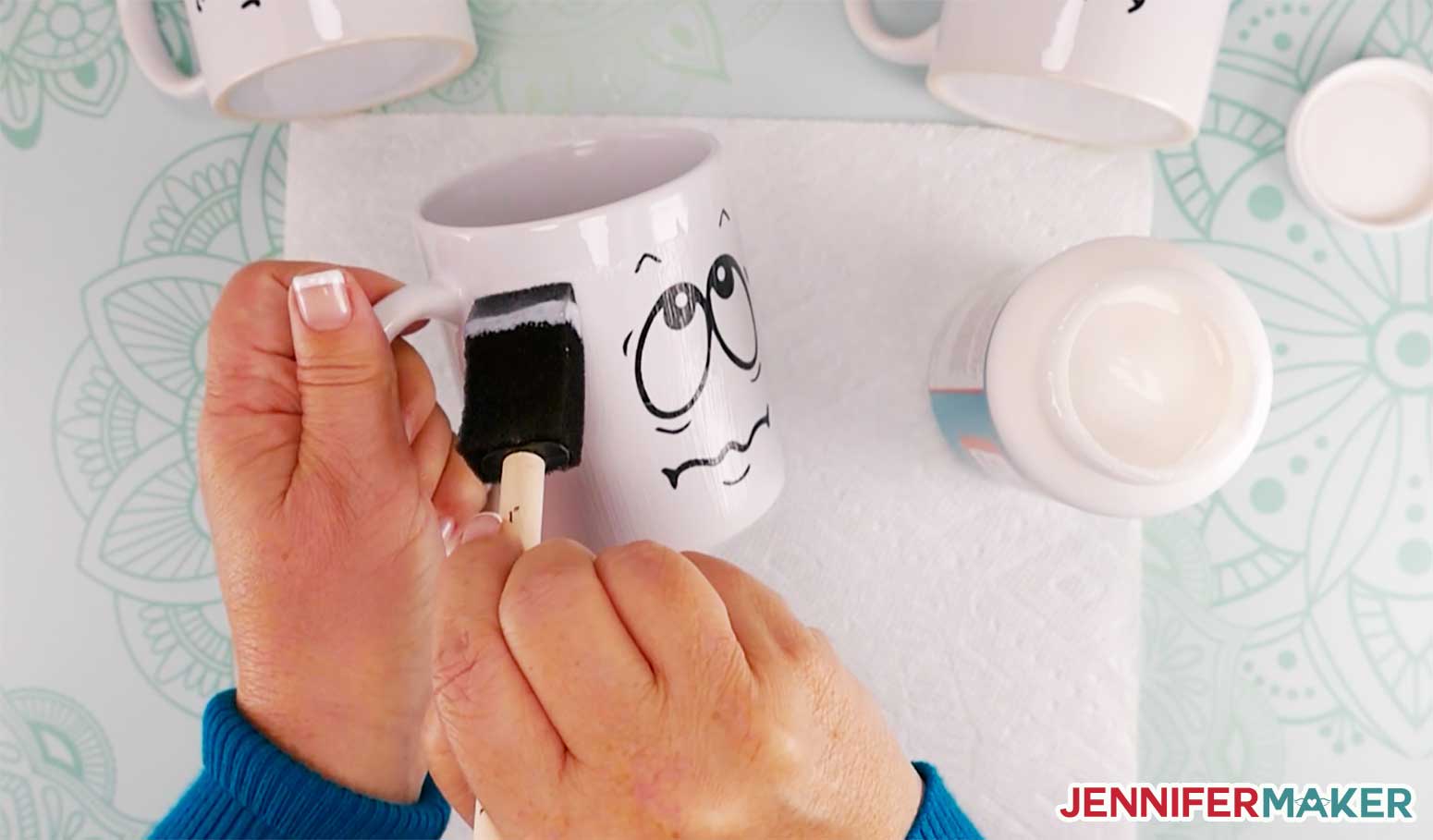 Brush a VERY THIN coat all over the mug using short strokes in the SAME direction using a soft and clean foam brush, leaving the area under the rim unsealed. For the smoothest finish, use as few brush strokes as possible, as it begins to set quickly. If you can brush it on with only one or two strokes, that is best. Let the mug dry an hour before adding a second coat. Repeat for a third layer.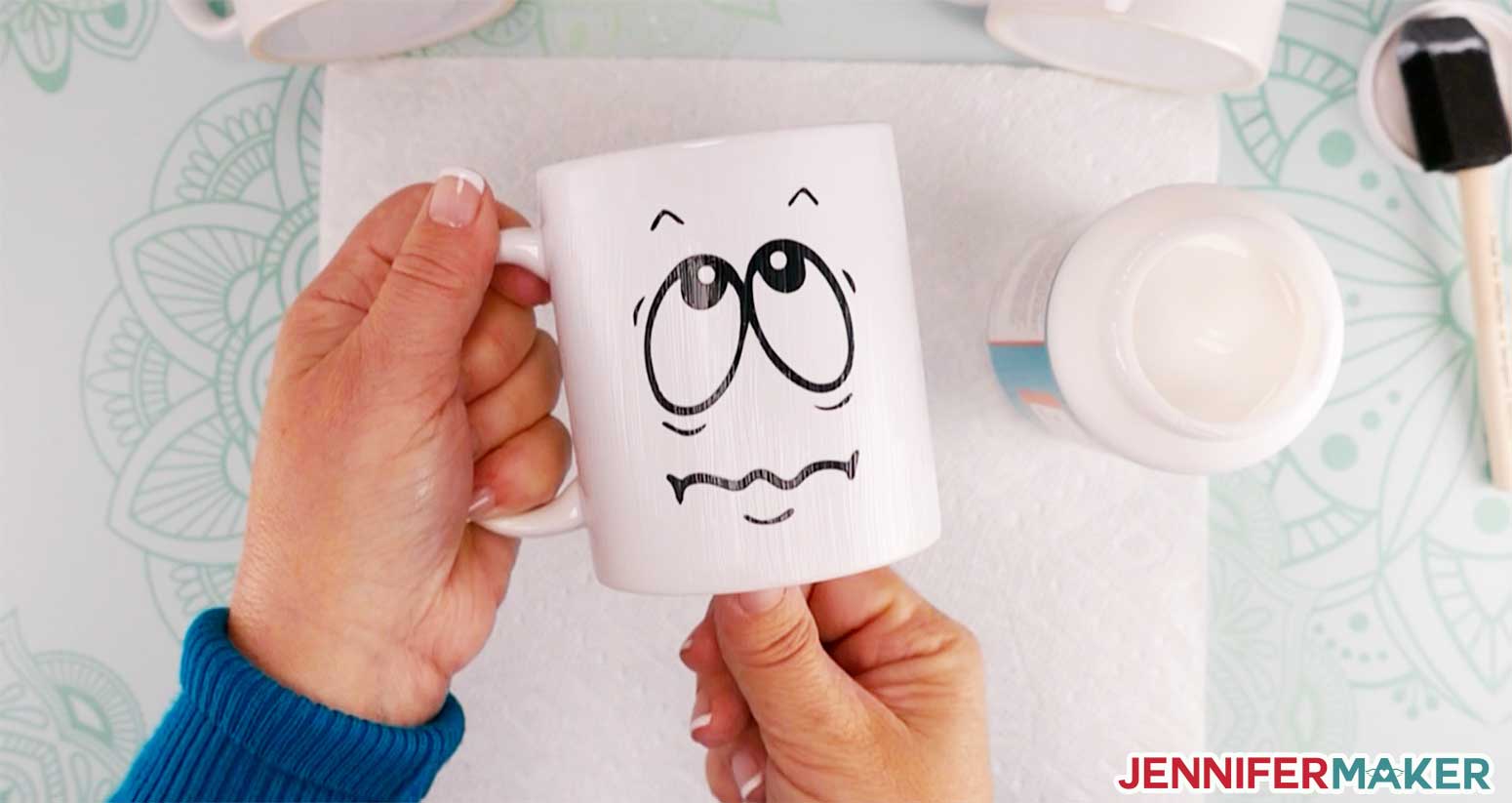 Note: The Mod Podge sealer will look streakier when it is wet, and will be less noticeable after it cures.

TIP: The Mod Podge Dishwasher Safe Sealer is best used on light colored mugs because the brush strokes will be less visible than when using it on dark colored mugs.

If you don't like the textured look of the Mod Podge sealer, or really wish you could microwave your Cricut mugs, here's a better solution for you!
Step 6: Cure Your Cricut Mug
After the last coat of sealer, set your mug in a clean, dry location to cure for 28 days before using. It will dry hard in a couple of days, but do NOT use the mug or expose it to water until the 28 days are up!

(Yeah, I know, that's a long time. If you don't want to wait that long, use Infusible Ink and the new Cricut Mug Press)

Now your mug is ready! Be sure to place it on the top rack of your dishwasher and it should last a very long time over repeated washings!
Notes
Special thanks to the Design Fairy Team, specifically Kelly and Debbie for helping me design and assemble these cute mugs!

Recommended Products
As an Amazon Associate and member of other affiliate programs, I earn from qualifying purchases.
Answers to Your Questions About My Cricut Mug Ideas
Q: What kind of vinyl can I use on my mug?
I used permanent adhesive vinyl for my Cricut vinyl mugs. Avoid removable and glitter vinyls, as they are less likely to stay stuck. See my tests with other vinyls in this video here.
Q: Can I use the Cricut Joy to make a mug?
Sure! Mugs are a great project for the Cricut Joy!
Q: Can I wash mugs made with Cricut vinyl in a dishwasher?
Yes, but handwashing is safest for a vinyl mug. If you do put it in a dishwasher, place it in the top rack only and then only after the vinyl has had about 24-48 hours to cure. For best results, use Mod Podge Dishwasher Safe Sealer and allow it to cure for 28 days before dishwashing.
Q: Can I microwave a Cricut mug?
I do NOT recommended you put a vinyl mug in a microwave as vinyl creates fumes when heated. If you need to microwave your custom mug, use the Cricut Mug Press to transfer Infusible Ink or print sublimation instead.
Get my free SVG files for all of my Cricut Mug Ideas
What mug will YOU make? I'd love to see your Cricut mug ideas! Please share a photo in our Facebook group or tag me on social media with #jennifermaker.
Love,