Learn how to make this Christmas Tree Advent Calendar to countdown to the big day!
Family gatherings. Holiday songs. Special treats. These are just some of my favorite things at the holidays. But you know why I REALLY love the holiday season? It's because I have more opportunities to give presents to those I love. And this year, I'm including my blog and all of my lovely readers in this gift giving extravaganza. Beginning December 1st, I am embarking on a project called MAKE IT MERRY: 25 Days of Maker Projects. That means each day I will have a new project for you here on the blog—it's a virtual advent calendar. And to get us started, I've offer this super cute and easy-to-make Christmas Tree Advent Calendar.
//static.leadpages.net/leadboxes/current/embed.js
The inspiration for this calendar came from my love of Christmas trees (I've had one up in my craft room for over a month now!). But I can't take credit for the original idea for this design. I spotted something similar on Pinterest over on a French scrapbooking blog, which inspired me to design what you see here. It is completely created from scratch, with nothing more than a little photo to go on. It took about 10 tries to get all those angles right! But the end result for you is an easy to cut and fold project. It only takes a couple of hours to make.
The free pattern for this Christmas Tree Advent Calendar is in my free resource library (it's design #64) and it's available in SVG and DXF for those with cutting machines, and PDF for those who want to cut it out by hand. Get the password to my resource library by filling out the form at the bottom of this post!
If you make this Christmas Tree advent calendar, please let me know! Share a photo with me at [email protected] or share it over in our Facebook group. Here are some Christmas Tree advent calendars made with my pattern by my readers:
This sweet candy-colored Christmas Tree calendar was made by reader Robin Nahhas as her VERY FIRST PROJECT with her new Cricut (after she made the tutorial project)!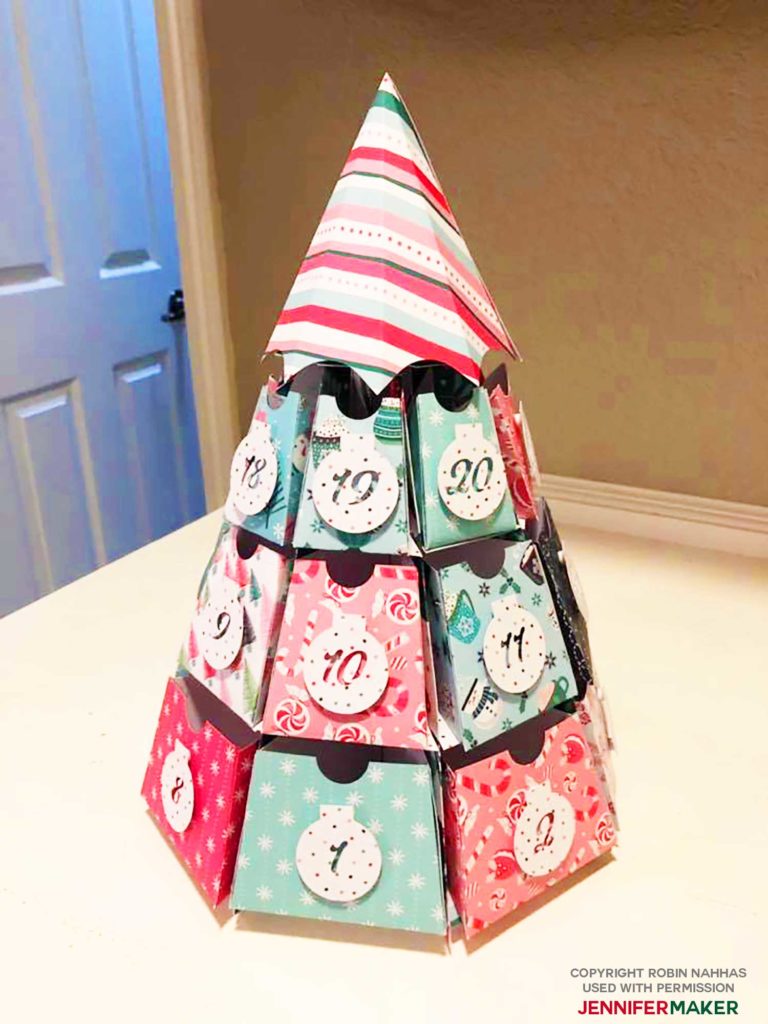 Here is a pretty pastel advent calendar made by reader Amy at Amygonnacraft.com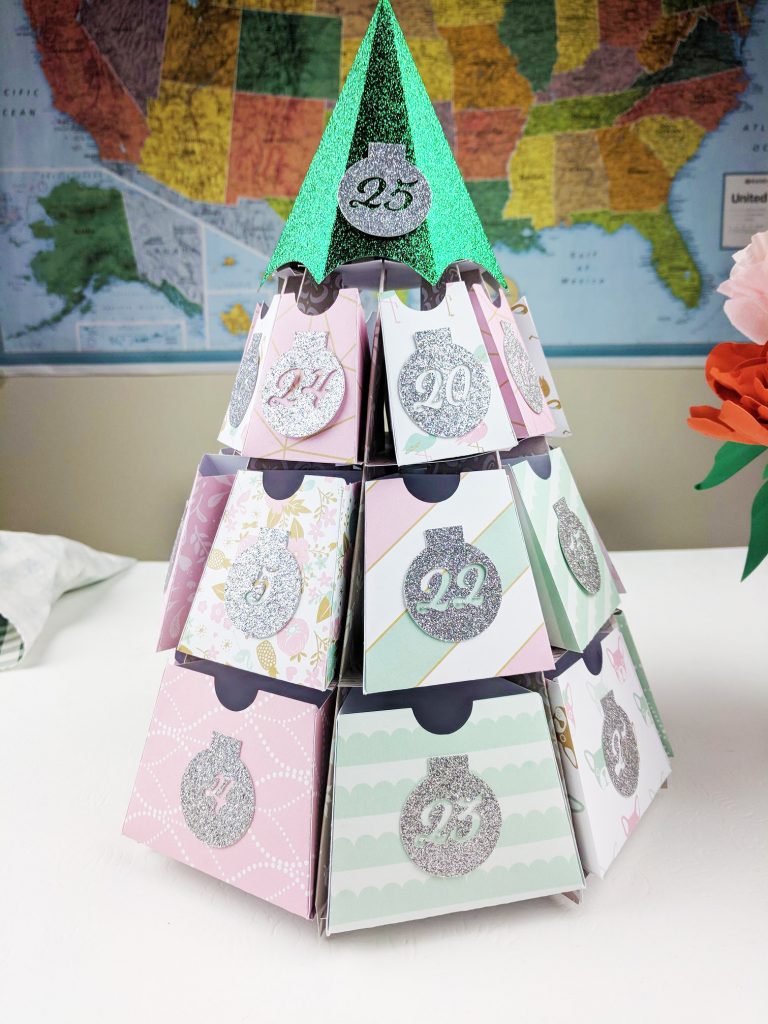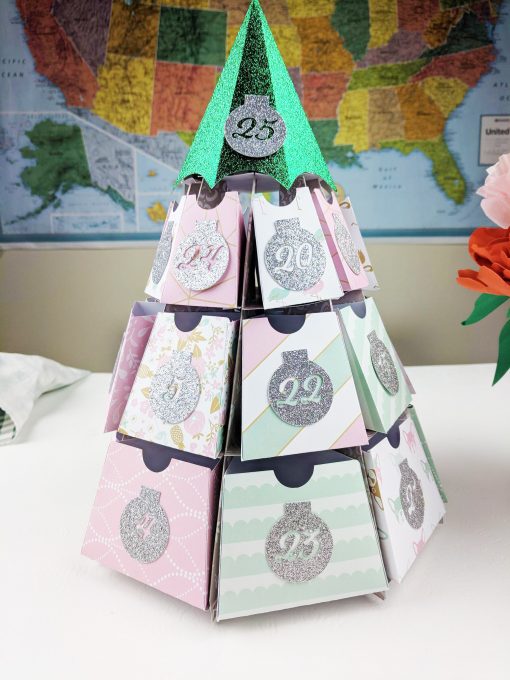 And check out this festive version by Barb Schafer, who did a lovely job on her Christmas Tree Advent Calendar: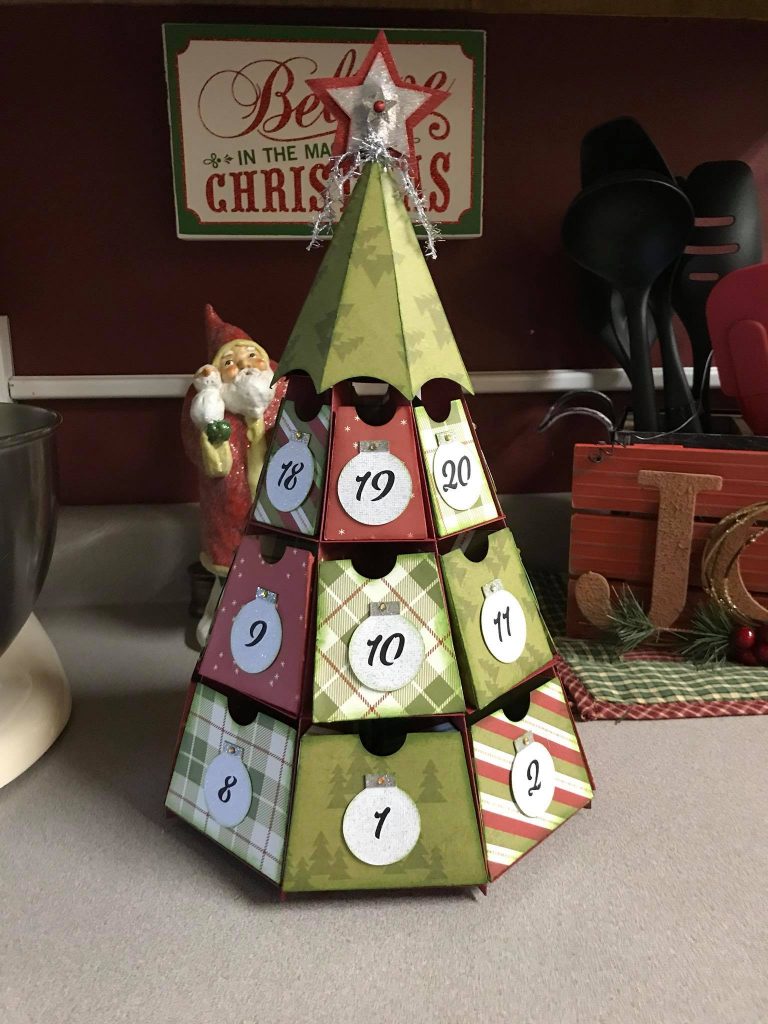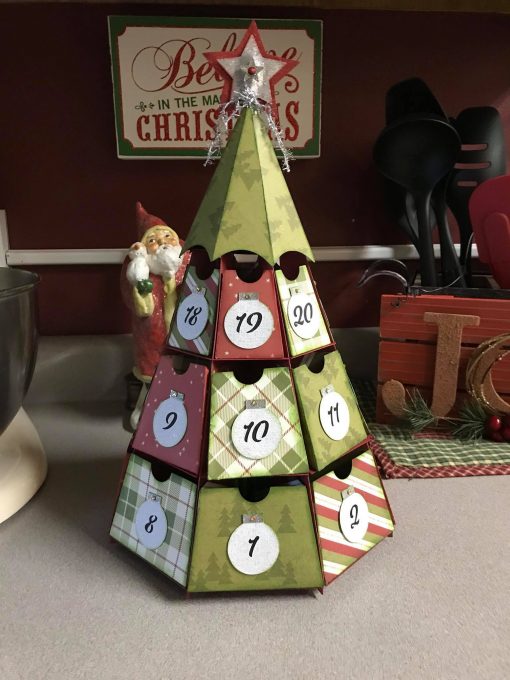 And here is a lovely gold, blue, and red version made by reader Jane Johnson: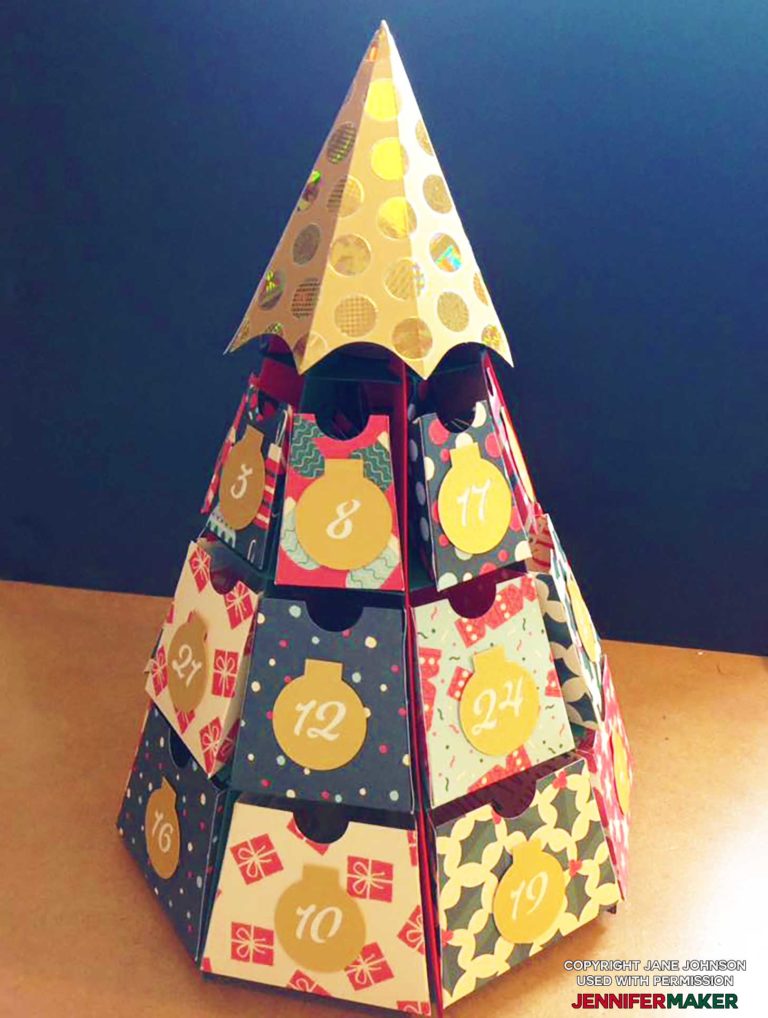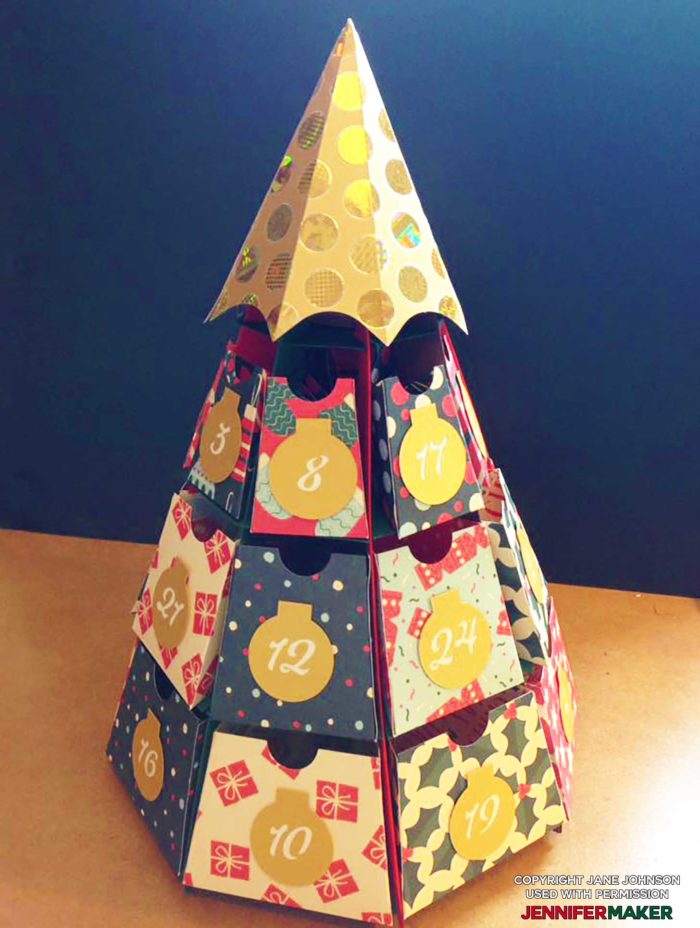 I'm so excited to show this fun and easy advent calendar to you! This post contains some affiliate links for your convenience (which means if you make a purchase after clicking a link I will earn a small commission but it won't cost you a penny more)! Read my full disclosure policy.
Christmas Tree Advent Calendar Materials
How to Assemble the Christmas Tree Advent Calendar
Watch my full assembly video in my new craft room!
First, cut out all your pieces using the file (Design #64) from my free resource library (get the password to it in the form at the bottom of this post). If you use a Cricut cutting machine, I've made this easier for you by pre-attaching all of the score lines to the base layers (updated in October 2020). All you should have to do is upload and click Make It. If you're not sure how to upload a SVG, please watch my SVGs Made Simple training videos.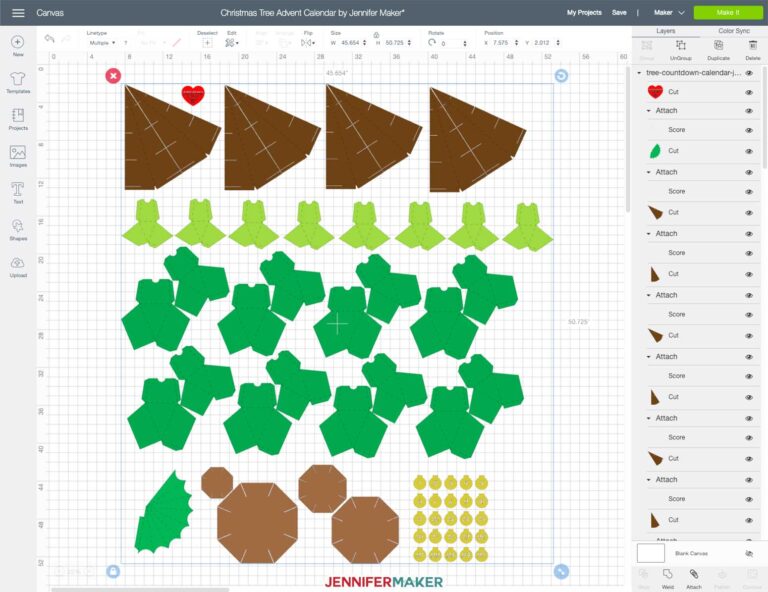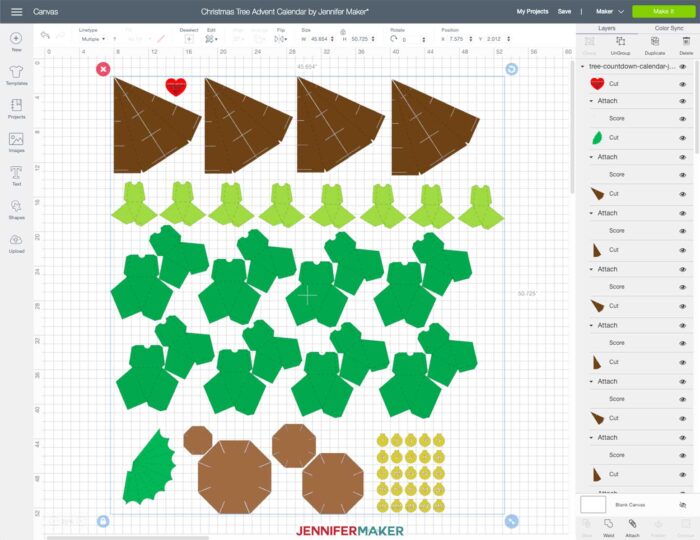 I also have a version of this design that has perforated designs instead of scored lines — this is for those of you who do not have a scoring stylus or scoring tool. It will take a little longer, but it will be a little easier to fold.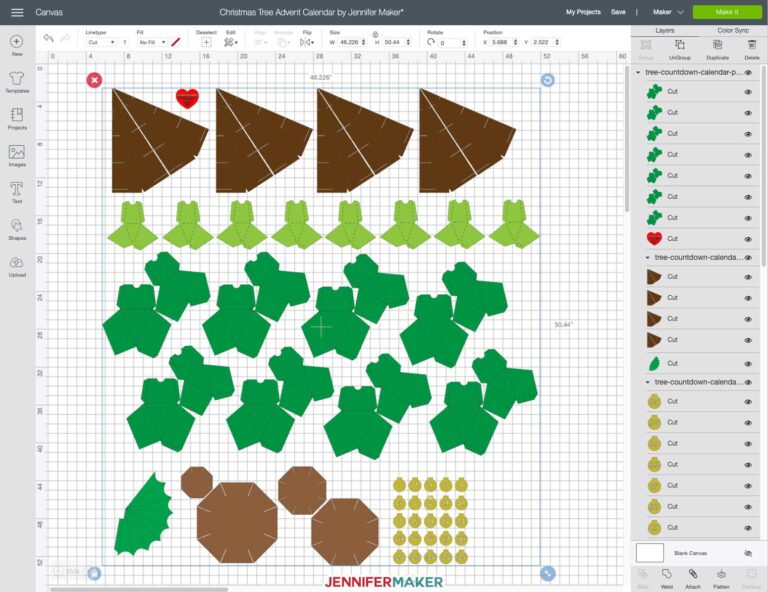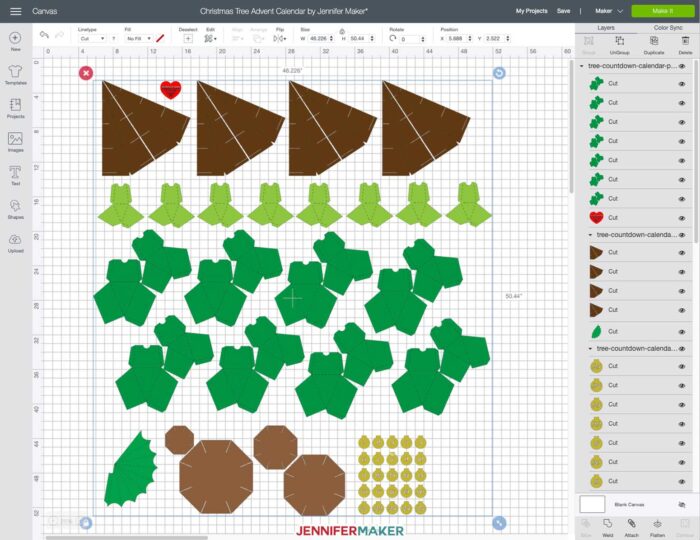 Note: The SVG files may not import in at the correct size. If you have issues, resize the entire grouped image set to 45.654 wide by 50.724″ high. And just for reference, here are the exact sizes of each piece:
Set of 2 vertical supports (there are four sets of 2): 10.233 inches wide by 11.133 inches tall
Small drawer (there are eight of these): 5.429 inches wide by 5.179 inches tall
Set of medium and large drawer (there are eight of these): 11.455 inches wide by 11.098 inches tall
Tree top (just one): 6.197 inches wide by 8.889 inches tall
First set of octagonal bases (largest and smallest): 10.153 inches wide by 10.153 inches tall
Second set of octagonal bases (two medium sizes): 10.575 inches wide by 10.449 inches tall
Number ornament tags (there are 25 of these): 1.328 inches wide by 1.507 inches tall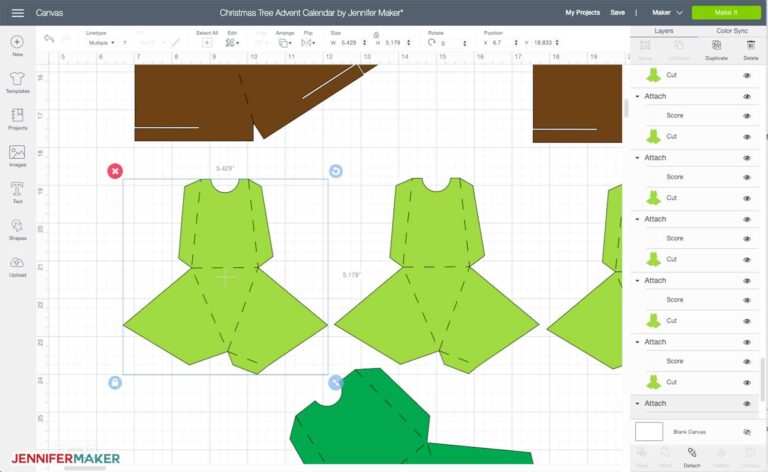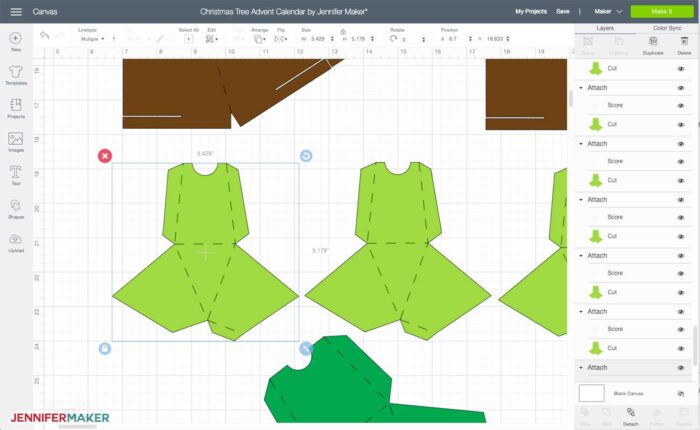 Tip: When you cut these on a cutting machine, put your holiday themed paper FACE DOWN—this way your paper will get scored on the back, making it easier to fold in the proper way with your holiday paper face out. You do NOT need to mirror this project.
When finished cutting, you'll have 61 pieces: eight vertical supports, four octagonal horizontal supports, 8 small box pieces, 8 medium box pieces, 8 large box pieces, the tree top piece, and 24 ornament numbers. All but the horizontal supports will require folding.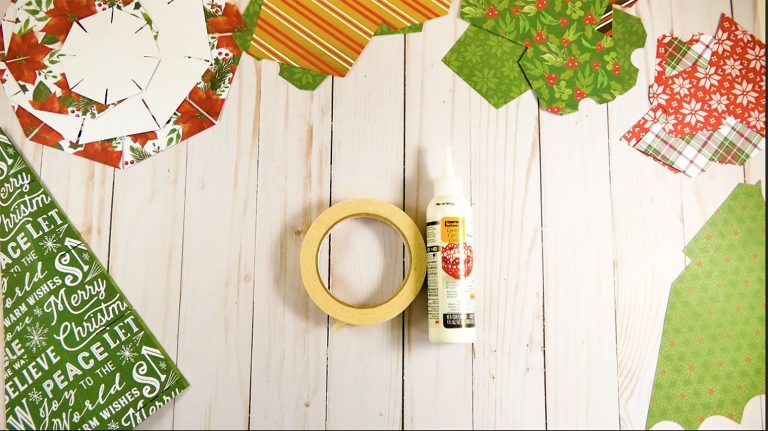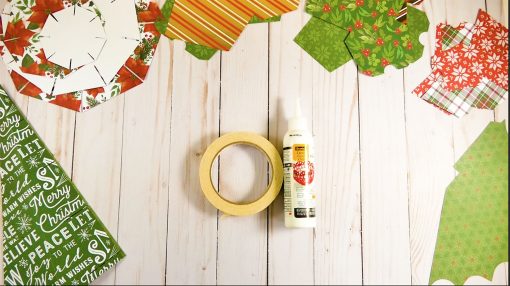 Begin by folding the eight vertical supports. Just fold them in half along the score line. You want to line up the four slots along the side as best you can. If you are off a bit and the slots overlap, just trim them a bit so there's a clear slot—you'll need this to create a stable structure.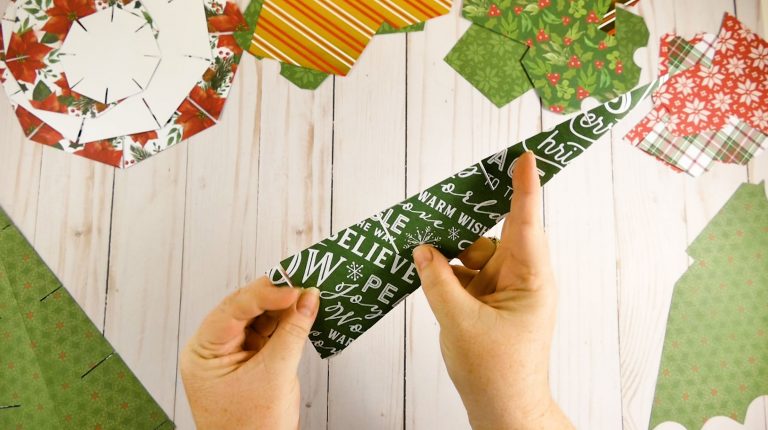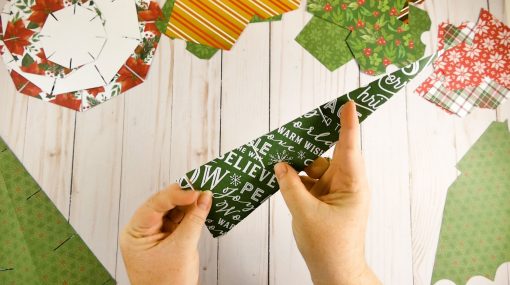 Keep the supports folded and closed with a line of glue along the edge.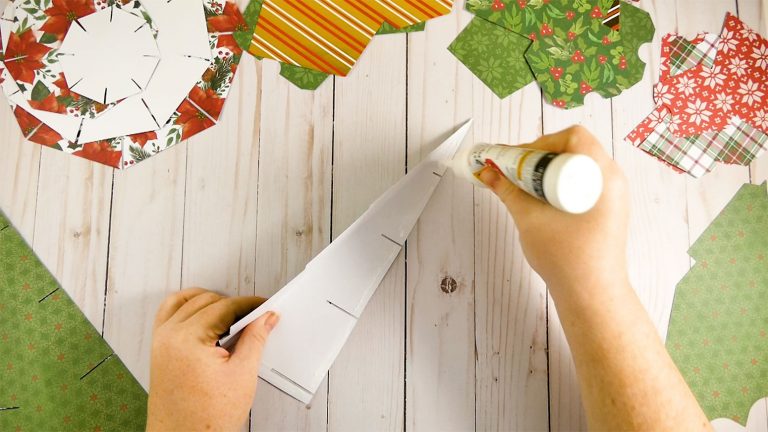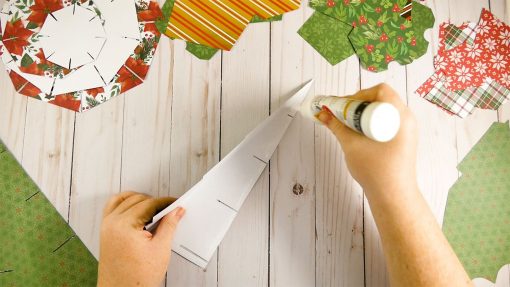 Now begin sliding each vertical support into the slots on the octagonal bases, starting with the largest (bottom) octagons. I found it easiest to slide the vertical supports into the two bottom octagons first, then go back and do the top two octagons. Make sure everything is slid in all the way.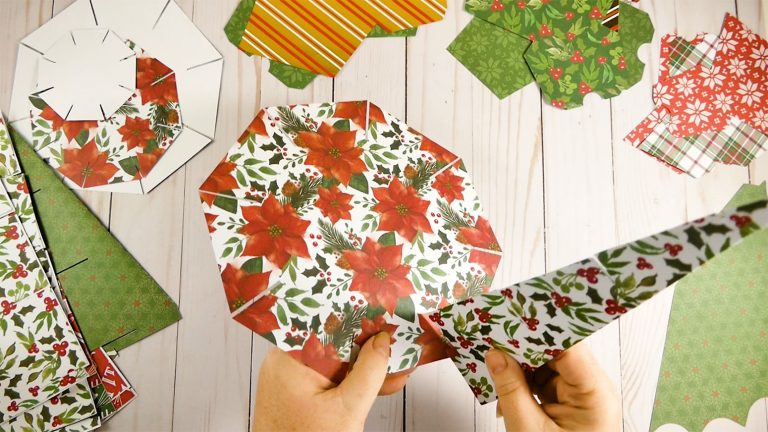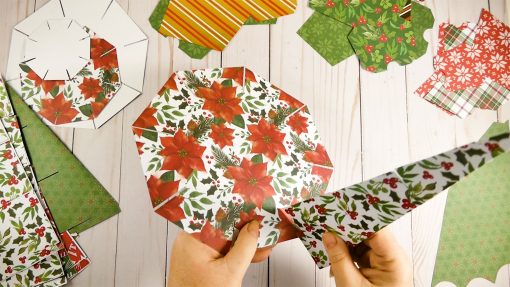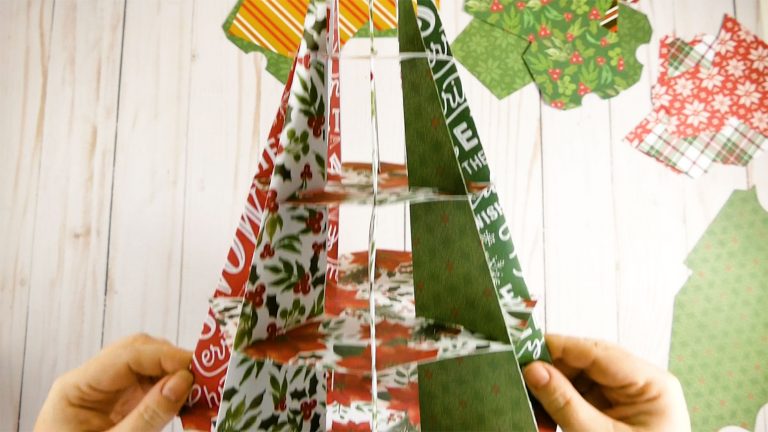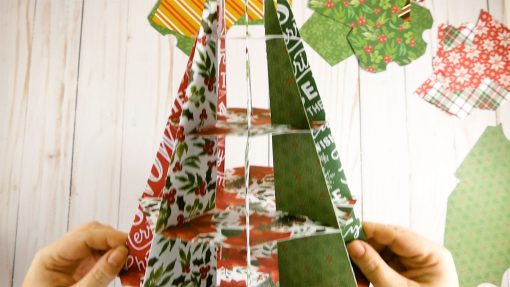 Fold up each of the 24 box drawers by first folding along all the score lines, then gluing the tabs to the sides. I found it easiest to glue the front two tabs, then glue the back tab.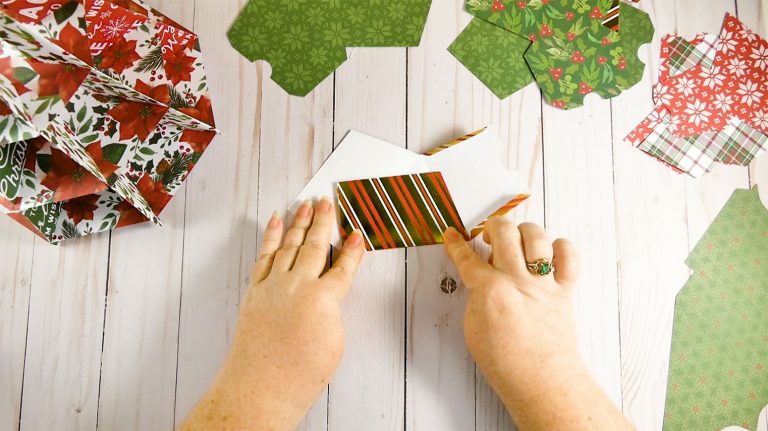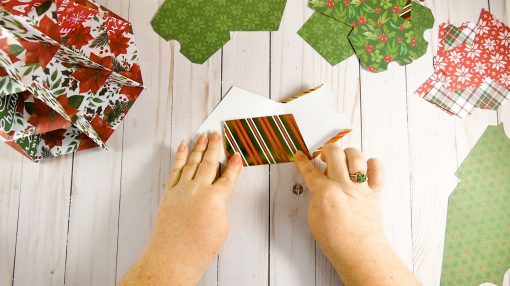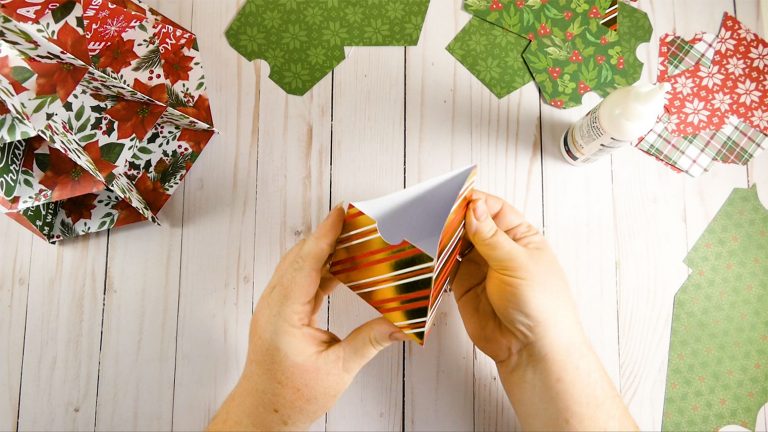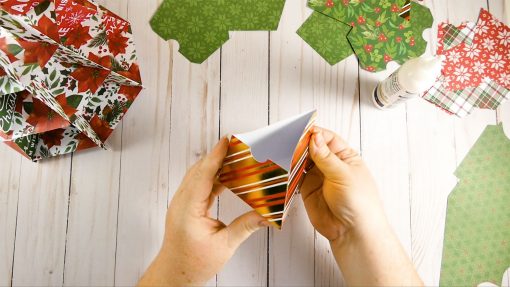 You can attach the ornaments as you please, but I chose to simply use masking tape so I could remove them or switch them up later. Sometimes you have larger gifts for a certain day that may need a larger drawer!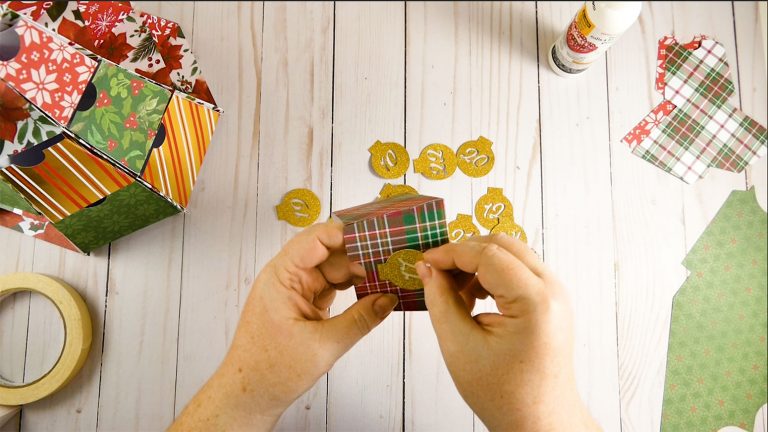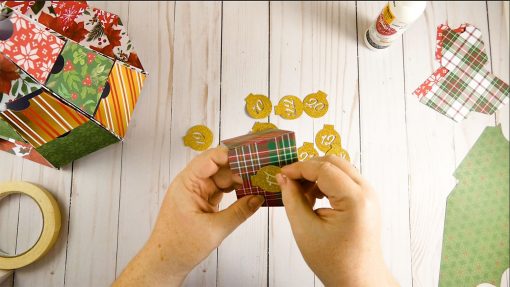 If you got the magnetic sheet, you can cut out the rectangles in the pattern using your Cricut and a deep-cut blade. To use them, peel off the backing and place it on the bottom front edge of the box, as shown here: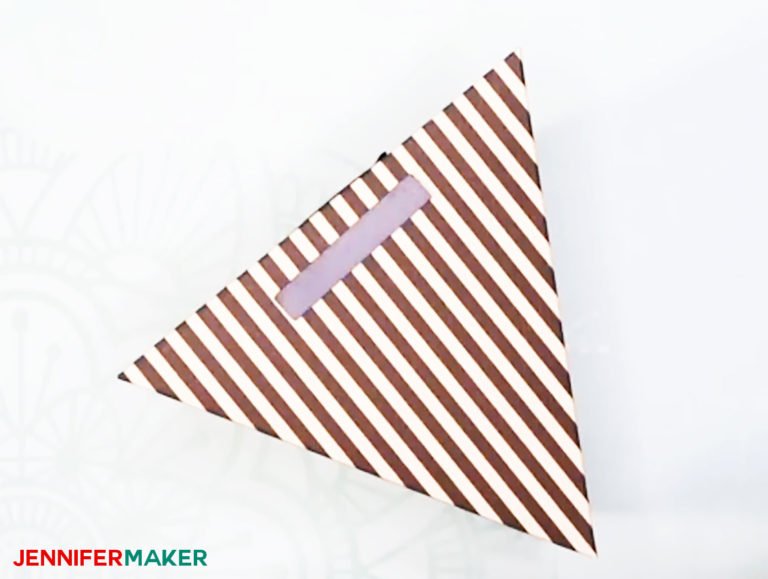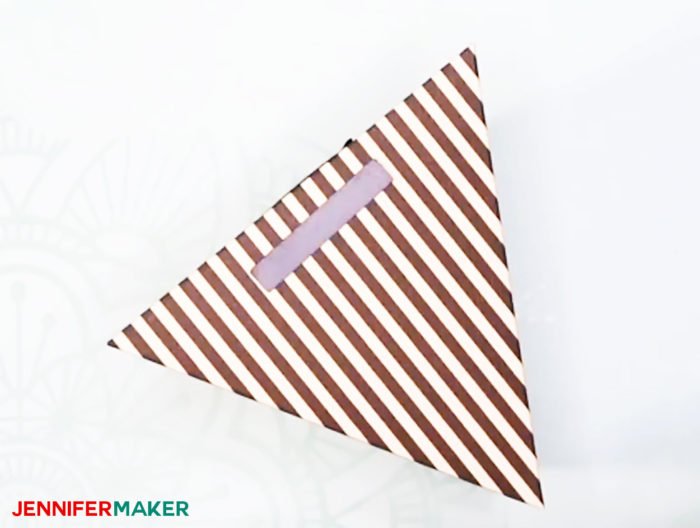 Now take another strip, peel off its paper backing, and place it MAGNET side down on the magnet you stuck to the bottom of your box. Pay attention to whether it attracts or repels itself. If it seems to repel, or not want to go on straight, turn it around 180°.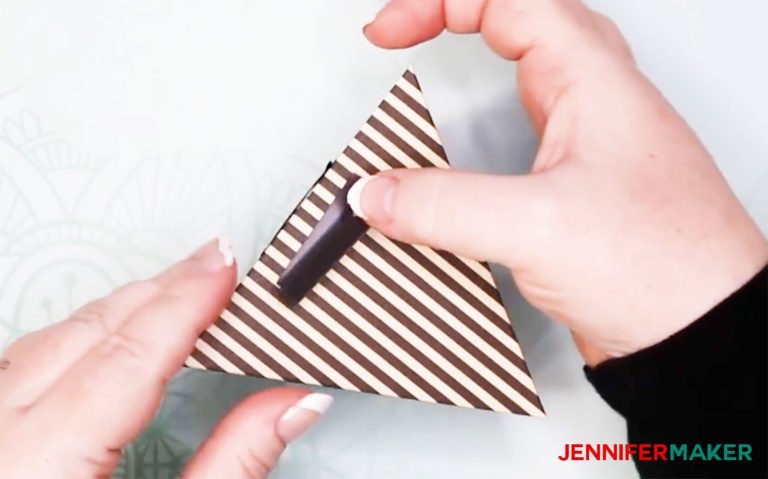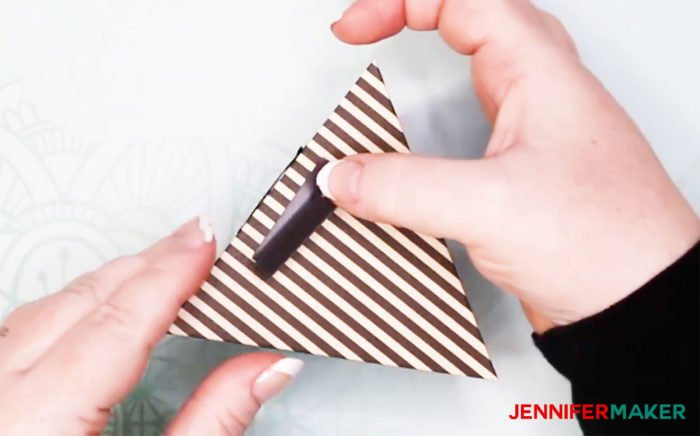 Now gently slide the box into the Christmas Tree Countdown Calendar without letting the bottom touch until it's in place, then press down gently. The adhesive on the second magnet should adhere to the cardstock of your calendar and remain there. If it does not, use a tool to press down on the box while you press up on the underside. This magnet will allow you boxes to stay in place even when they are not full.
To assemble the tree top, just fold along all score lines and glue the tab to the other side to create a cone. The assembled tree top just rests on top of your tree. And it is the secret hiding spot of day 25's gift—just lift off the top to see the gift!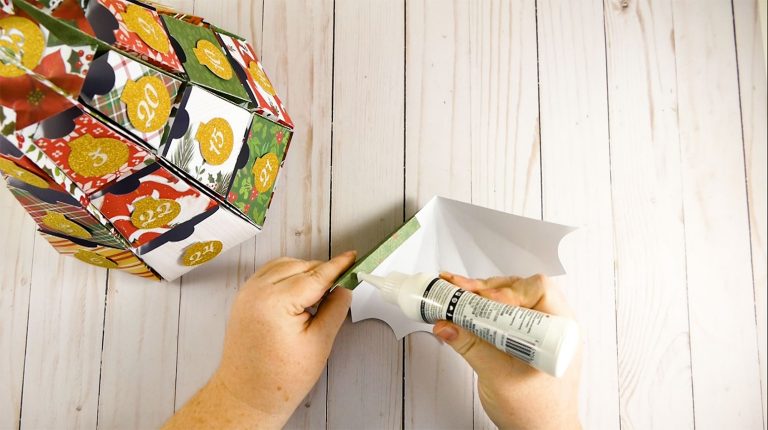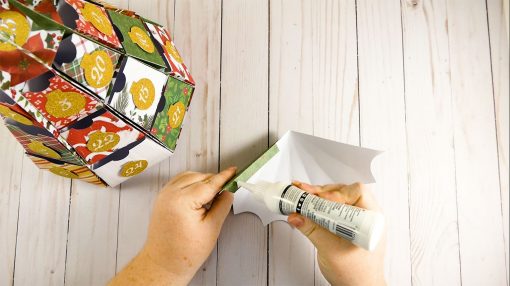 You may notice that the tree is missing something at the top. I think so, too! But not to worry—one of those "25 Days of Maker Projects" will include a beautiful tree topper you can make (both for this little advent tree and for a real tree). Which day? Who knows! You'll need to check back in and see!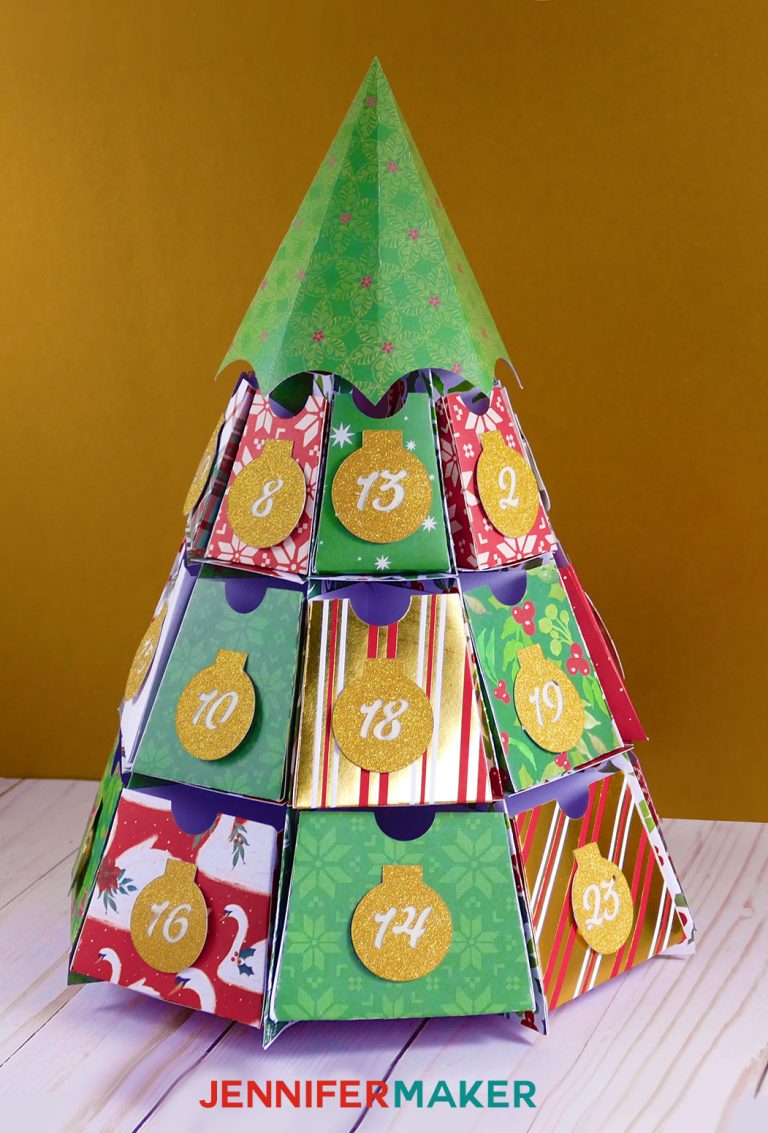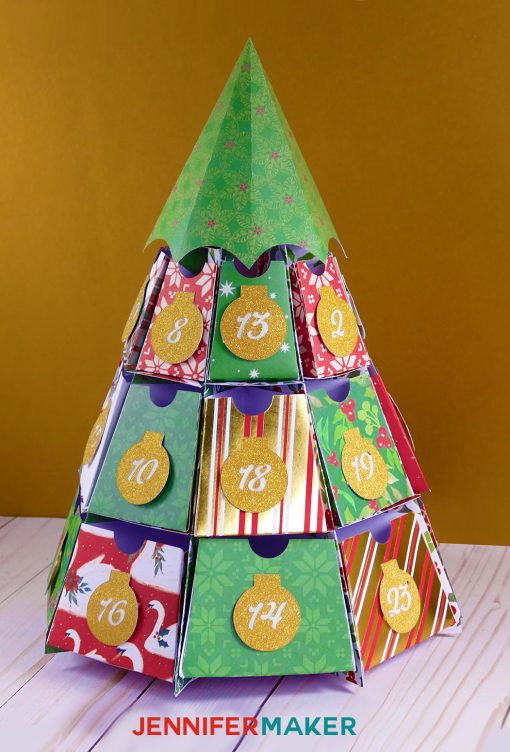 Get my free template and cut files for the Christmas Tree Advent Calendar
https://forms.convertkit.com/457882?v=7
Also, be sure to see all the fun crafty gifts in my MAKE IT MERRY: 25 Days of Maker Projects Christmas! If you want to be notified of when there is a new gift ready to open on my blog, just fill out this form!
Love,