Learn how to make a DIY faux terrarium using cardstock!
Succulents have been seriously popular for a while now, and for good reason — they're so cute! However, you may have discovered that real succulents can be finicky, and have perhaps lost some along the way. So, I decided to make an alternative. I took inspiration from real succulent species and created realistic succulent designs you can cut right on your Cricut! My cardstock succulents have been an absolute hit (and so have my felt ones), and many of you have asked for more ways to display them — and I listened. I'm so excited to show you my brand new design, a DIY faux terrarium to "plant" your paper succulents inside!
Want to save this project? Enter your email below and we'll send the project straight to your inbox.
Every time I look at these amazing little terrariums, I can't believe how real they look. At first glance, they really don't look as though they're made of mostly cardstock, do they? These are any easy way to enjoy the look of your own terrarium filled with beautiful succulents … with no green thumb necessary. Unlike live plants, these will never die!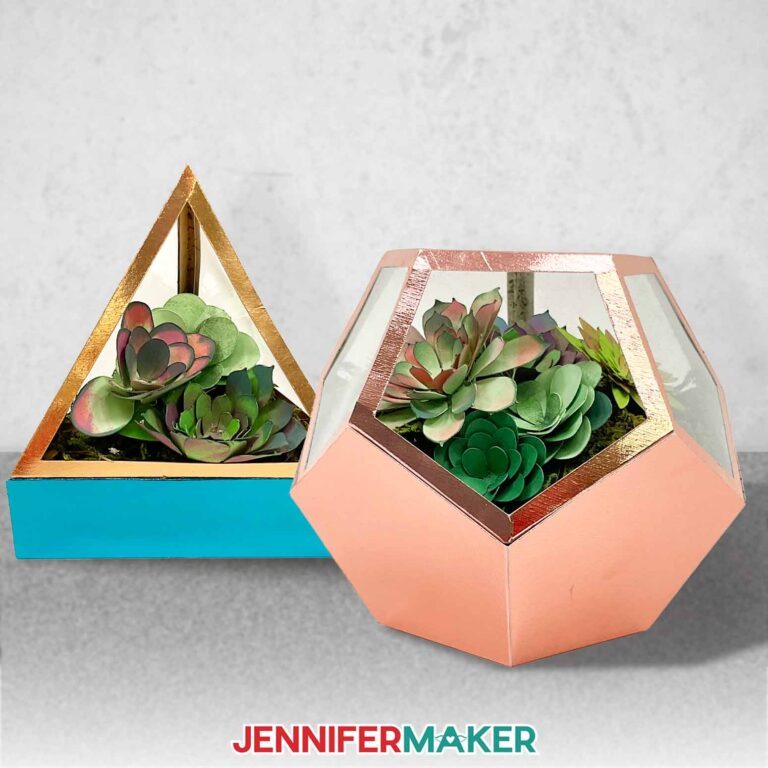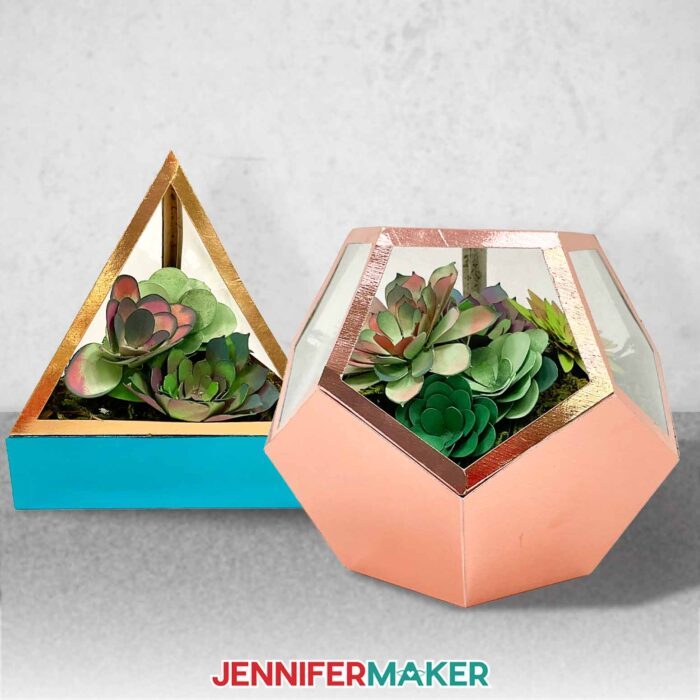 First I'll show you how to prepare and cut the pyramid terrarium files, then later on I'll cover the orb-shaped one. I liked using foil cardstock for the top part because it looks like metal, just like on a real terrarium. I'll show you how to create the terrarium itself, and then we'll prepare the base for faux succulents, also made of cardstock.
I'll even show you how to use your Cricut to cut acetate for the terrarium's windows. That's right, I spared no detail on this design! I wanted the final result to look as realistic as possible, just like one of those real metal and glass terrariums — and from a few feet away, it'll even fool your guests, too!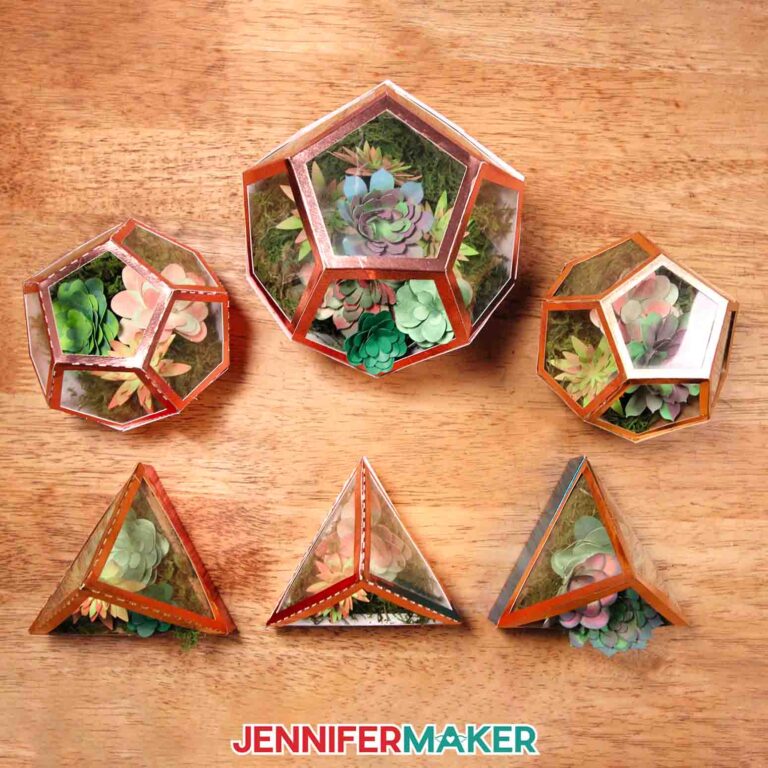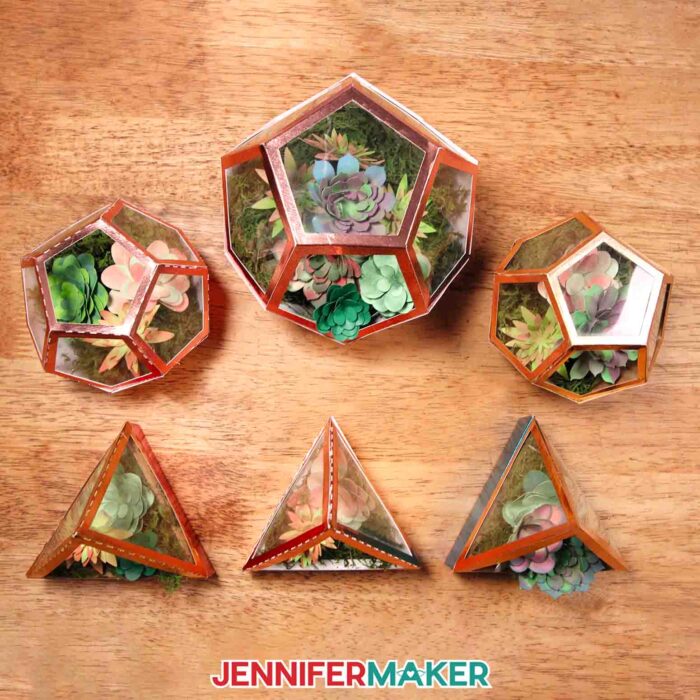 To prepare the base of your DIY faux terrarium (where you'll "plant" your fake succulents), I'll walk you through how to add floral foam, and then show you how to cover it with artificial moss so your beautiful terrarium looks like it's filled with luscious, real live plants.
After that, I'll show you how to assemble a few of my paper succulents, which are so fun and easy to make. But before we roll them and insert them into the bottom of the terrarium, I'll show you a neat trick for making your succulent leaves look super realistic.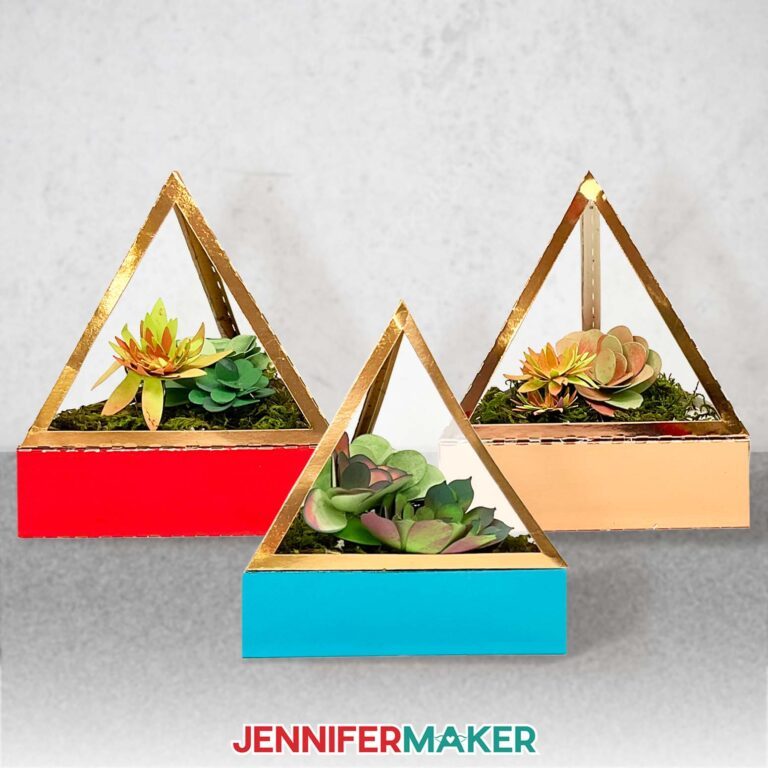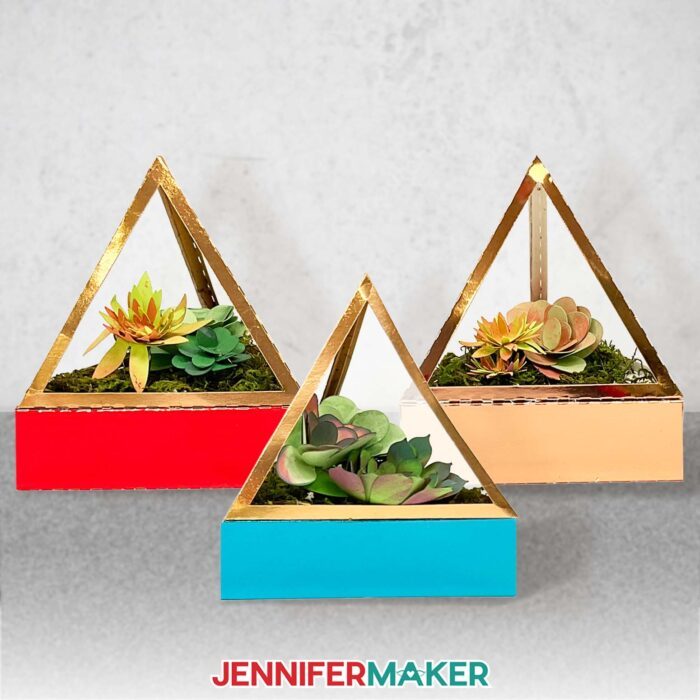 This is a really fun project with a a beautiful result! Succulent terrariums are a lovely addition to your home decor, and I can't wait to see how yours turn out. Whether you have a green thumb or a black thumb, creating a faux succulent terrarium is a great way to bring the look of real succulent terrariums into your home — without needing to worry about finding the perfect window or the right watering schedule!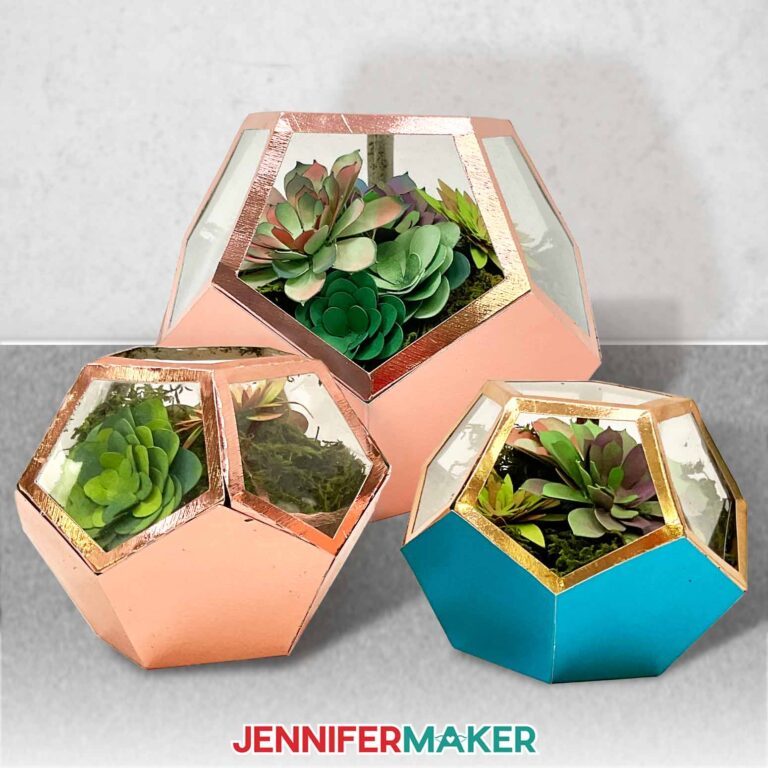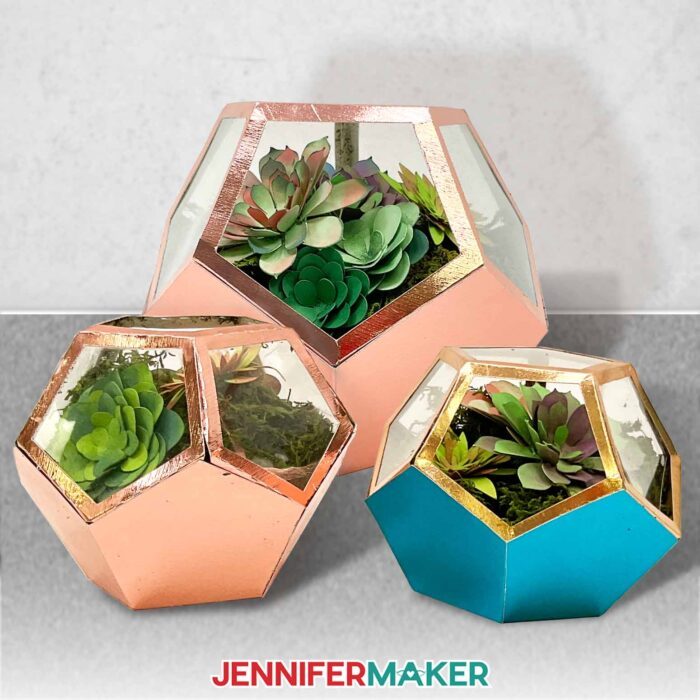 Here's a supply list of what you need to make a floating ornament using my floating ornament size chart! This post contains some affiliate links for your convenience (which means if you make a purchase after clicking a link I will earn a small commission but it won't cost you a penny more)! Read my full disclosure policy.
Materials and Tools to Make a DIY Faux Terrarium and Succulents
View my Amazon shopping list with the exact items we used to make this project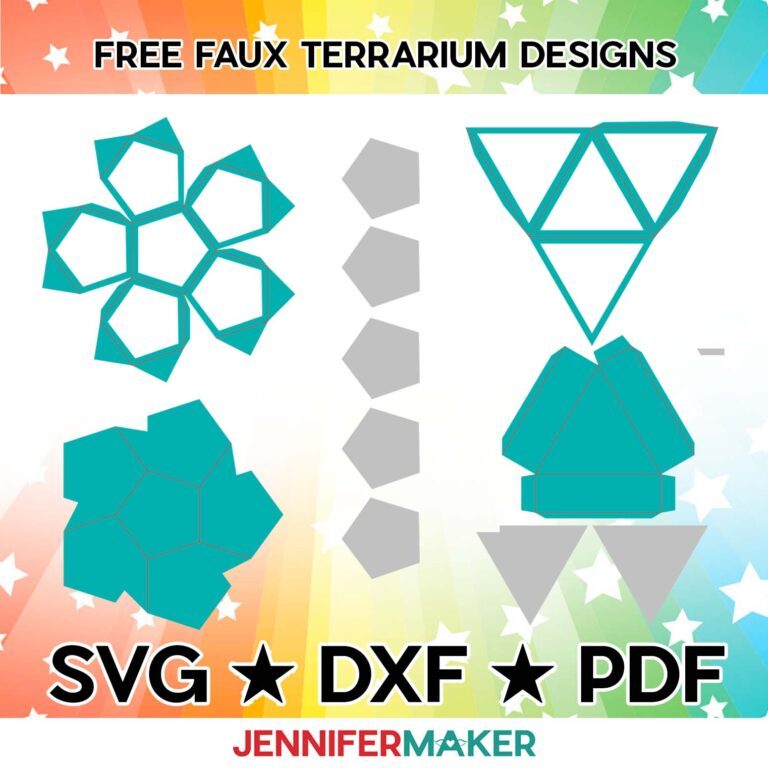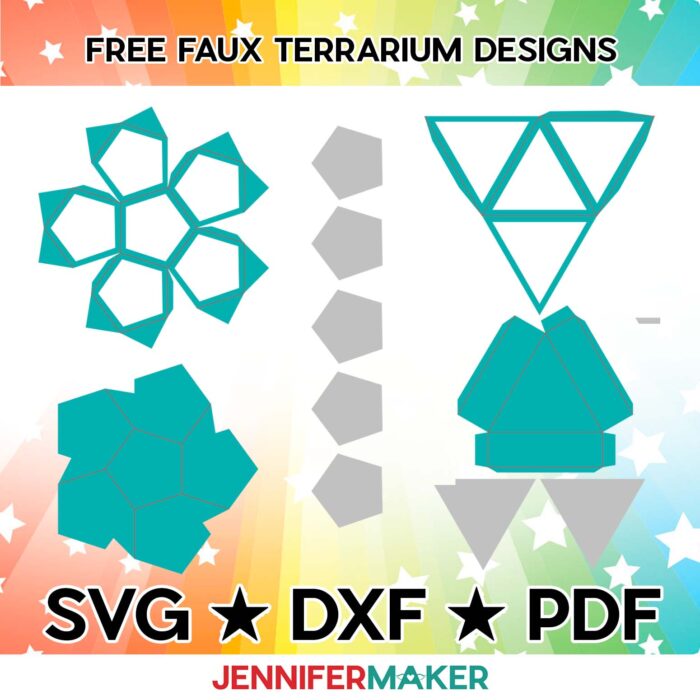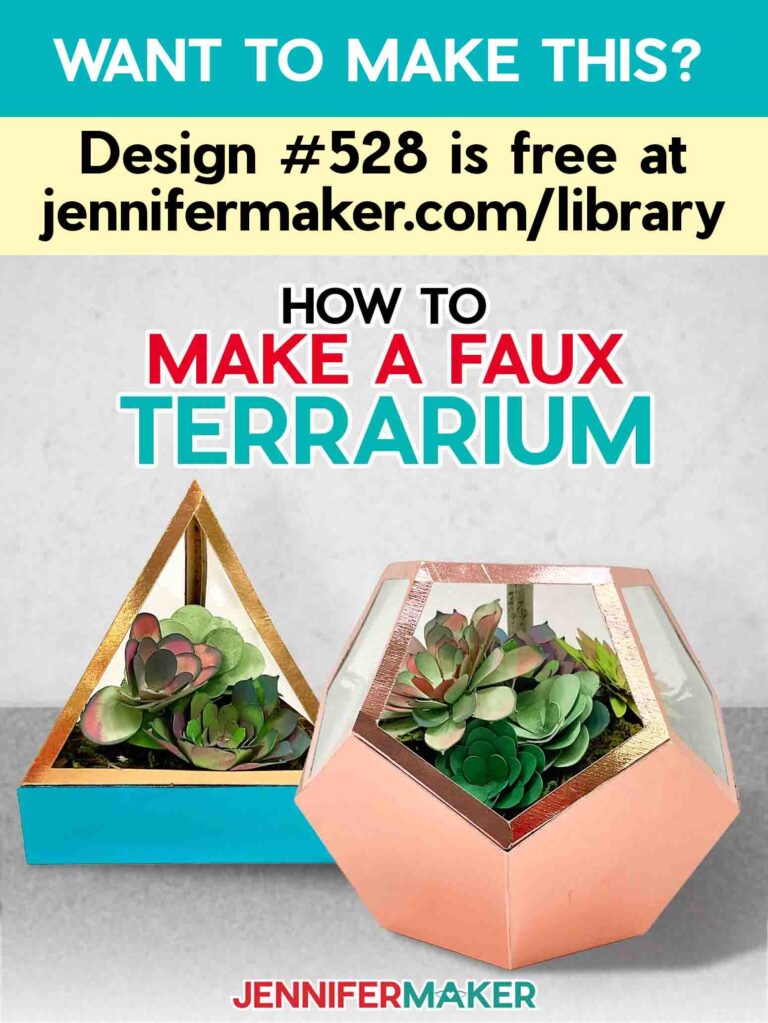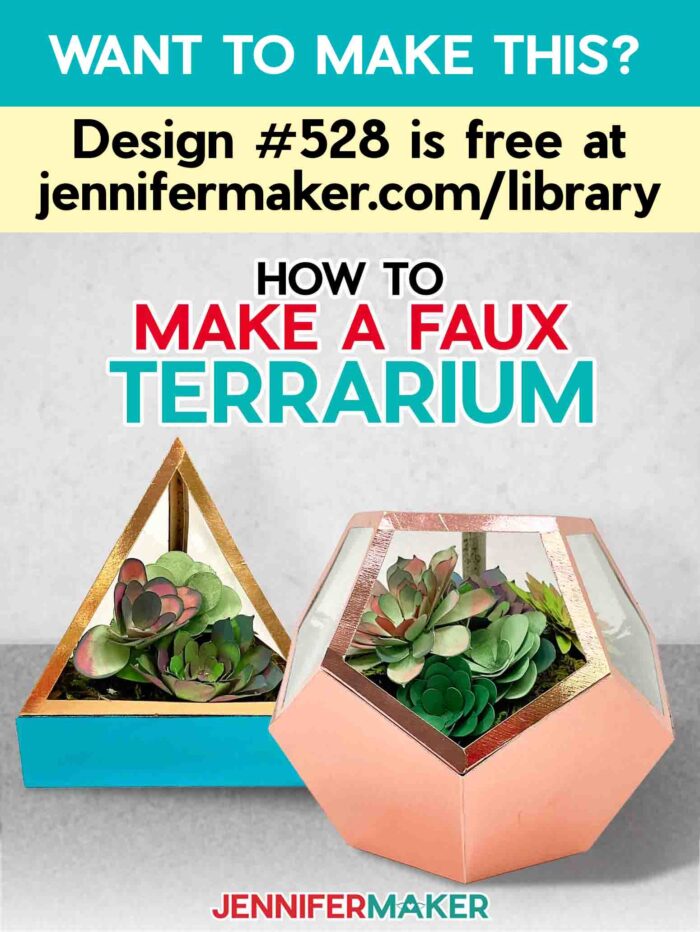 How to Make Your Own Paper Succulents and DIY Faux Terrarium
The detailed step-by-step assembly video on how to make faux terrariums debuted during Maker Academy Weekend 2023, held online November 1-5, 2023. Get an on-demand pass to watch all 30+ workshops, each with a printable handbook, transcript, audio file, design files, and support with a VIP pass below:


Answers to Your Questions About How to Make Your Own DIY Faux Terrarium
Q: Where is your tutorial for this project?
A: These faux terrariums are a special project we made for our free Maker Academy Weekend 2023 event! A complete and detailed step-by-step video premiered during the event November 1-5, 2023 — this tutorial video was available to watch for free for 24 hours only during the event. If you missed it, you can get access to the full video, the 15-page printable handbook that details how to make this beautiful project with a VIP Pass to Maker Academy Weekend 2023, which comes with other perks and bonuses, too! Look at all the star ornaments made by our VIP passholders in the lead up to our big event!
Q: Can you show me how to make a cheap terrarium?
A: I sure can! I can show you how to make the succulents to "plant" inside, too. The cost for this project is about $5 to $15 depending on the materials you buy, what you already have on hand, and how many terrariums you make.
Q: What can I use for a homemade terrarium?
A: This tutorial explains how to create a handmade terrarium from metallic cardstock, colored cardstock, floral foam, and artificial moss, but you can put anything you'd like in your terrarium! Well, except real plants. Add a thin layer of rocks, artificial plants, plastic succulents, fake tropical plants, faux greenery, small figurines, even a little battery-operated tea light to make your DIY terrarium complete! Check your local craft store for cute little things to add and make them your own!
Q: What kind of glue do you use for a fake terrarium?
A: For my terrarium, I actually recommend you assemble it with tape. I tried multiple types of tape (and multiple types of glue), but this 1/8″ double-sided tape from Michael's was the clear winner. Using adhesive on foil cardstock can be tricky, but this tape held the terrarium together without eventually popping apart, and gave a much cleaner result than using glue. I recommend that the succulents be assembled with high quality craft glue, and then attached to floral wire with hot glue.
Q: What do you line a terrarium with?
A: I lined my DIY faux terrarium with floral foam, then covered it in artificial moss. This gives a nice surface into which you can stick your succulents, faux plants, or other decorations attached to floral wire.
Q: How do you make homemade succulents?
A: Lucky you, I have an awesome tutorial where I teach you how to cut and assemble 18 different species of artificial succulents out of cardstock! I even demonstrate how to color each one with distress oxide to make them look even more realistic.
Get my free SVG files to create this cardstock terrarium and succulents!
Get FREE access to this design and ALL of my SVG cut files!
Subscribe (free!) to my newsletter with updates and tips PLUS get instant access to my resource library with this file and all of my other free files, printables, and patterns! Once subscribed, I will send you a newsletter with details about my new free files each week.
Free Resource Library
Enter my
free resource library
for my latest files, printables, and patterns! Password is 'craft' -- please copy and paste that in at the link above. Thanks for being a subscriber!!
I SO hope you'll make my DIY faux terrarium for succulents! Please share a photo of your terrarium in our Facebook group or tag me on social media with #jennifermaker.
Love,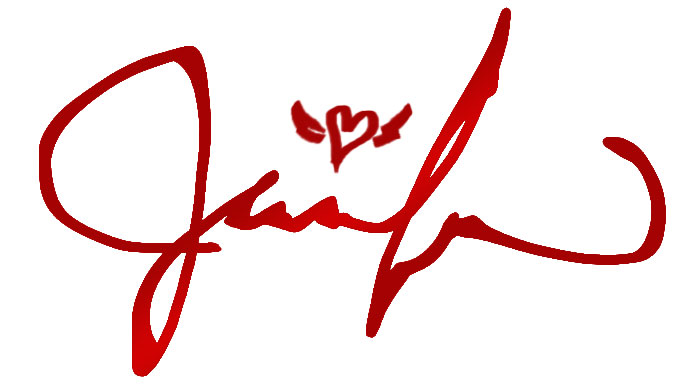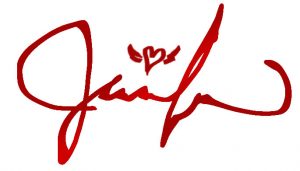 Want to remember this? Save this DIY Faux Terrarium and Succulents tutorial to your favorite Pinterest Board!