This mini-course has been replaced and updated with a NEW series of free classes called Cricut Kickoff!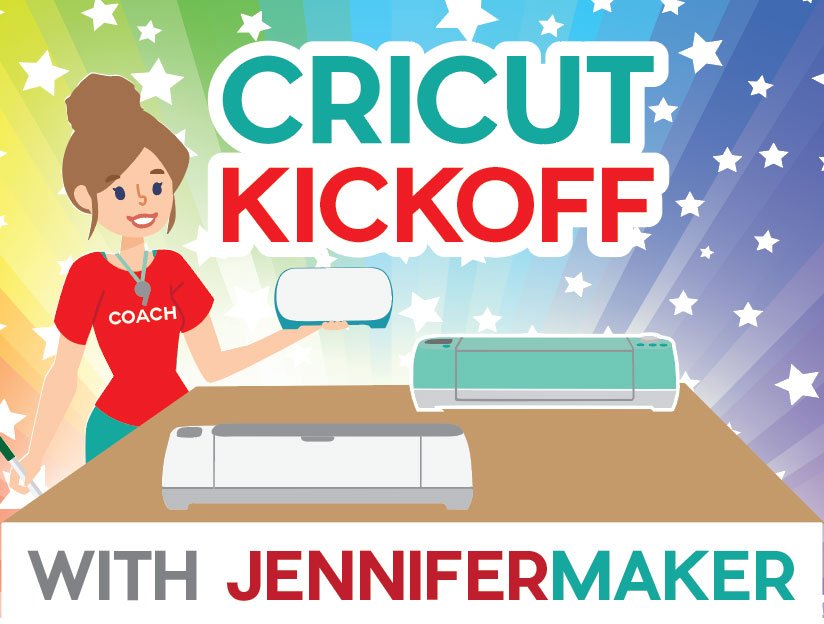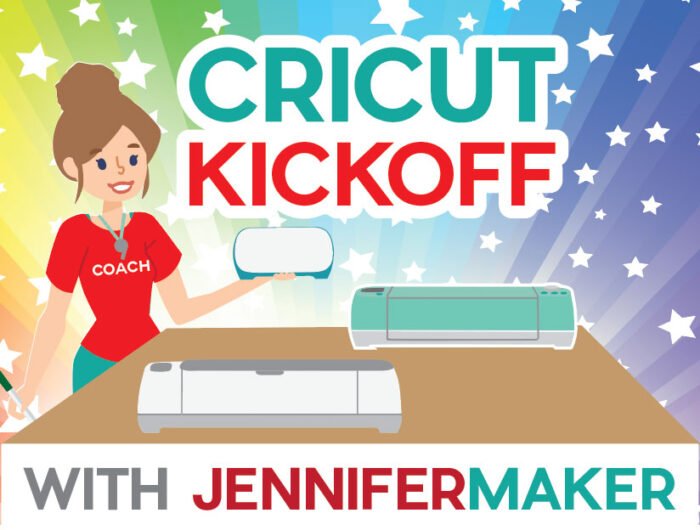 Cricut Kickoff walks you through the entire process of setting up, registering, and making your first cuts. It also covers all of the materials and things you can make on your Cricut, how all the mats, blades, accessories, and tools work together (and when to use which one). Then we delve into Cricut Design Space so you can create ALL THE THINGS.
If, on the other hand, you're still interested in the old and outdated Love Your Cricut mini-course lessons, here they are. Please note that the lessons below cover only the Explore and Maker, and may reference items and projects that no longer exist on Design Space. For that reason, I highly recommend Cricut Kickoff over the older lessons.
Introduction: Meet Your Teacher
Time to watch/read: 5 minutes
Time to apply: 15-20 minutes
Total: 27-35 minutes
I'm SO excited to have you with me in this Cricut mini-course! I'd like to take this opportunity introduce myself to you. My name is Jennifer and I LOVE Cricut!
I invite you to come on over to my craft room, pull up a chair, and watch my video introduction to your Cricut mini-course!
---
No time to watch the video? No problem! Here's the full text from my introduction:
Welcome to my mini-course — I'm so glad to have you here with me!
So I have a rather unique Cricut story that I'd like to share with you. I got my first Cricut on a whim. I'd heard of Cricuts, of course, but I didn't think they were for me. For some reason, I thought they were a scrapbooking tool, and I'm NOT a good scrapbooker. But one day I found myself at Joanns because I was preparing for a craft class I was going to teach, I was dreading the prospect of having to punch out a bunch of templates I needed for my students. And then I remembered… doesn't that Cricut thing cut things for you? I zipped over to the Cricut aisle, read the little information booklet, and YES! It would do exactly what I needed. So I bought a rose Cricut Explore Air 2 that day, without any other research or preparation.
It was a little crazy.
Especially when you consider that I needed to get my things cut out that evening because my class was the next day.
So I brought it home, took it out of the box (it was so pretty), set it up, followed the little tutorial to make my first card, and the rest is history. I made my custom cutting template that evening without any issues and it worked like a charm. When I got home from my class, I delved into learning everything I could about this amazing machine that I just sort of picked up one day at the craft store.
To say the Cricut has changed my life is not an exaggeration.
Within a few days, I'd figured out how to design my own cut files and I was uploading and sharing them on my blog. Suddenly my sleepy little blog EXPLODED with visitors who wanted my designs. So, naturally, I made more. I made a lot more. In fact, I made so many different designs and shared them so freely with people that I got the attention of a book publisher, who asked if I'd write a book about paper flowers.
That's right — my Cricut had led me to a book deal. Amazing, huh?
I've now spent a LOT of time with my Cricut. I have both the Explore and the Maker, and use them both all the time I've learned a huge amount in the time I've been using my Cricut.
But what I really REALLY want to teach you is how to EMBRACE your Cricut, as I have.
You might have just gotten your first Cricut. Or, maybe you've had it for a while, but it's still in the box, eh? Or maybe you got it set up, and it's sitting there, looking pretty, but you're not doing anything with it. Or, maybe you've made a few things, but you're not sure where to go now or how to accomplish that thing you REALLY want to make.
I can help. I can make the Cricut your new best friend, just as it is mine.
In this mini-course, I invite into my craft room where we'll play with our Cricuts TOGETHER. I'm going to show you how to set up your machine for optimal crafting, what materials you can (and should) cut with it, how your mats, blades, pens, and how your tools all work together. Then I'm going to share some of my secrets to Cricut success, including my personal approach to Cricuting, how I store my tools and supplies, and how I find the best Cricut projects to make. Finally, we'll take a closer look at Cricut Design Space and see how powerful it really is and how it can help you create ALL THE THINGS.
So pull up a seat and let's have fun with our Cricuts!
Love,
Jennifer