Learn how to add a personal touch to your front porch with these diy porch signs! These eye-catching signs are easy and fun to make!

A little over two years ago, I showed everyone how to make vertical welcome signs for their porches. This tutorial has been a huge hit and I've loved seeing everyone's awesome signs! In that tutorial, I showed you how to piece together the letters and align them with registration marks because the Cricut Explore Air 2 and original Cricut Maker can only cut a part of the long sign at once. Well, now that we can do loooong cuts — up to 12 feet long — on the new Cricut Explore 3 and Cricut Maker 3 cutting machines, it's time to revisit this tutorial. Because it's now a lot easier to make these DIY Porch Signs, but I know you have questions about how to cut, transfer, and apply the long piece of vinyl!
This post contains some affiliate links for your convenience (which means if you make a purchase after clicking a link I will earn a small commission but it won't cost you a penny more)! Read my full disclosure policy.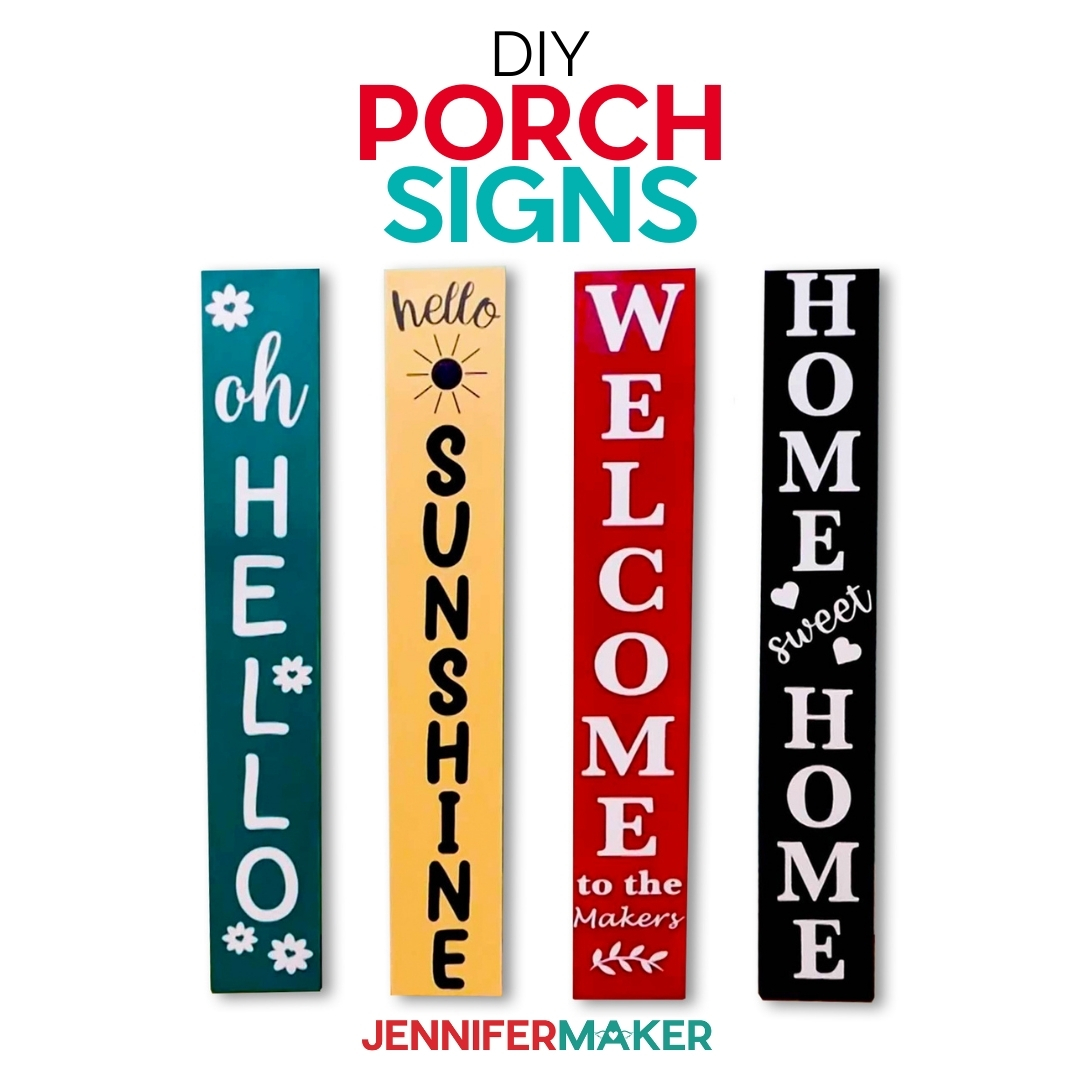 Watch the DIY Porch Signs assembly video here:

So we're going to make a new round of signs just like these using the Cricut Maker 3 and Explore 3, as well as a fun growth chart that looks like a ruler!
I have loved Smart Vinyl since it was first introduced for the Cricut Joy but now, with the Cricut 3, we can also use Smart Vinyl for projects up to 12 feet long! I don't know about you, but I love the opportunities this will open up for projects and designs!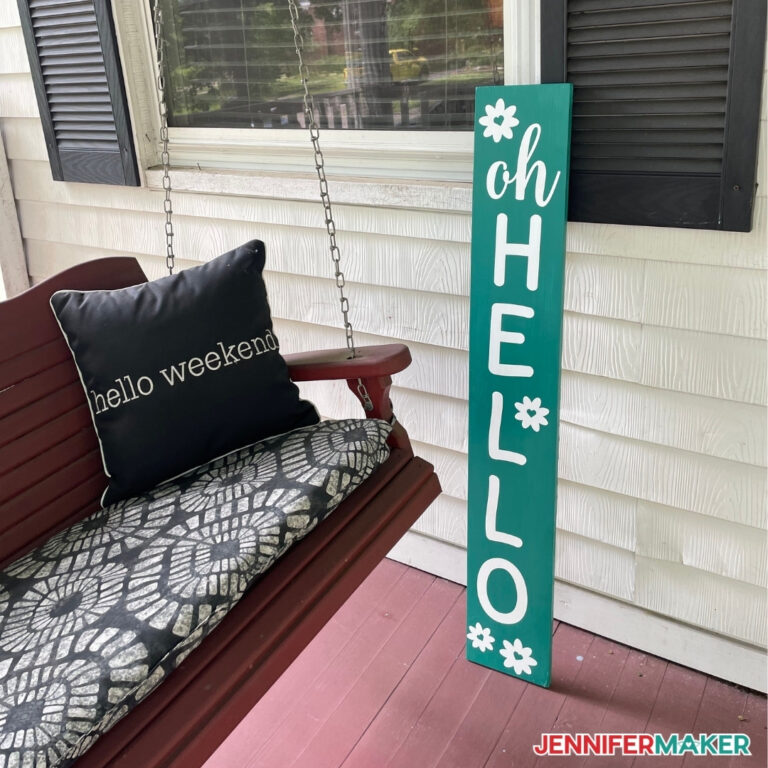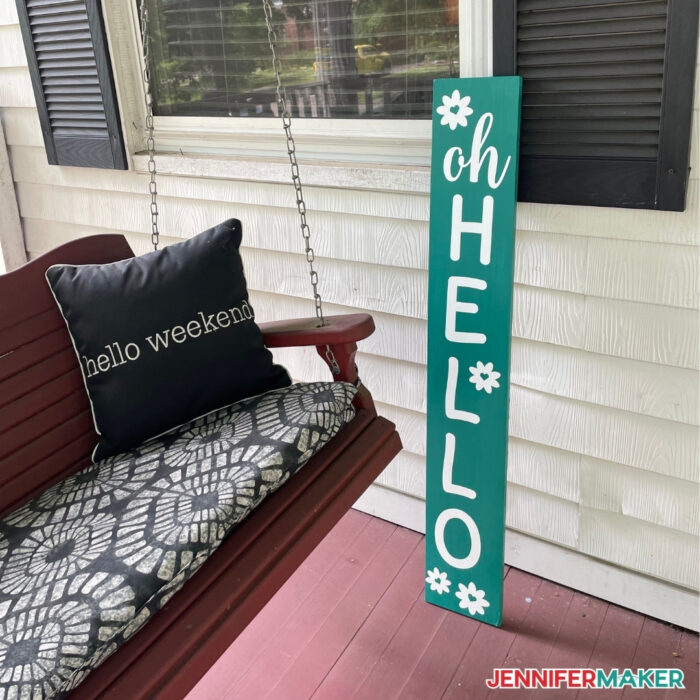 For my DIY Porch Signs, I found my pine board at Lowe's in just the right size, but you also can get a longer board from your local lumber store and cut it down. Some stores will cut a board for you right there in the store! The finished size of board you want is 8″ wide x 48″ long x 1″ thick.
To sand down your board, you will need 220-230 grit sandpaper and some paper towels or an old rag to brush off the sawdust.
Once you have your pine board sanded down and it is nice and smooth, you can use chalk paint to paint your porch sign. I'm using chalk paint in a variety of colors including red, blue, white, gray, and black. The brand I used in the tutorial — Folk Art — works really well!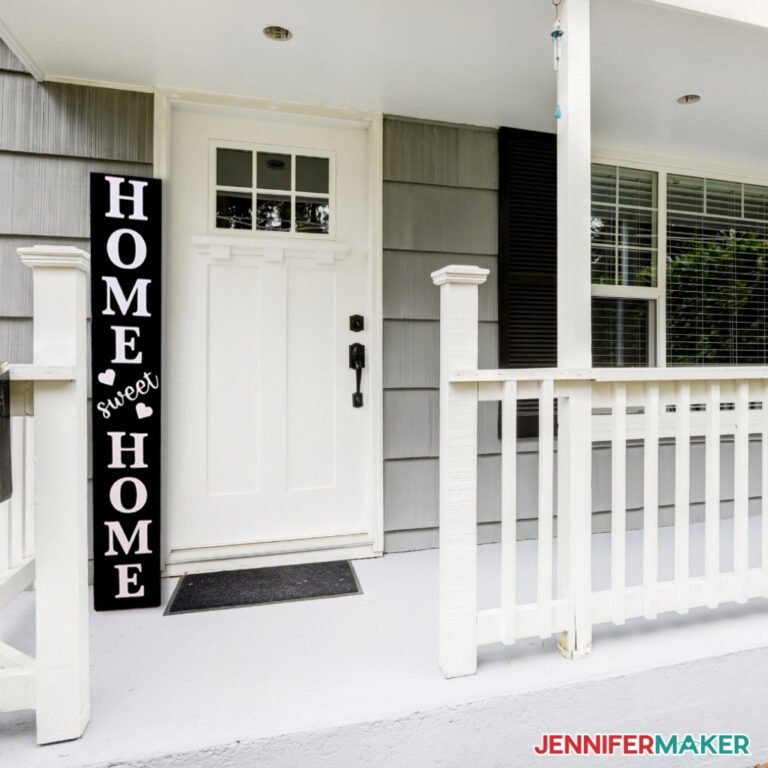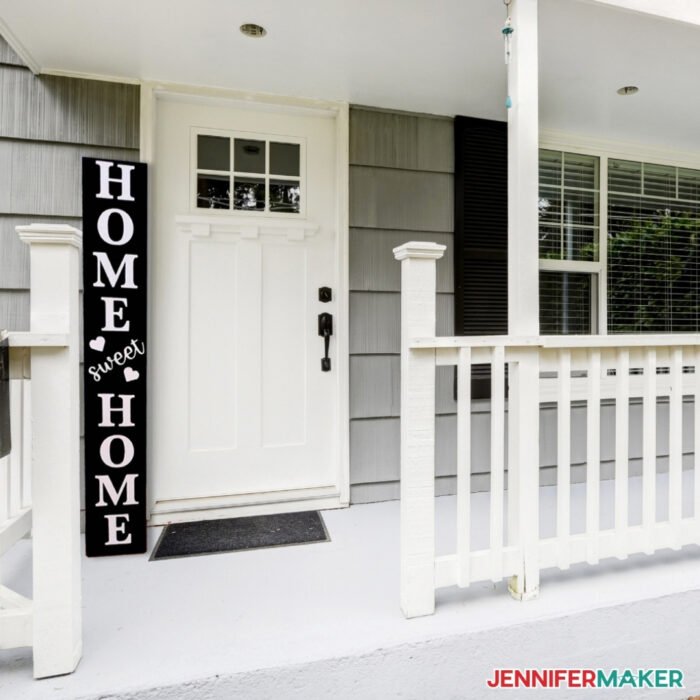 It is important to remember that the smoother your board, the better the paint, polycrylic, and vinyl will adhere. I used a foam brush to apply the chalk paint, and a bristled paintbrush to apply the polycrylic to the board. If you only have a bristle paintbrush available, though, it would be fine to use one of those for the chalk paint.
After painting your board, I highly recommend letting the paint dry for 24 hours (I am impatient and waited 12 hours…. it still turned out great!) I sanded my sign again before applying the water-based polycrylic finish in clear matte. Make sure you are applying the poly coat in a well-ventilated area!
For this tutorial, I'm using rolls of Cricut Smart Vinyl because it will allow me to cut the WHOLE sign at once without needing to piece it together. I chose black and white Premium Smart Vinyl, the permanent kind, not the removable. You want the permanent vinyl because it will hold up better if you put your sign outside. My two-and-a-half-year-old sign made with Cricut Premium Vinyl is holding up like a champ on my porch!
And of course, to go with that longer design we get by using a roll of vinyl, we need a long length of transfer tape. Transfer tape also comes on long rolls now! Be sure to get Standard Grip Transfer Tape, not Strong Grip Transfer Tape, to ensure a smooth transfer.
You'll also want a weeding tool, scissors, and a scraper to apply your vinyl to your board.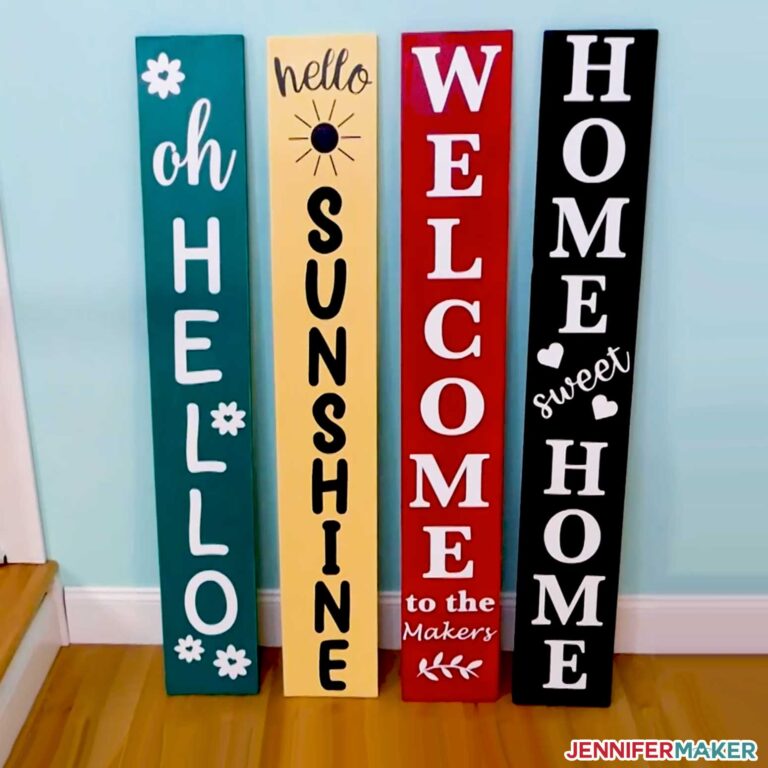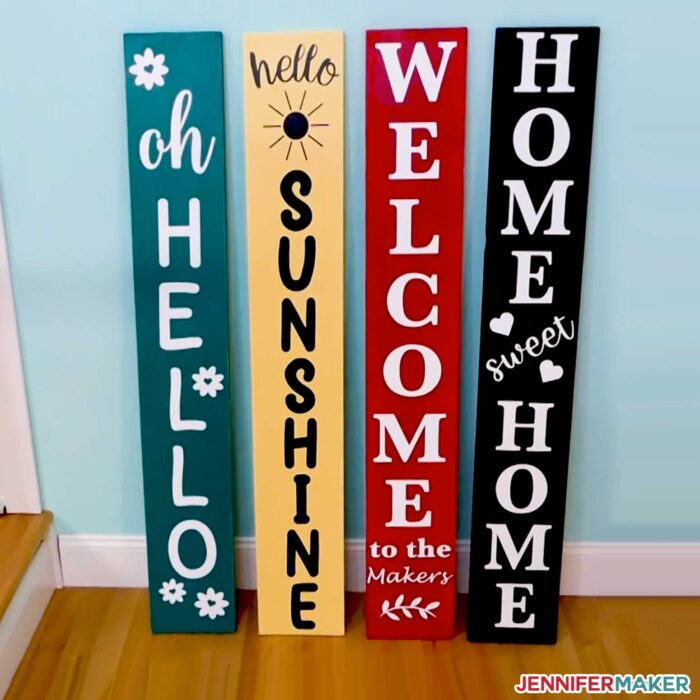 Before cutting your vinyl design, you must double-check the length and width of your board as the cut can be slightly off. When creating my DIY Porch Sign, I had an issue where one board wasn't cut quite the right width and I couldn't get things centered correctly. I couldn't figure out what I was doing wrong until I realized I hadn't double-checked the actual cut measurements! I could have saved a lot of time had I just measured the board when I got home but I forgot!
The final vinyl design dimensions of one design is 6.5″ wide x 45.5″ long. You can confirm the width of the design by selecting your design and looking at the top of the design or top toolbars on Design Space. Once you have confirmed the actual size of your board, as well as your design length, you will need four feet of Smart Vinyl and four feet of transfer tape to create your DIY Porch Sign.
I'm going to cut this on my new Cricut Maker 3, but you could also do it on the Cricut Explore 3. And since I'm using a roll of Smart Vinyl, I'm going to use and show you how to use the Cricut Roll Holder, too! If you don't have those, you can still make it with another cutting machine — look at my Vertical Sign tutorial to see how to piece and align your vinyl on the sign.
Let me show you how easy it is to make this wonderful DIY porch signs project!
Materials to Make DIY Porch Signs
View my Amazon shopping list with the exact items we used to make this project!
How to Make Your Own DIY Porch Signs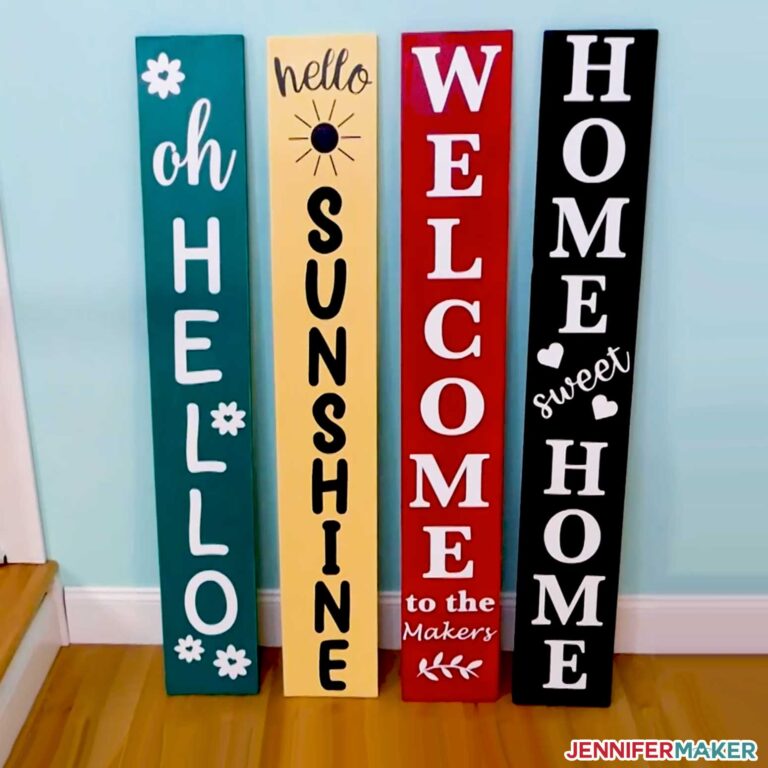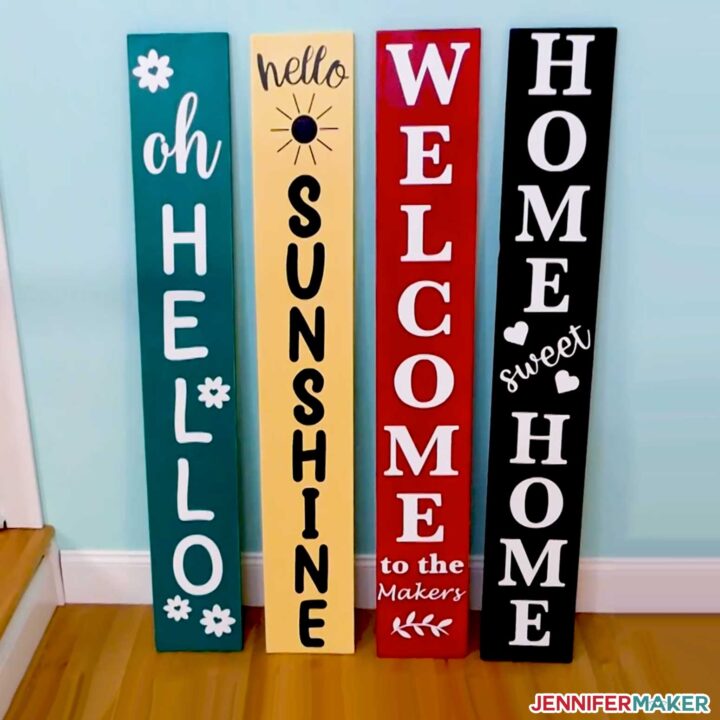 DIY Porch Signs
Total Time:
2 days
1 hour
In this tutorial, I am going to show you how to make an eye-catching DIY Porch Sign using Cricut Smart Vinyl cut on the amazing Cricut Maker 3 or Cricut Explore 3!
Answers to Your Questions About How to Make Fun DIY Porch Signs
Q: Do I need to use only pine board to make the porch sign?
Absolutely not! Feel free to use whatever wood you prefer, or happen to have around your home! I like to use pine for my outdoor signs because it's affordable, easy to work with, and resistant to decay (which is important for something that's going to be outside!). But, any wood will work!
Q: Do I need to use chalk paint, or can I use something else?
As long as you make sure to let the paint dry for at least 24 hours, and seal it using polycrylic, you should be good using enamel, outdoor, or house paints. But, I'd suggest testing it first on a scrap piece of wood or a small inconspicuous area just to make sure you like the way it looks!
Q: Do I need to let the paint sit for a while? Can't I start working on the DIY Porch Sign as soon as it's dry?
Make sure to let the paint dry for at least 24 hours! Fresh paint emits something called VOCs that can react chemically with the vinyl's adhesive and degrade it, meaning it won't adhere quite as well. Trapped VOCs can also cause bubbles to appear under the vinyl. The longer you can let the paint cure, the better your vinyl will stick!
Q: Do I need to buy these fonts in order to make my own DIY Porch Sign?
Absolutely not! We included the names of the fonts because people often ask us what fonts we've used in a project as they want to use them in a design of their own! My SVG is ready to cut out without having to buy anything else beyond the materials needed to actually make the sign!
Q: I would like to paint my sign a different color than yours but can only find the one color shown on your link?
If you keep scrolling down on the link to the "Inspired by your recent shopping trends" section, you will be able to see many different colors to choose from!
Q: Do I need to have only a Cricut Maker 3 or Cricut Explore 3 to cut out these awesome porch signs?
No, you don't! If you go to my tutorial on Easy Vertical Welcome Signs, I show you how to slice the design into smaller pieces that you can cut on other Cricut Explores and the Maker!
Q: Your link to the pine board is showing as "out of stock" for me! Where can I find a board?
I used a standard pine board that you can get at almost any home improvement store! Other great places to look are Home Depot, Ace, Menards, and your local Mom-and-Pop stores that sell building supplies!
Get my free SVG files to create eye-catching DIY Porch Signs
I'd love to see YOUR DIY porch signs projects and how you choose to decorate them! Please share a photo in our Facebook group or tag me on social media with #jennifermaker.
Love,