The JenniferMaker Giveaway pages use an entry system that allows you to get bonus entries. While this is fun and engaging, it can be a little confusing if you're unfamiliar with it and deserves some explanation so you know how it works. Please read the tips below to learn how to maximize your entries — if you have questions that aren't answered here, please email us at [email protected]. Thank you!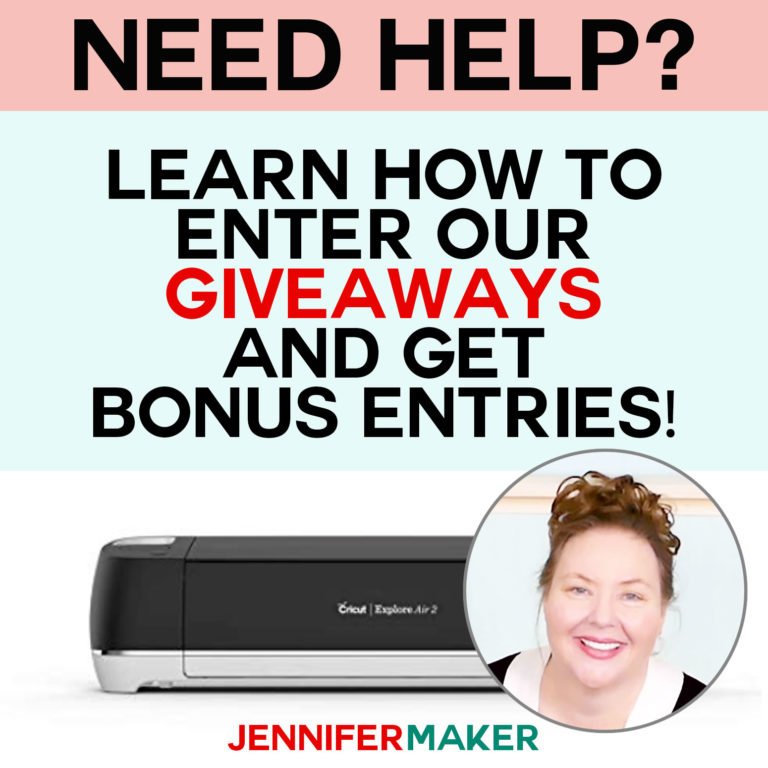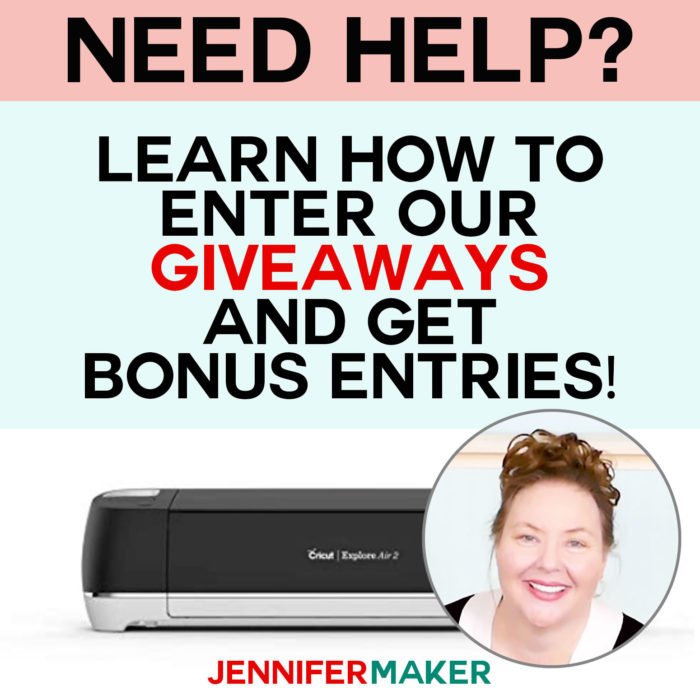 How do I enter your giveaway?
Just go to our Giveaway Page and enter your name and email. This gives you one email immediately, and technically one entry is all you need to be entered in the giveaway. You will receive an email confirmation after you enter, too (check your promotions, junk, or spam mail folder if you don't see it). Note that you can get a new entry every day if you return to the Giveaway page and simply enter your name and email again — that simple! Come back daily for a new entry.
How do I get bonus entries to your giveaway?
There are many different ways to get bonus entries. We offer so many different ways to give everyone a chance to get bonus entries, as we realize not all bonus option entries are appropriate or will work for everyone. So please don't expect to be able to collect ALL the bonus entries. Many of the bonus entries are one-time-only entries, such as subscribing to the JenniferMaker YouTube channel, but others can be done on a daily basis. For example, you can submit a photo of a project you made from a JenniferMaker tutorial every day (tip: do the daily project and upload the photo the next day!). You can also enter bonus codes daily (but they must be unique — no duplicates).
How do I enter a bonus code?
Jennifer shares bonus codes for entries in her tutorials, in social media, and in daily emails she sends out about the giveaway. If you have a bonus code, just type it (or copy and paste it) into the "Enter a Bonus Code" form. You can enter multiple bonus codes in a day. Please note that you will NOT see a green checkmark in your list — this is because there are multiple bonus codes and you'd have to have entered all of them to get the green checkmark. You can verify that a bonus code worked by clicking on "View Entries" at the top of the entry form.
How do I get credit for referring a friend?
Bonus entries for referring a friend only get credited after your friend clicks the link you send them and actually enters the giveaway, so it may take some time for the entry to be credited to you. Please note that you cannot refer yourself. 🙂
How do I get credit for uploading a photo?
In order to get this bonus entry, you must select a photo, allow it to upload fully, type in a caption, and click "Complete." If you do not do all of these (especially allowing the upload to complete), you will not get credit for the bonus entry (and we won't get your awesome photo!).
What if my entries aren't working?
If your entries aren't updating correctly or the giveaway isn't loading correctly, I suggest clearing your browser cache or trying a different browser or device. If you don't know what 'clear your cache' means, you can follow this super helpful tutorial. You can also try entering the giveaway using the form at https://app.viralsweep.com/sweeps/full/a01130-125425?framed=1
Additionally, the giveaway software only allows one email registration per ip address, so additional email registrations may not earn additional entries.