Learn how to build a space-saving craft vinyl storage tower to store all of your craft vinyl rolls and sheets while still seeing what you have!
I love finding unique ways to organize my craft supplies efficiently and attractively. When I was drowning in paper two years ago, my solution was to make a 12×12 Vertical Scrapbook Paper Storage Organizer that I put together myself from easy-to-get materials. My "tower of power" idea worked so well I decided to adapt the idea for my growing collection of craft vinyl. And it worked! Now the vinyl is out of the boxes where it was hard to see and find what I needed, and it's out where I can view and access it easily on a rotating, space-saving tower. I'm in love with my new craft vinyl storage tower!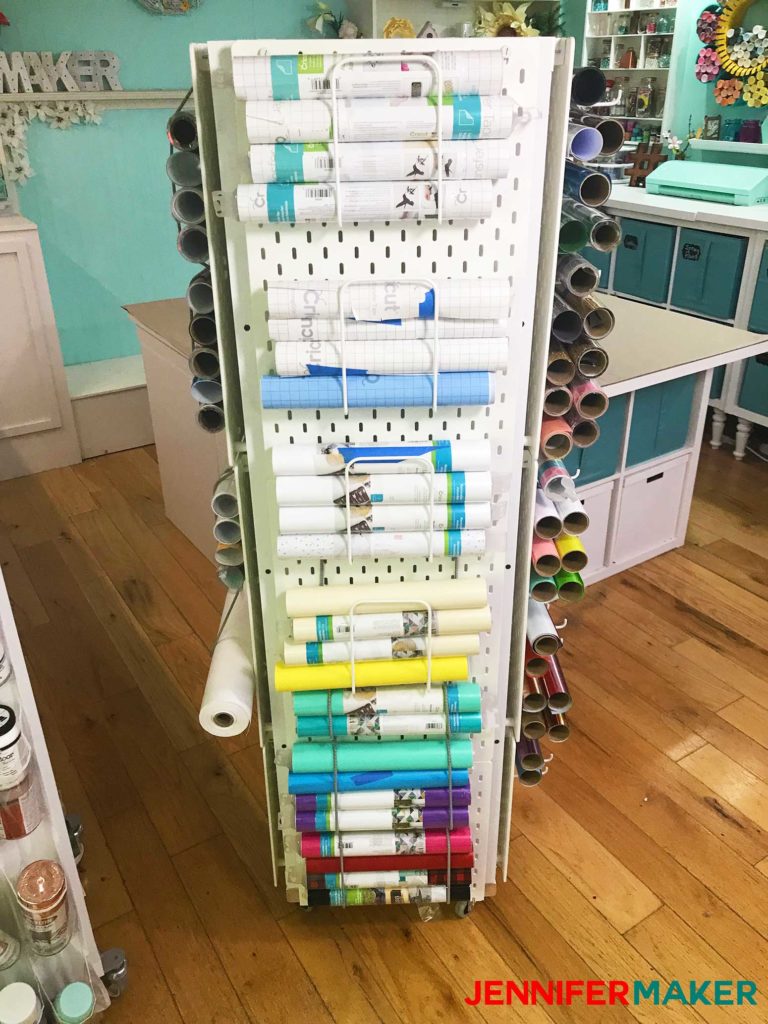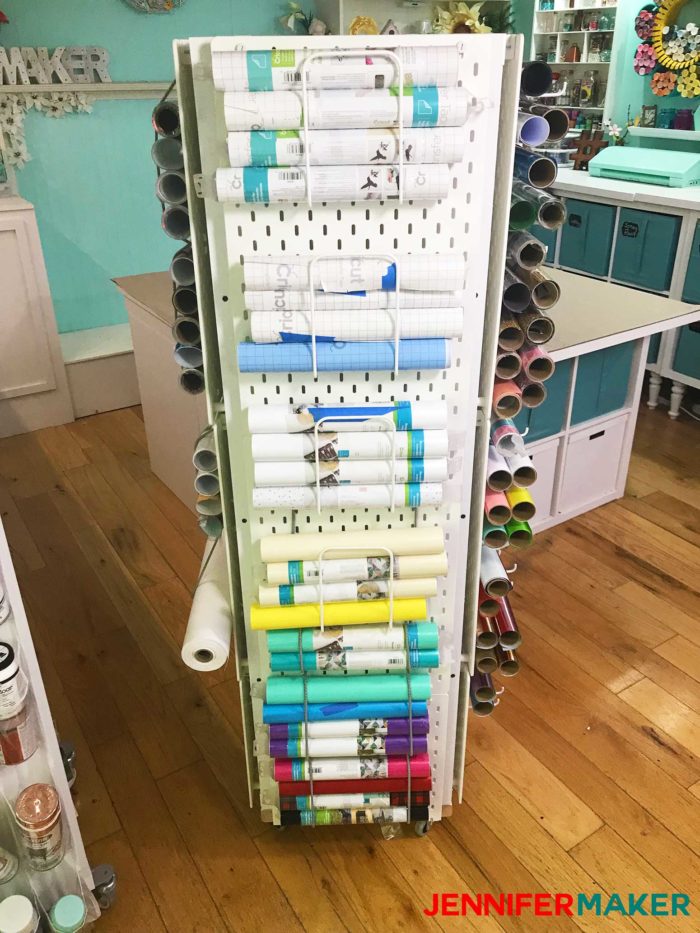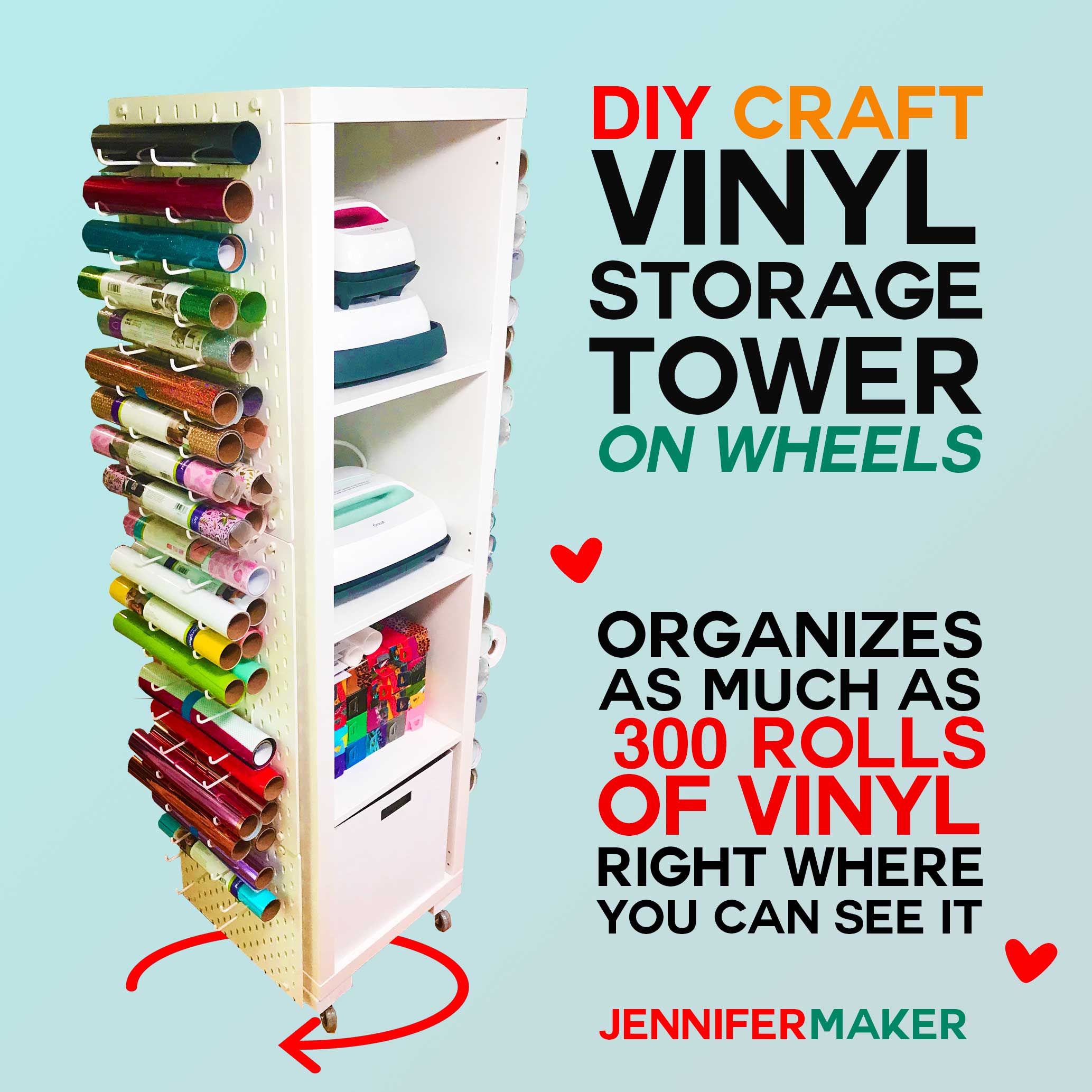 I have a whole video on the assembly of the craft vinyl storage tower, which you can watch here:

This is one my IKEA hacks. So it's not very expensive, and you can customize it to your needs. If a vertical tower isn't right for you, or you need more storage, the IKEA unit I use comes in many different sizes and configurations. Check out my tip on adding legs to IKEA furniture to really class it up! And if you're making a trip to IKEA, check out my IKEA Shopping Tips & Tricks!
This post contains some affiliate links for your convenience (which means if you make a purchase after clicking a link I will earn a small commission but it won't cost you a penny more)! Read my full disclosure policy.
What You Need to Make My Craft Vinyl Storage Tower
IKEA Kallax storage unit item 002.758.48, one unit (you can buy this on Amazon if you don't live near an IKEA) – I bought one new at IKEA for $35
IKEA SKÅDIS 14 1/4″ x 22″ White Pegboards — I used three on each side for a total of nine pegboards
(Optional) Saw (hand saw or electric saw) — we used it to cut three of the pegboards so they fit at the bottom of each side
Screwdriver or drill
(Optional) Piece of 1/4″ or 1/2″ plywood (16 1/2″ wide by 58″ tall)
(Optional) Extra screws (about a dozen or so) – these should be long enough to go through your plywood board + an extra 1/4-1/2″ (we used drywall screws)
(Optional) White paint
How to Make the Craft Vinyl Storage Organizer
First, assemble your Kallax storage unit. We put ours together in about an hour, maybe a little less. It wasn't difficult.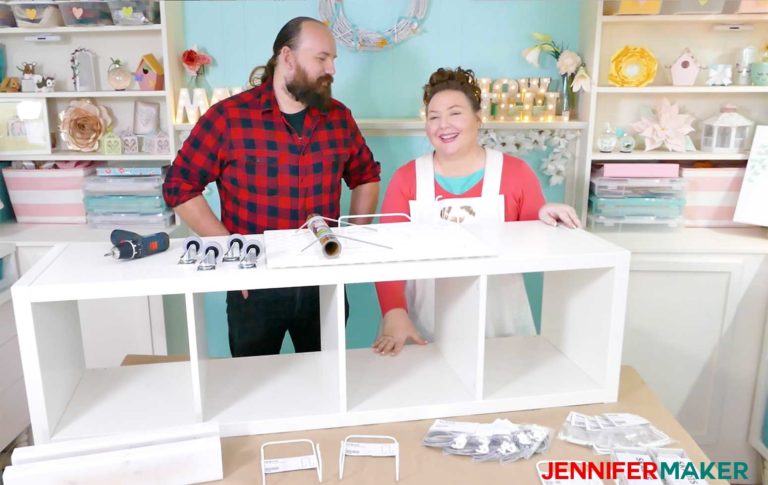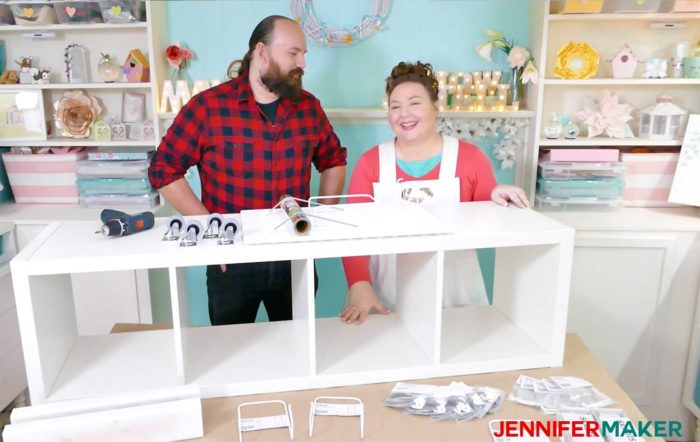 Next, cut a piece of plywood to be 16 1/2″ wide by 58″ tall. This wood will go on the back of your Kallax unit so you can mount pegboards there. Of course, if you do not want pegboards on the back of your craft vinyl storage tower, you can skip this step.
Paint your plywood. This is optional, but it definitely looks better than leaving it naked.
Turn your Kallax unit over and put the plywood on the back of it. (Honestly, both sides of the Kallax unit looks pretty much the same, so just pick an open side.)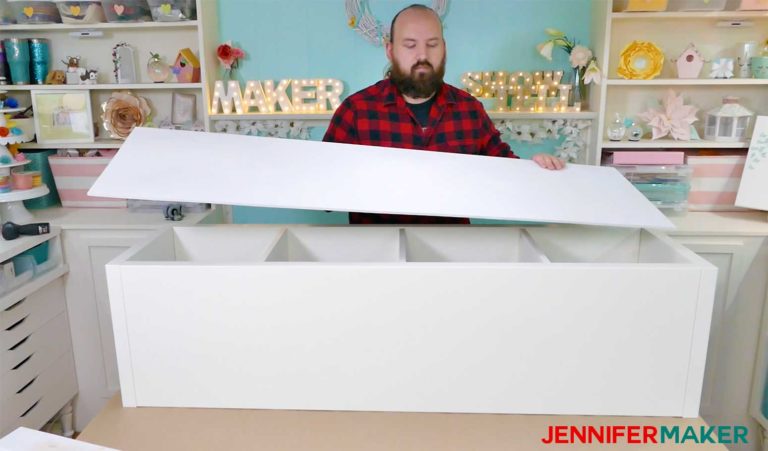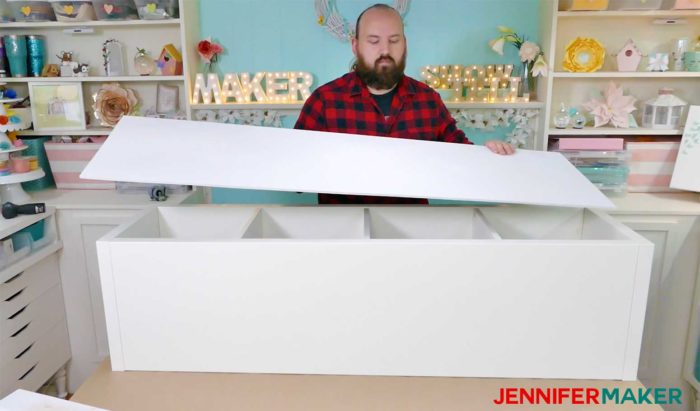 Screw the plywood to the Kallax unit using screws just long enough to go through the plywood and into the unit. We screwed it in at the top, bottom, and middle.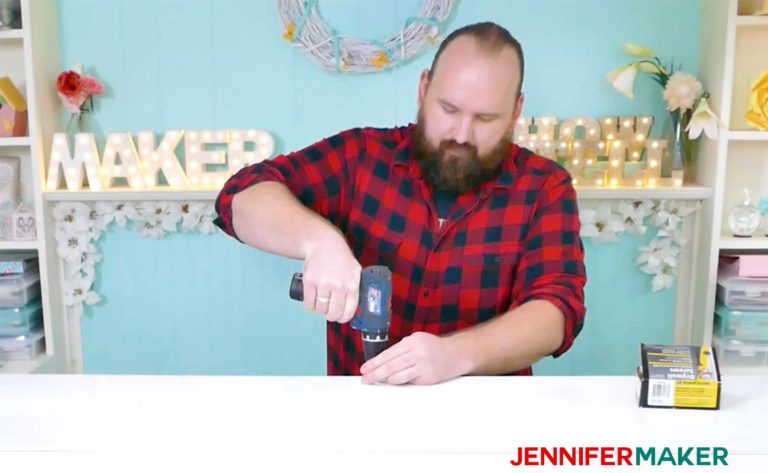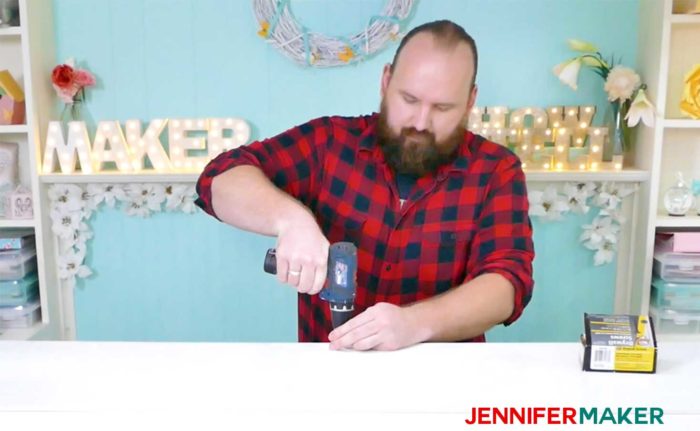 With the plywood on your Kallax unit, it's time to add the pegboards! We followed the directions that came with each of the Skadis pegboards to attach them to the sides of the Kallax unit.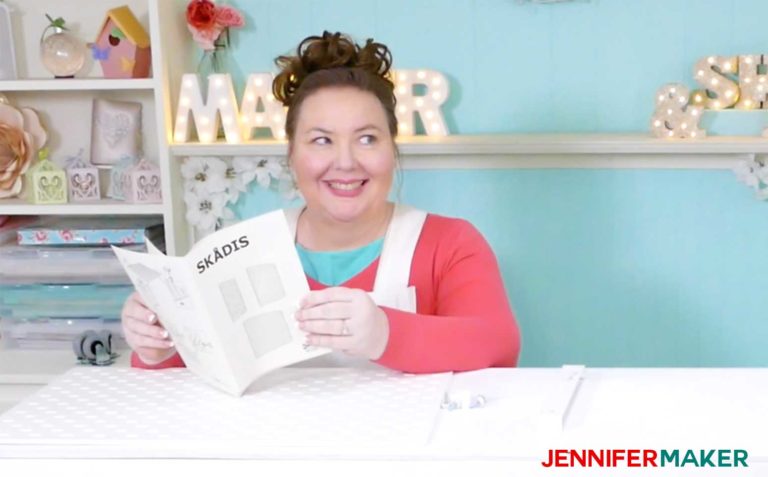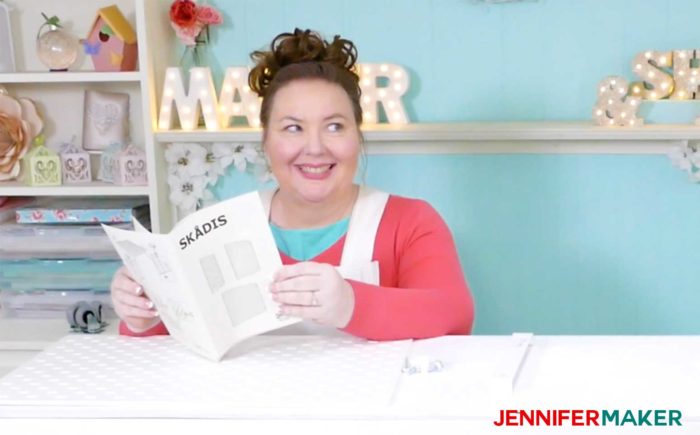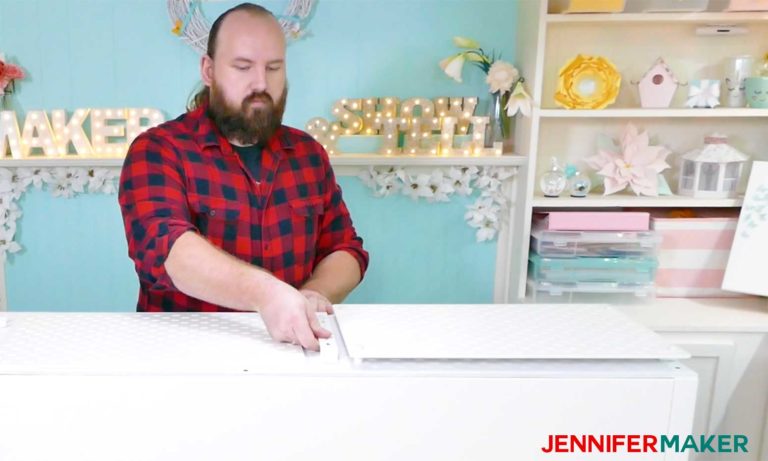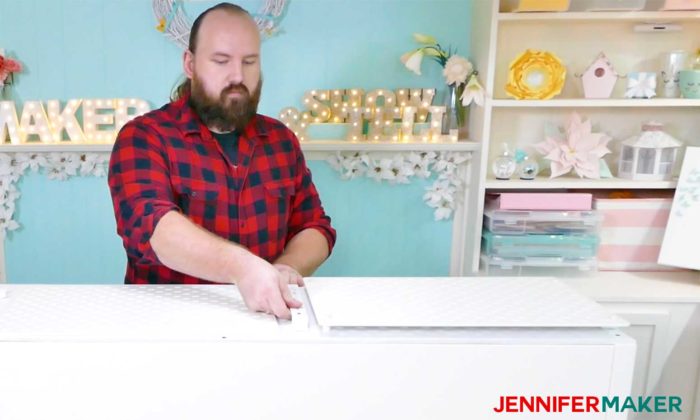 You can fit two full pegboards on each side, with room to spare. I wanted my pegboards to go all the way down each side, so we cut three of the pegboards to be 14″ high to fit at the bottom of each side.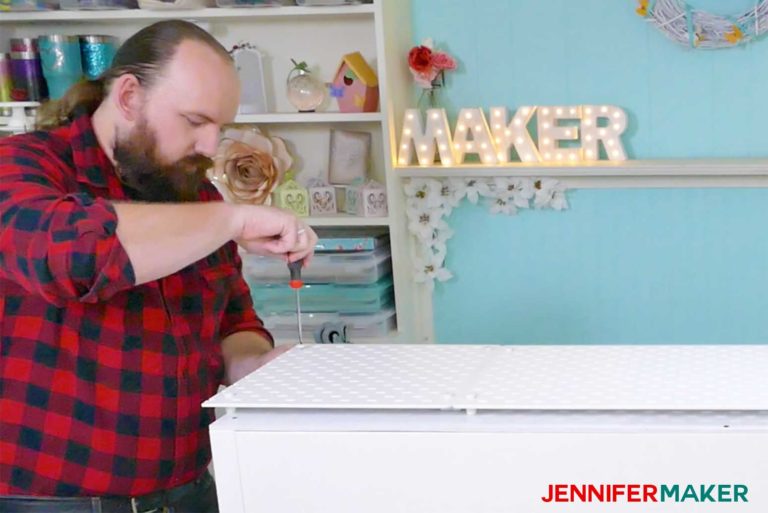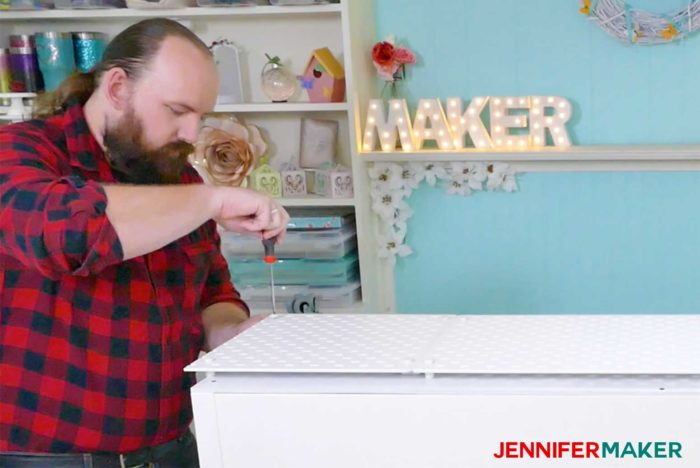 Repeat until you have all three sides covered with pegboards!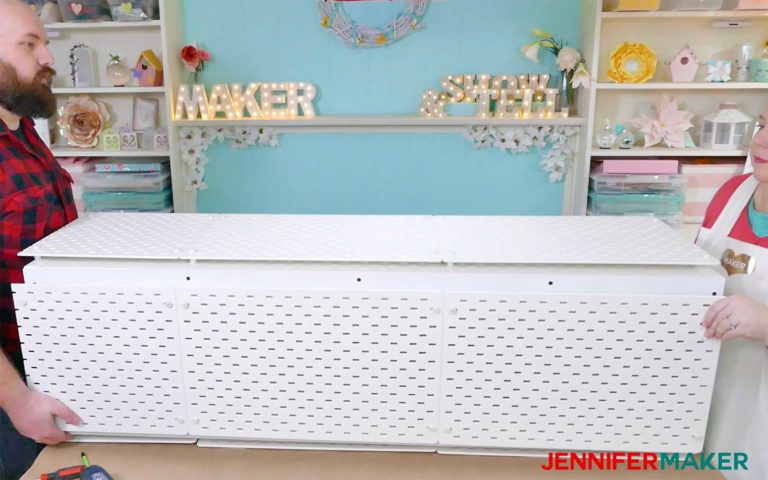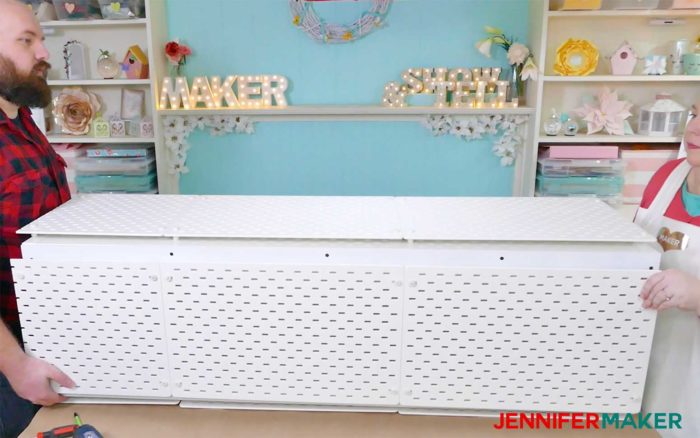 Now it's time to the casters, if you've chosen to put yours on wheels. You can attach the casters directly to the bottom of your Kallax unit. We decided to add some extra wood between our casters and the craft vinyl storage unit because we wanted to bring it up to the same height as my Paper Storage Tower which used larger casters that IKEA no longer sells. It's not necessary to add this wood if you're not trying to match height as we were, however.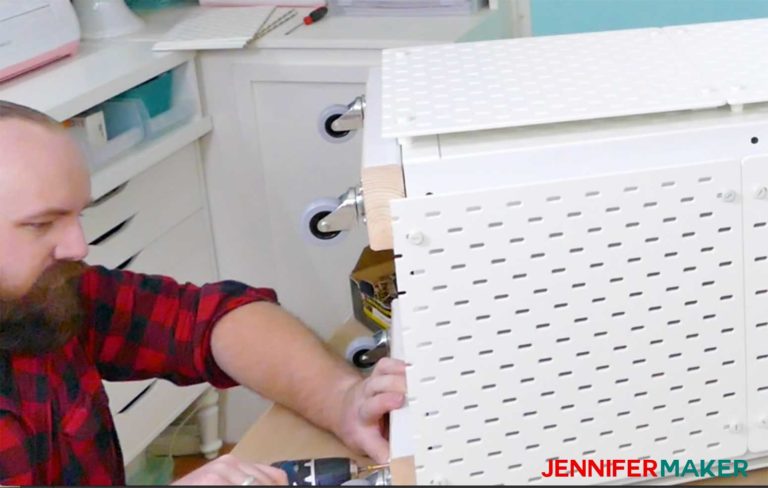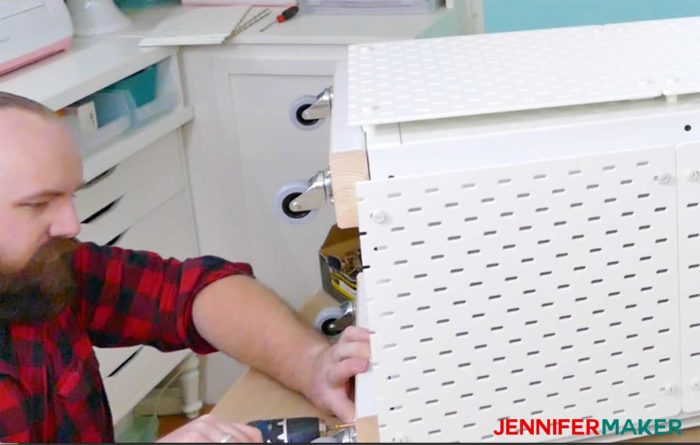 Once the casters are secured on the bottom of your craft vinyl storage unit, turn it right side up and make sure everything seems stable.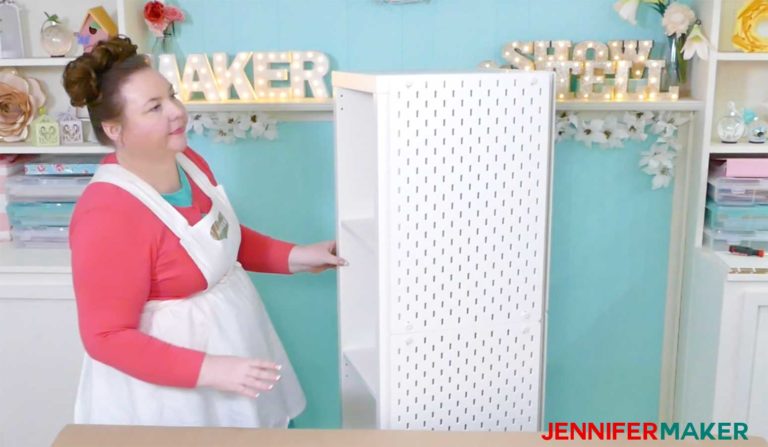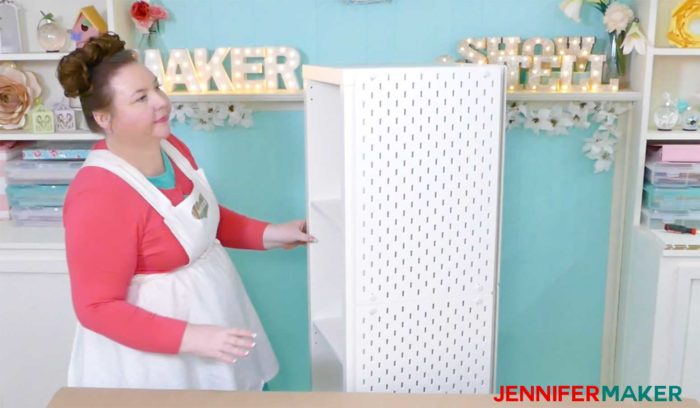 Now the fun begins! Use the IKEA SKÅDIS Hooks, SKÅDIS Letter Holders, and SKÅDIS Elastic Bands in whatever combinations work best for your vinyl collection. We used the hooks on one side, the letter holders on the second side, and the elastic bands on the third side so you could see how well they worked to hold rolls of craft vinyl!
Here are the hooks — they hold one to two rolls of vinyl each. Note how I've staggered the placement of each set of hooks so I can put them closer together.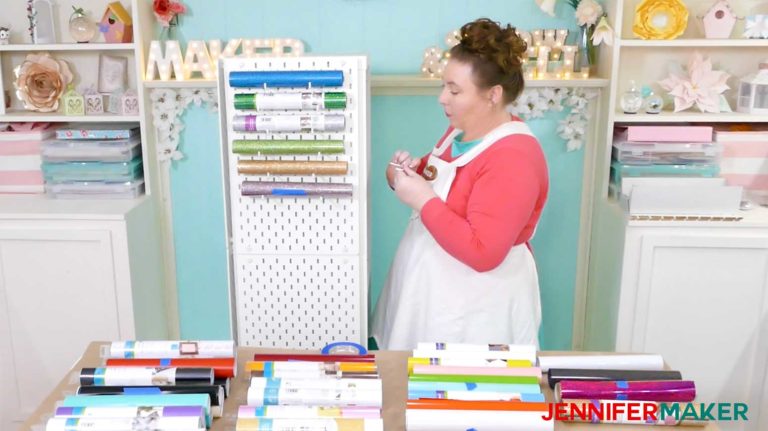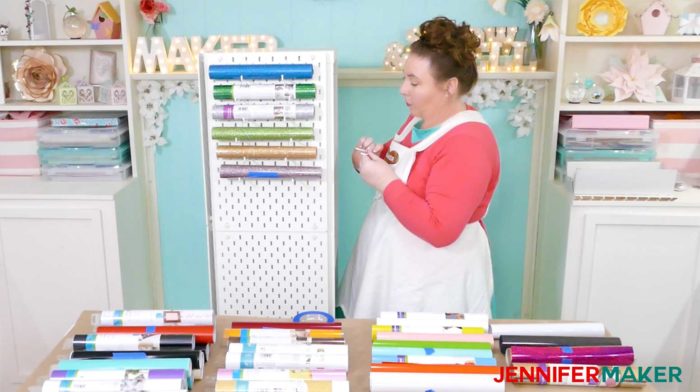 Here are the letter holders on my craft vinyl storage tower.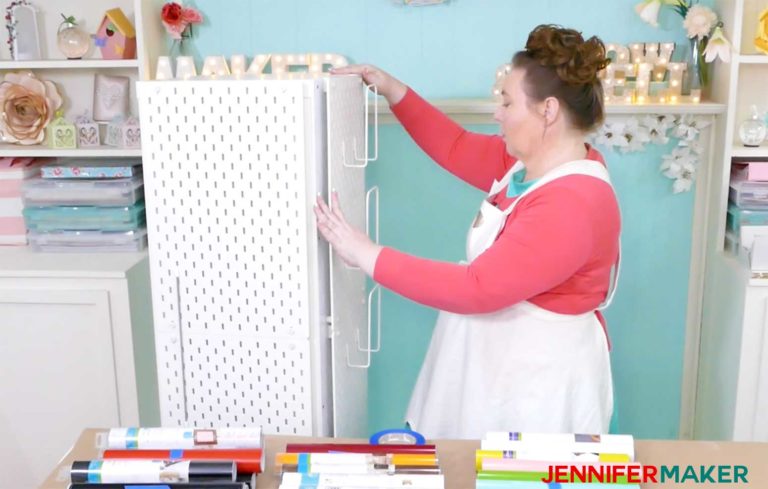 Each letter holder holds up to four rolls of vinyl on the side of your craft vinyl storage tower.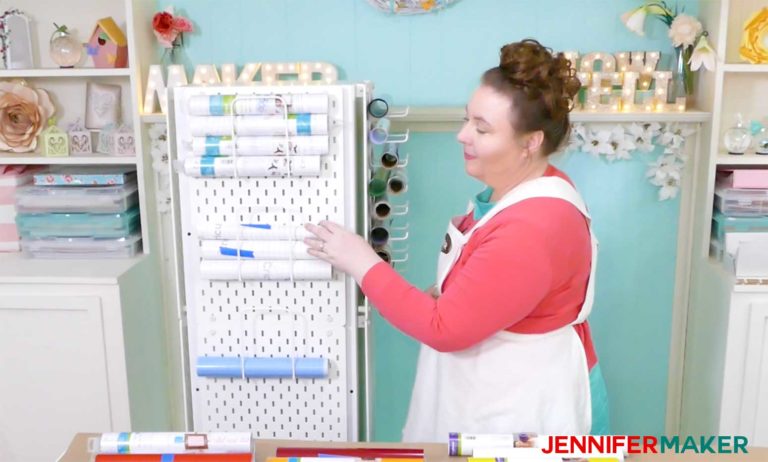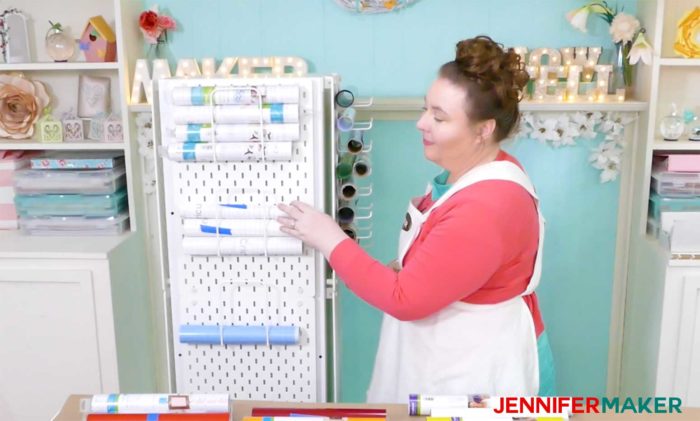 And here are the elastic bands, which you can attach and slip vinyl rolls into.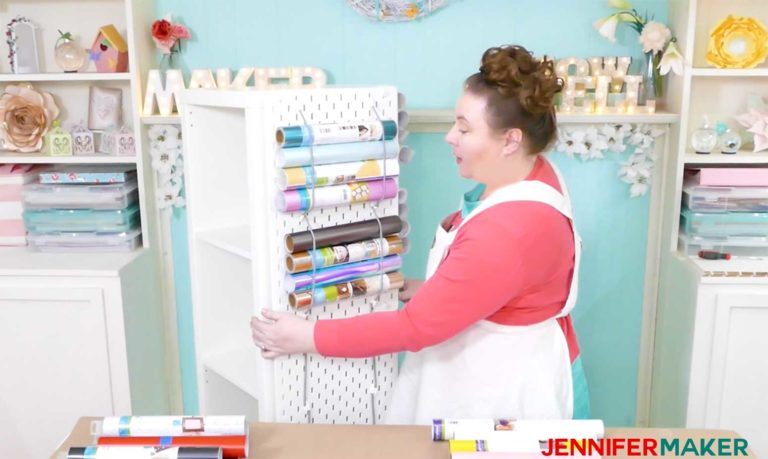 My favorite of the three types of storage are the Skadis hooks, because they hold more vinyl and are a touch easier to put the vinyl in and out of. Of course, that means it's also a touch easier for the vinyl to get knocked off if you brush it, so keep that in mind if you intend to put your craft vinyl storage unit in a high traffic area.
For the inside the craft vinyl storage unit, you could store even more vinyl. Or you can put your related accessories in there. I chose to put my Cricut EasyPresses in the top two cubbies, my Cricut Infusible Ink collection in the third cubbie, and a box with pressing mats in the fourth cubbie!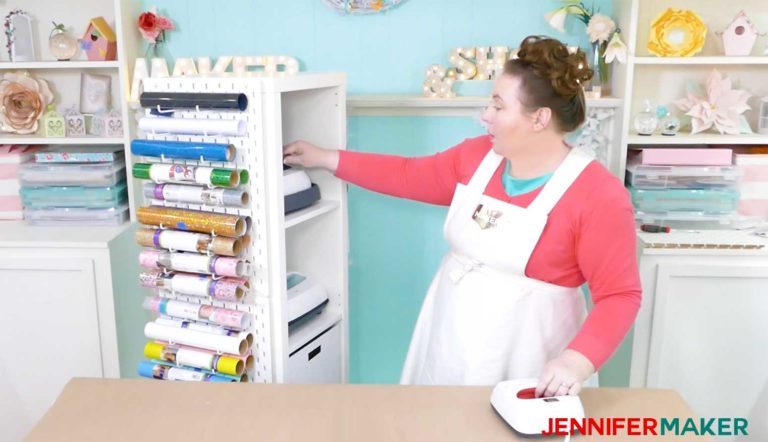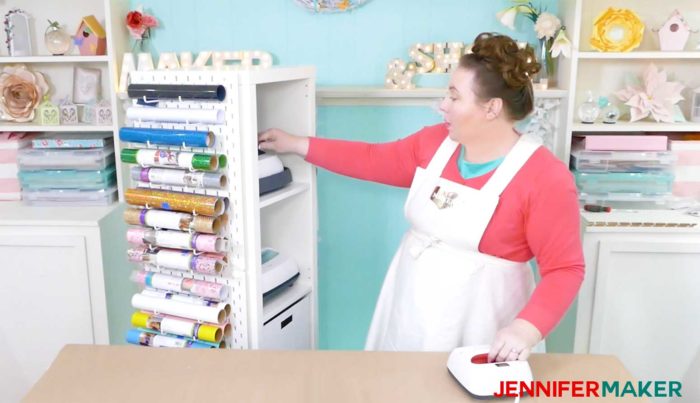 Notes on the Craft Vinyl Storage Tower
I mostly have rolls of vinyl, so I preferred to store my vinyl on the hooks on the sides. But if you also have flat vinyl sheets, I recommend you check out my 12×12 paper storage tower — you can combine the two ideas to make shelves for your flat vinyl sheets on the inside and store your vinyl rolls on the outside.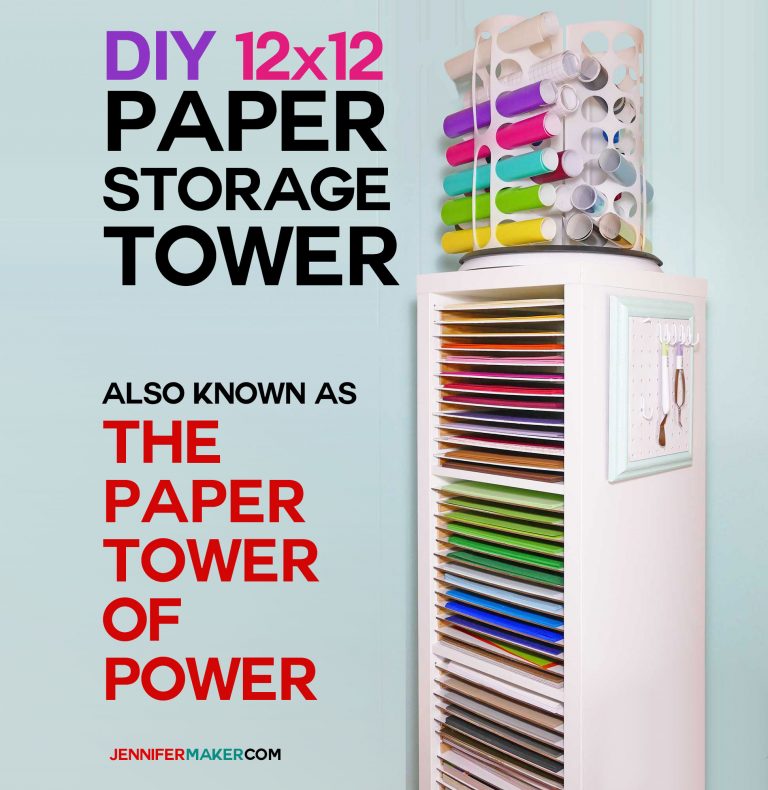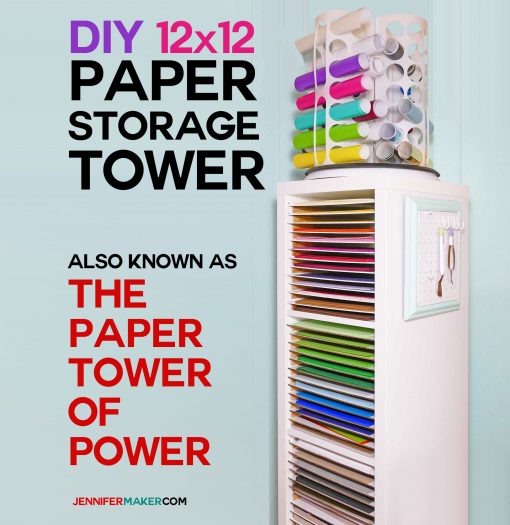 I hope you also make a Craft Vinyl Tower of Power to get your vinyl chaos under control, too! If you make one, send me a photo at [email protected] or tag me on social media with #jennifermaker so I can share it here with your permission.
Please let me know if you have any questions!
Love,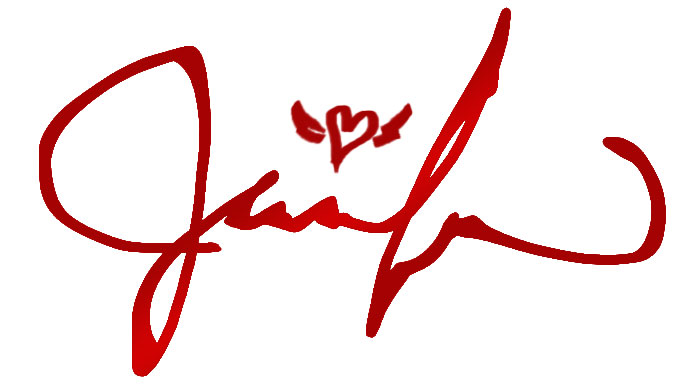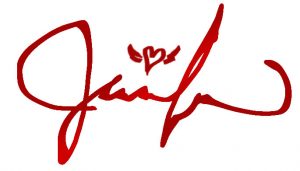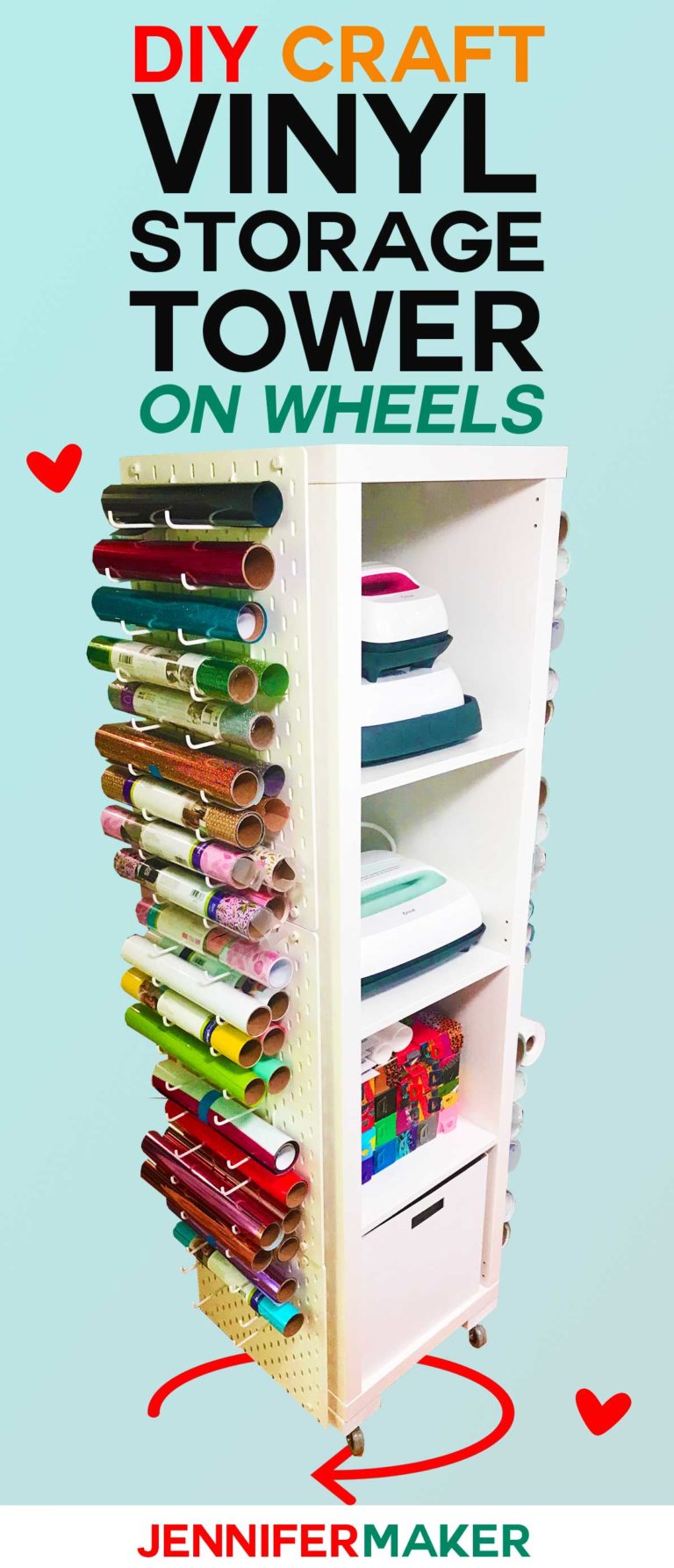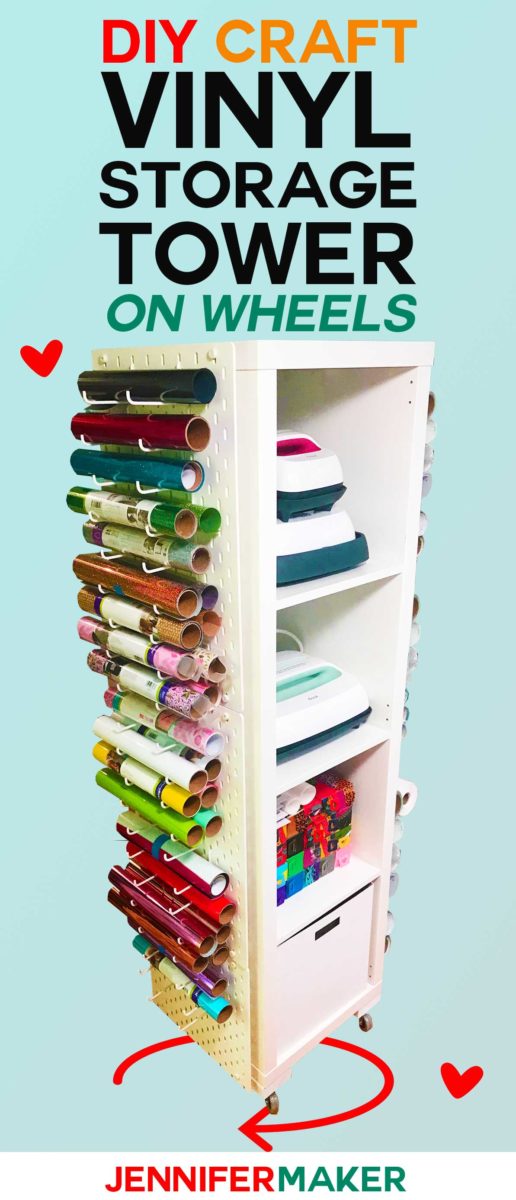 P.S. If you liked this post, you might also like my other IKEA Hacks: