Reclaim old furniture with some paint… and match it to your room exactly! Here's how to paint upholstered furniture so it stays soft and flexible… and stencil a design on it, too!
So I had this old and out-of-date footstool I've had since the '80s. It didn't match my decor anymore and, also, it was showing its age. We recently redid our bedroom with a pretty coastal decor, so I thought it would be fun to paint this footstool to match our bedroom exactly. With
paint
, I can use the exact same paint color I used on the walls to match the room perfectly. So I'm going to show you
how to paint upholstered furniture … and stencil it, too!
Painting upholstered furniture isn't as simple as just slapping some paint on, though. I mean, you could do that, but no one is going to want to touch or sit in that furniture because it'll be stiff and rough … and will probably crack on you!
Instead, you want to mix your latex or acrylic paint with
Textile Medium
and water. Textile medium will make the resulting mixture thinner than regular paint and while it will take a number of coats, once it dries it's flexible and a lot softer than you'd expect.
You can just leave your upholstered furniture painted, of course, but why not go the extra step and stencil it? I created a sweet design, cut the stencil on my Cricut, and painted it on the top of the footstool. I'll show you the secret to doing that so the paint doesn't bleed under the edges of the stencil, too!
And, as always, you're welcome to use my design for your own projects. You may not have a footstool you want to paint and stencil, but this design would look fabulous on a canvas hanging on a wall — get it from my free resource library!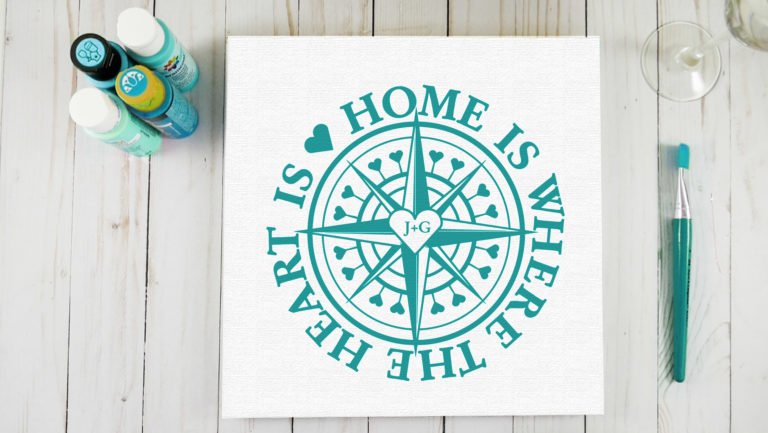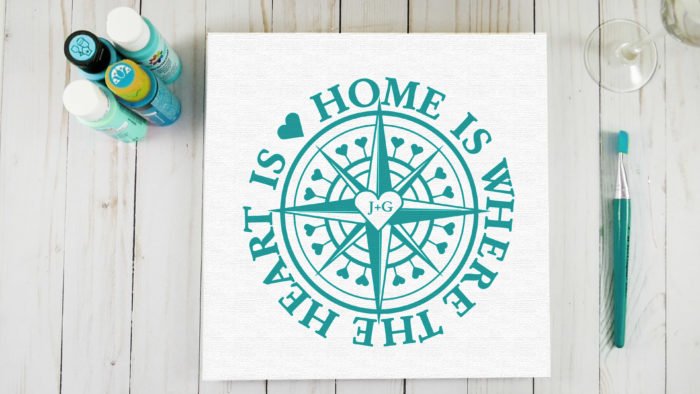 Many thanks to the
readers and viewers who requested I show how to paint stencils
(Debbie D., Aurora M., Carol C., Nicole G., Kim L., Kristin E., Misty, Sharon H., Amy S., Pam C., and Karen R.). Each person who contributed this project idea will receive an extra entry for your idea (I am keeping track on this on my end). And don't forget,
you can suggest project ideas for this Challenge here
and receive entries to win one of our awesome prizes, including a Cricut Maker!
Key concepts taught in the video tutorial include how to paint upholstered furniture, how to reverse weed, how to use Mod Podge, and how to paint a stencil.
See exactly how to paint upholstered furniture in this step-by-step video below:

Let me show you how to paint and stencil your upholstery or a canvas! This post contains some affiliate links for your convenience (which means if you make a purchase after clicking a link I will earn a small commission but it won't cost you a penny more)! Read my full disclosure policy.

Materials for Painting and Stenciling Upholstered Furniture
An old piece of upholstered furniture OR a piece of blank canvas
Latex or acrylic paint
Brushes
Oracal 651 or Oramask Stencil Film
Painter's tape
A way to cut your materials (I used the amazing Cricut)
Design #126 – My free SVG/DXF/PDF cut files/patterns (available in my free resource library—get the password at the bottom of this post)Note: Here are the fonts I used in this tutorial
How to Paint Upholstered Furniture
You can download my "Home is Where the Heart Is" windrose design (Design #126) from my free resource library (you can get a password for it at the bottom of this page). If you're going to cut this vinyl stencil out on your cutting machine, upload the file to your design software. If you're not sure how to upload an SVG cut file to Cricut Design Space, watch this helpful video training series I made. If you're on an iPhone or iPad, here's how to download and upload SVG files to the Cricut Design Space app.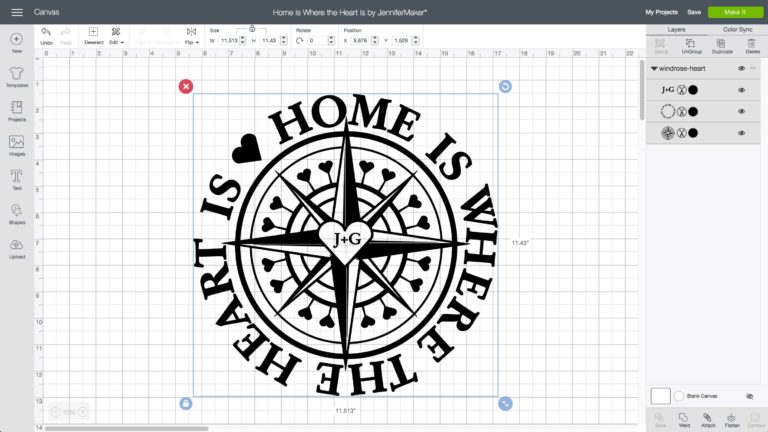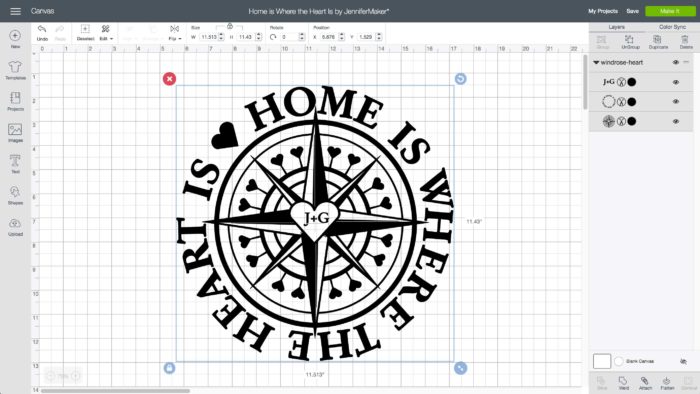 Check back later for more instructions and photos, or watch the video linked above!
Get my free SVG cut files and patterns for the Home is Where the Heart Is Design
I am SUPER happy with how this footstool turned out. I mean, look how amazing it looks in my bedroom now.
The biggest mistake I made with this project was not waiting long enough between painting and stenciling. I waited only one day, not the seven days listed on the back of the Fabric Medium bottle. (I can be LITTLE impatient.) So that meant a bit of the paint came up when I pulled off the stencil, as I chose a very sticky vinyl. I was able to fix it, but I learned my lesson. On the other hand, the Mod Podge performed beautifully and all of my edges are crisp and clear … with no bleed through!
If you use my stencil design, please share a photo in our Facebook group, email it to me at [email protected], or tag me on social media with #makershowandtell.
See all of the projects, tutorials and free designs in The Great Maker Show and Tell Challenge! There is one for each day of the 25 Days of Christmas! This is my gift to you for the tremendous support, enthusiasm, and love you've shown to me and my little blog over the past two years. To "open" a gift, hover over the day's image and click the download icon.
[ess_grid alias="25days2″]
Love,