Learn how to make an amazing light painting shadow box!

Shadow boxes are one of my favorite crafts. They're never not beautiful, and using a cutting machine makes it so easy to cut all the layers. Light painting shadow boxes are a fun project that combines layers and light to bring a special photograph to life in a really creative way! When I saw these super cool light-up photo "paintings" online, I just loved how they turned a simple photo into a work of art. Right away, I knew I wanted to create my own! But, how do we make the picture light up?
Want to save this project? Enter your email below and we'll send the project straight to your inbox.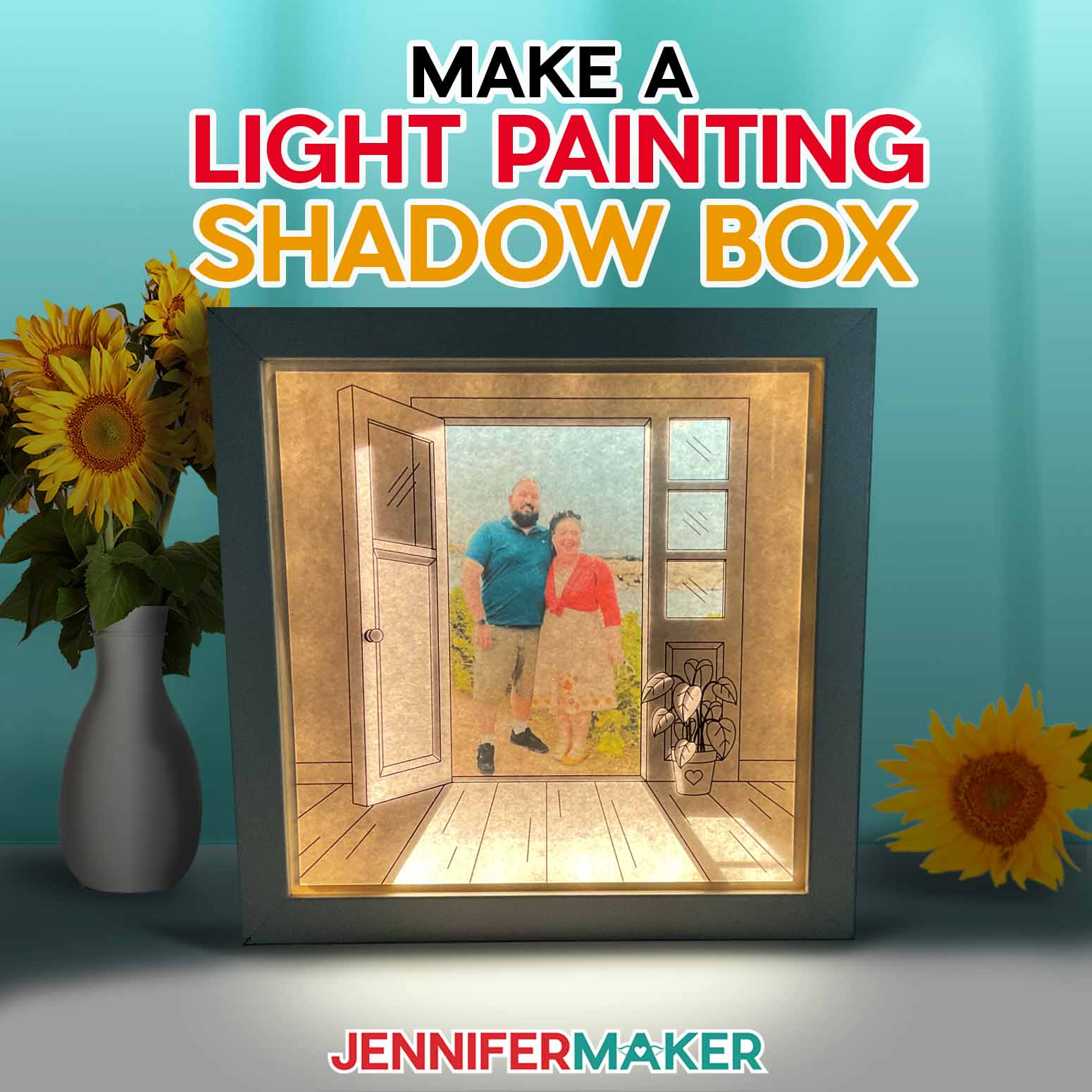 These are a little different than other shadowbox projects I've shared with you, and use a few different materials. One material you've most definitely used before, and one may be new to you! But that's ok, because I'm here to guide you through every step.
I'm always excited to use my crafting tools to their full potential, and for this project we'll be using the Print then Cut feature on a Cricut, as well as using it to cut our layers.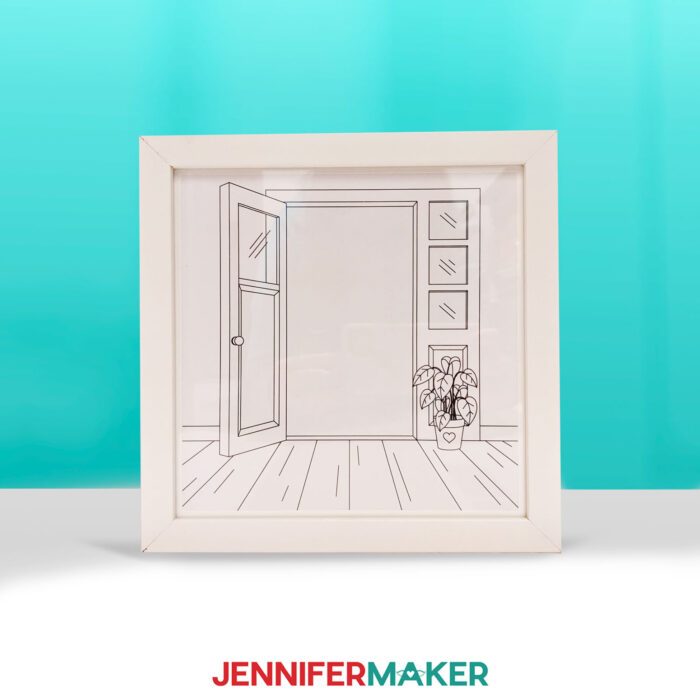 To make the photo light up in our light painting shadow box, I'll show you how to print the picture on transparency material, rather than paper or cardstock. This allows the light to shine through and illuminate the image. It is SO cool!
In the download file for this project, you'll find a JPG folder with a doorway scene drawing layer that you can personalize with your own photo, as well as a sunset scene photo layer that you can personalize with your own custom combination of family silhouettes. I've also included an SVG file that includes all the additional layers and pieces needed to complete each design.
First, for the doorway scene, I'll show you how to tweak your photo in Cricut Design Space to work in the design, then how to use the Print then Cut feature to prepare all the layers to fit together. Then later on for the family silhouettes project, I'll show you how to customize the design to match your own family, and then we'll add a sentiment to the frame.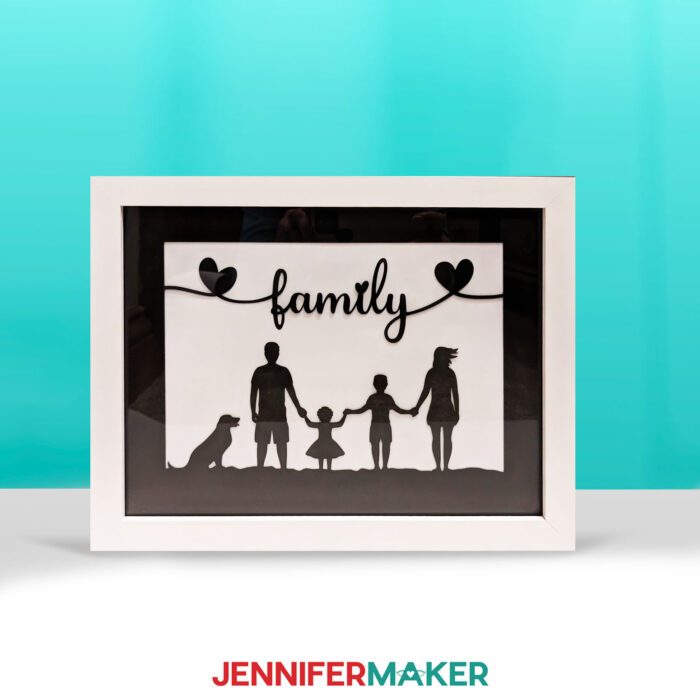 What kind of photo will work for these projects? I'll show you examples of what to look for when choosing a photo for your shadowbox, and some reference photos that show what kind of pictures do not work well with this project.
For example, when choosing a photo for the doorway shadowbox, you need to be sure to choose one that's high quality, with good lighting and clearly featured subjects like the photo I used of Greg and I.
For the silhouette shadow box, you'll want to choose an image without a lot of contrast or dark tones, as they'll make the silhouettes hard to see against it. You can use photographic images, pictures of artwork, or digital designs for this layer — it's totally up to you!
You'll need a regular color inkjet printer to print certain layers, as well as a Cricut cutting machine with Print then Cut capabilities to cut them. I'll use a Cricut Maker 3, but you can also use the original Maker, any of the Explore series machines, or the Venture for both projects. The doorway design will work on a Joy Xtra, too, because all of the layers can be cut on 8.5″ x 11″ paper without any modification.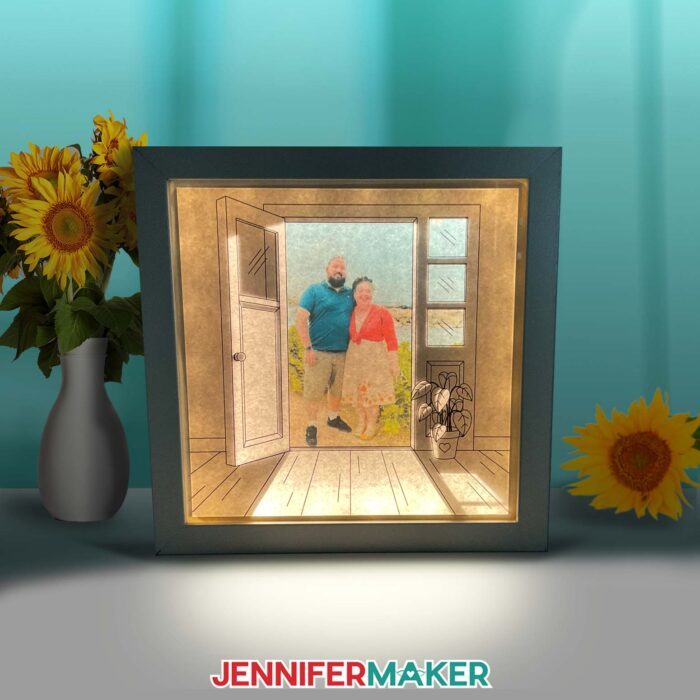 To get started with the doorway shadow box, you'll need an 8″ x 8″ shadow box frame, regular white copy paper, a transparency sheet, and some white cardstock. For the family silhouette project, you'll need a 8.5″ x 11″ shadow box frame, regular white copy paper, transparency sheets, and some black cardstock. For both projects, you'll also need some LED lights, small glue dots, and a few other tools and supplies I have linked in my materials list.
One tool that's optional but really nice to have is a light box. Using a flat surface that lights up makes aligning and assembling the layers a breeze, and I highly recommend investing in one. They also make weeding certain colors and types of vinyl much easier!
When your shadowbox is finished, display it on a side table, among your family photos, or even on that blank space on your bathroom wall as a cool night light.
These might be some of my favorite shadow boxes yet! It's so cool how the artificial light of the LEDs ends up looking like real sunbeams and reflected light in doorway project. In the silhouette box, the cast shadow of the black cardstock looks like a real family backlit from a dazzling sunset. They are too cool, and I can't wait to make some more of these!
I love taking inspiration from older projects and using it to create something new. And I hope you feel inspired, too, to create your own cool doorway or family silhouette light painting – or any other variation of these ideas! The main thing is to just have fun with it, and to take pride in your unique and beautiful result. I can't wait to see what you all come up with!
Ready to learn how to make a light painting shadow box? This post contains some affiliate links for your convenience (which means if you make a purchase after clicking a link I will earn a small commission but it won't cost you a penny more)! Read my full disclosure policy.
Materials And Tools to Make a Light Painting Shadow Box
See my full and complete Amazon shopping list for the exact items used in this project!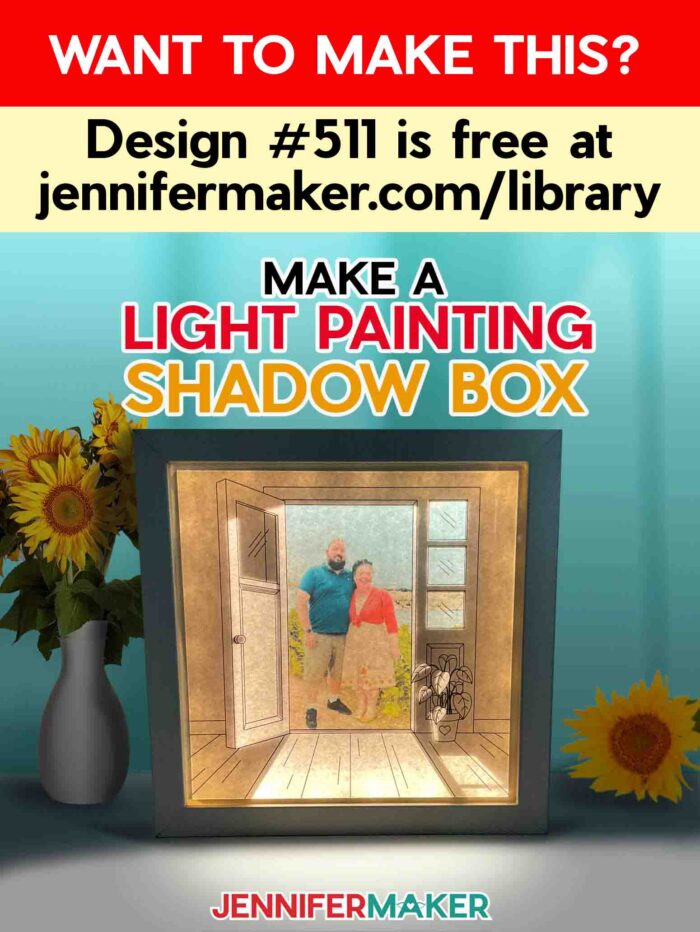 How to Make a Light Painting Shadow Box!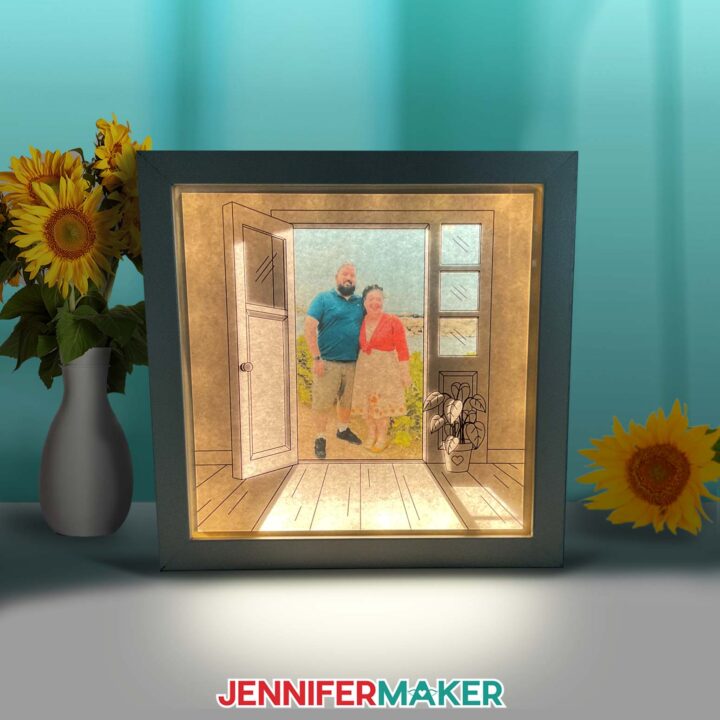 Light Painting Shadow Box
Estimated Cost:
$24 - $34
Learn how to make a custom light painting shadow box with a photo that magically appears when the lights are on!
Answers to Your Questions About How to Make a Light Painting Shadow Box
Q: How do you make a lighted shadow box?
A: I explain how to make a lighted shadowbox right here in this tutorial, step by step! You can read the written instructions here in this blog post or watch the video to see how I do it.
Q. How to do I turn a picture into a shadow box?
A. Follow this tutorial if you want to learn how to make a shadow box with an illuminated photo printed on transparency material. I walk you through how to create and customize your own doorway and family silhouette light paintings in this tutorial, but you can also use them for inspiration to create your own photo shadow boxes.
To make a simple keepsake shadow box including a spot for a photo, check out my DIY Shadow Boxes for Collections tutorial.
If you want to turn a photo into a cuttable file you can use in a layered paper craft, shadow box, or many other projects, you'll need to first convert your image layer to an SVG cut file. This is a much more detailed process than I can describe here, but I cover it in my Cut Above SVG Design Course.
Q. Can you put LED lights in a shadow box?
A: Absolutely! Battery-powered adhesive LED strips are my favorite way to light up a shadow box. I show you how to add them to your shadow box (and my favorite material for making them stick) in this tutorial.
Q: Can you put a painting in a shadow box?

A: Sure! Shadow boxes can be used for all kinds of arts and crafts, including thicker canvases and 3D art. Just make sure you get the right depth shadow box for your painting. Often, you can find used shadow boxes at thrift store or on clearance at your local craft store. Fill them with paintings, layered paper art, keepsakes, mandalas, and anything else you can think of! There's no wrong way to craft, and as long as you're having fun you're going in the right direction.
Q: What do you put between layers in a shadow box? What is the best glue to use in a shadow box?
A: Glue dots and double-sided adhesive foam are my favorite ways to attach and space out layers in a shadow box. I don't recommend using glue on most shadow boxes because it doesn't add dimension between the layers like the larger glue dots and foam do.
Q. What kind of printer do I need to print on transparency?
A. A regular inkjet printer works great to print on transparency material — you don't need any kind of special printer or equipment to print the photo for your light painting shadow box.
Get my free SVG files to make a Light Painting Shadow Box!

I'd love to see YOUR amazing light paintings! Please share a photo in our Facebook group or tag me on social media with #jennifermaker.
Love,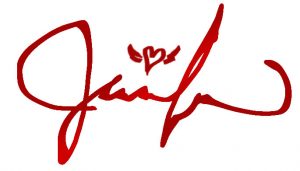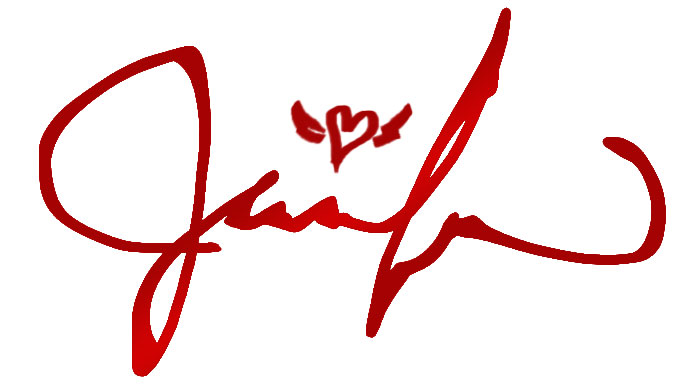 Want to remember this? Save this tutorial on How to Make a Light Painting Shadow Box to your favorite Pinterest Board!