Learn how to sublimate on cardstock to make a 3D cake topper!
I love combining craft techniques to make really special projects! Lately, I've been really excited for sublimation, but I'll always love papercrafting. So I wondered, "Can you sublimate on cardstock?" I'll show you two ways to try it out and test some of the best (and worst) cardstock for these cake toppers. Plus, I tried a new material to create cake toppers with your own image if you don't have sublimation materials!
Want to save this project? Enter your email below and we'll send the project straight to your inbox.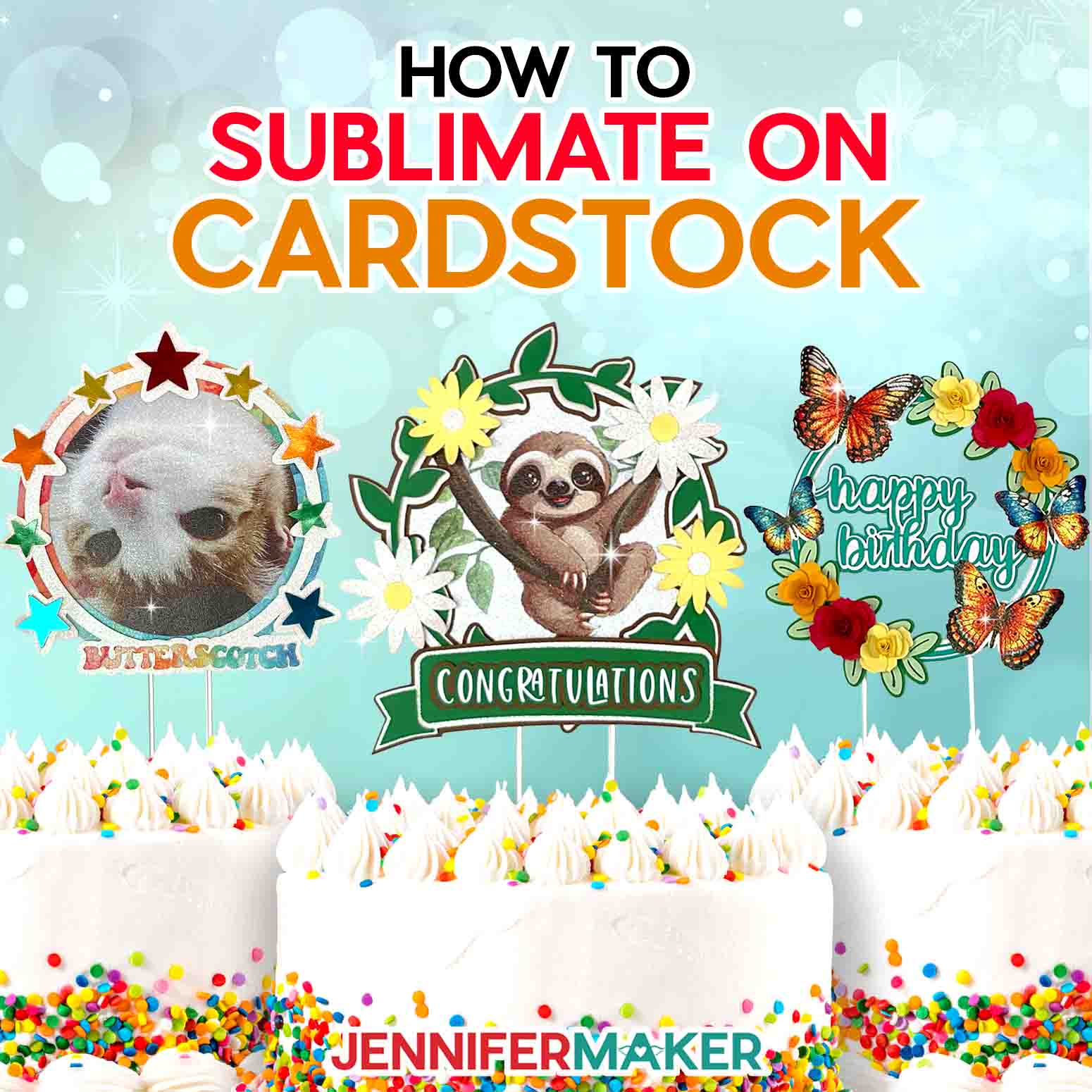 If I asked you, "Can you sublimate on cardstock?" you'd probably say no. For most types of cardstock paper, you're right! The sublimation process needs polymers (a type of plastic) to work correctly, and cardstock is paper, not plastic.
However, do you know what the glitter on most glitter cardstock is? Plastic! So that's one type of cardstock I decided to try sublimating on! And check out the results on this cake topper!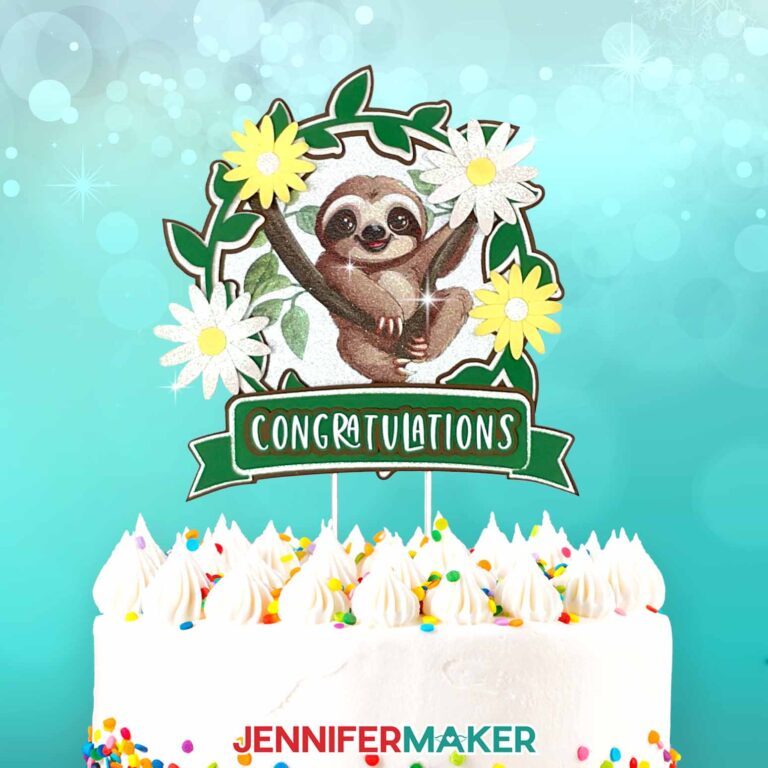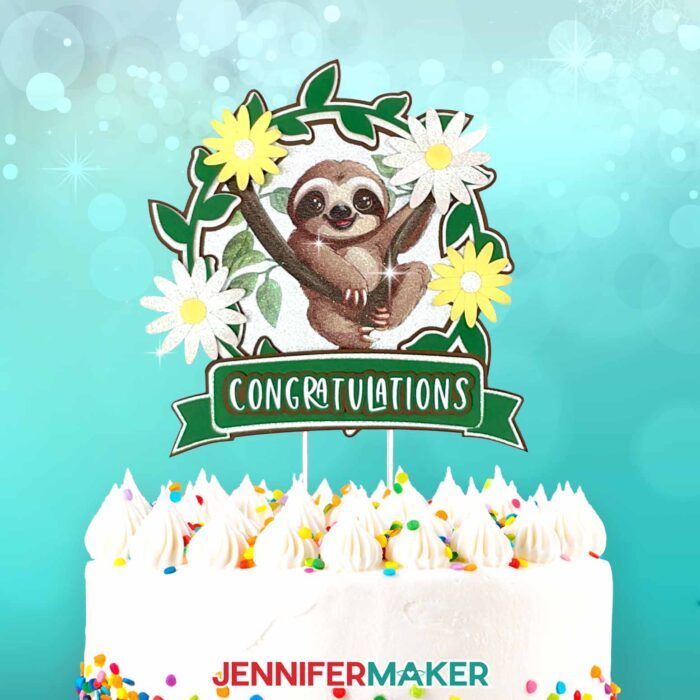 I tested a few brands of white glitter cardstock to see how they held up to the high heat sublimation requires. One basically melted, but I do have results for the best paper options!
I made my butterfly design with one high quality brand and my cute sloth with another. Can you tell the difference?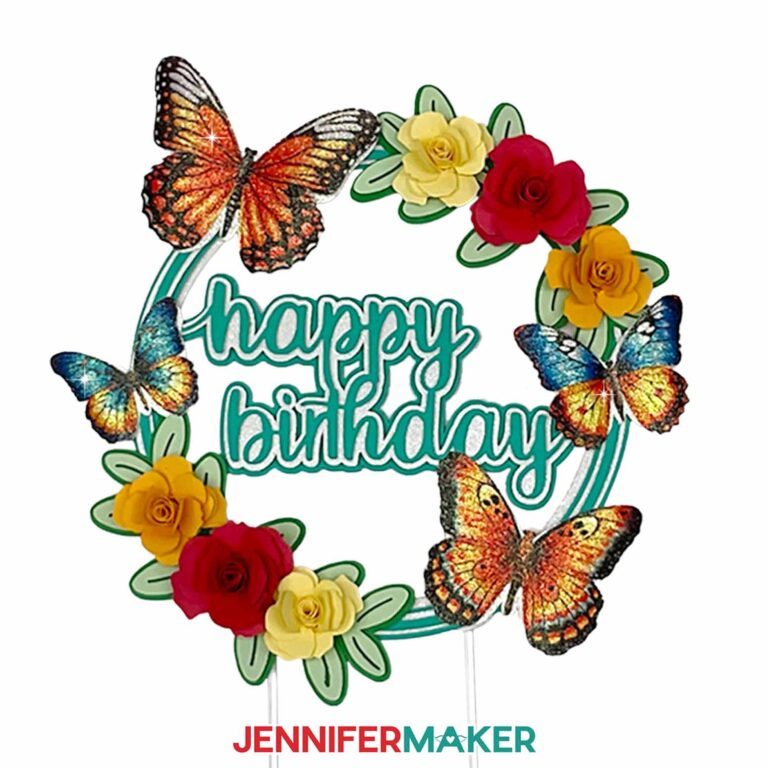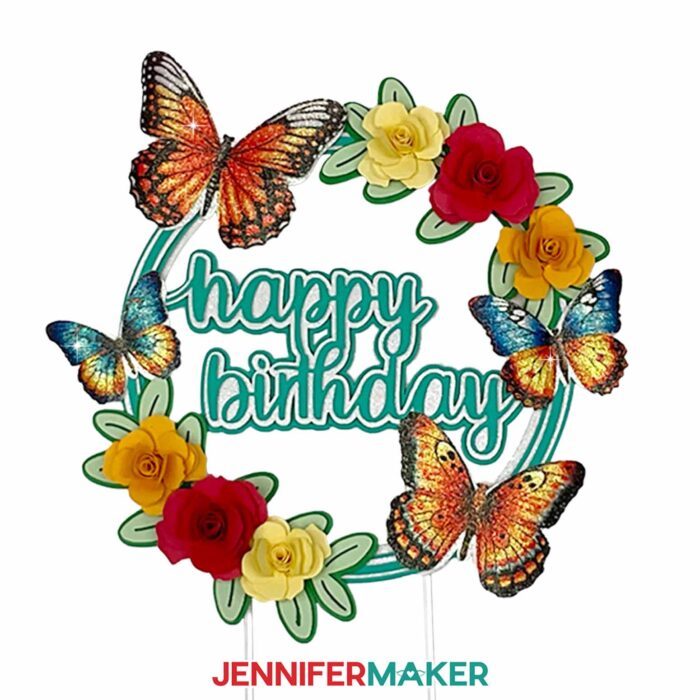 The sublimation process worked beautifully on both!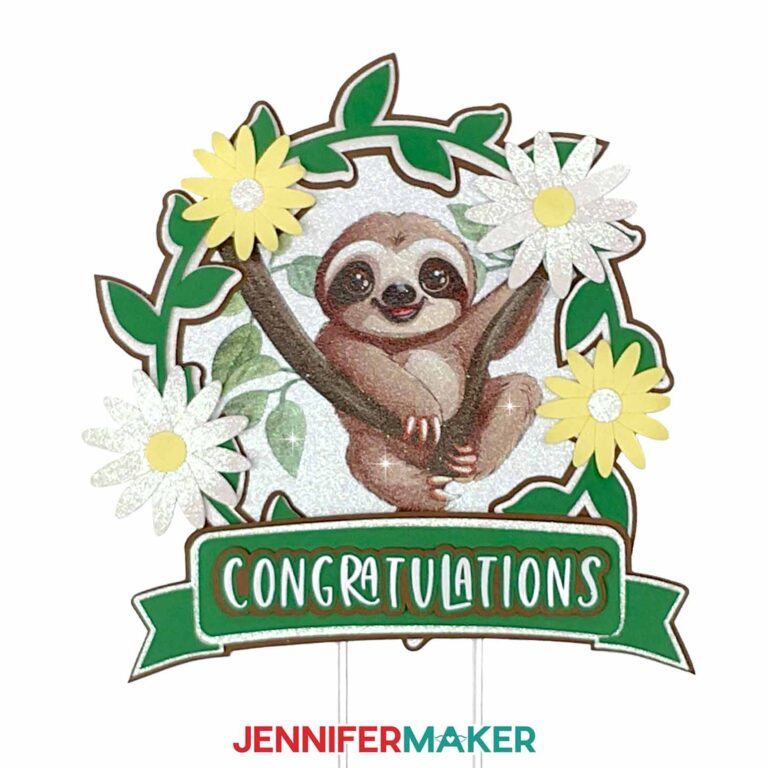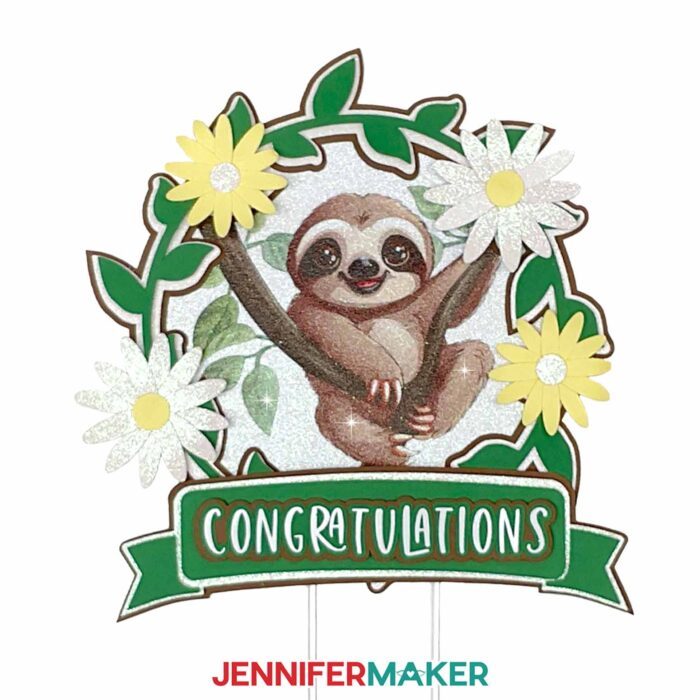 To make these adorable personalized cake toppers, you will need several pieces of cardstock. Other than needing white glitter cardstock for the sublimation layer, you can use whatever paper you want to fit your theme. I used 65 lb. cardstock in several colors and glitter cardstock for most of the layers.
I tested two methods to make my cake toppers using a Cricut machine. You can use the Print then Cut method with a Cricut Maker 3, Cricut Maker, Cricut Explore, Cricut Explore Air 2, Cricut Explore 3, Cricut Venture, or Cricut Joy Xtra. If you have a Cricut Joy or another machine without Print then Cut capabilities, try the second method to sublimate on cardstock!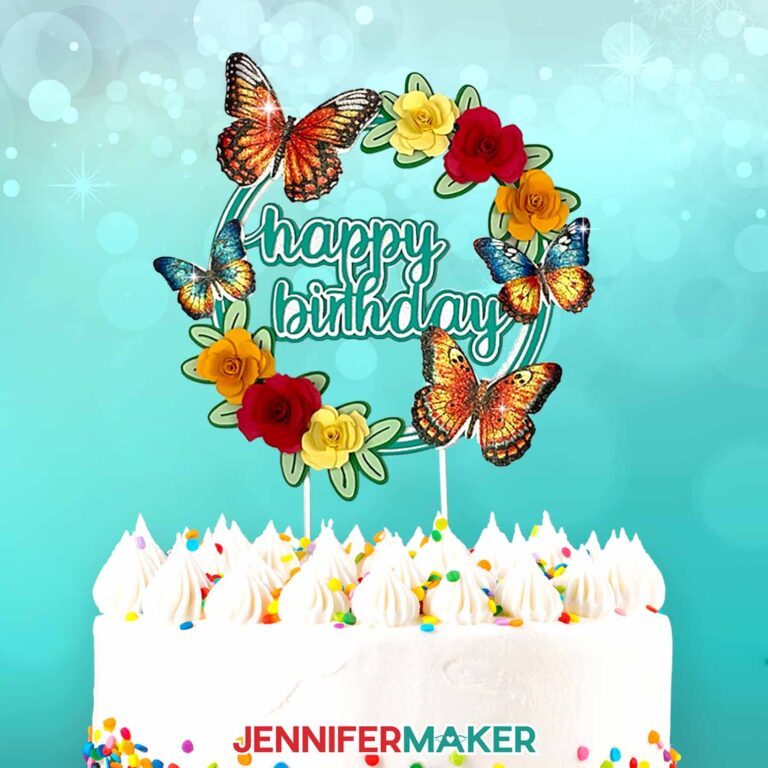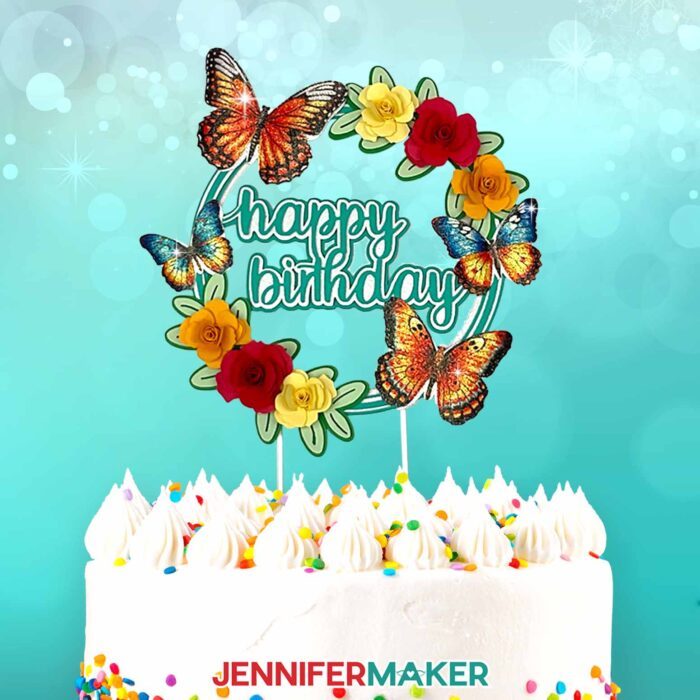 Or, if you don't want to sublimate on cardstock, I tested out printable glitter cardstock, too! It worked well with my inkjet printer with regular ink. And no, the glitter didn't come off at all in the printing process! Phew! Look how handsome Butterscotch looks on this paper!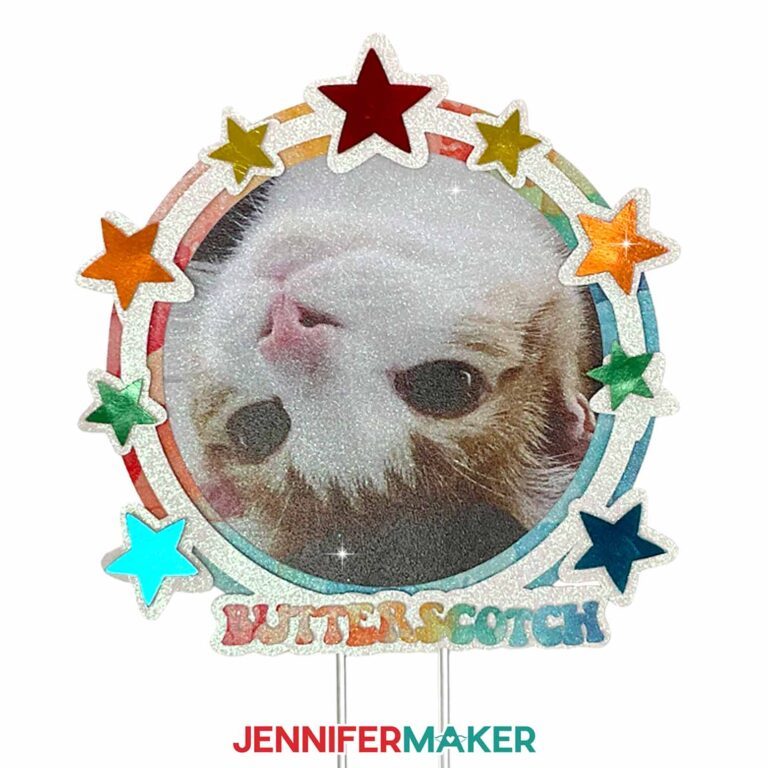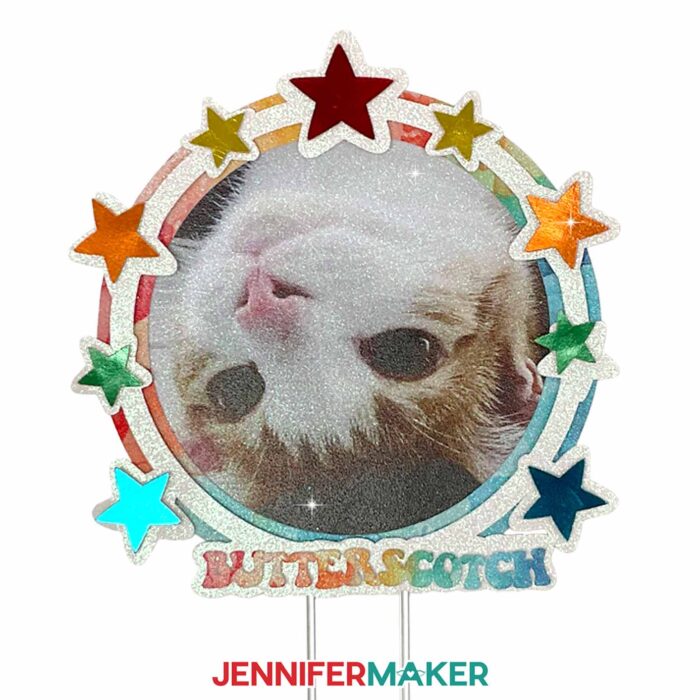 So, can you sublimate on cardstock? Here's a supply list of what you need to find out and sublimate on cardstock! This post contains some affiliate links for your convenience (which means if you make a purchase after clicking a link I will earn a small commission but it won't cost you a penny more)! Read my full disclosure policy.
Materials to Sublimate Cardstock Cake Toppers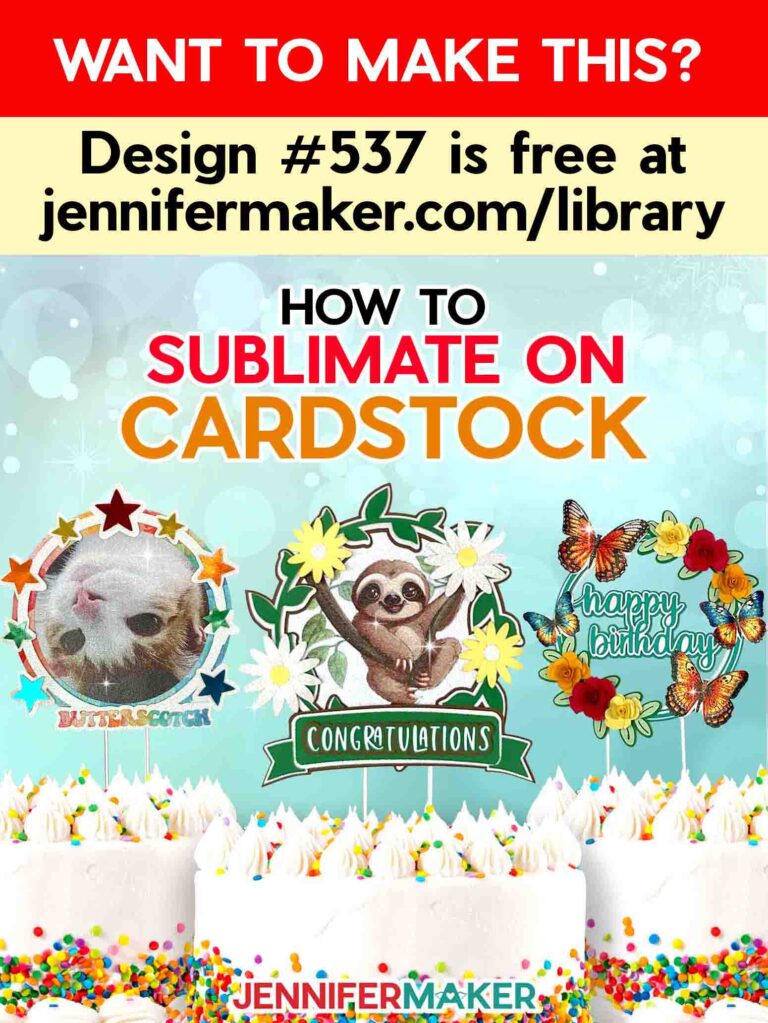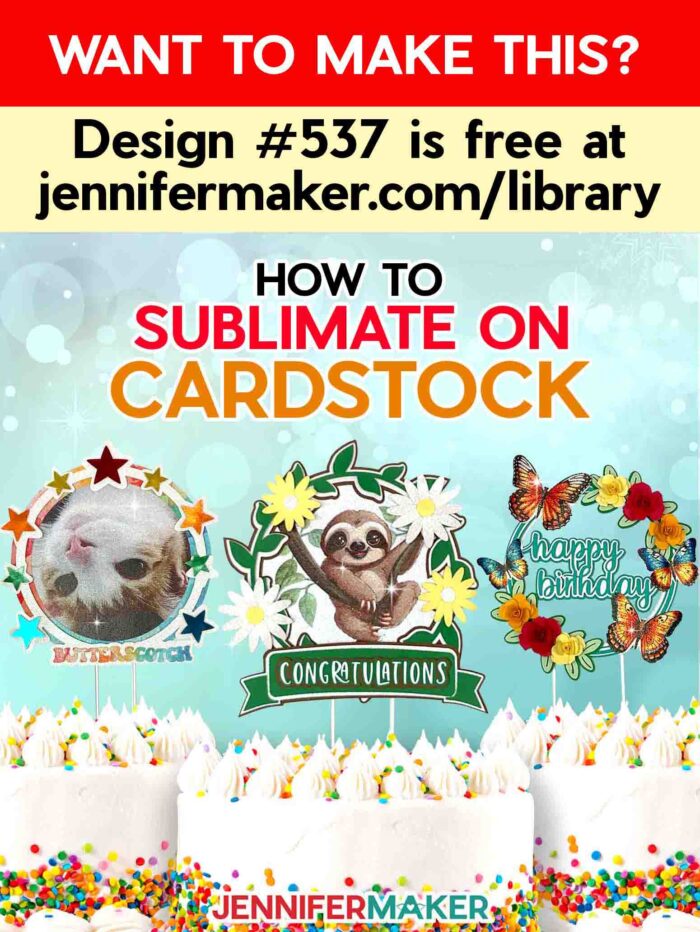 How to Sublimate Cardstock And Customize Cake Toppers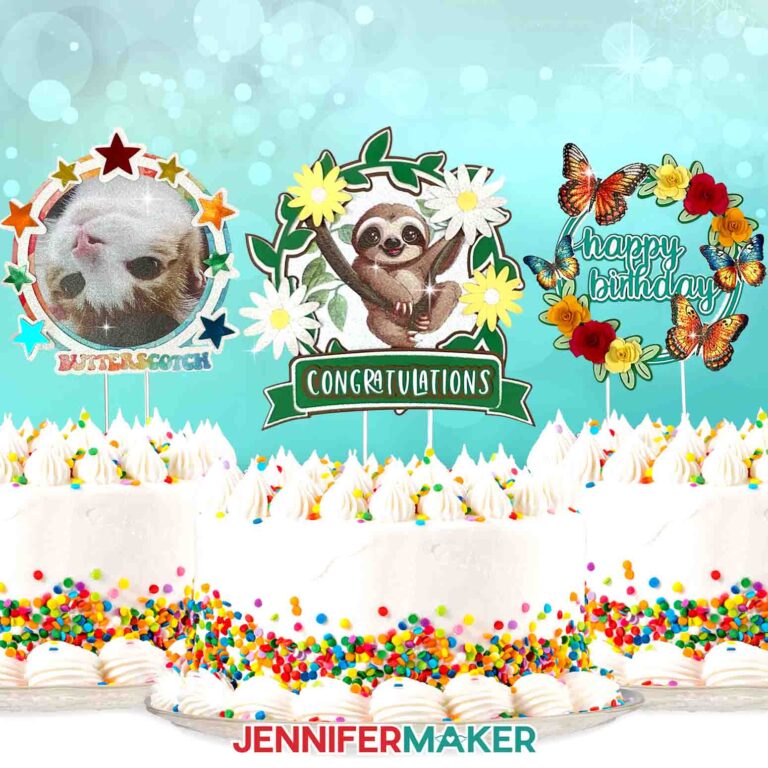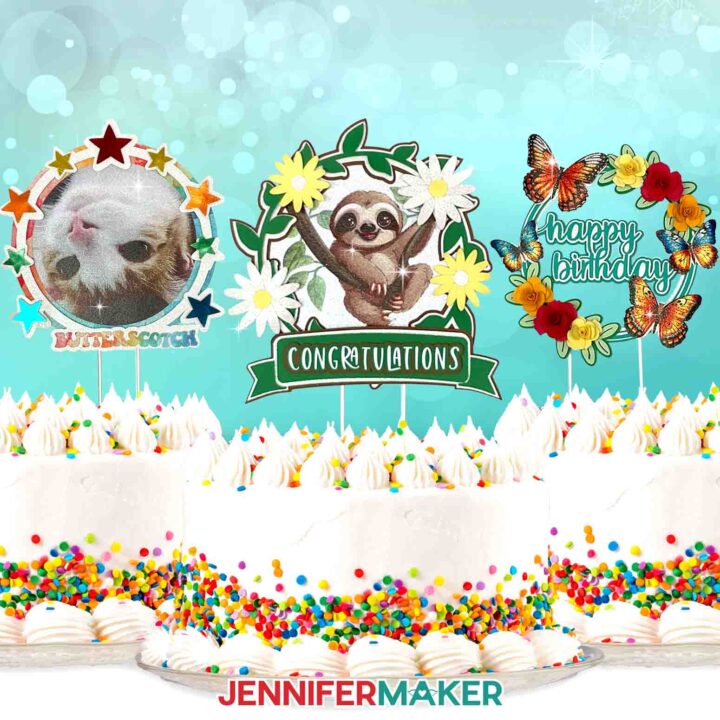 Can You Sublimate on Cardstock
Learn how you can sublimate on cardstock to make cake toppers!
Answers to Your Question: Can You Sublimate On Cardstock?

Q: Can you use cardstock in a sublimation printer?
A: While you might be technically able to put cardstock in a sublimation printer, transfers will work much better if you print them on sublimation paper. Cardstock could jam you printer or not release the ink well, so I don't recommend trying it.
Q: What kind of paper can you sublimate on?
A: The type of paper is very important because it needs to have polymers to accept the special sublimation ink in its gaseous state. White glitter cardstock has worked best for me.
Q: Can you sublimate onto cardboard?
A: Most cardboard doesn't have a polymer coating, so it wouldn't accept sublimation ink well. It's possible that adding glitter or a special coating could work, but I haven't tried it yet!
Q: Can you sublimate on dollar store items?
A: I've had great results sublimating on many items from Dollar Tree and other budget stores when the products are sublimation-friendly and can withstand high temperatures. Unfortunately, the Dollar Tree glitter cardstock didn't sublimate well.
Q: Can you print sublimation on any paper?
A: For the best results, only print sublimation designs on sublimation paper. While some people use regular copy paper, it will not create high-quality prints or sublimation crafts with vivid colors.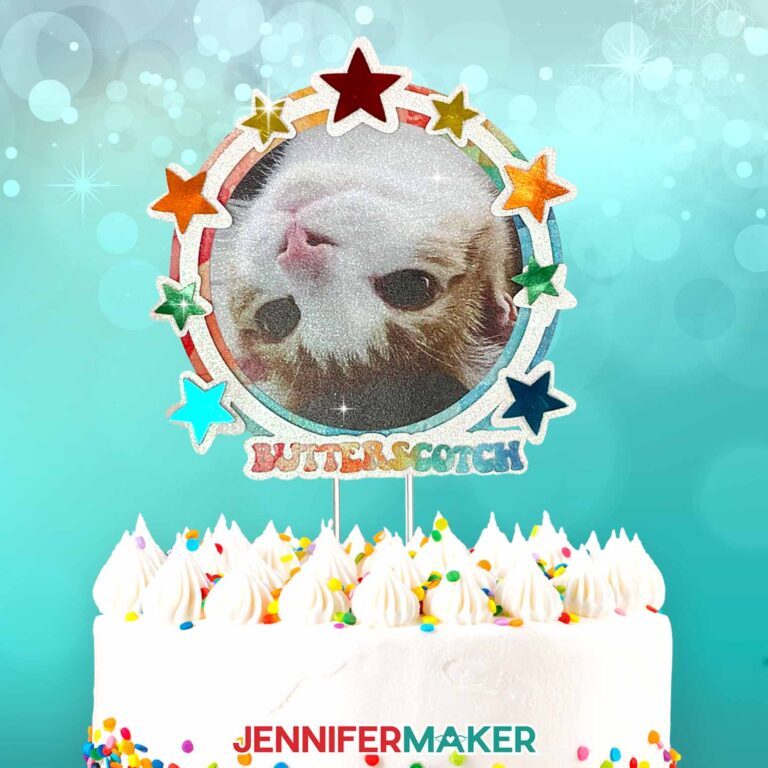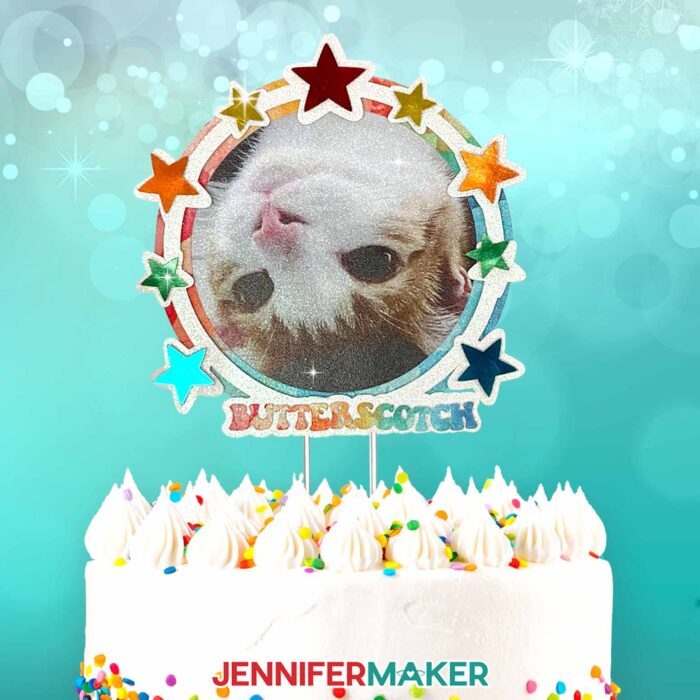 Q: What materials can you sublimation print onto?
A: You can sublimate on polyester fabric, phone cases with a heat safe back, various materials with a polyester coating, and so much more! Sublimation is a great way to customize so many materials.
Q: What can you not sublimate on?
A: Among other materials, you can't sublimate on plain cardstock because it doesn't contain polymers to accept the ink.
Q: What material is used for custom cake toppers?
A: The best material for basic cake toppers is cardstock! I used regular cardstock for most of the layers and glitter cardstock for some layers and the sublimated image. If you want to get fancy, you can use foil cardstock, too. Other than that, all you need acrylic sticks or bamboo skewers to stick the topper in your cake. No sticks or skewers? Use paper straws!
Q: How do you make a cake topper with Cricut?
A: The Cricut makes it so easy to cut out cake topper layers of card stock that you can assemble with craft glue and adhesive foam. I show you how in my step-by-step guide above.
Q: How big are your finished cake toppers?
A: The entire design size of my cake toppers are about 8″ wide and will fit nicely on a cake of the same size. If you're decorating a larger cake, you can increase the width to 10″. If you have a small cake, I don't recommend cutting my toppers smaller than their original size.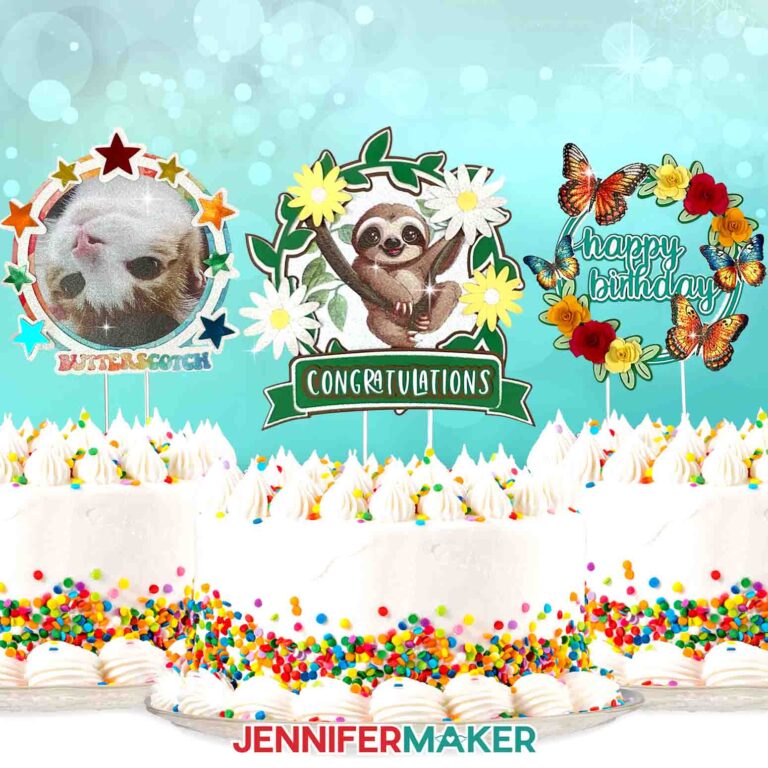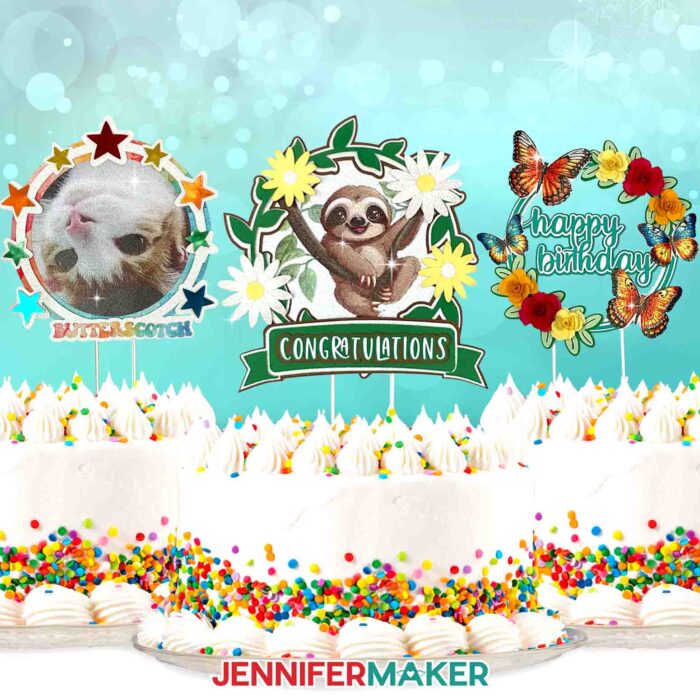 Get my free SVG and PNG files to create your own sublimation cardstock cake toppers!
Are you excited to sublimate on cardstock? I love seeing what you make with my designs and how you use them! Please share a photo of your custom cake toppers in our Facebook group or tag me on social media with #jennifermaker.
Love,