Learn when to weld, attach, slice, or group with this Cricut cheat sheet!
Cricut Design Space allows us to design amazing things with our Cricut cutting machines! But if you don't use it every day like I do, it can be easy to forget when to use which tool for which function on your design screen. Every day I hear crafters ask, "When do I use Cricut weld vs attach?" and "How is the slice tool different than the attach tool?" I hear you, I get you, and I can help you! To pick the best way and make it easy to pick right every time, I made a printable cheat sheet of the four main "keep together" tools of Cricut Design Space for you!
If the above link does not work for you, get the printable cheat sheet here!
My Cricut Design Space Cheat Sheet covers the following four important tools: Group, Attach, Slice, and Weld. Each of these tools are at the bottom of the layers panel (except for Group, which is at the top). I tell you when to use which tool as I know it can be hard to remember the names of everything. Here's what my Cricut cheat sheet includes:
Group Tool — Keep Things Together On Your Canvas
Use the Cricut group tool when you want to keep things together on your Design Space Canvas so you can move or resize them as a unit. Group is like a paperclip on your screen only — it will not keep items together when you click Make It. If you've ever seen your design "jumbled up" on your cutting mat, that's because you likely used Group — instead, use Attach.
Group is a great way to keep things organized on your canvas, and allow everything to remain on its own layer! The group tool is a useful tool when I want to quickly hide several different layers — I select them all, click the Group icon, then click Hide. This also allows everything to remain on their own individual layers and in its different colors.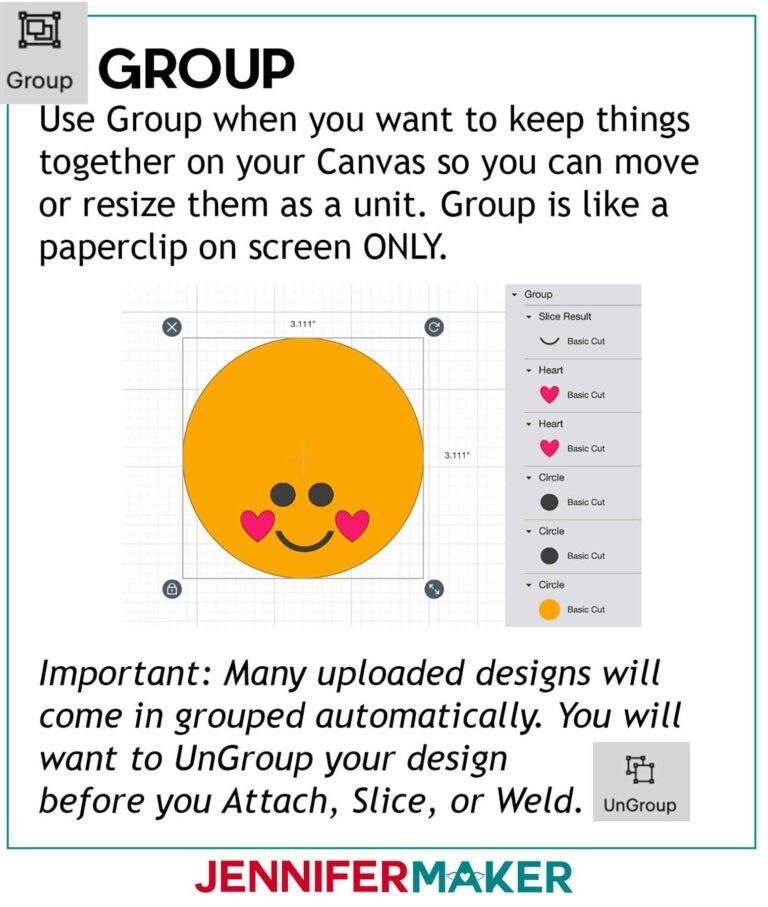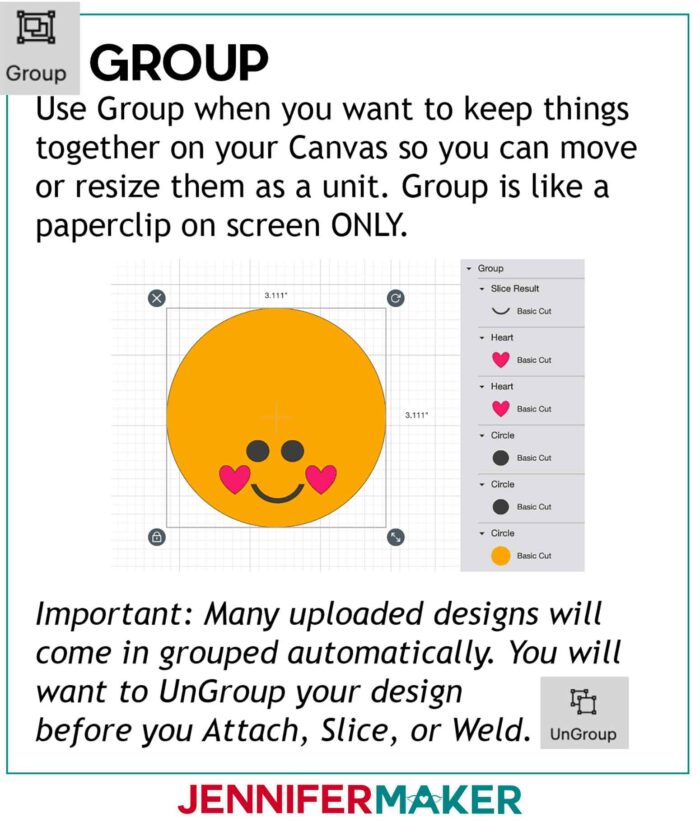 Note that many designs will be grouped by default. Be sure to click on UnGroup before you attempt to attach, slice, or weld, or you may get unexpected results. If this happens, remember to use your Undo button!
I think of Group as more of an organizational thing — it just puts layers together on our Design Space canvas, and that's about it. But once you group something, you can move it around as a unit.
Attach Tool — Keep Things Together On Your Mat
Use the Cricut Attach tool when you want to keep things together on both your Canvas and your machine mat. Attach is like removable glue, and you can Detach whenever you want.
Use Attach when you want to cut an image or word or shape out of another layer. The Attach function is like a non-permanent way of using Slice. Using Attach on overlapping cut lines can create new shapes, but only after they are cut out.
It's important to note that Attach keeps items in position relative to one another on the Canvas and on your machine mat, but may still cut out in a different location on your mat. You can change their specific place on the mat by repositioning your attached items on your mat on the Prepare screen (the screen you see after you click "Make It").
Use the Attach feature when you want to use the score tool to set score lines onto base layers. Attach also works for telling Cricut Design Space where to set deboss layers, foil layers, engrave layers, and more.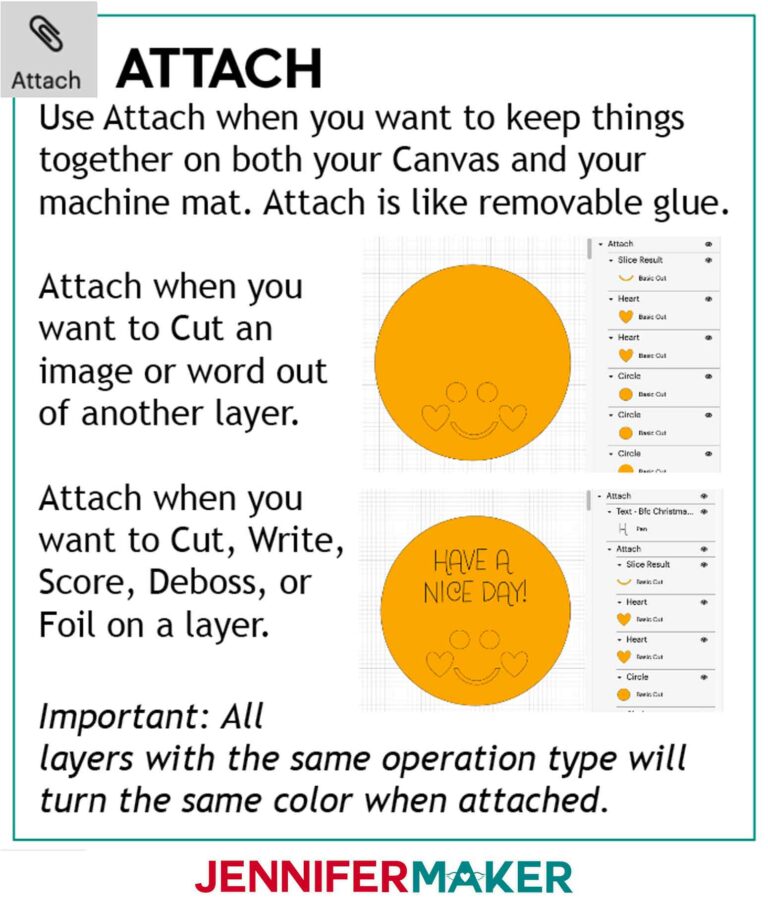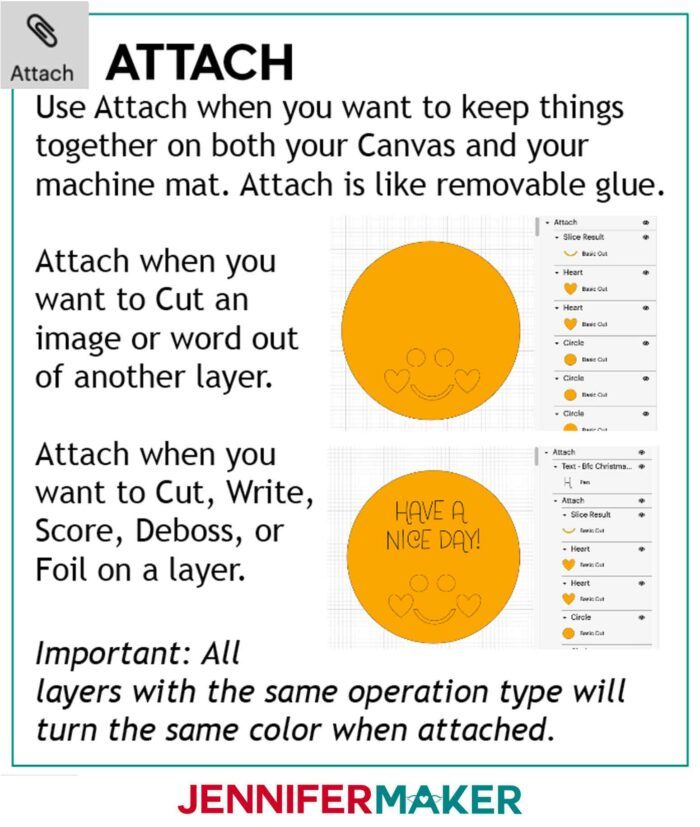 Note: All layers with the same operation type will turn the same color on the Canvas screen when you use the Attach button.
Slice Tool — Remove Parts to Make New Shapes
Use Slice when you want to permanently remove something from another layer. It will work similar to Attach, but it also creates new shapes. Slice is like scissors.
Use Slice when you want to create new shapes by REMOVING things. Slicing two layers will produce different shapes.
You can also use Slice to remove individual letters from a shape. While this is possible to also do with Attach, sometimes you need the letters to be completely removed for your design.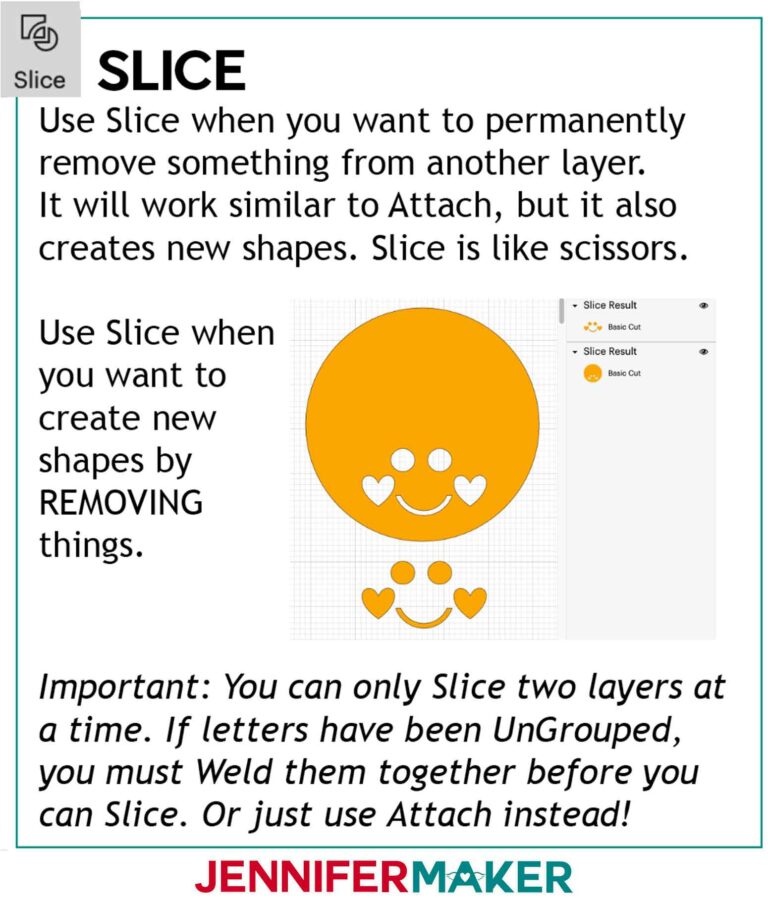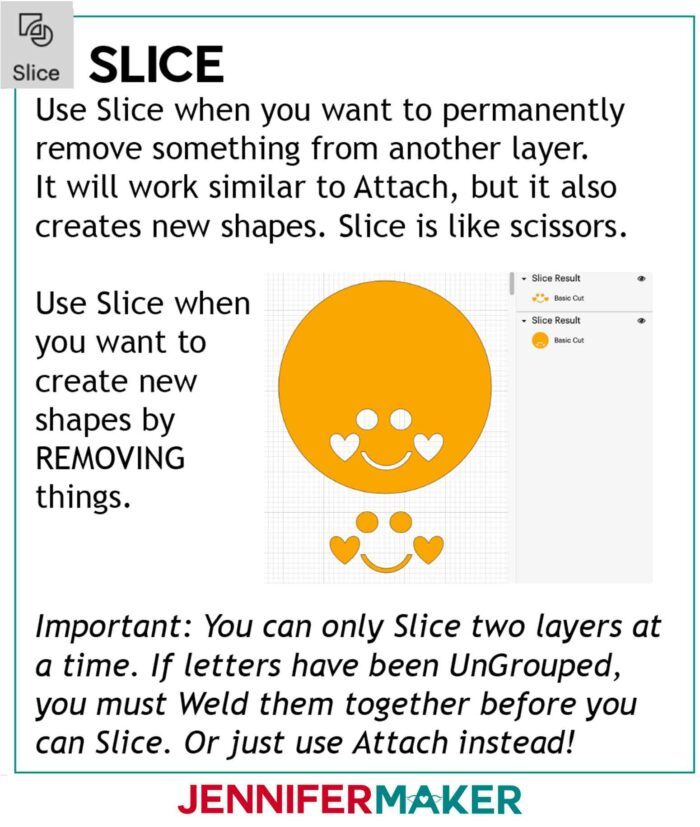 Important: You can only Slice two layers at a time. If letters have been UnGrouped, you must Weld them together before you can Slice. Or just use Attach instead!
Weld Tool — Remove Cut Lines Between Touching Layers or Add Parts to Make New Shapes
Use the Cricut Weld tool when you want to combine objects and meld two or more layers into one layer permanently. Weld is like super glue. Once you Weld something, it becomes a single layer and a new image.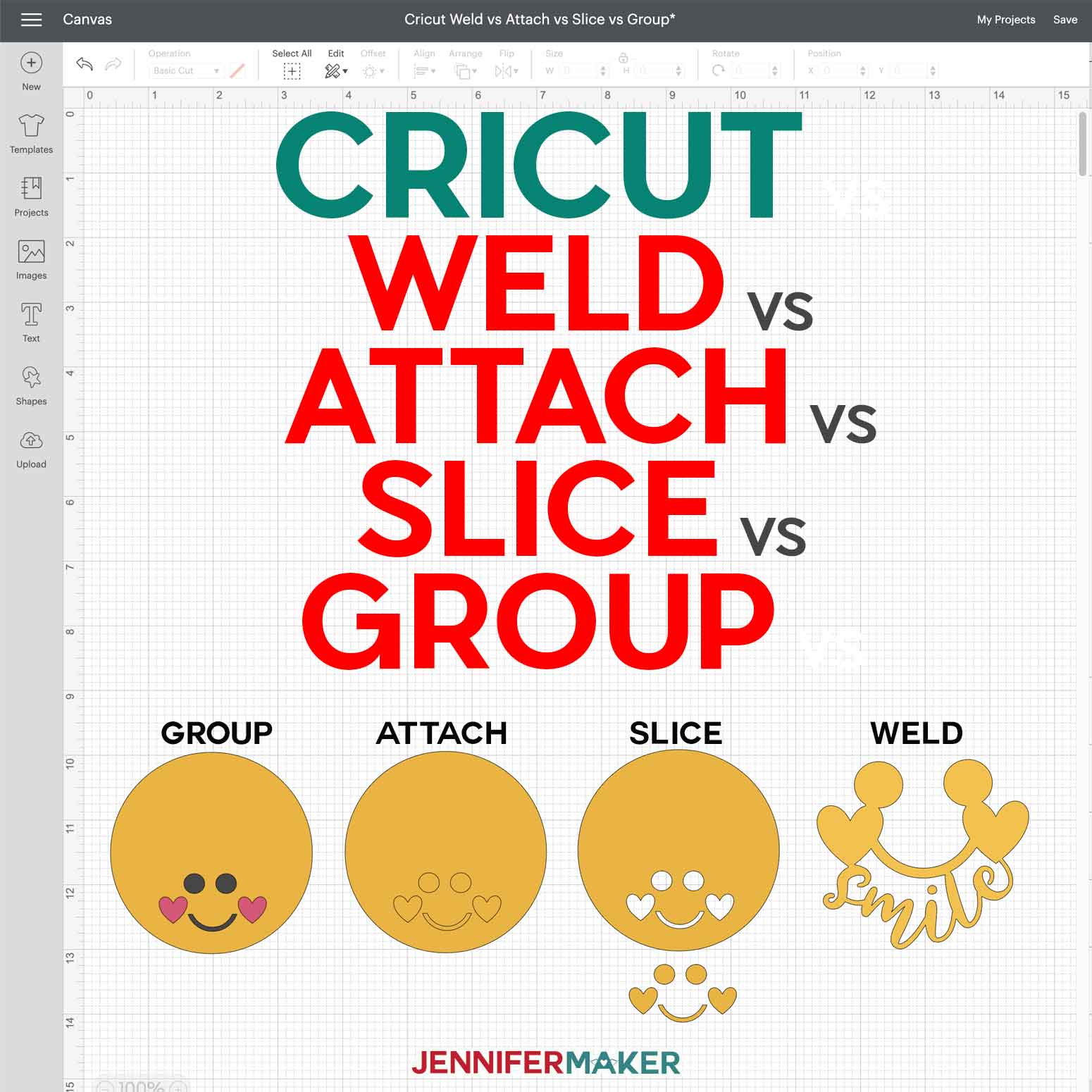 Use the Weld button when you want to create a new single shape by ADDING things.
Use Weld when you Ungroup letters that should touch, like a cursive font (ie script font). If you are using Cricut Design Space for Desktop, cursive letters with kerning (both Cricut fonts and system fonts) will auto-weld for you — you only need to weld them if you Ungroup the letters or otherwise change the letter spacing.
Use Weld to create separate shapes and totally new designs. One of my favorite things to do is use basic shapes to make new simple shapes and complex unique shapes, which I can show you how to do in my Design to Shine course where you can learn to create your own designs. Creating your own complex shape with Weld can be an alternative to Cricut Access if you cannot afford it.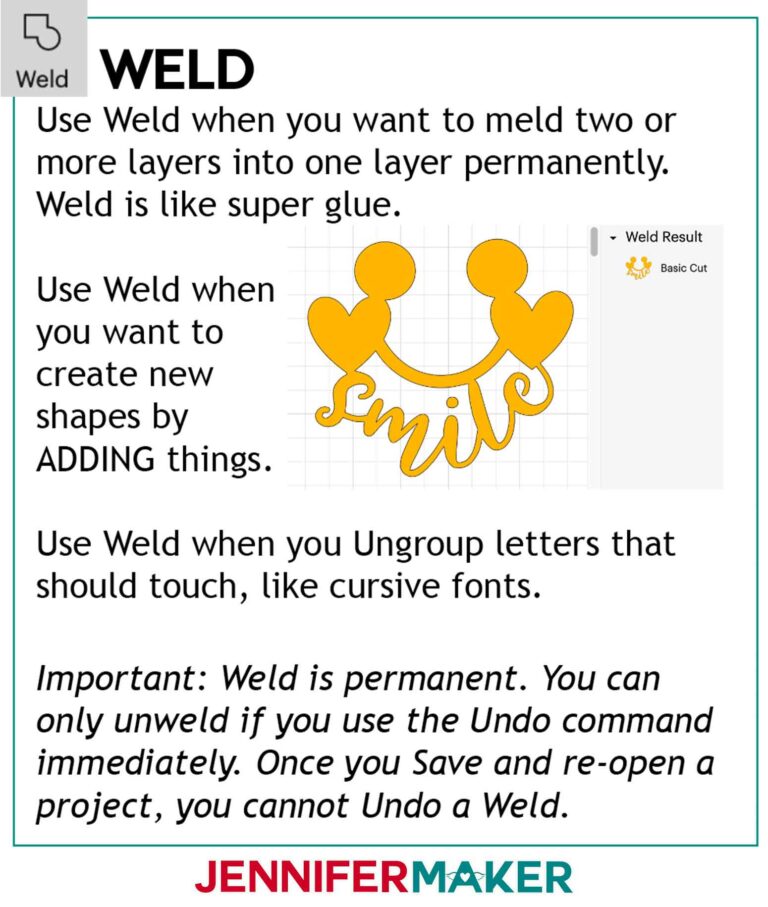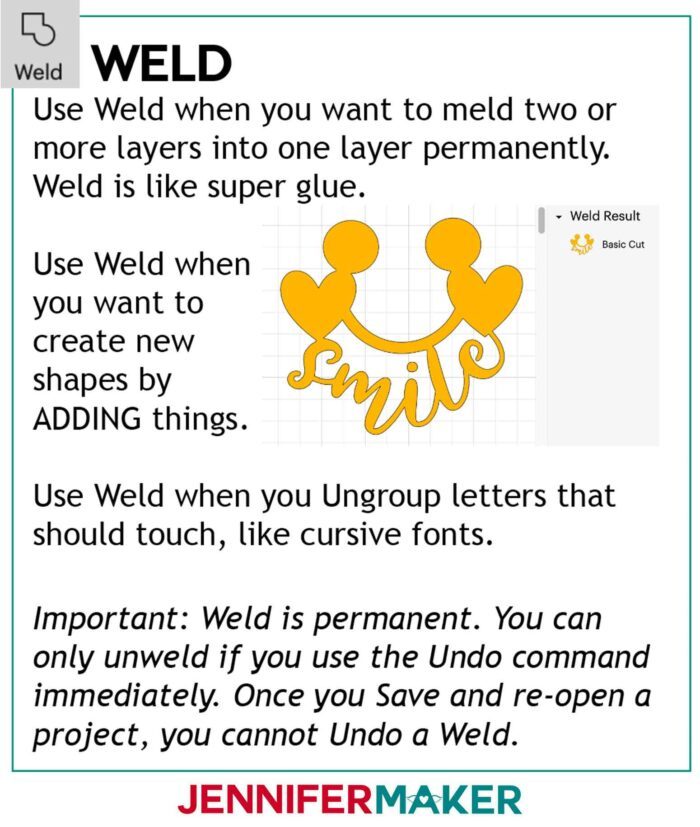 Important: Weld functions are permanent. You can only unweld if you use the Undo command immediately. Once you Save and re-open a project, you cannot Undo a Weld. Use the welding tool only when you need it. Welding layers together create a new, single image — usually one solid image!
What about Flatten?
Flatten is ONLY used for Print Then Cut designs, which is only possible on a Cricut Explore or Cricut Maker (not a Cricut Joy). You use Flatten when you want to make a printable image that you then print on your printer and cut on your Cricut cutting machine. Unless you do a LOT of Print Then Cut designs, such as stickers, you're not likely to need Flatten very often at all.
Common Questions about Weld, Attach, Slice, and Group
Why is Weld not an option on Cricut?
Make sure you have at least two layers selected in order to use the Weld tool. If you do not, the Weld tool will be grayed out and you cannot click it. Remember, welding merges two or more layers, so there must be two or more layers selected to meld.
Is there a way to unweld?
The only way to unweld is to click Undo as soon as you Weld, or, keep clicking Undo until you get back to the point where you originally welded. If you save your project, close it, and re-open it, it will not be possible to undo and unweld. If this happens, you can try using the Slice tool to break apart an image, which is relatively easy if it the elements of the image are not touching. Contour is another option for this as well. Other than this options, there is no Unweld function in Cricut Design Space.
Why can I not slice in Cricut Design Space?
The Cricut Slice tool only works with two layers, no more and no less. So make sure you have only two layers selected. If you have more or less selected, the Slice tool will be grayed out and you cannot click it.
What does it mean to Attach on Cricut?
Attach means to tell Cricut Design Space to keep two or more layers together on both your canvas when you are designing AND later when you are making it on your Cricut. Attach HOLDS your layers together in position relative to one another.
How do you group things on Cricut?
Select them on your Canvas and click the Group icon. If you have problems selecting items on the Canvas, select them from the Layers panel on the right. You can hold down the Shift Key to select multiple items.
How do you separate images on Cricut?
If the items are grouped, you can select them and click Ungroup. If that does not work, try selecting them and click Detach. If neither Ungroup or Detach are options, you can create a basic shape and slice parts out of the image. Or you can duplicate the image and use the Contour tool to show and hide the parts you want in each copy.
What is the difference between Weld and Flatten on Cricut?
Weld will combine all selected layers into a single image of a single color but keep all edges cuttable on nearly any material. Flatten will combine everything into a single image of multiple colors, but the new image is only cuttable as a whole and only after it is printed.
Why do my letters disappear when I Weld on Cricut?
If the insides of your letters disappear after welding, it's likely because the font was either very small or the letter(s) next to it were overlapping too much. The simplest way to fix this is to increase the letters by quite a bit, then weld, then decrease back to the desired size. If that does not help, try ungrouping to letters and nudging letters around to give them more space from one another.
Get my free printable Cricut Design Space Cheat Sheet!
My best advice for understanding these important tools is to play with Cricut Design Space. Do not be afraid of it. Press all the buttons and try all the menu items. You're not going to break it! Cricut Design Space is really very user-friendly software.
If you have a new Cricut machine and want to learn how to use Cricut Design Space software like a pro, be sure to check out my awesome and FREE Cricut Kickoff course to help you get setup for success!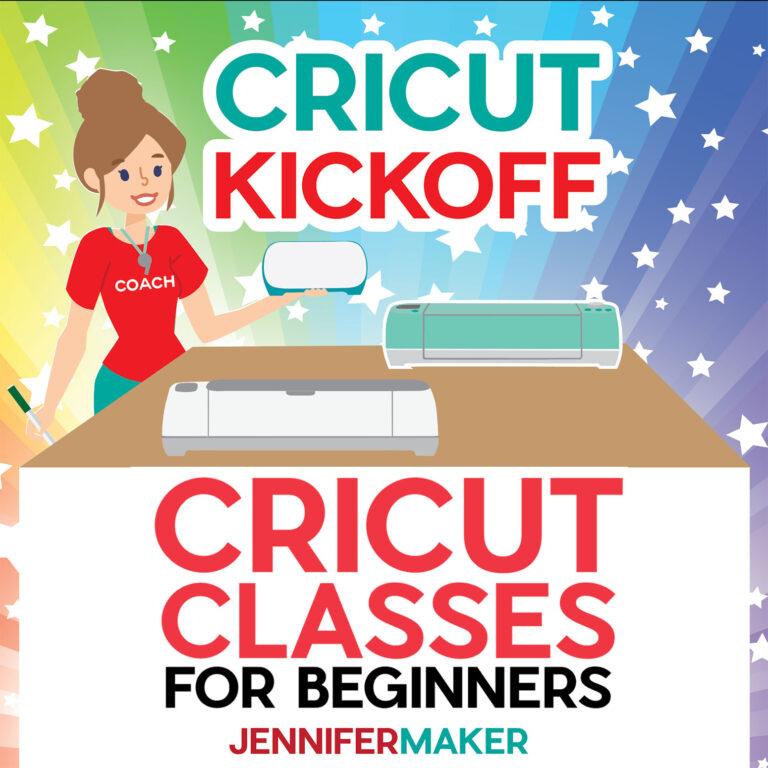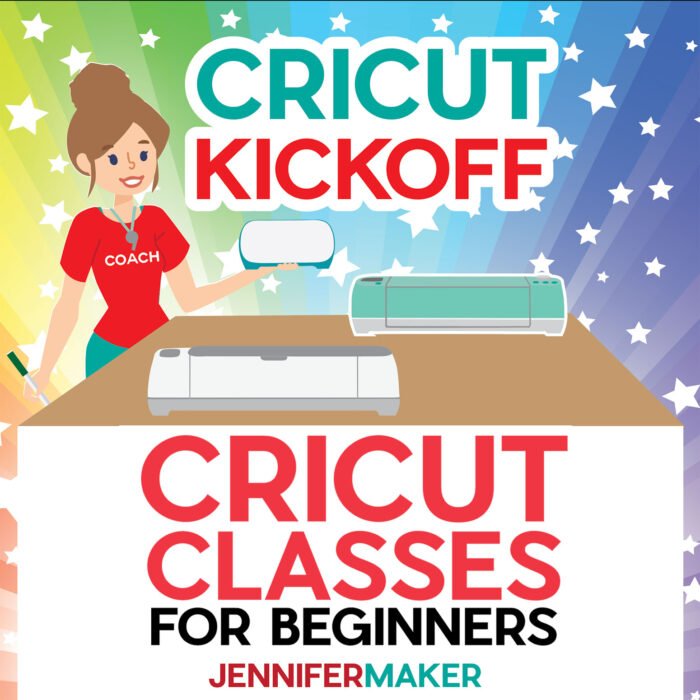 I think Group, Attach, Slice, and Weld are all great tools! I hope this Cricut Design Space cheat sheet helps you as much as it helps me!!
Love,