Learn to create beautiful Cricut Foil Home Decor to add a special touch to any room!
I absolutely love foil projects. There's just something about them that give off an elegant touch and shine. I have been wanting to design something to add to my home decor collection and, inspired by my friend Nick's Foil Mandala Art, I just had to take advantage of just how beautiful foil looks. And I think this Cricut foil home decor is just perfect. I foiled and framed these gorgeous mandala designs but you could also use these four mandalas in any way you desire.
Watch the full step-by-step video showing you exactly how to create your own foiled mandala art with a VIP pass to Maker Academy Weekend 2022!
I just love how beautiful these foiled mandalas look in a frame. You could also make these mandalas as gifts for your loved ones this year! The best part is this is a gift that will not break your bank. It's a win-win if you ask me!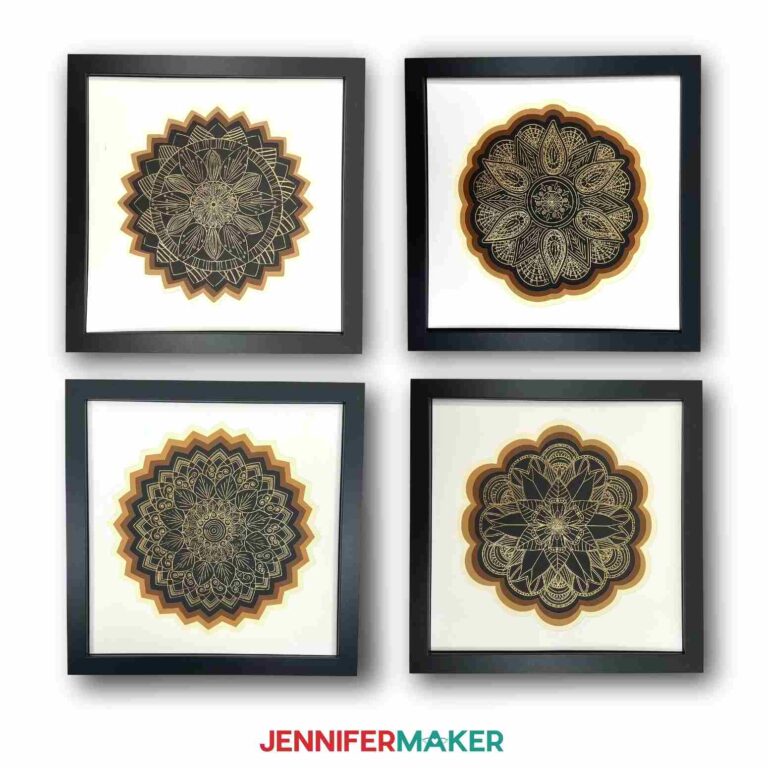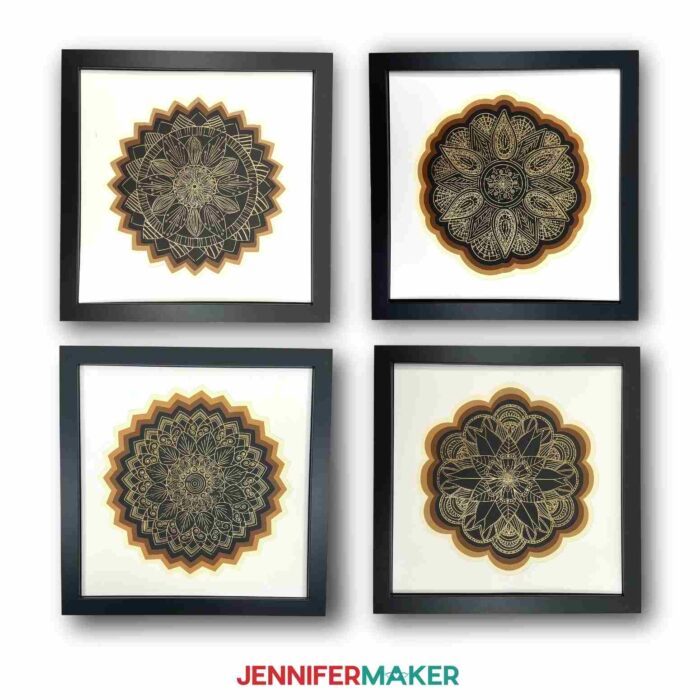 I also love that you can make this home decor project as big or as small as you want and they look equally beautiful! So, whether you decide to frame your foiled mandala art and make them a focus on your accent wall, or simply create smaller versions for small foil accents around your home, they will look stunning. And Cricut Joy users, you can make a small size mandala, too! Everyone can join in on the fun!
Another cool thing you can do is change the color of the foil. Look at just how beautiful these look when you match them with your home decor colors!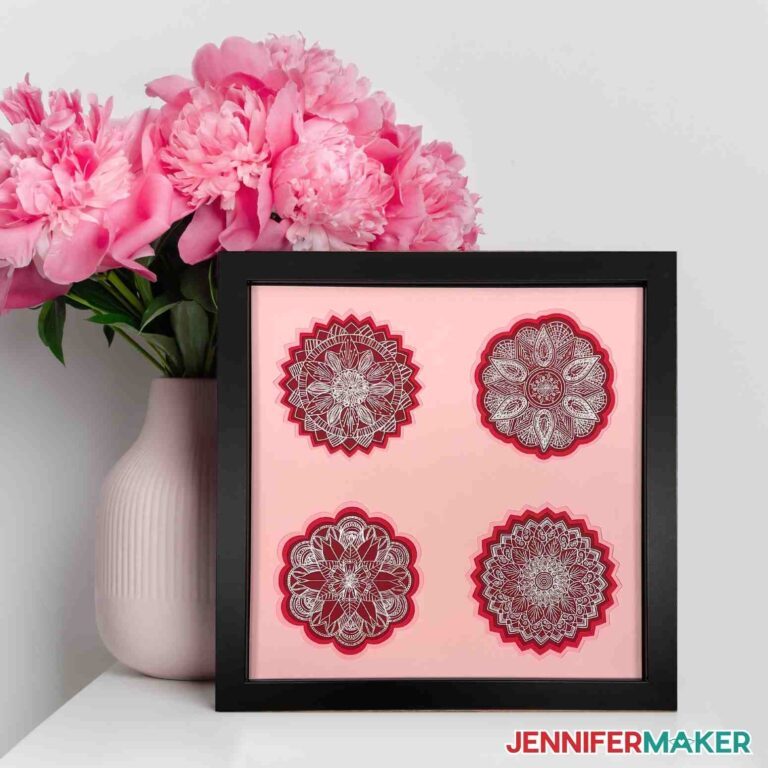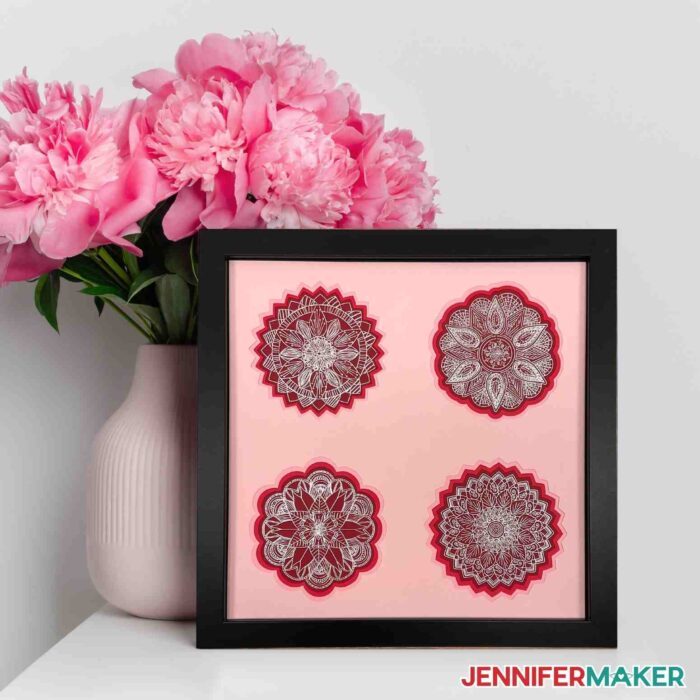 In this tutorial, I'll show you how to make eye-catching foiled and framed mandalas using your Cricut machine. This home decor project is perfect for crafters of all skill levels and only requires a few materials.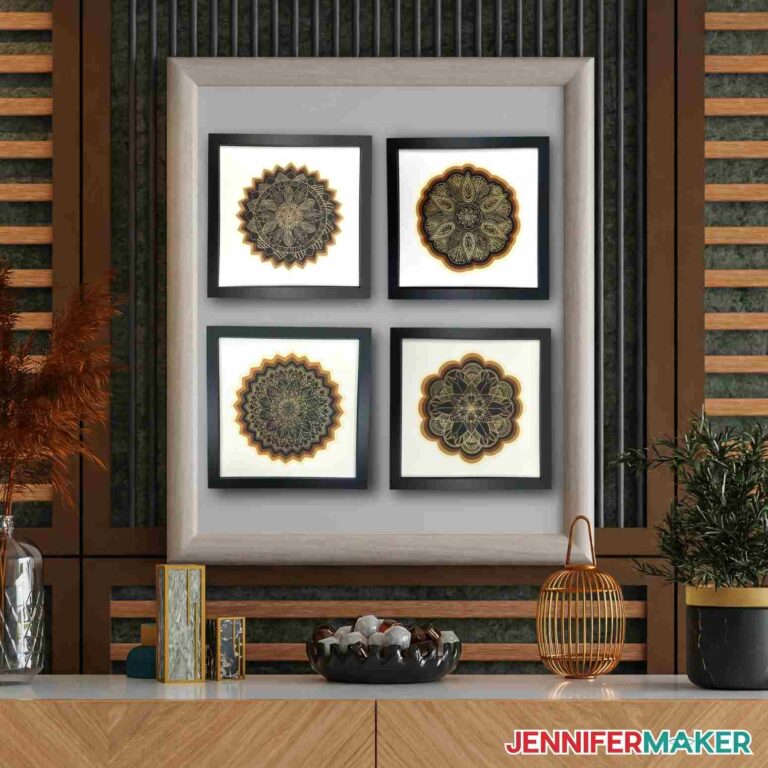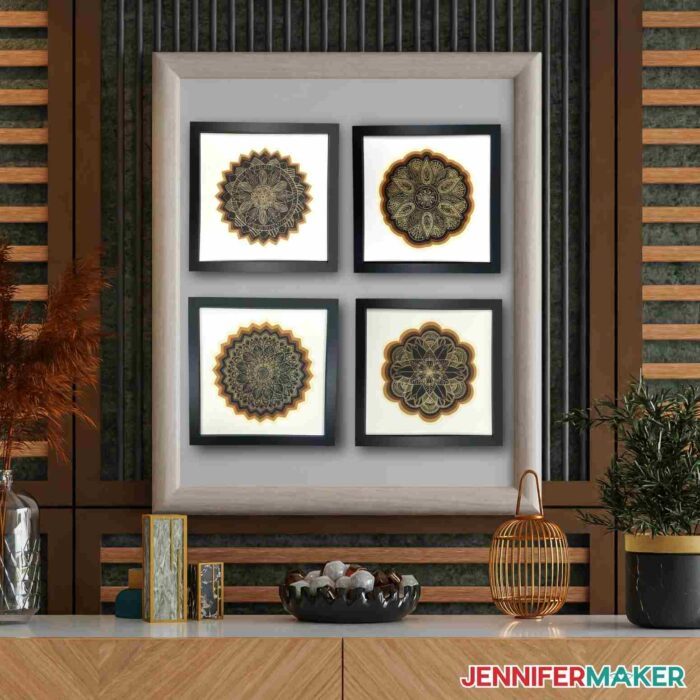 Here's a supply list of what you need to make Cricut foil home decor! This post contains some affiliate links for your convenience (which means if you make a purchase after clicking a link I will earn a small commission but it won't cost you a penny more)! Read my full disclosure policy.
Materials to Make Cricut Foil Home Decor
View my Amazon shopping list with the exact items we used to make this project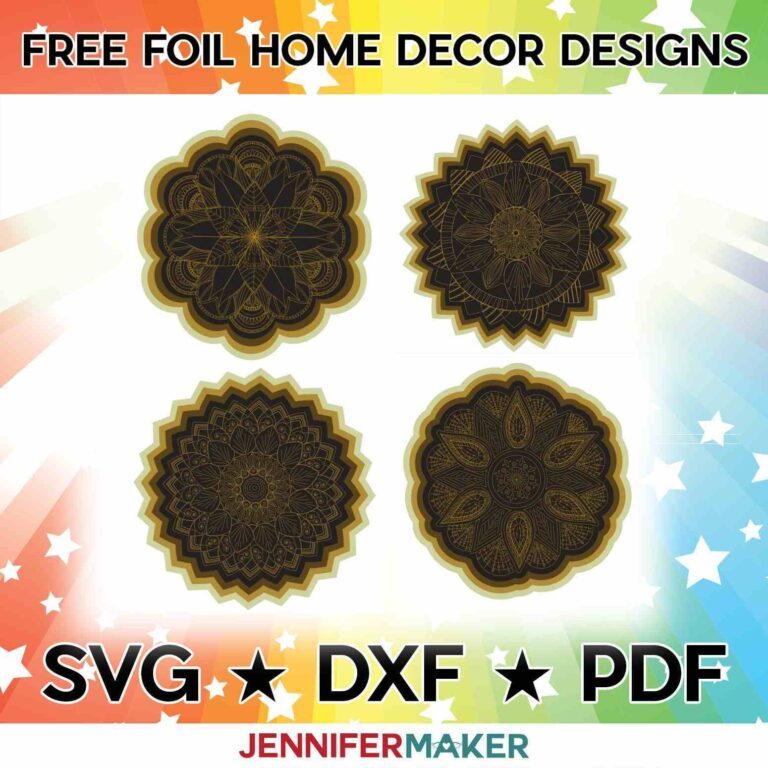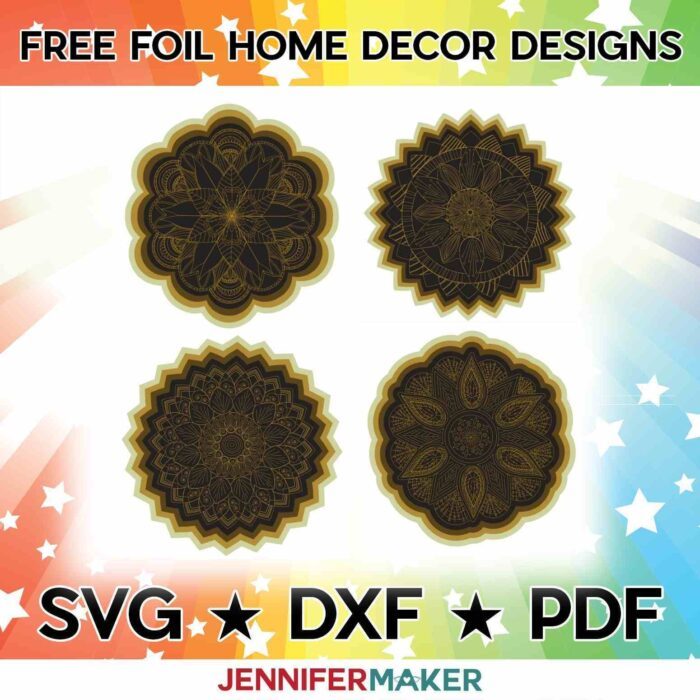 How to Make Your Own Cricut Foil Home Decor
The detailed step-by-step assembly video on how to create Cricut foil home decor debuted during Maker Academy Weekend 2022, held online November 3-6, 2022. Get an on-demand pass to watch all 20+ workshops, each with a printable handbook, transcript, audio files, design files, and support with a VIP pass below:


I have to say, making these foiled projects can become addictive to make. They are pretty easy and the results are fabulous. You may just want to make them for your entire gift list this year!
Answers to Your Questions About How to Make Cricut Foil Home Decor
Q: Where is your tutorial for this project?
This is a special project we made for our free Maker Academy Weekend 2022 event! A complete and detailed step-by-step video premiered during the event November 3-6, 2022 — specifically, this tutorial video was available to watch for free for 24 hours beginning November 4 at 12:00 pm ET! You can get access to the full video, the printable handbook that details how to make this beautiful project if you get a VIP Pass to Maker Academy Weekend 2022, which comes with other perks and bonuses, too!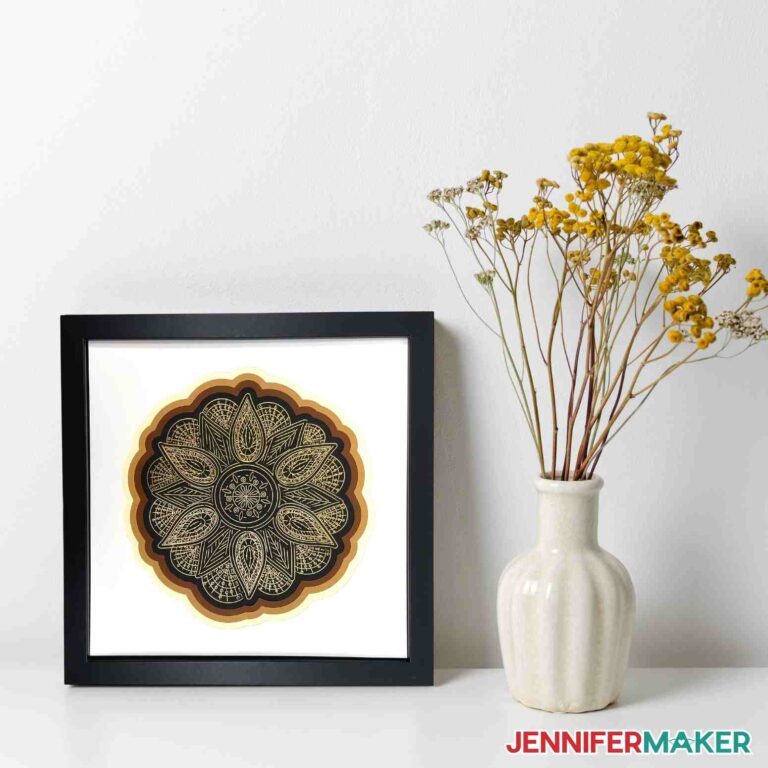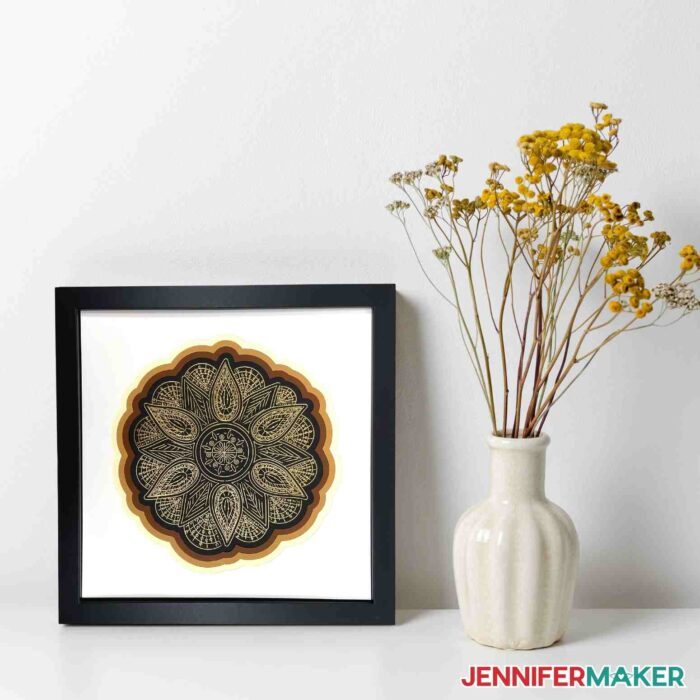 Q: I am new to using the Foil Transfer Kit. Do you have a tutorial on it?
Yes! Watch my step-by-step video to see me create a lovely mandala letter in silver foil:

Q: Which side of the Foil Transfer Sheet Goes up on the mat?
Be sure to place your foil transfer sheet with the SHINY COLORED side up. On the silver foil transfer sheets, both sides are silver, so put the SHINY side up. So if you are new to foiling, I recommend starting with the gold foil sheets.
Q: What kind of tape do I use on my foil transfer sheets?
Use the tape strips included with Foil Transfer Sheets, which are reusable, too. If you run out, use a tape with light adhesive, such as washi tape, painter's tape, or masking tape. Always test your tape on your base material first to ensure it won't tear or harm the material when removed.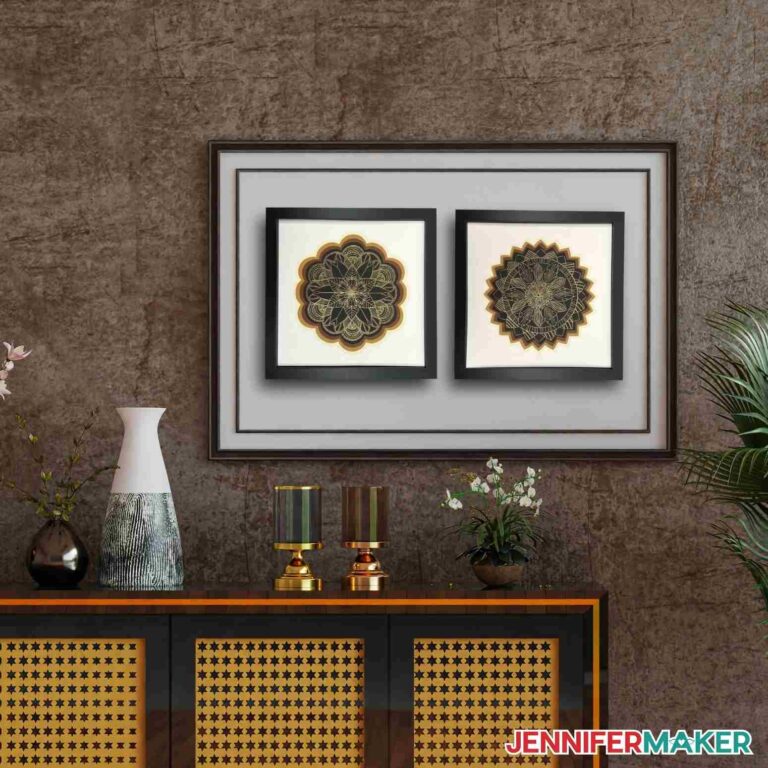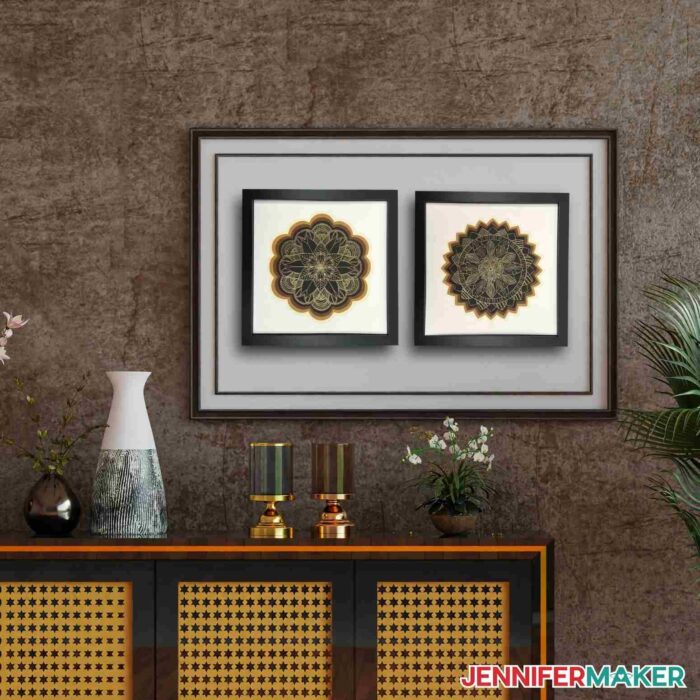 Q: Will the Foil Transfer work if tape is covering part of the mandala design?
No. Be sure you do not have any tape covering any part of your mandala. The tape will not allow the foil to transfer properly, plus the simple act of the foil transfer tool crossing over tape could cause the transfer sheet to tear.
Q: Is there another foiled mandala like this I can make?
Yes! Check out my friend Nick's Foil Mandala Art — he pioneered this particular style of layered and framed foil mandala, which inspired our own designs. Get his gorgeous mandala over at TheBeardedHousewife.com. While you're there, check out Nick's other AMAZING designs — he is SO talented and I love his work! Here's a close up of his mandala.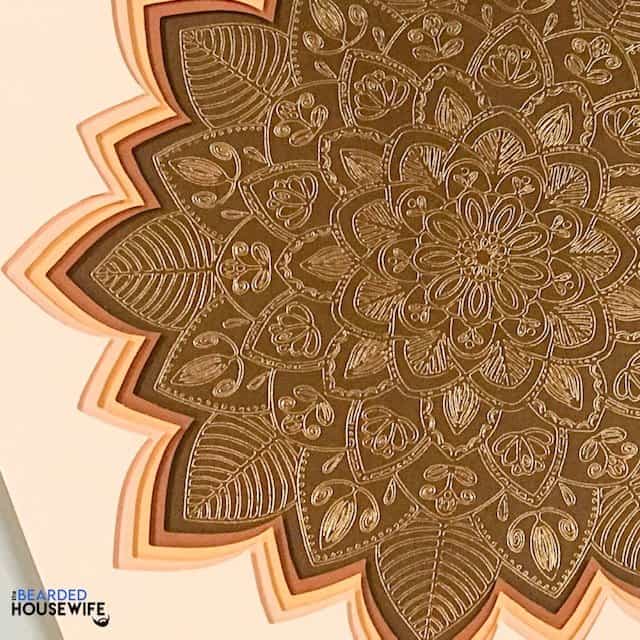 Get my free SVG files to make your own foil mandalas!
Do you want to make this gorgeous home decor project, too? I love seeing what you make with my designs and how you use them! Please share a photo of your Cricut foil home decor project in our Facebook group or tag me on social media with #jennifermaker.
Love,