Learn how to make this cute ice cream treat box which doubles as a gift card holder and party favor box!

Cute little gift boxes are a lot of fun to make. And so useful! I've made many little gift box templates over the years, including my yummy Pie Slice Box, the adorable Puppy Box, and the jaunty Mini Top Hat Box. But this new ice cream treat box is delicious in its simplicity. These cute little ice cream bar boxes also look like the famous Popsicle® bars we all know and love. It's easy to change the color scheme up to make them look like whatever frosty treat you love. Sweet, simple, and fun! And this ice cream bar gift box fits both little gifts, treats, and gift cards — it makes a perfect party favor box, too!
This ice cream treat box is a perfect sweet gesture to give any time of year, but it's particularly fun in the summer! Here are red, white, and blue ice cream treat boxes with a little red Cricut Cutie hiding inside!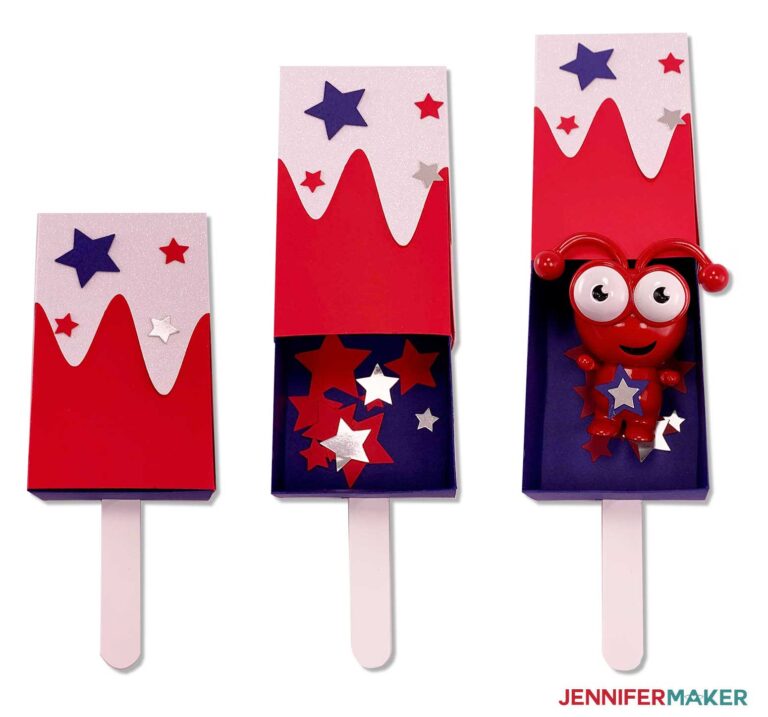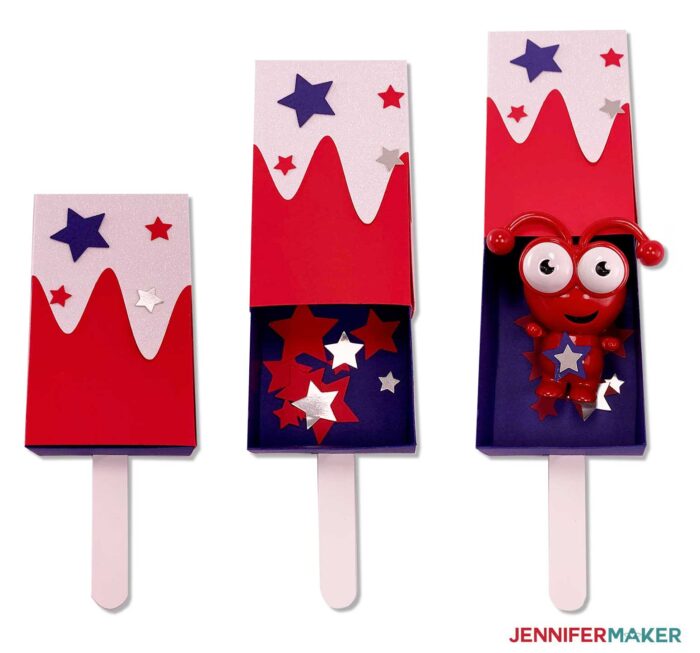 To make this gift box, you will need cardstock in 65 lb. to 80 lb. weight. I used 80 lb. cardstock, but feel free to play around with various kinds of cardstock and weights (65 lb. or 110 lb. will work well too), so see what you like best! The only thing to keep in mind is that glitter cardstock will make it harder to slide the two box pieces together. Foil cardstock looks really nice with this project.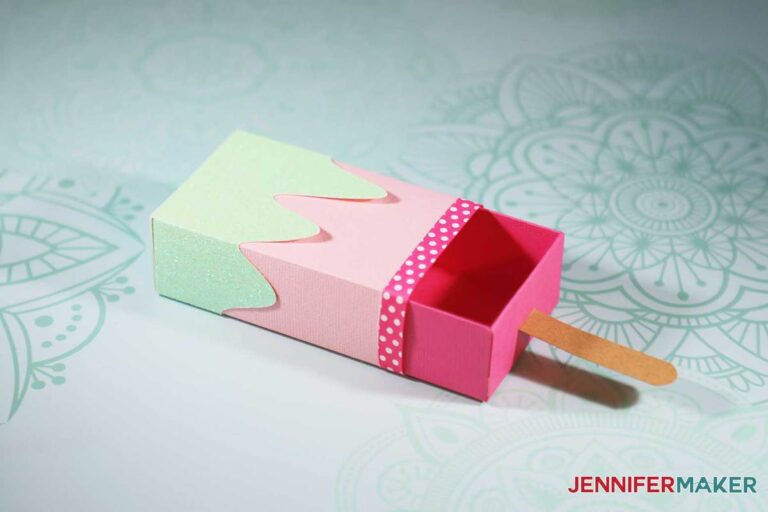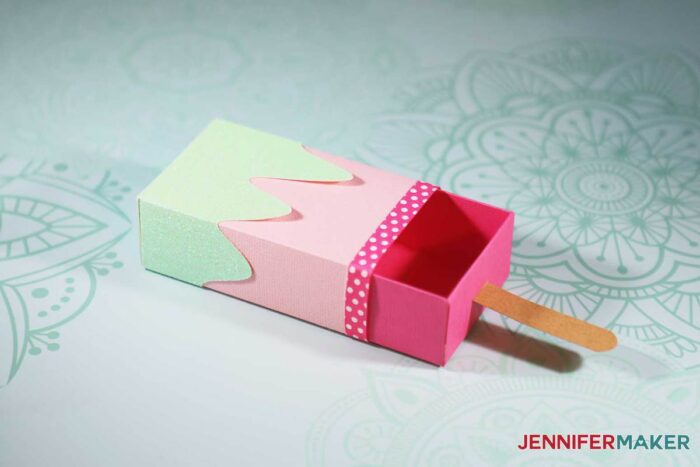 As for adhesive, tacky glue will work best for this gift card box template because you really want it to dry quickly and dry flat. Mounting tape or hot glue will make it too hard to slide the box cover on. It is important to know that if you use a cardstock with a texture, like glitter, you may need to experiment with glues or even double-sided tape to find the best adhesive for your paper.
I used my Cricut cutting machine to cut everything out, along with the fine point blade, the scoring stylus or scoring tool, and a green Standard Grip cutting machine mat.
These treat boxes are just SO cute! Imagine how cute they will look at your next party, or in that gift basket you're making?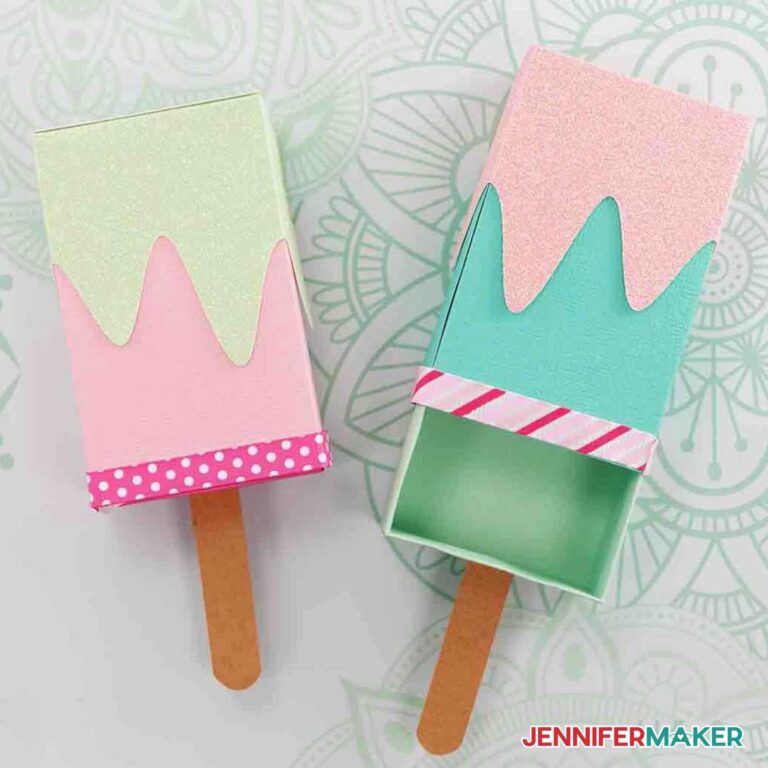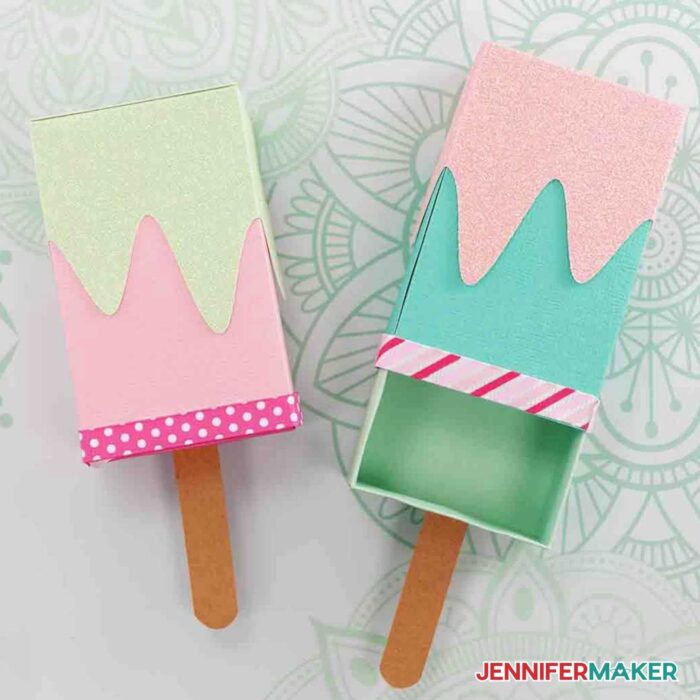 Let me show you how easy it is to make this ice cream treat box! This post contains some affiliate links for your convenience (which means if you make a purchase after clicking a link I will earn a small commission but it won't cost you a penny more)! Read my full disclosure policy.
Materials to Make an Ice Cream Treat Box / Gift Card Box
How to Make a Ice Cream Treat Box and Gift Card Holder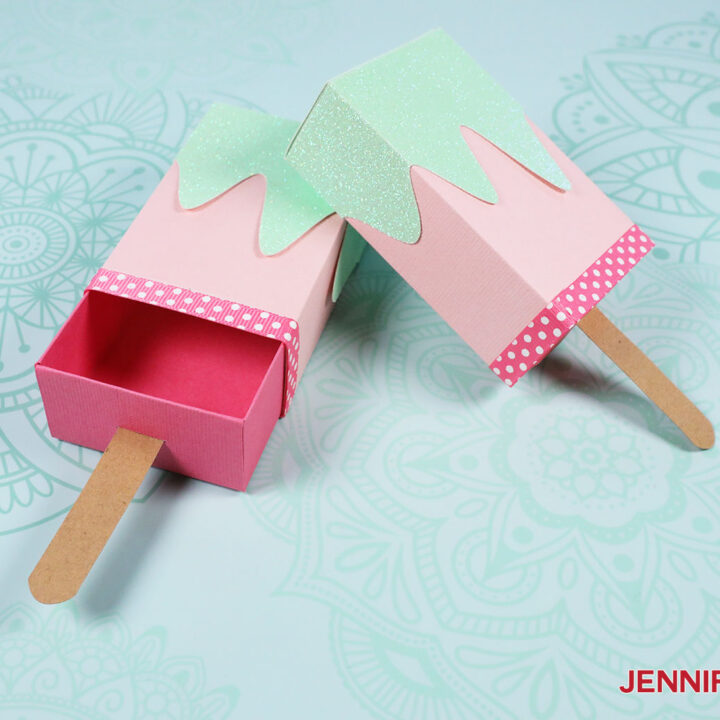 Ice Cream Treat Box / Popsicle Box
Yield: 1

Prep Time: 5 minutes

Active Time: 20 minutes

Total Time: 25 minutes

Difficulty: Easy

Estimated Cost: $1.50

This cute ice cream treat and Popsicle-shaped box holds party favors, trinkets and gift cards!
Answers to Your Questions About How to Make the Ice Cream Treat Box
Q: What kind of cardstock can I use?
I used 80 lb. cardstock for my popsicle gift card template box, but you can use 65 lb. or 110 lb. too. If you choose to make your box smaller, you can use 8 1/2 x 11 paper.
Q: What size should the pieces be after I upload them to Cricut Design Space?
The grouped files after the initial placement on the Canvas are 8.668″ wide by 8.447″ high. Here are the dimensions of each individual piece:
Drips: 7.75″ w x 4.042″ h
Sleeve: 8.599″ w x 5.079″ h
Box: 7.097″ w x 8.447″ h
Stick: 2.394″ w x 0.696″ h
Q: Can I use the Cricut Joy?
This box can be adjusted in size, but you will not be able to fit a gift card inside. It can still hold a very small trinket if cut it on the Cricut Joy.
Q: My glue makes my treat boxes lumpy. How do I fix this?
Use less glue! You may also want to upgrade your glue to a bottle with a smaller tip, such as the Bearly Art Precision Glue bottle.
Get my free SVG cut files to make your own Ice Cream Treat Box
I hope you'll make one, several, or dozens of these gift boxes, and I'd love to see YOUR ice cream treat boxes and gift card holders … what colors will YOU use? Please share a photo in our Facebook group or tag me on social media with #jennifermaker.
Love,