Get ready for your family vacation, reunion, or team event with easy DIY family vacation shirts!
I know so many of you have purchased Cricut cutting machines to make shirts for your family, for vacations, or for a show of support for a great cause! I have seen an amazing number and variety of personalized shirts already and you've been asking for more ideas and tutorials! If you haven't tried to make your own t-shirts, I encourage you to give them a try! A great place to start is my beginner t-shirt tutorial and then you can learn how to layer with iron-on vinyl! Today though, I want to show you how much quicker it is to make a LOT of Family Vacation or Team Shirts in a batch on the Cricut Explore 3 and Cricut Maker 3 cutting machines!
I made a whole video showing this process of making DIY family vacation and team shirts fast here:

We're going to make a new round of shirts just like these using the Cricut Maker 3 and Explore 3! In our Library, you'll find three files to choose from: Adventure Vacation, Beach Vacation, or a Team Shirt.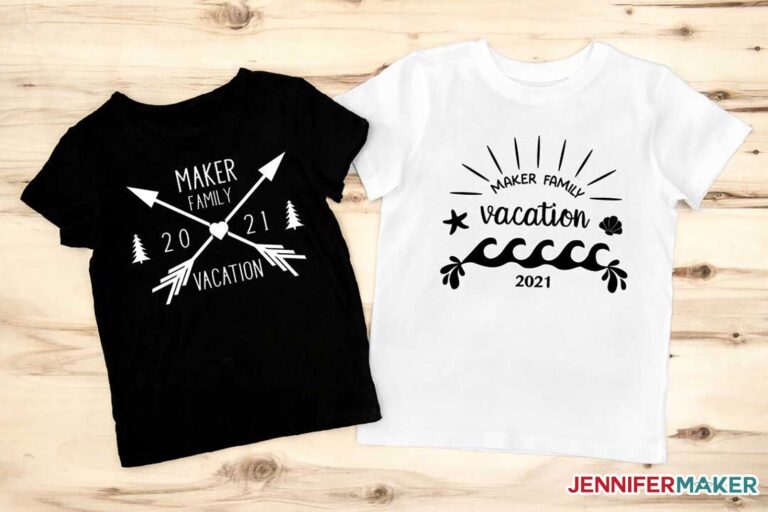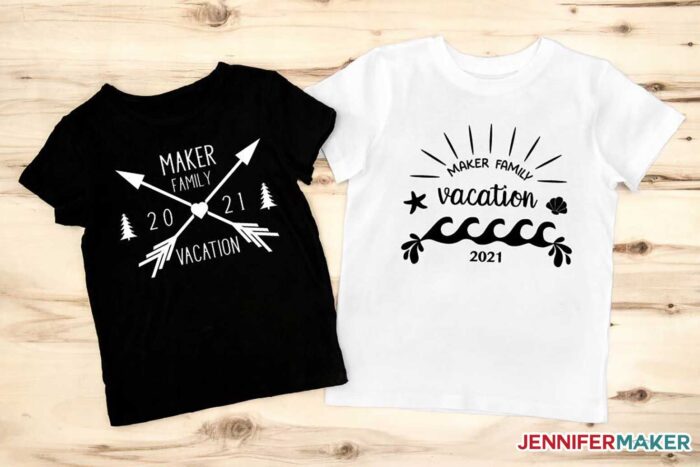 For these DIY Family Vacation Shirts, we'll be working with iron-on vinyl, also known as heat transfer vinyl, or HTV. Iron-on vinyl is a special type of vinyl that has a heat-sensitive adhesive that will stick to fabric and other surfaces when pressed down with a heat source like a heat press, household iron, or Cricut EasyPress.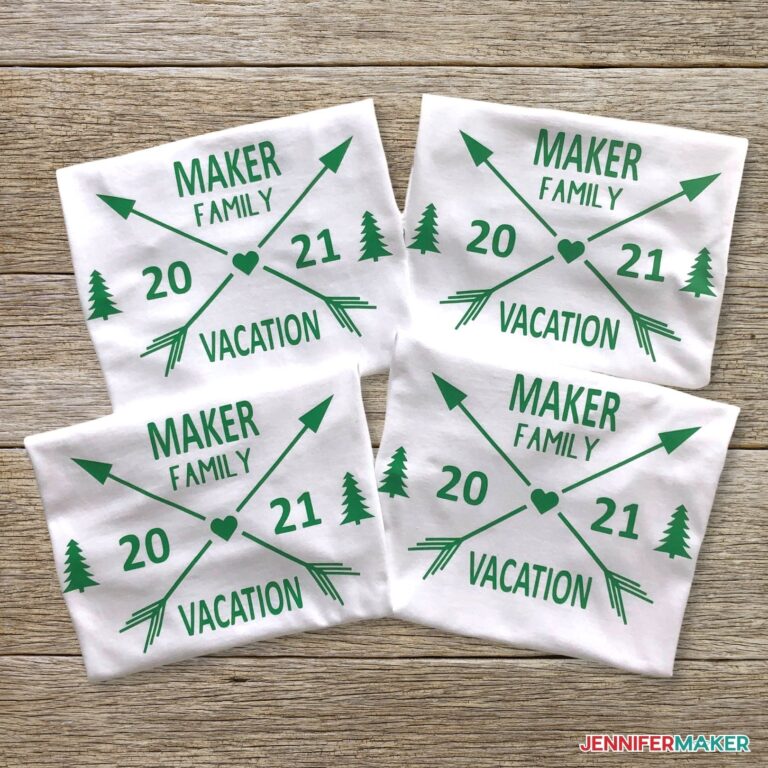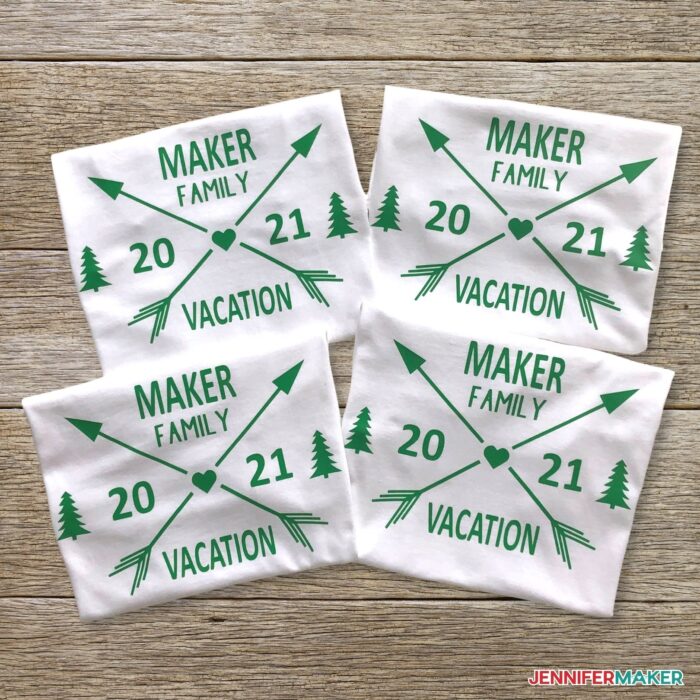 I have enjoyed using Smart Vinyl for my Joy since it was first introduced and now that we have the Cricut 3 cutting machines, I love having the option to use Smart Vinyl with those for bigger projects! I don't know about you, but I love the opportunities this will open up for projects and designs!
I'm going to cut this on my new Cricut Maker 3, but you could also do it on the Cricut Explore 3. And since I'm using a roll of Smart Vinyl, I'm going to use and show you how to use the Cricut Roll Holder, too! If you don't have those, you can still make it with another cutting machine — look at my Heart Mandala Shirt to see another tutorial that doesn't use the Cricut Explore 3 or Cricut Maker 3.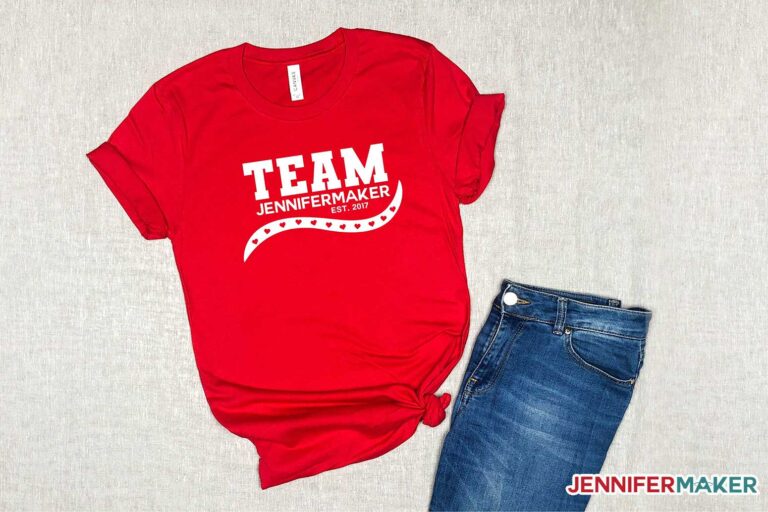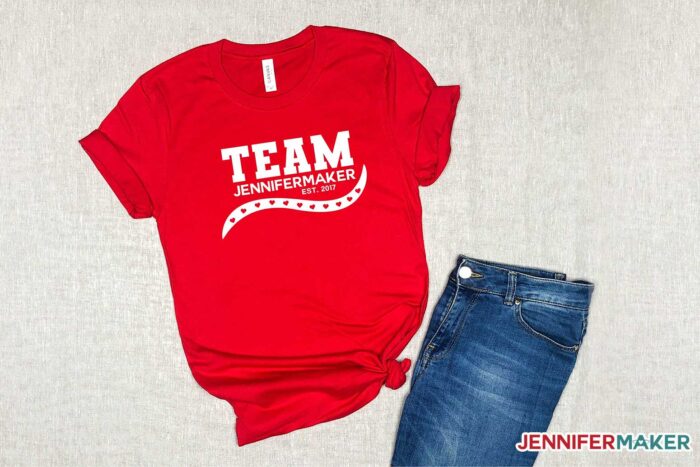 When you are ready to cut your Smart Iron-On Vinyl, load it into the Cricut Roll Holder with the shiny side down and feed your Smart Vinyl into your Cricut Maker 3 or Cricut Explore 3. If you do not have a roll holder, you can simply cut your Smart Vinyl to meet the minimum length indicated.
After you have cut your shirt design, you will need a weeding tool to weed away the unwanted pieces of vinyl. You want all the pieces that are a part of your design to stay on the carrier sheet!
Using your EasyPress set to 330º (or an iron on a setting between Cotton and Linen), preheat the shirt for 5 seconds before putting your design shiny side up on your shirt!
Let me show you how easy it is to make these fun DIY family vacations shirts! This post contains some affiliate links for your convenience (which means if you make a purchase after clicking a link I will earn a small commission but it won't cost you a penny more)! Read my full disclosure policy.
Materials to Make DIY Family Vacation Shirts
View my Amazon shopping list with the exact items we used to make this project!
Here are all of the fonts I used to make my T-shirts, but feel free to you use your own favorite fonts!
How to Make Your Own Unique DIY Family Vacation Shirts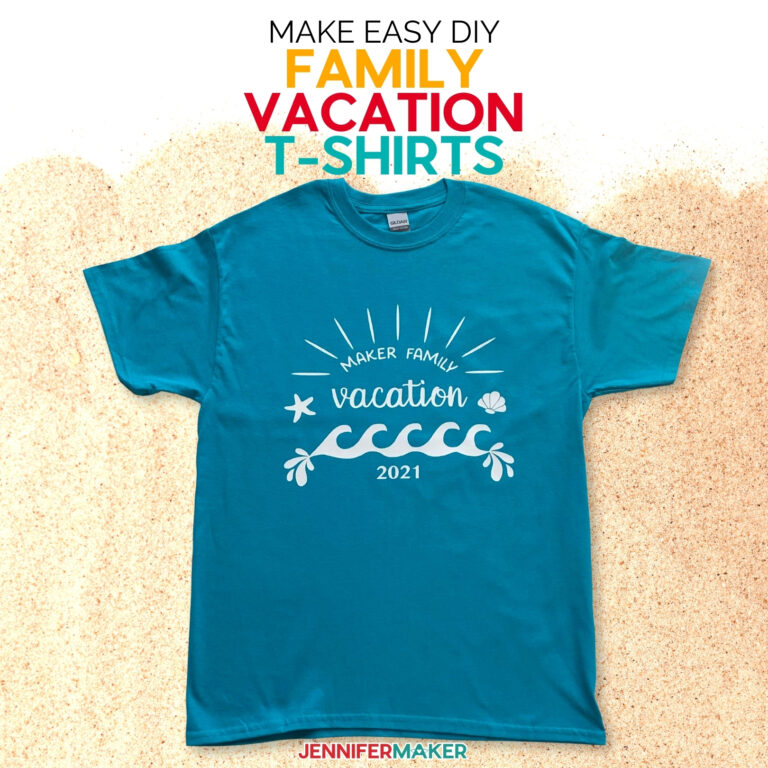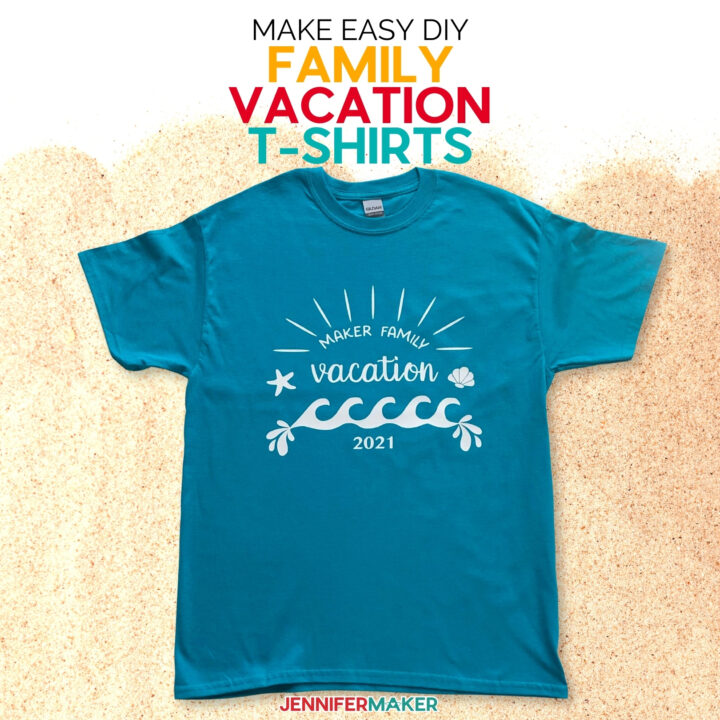 DIY Family Vacation Shirts
Yield: 1 shirt

Prep Time: 10 minutes

Active Time: 1 hour

Total Time: 1 hour 10 minutes

Difficulty: Easy

Estimated Cost: $10

Get ready for your family vacation, reunion, or team event with easy DIY shirts! Your Cricut Explore 3 or Cricut Maker 3 help make group shirts faster than ever!
Answers to Your Questions About How to Make Fun DIY Family Vacation Shirts
Do I have to use cotton T-shirts?
No, you can use any type of shirt you would like! If you have polyester shirts, it's a good idea to cover the decal with a piece of parchment paper or Teflon sheet before you press the design, as that type of fabric has a lower melting point. Also make sure that you check out the Cricut Heat Guide, and follow the instructions there for temperature and installation instructions.
Can I use a heat press to make iron-on vinyl shirts?
You sure can! I don't talk about using a heat press in our tutorials only because I don't use one, so have no recommendations or tips to pass on! But feel free to press your vinyl with your heat press, using the settings suggested by the manufacturer.
Do I have to use Smart Iron On?
No, you can use regular iron-on vinyl! Many of us have a stash of that, don't we? Just place it on a Cricut machine mat, as we have done in the past, and cut as you always have.
Can I use Smart Iron On in my original Maker, or Explore or Explore Air 2?
Certainly! You can't feed it into your Cricut as I did in this tutorial, but will need to cut it to a size that will fit on a machine Mat. But you can cut it just like the regular Iron-on vinyl you are used to working with.
Will these shirts last as long as those you buy from a brick-and-mortar store?
As long as you follow the application instructions, and make sure to wash them inside out on a gentle cycle with cold water, the Family Vacation and Team Shirts should be around providing memories for many years to come! It's also a good idea to either let them drip-dry or dry in a machine on a low cycle — too hot in a dryer and your vinyl could start coming off.
If the vinyl DOES start coming up, is there anything I can do?
Of course! Take your EasyPress or iron, place a sheet of parchment paper, Teflon sheet, or vinyl carrier sheet on top of the vinyl, and re-press it until it adheres well again.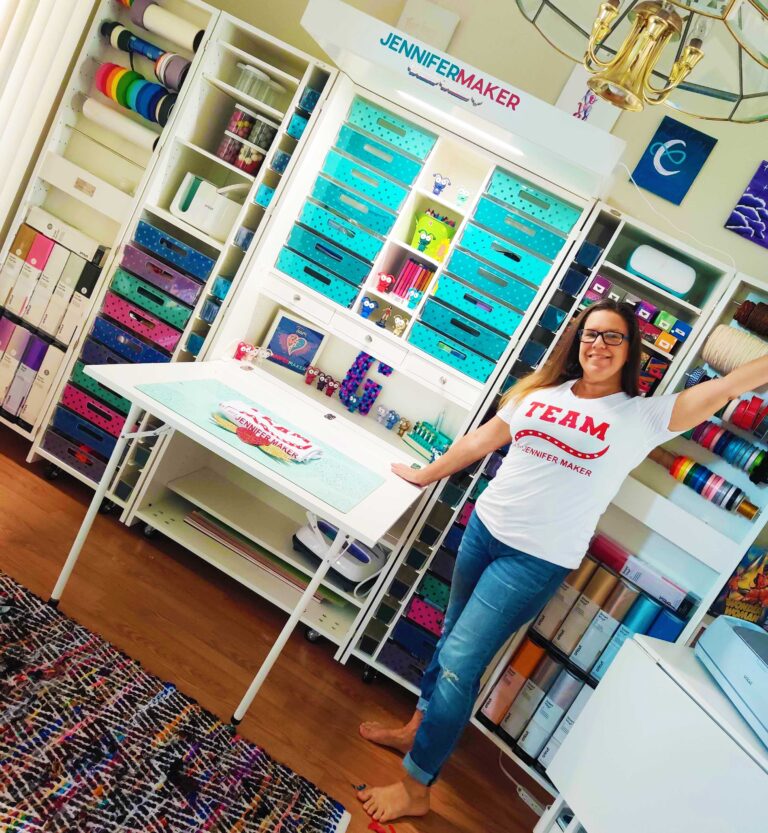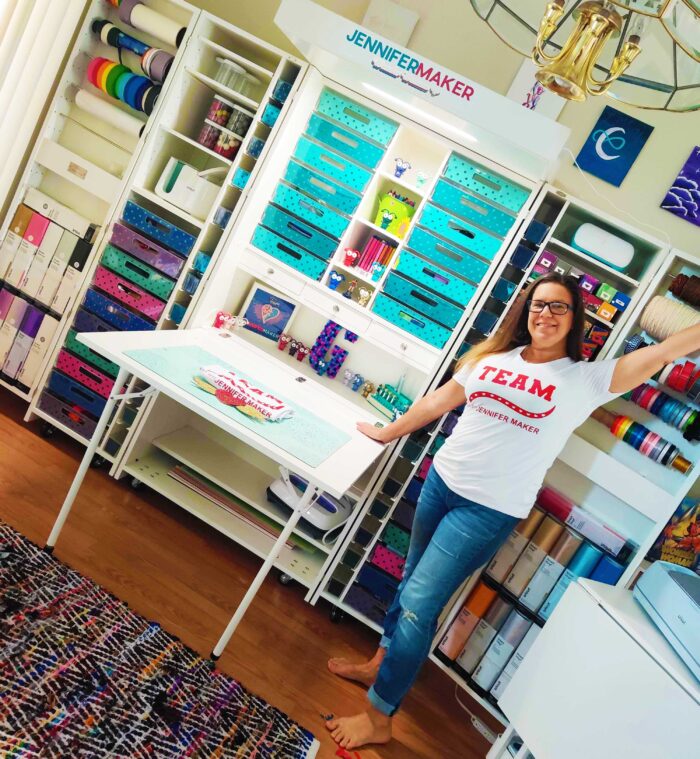 Get my free SVG files to create eye-catching DIY Family Vacation Shirts
I'd love to see YOUR DIY family vacation shirts projects and how you choose to decorate them! Better yet, how about a photo of your whole family wearing your shirts? Please share your t-shirt photos in our Facebook group or tag me on social media with #jennifermaker.
Love,