Wondering if Amazon Prime is for you? Here's why I think all crafters should get Amazon Prime and how to do it as inexpensively as possible!
I'm a proud Prime member, but I wasn't always. When I first heard about Amazon Prime, I was just like — great, another thing I don't need. Sure, I brought things from Amazon like most of us, but I didn't think I needed Prime. So I ignored it. Until one day my friend Sara was talking about Prime. She told me how easy fast it was to order things now from Amazon because of Prime as so many things qualified for Prime's free two-day shipping. And then I wondered, could I use Prime for my craft supplies or tools?
That was when I realized Prime was going to be a game changer for me and my crafting habits!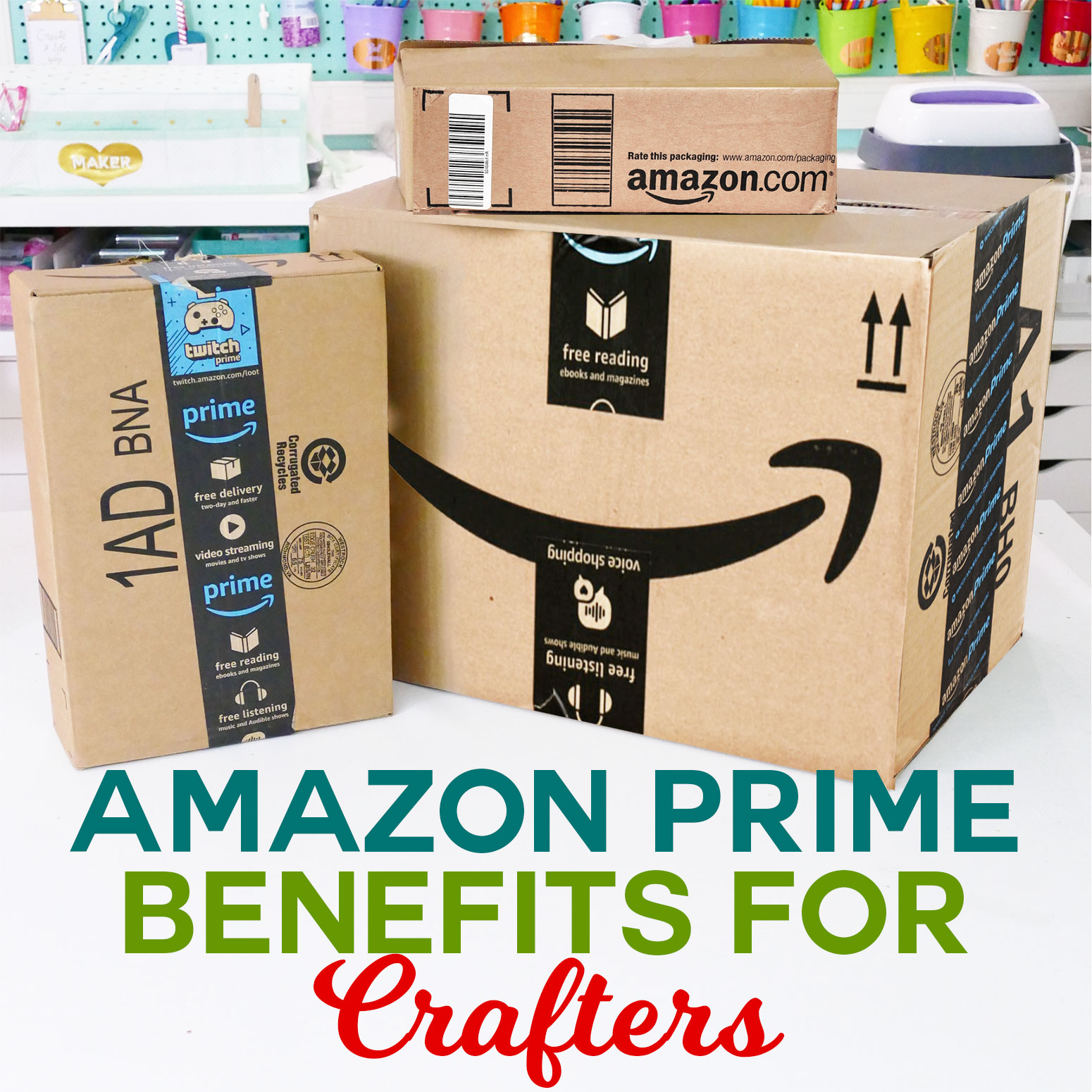 You see, I'm not a good online shopper. I like to go to the craft store in person and buy things. Why? Because I'm impatient. I don't want to wait a week or more for my stuff to arrive. But shopping in person it takes time and I usually don't get the best deals. So it's a bit of a quandary.
But once I realized that the Amazon Prime program gives me free two-day shipping on a HUGE amount of stuff, I realized this was the answer. I could shop online, faster and easier, and it would show up on my doorstep two days later. I now order most all of my paper, vinyl, fabric, organizers, craft tools, and crazy things through Amazon. IT'S SO EASY NOW. I'm not even kidding.
And recently, Prime has been giving me FREE ONE DAY SHIPPING. Amazon started a new next-day shipping initiative in spring 2019 and now most people in the U.S. who have Prime (72% of them) can get most Prime-eligible items in just one day. The program began in the U.S. and is expanding globally to other Prime markets, so if you don't have it yet, you might have it soon. And being able to get supplies next day for FREE is truly amazing. We are now doing virtually all of our shopping on Amazon.
And because of the Prime free shipping, I can order one thing at a time without worrying about combining things together to get the best deals on shipping. So if I need a particular color of vinyl, I order a single roll of vinyl through Amazon Prime. Really. I've done it.
This post contains some affiliate links for your convenience (which means if you make a purchase after clicking a link I will earn a small commission but it won't cost you a penny more)! Read my full disclosure policy.
So how do we crafters get Amazon Prime?
Honestly, you just sign up for Amazon Prime at this link. Amazon makes it pretty easy. But keep in mind Prime is not free. This is why I wasn't interested at first. But when I realized it has free two-day shipping, I got a free trial.
Yes, that's right — Amazon Prime has a FREE ONE MONTH TRIAL!
Tip: Anyone with a valid .edu email address can sign up for a 6-month free trial for Amazon Prime Student here.
I first got the trial, figuring I'd leave afterward. But when I realized how much money I was going to save on shipping, I kept it. Then I realized all the other amazing things I was getting and I was sold for years to come.
(This $10 credit is for new and existing Amazon Prime members who have never signed into the Amazon app before now.)
Amazon Prime Benefits for Crafters
After I signed up, I realized there are even more amazing things I could use Amazon Prime for. Here's a partial list of awesome benefits that are super useful for us as crafters:
Free one- or two-day shipping (so awesome) if you live in the contiguous 48 states (tip: some people in larger areas can get same-day delivery at no extra charge!)
Free movies (something to watch while you craft) — you can even download some of these to your phone or tablet for offline viewing!
Free music streaming (I love to listen to music while I craft)
Whole Foods deals (great if you need to get some beeswax or essential oils right away!)
Unlimited photo storage — store all of those important photos OFF your computer for safety!! I love this feature and have all of my family's photos backed up here.
Early access to Amazon lightning deals (you get access to these 30 minutes before anything else, and I've seen some excellent craft tools, like heat presses, in the lightning deals)
Free access to Audible audiobook channels (listen to books you while you craft—I also do this!)
There's tons more benefits (here's a great list of 22 benefits ever member gets), but there's another really big benefit I can't forget….
In 2022, Prime Day is July 12-13, 2022 and there will be amazing craft supplies and tools for us at great prices!
There are always HUGE craft deals available during Amazon Prime Day, but you've got to be a Prime member to get them. So go sign up for Amazon Prime now and then check out my page of Amazon Prime Day Deals, which I'll be keeping up-to-date through Prime Day!!
Love,