Learn how to make breathtaking 3D layered cut art that looks difficult but is really SO easy to do!
Last weekend we shared the first of four 3D layered paper cut designs and so MANY of you made it … your photos really made my heart happy! As promised, we're sharing the second one this weekend so you can continue your collection (there are four designs in total). These 3D layered paper cut art designs look complicated, but they are really so much easier than you'd think — you really just load your cutting mat with paper, cut, and stack each layer together. Seriously … it's that easy! Come turn a short stack of paper into some pretty 3D layered cut art with us!
To inspire you to try this lovely layered design, here are just a few of the photos of the paper art you all made from last week's design and posted in our Cricut Crafters & Makers Facebook Group (there are many more if you'd like to check our photos and get inspired!)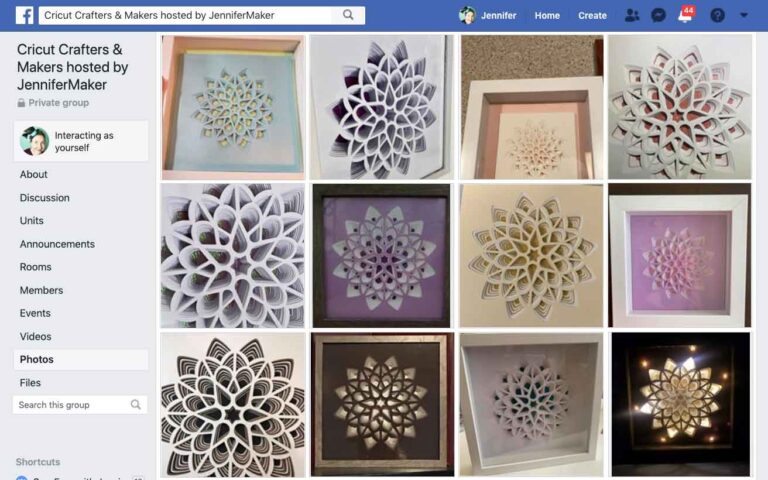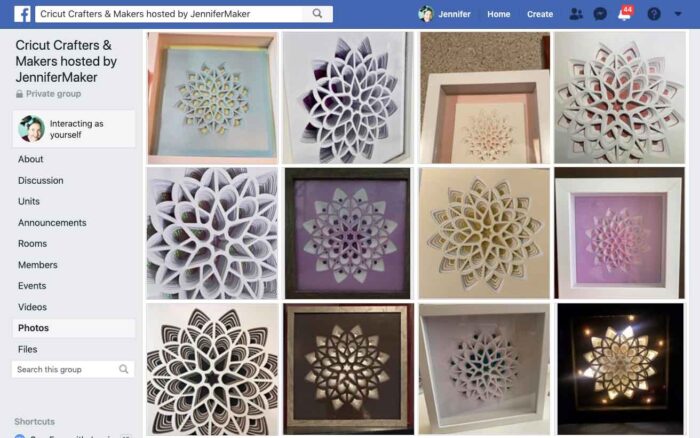 To make a 3D layered paper art crystal, all you need is at least 13 sheets of basic 12″ x 12″ white cardstock, one more sheet of 12″ x 12″ cardstock in a contrasting color, and a way to keep your layers together, like a frame. Of course, you don't HAVE to use white cardstock — many people choose to use other colors, which looks really cool! The look of this design changes a lot based on what colors you used.
You don't need to use any spacers between the layers — there are so many that the paper itself creates its own 3D look. But I do recommend you use foam core underneath the last layer to keep the paper in place inside your frame. If you don't have a frame for your paper art, you could use spray adhesive on the back of each layer to keep it all attached instead.
We've designed four different FREE 3D layered paper cut patterns for you to try, and they're all very easy! We've already released the flower, which you can find here. The other two will be released over the month of July. Here are all four of them together: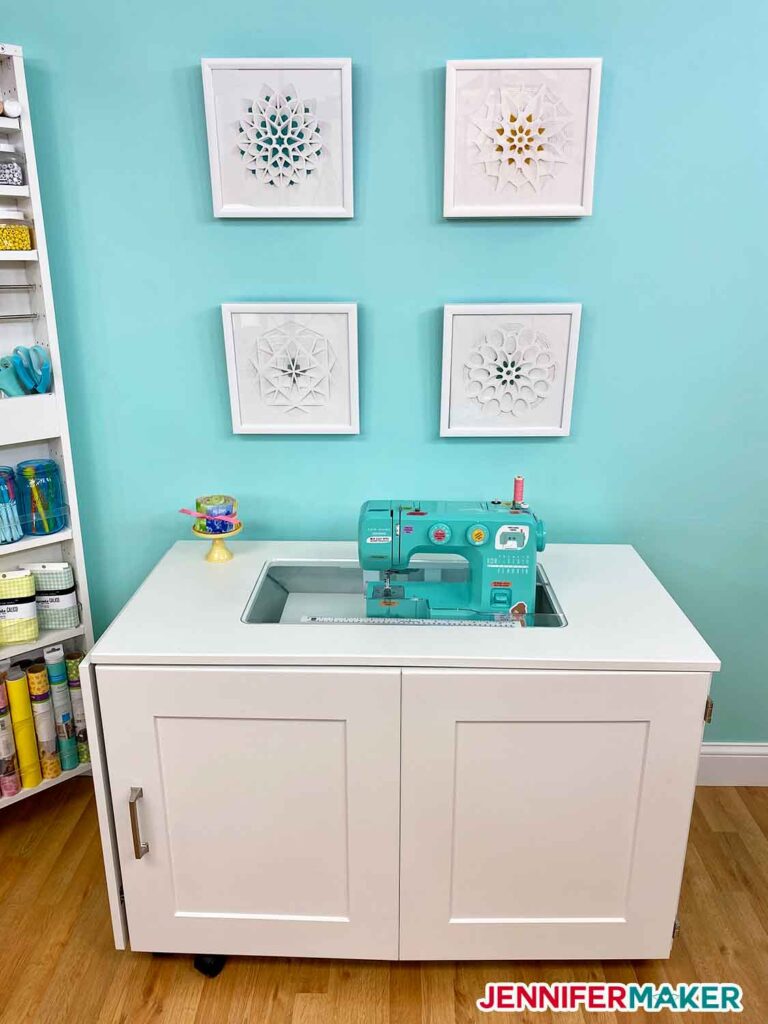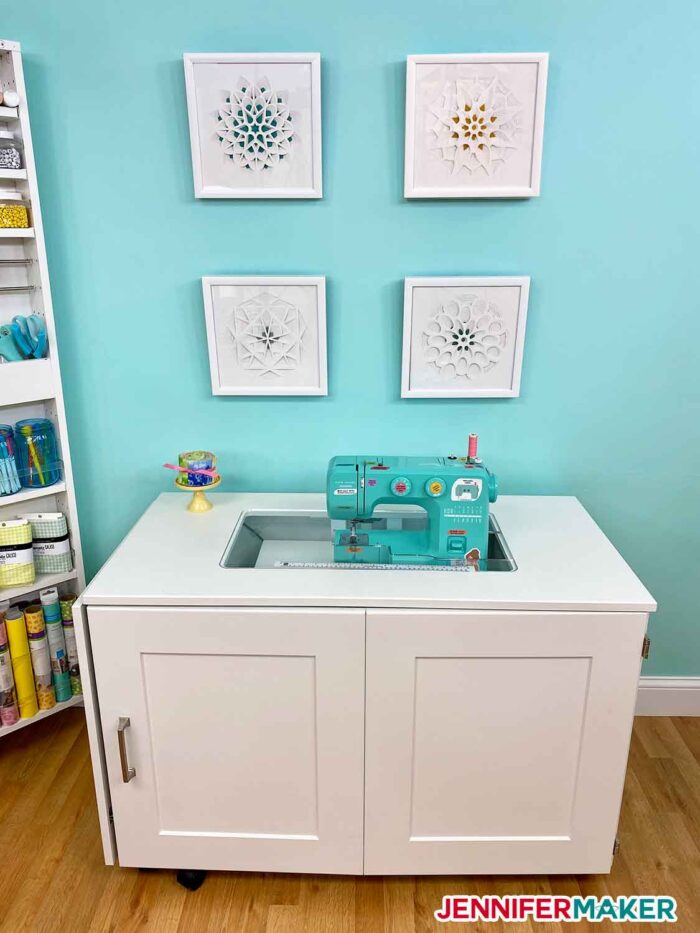 And here's a closer look at all four of these framed beauties: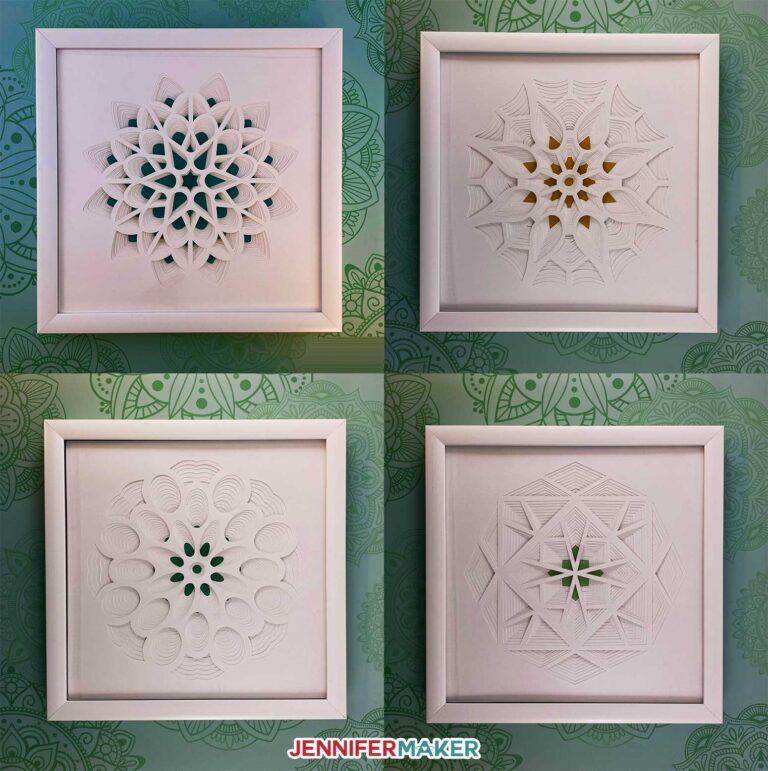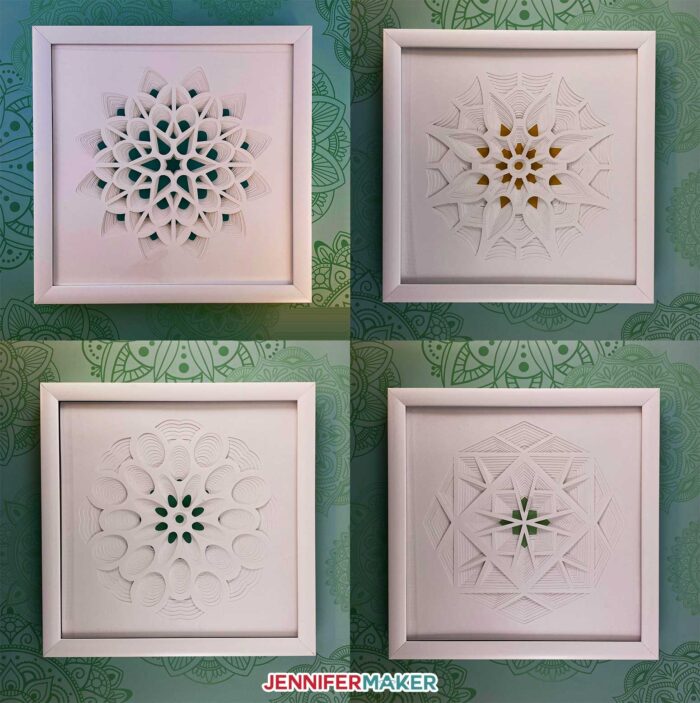 Today we're releasing the beautiful crystal 3D layered paper cut art design — which I think looks a lot like a diamond! This pretty design has 14 layers.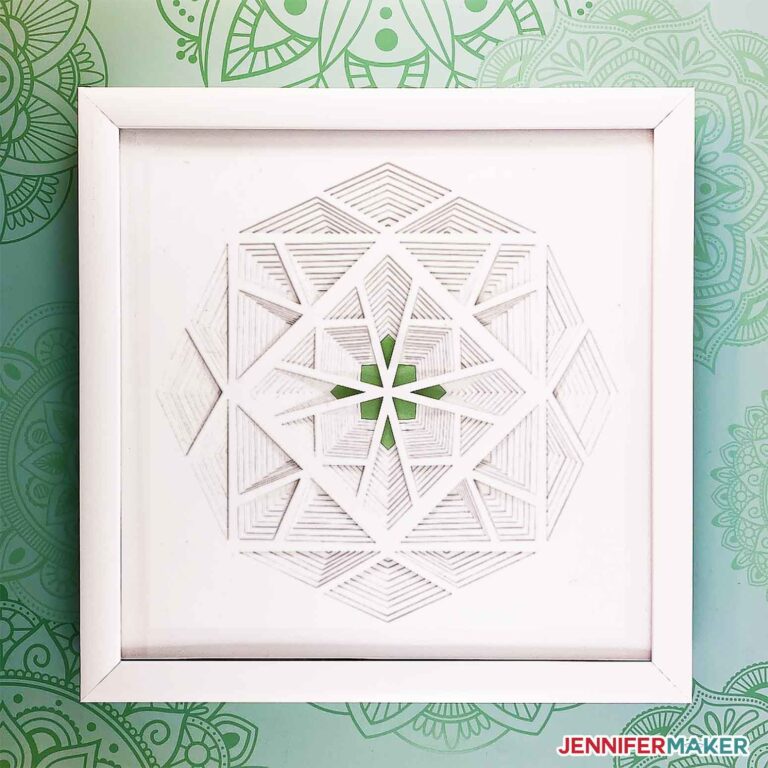 Let me show you how easy it is to make this 3D layered paper art crystal diamond design! This post contains some affiliate links for your convenience (which means if you make a purchase after clicking a link I will earn a small commission but it won't cost you a penny more)! Read my full disclosure policy.
Materials to Make a 3D Layered Paper Art Crystal Diamond
How to Make a 3D Layered Paper Cut Art Crystal or Diamond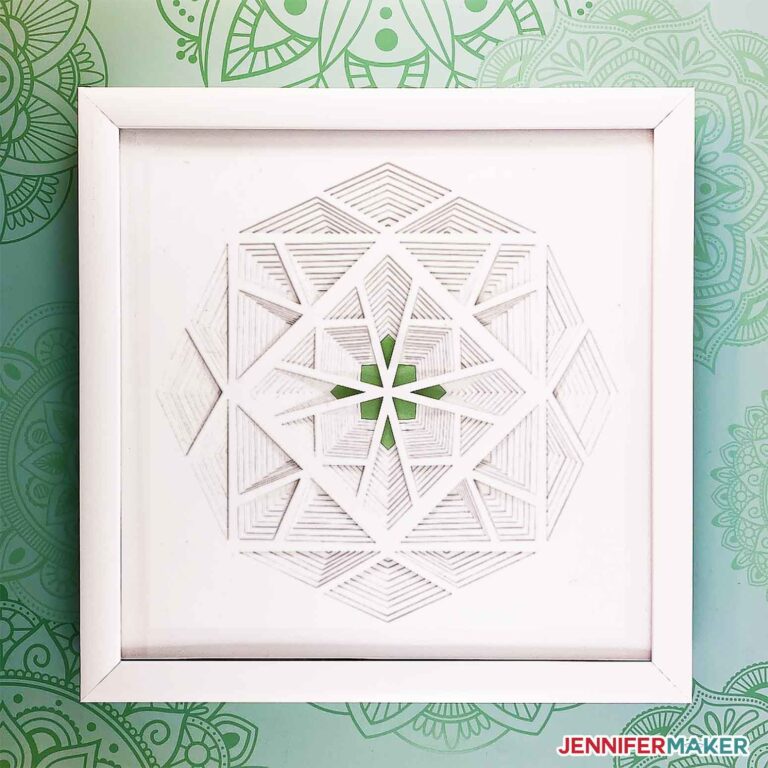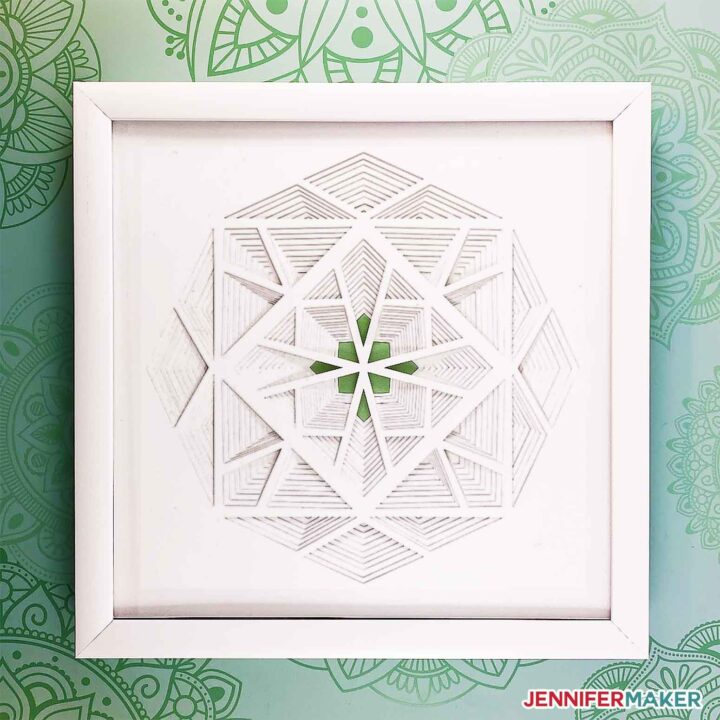 3D Layered Paper Cut Art Crystal (Series 2 of 4)
Yield: 1

Prep Time: 1 hour 10 minutes

Active Time: 15 minutes

Total Time: 1 hour 25 minutes

Difficulty: Easy

Estimated Cost: $20

This tutorial shows you how to make my 3D layered paper cut CRYSTAL framed art project.
Instructions
STEP 1: Get my Layered Crystal Design
First, download Design #229 which is my free paper art SVG/DXF/PDF. It is available from my free resource library. If you're going to cut it on your cutting machine, upload the file to your design software. This is what my the "crystal" file looks like in Cricut Design Space.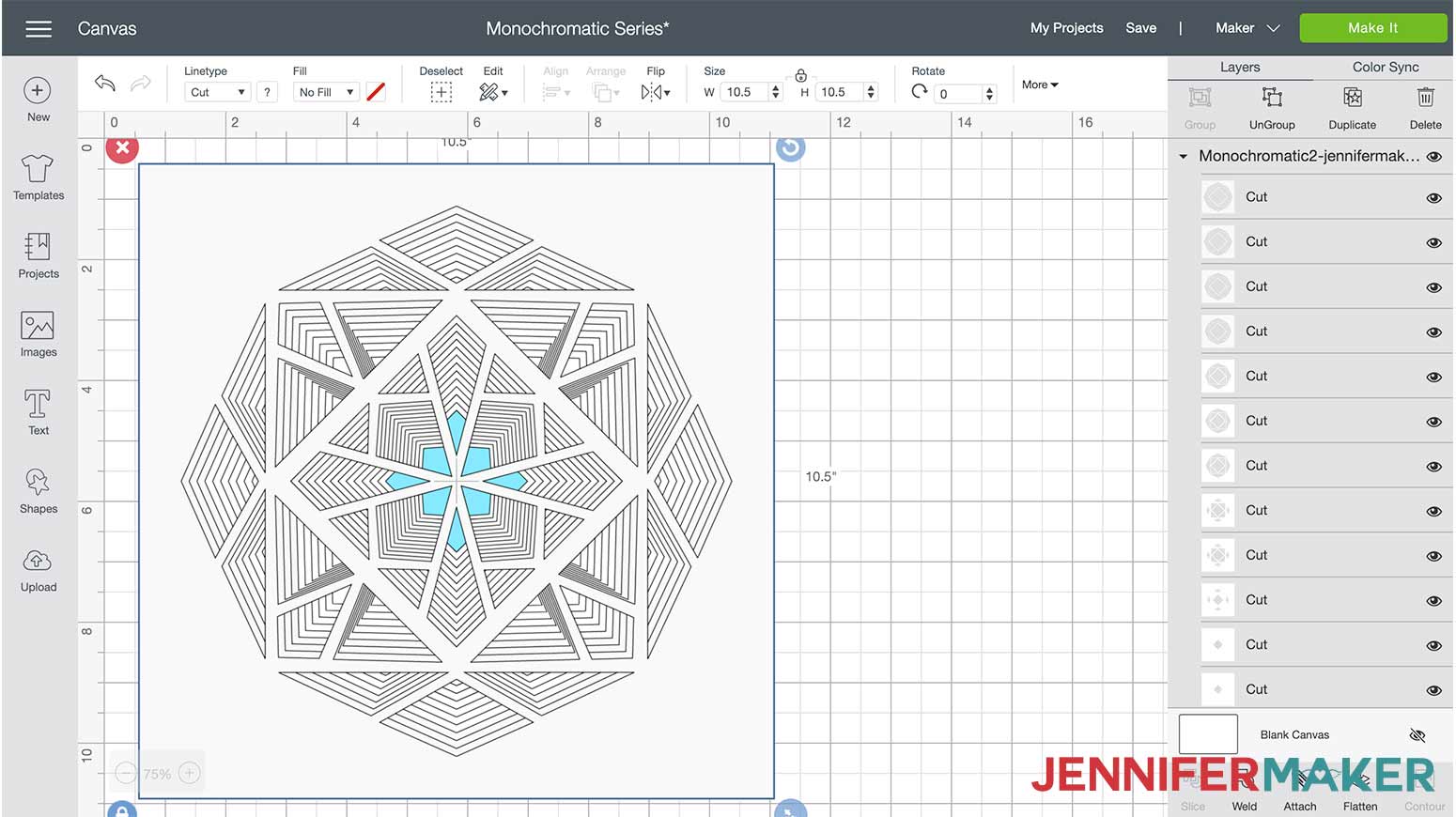 Tip: If you're not sure how to upload an SVG cut file to Cricut Design Space, watch this helpful video training series I made. If you're on an iPhone or iPad, here's how to download and upload SVG files to the Cricut Design Space app.

Note: If you're going to cut this on a Cricut Joy, resize the entire design to about 4".
STEP 2: Cut the 3D Layered Paper Crystal Design
This design contains 13 layers for the design plus one contrasting cardstock layer for the back. Each of the 13 layers takes approximately 5 minutes to cut.

Measure the inside space of your frame and adjust the measurements of the design file to fit. The file is sized 10.5" x 10.5" which fits my shadowbox frame perfectly.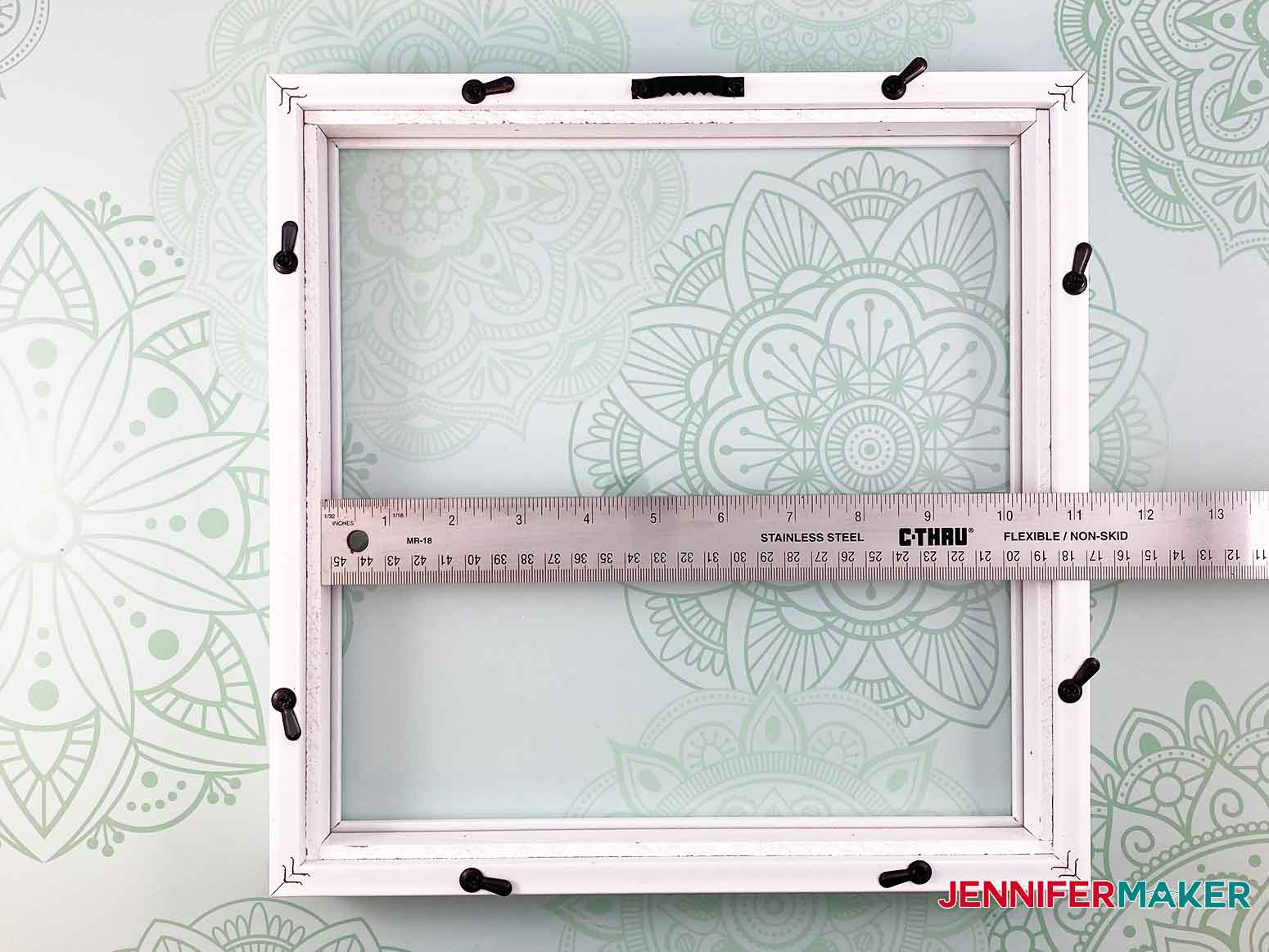 Cut each layer of the design. I found it is helpful to put the finished layers in order as they are cut. I used my extra large scraper to remove paper pieces left on my mat from cutting the design.
STEP 3: Assemble the 3D Layered Paper Art Design
Once all paper layers are cut, gather your supplies for assembly.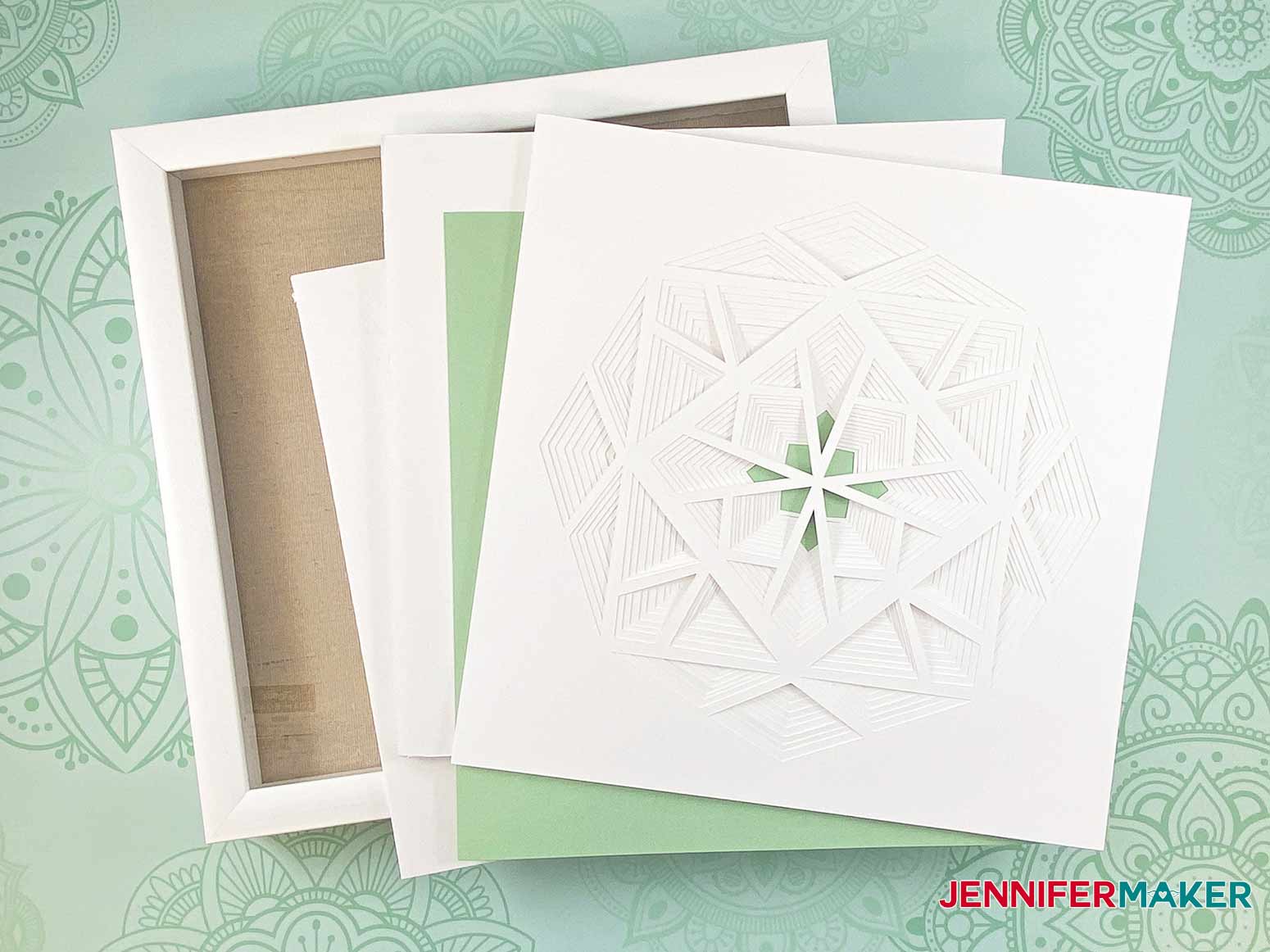 Make sure the cut cardstock layers are placed in the correct orientation. This is what your cut layers should look like with proper orientation. I found it helpful to put the layers in order as they are cut.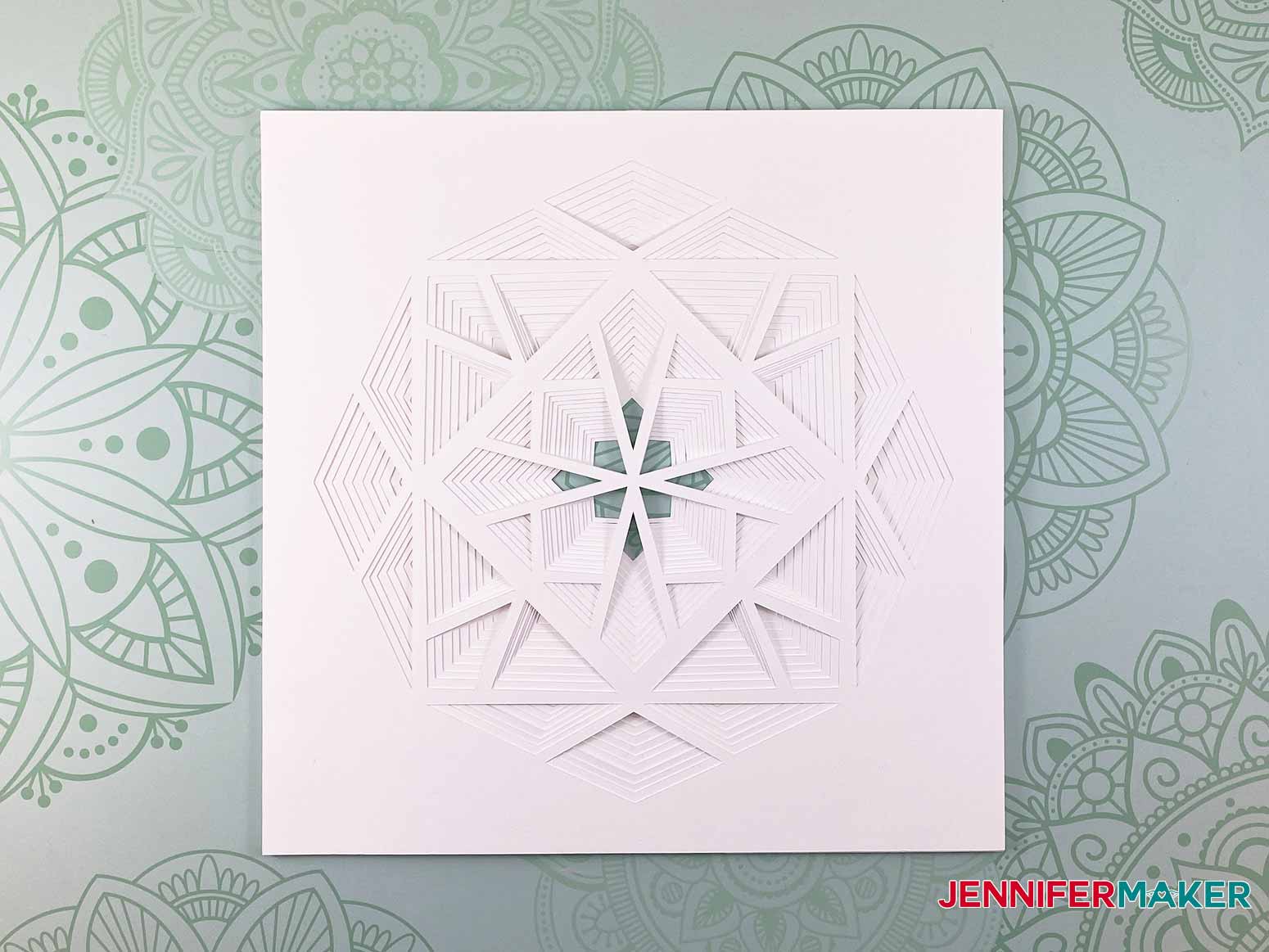 Open the back of your frame.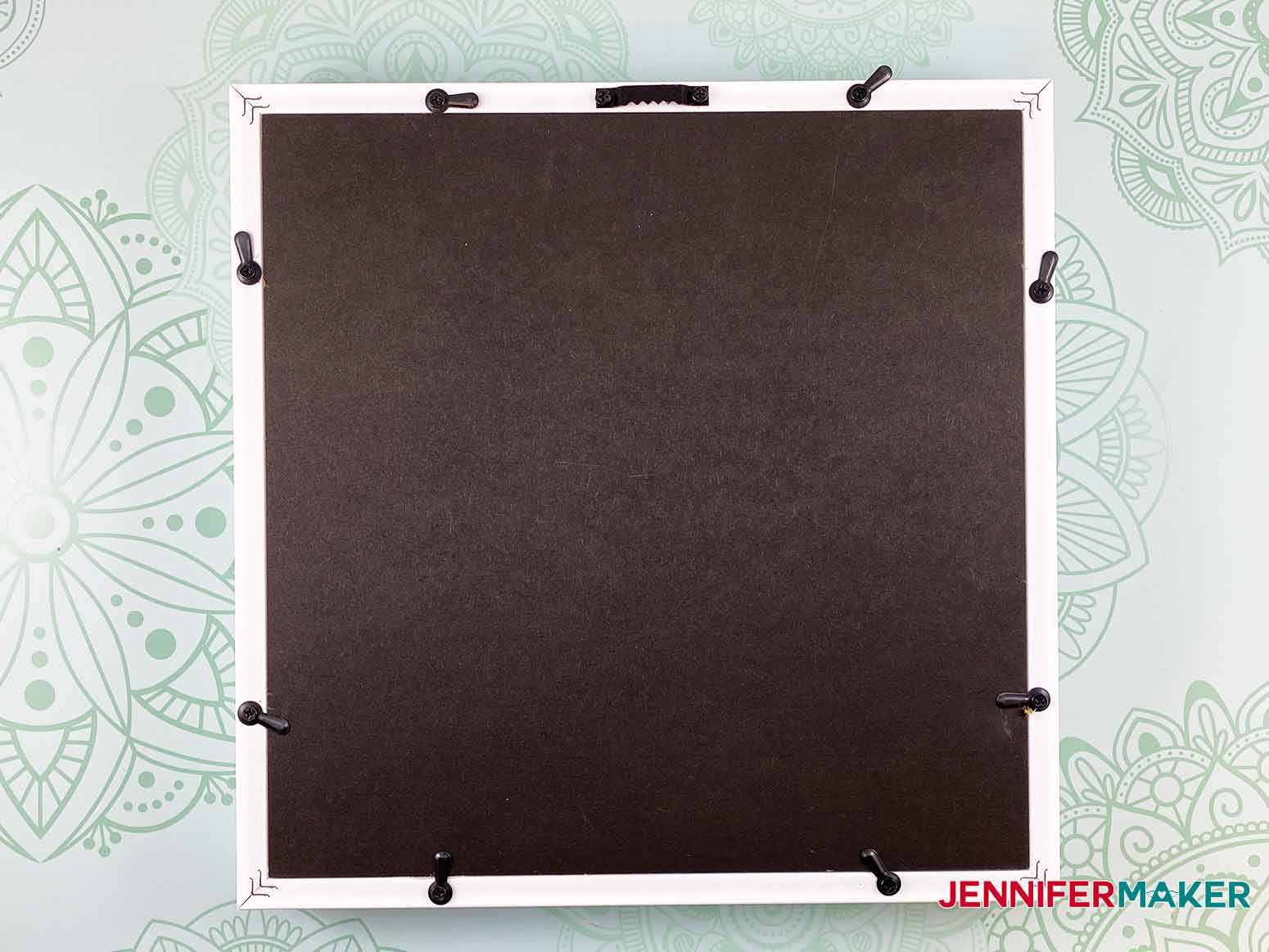 Insert the cardstock layers into the frame.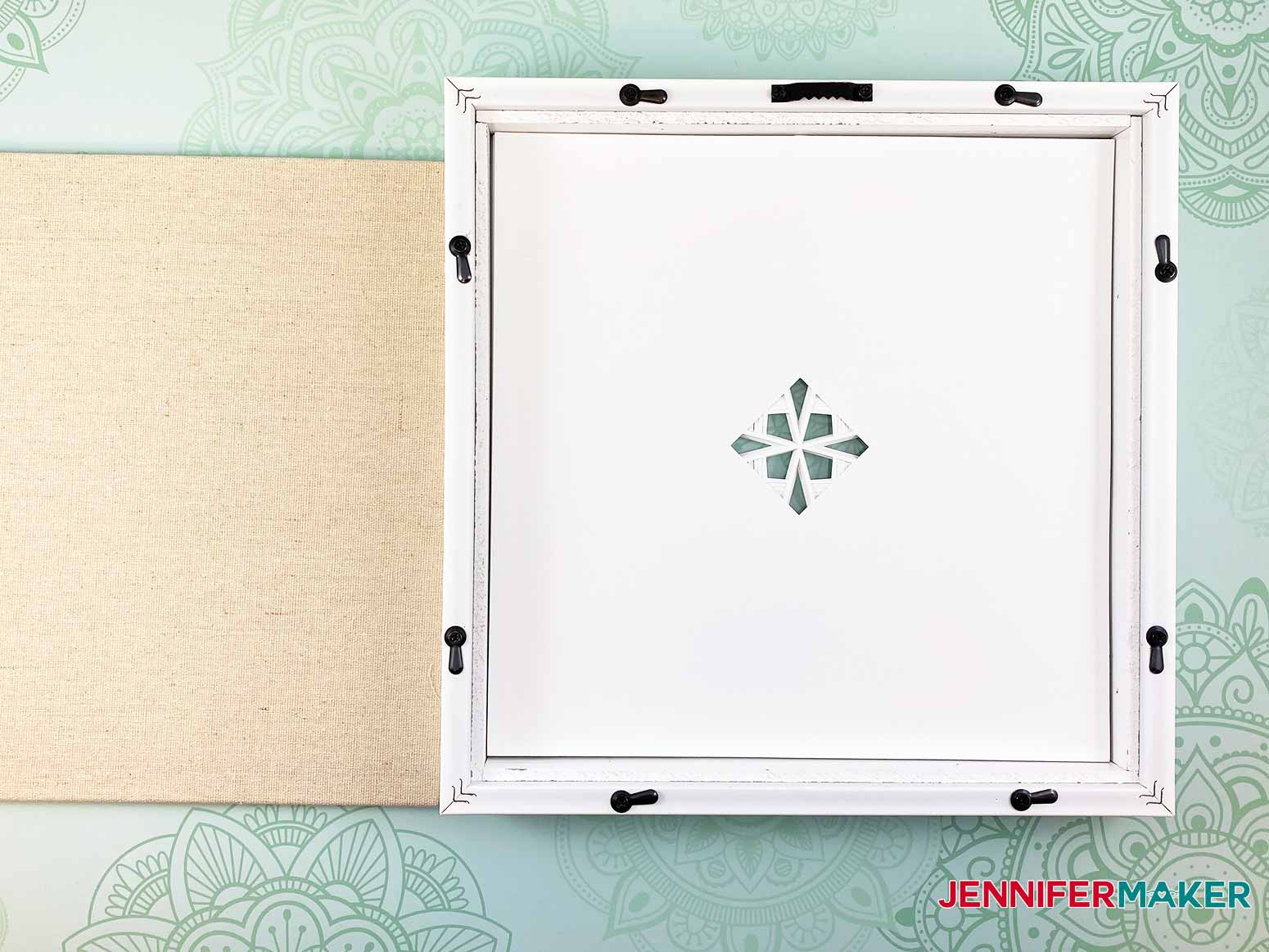 Add the one contrast layer of cardstock.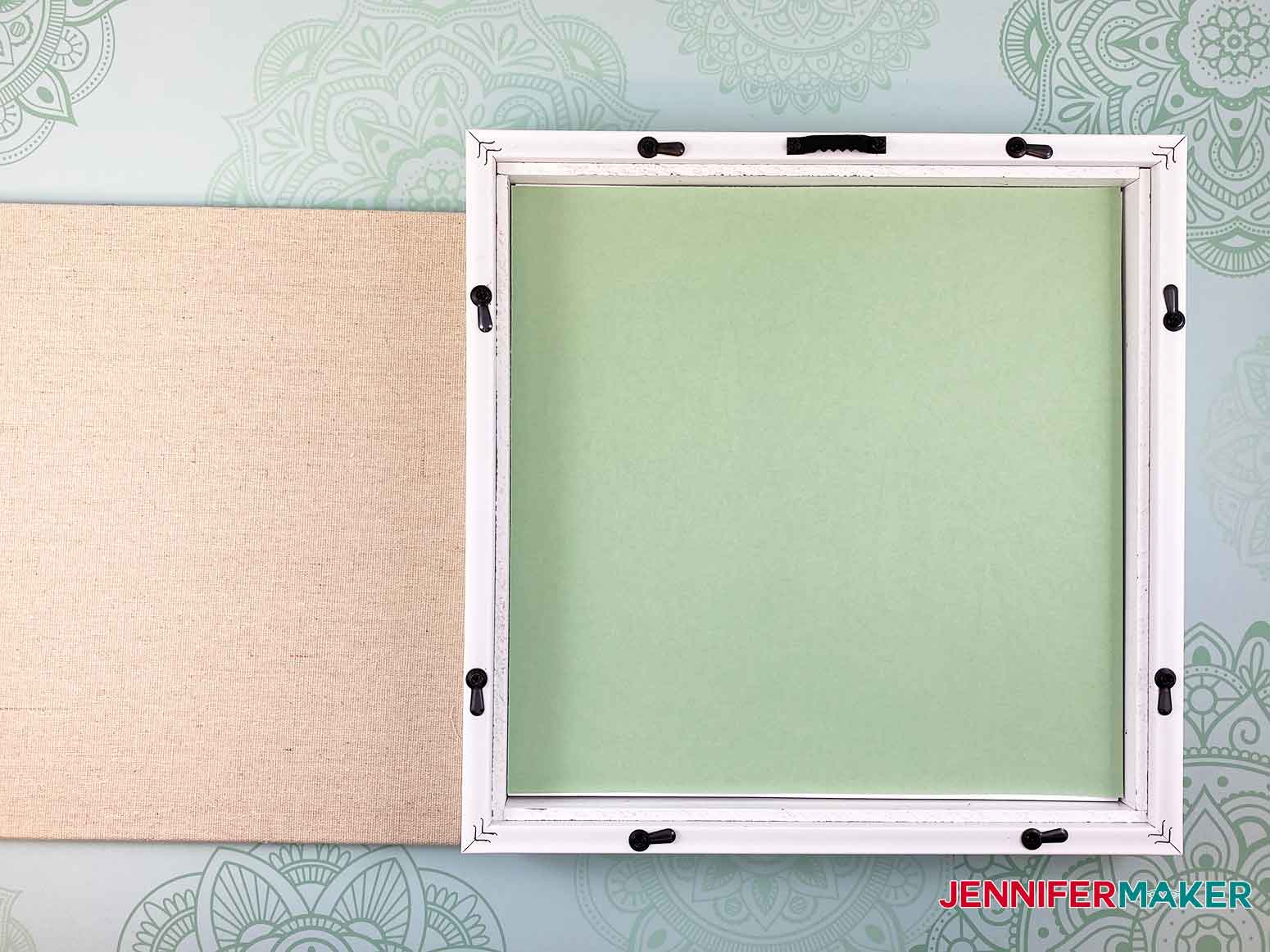 Add two layers of foam core cut slightly smaller than the inside of your frame to fill up the empty space so the cardstock does not slide around. If you are using a different frame than mine, add enough foam core so that the cut layers have no room to slide around.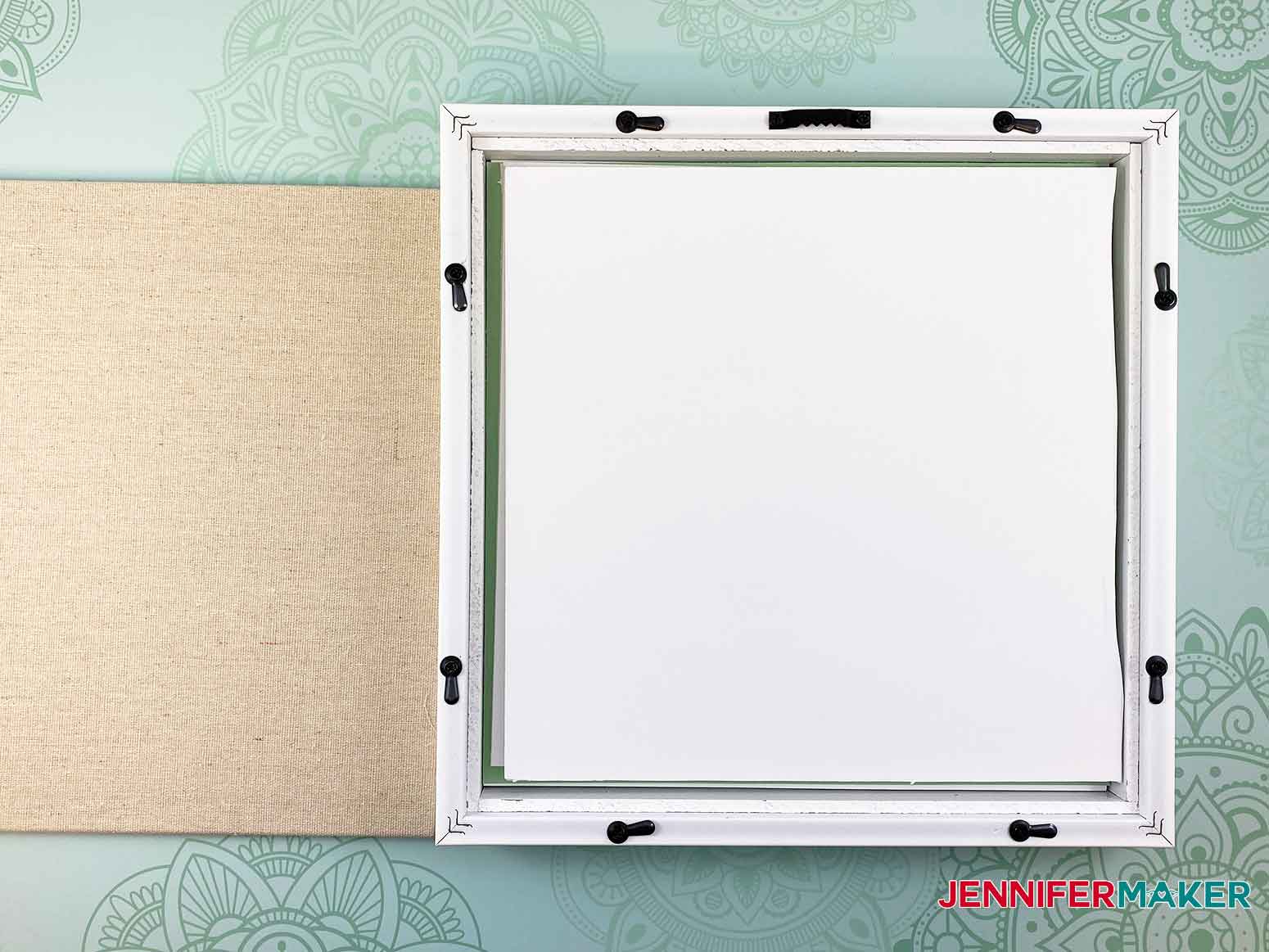 Place the back on the frame of your 3D layered paper art.
STEP 4: Show it Off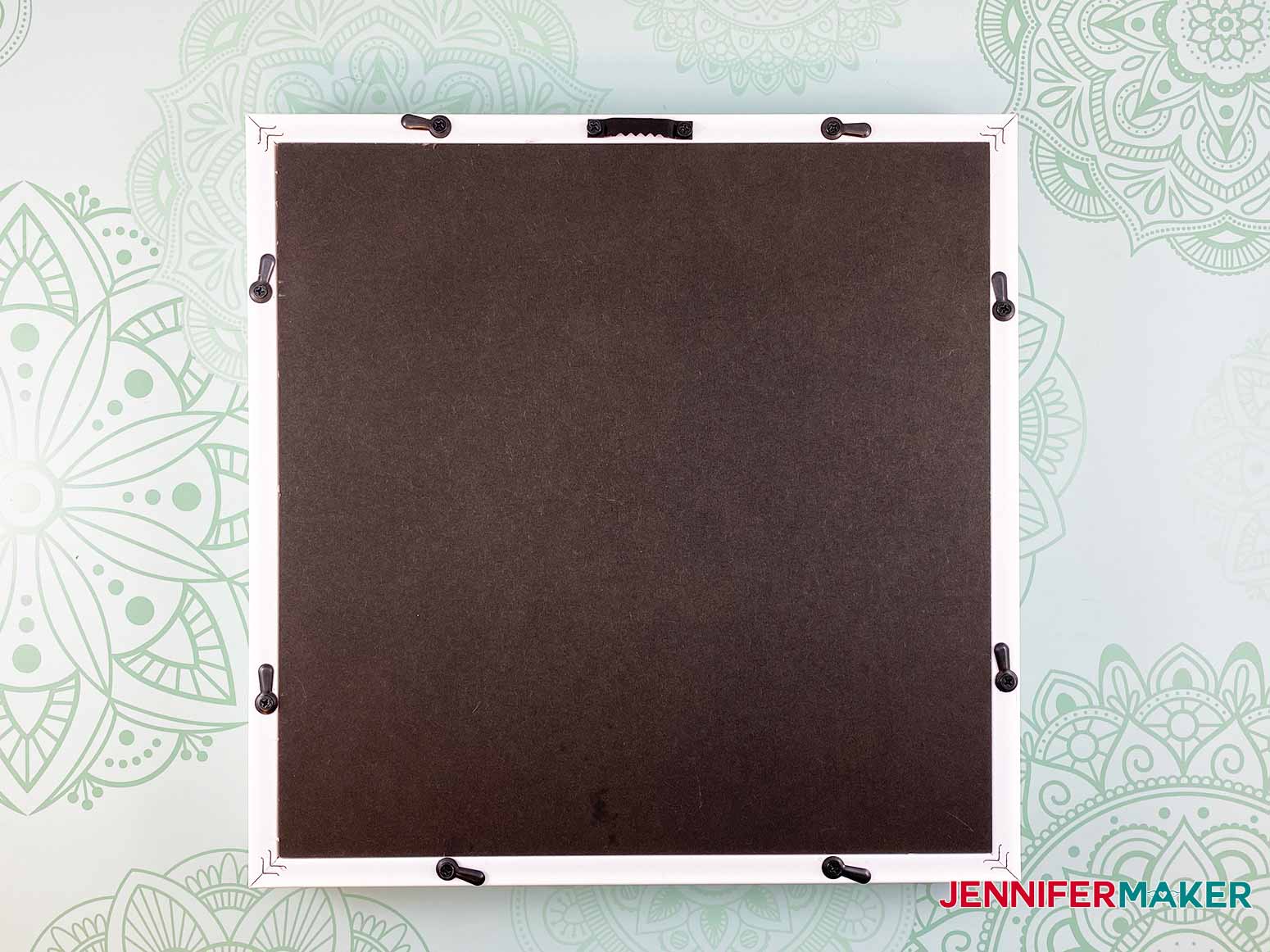 You are now ready to hang your beautiful piece of artwork. This is what the monochromatic framed art looks like completely assembled.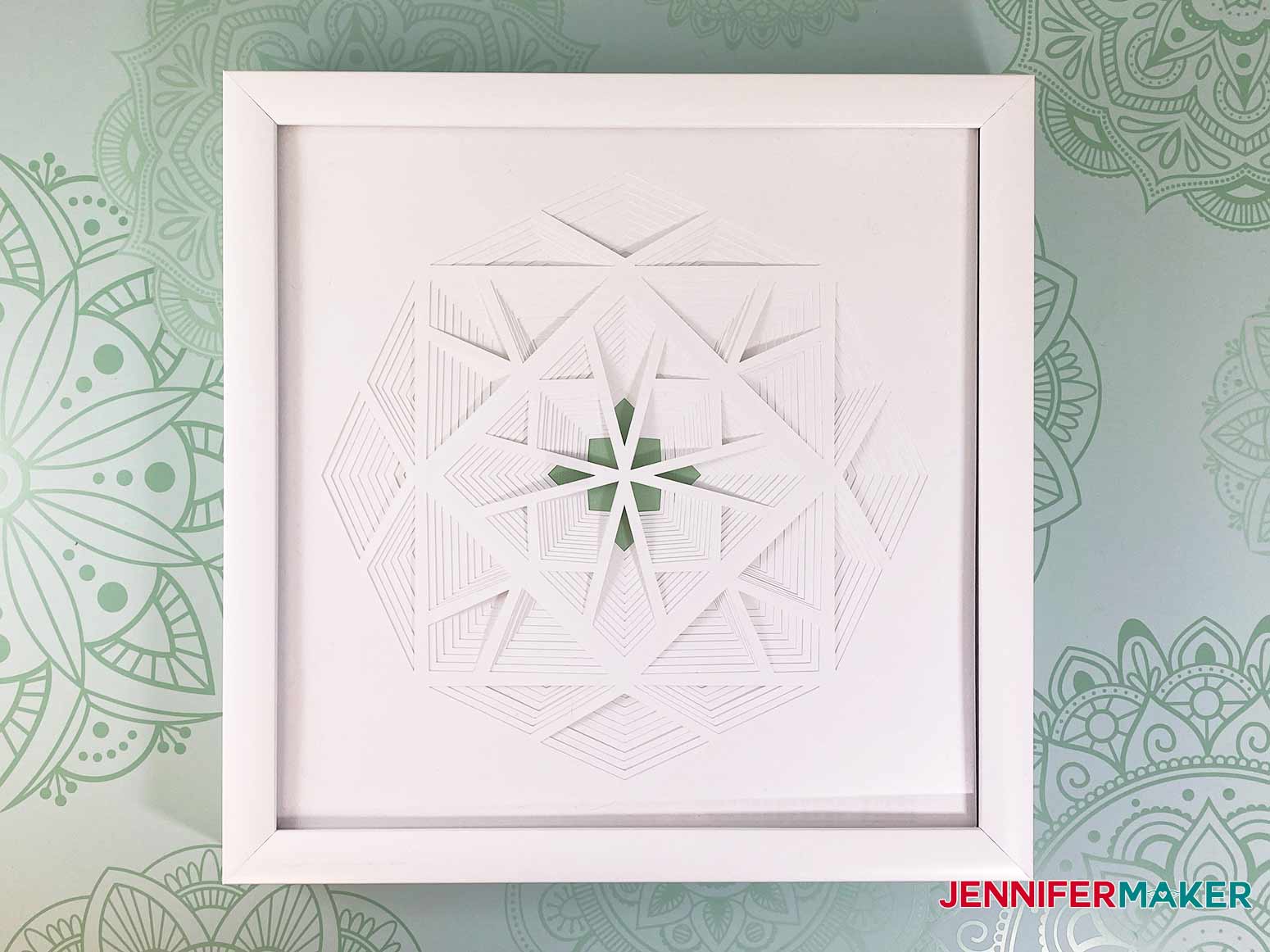 Notes
ACKNOWLEDGMENTS
Special thanks to the JenniferMaker Design Fairy Team, specifically Design Fairy Caitlin, for helping me design and assemble this beautiful framed art.

These 3D layered paper cut designs are SO much fun to make! Once you start, you may not want to stop. If you enjoy these as much as me, watch for the other two designs in this series!
Answers to Your Questions About Making 3D Layered Paper Cut Designs
Q: Can I cut this design on my Cricut Joy?
A: Yes, it should be able to make it if you reduce it down in size once you upload it to Design Space. Just make sure it is under 4.25″ wide. If you're unclear on how resize SVG designs, please see my resizing tutorial.
Q: How do I resize this in Design Space to fit my frame?
A: I have a blog post that explains How to Resize SVG Files in Cricut Design Space.
Q: Can you use 65 lb cardstock? Or a different weight of cardstock?
A: Yes, you can. Just make sure you choose the appropriate setting for your material.
Q: My blade gets dull while I'm cutting, is there anything I can do?
A: Your blade might not be getting dull, it might need to be cleaned. Take a look at my Cricut Blade Cutting Tips post for troubleshooting help. Here's a video that shows how I clean my blade to keep it cutting nicely:
Get my free SVG files to make your own 3D Layered Paper Cut Crystal!
I cannot wait to see YOUR 3D layered paper cut design! Please share a photo in our Facebook group or tag me on social media with #jennifermaker.
Love,