There's something about December. I feel super creative + super giving in December. Last December, I decided on a whim to do a new project and post everyday from December 1-25 as a gift to my readers. It turned out to be a great success, catapulting my blog to new heights. My pageviews nearly doubled and I significantly increased my mailing list subscribers. It was exhausting, but so worth it. The new content I produced kept bringing in new people throughout the year.
Fast forward to a few days before December 2018. Thanksgiving was over and I started to get that Christmas feeling again. I'd just watched "Bohemian Rhapsody" at the theaters and was feeling inspired by Freddie Mercury's rapport with his audiences. And I was thinking about something a Google rep had said at a conference I'd been to a couple of weeks earlier: "By 2021, 80% of the world's Internet traffic will be video."
All of this combined to lead to another crazy idea. What if this December I not only made a new project and post everyday, but ALSO A VIDEO!
Does that sound nuts to you? It did to me. My last YouTube video was in June, because they are SO HARD to make and I'd been procrastinating them. And my post rate had dropped recently to once a week in the autumn. So this would be a serious uptake in activity. And as I have a craft blog with original designs, I'd need to come up with a design, make it, test it, create it on video, edit and upload a video, and write an edit a post. All in 24 hours.
Why would I even WANT to do this? Here's why: When I did my 25-day project in 2017, I learned how to create projects and posts much more efficiently. I learned that lot of the reasons I don't post were excuses ("maybe they won't like it") and not valid, which helped me so much after that. And I learned that I can be wildly creative and amaze myself with the things I come up with when I'm I'm so focused on it. OH, my pageviews nearly doubled that month and just kept going up after that. It was a serious kickstart to a new level of traffic, engagement, and revenue.
So video is tough, right? What if I totally immersed myself in making videos for 25 days? And what if I imposed a harsh daily deadline, knowing that one of my strengths is that my word is my bond and one of my weaknesses is that I don't want to disappoint anyone? I'd learn how to get those videos recorded, edited, and uploaded in 24 hours, come hell or high water.
It's also important to note I discussed this with the people closest to me. I brainstormed ideas with my assistant Grandi and made sure she was onboard with this (because no doubt it would lead to increased activity for her, too). I also talked to my guy Greg, who would be pretty seriously impacted by not only less down time with me but he'd no doubt be called in to help with various projects, and he was 100% supportive. And I spoke with my daughter, who would likely me see me a little less during the challenge and I wanted to be sure that wasn't an issue for her (it wasn't — she's an independent teen who likes to do her own thing most of the time).
So after all this, I decided to go for it. I called it The Great Maker Show and Tell Challenge. And I added a contest element to it to increase engagement with my readers, giving away several awesome prizes at the end of the 25 days. I didn't have to do this, but I had prizes I'd been collecting and I knew I could use the excitement of a contest to ask my readers to help me share videos and posts, and this would give me a little boost. Also, I offered a daily entry for the contest for anyone who was willing to send in project ideas, and I thought the ideas would be helpful, too.
My goals for this project were to increase my email subscribers, bolster my YouTube channel and Facebook videos, and create new content for my blog that would help me in the new year.
So on November 24, I set out to do a project + post + video everyday for 25 days beginning December 1. I had a week to prepare.
My Challenge Project Preparation
Did I have any of the projects all ready? No. It was a blank slate. I had a couple ideas for my first project, but as it turned out, I didn't do them. So virtually no content preparation was involved here.
But WHY, Jennifer, WHY? I know myself. I know my strengths and weaknesses. I know that a deadline works for me, however hard it may be. I know that immersing myself in something so totally can do amazing things. I set this up for ME to succeed. It may not work for everyone. Several of my blogging friends did a December challenge this year after hearing about my success last year, and I believe they had more preparation, for which I applaud them. But it's not really my way. I am a little odd, I know.
So I had about one week to prepare for my craziness. Most of the preparation time was spent gearing up to take daily videos, because I knew that would be the biggest hurdle. And I knew from attending VidCon in June that one of the best things I could do was set up a recording area, position all of my equipment, and NOT MOVE IT. That way I'd be ready to go at a moment's notice. So I bought a second camera, a second mic, new lights, new mounting equipment, an AC battery adapter so I no longer had to worry about batteries, new memory cards, and so on. I mounted everything UP on tracks on my ceiling so I could use my craft room without tripping over tripods. Everything was plugged in and connected. All I had to do was turn on the recording devices and go. Here's what my camera and lighting look like overhead: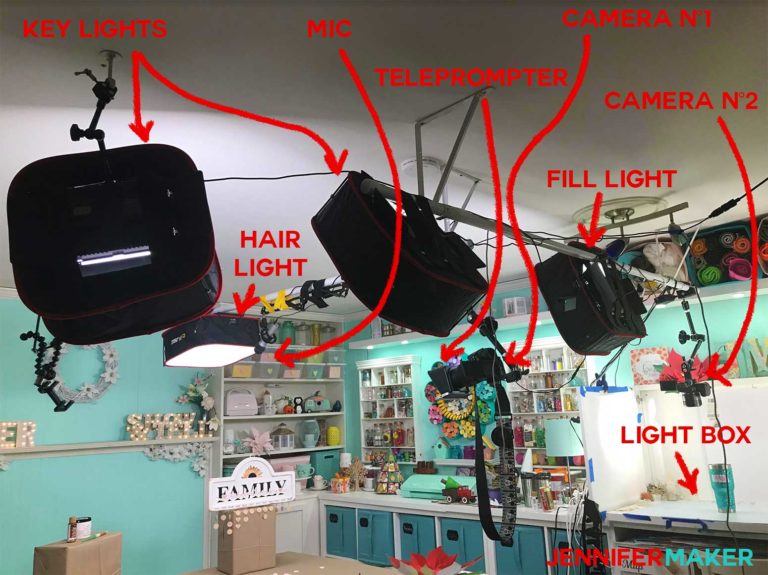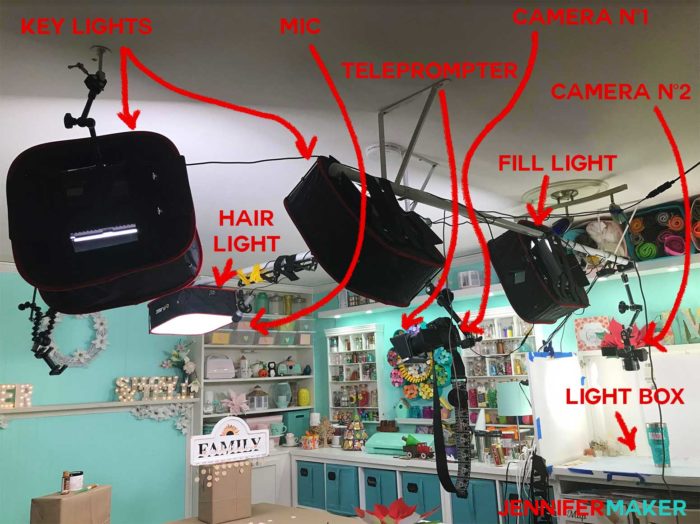 I also prepared my "set." Thanks to some invaluable advice from an actress friend this summer, I changed my area behind and around me to be muted, pale colors so they would not be distracting to the viewer. Whites, light blues, light pinks. Pleasant and cheerful to match my brand's personality, but not overpowering. This is what it looks like: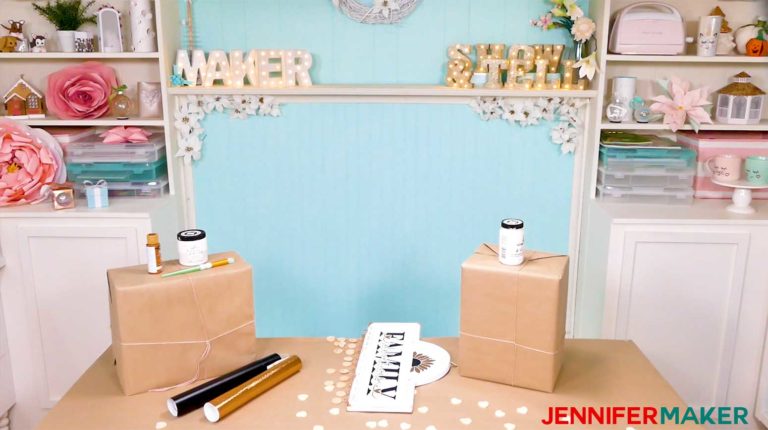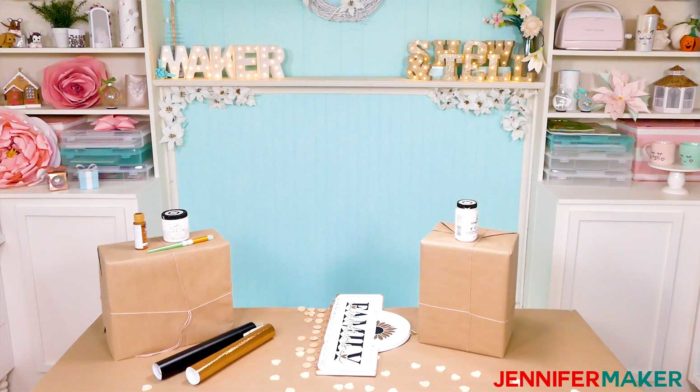 Then I prepared my "look." Coming up with 25 different outfits was NOT going to work, so I decided on a particular look. Dark or bright solid-color sweaters and a white apron. That way I'd just need to switch my sweater each day and put on the apron. I also spent more time figuring out makeup that would look good on camera. I wear makeup to bring my facial features into focus and better communicate and connect with my viewers, NOT to "look pretty." It's very easy to look washed out and underpowered on camera. This is an important distinction for anyone who is feeling shy or funny about wearing makeup for a video when they don't normally (I don't normally wear any makeup).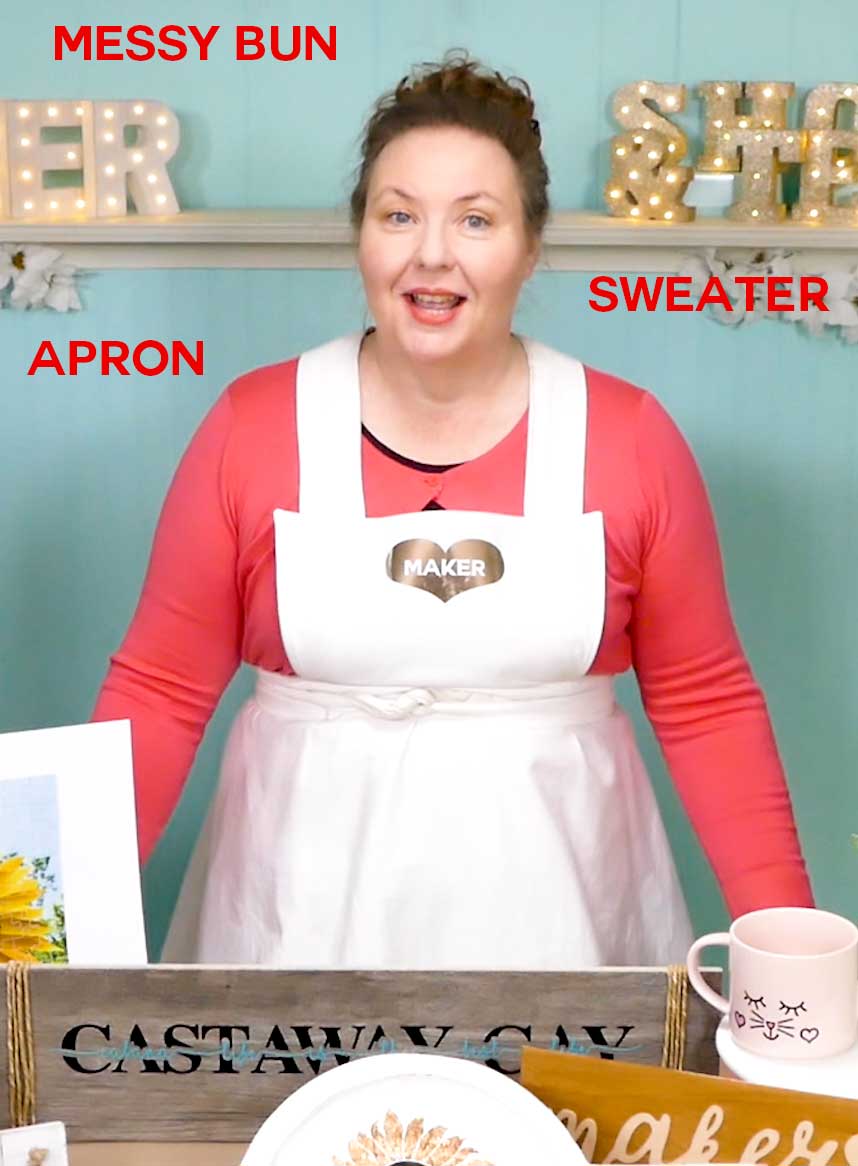 Finally, I worked on my lighting. Good lighting is a big deal for videos. I have five lights on me. Two are at an angle to me (the "Key" lights), two are at the opposite angle to me (the "fill lights"), and one is over my head (the "hair light"). I learned to do this by reading about three-point lighting online and also by moving the lights around and experimenting until they looked good. It took a few videos to get the hair light right — it was too bright initially. Can I improve my lighting? Oh, I'm sure. But it was vastly better than what I had, so I was happy.
For the contest portion of this challenge, I used a Rafflecopter paid plan and offered daily entries for anyone who:
sent me a project idea
liked/commented/shared a post or video
typed in the "word of the day" (The word of the day was a word I was planning to put onscreen in my videos. I was hoping to encourage people to watch my videos more carefully, plus it just sounded like fun.)
made a project and shared a photo
I also made a page for the challenge. That page had a place that I could display/list each of the day's completed projects. I began teasing and promoting the challenge in email and on my Facebook page and groups, too.
For the design and project portion, you know, the actual CONTENT, I used the early project ideas my readers began sending in (from the aforementioned promotion) to come up with my first seven projects. I made a shopping list and got the supplies. Then I began working on the first one a few days before everything launched on December 1.
A Day in the Life of My Challenge
The first project took more than 48 hours to develop, document, edit, and upload. Oh, I got everything online on time by 9:00 am on December 1, but I knew I had to step up my game seriously to make this work. I was going to have to be more focused then ever. Here's what a day began to look like for me:
Early Morning – Take my daughter to school (always the first thing each day)
Morning – Design and test my project idea. Start the blog post about it.
Afternoon – Record myself assembling the project in my lightbox with camera #1.
Lunch – at my desk
Late Afternoon/Early Evening – Record myself on my set talking about the project with camera #2 and mic #1.
Dinner – Always with the family
Evening – Bring in the video and audio I'd recorded and record my voiceover for the project assembly portion with mic #2.
Late Evening (after tucking my daughter in) – Edit, render, and upload the video to both YouTube and Facebook, both scheduled to be released at 9:00 am the next morning. Finish up the blog post about it, also setting it to release at 9:00 am.
This was a BRUTAL schedule, folks. Normally I work a lot, but I don't do much serious work after dinner and almost never work after my daughter goes to bed. But with this daily deadline, I essentially had to work until I was done. And that meant that some nights I went to sleep at midnight, or 1 am, or 2 am. One time, it was 5 am. It was ROUGH.
But I kept going. My word is my bond. My family was supportive, Greg took up more and more things around the house, and I just kept chugging on.
If you want to know everything that went into a single project (post + video), I actually typed a very long list of every single task necessary– from inception to promotion — in my blogging Facebook group here. There are over 50 tasks on that list!
I'm proud to say I didn't miss a deadline for 17 days. On the 18th day, I had a major project failure. I just could not get it right. I had to go back out and get new supplies at 8pm that night and keep trying. So that set me back a bit. Things continued okay after that until I realized I actually had to do some last-minute Christmas shopping, wrap presents, etc. On Dec. 23, I decided I had to put my family first and told folks my projects would finish after Christmas. This wasn't what I'd planned, but with the project failure and the intense workload, it's what happened. I didn't beat myself up for it. There was no point to that. And while some people who didn't see my message asked about it, no one complained.
The Results of My Challenge
So, was all that worth it? The early mornings, the sleepless nights, the almost total lack of downtime for over three weeks? I think the answer to this question is going to vary from person to person, and it really depends on what's important to you. If I had just wanted a quiet holiday and lots of family time and naps, then I failed. But if I wanted to blow my traffic and revenue goals out of the water, and connect better with my audience, then I succeeded. WILDLY SUCCEEDED BEYOND ALL OF MY GOALS.
Email Subscriber Growth
Building and strengthening my mailing list is normally my #1 priority in anything I do with my blog + business, and this project was no exception. I began the month at 71,646 subscribers. I ended the month at 81,137 subscribers, meaning I added 9,491 subscribers during my Challenge. The month previous to this I'd added 4783 subscribers, so you can see I significantly increased the rate of new signups. In fact, it looks like I DOUBLED it! This is a similar to what happened when I did my challenge last year, when I went from 1519 new subscribers in Nov 2017 to 2751 new subscribers in Dec. 2017, and 80% increase. Note that I did EVEN BETTER this year with my 100% increase, though!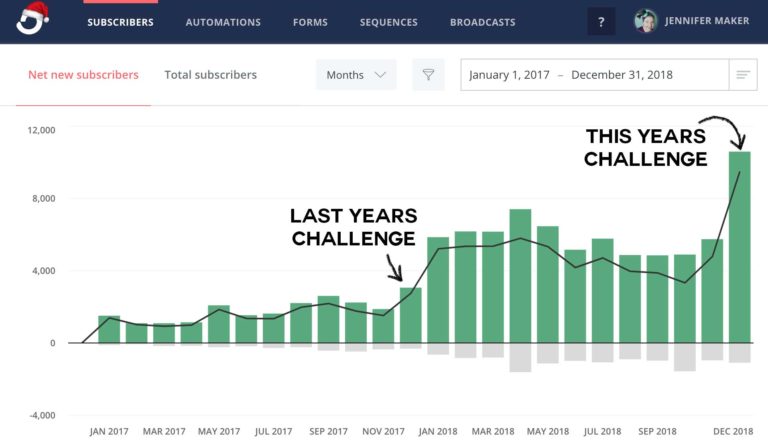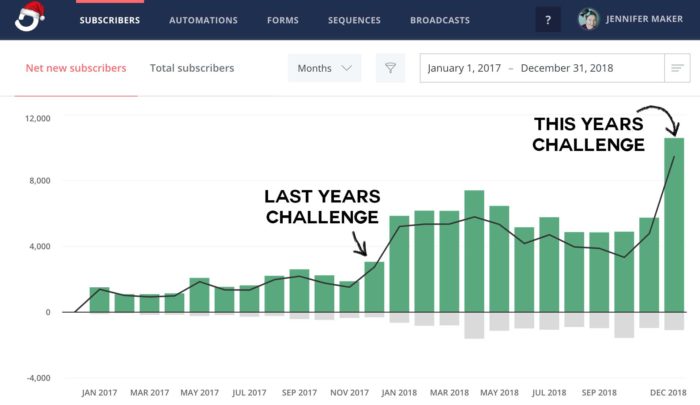 Pageview Growth
The Challenge brought a surge of people to my blog! I hoped for this, as it had happened last year as well. I went from 101,997 pageviews in Nov 2017 to 180,045 in Dec 2017, which was a 56% increase. This year, I went from 330,420 pageviews in November 2018 to a whopping 570,075 pageviews which is a 57% increase. I didn't think it was possible to grow so much at the level I was at, so I was astounded to pass that half-a-million pageview mark! Interestingly, my average session increased, too — I consider this a really good thing, as it means people are really reading and paying attention to my content, which is what I want!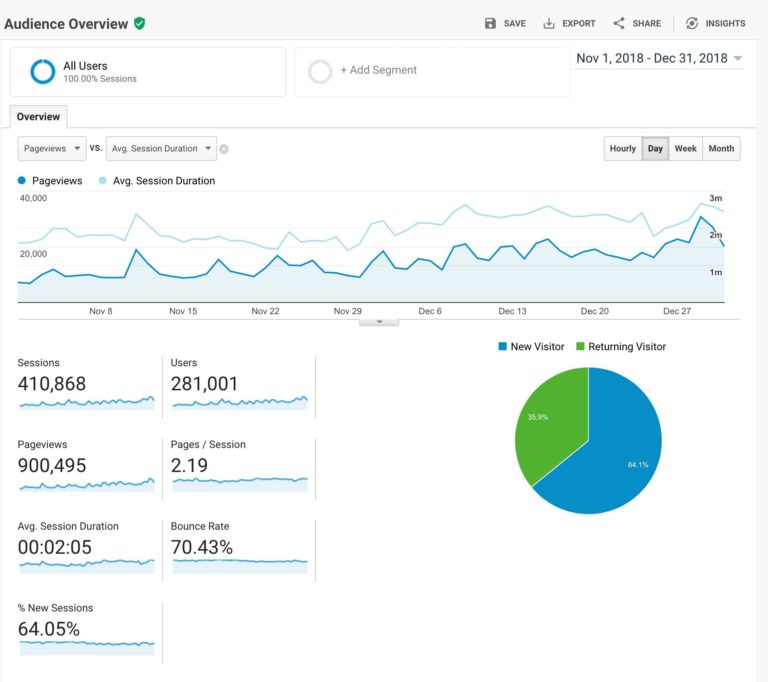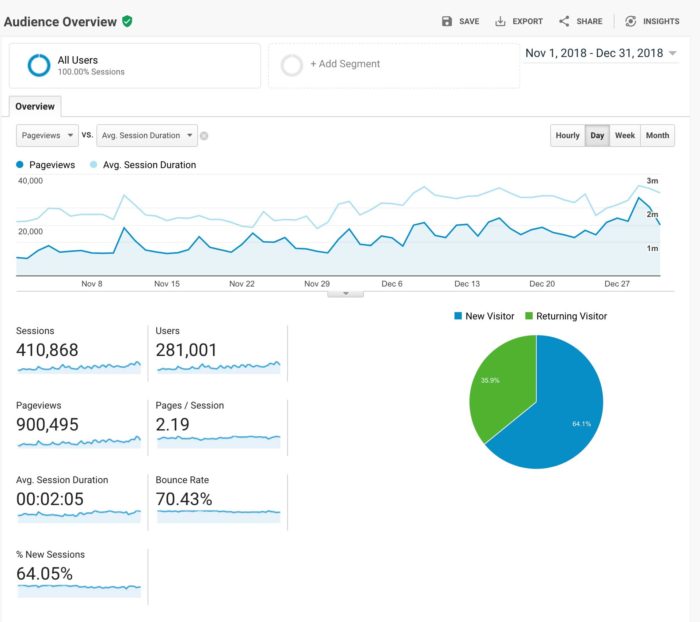 As you can imagine, this brought a increase in ad revenue as well. I saw an increase of 60% from November to December. And as December is my best RPM month, this was just amazing!!
Facebook Page Engagement Likes
I'm not particularly good at building my Facebook page up, but it is important for building my brand and creating a warm audience for my single Facebook ad. I want to have more Facebook ads in the future, so I aim to improve this. I uploaded my videos to Facebook every day. I did this rather than link my YouTube video because Facebook will downgrade external links, ESPECIALLY YouTube videos. On the other hand, they love it when we upload videos directly to Facebook and are more likely to show those to our followers. Here's what December's activity did for me on my Facebook page: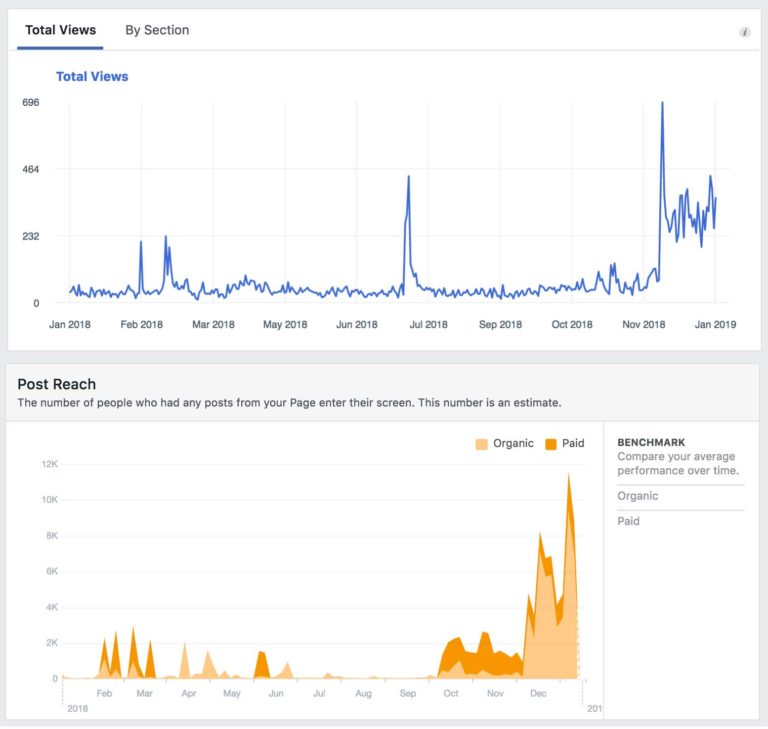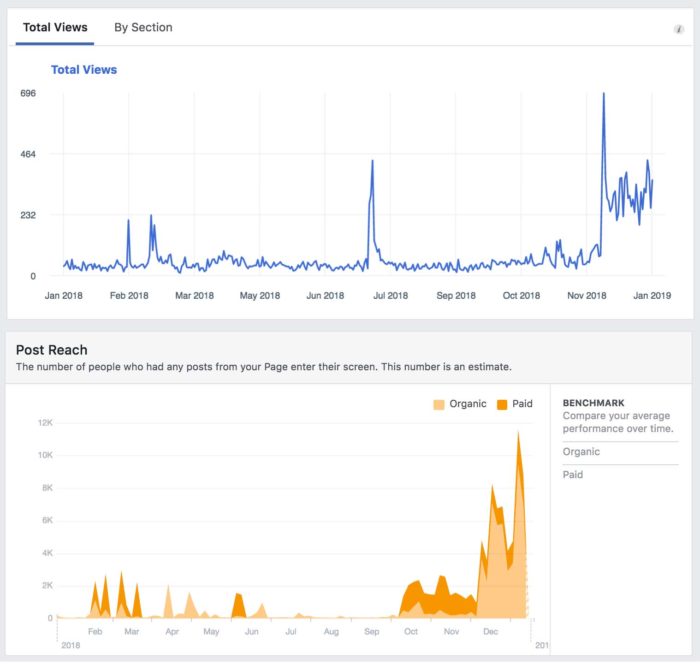 Facebook Group Engagement and Growth
I am better at growing Facebook groups, and I prefer them for engaging my community. I can't use them for my Facebook ad audiences, UNLESS I share items from my page into my group. So my plan was to share the videos I uploaded to my page with my group and bring them into my audiences that way. I think it worked, too! More importantly, though, my Cricut Facebook group's community was really engaged and strengthened during this challenge, because we were really doing it together. People made my projects everyday and shared the photos. It was awesome! It still is, in fact. All the activity in December put me in an excellent position for increased group exposure after Christmas, and my group join requests have been through the roof! I started the month at 3900 members and 30 days later I have 6036 members. That's amazing! I've had this group for a year, so I almost doubled my membership in a month thanks to the Challenge. And join requests are continuing to stream in, so I'm hoping this challenge gave the group the boost it needed. Something very similar happened to my Craft Room Organization group last year and it's now nearly 30k. I'd love for my Cricut group to be 30k by the end of 2019.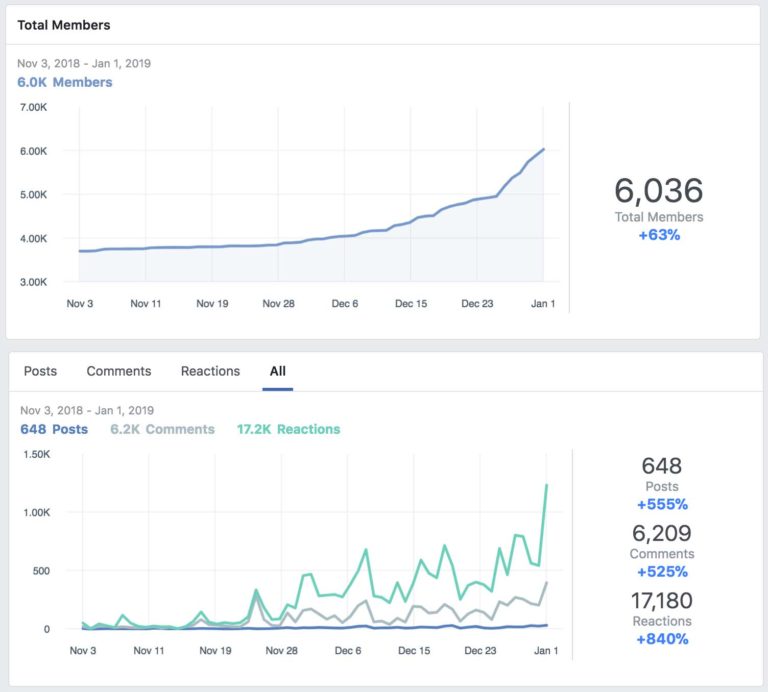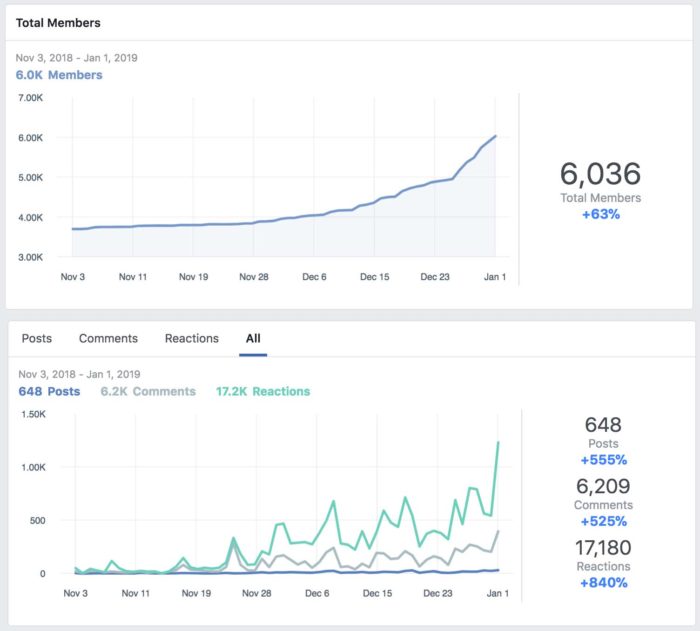 YouTube Engagement and Growth
This is where I saw the most startling changes, probably because I've never really put a lot of effort into YouTube like this before now. Yes, I had a channel, which I began about two years ago. In that time, I released 30 videos. Not a lot, I know. And yet I'd gained 11k subscribers. That was actually really encouraging, because if I could put out so-so videos and still get 11k subscribers in two years, I couldn't be as bad at it as I thought. I mean, what could happen if I really tried? So what happened is that I more than DOUBLED my subscribers in just one month. I'm now at 23k subscribers and its ramped up gradually to the point where I'm adding almost 1000 new subscribers per day at this point, which seems crazy to me. And so many likes and comments, the vast majority of which are positive and encouraging. Oh! And I used to make about $50-$100 a month on my videos. In December 2018, I made $1,224.14. That's a crazy huge increase!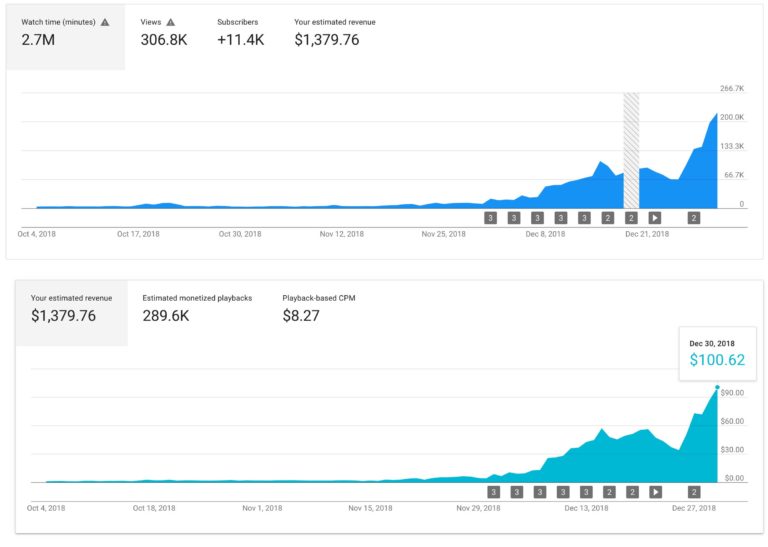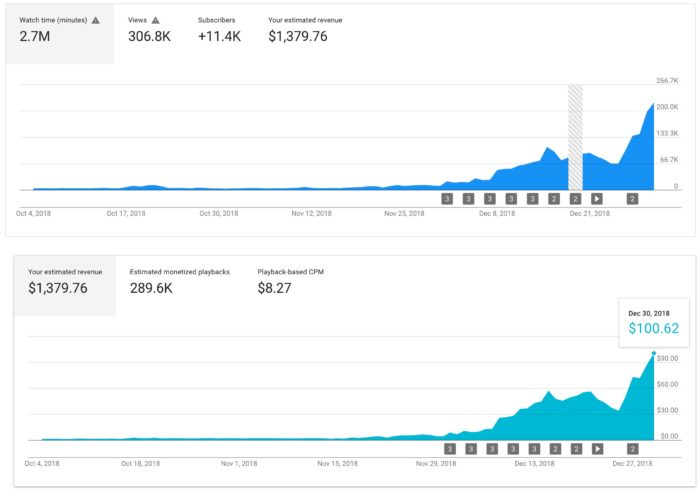 And — added bonus! — my YouTube channel looks SO much more engaging now with all the similar cover images: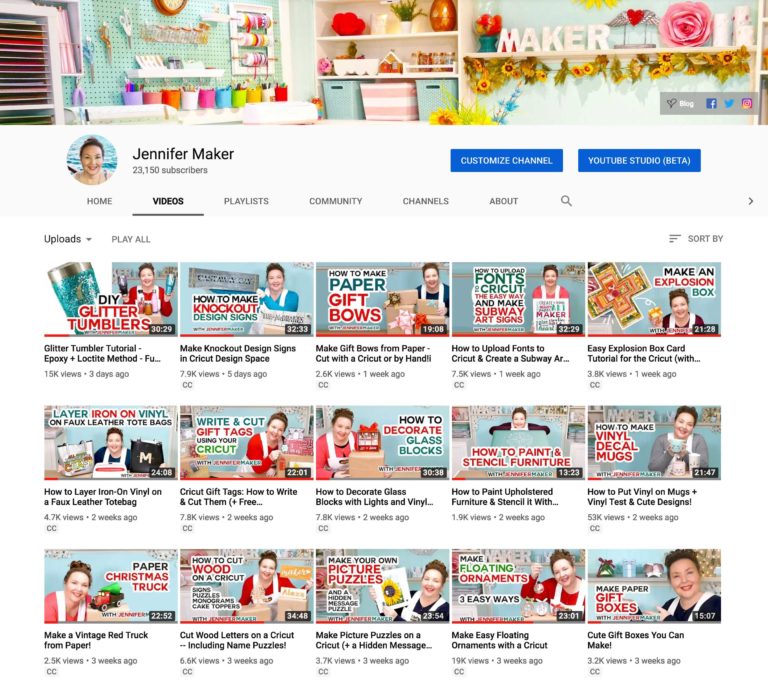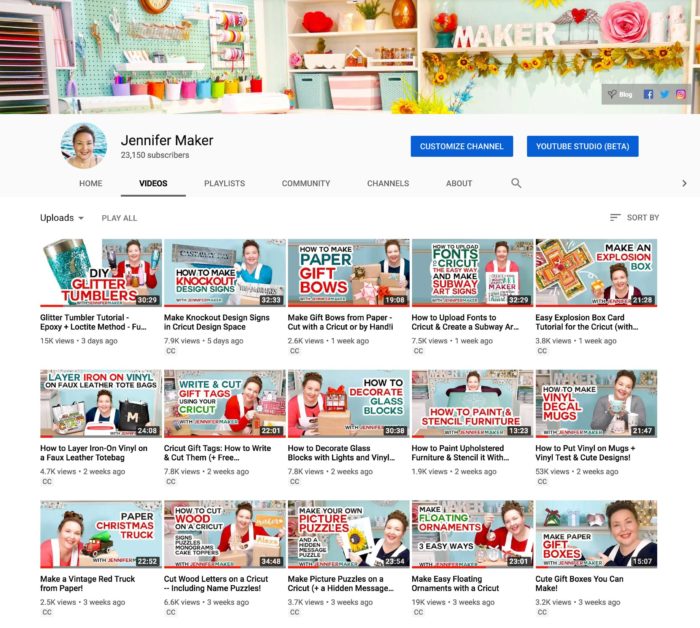 Product Sales
With all the increased activity on my blog, an added side effect was increased sales of my Cricut e-book. In November I sold 851 copies, and in December I sold 1,228 copies. I don't think the holidays had any effect on my sales, as this is a digital product and not very giftable. I wasn't trying to increase my sales, but it was a happy coincidence of the challenge.
If don't publish exact income numbers on my blog, but I will send out a December income report for my blogging friends who are subscribed to my newsletter if you want to see specifics.
All in all, this was a wildly successful project in many, many ways!
Things I Learned From this Challenge
A new project + post + video per day is crazy. I managed, but I couldn't do it on any sort of regular basis. Special occasions only!
Video is allowing me to reach a lot of new people I hadn't before, and I need to keep doing video. I plan to do a video per week now. I have a goal of getting to 100k subscribers by the end of 2019.
Taking a project of this magnitude like this without support would not work well. I am fortunate to had support with work (my assistant) and support at home (Greg). I might have been able to do it, but I would have sacrificed a lot more, perhaps too much.
My people want captions on videos. At first I tried doing it myself, but it was time consuming. I discovered and am now using Rev.com, and uploading them manually onto my Facebook videos (they upload to YouTube for me).
Uploading videos to BOTH YouTube and Facebook worked really well, and I plan to keep doing that.
People like videos a lot more than I thought. When I do just a post and not a video, to some it's like I didn't do anything at all.
Email, comment, and PM volume goes way up when your activity goes up like this, and you need to be able to keep up with it (thanks, Grandi!)
The contest helped my engagement across the board. Best of all, I got an constant influx of project ideas from my readers, meaning it was easy to tell at a glance what they actually want me to make. I ended up making a lot of things I never would have made, and those have been some of my most watched videos so far on YouTube.
I am capable of taking on an impossibly large project and crushing it!
I hope this helps anyone who is thinking about doing a challenge in the future. Please let me know if you have questions!
Get My Blog Tips & Tricks Newsletter