I know you love crafting. I do, too! But it's expensive, isn't it? So it's not surprising that most crafters, at one point or another, think about how they could make some extra money from crafting — maybe even come up with some money making crafts.
Maybe you are an aspiring entrepreneur, looking to sell crafts to friends, neighbors, or at craft shows. My mother used to do craft shows when I was younger. I remember many Saturdays spent at shows, wandering the aisles with a little money but never really buying anything because I couldn't afford it.
I also know it's tough to make good money at craft shows. Etsy is a tough nut to crack, too.
In fact, I used to think you couldn't make money crafting, unless you were exceptionally gifted at your craft or selling stuff in general.
It turns out I was WRONG.
I wasn't wrong about craft shows and Etsy being hard to make money at. I was wrong about being able to make money crafting at all.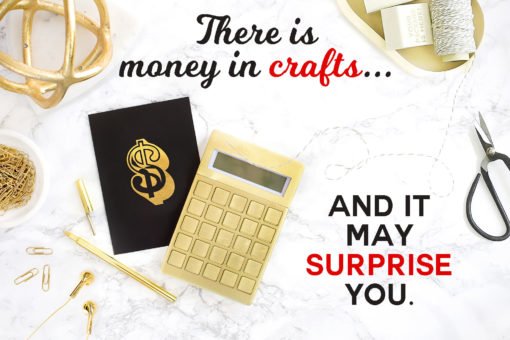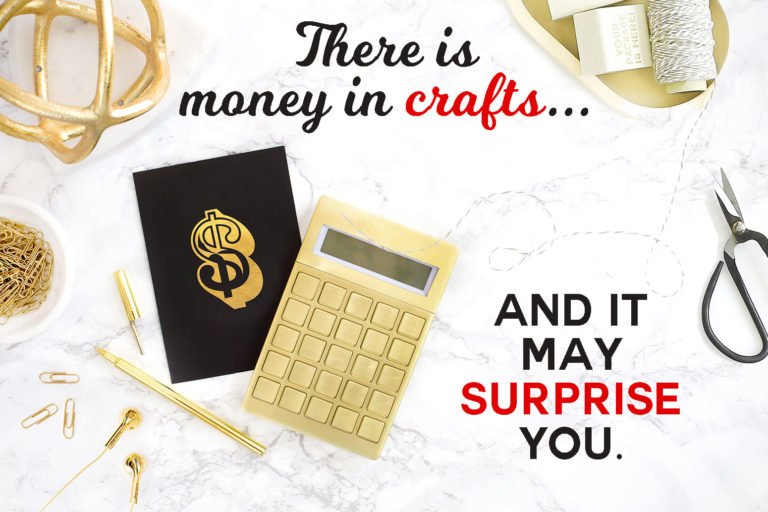 There's a secret to making money with crafts … and it may surprise you!
You CAN make money crafting, but you have to do it smarter. What if instead of churning out tons of craft pieces at prices that are really too low and spending your weekend trying to sell them you showed people HOW TO MAKE the craft themselves?
Showing others how to craft has been MY solution. I started a craft blog two years ago to share my love of crafting with the world and, hopefully, make some extra money.
I was hoping to ultimately make maybe an extra $500-$1000 a month with my blog. I knew I'd have to work up to it. But I thought a craft blog might work.
But could I really make money with a craft blog?
Guys, I'm now making WAY more than that with my craft blog. I hesitate to even mention the amount in this post. It's almost is an embarrassment of riches. But it's enough to support my entire family and then some. (If you really want to know, I'll tell you — signup for my free blogger mini-course where I talk about it.)
But I sell no physical things. I sell no crafts at all. I share my craft ideas and photos with the world. I distribute my file, patterns, and printables to everyone (nearly everything I share is free, and I have just two inexpensive e-books). I teach others how to do what I'm doing through tutorials and courses (my tutorials and small courses are all free, the big courses have a fee). And I get to touch the lives of people like me.
It is amazing.
My little craft blog has completely transformed my life. In the two years since I started, I've touched the lives of over a million readers with my blog. I get emails all the time filled with thank-yous and photos of crafts I helped inspire and teach.
You can watch and listen to my "butterfly story" here.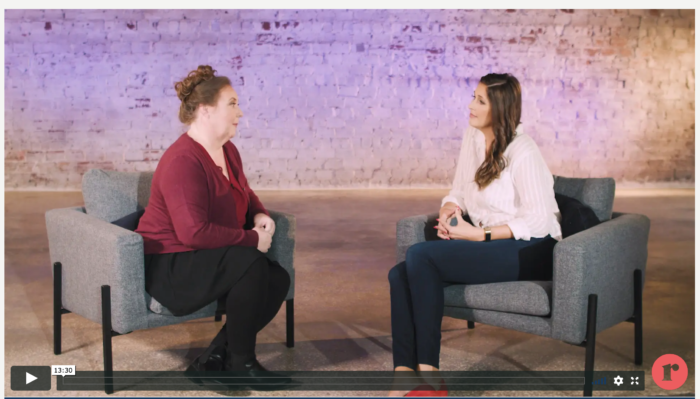 It isn't ALL sunshine and unicorns, of course. Blogging is hard work. I spend a lot of time coming up with designs and documenting them to share with you … but I LOVE it. So I'm exhausted but happy!
So have YOU ever thought of blogging?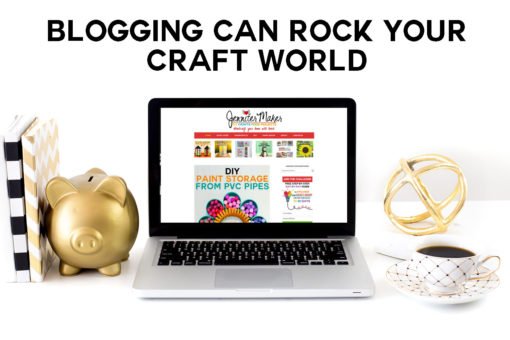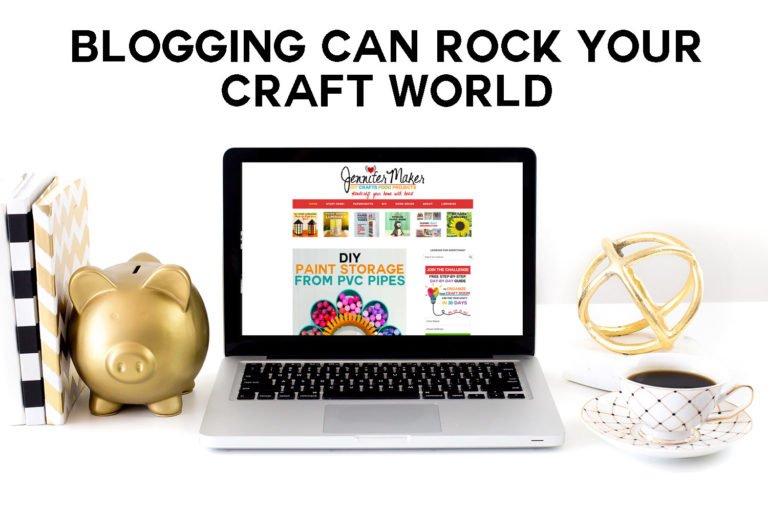 I want to encourage you to consider blogging. I discovered that I love making my blog as much as I love making crafts. And you might, too! It's the secret to how you can actually create money making crafts!
Of course, there's more to all this than just starting a blog and putting up a few posts. There's an entire, immersive course I took last year that made all of the difference for me (it's called Elite Blog Academy, or EBA for short). Think virtual craft retreat, but for blogging. The course only opens to the public once a year each spring. It's also pretty pricey (though SO totally worth it).
Why did I take a blogging course to make money with my craft blog?
I took a blogging course for one simple reason — I wanted to succeed and I KNEW I needed help.
You see, I started a "mom blog" in 2014. I shared a variety of things, including my crafts. I didn't post a lot, but what I did post was pretty good. A few of those posts ended up on Pinterest and drew people to my blog? Did I do anything to take advantage of that? Nope. I was clueless!
For three years, my little mom blog sat there, because I thought it was just a hobby and I had to work to make money for my family. One of the posts on that blog was a Minecraft birthday party post, and it went viral on Pinterest. I didn't even notice because I wasn't taking blogging seriously at the time.
Had I been smart, I would have monetized that post through advertising and affiliate links, maybe even some sort of digital product, and would have been making bank.
Case in point: Now that I know better, some links on my blog and in this post are affiliate links, which means I receive a commission if you make a purchase. Affiliate relationships include, but are not limited to, Amazon Associates, Target, Cricut, and more. You can read my full disclosure policy here.
BUT I DIDN'T KNOW I COULD DO THAT BACK THEN.
And that, my friends, is where enrolling in Elite Blog Academy saved me. I found EBA a few months after I decided to take this blogging thing seriously. I don't remember how, though it was likely through a blog just like mine, from a blogger who'd taken it and loved it. I was skeptical at first — but I looked around more and found review after review just raving about EBA. I read so many positive things about it. You can see some of those success stories here (I'm in the first video!!).
So I got on the waiting list in November 2016 … knowing it wouldn't open until February 2017. By the time the course opened, I was SO READY for it. I was waiting online at opening time, raring to go. And I haven't looked back since then.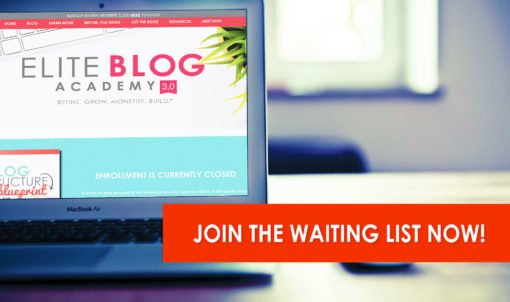 How a blogging course rocked my world and helped me create a profitable blog
When I enrolled in Elite Blog Academy, I was pretty sure the course was going to help based on the reviews I read. But I wasn't prepared for HOW MUCH it would help.
As it turned out, EBA offered the structure and guidance I really needed. It's so easy to get overwhelmed when you're looking for help and running across independent advice and differing opinions on everything from picking out a name to driving traffic. In EBA, Ruth leads you through all of the important aspects of creating a genuinely profitable blog. And I loved that Ruth told me to finish each unit before completing the next one … which is exactly what I did. I worked through the course meticulously, doing everything Ruth said — even when it normally would have been outside my comfort zone — because the structure made me feel so secure. Knowing that I was using proven techniques was so tremendously helpful for building and growing my blog.
The course is broken down into four modules, each with three units. And each unit has its own video, workbook, transcript, and multiple assignments. It's a VERY comprehensive course.
In module 1, called Refine Your Message, I learned how to create a really strong foundation for my blog! During this unit, I found my niche (I moved from a general mom blog to DIY projects & crafts), picked a better blog name that properly reflected my focus (JenuineMom to JenniferMaker), and figured out how to structure my blog so visitors could actually FIND my content.
In module 2, called Grow Your Traffic, I learned how to truly grow my blog and audience. I came into EBA with about 10,000 pageviews per month, which were hard-won during the months on my own. I'm currently at over two million pageviews a month because of EBA!
In module 3, called Monetize Your Platform, I found out about ad networks (which I didn't even know existed before EBA) and joined one, skyrocketing my little blog's ad revenue into something substantial. The moment I saw that first month's ad revenue was the moment I knew I was going to make a profitable blog. But then something more amazing happened — I launched my first product during this module. To my utter astonishment, my first blog product (my design course) made $15,000 in five days. I never would have made this product, nor launched it the way I did, without EBA.
In module 4, called Build Your Business, I began to think big. I learned that the bigger my goal, the bigger my results. I was no longer afraid to just go for it (well, maybe just a little… but it was no longer stopping me). I believed in myself and my money making crafts blog. And I learned how to overcome my limiting beliefs about what I could do as a blogger. I now set big goals that make me feel scared. My last product launch was intense and pushed me in directions I hadn't gone before, and most of the time I was pretty scared — but I STILL did it. And it was super successful! I now regularly set big goals I never would have done before, and I'm getting big rewards in return.
EBA pushed me beyond just building a blog into really creating a sustainable business … all based on my crafts.
How much of a difference did EBA make?
The month I began EBA (February 2017), I made $64.11. One year later (February 2018), well… you can add two zeros to the end of that number, and then some. And in 2019? Add yet another zero. 2020? Another zero. Seriously! (If you want specifics, get on my blogger mailing list — I share my current income reports there. You can see income reports from my very first year of blogging here.)
But it's more than just the money. I connect with so many more amazing people now that I have a strong blog. I touch their lives and inspire them to do more and be more.
Every morning I wake up and I'm SO grateful.
If you have dreams of becoming a full time, PROFITABLE blogger, then I hope you enroll in EBA.
Enrollment opens again in March 2021. Remember, open enrollment for the public happens only ONCE a year!
P.S. FREE RESOURCES FROM ELITE BLOG ACADEMY!
Elite Blog Academy public enrollment will open again in 2021. Get on the waiting list for next year now! And while you're waiting, be sure to download these free resources for bloggers from Elite Blog Academy: