I know you love crafting. I do, too! But it's expensive, isn't it? So it's not surprising that most crafters, at one point or another, think about how they could make some extra money from crafting — maybe even come up with some money making crafts.
Maybe you are an aspiring entrepreneur, looking to sell crafts to friends, neighbors, or at craft shows. My mother used to do craft shows when I was younger. I remember many Saturdays spent at shows, wandering the aisles with a little money but never really buying anything because I couldn't afford it.
I also know it's tough to make good money at craft shows. Etsy is a tough nut to crack, too.
In fact, I used to think you couldn't make money crafting, unless you were exceptionally gifted at your craft or selling stuff in general.
It turns out I was WRONG.
I wasn't wrong about craft shows and Etsy being hard to make money at. I was wrong about being able to make money crafting at all.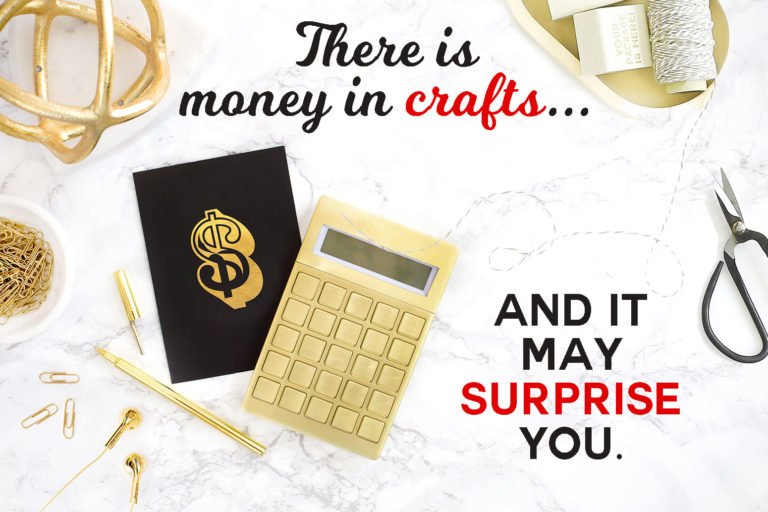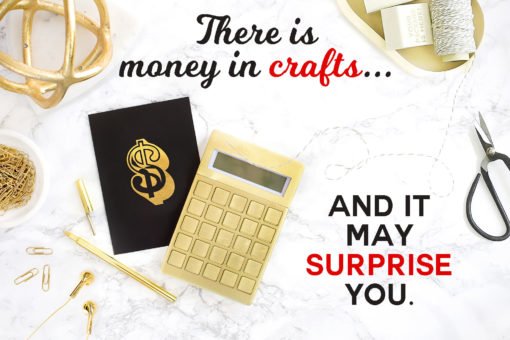 There's a secret to making money with crafts … and it may surprise you!
You CAN make money crafting, but you have to do it smarter. What if instead of churning out tons of craft pieces at prices that are really too low and spending your weekend trying to sell them you showed people HOW TO MAKE the craft themselves?
Showing others how to craft has been MY solution. I started a craft blog two years ago to share my love of crafting with the world and, hopefully, make some extra money.
I was hoping to ultimately make maybe an extra $500-$1000 a month with my blog. I knew I'd have to work up to it. But I thought a craft blog might work.
But could I really make money with a craft blog?
Guys, I'm now making WAY more than that with my craft blog. I hesitate to even mention the amount in this post. It's almost is an embarrassment of riches. But it's enough to support my entire family and then some. (If you really want to know, I'll tell you — signup for my free blogger mini-course where I talk about it.)
But I sell no physical things. I sell no crafts at all. I share my craft ideas and photos with the world. I distribute my file, patterns, and printables to everyone (nearly everything I share is free, and I have just two inexpensive e-books). I teach others how to do what I'm doing through tutorials and courses (my tutorials and small courses are all free, the big courses have a fee). And I get to touch the lives of people like me.
It is amazing.
My little craft blog has completely transformed my life. In the two years since I started, I've touched the lives of over a million readers with my blog. I get emails all the time filled with thank-yous and photos of crafts I helped inspire and teach.
It isn't ALL sunshine and unicorns, of course. Blogging is hard work. I spend a lot of time coming up with designs and documenting them to share with you … but I LOVE it. So I'm exhausted but happy!
So have YOU ever thought of blogging?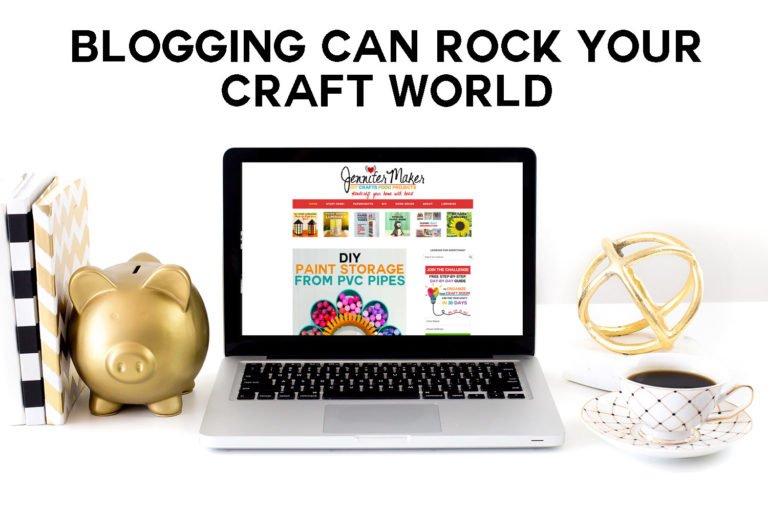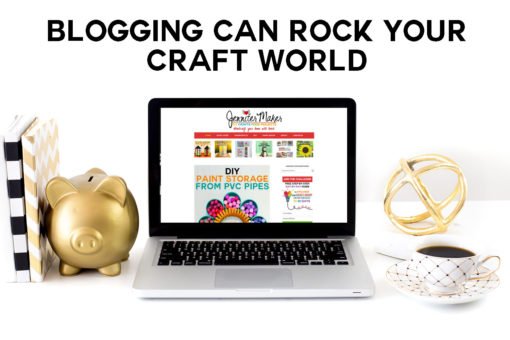 I want to encourage you to consider blogging. I discovered that I love making my blog as much as I love making crafts. And you might, too! It's the secret to how you can actually create money making crafts!
Of course, there's more to all this than just starting a blog and putting up a few posts. I had to learn how to blog.
Why learn how to blog?
You see, I started a "mom blog" in 2014. I shared a variety of things, including my crafts. I didn't post a lot, but what I did post was pretty good. A few of those posts ended up on Pinterest and drew people to my blog? Did I do anything to take advantage of that? Nope. I was clueless!
For three years, my little mom blog sat there, because I thought it was just a hobby and I had to work to make money for my family. One of the posts on that blog was a Minecraft birthday party post, and it went viral on Pinterest. I didn't even notice because I wasn't taking blogging seriously at the time.
Had I been smart, I would have monetized that post through advertising and affiliate links, maybe even some sort of digital product, and would have been making bank.
Case in point: Now that I know better, some links on my blog and in this post are affiliate links, which means I receive a commission if you make a purchase. Affiliate relationships include, but are not limited to, Amazon Associates, Target, Cricut, and more. You can read my full disclosure policy here.
BUT I DIDN'T KNOW I COULD DO THAT BACK THEN.
And that, my friends, is where education can make such a HUGE difference!
Blogs are hard work and they can take a while to get off the ground. This is no get-rich-quick, make-money-fast, MLM craziness. Blogs are a legit business. My blog took a full year before it was able to support my family, and I did it faster than most. It helps a LOT to have good sources of information and guides from people who are sharing their real-world tips and tricks.
Now that I know how to blog, and have successfully taught others how to do it, I invite you to learn from me in my Blog Boundless course!