I love to make things, and that includes making blogs! So I thought I'd make you a tutorial on how to make a blog site and exactly how to start a WordPress blog easily and quickly.
Blogging changed my life. I get to do what I love, share it with people who love what I do, and earn tens of thousands of dollars a month. And the best part is that it doesn't take a lot of money to make a blog. You can start a money-making blog for just a few dollars a month!
Click here to start a WordPress.org blog, then use the tutorial below for the easy directions. (Skip right to the tutorial now!)
If you want to get started blogging for less money (maybe you're broke like I was when I started), I think choosing Siteground for your hosting needs is the right first step. Siteground is an amazing web host. I switched to Siteground when I got serious about making money with my blog and it made a huge difference for me!
Blogging has been one of the best things ever for me. I now make over six figures a year from my blog and blog-related services. For real.
But it's more than the money I make. It's the ability to work from home so I can be near my family, have a totally flexible schedule to work on my crafts and projects whenever I want, and go on adventures! I am still pinching myself at how much blogging has changed my life since I began in October 2016. Life is REALLY good.
And the best part? I think anyone can make money with a blog. I earned the money I paid for my blog hosting back within just a couple of months after starting. And I think you can do that, too!
Siteground is, in my opinion, the BEST blog hosting company for new bloggers in 2021. They're reliable, affordable, and not plagued by the difficulties with other blog hosts like Bluehost. You can start your own blog with them for as low as $3.95 a month! I highly recommend getting the 12-month hosting plan through Siteground. It's a great deal and you can save a lot of money by signing up for at least 12 months. The best value is a 36-month plan, as your monthly rate stays low for three years.
How To Make A Blog FREE Email Course
A lot of people at this point ask me, "Why can't I just use one of the FREE sites for my blog?" So there are sites, like Wix, WordPress.com, Blogger, and Blogspot that let you have a free or super low-cost site. Lots of people want to start there, and then move to a paid blog later, "when they start to earn money." I totally get that, but I have to be honest with you — that's a mistake.
Not only is it almost impossible to make money off a free blog, but you'll even be hard pressed to get traffic to your blog. You get what you pay for here, folks. I speak from experience. I tried all of these platforms, and I keep coming back to WordPress.
You NEED a self-hosted WordPress site on a decent, reliable host. I can't stress this enough.
If you really want to make money off your blog or turn it into a business, then you need to pay for your hosting through a host like Siteground. It's not even very expensive — less than a Starbucks per MONTH. And when you have a self-hosted WordPress blog, you can have affiliate links, direct advertising, sell products, etc. Making money on Wix or Blogger or any other free blogging platform is super difficult, and based on the many people I've met, it never happens. Most advertisers and companies tend to run away from Blogger websites because they don't view them as professional as self-hosted WordPress.org blogs, so that's another big reason to use Siteground.
Also, if you read my past income reports (which you can see if you subscribe to my blogger newsletter), you can see that it is totally possible to make money off a blog when you do it the right way.
So why should you pick Siteground for your WordPress blog? I truly believe they are one of the best web hosting providers, and they are the one I moved to when I got serious about making money with my blog. Here's why I love Siteground:
Siteground is very easy to use. ANYONE can create a WordPress blog easily and quickly with my tutorial on this page. You can make a WordPress blog in less than 15 minutes with Siteground!
You get amazing technical support 24/7 at Siteground. Every time I ever had a problem, they were there to help.
Siteground has 99.999% uptime, so you can count on them to keep your blog up and running!
It's affordable! Siteground offers good and inexpensive web hosting. Hosting starts at just $3.95 per month, and this may be the only expense you have initially. I didn't pay for anything besides hosting until my third month when I bought a theme.
WordPress through Siteground is totally FREE. And easy to install, too! Like, you literally just click a button.
Siteground offers a 30-day money-back guarantee in case you decide blogging is not for you. And if you get Siteground, but you get stuck for any reason (settingup, picking a domain, picking a plan, pricing, etc.), just send me an email and I can help!
You get FREE setup from Siteground's support team OR FREE migration services if you are moving from another hosting company.
With Siteground, you'll be self-hosted, which opens the doors to monetizing your blog!
Siteground has SSD drives—which means that their servers operate much faster than a lot of their competitors, keeping your website load times best-in-class. Speed is really important for finding and keeping traffic to your blog.
You get a FREE SSL certificate with Siteground (this makes your website secure), and that's also important for getting and keeping traffic!
See what I mean? Siteground rocks!
There's more, too. To see all the awesome features and benefits, head on over to Siteground. I know, there are a LOT of web hosting companies you could pick from, but I truly think Siteground is the best one for beginner bloggers. Most of the bloggers I know have also chosen Siteground and stick with it until they are much bigger. I was with Siteground for one year, then moved to BigScoots when I reached 100k pageviews per month (I don't recommend you start with BigScoots only because they are 10x the price and it's important to keep costs down in the beginning).
If you're ready to start a blog on Siteground, continue on with my tutorial. And remember if you get stuck anywhere along the way, you can always email me and I can help you out.
Click here to start the process of making a WordPress.org blog
How to Make a Blog Site with WordPress on Siteground in 15 Minutes
1. Go to the PHENOMENAL web hosting company I used for my own blog for my first year and HIGHLY recommend. Great service, great servers, and great prices. Prices start at only $3.95/month. Yes, for real.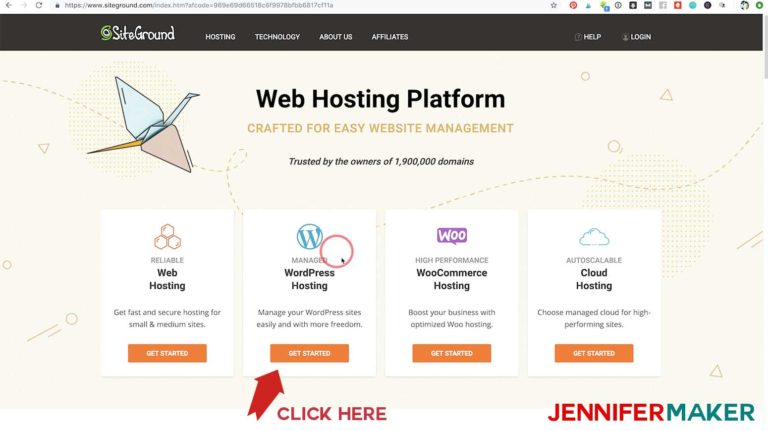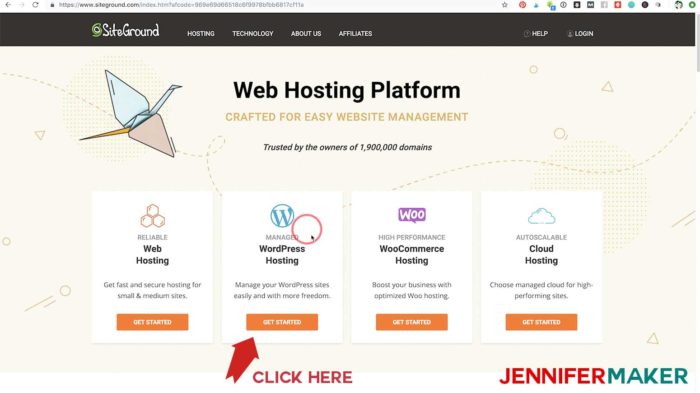 2. Once you click that, you'll see a screen with three WordPress hosting plans. I recommend you click the "Get Started" button under the StartUp plan. Don't worry about the others — this is all you need for now. Keep the location set where it is. Choose the period of time you want. I did a year on my blog.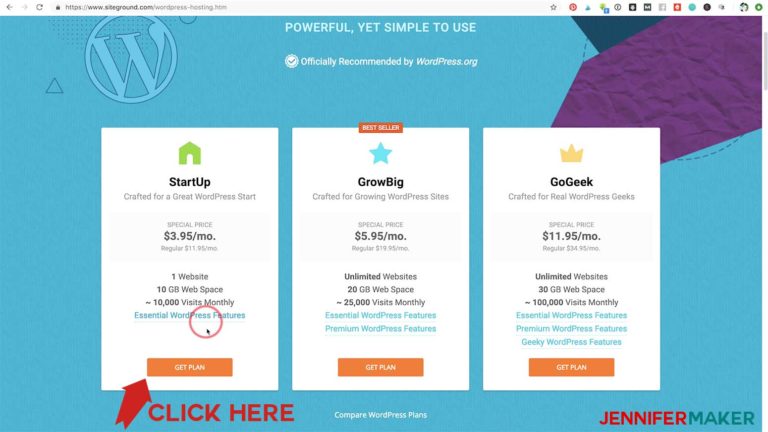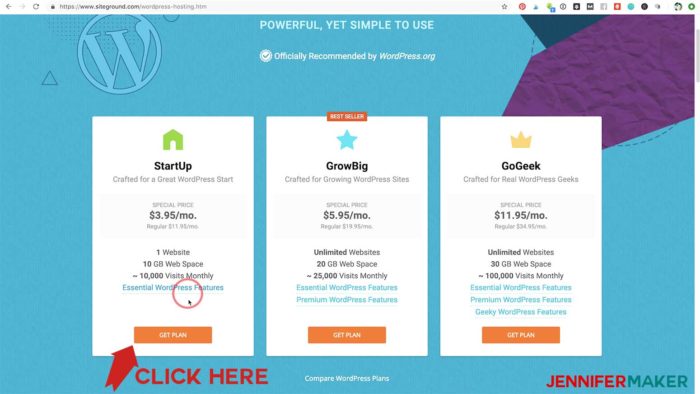 3. If you do NOT yet have a domain, type the domain you want now and just click the blue Proceed button. (Not sure about a name? Skip down to Step 1: Register your domain name for more help.) If you have a domain you want to transfer and use for this blog, click on the "I already have a domain," fill in the domain name (check it carefully for typos!), and click the blue "Proceed" button. (You can always get a new domain or transfer a domain later, too.)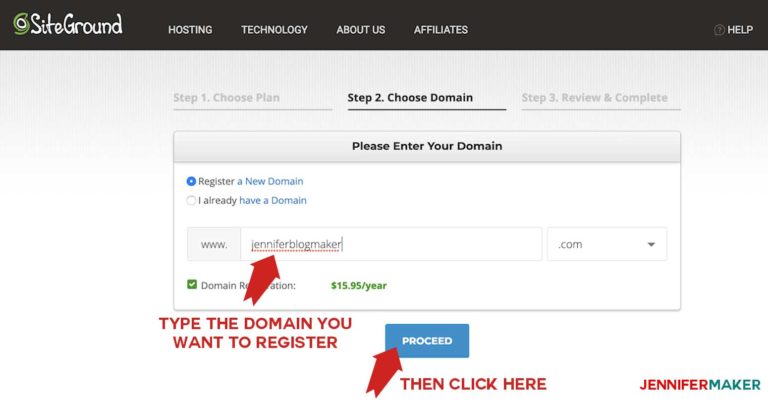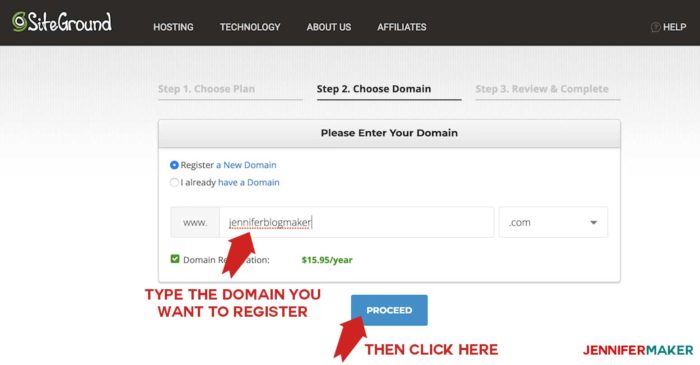 4. Fill in your personal information and payment information. Make sure your spell your email correctly!
Under Purchase Information, confirm that your plan is the one you want — you can change it with the icon to the right if need be. I recommend you change the Data Center to the one closet to you geographically. The Period defaults to 12 months, which I think is the best choice. It is possible to pay month-to-month, but not only is that more expensive but you have to pay a setup fee. You could go for a longer length of time, which will lock in this promotional rate for longer. Be aware that after your plan period is up, your rate will go up. But I'm going to stick with 12 months as I think that's a good plan period.
Under Extra Services, you can choose Domain Privacy or SG Site Scanner. You may want to consider Domain Privacy so that your personal details don't come up in the public lookup services. It also means you won't get spammed with phone calls and emails in the first week, since some third-party services like to check for newly registered domains, lookup any public contact information, and then message or call them to sell them services. If you want to save money, don't click it. You can add it later, too.
The SG Site Scanner is completely optional and not necessary if you don't want to pay for it. There are other free options you can use later when you're ready for it.
For now, let's keep the costs down, which I recommend when you're first starting out.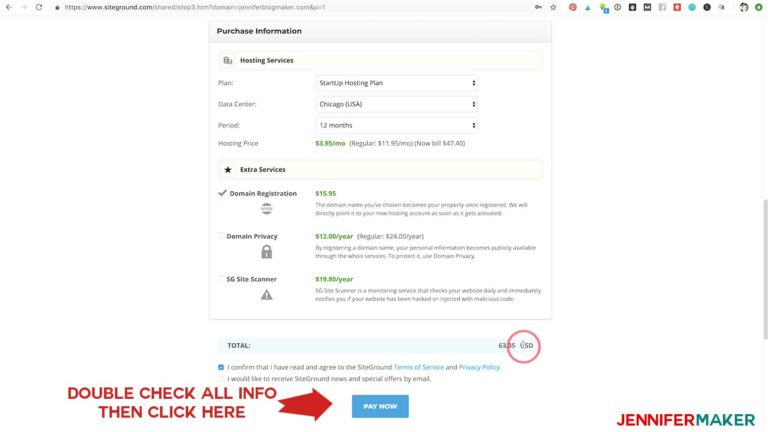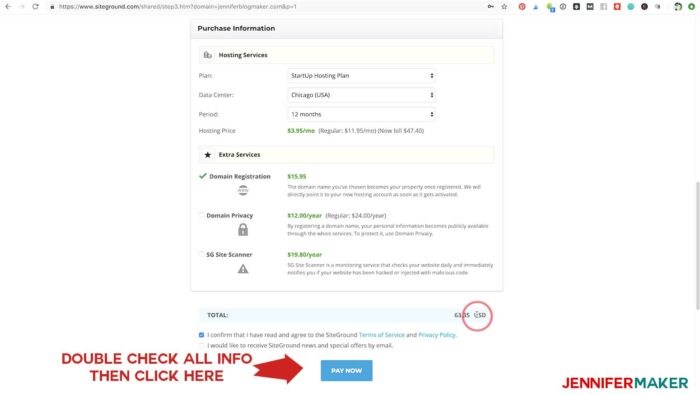 5. Click Pay Now and pay for your hosting. Give the system a little time to create your account. (Note: You'll get several confirmation emails — one is a sales recipe and one has important information about your new hosting account. You may also be asked to verify your domain name, set your domain data use consent preferences, and so on.)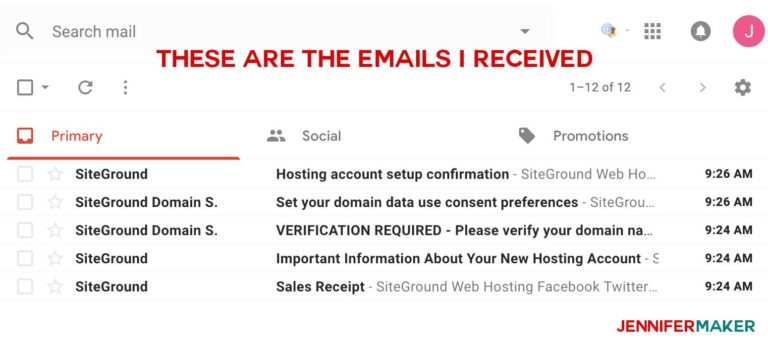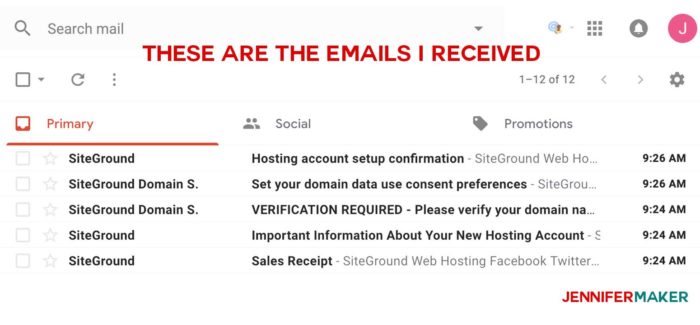 6. Once your account is created, you'll get a confirmation of it on your screen. Click the "Go to Customer Area" button.


7. Next you'll see a Setup Wizard. Click "Start a new website," then click WordPress, and enter your admin email, username (no spaces), and password. This username will be visible when you post, so pick something appropriate and create a strong password that cannot be guessed (don't stress about this as you can change it later). Click the green Confirm button.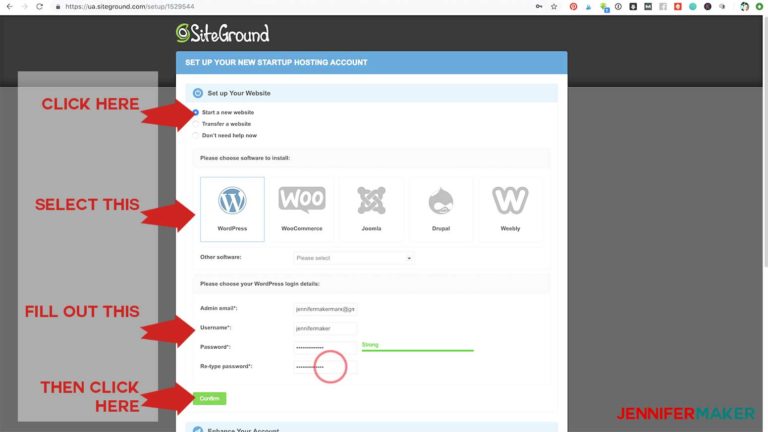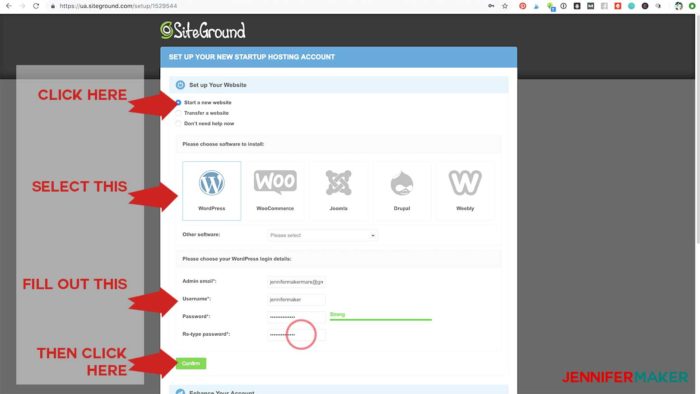 8. When asked (again) if you want enhancements, don't select any and click the green Confirm button.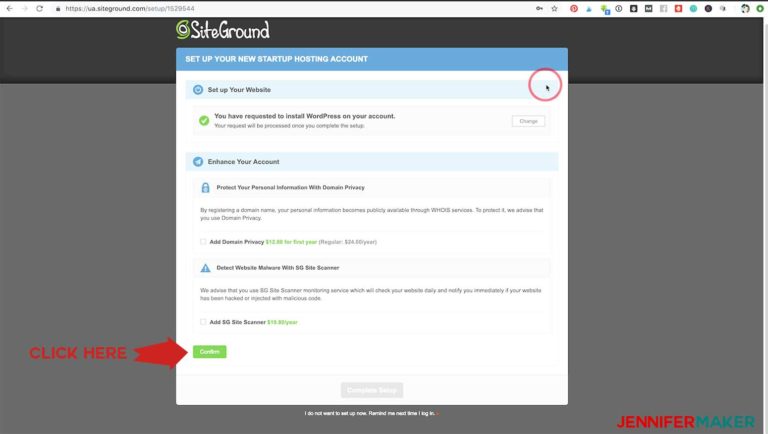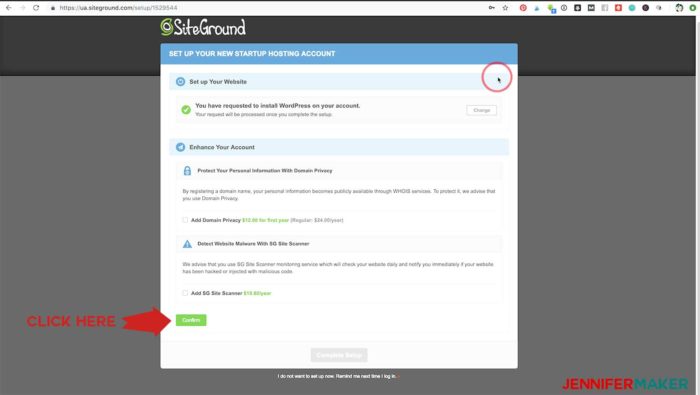 9. Now click the confirmation checkbox then click the green Complete Setup button.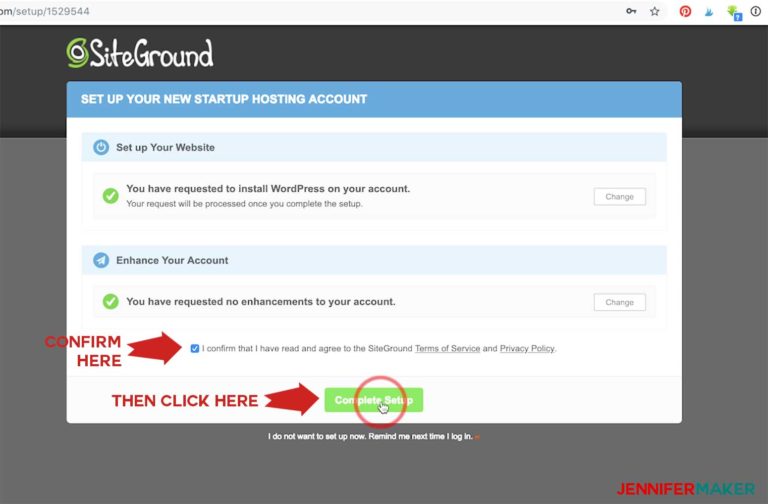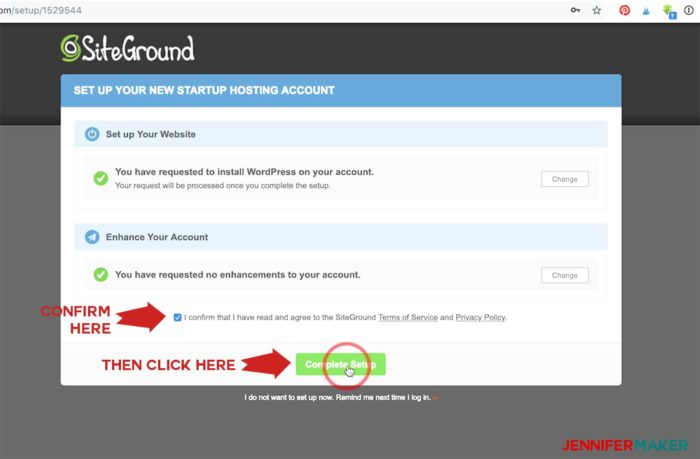 9. Give it some time to install, then you'll get this screen once your hosting account is setup! Click the green Proceed to Customer Area button.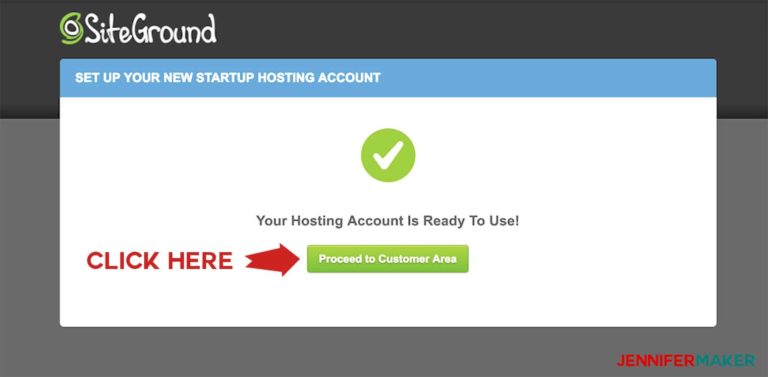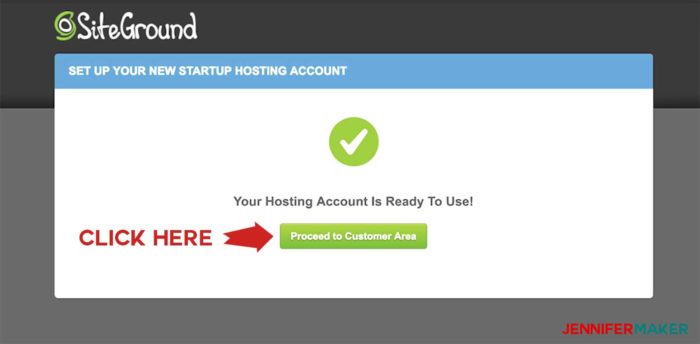 10. This next screen is the regular Siteground window you'll see each time you login with them. To view your newly created WordPress blog, click on My Accounts, look for the link to your new blog about halfway down the page.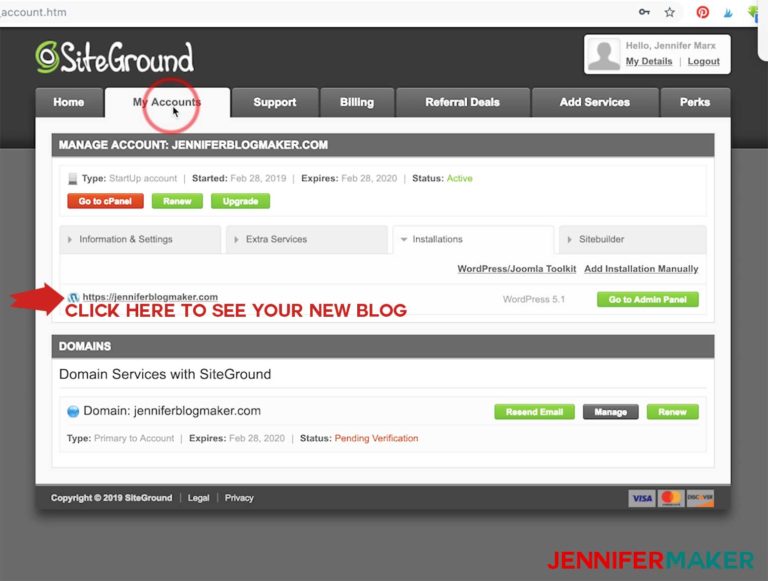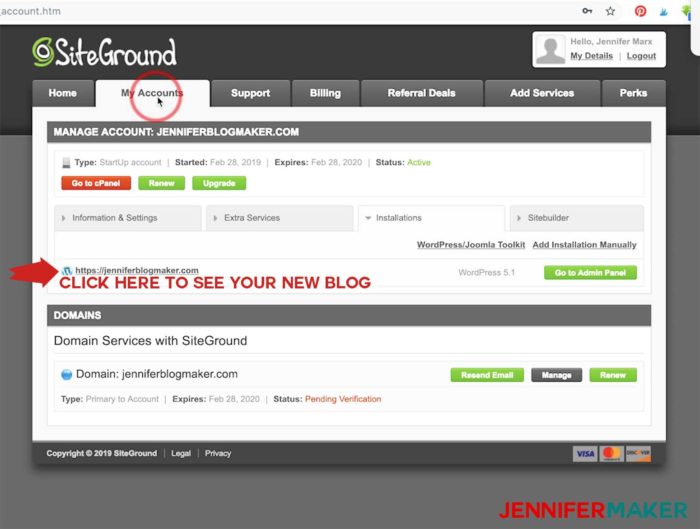 If you click it, your brand new WordPress blog will open in a new window. It doesn't look like much, but we're going to work on that now.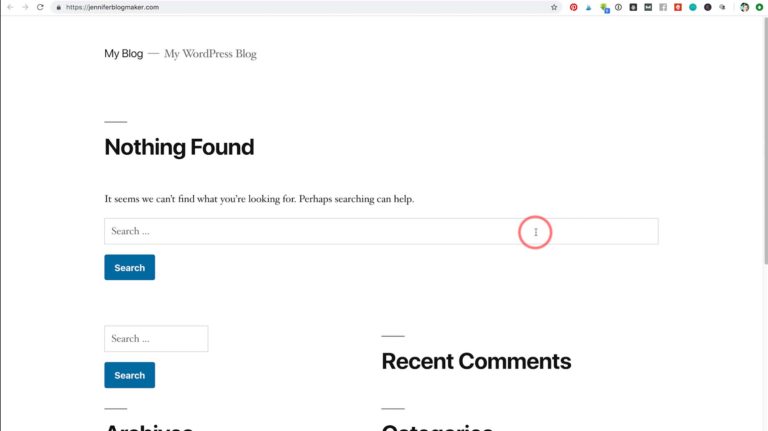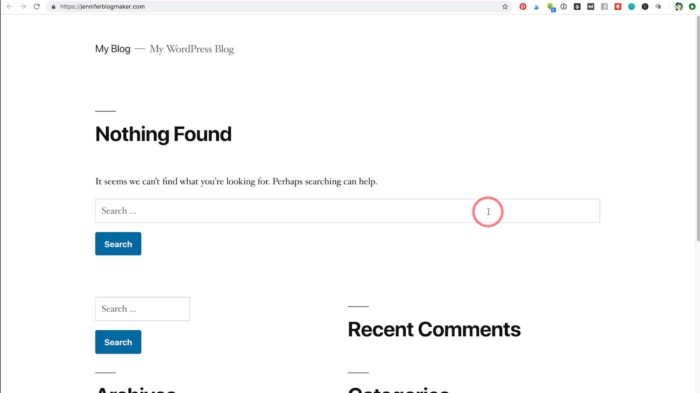 At this point, you have a WordPress blog! Congratulations!
More You Can Do…
Click back to your Siteground tab in your browser and click the green "Go to Admin Panel" next to your blog URL, right here. This leads you to your WordPress login page.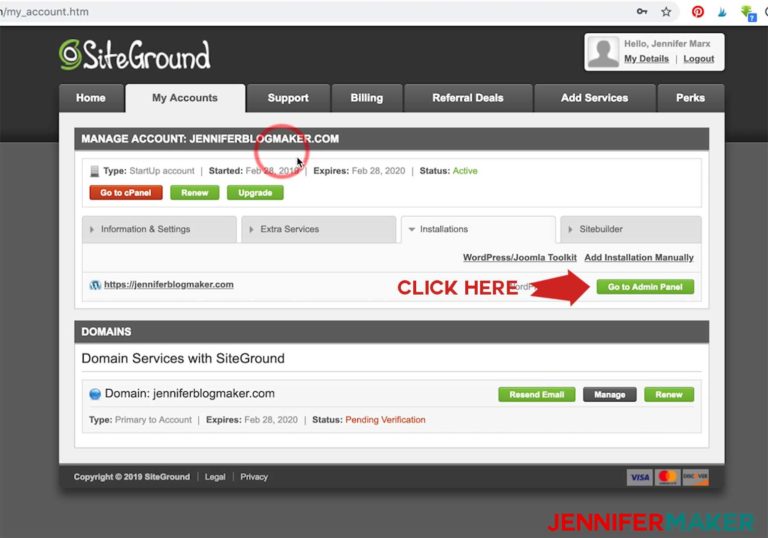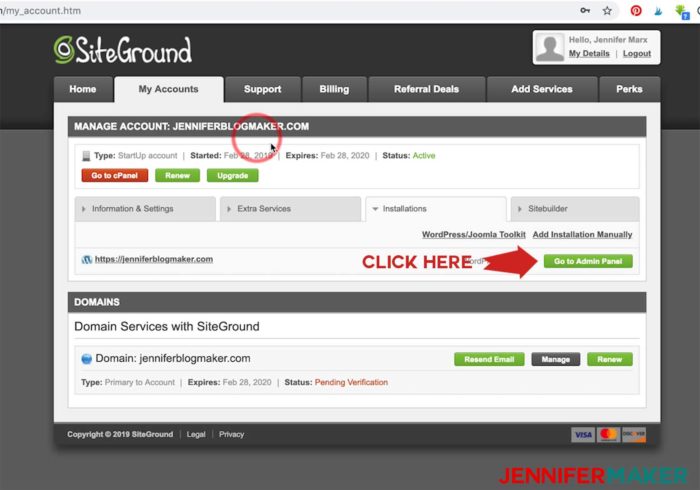 Type in the admin email address and password you chose earlier and press Login.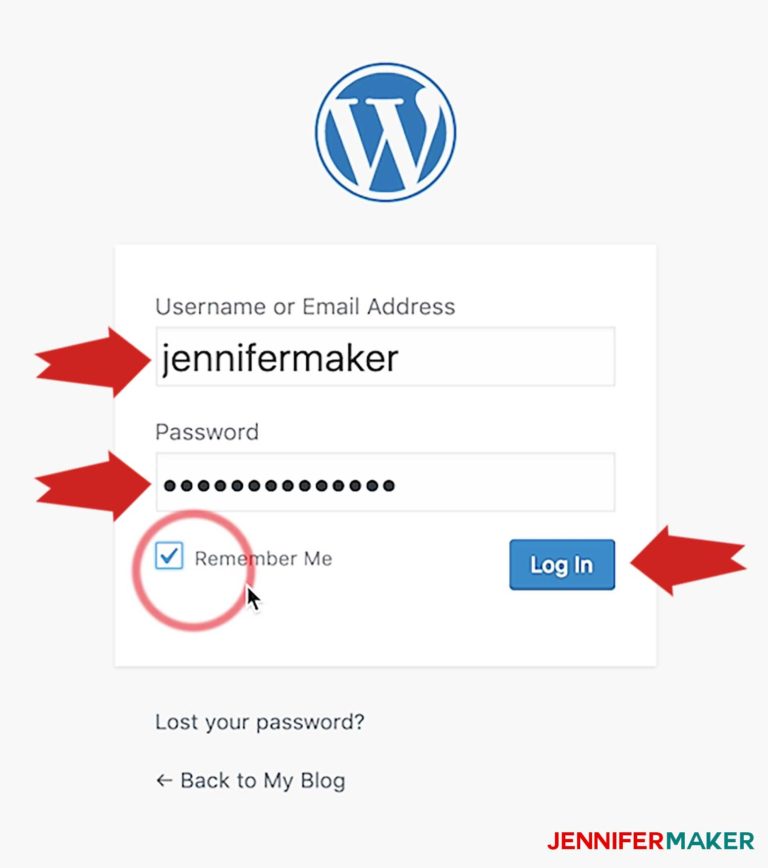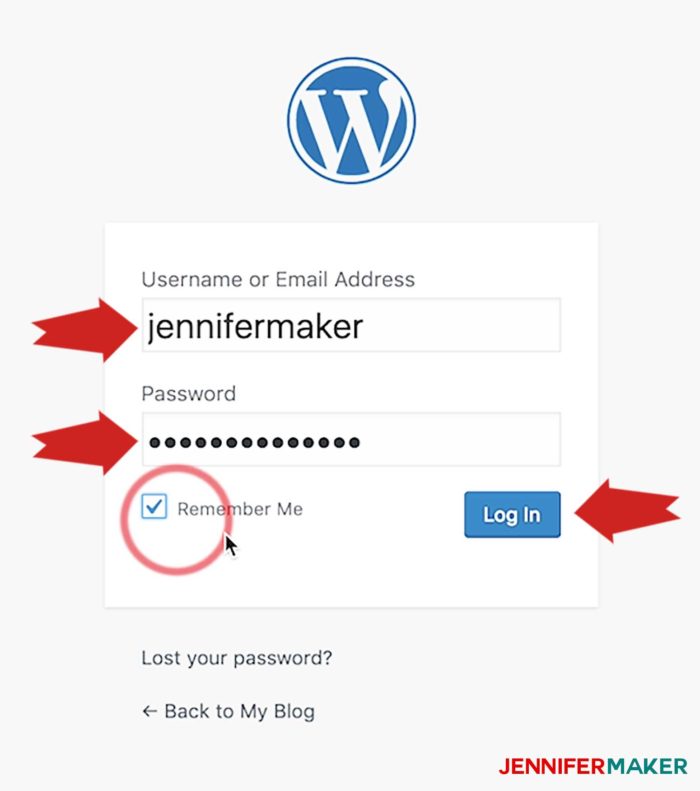 The first time you login you'll see this welcome screen. This is a special page that lets you setup your WordPress easier. Click Start Now.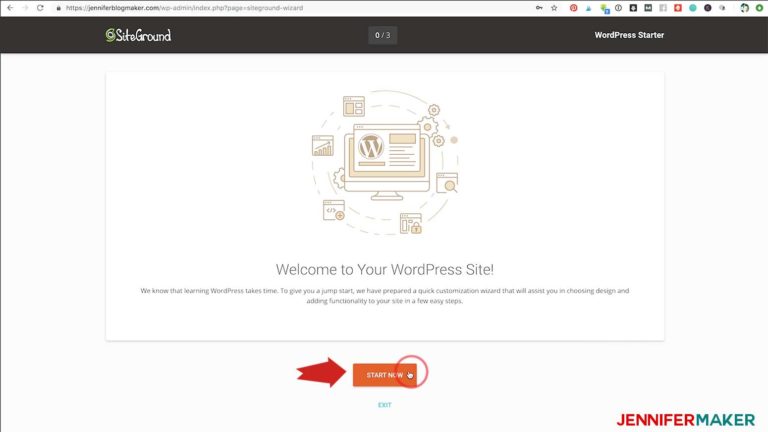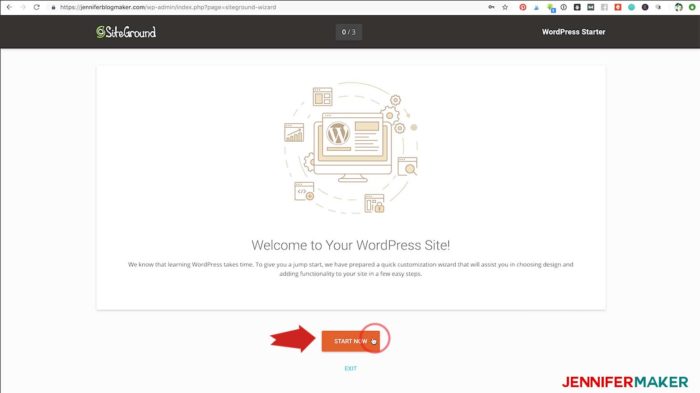 The first screen you get encourages you to "choose a fancy design for your website." Don't get stuck on this screen looking for the perfect theme. Right now, you just want to the default theme. You will be changing this later on down the road anyway. Too many people get stuck on this page looking for the right look. Instead, just scroll right down to the bottom and click Continue.
On the second screen, you don't need any of these things, nor do I recommend you use them. Make sure everything is unselected and click Continue.
On the third screen, you don't need to install these right now either. If you want, you can select the Google Analytics and Optimize for SEO options. Don't bother with the Grow Subscribers List. It's also fine to leave them all unselected and do it later. Click Complete when you are ready.
Once the setup wizard has finished installing any wizard, you'll be told your site is ready. Click Go to Dashboard.
If you indicated you wanted Google Analytics installed, you'll see this MonsterInsights screen when you go to your Dashboard. This can be setup later, so just ignore it for now and click Dashboard in the upper left corner.
Your Dashboard is the springboard for everything behind the scenes on your blog. You'll be spending a lot of time here as you work on your blog. Let's go ahead and see how our blog is looking now. Click the orange View Site button.
If you want to learn more about WordPress, you can return to the web host dashboard (that's the information you supplied in step 4) and click WordPress Tutorials. There are also some tutorials linked in the WordPress installation confirmation email you'll get. And I recommend this free WordPress course, too.
Was that too fast for you? Need a little more depth on what to do? Here's a more detailed step-by-step on picking a domain name!
Step 1. Pick Your Blog's Domain Name
You can click here to purchase a domain name and create a blog, then continue to follow the easy steps below.
The very first thing you will need to do when starting a WordPress blog on Siteground is to think about what you want your domain name to be. This can be tough, and I would give some serious thought to this. Names are important.
I'm betting you already know the power of a name. But do you realize the importance of a good blog name and domain name for it? You may not, and it's VERY important.
Your blog name:
Indicates to your readers right up front what you're about (it's often the first impression they get)

Tells Google and other search engines what you're about (and gives you traffic accordingly)

Gives you a framework and focus for your blog

Advertises your blog and its existence through its name
My blog used to be called JenuineMom.com, did you know? That was my "mom blog" name — Jenuine was an old name from back in my AOL days. I thought it was cute, and I still do. But what does that name say to you? Maybe that it was a "real life" mom blog? It had one major problem—"jenuine" is not a real world. When I go back and look at my analytics, I can see people were typing in "genuine mom." This is a big issue. Don't make my mistake—no mispellings, no matter how clever, in your name or domain.
In March 2017 I changed my blog name to JenniferMaker.com. By this point it was no longer a mom blog, but a DIY & craft blog. But I still wanted my blog to be personal, however. And I wanted a name and face to it, not a business-sounding name. (It's fine to have a name like that, it's just not what I wanted.) I really wanted my readers to connect with me on a more personal level than they might on other blogs. JenniferMarx.com was taken, plus I had some pretty good reasons not to use it. So I took on a pseudonym, conveniently picking a name that was both descriptive and had a keyword Google would like. Thus, JenniferMaker.com was born. And I am quite happy with this choice. And I definitely think people are connecting to me better now.
Whenever I look for a new blog name, whether it is for me or someone else, I start with the available domains. You always want a .com if you can manage it—it's what everyone will default to when they type in a URL. Spend some time at a domain registrar, like GoDaddy.com, typing in various ideas for blog names/domains to see if they are available. Try names that include keywords that will be in searches your people might use. And avoid names that are similar to other websites and blogs.

Another thing a lot of people forget about is checking social media handles…. a domain may be available but the social media may not. You can use namecheckr.com to see if a domain and social media is available.
Another idea for picking names is to think about your reader, and the benefit you can provide them. If you can get the benefit down to a word or two, along with a keyword, you've might have an amazing name!
You can get your domain directly through Siteground and make the whole process very easy.
Step 2. Buy hosting for your blog
Setting up a WordPress blog on Siteground is very easy.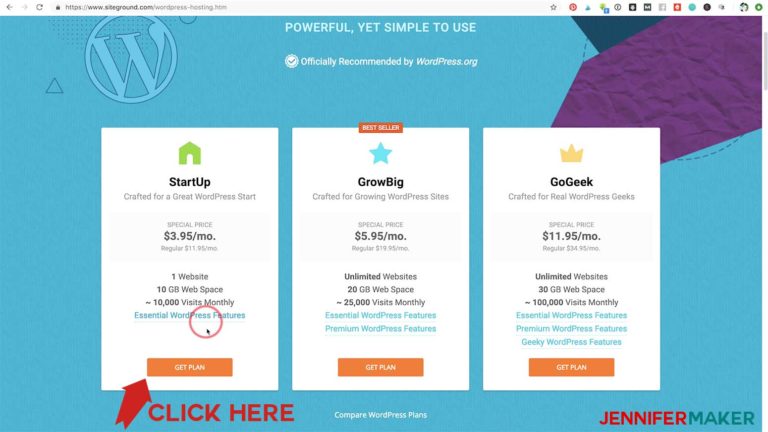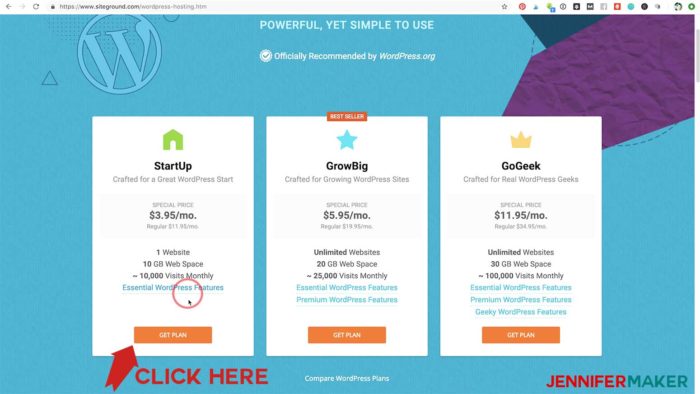 First, let's talk about the costs of blogging:
First, I recommend you pick the "Startup" plan — it's really all you need as a beginner blogger. And on Siteground it's only $3.95 per month through my link (due upfront in full). Such a good deal — I can't even get a Starbucks for that price. And I generally recommend you just do the 12-month plan rather than a longer one, unless you really want to save extra money (doing the 36-month plan will lock the low price in for three years rather than one, as the price will jump up quite a bit after the promotional plan pricing ends).
To save money, skip the GrowBig and GoGeek plans. If your blog grows faster than you expect (a good problem to have), you can always change to a different plan later and pay the difference between the two plans.
You can also save money by skipping the Domain Privacy Protection, which keeps your contact information private. I don't personally use it, but you may prefer to have that privacy — your choice.
If anything else is offered (like the SG Site Scanner), you can also skip it. So just uncheck any extras that are listed. This will get your price down to the lowest possible.
When you are ready to make your blog on Siteground, just follow these steps:
Go to Siteground and click on Managed WordPress Hosting.
Click on the plan you are interested in (I recommend StartUp).
Check "I already have a Domain" if you registered a domain already, or check "Register a new domain" to sign up for a new domain name here. (You'll also want to type the domain in here at this point if you are registering a new domain.)
Enter your personal and payment information.
Uncheck the items you do not need, such as Domain Privacy and SG Site Scanner.
If you have any problems, please send me an email at [email protected] I'm always happy to help!
Step 3. Connect your blog's domain and your hosting
Note: Skip this step if you buy your domain directly through Siteground. This is for those of you who already have a domain or buy it through another service.
If you buy your blog's domain name through GoDaddy like I did way back when, you must connect your domain to your hosting account to get it to work. Thankfully, GoDaddy has a full support page for setting nameservers for your domain names.
When you register a domain name through GoDaddy, they set it up on their parked nameservers so a temporary page displays when visitors go to your website. Once you've signed up with Siteground, you can change your domain name's nameservers to remove the parked page and activate your new domain name.
How to modify your DNS Nameservers when you are using Go Daddy for your domain and Siteground for your hosting:
Login to Siteground and click on User Area -> My Accounts -> Information & Settings to copy the nameservers (they are under "Account DNS" and will look like this: "ns1.usm44.siteground.biz (37.60.235.228)").
Login to GoDaddy's Account Manager.
Click the Domain Names menu and choose Manage Domains.
Check the box next to the domain name you wish to change and then click Set Name Servers.
Enter your copied name server information from step 1 in the spaces provided under the blue Name Servers heading on the right side of your page and click Save Changes at the bottom.
Tip: More information on how to edit your name servers for Siteground is located here.
To hook the domain up to your Siteground web hosting account, you need to add the new domain to your Siteground web hosting. You can use the DNS Zone Editor in cPanel to control them. This will also point your domain's email service to SiteGround.
Step 4. Install WordPress on Siteground
Installing WordPress isn't hard at all if you have Siteground. It's FREE and easy. It's one of my favorite parts of Siteground!
Follow my tutorial and you'll get the Website Setup Wizard

. Click "Get WordPress preinstalled on this account" option then click the Proceed button.

You'll then be prompted to create a login for your WordPress account. This name will be visible when you post, so pick something appropriate and create a strong password that cannot be guessed. Pick a theme if you want, but it's okay if you don't (you can do this later). Click Submit.

Give it some time to install, then you're good to go! Just type your new domain into a browser and you should see a generic WordPress blog load. If you don't, give it a few more minutes and refresh the browser again. Add "/wp-login.php" to the end of your domain to your Dashboard to create your first post!
Congratulations! You now the proud owner of a genuine WordPress blog. Of course, this is just the first step. There's a lot to do for your blog after that, of course, which is the subject of many of the emails I send in my blogging newsletter. But it is the first and most important step to take. It's the step that leads to everything else.
Blogging changed my life, and just think of how it can change yours, too!
If you have any problems, please send me an email at [email protected] I'm always happy to help!
Helpful Tips for Using WordPress to Make your Blog:
Make your first post! Login to your WordPress Dashboard and click on Posts > Add New.
To add a picture, click on Media > Add New, or click on the little picture icon when you're writing a new post.
You can modify the way your blog looks by adding or customizing Themes. I use Genesis (specifically Foodie Pro) and recommend it!
Start collecting email addresses from your readers as soon as possible. I use and highly recommend Convertkit.
Here are more blogging-related posts I think you'll find useful after you learn how to make a blog site with WordPress:
How To Make A Blog Site FREE Email Course
Are you thinking of blogging? Do you use Siteground for blogging? Let me know! And thanks for reading my tutorial on how to make a blog site with WordPress on Siteground.