I'm a Maker. Mostly on this blog I share how to be an Amazing Thing Maker — like how to make giant paper flowers or super-cool furniture. But I am a Maker of many things. A wonderful child. A happy home. A loving relationship. A series of bestselling books. A successful company. A community of likeminded people. And now I am a Maker of this blog. And the more I blog, the more I get questions about HOW to blog and HOW I am finding success with it. Recently, when I mentioned that I'd monetized my blog's mailing list to some of my fellow bloggers, they asked me to tell the story of how I did it. So this post is for all my fellow Blog Makers out there!
This story begins when I enrolled in a blogging course called Elite Blog Academy, a special and intensive course on how to build an amazing blog. I got on the waiting list for it last November and began taking it in late February. I've followed its teachings to a T, doing every assignment and applying everything I've learned. Now this matters because in May I got to a unit that spelled out how to launch a product through a mailing list (Unit 8, Assignment 23 for my fellow course students). Well, that was great, but I didn't have a product for my blog yet. But I really wanted to complete this unit and I was eager to do it. So, I sidestepped a bit and applied what I learned in this unit to my company, not my blog.
I am the co-owner of a nearly 20-year-old travel publishing company. I'd been working on a product for it for several years and it was finally done. I'd already kinda launched it, but I decided to apply what I'd learned in my blogging course to REALLY launch it. And I had a decent mailing list for my company — one that has been slowly building for a long time. I'd not done ANYTHING like what my course suggested with my list, but at this point in the game, I trusted this course. It had not steered me wrong even once. So I took a deep breath and launched my company's product through my company's mailing list of about 50,000 subscribers. I sent out a series of six emails over five days, following the formula offered through my course.
In all honesty, I feared I would upset my list and cause lots of people to unsubscribe. But what happened was VERY surprising. I didn't lose lots of people and I earned $13,000 on the launch. I was amazed. I did it again a couple of months later, on a much smaller product, and earned another $5,000.
I essentially leveraged my mailing list into $18,000 that would NOT have existed otherwise. I was over the moon about this.
Now, I know what you're thinking — she had a list of 50,000 people, I'm sure it was EASY to make $18,000 off that. Well, maybe so. But I hadn't up to this point — not even close. I hadn't been monetizing my mailing list like this. All I had done up to this point was mention products I was selling in a low-key manner, but otherwise the newsletter was just giving out free information generously. I thought this was all I could do to not appear "spammy," and I was WRONG.
If you're any good at math, you'll notice I mentioned I made $18,000 — but the headline of this post says $30,000. Are you wondering where I earned the rest? This is even more interesting — keep reading!
I knew that to truly get past this unit in my blog course, I had to apply the teachings to a product on my own blog. I hadn't settled on anything yet and was being really wishy-washy about it, worrying (again) that people wouldn't like my ideas or want to pay for anything. Up to this point, EVERYTHING on my blog had been free. Even stuff people normally pay for. And my blog was less than a year old with a much smaller mailing list. I didn't trust my ability to sell anything to my list, and was very anxious about it.
Then I went to Elite Blog Academy's Activate conference in September, and it lit my product-building fire. (During the conference I had come up with a crazy idea that I could apply to Ruth's VIP group if I raised enough money for it by the deadline — and so I sent out on this journey, only missing the deadline by a few days. So I didn't apply this year, but fully intend to next year. October 2018 Update: I applied this year and GOT IN!) I sent out a survey to my wonderful mailing list on the plane ride home. I asked my readers what they wanted and they told me. From the survey results, I developed a solid idea for my product — a design course — within days. It was actually pretty amazing, and even a little surprising. But this is what my readers wanted, so that's what I made. Within two weeks, I launched the course to my list of 13,000.
WAITAMINUTE…. I had 13,000+ people on a mailing list for a blog less than a year old? Yep. I'd learned in Elite Blog Academy very early that mailing lists were SUPER important, so I'd been working on mine really hard. In fact, most everything I'd made for my blog was done with the goal of building my mailing list. Once I discovered people loved my downloadables, I made TONS more, and my readership and list grew accordingly. I focused on what they wanted and gave them more of it. So even though I started my mailing list at 0 on January 1, it was over 13,000 on September 24 when I started the launch. Building a mailing list is a WHOLE 'nother topic, and I'm even attempting to I teach my list-building method to a group of bloggers in a beta course I'm calling LIST LOVE.
For the launch of my blog's product, I went all out and followed the even more detailed advice in the Product Launch Playbook, which is a separate book but had come with my enrollment in my blogging course. So for the week before my course opened for enrollment, I sent my list free training videos and such, hoping to get them excited for my course AND to show them my teaching style.
I sent out a LOT of launch-related emails to my list — way more than I was comfortable with, to be honest. I sent out 12 emails over the course of 12 days. But I'd put my trust in this process and swore I'd follow it through to the end. What did I have to lose? I'd already taken what seemed like a big risk on my much larger list and had not failed.
And when enrollment closed on October 1, 2017 I had made over $12,000 on my course (and a total of $15,000 after all the payment plan payments had come through).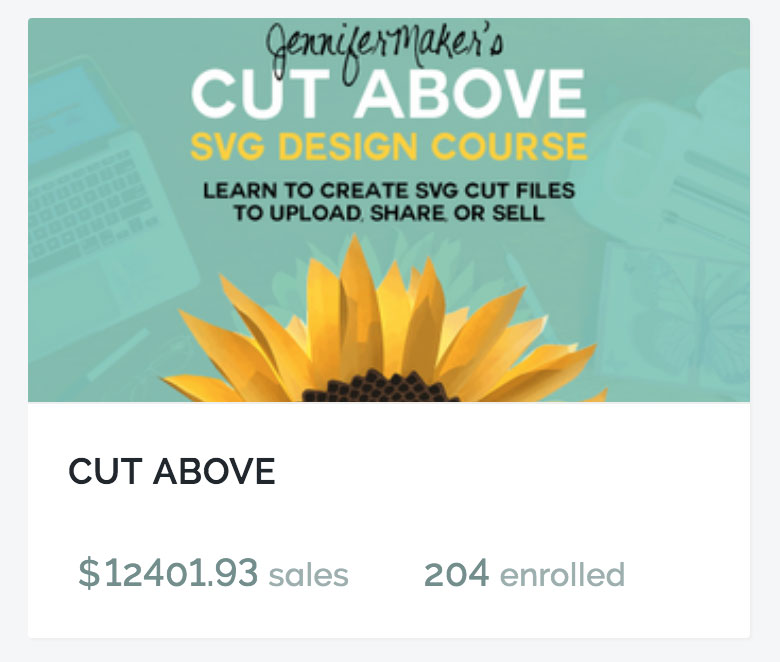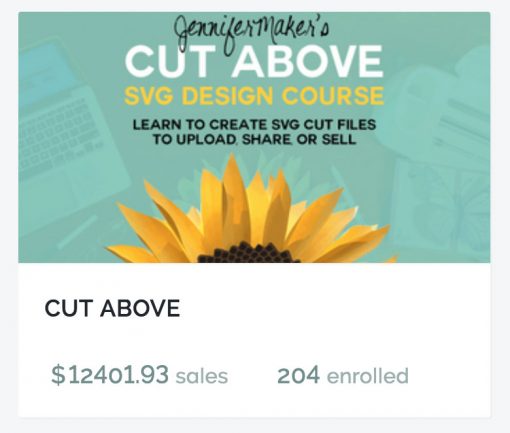 Let me repeat that. On a mailing list less than nine months old for a less than one year old blog, I'd made $12,000.
AMAZING.
And here's the thing — I ONLY launched this product through my mailing list. This is where I diverged from the course and playbook, which recommended launching it on all channels, like social media and your blog. I decided that this was a test launch — I needed to know how it would work with just the list, and so I kept it to the list. There was no mention of my course anywhere on social media (except for some closed groups about blogging) nor on my blog.
So I can say with 100% certainty that it was my mailing list that achieved this result.
Another thing — I know I underpriced my course. It was only $77. Everything I've read and learned says $97 is the minimum. And now that I'm teaching the course, I believe this. It's a lot of work, because naturally I want to exceed all expectations. And when I open enrollment again next year, it will cost more. And by then, I will have new people on my list because I keep building my list everyday. I never stop working on my mailing list.
Do you see the possibilities here? Because I sure do. A world of opportunity is laying before me. I need only to push past the worry and anxiety and seize it.
Since I began teaching other bloggers how I build my mailing list, I've discovered I really enjoy talking about blogging and sharing what I know. I may make more posts like this. I may share more of what I'm learning. (Because it's not just my product and mailing list that is taking off — my blog is, too! And my income! In September, I made nearly $15k on my blog. Honestly, just looking at these words typed out is unbelievable, but it's true.) If you want to be on my mailing list (see what I'm doing here? Always list building!), you can sign up below. I currently send out weekly newsletters filled with blogging tips and tricks. I love to share!
My LIST LOVE list-building course is now available for open enrollment. I share announcements about it through my mailing list as well. In fact, that may be the only way you hear about any of my blogging resources and the only way you'll get my income reports. (Yes, this post is on my blog, but it's being excluded from the blog's front page and all of my feeds so as to keep my blog on topic. I do have some other blogging-related posts here — such as my start-of-the-year report and my mid-year report.
I hope this story convinces you of the potential of mailing lists. Of the importance of working on yours and making it a priority. I hope it inspires you. I share it to inspire, not to brag.
I hope you found this story helpful! Feel free to ask me any questions here or via email at [email protected].
Love,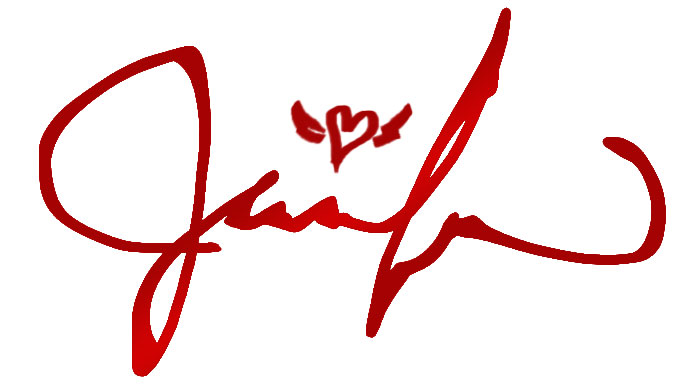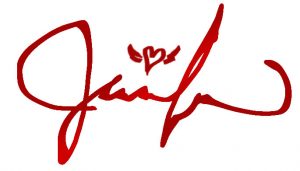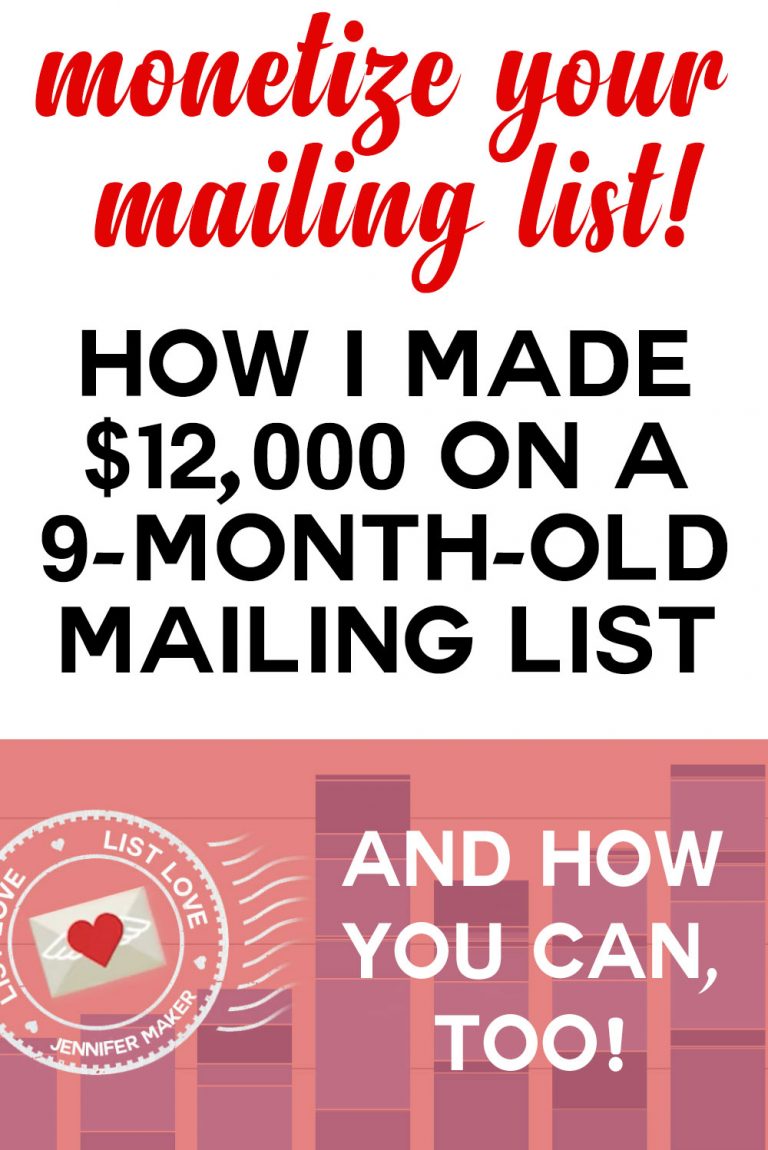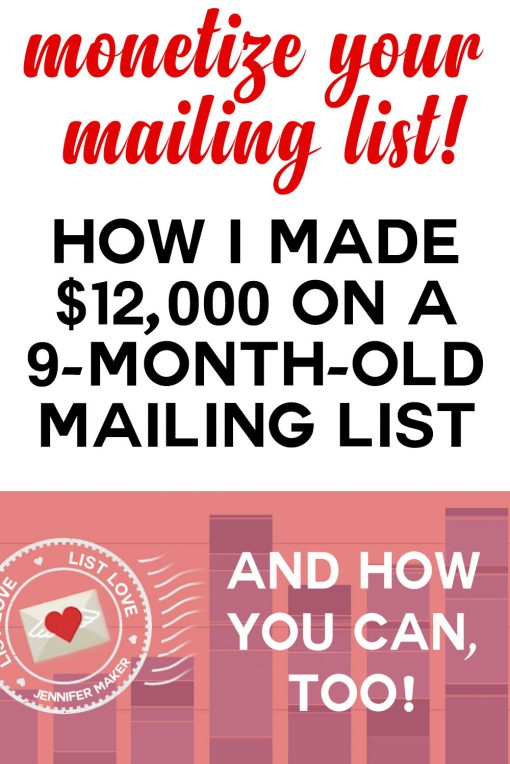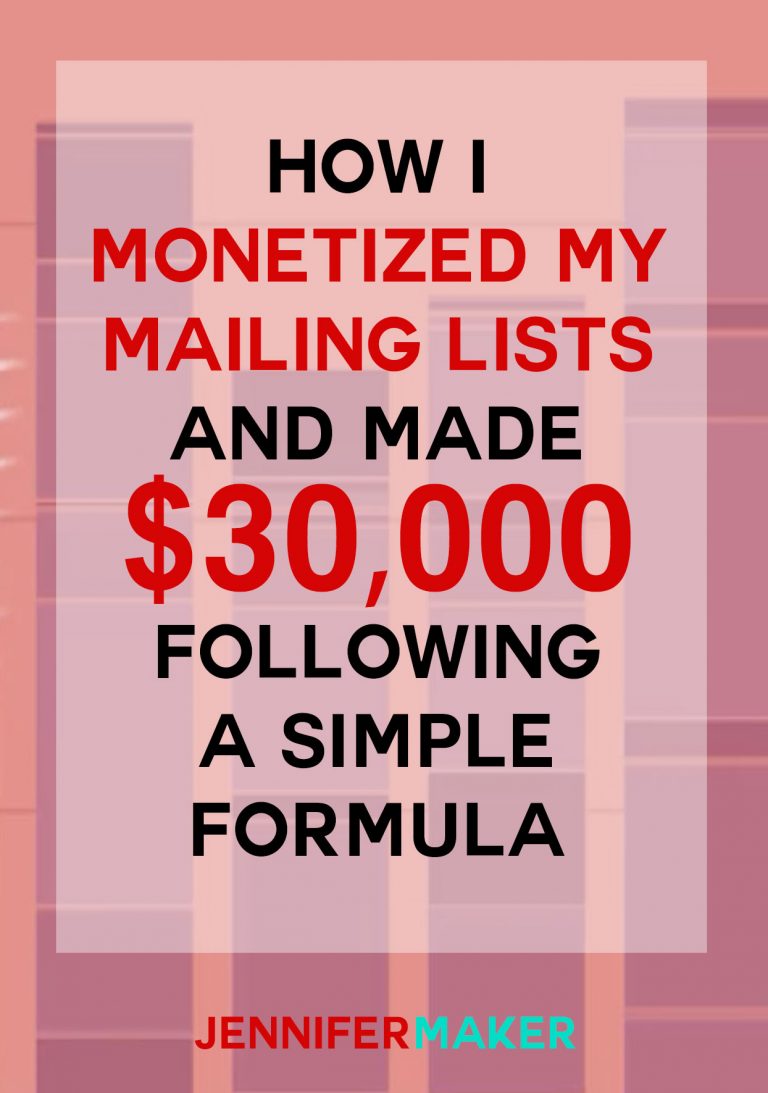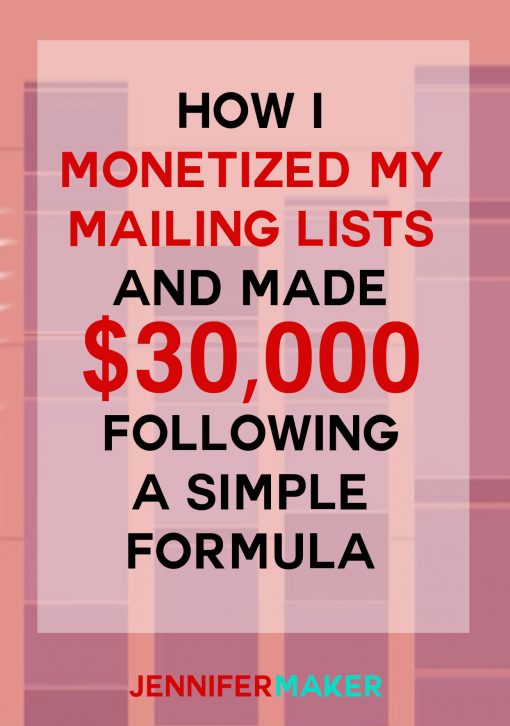 Get my free two-week mini-course on blogging ... plus my personal approach and blog tips!
Curious about my story and my personal blogging methods? Sign up here to get my free two-week blogging mini-course, and my weekly blogging tips and income reports!