This month marks the end of my first full year of blogging. While I hadn't stated it expressly (because I knew it was unrealistic), I really was hoping to get to a full-time income by the end of one year. As I entered the month, however, I was not yet at a full-time income. For me, I figured that meant $5k/month at minimum, though I could be comfortable at $10k/month (I know that's more than some people need, but I live in Ann Arbor, which has a high cost of living). But, honestly, I didn't know how I was going to get to that point at the start of the month. That would change, however, after I went to Portland, Oregon September 15-17, 2017.
So what happened in Portland? It was the site of my first blogging conference, Activate (aka EBA Live). It was amazing and it got me all pumped up. But there was more to it still. While I was there, I learned about a new opportunity — a mastermind. It was hosted by Ruth herself (founder of Elite Blog Academy) and was composed of other bloggers who were succeeding, making money, and crushing it. I knew in my gut this was my next best step. But even if I could get into it (only 12 bloggers get in each year and not everyone gets in), I couldn't afford it. So I asked myself, "How can I raise the money to afford this responsibly?" The answer came immediately: get off your butt, make a product, and launch it.
And so I did. Finally. It may have taken me all summer to get the courage up to offer a product, but I finally did. Let's look at the numbers to see what happened:
My September 2017 Blog & Social Media Stats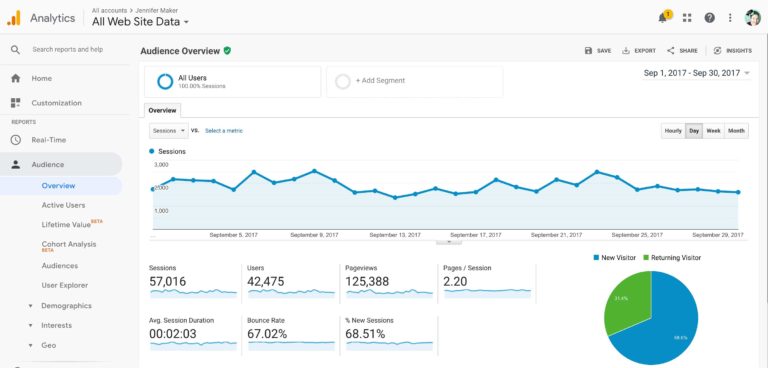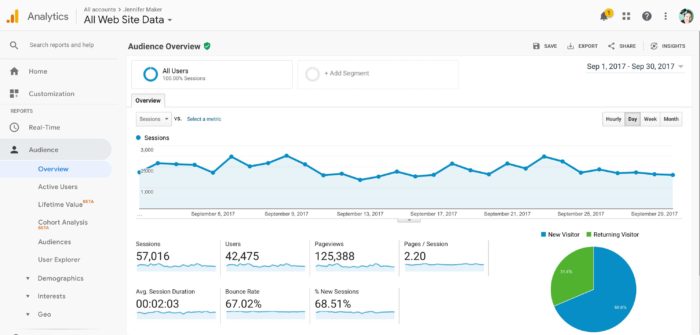 Pageviews: 125,388, up from 107,907
Sessions: 57,016, down from 58,193
Users: 42,475, down from 47,101, up from 29,254
Mailing List Subscribers: 13,045, up from 10,862
Pinterest Followers: 28,322, up from 25,357
Posts Published: 9 (best post: Giant Paper Sunflower)
My September 2017 Blog Income
Advertising Revenue:

Mediavine: $933.10, up from $905.77
Google Adsense (for YouTube): $2.20

Affiliate Revenue:

$161.63, up from 128.76 (Amazon Associates)
$98.37, up from $33.35 (Share-a-Sale)
$1.91, down from $4.61 (RewardStyle)

Product Revenue:

$12,273.93 (Cut Above Course)
$380 (List Love Course Beta)

Membership Revenue: $179.58, up from $160.34 (Patreon)
Sponsored Content: $1128.30
Total blog income: $15,158.72(up from $1,270.67)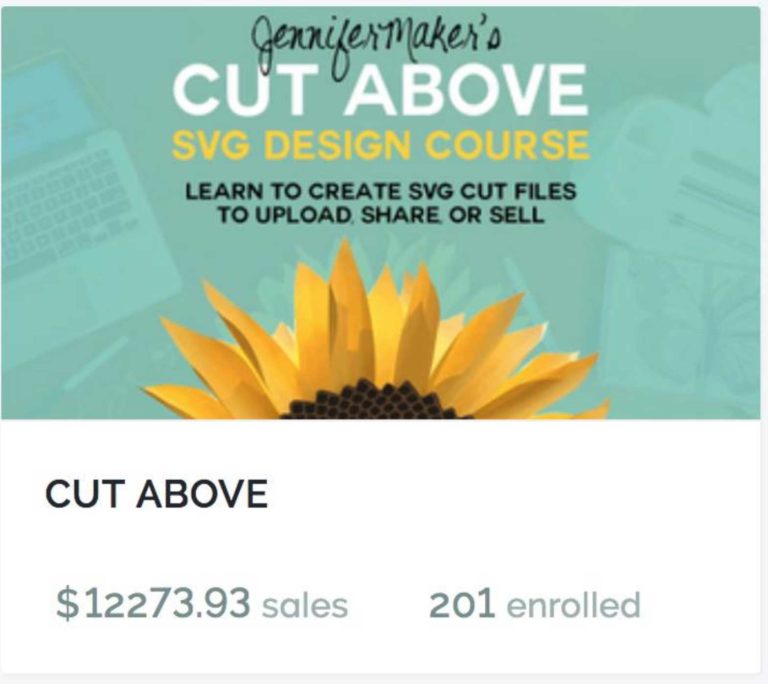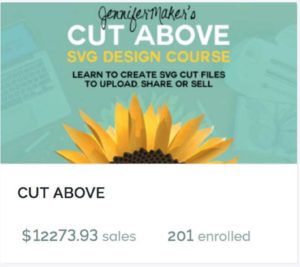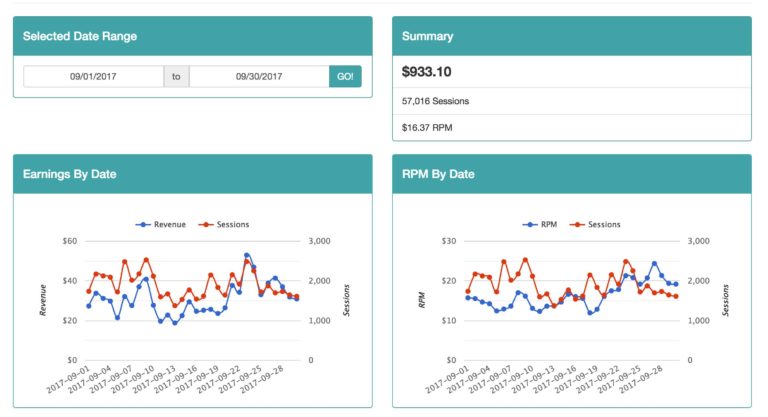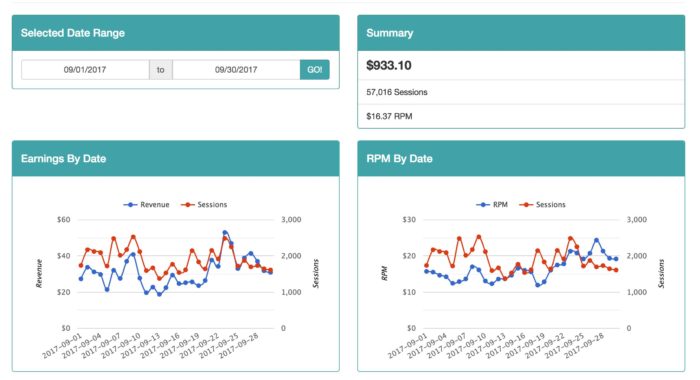 Below is a breakdown of my monthly expenses (some of these links are affiliate links):
Total blog expenses: $385.49
Net blog income for September 2017: $14,773.23
My goodness. Who knew this was possible? I sure didn't until I tried. Also, isn't it amazing I can make $15k and only spend $400? Do you know of any other business where that's even an option? Even if we add up everything I've spent just to get to this point, we're only talking $3k. That's awesome! Of course, the sweat equity poured into this is immeasurable, and I know that.
My Blog Income's Running Total: $16,765.70
My running total since starting the blog is now $16765.70. This was my 12th month of blogging and I had nine months where I made money and three months where I lost money. In my first full year of blogging, I spent a total of $3177.37.
My Blog Goals
This month my blog goals were as follows:
Continue posting on my blog twice a week (I exceeded my goal!)
Create and promote more freebies to build my mailing list (6 more new freebies made and released!)
Keep working through my blogging course

(I made it through the product unit!)

Send out weekly newsletters (16, yes, 16 letters sent this month because I LAUNCHED A PRODUCT)
Make and launch a product (so scary, but I DID it!)
Time Spent Blogging This Month
45 hours/week
This month I went to my first blogging conference, Activate, for several days which slowed me down a bit. That said, I worked harder and longer during the launch period. I'd say this month was a 70/30 split between my business and my blog, resulting in an average of 45 hours per week of blog work this month.
Blog Lessons Learned This Month
Where do I even start? I'd been so afraid to launch a product, so worried my people would say no or worse, say unkind things to or about me. This really was my fear. When you give everything away for free and then ask for money, it is hard. But ultimately I found a thing that I wanted more than to stay safe in my little protective blog shell, and I pushed outward. And once I made that decision, I went all in. I mean, if I was going to do it, I was going to do it RIGHT. I surveyed my people, found out what they wanted, and offered it to them. I didn't create the product first — I offered it first with a launch. And I launched it using the Product Launch Plan (which came along free as a bonus the year I enrolled in my blogging course) and followed it precisely. I knew nothing about launching something like this, not really, so I followed the advice of those who came before. And look what happened!
The big lesson this month is how important it is to push past your fears and just try it anyway. The worse that can happen probably isn't that bad anyway.
Looking back on things now, I believe I could have launched this course a few months earlier and made about $10k based on my mailing list size at the time. Because that mailing list DID make a huge difference. I'd been working my butt off all year to grow it and it paid off in dividends. If you're not making email your priority, you're doing yourself a disservice.
If you've been paying attention, you may now be wondering — did I make enough to get into the mastermind? I did, but I ended up not applying because the money actually came in several days after the deadline. In retrospect, it was okay. We were still really strapped for money and I needed it for my family. But the next year? Oh yes … I applied and got into it! (I was only in it one year, but I found it valuable!)
I'm still astonished at my first year of blogging. When I look back on it, I remember the desperation and hope, but I also remember a LOT of hard work and constant education and improvement. I pushed myself everyday, with only a few breaks. I was hyper-focused on making significant progress and kept moving forward. I made it my goal to do something every single day to move my blog forward in a meaningful way (the only exception was when I went on vacation in August). I focused on those activities that Elite Blog Academy told me to do, in the correct order, and made things with a high Return on Investment my priority (like email). I admit I didn't always truly understand WHY a particular thing was important back then, but I placed my trust in those who had gone before me to advise me on what to do, and it paid off. Now I get it. But in the beginning, without the experience and knowledge, I was less sure and it was SO helpful to have a guide through it all.
And that's it for my first full year of blogging. What a wild ride! I hope this has inspired and educated you. Even though this is my story, writing this all down has inspired me anew. I am so excited for this year and the future to come.
View more of my income reports here! (Spoiler Alert: It gets even better the more I blog!)
If you are interested in learning more about my blogging method and techniques, please subscribe to my blogger mailing list below.
I've learned SO MUCH MORE since my first year, and I'm now happy to help others who are looking to build a blog. So if you're looking for a focused path to blogging, I encourage you to join my Blog Boundless course for beginners — click below for details!
Love,