My second month of blogging coincided with lots of holiday content going online. I could see it all over Pinterest. And I read somewhere that I should prepare my holiday content in advance, so for the month of November I made holiday crafts and food and blogged about them!
My November 2016 Blog & Social Media Stats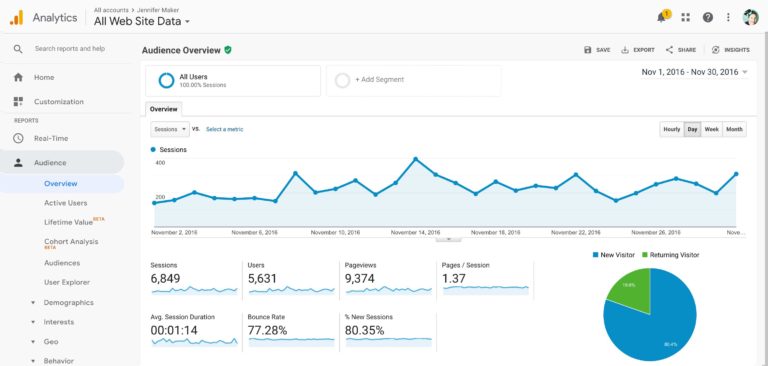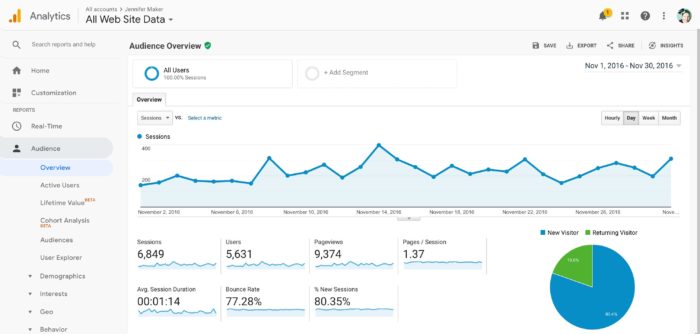 Pageviews: 9374, up from 5371+ (I didn't hook up Google Analytics to my blog until October 11, so I'm missing those days)
Sessions: 6849, up from 3505+
Users: 5631, up from 2873+
Mailing List Subscribers: 0
Pinterest Followers: 1111, up from 512 (my most popular pin this month)
Posts Published: 9 (best post: DIY Hand Warmers) – I now have 16 total posts on the blog
My November 2016 Blog Income
Advertising Revenue: $19.76, up from $12.39 the previous month (Google Adsense)
Affiliate Revenue: $26.48, up from $1.80 (Amazon Associates)
Product Revenue: $30, up from $20 (Etsy) *
Sponsored Content: $0
Total blog income: $76.14
Below is a breakdown of my monthly expenses:
I do not know of any blog-related expenses during this first month. I did start Tailwind and BoardBooster this month, but both were on free trials.
Project supplies: Again, still broke and bought very little. What I did get mostly came from the dollar store, like the candy canes, or the Salvation Army, like the teacups and candles. Some stuff I blogged about, like the bread cornucopia, were made for other purposes but I decided to share them on the blog anyway. The only thing I recall spending any significant money on was the mold for the candy cane spoons, which was $8. So with the dollar store and thrift store purchases, I'd say I spent $15-$20 this month.
Net blog income for November 2016: $76.14
Note: I did less freelance work on Upwork this month because I found I truly disliked it. To replace that income, I found a client and made social media images for them. And virtually all of my craft supplies this month were scavenged from my basement or got at the dollar store. It was a very lean month.
My Blog Income's Running Total: $109.33
My running total since starting the blog is a whopping $109.33. I actually think is pretty freaking awesome for a two-month-old blog.
My Blog Goals
This month my blog goals were as follows:
Get new content published twice a week (surpassed this goal with 9 posts!)
Learn Tailwind (done)
Keep pinning popular pins to Pinterest (done)
Keep looking for and applying to Pinterest group boards (done)
Learn how to make money blogging (started looking)
Time Spent Blogging This Month
15 hours/week
I had minimal travel this month, although I still had my other two jobs going on. I was spending a bit more time on my business (not my blog) this month because I was gearing up for a "launch" in January. I put launch in quotes because back then launch only meant sending out an email to my newsletter list to say it was now available. I didn't yet understand what a really effective launch was (sadly). So I was working a LOT, probably 90 hours a week but the blog was only getting about 15% of that time. Yes, I work a lot. Yes, I know I need to work on this! But I needed income to support my family, and I wasn't going to sit around on my butt and let my family suffer for it. I estimate that I worked on my blog an average of 15 hours per week this month.
Blog Lessons Learned This Month
By November, I was already feeling the strain of working on something without any real financial reward. My time was so precious at this point and we needed money for bills. I wasn't even thinking about Christmas gifts — there were other pressing matters. It was sometime in mid November that I began to realize I wasn't going to figure this all out on my own. I went back to those income reports from last month and began searching them for more clues. I started to see some trends. Most of them "pushed" products (theirs and affiliates), but one product began to stand out: Elite Blog Academy. I wish I knew exactly which income report it was that I first saw it mentioned — I'm thinking it was one of Tasha Agruso's reports. But I began to chase that down.
I became obsessed with this mystical course called "Elite Blog Academy" and appeared to have helped many bloggers become successful. I had no idea how much it cost or anything. Eventually, I discovered that it only opened ONCE a year. And it would probably not open again until the March 2017. So instead, I began to stalk the blogs of everyone who I identified as having been helped by Elite Blog Academy. I signed up to ALL of their mailing lists, studied their layouts and content, read all of their blogging posts, ALL OF IT. If I couldn't get into the course right now, I could at least learn from the example they set.
Following this group of bloggers DID help. Patterns began to emerge, and I could see trends. So much so, that by the end of November 2016, my biggest takeaway was this: I needed help figuring out this blogging thing, and I wanted to go to the source. It would be a long three months until I could enroll in Elite Blog Academy, so in the meantime I would keep observing the group of bloggers I'd found, keep pushing out content (content is king!), and keep my chin up.
And that's it for this month! I hope this has inspired and educated you.
Read the NEXT month's income report or view more of my income reports here!
Love,