This month marked a significant turning point for my blog. I pulled myself up from the doldrums of April and went flying into May! And this is the month I qualified for Mediavine!
My May 2017 Blog & Social Media Stats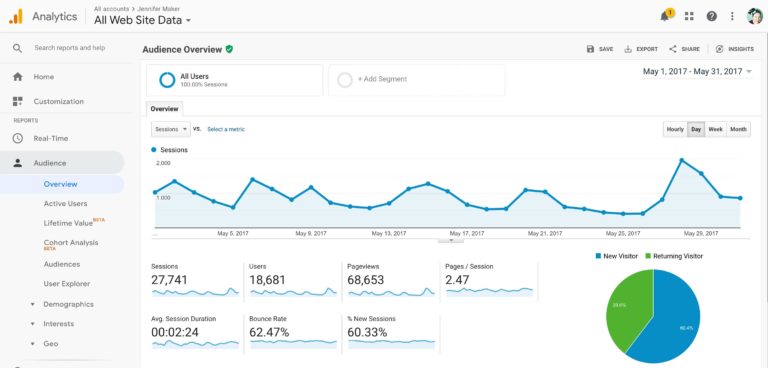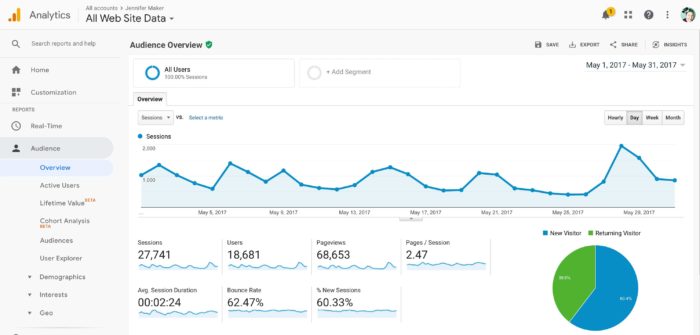 Pageviews: 68,653, up from 35,117
Sessions: 27,741, up from 17,759
Users: 18,681, up from 13,797
Mailing List Subscribers: 7536, up from 6179
Pinterest Followers: 16,441, up from 12,787
Posts Published: 8 (best post: Easy Butterfly Card: DIY Pop-Up Tutorial)
My May 2017 Blog Income
Advertising Revenue: $170.13, up from 43.31 (Google Adsense and Mediavine)
Affiliate Revenue: $64.15, down from 68.39 (Amazon Associates)
Product Revenue: $16.15, down from $18.82 (License sale)
Sponsored Content: $0
Total blog income: $250.43
Below is a breakdown of my monthly expenses:
Tailwind monthly fee: $14.99
BoardBooster monthly fee: $30
ConvertKit: $109.64
Plugin (Essential Grid): $20
Etsy Fees: $2.69
Total blog expenses: $177.32
Net blog income for May 2017: $73.11
Another gain from the previous month! Hooray!
My Blog Income's Running Total: $-905.97
My running total since starting the blog is now -905.97 (still in a deficit). I am eight months into my blog at this point and have had five months where I made money and three months where I lost money. I have spent a total of $1817.64 on my blog now.
My Blog Goals
This month my blog goals were as follows:
Continue posting twice a week (I did it!)
Create more freebies for my posts to build my mailing list (5 more new freebies made and released!)
Get more serious about promoting my freebies (done!)
Keep working through my blogging course

(done!)

Send out weekly newsletters (4 newsletters sent this month!)
Blog Lessons Learned This Month
I get out of something what I put into it. When I was putting minimal effort into my blog, I was getting minimal results. When I went all in and buckled down, amazing things happened.
This month I reached 25,000 sessions and immediately applied to Mediavine, who accepted me. Mediavine is a full-service ad network very popular with bloggers. I learned about it while network in blogging-related Facebook groups. Once I joined Mediavine, I saw my advertising income go up dramatically. I knew it would be more, but I didn't realize that it was not just a small percentage more, but a factor of X more! It was a great boost and very encouraging to me. I love Mediavine — not just for the income, but for their customer service and attitude. They are awesome and I highly recommend them.
To make it to 25,000 sessions, I got really serious about promoting my freebies. I paid a LOT of attention to my photography to make my freebies as appealing as possible. (Learn about my blog photos here.) I consistently shared these colorful and eye-catching photos of my freebies in high-traffic and highly relevant Facebook groups (just a few big ones) to get my name out there. And I brought older visitors back with my letters to my mailing list. Here's one of the newsletters I sent this month.
This month I began to see how my mailing list was helping me connect with my readers and making a difference. This was a big deal, and it would change my attitude about my newsletters. For example, here is an email I received this month from a reader:
"I just wanted to say thanks for doing what you do!
When I get your emails, I look forward to opening them.
You write them like you are one of my BFF's and just HAVE to tell me something and I really like that.
So many bloggers/crafters just link and send… it isn't personal or heartfelt OR it is full of woe-is-me and it almost seems exhausting to read the emails.
I open yours to read them each and every time!
So ya… Just a big Thanks for doing things the way you do! :)"
I also started a Patreon account toward the end of this month, at the recommendation of my daughter. She thought it would be a good way for people to support me monetarily and might help me bring in more funds. If you're not familiar with Patreon, it is essentially a simple membership system where your fans can support you with small monthly or project-based fees (think $1-$5). Patreon is very popular with YouTubers, which is no doubt where my daughter got the idea. But it's also used by some influencers in my niche, so I gave it a try. Several of my fans joined immediately and by the end of May I had 152 pledges (though I didn't get the payout for it until the next month). This was a wonderful boost to my self esteem and confidence! (I know some of you may ask me if I recommend Patreon. I think it works well for some, but — spoiler alert — I realized later that I preferred to my efforts in different directions. I still have it, but I do not put effort into marketing or growing it.)
And that's it for this month! I hope this has inspired and educated you.
Read the NEXT month's income report or view more of my income reports here!
Love,