In March, I set out to improve my blog by immersing myself in my blogging course and really laying the foundation for success. I rebranded my blog to JenniferMaker, moved from my old (but free) web host to a much more reliable host (Siteground), and so on. Alas, if you look at my progress through numbers, I slid back again with fewer sessions and users and more money spent than earned. But is progress always measured in numbers? I think not.
My March 2017 Blog & Social Media Stats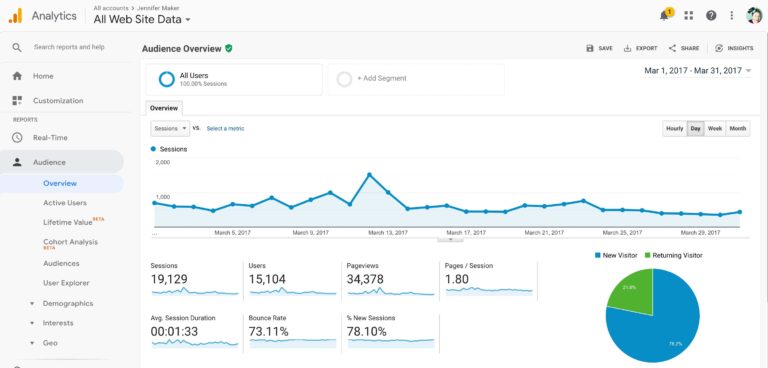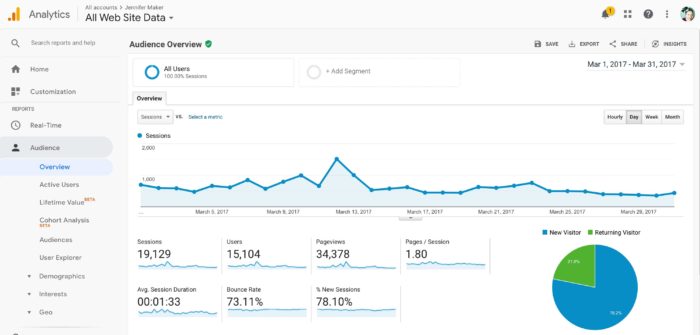 Pageviews: 34,378, up from 31,519
Sessions: 19,129, down from 20,212
Users: 15,104, down from 17,011
Mailing List Subscribers: 4329, up from 2408
Pinterest Followers: 8239, up from 5176
Posts Published: 6 (best post: DIY Paper Magnolias Will Brighten Your Day)
My March 2017 Blog Income
Advertising Revenue: $37.84, up from $32.58 (Google Adsense)
Affiliate Revenue: $33.93, up from $31.53 (Amazon Associates)
Product Revenue: $28.23, up from $0 (Etsy)
Sponsored Content: $0
Total blog income: $100
Below is a breakdown of my monthly expenses:
Tailwind monthly fee: $14.99
BoardBooster monthly fee: $30
ConvertKit: $65.63
New domain (GoDaddy): $12.17
New web host (Siteground): $191.40
Total blog expenses: $314.19
Net blog income for March 2017: -$214.19
Ugh! Another "in the red" month. And I was doing so good at the start.
My Blog Income's Running Total: -$986.55
My running total since starting the blog is now -986.55 (so I am in a deficit). I am six months into my blog at this point and have had three months where I made money and three months where I lost money. I have spent a total of $1516.33 on my blog now.
I would have just broken even between my income and my expenses if it weren't for the rebrand and site move. But as I began working through my blogging course, it became very clear to me that my old name — JenuineMom.com — was no longer appropriate for what I was doing. Plus, it has a misspelling in it, which EBA clearly advised me not to do. As much as I loved the name, I decided it was time for a change.
Names are a REALLY big deal. I could have gone with a name that was more craft-related, but in the end I decided I wanted something more personal. My last site had NOT been personal at all and I really felt that's what set my blog apart from that. Plus, I had this notion that people might be able to see me as a designer in the future. And that really meant having a name for myself — MY name. My legal name was taken as a domain, and I really didn't want to use that anyway. So thought — why not create a new name for myself? In the end, I chose Maker because it was short, had the same first two letters as my legal last name, and described me to a T. And thus Jennifer Maker was born.
In addition to the name change, I needed a web host change. I was using a free hosting account under an old umbrella hosting account I had on GoDaddy. It's where I hosted all of my hobby blogs. Only this wasn't a hobby blog anymore. Plus, that old GoDaddy account was slow and had occasional outages. If I was serious about this blog, I knew I had to get it onto a more serious host. After research, I went with Siteground. They made the move SO easy that I wondered why I hadn't done it before. (Oh, that's right, it was because I had very little money.)
Between the new domain and host, that was $200. I felt like my blog was bleeding money. This month was about the time I began to seriously question whether this was a wise idea or not. I was supposed to be making money, not just spending it. But I also knew that these expenses truly were necessary for more growth. That old web host was going to throttle me in SEO and user experience. It IS necessary to spend money to make money. Thankfully, I still felt that blogging was a crazy cheap business compared to many others. The amount of overhead necessary in my prior career was off the charts compared to this.
So I pressed onward.
My Blog Goals
This month my blog goals were as follows:
Continue posting twice a week (again, I didn't quite make it at 6 posts instead of 8)
Create more freebies for my posts and keep building that mailing list (3 more new freebies made and released!)
Find more Facebook and Pinterest groups to share my freebies (done!)
Dig into my blogging course (done!)
Start sending out regular newsletters (4 newsletters sent this month!)
Rebrand and move my blog (done!)
Blog Lessons Learned This Month
I recorded a video this month talking about where I was with my blog and where I wanted to be. It's not very good, and I never intended for anyone to see it. But I've grown in the two years since I made this and am now brave enough to share it. (It's not great, so brace yourself. LOL!) So if you'd like to see and hear me at this point, here you go — this was recorded on March 1, 2017 as part of my coursework.
This video was also a lesson itself. This is the first time I'd recorded a video myself talking. It was painful and awkward. I'd been avoiding videos (and photos, let's be honest) for a long, long time. But I made myself do it. I didn't post it in the Facebook group for anyone to see, however. That felt like too much at the time. I just kept it for myself.
But I am now SO glad I did it. Seeing and hearing myself talk reminds me where I was and shows the great progress I've made. I highly encourage you do this, too! Plus, as bloggers, we all really need to get okay with video. In the future, video content is going to be more important than it is now and you'll be left behind if you have no video.
Other lessons learned this month: I sent out a survey to my readers to see what they thought of my blog and how I could help them. I got back plenty of responses, but they were all over the map and not helpful. It made me realize I needed to laser focus on my avatar a lot more than I had been. (This in itself was a super important lesson!)
This month I also joined some sponsored content networks and applied for opportunities hoping to earn extra money. FAIL. I got no sponsored content at all, despite applying for quite a very opportunities. That was a bit demoralizing, to be honest. But now I am glad for this, because I think creating sponsored content would have distracted me from the things I did to really build my blog and serve me so well later.
But all that said, I REALLY needed to work on both traffic and monetization. $100 a month was NOT going to cut it.
And that's it for this month! I hope this has inspired and educated you.
Read the NEXT month's income report or view more of my income reports here!
Love,