This month marks the point at which I knew I could make this whole blogging thing actually work and support my family!
My June 2017 Blog & Social Media Stats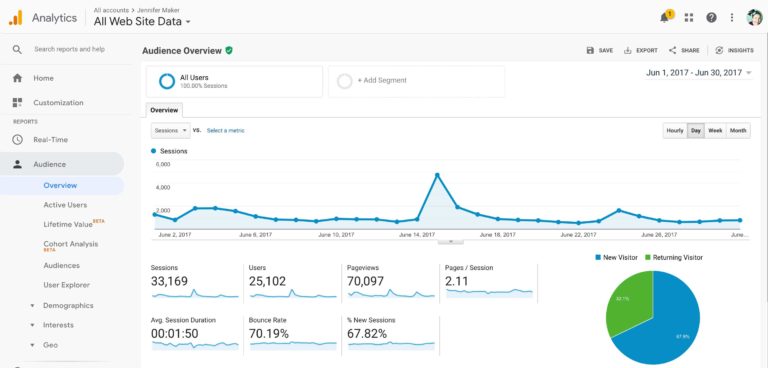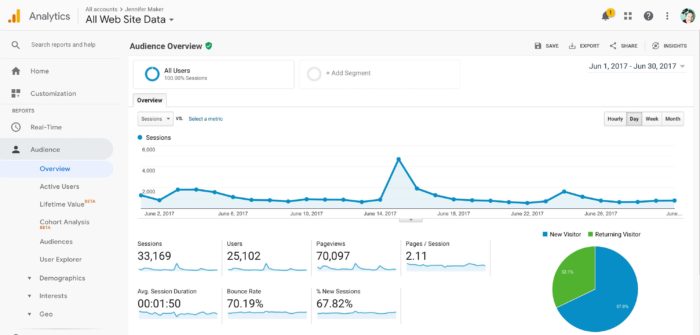 Pageviews: 70,097, up from 68,653
Sessions: 33,169, up from 27,741
Users: 25,102, up from 18,681
Mailing List Subscribers: 8883, up from 7536
Pinterest Followers: 20,863, up from 16,441
Posts Published: 10 (best post: Giant Flower: Spellbound Rose)
My June 2017 Blog Income
Advertising Revenue: $576.61, up from $170.13 (Google Adsense and Mediavine)
Affiliate Revenue: $49.48, down from $64.15 (Amazon Associates)
Product Revenue: $0, down from $16.15
Membership Revenue: $128.07 (Patreon)
Sponsored Content: $0
Total blog income: $754.06
Below is a breakdown of my monthly expenses (some of these links are affiliate links):
Tailwind monthly fee: $14.99
BoardBooster monthly fee: $30
ConvertKit: $122.32
WordPress Assistance (SSL Installation and Permalink Change): $77
Blog Education & Training:

Pinteresting Strategies: $32
Pinterest Success Strategies: $97
The 10-Hour Time Block Strategy: $7
Affiliate Marketing for Bloggers Master Course: $99
Total blog expenses: $479.31
Net blog income for June 2017: $274.75
Wow! This was the first month I began to REALLY believe that this blogging thing could make me actual money.
And I have to say … Mediavine rocks out! Seriously, guys — I had no idea I would see such a huge change in earnings when I switched to Mediavine. No one gave specifics back then on what they earned pre- and post-Mediavine. Back then I guessed it was maybe 25% to 50% more than what I was earning with Google Adsense. Let's compare the difference, shall we? Here is one full month on Mediavine: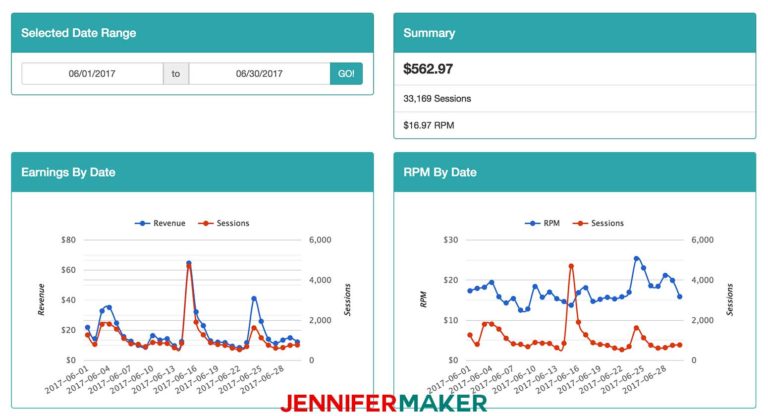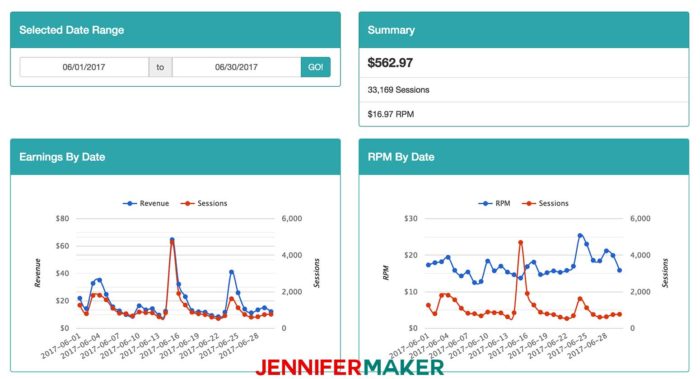 Now let's see how that compares to Google Adsense in the weeks prior to my switch and covering a period with a similar number of sessions.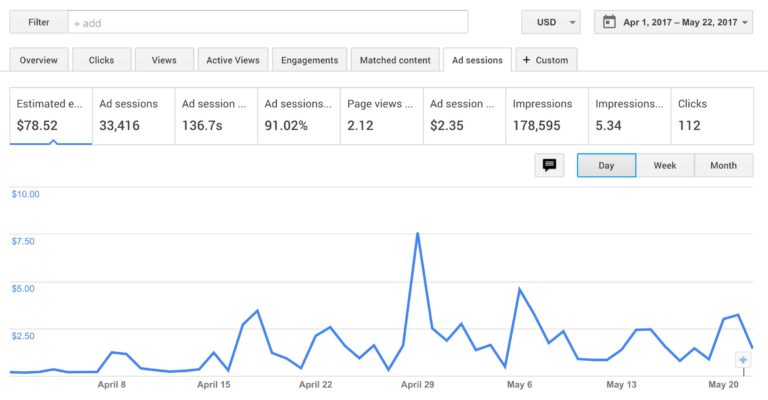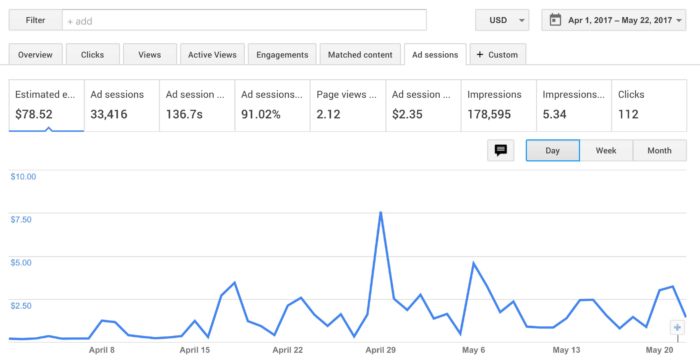 So if I'm reading this right, Mediavine got me $562.97 for 33k sessions, while Google Adsense got me $78.52 for 33k sessions. That's not a 25% or 50% difference — that's more like a 700% difference. Now remember, everyone's blog is different, so just because that was my change doesn't mean it will be yours. I was likely doing a bad job with my Google Adsense ad placement. And different companies will pay different prices for different blogs.
I would however like to note my Session RPM with Google Adsense was $2.37 (income divided by 1000 sessions). When I started with Mediavine in 2017, my session RPM was $16.97 as noted above. And these days? It's more like $27. It's gone as high as $42.42. Holy cow. Mediavine is REALLY amazing and I'm so very glad I found them.
My Blog Income's Running Total: $-631.22
My running total since starting the blog is now -631.22 (still in a deficit). I am nine months into my blog at this point and have had six months where I made money and three months where I lost money. I have spent a total of $2296.96 on my blog now.
My Blog Goals
This month my blog goals were as follows:
Continue posting twice a week (I exceeded this goal this month! woot!)
Create more freebies for my posts to build my mailing list (7 more new freebies made and released! Are you noting how many I'm making?)
Continue promoting my freebies (done!)
Keep working through my blogging course

(done!)

Send out weekly newsletters (4 newsletters sent this month!)
Blog Lessons Learned This Month
You have to keep investing in your blog and keep learning. I'm still running a deficit at this point in my blog, and I could have brought that down a bit if I hadn't spent so much this month. So why did keep spending?
I truly believe it's VERY important to be investing as much as you can back into your blog in its first year. In fact, if you can manage it, it's best to invest 100% of what you make back into your blog until you make a consistent $1000 per month from your blog.
But as a person with very little cash flow, I was just doing the best I could. You may be better or worse off than me, but regardless you DO need to be investing back into your blog or it will not grow the way you want it to.
Another reason to invest back into your blog (beyond growth) is to prevent burnout. When you try to figure out everything yourself on the cheap, and are resistant to buying the tools, services, and education you need to work smarter, you're a lot more likely to just overwhelm yourself and fizzle out. I'm always so sad when I hear about or meet someone who has been blogging for years and years and is still not at a full-time income.
Please please please invest in your blog. Not so much that it causes a financial burden, but enough that you're able to make significant growth. You can nickle and dime your blog to death.
So as this was the first month I had significant income and I was determined to put that back into the blog. And based on where I was with my blogging course (specifically working on social media and monetization), I put my money into deeper training on Pinterest and affiliate marketing. I picked the resources I purchased carefully and found them all but one very valuable! (The exception was the 10 Hour Time Block Strategy, but that's because I am not productive when I block my time in this manner so it's not a reflection on the content. Here's how I schedule my time.)
This is the month I also installed a security certificate on my blog, because I knew that very soon Google would start warning people who went to unsecure sites. While I was at it, I had my permalink structure changed to remove the dates in my URLs I'd had since the beginning. I had Grayson Bell from iMarkInteractive make these changes for me, which he did very quickly and reasonably. I HIGHLY recommend his services if you need help with WordPress.
Another lesson I learned this month is people were right about blogging making money! I was skeptical, and part of me had wondered over the previous months if some of those income reports I read were fabricated or embellished. But this month, I could SEE IT FOR MYSELF. I saw my own income, my own bank statement, and I truly believed. I could now see how if I were to ramp up my blog, I could eventually bring in the amount I needed ($5000/month) to support my family. $5000/month was my own personal marker for a full-time blog income.
And that's it for this month! I hope this has inspired and educated you.
Read the NEXT month's income report or view more of my income reports here!
Love,