My little blog is making money! And not just a little bit, it's making REAL money! I almost can't believe it. Can it be sustained?
So let's see what happened and where the money came from.
My July 2017 Blog & Social Media Stats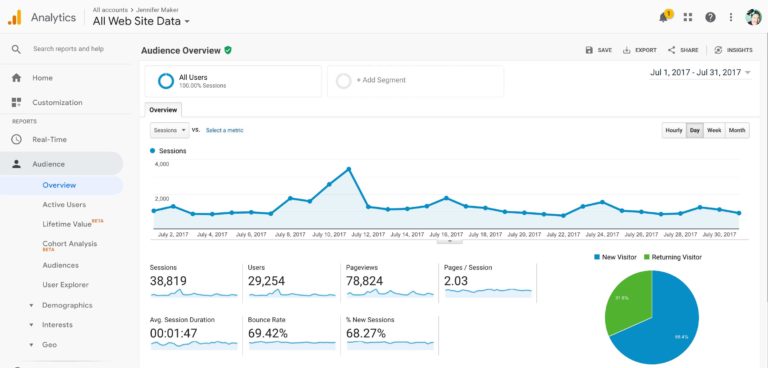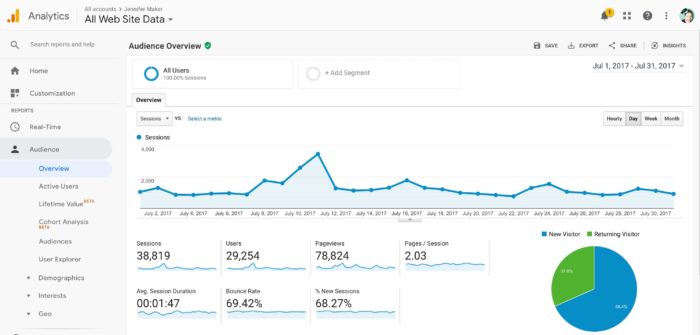 Pageviews: 78,824, up from 70,097
Sessions: 38,819, up from 33,169
Users: 29,254, up from 25,102
Mailing List Subscribers: 10,862, up from 8883
Pinterest Followers: 25357, up from 20,863
Posts Published: 8 (best post: Cricut Tips and Tricks for Better, Easier Crafting)
My July 2017 Blog Income
Advertising Revenue: $556.18, down just a bit from $576.61 (Google Adsense and Mediavine)
Affiliate Revenue:

$1062.03, up from $49.48 (Amazon Associates) –
$91.19 (Share-a-Sale)
$1.99 (RewardStyle)

Product Revenue: $0
Membership Revenue: $136.56, up from $128.07 (Patreon)
Sponsored Content: $0
Total blog income: $1,847.95
Below is a breakdown of my monthly expenses (some of these links are affiliate links):
Total blog expenses: $259.94
Net blog income for July 2017: $1588.01
WOWzers! This is tremendous growth from last month's net of $274.75, and it's a combination of advertising revenue and affiliate revenue!
My Blog Income's Running Total: $956.79
My running total since starting the blog is now $956.79 (I am finally out of a deficit — hooray!). I am 10 months into my blog at this point and have had seven months where I made money and three months where I lost money. I have spent a total of $2556.89 on my blog now.
My Blog Goals
This month my blog goals were as follows:
Continue posting on my blog twice a week (done!)
Create and promote more freebies to build my mailing list (6 more new freebies made and released!)
Keep working through my blogging course

(done!)

Improve my affiliate links and revenue (done!)
Send out weekly newsletters (6 letters sent this month — extra emails were due to Prime Day!)
Blog Lessons Learned This Month
I can make affiliate income!
Tasha's Affiliate Marketing for Bloggers Master Course course was the bomb-diggity and, thanks to it, I significantly improved my affiliate revenue. Her course (which is no longer offered) taught me how I could promote Amazon affiliate sales via email (by linking to a blog post so I didn't violate their TOS) and also gave me the courage to actually do it. So when I told my mailing list of now 10k+ about the awesome craft-related deals I was seeing for Prime Day this month, IT WORKED!!! Tasha is my hero.
Now, you may have noticed that my advertising revenue went down despite having more pageviews and sessions. This is related to ad spending patterns (see Ad Revenue by the Seasons for a thorough explanation). So this was NOT a concern. I knew it was only up from here until next January.
Last month I talked about how important it was to re-invest money back into your blog, and I didn't do a great job of that this month with only 14% invested back in. In my defense, I went on vacation this month (several of my posts were written in advance and scheduled for release while I was away). I did try out some low-cost services for concentration ([email protected]) and link parties, but they were hardly any big deal. And, really, we needed the money I was making for bills, so there's that. But in retrospect, it would have been better if more of this money had been spent on the blog, perhaps by hiring someone to make new pin images or to just help with Pinterest in general, two things that are not costly but hugely helpful.
As overjoyed as I was about making over $1k this month, I knew Prime Day was a once a year thing and I wasn't going to make this much the following month. I wasn't going to be able to sustain this level of income. I really needed to be thinking about my own products.
So, what about making my own products? Honestly, I was SERIOUSLY hung up on products at this point. I've made next to nothing from products, and the revenue I did have for it was for some old random pattern I'd stuck up on Etsy before I got serious about my blog. My blog did NOT have a product at this point, and I was very gun shy about making one. Frankly, I was afraid to ask my wonderful people for money, because up to that point I'd given everything away for free (and really enjoyed doing that).
I have no lessons to pass on for product creation this month, because I was well and truly stuck. This meant I was not progressing through my blogging course. I was at a dead stop on Unit 8 (product creation). At the time, I was afraid. In retrospect, I had nothing to fear… I just didn't know it yet.
And that's it for this month! I hope this has inspired and educated you.
Read the NEXT month's income report or view more of my income reports here!
Love,