Wow! What a month I had at the start of 2017. The efforts from the previous month paid off in big ways this month.
My January 2017 Blog & Social Media Stats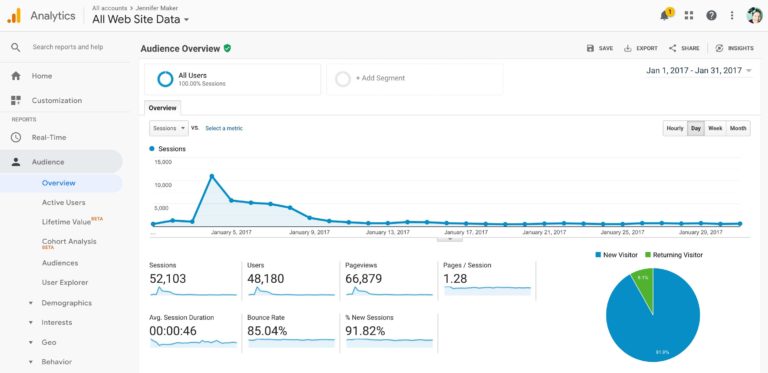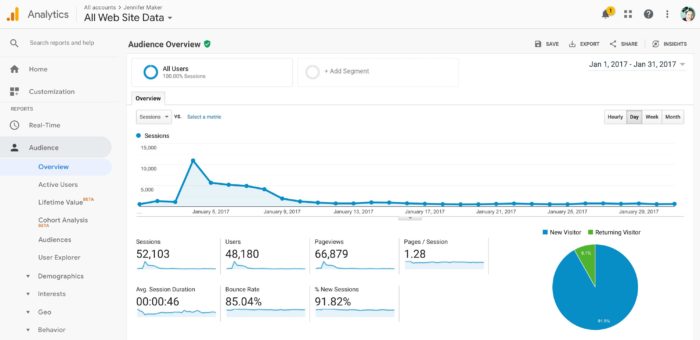 Pageviews: 66,879, up from 14,881 (amazing!!)
Sessions: 52,103, up from 11,349
Users: 48,180, up from 10,093
Mailing List Subscribers: 1389 (finally)
Pinterest Followers: 3331, up from 1728
Posts Published: 6 (best post: DIY Pink Himalayan Salt Spa: Scrub, Soak, Spray + Candle)
My January 2017 Blog Income
Advertising Revenue:$111.34, up from $

32.71

the previous month (Google Adsense)
Affiliate Revenue:$63.01, up from $45.45 (Amazon Associates)
Product Revenue: $18.82 (Etsy) *
Sponsored Content: $0
Total blog income: $193.17
Below is a breakdown of my monthly expenses:
Tailwind monthly fee: $14.99
BoardBooster monthly fee: $30
(I joined MailChimp and then later ConvertKit this month, but I was on free trials)
Total blog expenses: $44.99
Net blog income for January 2017: $148.18
Pinterest, and the growth of my account, were really important to me at this point and I was willing to invest in it. I knew from so many things I'd read that Pinterest could help me be discovered by many people, and it was my best bet for traffic in my first year.
My Blog Income's Running Total: $234.52
My running total since starting the blog is now $234.52 — I am four months into my blog at this point and have had three months where I made money and one month where I lost money.
My Blog Goals
This month my blog goals were as follows:
Continue posting twice a week (I came close, but fell short by 2 posts)
Increase traffic even more! This is the first month I attempted to challenge myself to increase my traffic, and my guy Greg made a little bet with me to do it, offering a reward if I could. This spurred me on to really push myself! (done)
Start my mailing list and get some emails on it (done!)
Start a YouTube channel and post videos (done)
Continue growing my social media presence (done)
Blog Lessons Learned This Month
First, I wrote an actual post about where I was in my blogging journey at the start of January 2017 — you can read it here. In that post I wrote, "This blog is no longer just a place for my random craziness—it's taken on a life of its own. The craziness has some form and function, and people come here looking for answers and help. And that is something worth working on. So I shall see if I can push it a little further, do a little more, and help a few more people."
I'd been doing myself a disservice by not focusing more on Facebook groups. When Greg challenged me to increase my traffic everyday for a week, I got desperate one day and turned to a large Facebook group I'd joined for inspiration and ideas. I shared a photo of a project I'd done. The response was tremendous and the traffic surge was amazing.
The real traffic boost this month came from two things I'd been already working on, however. First, Hometalk picked one of my projects to promote in its newsletter and this sent a huge surge of traffic to my site. Second, a day or so later, a pin went viral on Pinterest. It was all very exciting but, as is to be expected, the traffic dropped back down to normal levels. Still, it gave me a taste for what was possible.
As for my mailing list, I knew by this point I had to have one. Up to this point, I'd resisted making one. But by now I was getting lots of emails from Elite Blog Academy in anticipation of their launch at the end of February and their emails and freebies were always encouraging me to have my own mailing list. And remember, I was observing other bloggers. I could see how they were using their lists now and my eyes were opened. It was SO different than how I'd done in before my blog. So I bit the bullet and started one. And you can see I went from 0 to 1389 in one month. In retrospect, this was a HUGE growth. And I can attribute all of it to make some awesome freebies and offering them on blog posts that were popular and getting traffic. My Heart Map Pillow, Handwarmers, Fabric Labels, and Minecraft Party Printables were all opted into by folks who had a need for them.
And that's it for this month! I hope this has inspired and educated you.
Read the NEXT month's income report or view more of my income reports here!
Love,