In February, I encountered my first "backslide" in both traffic and income. Up to this point, I'd been growing and climbing. But it all came to a halt this month. It wasn't pretty or easy, but I found ways to deal with it and keep going.
That said, this was a pivotal month for me because of a couple new acquisitions: I got two new tools that would change the trajectory of my blog. One was intentional, one was accidental.
My February 2017 Blog & Social Media Stats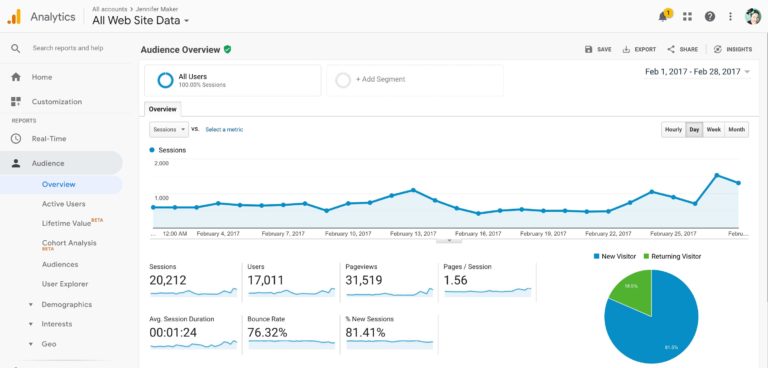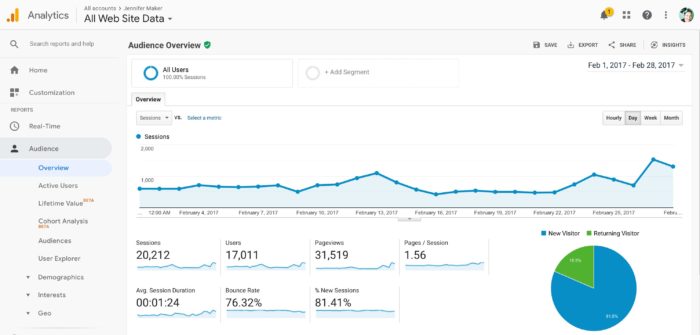 Pageviews: 31,519, down from 66,879 (oh no!)
Sessions: 20,212, down from 52,103
Users: 17,011, down from 48,180
Mailing List Subscribers: 2408, up from 1389
Pinterest Followers: 5176, up from 3331
Posts Published: 6 (best post: DIY Paper Winged Heart with Hidden Message)
My February 2017 Blog Income
Advertising Revenue: $32.58, down from $

111.34

(Google Adsense)
Affiliate Revenue: $31.53, down from $63.01 (Amazon Associates)
Product Revenue: $0
Sponsored Content: $0
Total blog income: $64.11
Below is a breakdown of my monthly expenses:
Tailwind monthly fee: $14.99
BoardBooster monthly fee: $30
Elite Blog Academy enrollment fee: $797
Craft Tool (Cricut Explore Air 2): $229
(I had ConvertKit this month, but I was still on my free trial)
Total blog expenses: $1070.99
Net blog income for February 2017: -$1006.88
Eeek!
My Blog Income's Running Total: -772.36
My running total since starting the blog is now -772.36 (so I am in a deficit). I am five months into my blog at this point and have had three months where I made money and two months where I lost money. I have spent a total of $1202.14 on my blog now.
I think that big negative number deserves a little discussion. Up to this point, my blog expenses had been laughably low. I'd been both astonished and grateful at how little I'd had to spend to get up and running. I know of no other business where this is possible. And I COULD have kept going on this way, gradually increasing my income each month (hopefully) and — if things went well — I projected that by the end of 2017 I'd be making about $500 per month on my blog. That's awesome, except that was nowhere near enough to pay my mortgage.
What do we do when we need to ramp things up? I know of two ways: education and promotion. I was already doing everything I knew how to do with promotion, so that meant I had to LEARN more ways … and that meant investment in education.
So as difficult for me as it was, I spent $797 I didn't actually have to get the education I needed. I used a credit card, my LAST credit card in fact, to enroll in a blogging course called Elite Blog Academy. I thought of it as taking out a student loan, albeit a much smaller one that is necessary for college.
Was this irresponsible? I don't think so at all. Education is important. I put myself through four years at University of Michigan, and dealt with a decade of student debt, with far less reward than this education had the potential to offer.
And now, in retrospect, that's some of the best money I've ever spent. Of course, I didn't know that then. Back then, I was just excited and hopeful and ready to learn.
Of course, there was another big expense this month — I bought a new craft tool. Unlike the purchase of the blogging course, for which I'd been on the waiting list for months, this new expense was a happy accident. Do you have time for a story? If so, here's what happened:
I had a project to make in my hobby and was frustrated at how long it was going to take to do it. I happened to be at Joann when I was feeling this frustration and remember thinking, "I wish I'd had a tool to speed this up." I then remembered there WAS a tool that would do what I needed. I'd seen in a few aisles over (I'm a regular visitor to my craft store, of course). I went to look. And there it was … a Cricut cutting machine. I'd always ignored them because a) they aren't cheap and b) I thought they were for scrapbookers. But now I had a reason to buy it, and I had the ability thanks to some client work I'd just done. And, hey, it was on sale! So on impulse I bought a Cricut.
I got it on Friday afternoon. By Friday night, I'd already made the thing that had been frustrating me and was rather surprised at how easy it was. The next day, I figured I should write up a post about this cool Cricut thing, but I knew I needed a project to share on the blog. So I Googled "cool Cricut projects" and found LOTS and LOTS of things. Then I spotted paper flowers and was amazed. That same day, I made a paper flower. Then that evening, I tried opening up the paper flower file in Adobe Illustrator, found I could do it, realized how crazy easy it was to make my OWN designs, and proceeded to make my first design: a paper peony. I posted it on my blog on February 21, 2017.
At the time, I thought I was just making another blog post. I didn't realize what it would lead to. But I got a taste of it soon enough. Once I made the blog post, I then worked on promoting it. I'd had success with Facebook groups the month before and had been working on finding more, so I went to Facebook and searched on "Cricut." I found a group, joined it, and shared my peony. I was not prepared for what happened next. Holy moly! Look at what happened when I did shared it: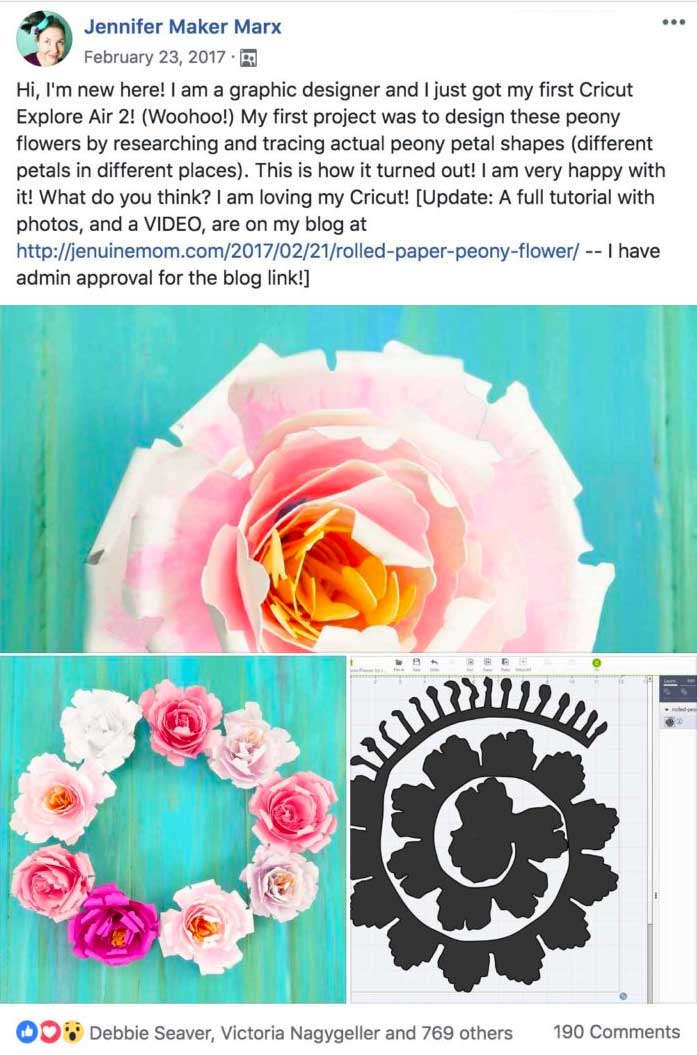 771 likes! 190 comments! It was floored. And that was the happy accident of how I came to design Cricut projects, because with a reaction like that, you bet I was going to keep going.
As an aside, I am SO incredibly grateful that this group allowed me to post my projects. At the time, I did not know the host personally, and I think it would have been easy for her to remove me for self promotion. I later came to understand that she's a big name in the Cricut world with a huge YouTube channel and a thriving business centered around Cricut. I was just this nobody upstart who waltzed in with her little designs. Many big groups like this do not like this or tolerate it. As you'll note in the above image, however, I did write to the admins in advance and request permission to post. I think this makes a difference, and if you get a no, you'll know not to do this again and avoid getting removed from the group. I am eternally grateful to the admins in this group for allowing me to share my projects here. I do not share in other groups anymore because I have my own group to share things in, but it was SUCH a big deal when I was just getting started. And this is why I welcome other bloggers into my Facebook groups. If I can help them as I was helped, I want to.
My Blog Goals
This month my blog goals were as follows:
Continue posting twice a week (I didn't quite make it at 6 posts instead of 8)
Create more freebies for my posts and keep building that mailing list (3 new freebies made and released!)
Find more Facebook groups with like-minded people where I am allowed to share my freebies (done!)
Get myself enrolled in a blogging course (done!)
Blog Lessons Learned This Month
The biggest lesson I learned this month is that you aren't always going to increase your stats and income every month. Ok, maybe a few lucky souls out there do, but it's NOT the norm. There are fluctuations and ups and downs — it's like a roller coaster! One minute you're up and flying high, the next your plummeting downward with your stomach in your throat.
This was a tough month for me. I was riding the high of having grown each month and all this came to a screeching halt this month. That said, I was at least anticipating it, because I KNEW that the reason I had so much traffic in January was because of the Hometalk feature and the viral pin. So what I did was go back and look at my Google Analytics with those two things removed (I simply took those articles out in my search). And when I did that, look at my traffic growth since my blog's beginning: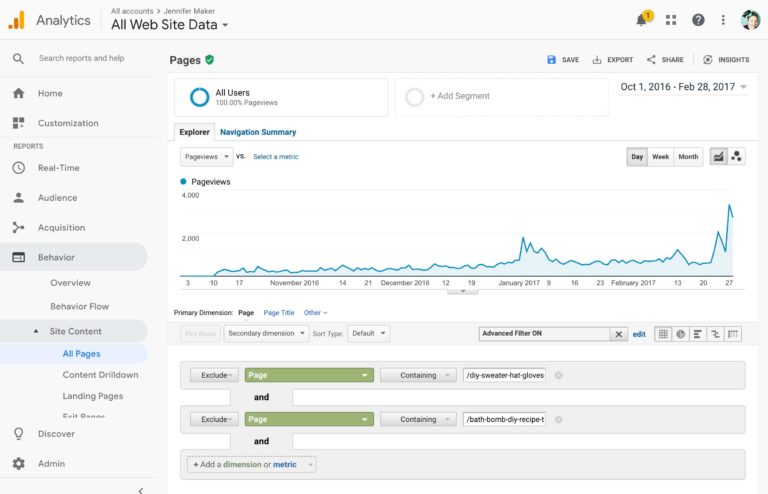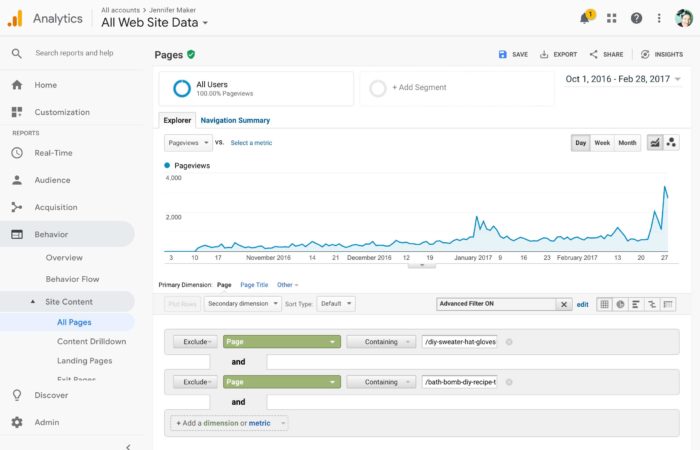 It's a lot easier to see the upward trend now. Virals and mentions are nice for traffic spikes, but they always fade and we have to remember this. It's important to step back and see the bigger picture. It's super important to your morale, because if it falters, so can you. I attend to my morale on a constant basis.
By the way, if you want to do what I did in the graph above in Google Analytics, just click go to Behavior > Site Content > All Pages, click on the "advanced" link under your graph, change the first drop-down menu that appears to "Exclude" and then start typing in a keyword for the page you want to exclude and Google will auto suggest URLs. Pick the one you want to exclude, then click Apply.
I think it's really important to note that even though my traffic and income went down this month, my mailing list was continuing to build. I was at 2408 by the end of this month. At the time, it just felt like collecting addresses and a vanity metric. I would not understand the significance of this growth, or the importance of a mailing list, until many months later.
In fact, knowing what I know now, I'm astonished at this growth in my mailing list. I didn't know it wasn't typical back then. I didn't know that some bloggers take a year or more to get to just 1000 on their mailing lists and that I was an outlier. When I think back at what I was doing and what was setting me apart, it was those freebies and the fact that I was adding to them, and promoting them, that made all the difference. I can't say enough about the importance of making multiple freebies and promoting them like crazy.
And that's it for this month! I hope this has inspired and educated you.
Read the NEXT month's income report or view more of my income reports here!
Love,