This is the month after my big affiliate revenue win during Amazon Prime Day. Would I still make decent money without that once-a-year opportunity?
My August 2017 Blog & Social Media Stats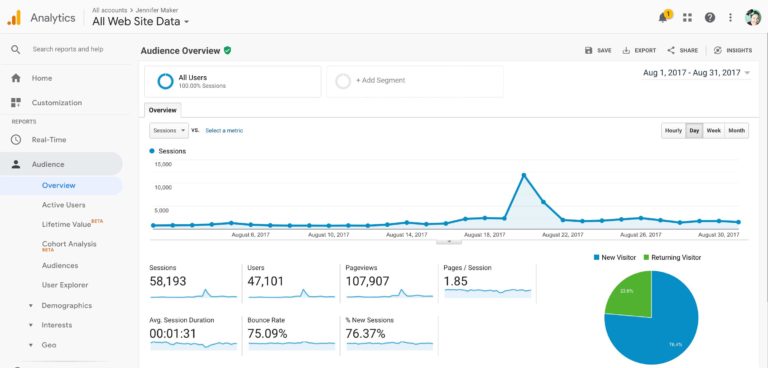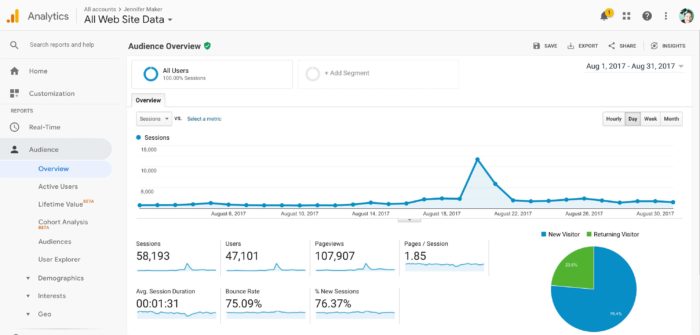 Pageviews: 107,907, up from 78,824
Sessions: 58,193, up from 38,819
Users: 47,101, up from 29,254
Mailing List Subscribers: 13,045, up from 10,862
Pinterest Followers: 28,322, up from 25,357
Posts Published: 11 (best post: DIY Eclipse Viewer Tube – Safe and Adjustable!)
My August 2017 Blog Income
Advertising Revenue:

Mediavine: $905.77, up from $556.18
Google Adsense (still used on YouTube): $2.62

Affiliate Revenue:

$128.76, down from $1062.03 (Amazon Associates) –
$33.35, down from $91.19 (Share-a-Sale)
$4.61, up from $1.99 (RewardStyle)

Product Revenue: $10.22 (Etsy)
Membership Revenue: $160.34, up from $136.56 (Patreon)
Sponsored Content: $25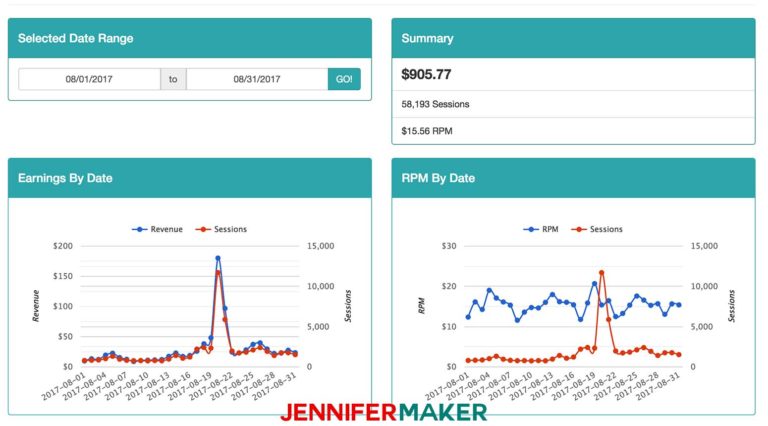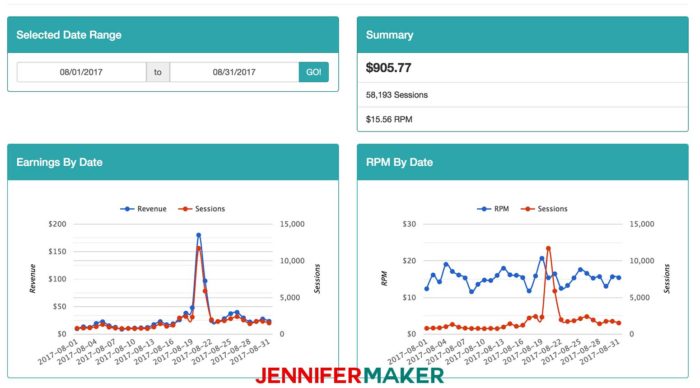 Total blog income: $1,270.67 (down from $1,847.95)
Below is a breakdown of my monthly expenses (some of these links are affiliate links):
Tailwind monthly fee: $14.99
BoardBooster monthly fee: $30
ConvertKit: $119
Education/Training

Pinning for Pageviews: $34
Total blog expenses: $234.99
Net blog income for August 2017: $1,035.68
Well, what do you know? Even though I didn't have that Prime Day income that I had last month, I still cleared $1000. Yes, this blogging thing IS going to work!
My Blog Income's Running Total: $1992.47
My running total since starting the blog is now $1992.47. This was my 11th month of blogging and I had eight months where I made money and three months where I lost money. I have spent a total of $2791.88 on my blog now.
My Blog Goals
This month my blog goals were as follows:
Continue posting on my blog twice a week (I exceeded my goal with an average of 2.5 posts per week!)
Create and promote more freebies to build my mailing list (7 more new freebies made and released!)
Keep working through my blogging course

(NOT done, stalled)

Send out weekly newsletters (5 letters sent this month)
Time Spent Blogging This Month
20 hours/week
This month I was on vacation for nearly half the month (until August 12). (It's a long time, right? I was at Pennsic which I've been going to every year since 2011.) I was camping without reliable Internet (cell phone Internet only). I had scheduled some posts in advance, though frankly I did very little on my blog between August 1-12. Maybe an hour at most as I would just pick up my phone every once in a while. I would occasionally login to look at my stats, though I think I lost interest in that by the end of the first week. When I got home and had a few days to recover, I resumed my blog work. I'd say at this point I was doing a 60/40 time split between my blog and business (with the blog getting 60% of my time). An average work day for me at this point is from 8 am – 2pm (while my daughter is at school), then again from 3-6 pm if I'm able. If I'm not doing something in the evening and my family doesn't need me, I will work until my daughter's bedtime at 9 pm. I rarely work after that (though sometimes I check my phone and answer FB messages, because I want to, not because I feel compelled to). My weekends were usually busy away from home (due to my hobby), but not always. I probably got in an extra 15 hours per month on a weekend. So at this point a typical workweek is 65 hours, and a 60% split of that would be about 40 hours. Being gone half the month meant that in the month of August I worked on my blog an average of 20 hours per week.
Blog Lessons Learned This Month
I had a HUGE viral post this month when I posted my DIY Eclipse Viewer Tube. Within about 24 hours of posting it, Google started sending me SO MANY PEOPLE. I didn't even know this was a possibility. I thought Google was a long tail, wait-and-see game, but clearly I didn't really get it. No one linked to me, barely anyone knew about it. All I can think is that people were looking for ways to make DIY eclipse viewers and I was one of the view sites offering a solution, and thus they served my site to them. The traffic surge was exciting (I mean, there was a big eclipse this month!). But, like all virals, it dropped back down. It was fun while it lasted and it taught me that it is totally okay to go with trends and special events. I may only get a temporary surge, but I think it still sends a signal to Google that I'm an okay site and it's okay to keep sending people my way. I think it helps my SEO in the long run to create posts just for special things like this.
So if I could just get tons of traffic to my blog like this all the time, I could probably live off the advertising and affiliate revenue. But I'm hoping by this point you know that's not realistic. You can't count on traffic, sadly. By this point, I was familiar enough with the ups and downs of Pinterest and Google to know that sites that had had great traffic a few years ago were not getting it now. Pinterest and Google were fickle. Thankfully, I'd been making a mailing list. And I KNEW I really needed to make a product. I knew this. But I was afraid. I am not ashamed to admit that. I had been on the product creation part of my blogging course for two months now without any progress. I was sticking my head in the sand and being stubborn. (I am a very stubborn person.) It's scary to make something, put yourself out there, and ask for compensation for it.
And that's it for this month! I hope this has inspired and educated you.
Read the NEXT month's income report or view more of my income reports here!
Love,