I almost stopped blogging this month. Read on to learn what happened and why I didn't quit.
My April 2017 Blog & Social Media Stats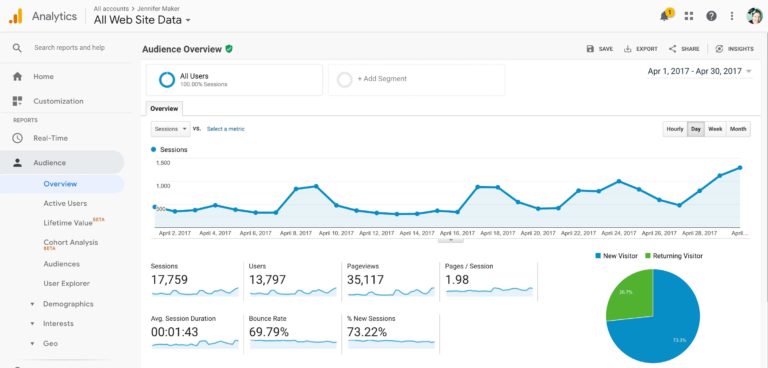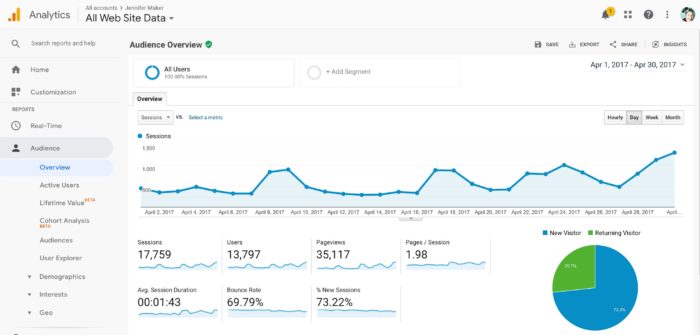 Pageviews: 35,117, up from 34,378
Sessions: 17,759, down from 19,129
Users: 13,797, down from 15,104
Mailing List Subscribers: 6179, up from 4329
Pinterest Followers: 12,787, up from 8239
Posts Published: 6 (best post: Pop-Up Apple Tree Card)
My April 2017 Blog Income
Advertising Revenue:$43.31, up from $37.84 (Google Adsense)
Affiliate Revenue:$68.39, up from $33.93 (Amazon Associates)
Product Revenue: $18.82, down from $28.23 (Etsy)
Sponsored Content: $0
Total blog income: $130.52
Below is a breakdown of my monthly expenses:
Tailwind monthly fee: $14.99
BoardBooster monthly fee: $30
ConvertKit: $79
Total blog expenses: $123.99
Net Blog Income for April 2017: $7.47
Hey, I came out a little ahead! That's progress compared to my past two months. This is essentially just breaking even though, because I knew I bought a few craft supplies for blog posts. I wasn't tracking those so it's hard to say how much, but I know from looking through my posts that I bought some canvas for my patio chair cushion post and and I'm SURE that cost more than $7. So I was probably in the red all things considered.
My Blog Income's Running Total: -$979.08
My running total since starting the blog is now -979.08 (still in a deficit). I am seven months into my blog at this point and have had four months where I made money and three months where I lost money. I have spent a total of $1640.32 on my blog now.
My Blog Goals
This month my blog goals were as follows:
Continue posting twice a week (again, I didn't quite make it at 6 posts instead of 8)
Create more freebies for my posts and keep building that mailing list (5 more new freebies made and released!)
Keep working on my blogging course

(done!)

Send out weekly newsletters (3 newsletters sent this month, so close but not quite!)
Blog Lessons Learned This Month
This was another meh month and I was feeling frustrated. I was now seven months in and had nothing more to show for it other than a blog with a bunch of posts.
I was $978.81 in the red on my blog at this point and wondering what the heck I was doing. I wasn't even meeting my goals each month. I began to feel like I was fizzling out and maybe I should let that happen. Go get that job at some office and just suck it up.
I was feeling this way for several weeks in April. Then I remember a day this month when I was in the car talking to Greg about life and stuff. I said to him, "I have only made ONE blog post this month and we're already more than halfway through the month. If I'm serious about this blog, I need to get on the ball and actually DO IT."
For whatever reason, saying it out loud helped me. I thought about quitting. What that would mean. And the loss of this dream I had. And the job I'd have to go find.
And I decided I hadn't been taking it seriously enough. One blog post in nearly 20 days was NOT GOING TO CUT IT. I had no excuses for this. If I was going to make this work, I had to put in the work.
What is it Thomas Edison said? "Genius is one percent inspiration and ninety-nine percent perspiration."
Like many bloggers, I was struggling to find the time to post. I still had a job, and while I did have the luxury of working at home, it was still a time-consuming job and didn't leave a lot of time for other things. I knew I could spend my time more wisely, however. And many of the tips I wrote about this month in this post — How to Find More Time to Craft — were also the things I started personally doing to find more time to blog. The biggest thing to hit the time chopping block was my hobby — I decided the hobby was getting too much of my free time and while I enjoyed it, I needed to refocus on what was really important: providing for my family.
So I went home and did a blog post. And another, and another. I got five blog posts done in less than two weeks, a much better output rate than before.
In addition to getting out more posts, I got more serious about my blogging course. I had finished the section on email earlier and was feeling like I was doing well in it, so I'd been lax. Clearly, I was doing good at email, but I knew there was a lot more to it than that. All those subscribers weren't doing me any good right now other than racking up a big fat bill. I need to keep learning and implementing.
My big lesson this month was to not give up, especially when I really hadn't given something 100% yet. Yes, I'd been working hard and making great progress, but I wasn't really giving it everything I could. I KNOW content is super important and I'd not put my all into it yet. How could I give up I hadn't given this a fair shot yet? Seven months is barely any time. And I'd only been doing my blogging course for two months. It was a baby in the blogging world.
So I buckled down and dug in further.
And that's it for this month! I hope this has inspired and educated you.
Read the NEXT month's income report or view more of my income reports here!
Love,