I am having SUCH a blast with this blog lately! I started this blog almost three years ago in 2014. I intended for it to be a "mom blog," which to me meant a place to simply share personal things that went beyond a Facebook post. I posted sporadically, writing less about being a mom and more about whatever project I was working on.
In September 2016, I resurrected my blog and began posting my creations on it. You see, in recent years I've had an explosion of creativity—I've pretty much been making ALL the things. Sure, I've always been crafty, but lately it's been off the charts. Why, you may wonder? Because I finally matured to the point that I realized a very important truth about myself: making things makes me happy. Whether it's making web sites, books, and graphics (my professional career) or making costumes, furniture, or handcrafts (my hobbies), I am all about creating, producing, and making. It is my jam.
It's difficult to express the sense of joy and fulfillment I get when I share my creations here. I love that I can reach so many people around the world and help them make beautiful and useful things. That may sound trite, but it's the absolute truth. I LOVE that I can help others with the "thing" they need.
Because this blog has become such an important outlet for my creativity, I've decided its time for a name change to better reflect what I do here. JenuineMom.com was great for a while (I still love that name), but it's time to embrace the maker in me, so I'm changing to JenniferMaker.com.
Why Jennifer Maker?
This blog is about MAKING things.
It's easier to spell JenniferMaker than JenuineMom
I feel using my first name allows me to relate even more personally to you.
I am, at my core, an artist and most artists use their names. Jennifer Marx isn't quite right for this (plus JenniferMarx.com was taken). So, in effect, I have created an artist name that is personally meaningful to me.
What About Bookmarks?
The good news is that I still have the JenuineMom.com domain name and all of the old links that include jenuinemom.com still work. No need to change any links. Most people will never even notice the change. It is entirely seamless.
What About Social Media?
I will be changing my social media display names to Jennifer Maker on my social media as well, but some account names will need to remain as "jenuinemom." Twitter does not allow you to change your account name, for example. Are you following me on my social media? Here are those links:
Pinterest: https://www.pinterest.com/jenuinemom (Name: Jennifer Maker (JenuineMom) ❤️ DIY + Crafts + Food + Projects for the Home)
Twitter: http://www.twitter.com/jenuinemom (Name: Jennifer Maker)
Instagram: http://www.instagram.com/jennifer.maker (Name: DIY Blogger ❤️ Jennifer Maker)
Facebook: http://www.facebook.com/jenuinemom (Title: DIY & Crafts with JenniferMaker.com)
YouTube: https://www.youtube.com/channel/UCAaLvz5xOyGDQ5Kun16D7zw (when I get 100 subscribers, I can give my channel a name and I'll call it Jennifer Maker at that time)
What About E-Mail?
I also have a new e-mail address now — it's hello (at] jennifermaker [dot) com. It's friendly, don't you think?
Thank you for coming along this far on my journey. I look forward to sharing so many more things with you in the future! I am bursting with ideas of things to make.
Love,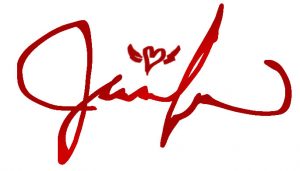 Recent Posts: